TORONTO (Jan. 28) — In 1972, the Houghton–Mifflin publishing company in Boston released an autobiography of George Allen, veteran coach of the Washington Redskins, entitled THE FUTURE IS NOW. Today, any author could write a book about the Toronto Maple Leafs entitled THE FUTURE IS NEVER.
While commenting on the Leafs Monday night, Bob McKenzie of TSN  suggested the club's priority heading toward the Feb. 24 National Hockey League trade deadline is a "right or left–shooting defenseman" with contract term that can effectively skate alongside Morgan Rielly "for years to come." To clarify, Bob mentioned such a deal could also be explored this summer. Secondarily, McKenzie claimed that general manager Kyle Dubas will look at the back–up goaltending slot and a depth–forward with bite, should the Leafs be in legitimate playoff contention a month from now. At no point in his segment did McKenzie even imply that Dubas is considering an ample trade to bolster his Stanley Cup aspiration this season. As an illustration of the notable blue–liner the Leafs are thinking about, and while stressing it was merely an example, Bob mentioned 25–year–old Matt Dumba of the Minnesota Wild. Though hardly a Norris Trophy threat, Dumba is a solid, right–shooting defenseman with three years left on a contract worth $6 million per season. He put up 14 goals and a respectable 50 points for the Wild in 2017–18 and would likely fare well as part of Toronto's No. 1 blue–line tandem. "In order to land such a player," McKenzie continued in his TSN appraisal, "the Leafs would have to be willing to part with one of Kasperi Kapanen or Andreas Johnsson."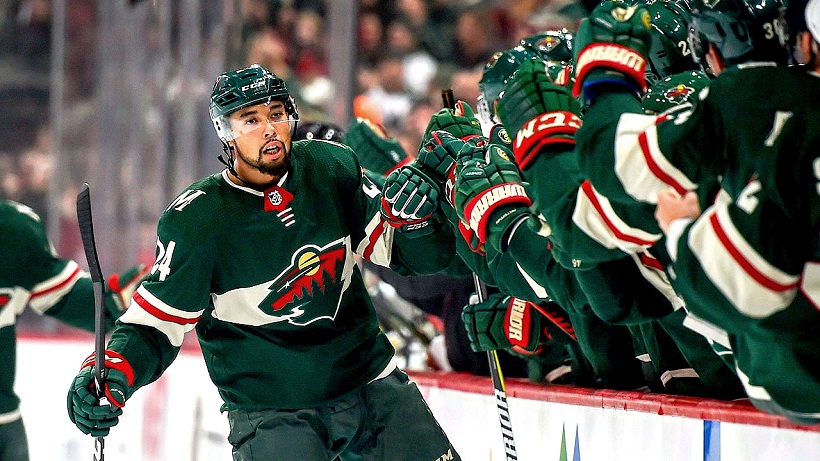 DEFENSEMAN MATT DUMBA OF THE MINNESOTA WILD. GETTY IMAGES/NHL
This is where Bob and I differ. Though Kapanen and Johnsson possess youth and skill, they are marginal forwards that would draw virtually no attention were they playing elsewhere; another example of this city's decades–long propensity to overrate (often comically) those that wear the blue and white. Kapanen has 10 goals in 50 games; Johnsson six in 35. I would be astonished if either winger could attract a top–pairing defenseman with three remaining years of contract term. If you are Minnesota GM Bill Guerin, why would you even consider such a swap? As I wrote in my previous blog, a truly significant deal — one that may alter the immediate course of the Maple Leafs — must begin with William Nylander. Otherwise, Dubas is looking at depth… and another year tacked on to the Stanley Cup drought. A thoughtful Leafs observer might argue that now isn't the time for an "over–the–top" move. The club hasn't been anywhere near the top this season and appears three components shy of a championship threat: a reliable, back–up goalie; at least one blue–liner with defensive acumen, and some mandatory "bite" (as McKenzie put it). No one can accurately predict the composition of the Leafs blue line next season (though Rasmus Sandin, at first glance, is a likely candidate); nor can anyone forecast who will tend goal for the club after next season, when Frederik Andersen's contract expires, or whether Andersen has the endurance to perform appropriately through four playoff rounds behind a shabby defensive team. So, offering up Nylander prior to Feb. 24 seems impractical.
At some point, however, and not–too–distantly, the Maple Leafs need to be positioned for a "closing" move at the trade deadline. Or, during the off–season. When the so–called Shanaplan went into effect in 2013, many figured that time would have arrived by now. Yet, the club is farther, today, from such a pivotal acquisition than in the past couple of seasons. The fall–back strategy, therefore, is to once again plan for the "future" — of which there is apparently no limit amid hockey's most–loyal and desecrated fans.
WILLY–NILLY: One year later, he's untouchable. The same people that wanted to throw garbage at William Nylander last season are now adamant that the Leafs must retain the Swedish forward — on pace for 40 goals. Why? Well, because he's on pace for 40 goals. It matters not that the club is going nowhere with Nylander; anyone that can threaten such a scoring mark — even a perimeter skater on a poor defensive club already replete with goal production — needs to stay. Such widespread myopia is the reason that Kyle Dubas can bide his time and continue to peddle a "future" that never arrives.
HOCKEY PICTORIAL MAGAZINE
In my collection, here are seven covers of Hockey Pictorial magazine from October 1961 to March 1969. And, first page of the cover story from each issue. Published by Hockey Illustrated Ltd. of Montreal — the same company that produced weekly issues of The Hockey News — this magazine began in 1955–56 and continued for 25 seasons (until 1979–80), whereupon it merged with another of the company's long–time publications: Hockey World magazine. These periodicals were sold at newsstands in Canada and the U.S.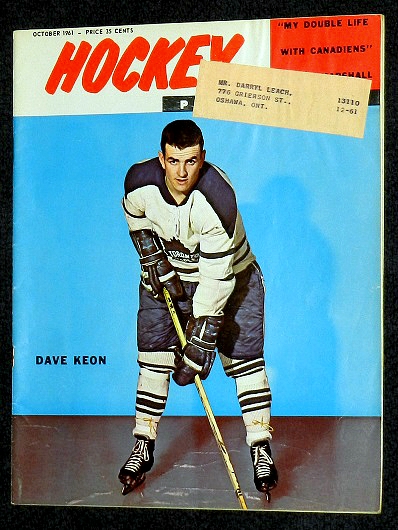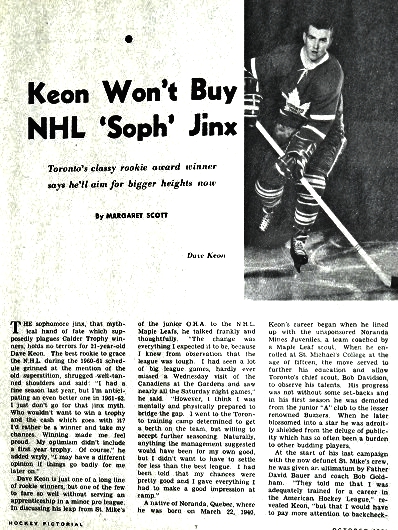 OCTOBER 1961: Dave Keon of the Maple Leafs — voted, in September 2016, the greatest player in franchise history — entered his second NHL season in 1961–62 and clearly did not encounter a sophomore "jinx". He totaled 26 goals and 61 points; 16 more than his rookie year and won the Lady Byng Trophy as most–gentlemanly player (two penalty minutes).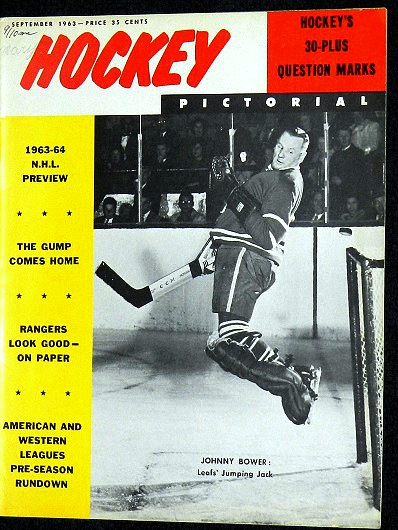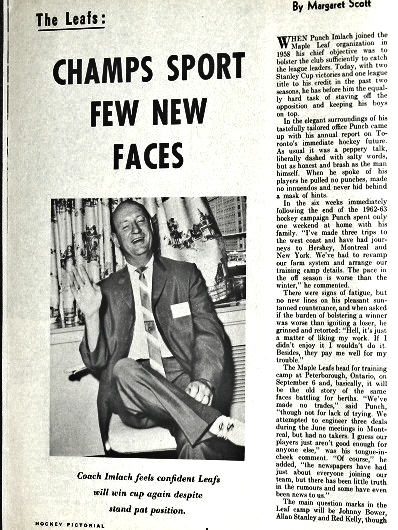 SEPTEMBER 1963: History proved there was no reason for the Toronto Maple Leafs to begin the 1963–64 season with new faces. In fact, winger Jim Pappin was the only player to crack the roster that wasn't part of the club's second consecutive Stanley Cup team the previous year. That changed, rather dramatically, on Feb. 22, 1964 when Punch Imlach traded Bob Nevin, Dick Duff, Arnie Brown, Rod Seiling and Bill Collins to New York for future Hall–of–Fame forward Andy Bathgate and Don McKenney. Bathgate scored five playoff goals, including the Stanley Cup winner against Detroit, as the Leafs became NHL champion for the third time. Ultimately, however, this trade backfired on the Maple Leafs. Nevin, Brown and Seiling flourished in New York. Bathgate played just one more season in Toronto before being traded to Detroit.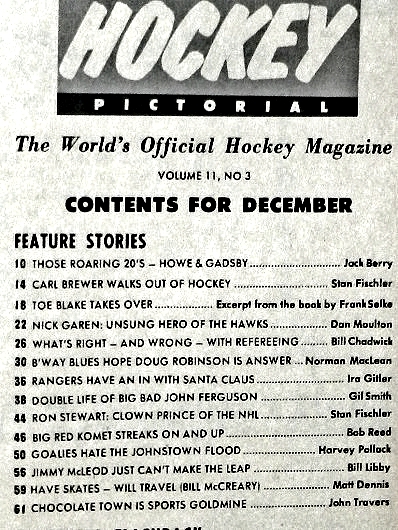 DECEMBER 1965: Indeed, Gordie Howe and Bill Gadsby of Detroit were playing their 20th NHL seasons in 1965–66. Gadsby, a defenseman, joined the Red Wings in 1961–62 after nine years in Chicago and seven in New York. Howe, of course, spent 25 consecutive seasons in MoTown and finished his NHL career with the Hartford Whalers in 1979–80, at age 52.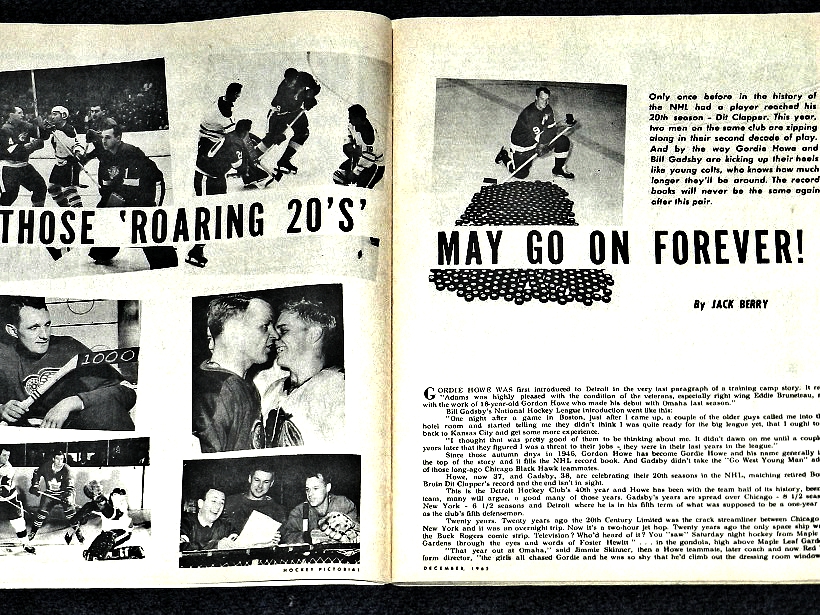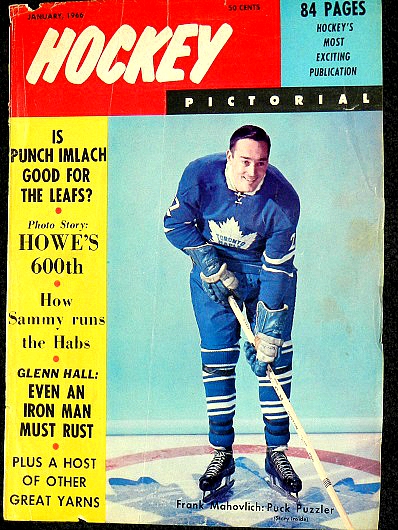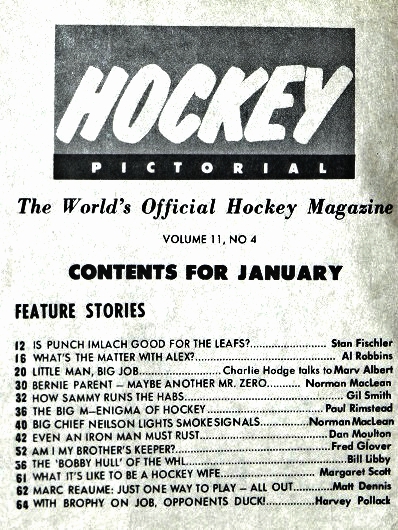 JANUARY 1966: As it turned out, Punch Imlach remained "good" for the Maple Leafs (below) for 16 months after this magazine hit the newsstands — or until the surprise Stanley Cup victory of May 1967. Immediately afterward, his term as GM and coach began to dissolve. Toronto missed the playoffs in the first year of expansion (1967–68) then got humiliated by Bobby Orr, Phil Esposito and the Boston Bruins in the 1969 quarterfinals. After the four–game sweep (the Leafs lost the first two games, at Boston Garden, 10–0 and 7–0), Imlach was fired by president Stafford Smythe. He re–surfaced, disastrously, with the club (hired by Harold Ballard) in 1979–80 and died of heart disease on Dec. 1, 1987 in his 69th year.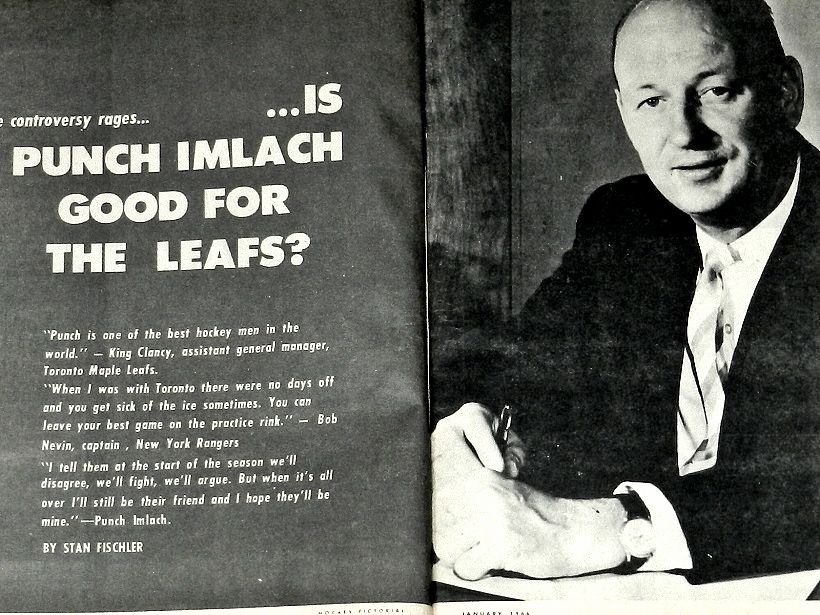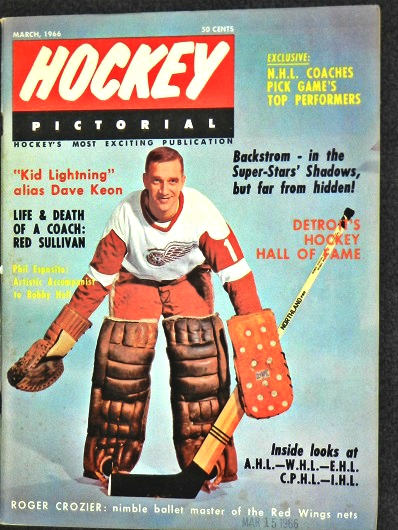 MARCH 1966: Detroit goalie Roger Crozier is the last man to start every game of a regular season — all 70 in 1964–65 with the Red Wings (though he missed part of one match and did not play the full 4,200 minutes; Ed Johnston of Boston was last to accomplish that, in 1963–64). Crozier, in 1970–71, became the No. 1 stopper of the expansion Buffalo Sabres.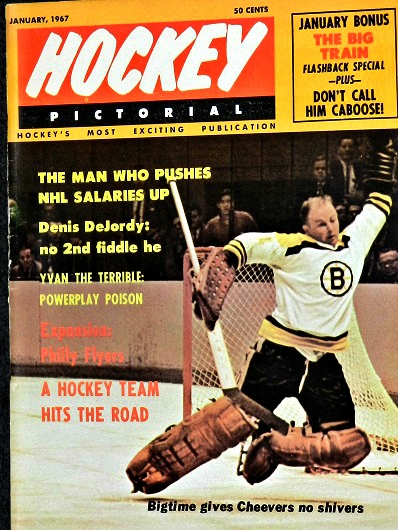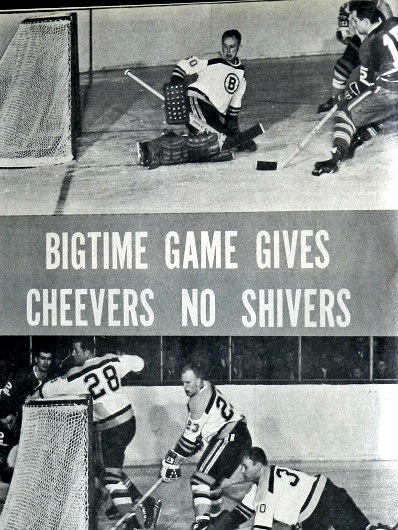 JANUARY 1967: The Maple Leafs had Gerry Cheevers in their system until June 9, 1965 when Boston grabbed him in the intra–league waiver draft. Cheevers spent two years with Rochester of the American Hockey League and another two with Oklahoma City of the Central League after becoming a Bruin. He graduated, full–time, to the NHL roster in 1966–67 and crafted a Hall–of–Fame career, helping Boston to Stanley Cup titles in 1970 and 1972. The Leafs, of course, let him go at a time when Johnny Bower and Terry Sawchuk shared the netminding chores. That duo backstopped Toronto to the 1967 title.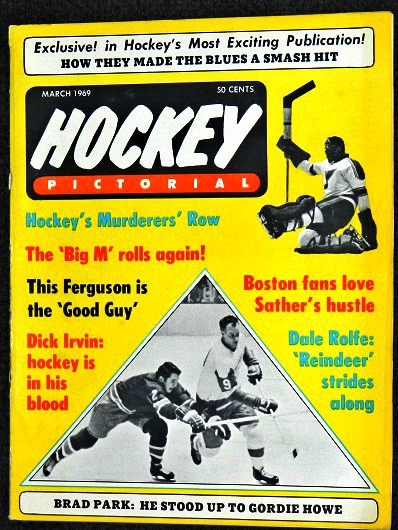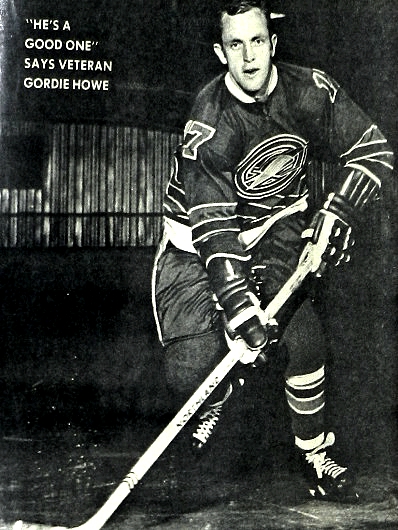 MARCH 1969: Among the players profiled on the cluttered cover of this magazine were winger Norm Ferguson of the Oakland Seals (top–right), whose 34 goals in 1968–69 placed him a close second to Danny Grant of Minnesota for the Calder Trophy as rookie–of–the–year. And, scrappy, young Glen Sather of the Boston Bruins (below), whose most–prominent hockey years would arrive just more than a decade later amid the company, in Edmonton, of Wayne Gretzky, Mark Messier, Paul Coffey et al.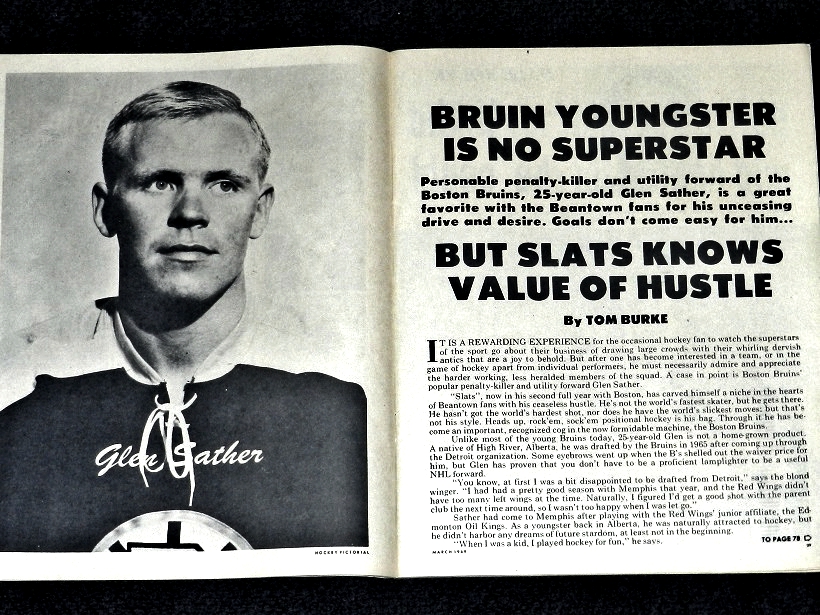 EMAIL: HOWARDLBERGER@GMAIL.COM