TORONTO (Jan. 31) — It's an old, timeworn cliche, but the Toronto Maple Leafs had a couple of "must–win" games after the All–Star break and they smartly prevailed with road victories in Nashville and Dallas.
This was effective work by the club and excellent preparation by coach Sheldon Keefe. Having foundered at 1–3–2 prior to the break, the idle Leafs watched rival clubs march past them in the Eastern Conference standings. Failing in Tennessee and Texas would have buried them deeper in the non–playoff morass. As it happened, the four regulation points maneuvered the Leafs past Philadelphia into ninth in the Conference, one point behind the second wild card slot, occupied by Columbus. Toronto is tied in points (61) with third–place Florida in the Atlantic Division (the Panthers with two games–in–hand); both clubs four points behind second–place Tampa Bay. So, the Maple Leafs salvaged quite a bit during their two–game road swing.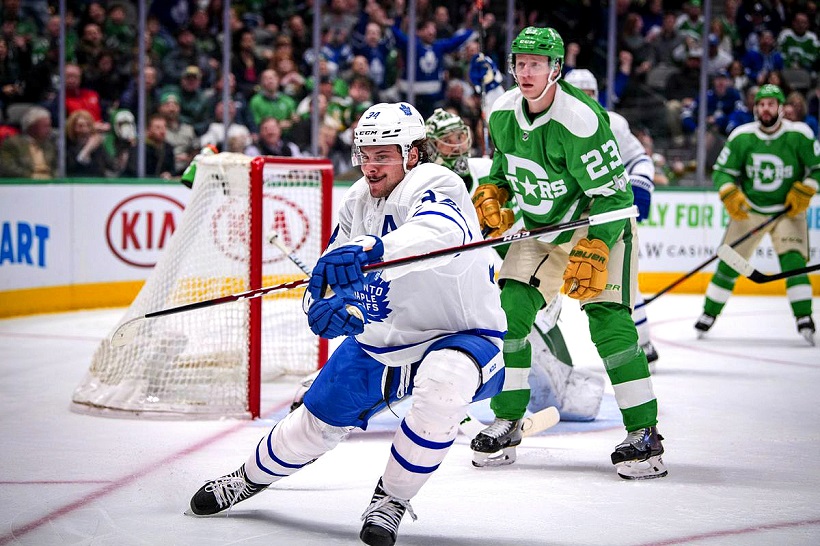 AUSTON MATTHEWS SCORED HIS 36th GOAL AT DALLAS ON WEDNESDAY NIGHT, HELPING THE LEAFS TO A 5–3 VICTORY OVER THE STARS AT THE AMERICAN AIRLINES CENTER. JEROME MIRON USA TODAY SPORTS
But, serious questions linger as it pertains to goalie Frederik Andersen and the club's defensive posture. With the National Hockey League trade deadline just 3½ weeks down the road, I figured it was time to check in with my personal Nostradamus — the long–time amateur scout that emphasized John Tavares would defect from the New York Islanders and sign with the Leafs (blog here: http://bit.ly/2tuGUaI), then warned, last summer, that Mike Babcock "has 20 games" to get the club moving before a change is made (blog here: http://bit.ly/2MVDJDM); Keefe replaced Babcock after 23 games. My well–connected friend has come through with solid info many times in this corner. If, therefore, you are hoping the Maple Leafs are active prior to the trade embargo, this prediction will likely disappoint. "From what I'm hearing, [Kyle] Dubas won't take any risk at the deadline," said the scout. "He needs a more–reliable No. 2 goalie, but Andersen is going to start 60–plus games once again; it's the only way Toronto can stay in the playoff race. So, a different back–up for the final six weeks of the season won't likely make a huge difference. And, my sense is Kyle firmly believes the club is built to succeed in the playoffs, even without size and toughness. So, don't expect that to change. I think he'll wait for the off–season to re–build the blue line and make any significant moves."
Which is probably the correct strategy. The Leafs are not going to be re–made by Feb. 24; in order to qualify for the Stanley Cup tournament and create any havoc between April and June, the club will need to out–skate and out–gun the opposition while Andersen proves a phenomenon between the pipes. As the soul–singing group Cornelius Brothers & Sister Rose warned in 1972, it's "too late to turn back now." Whether or not Dubas will ever "turn back" remains a mystery. He seems rather adamant that playoff success can be achieved in the near–absence of grit and defensive acumen. It's difficult, of course, to imagine a team in any sport prevailing without the capacity to prevent scoring. Yes, the Toronto Raptors had Kawhi Leonard last season, but they began to win only after learning to perform effectively at their end of the floor. Can you imagine a World Series team minus vacuum–like infielders and outfielders that can chase down fly balls?
Michael Traikos of Postmedia wrote an excellent column this week (below) on how the Tampa Bay Lightning reformed after their playoff humiliation against Columbus last spring. T–Bay, you'll recall, won 62 games in the regular season before getting swept in the opening round by the Blue Jackets. "Jon Cooper is not a copycat," began Traikos about the Lightning coach. "But, yeah, he was watching the Stanley Cup final last year and obviously noticed what everyone else saw when St. Louis defeated Boston in a seven–game series that, at times, looked more like a 12–round title fight. Another year, another final featuring scale–tipping teams that played hard, heavy and defensive hockey. Where have we seen this before?"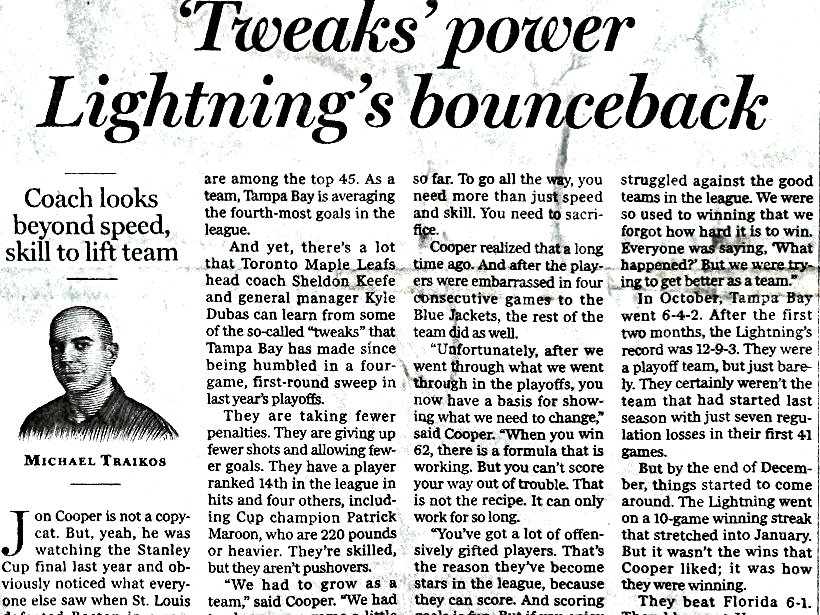 The gist of Michael's article was that Tampa Bay needed to alter its approach this season. As Traikos wrote, the Lightning is taking fewer penalties; giving up fewer shots and allowing fewer goals. "We had to grow as a team," said Cooper. "We had to change our game a little bit. It wasn't an overhaul. But, there were tweaks. You can't score your way out of trouble [in the playoffs]. That is not the recipe. It can only work for so long."
Despite four consecutive eliminations in the opening playoff round, the Leafs don't appear to be reforming, even marginally. They still rely too much on one goalie… and far–too–much on the attack side of center ice. If they can win the NHL championship with such a blueprint, all the credit will fall upon Dubas.
Don't expect any transformation prior to the Feb. 24 trade cutoff.
MORE HOCKEY MAGAZINES
Continuing with my collection of hockey magazines, here are seven more — from February 1962 to October 1979. Front covers and inside pages: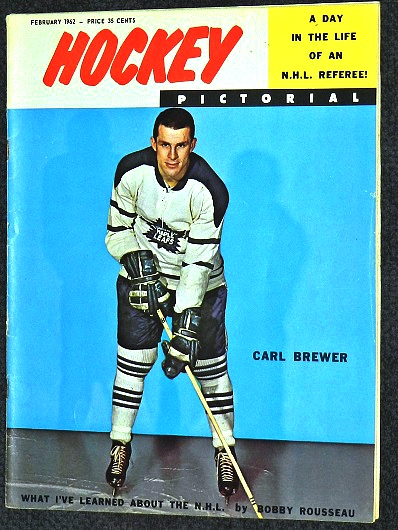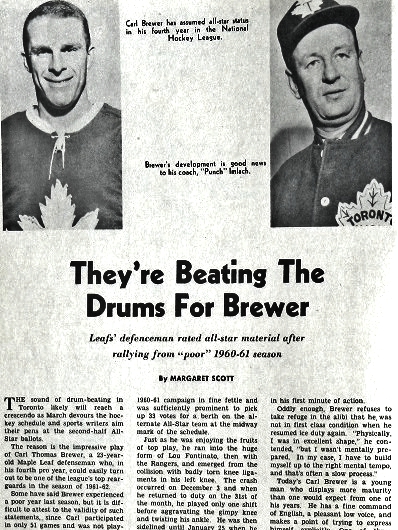 FEBRUARY 1962 Hockey Pictorial: The Maple Leafs were two months away from winning their first Stanley Cup under Punch Imlach, and first of three consecutive NHL titles. Carl Brewer was among the Big 4 on the Toronto blue line, paired with Bob Baun. The other tandem had Tim Horton with Allan Stanley. Brewer abruptly quit the Leafs prior to the 1965–66 season, citing his distaste for Imlach's relentless behavior toward the players. He'd return to the NHL with Detroit in 1969–70 and, again, skate alongside Baun.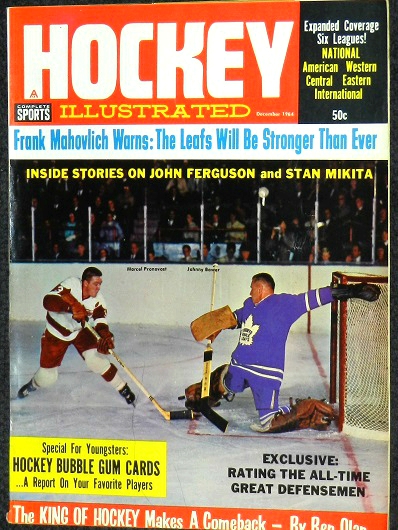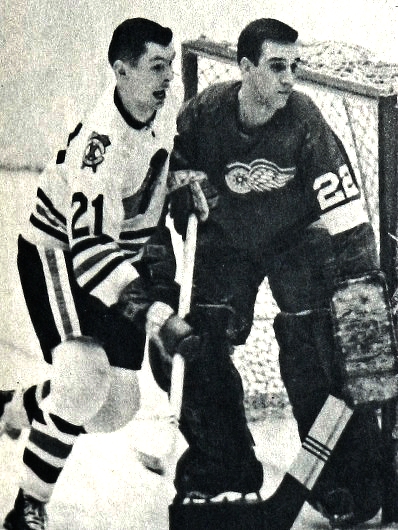 DECEMBER 1964 Hockey Illustrated: The front–cover "warning" from Frank Mahovlich failed to materialize in 1964–65 as the Maple Leafs were ousted in six games by Montreal in the Stanley Cup semifinals, ending their three–year championship run. The Canadiens would prevail over Stan Mikita (pictured, right, with Detroit goalie Roger Crozier) and the Chicago Black Hawks in a seven–game championship round.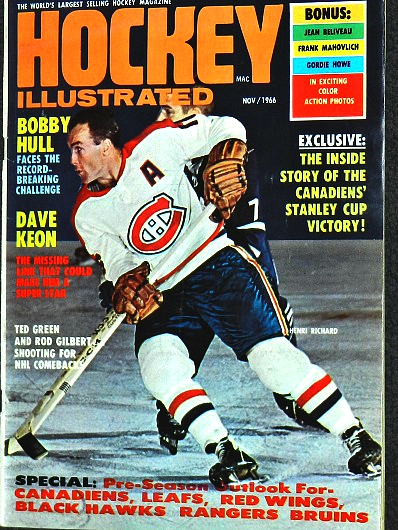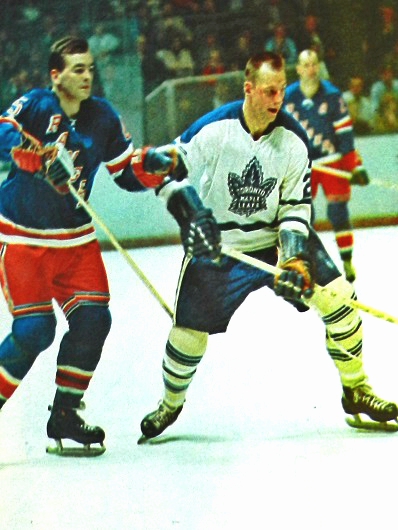 NOVEMBER 1966 Hockey Illustrated: Henri Richard (on the cover) and the Canadiens were two–time champions to begin the 1966–67 season, having knocked off Detroit in the '66 Stanley Cup final on Richard's disputed overtime goal at the Olympia. Hockey Illustrated featured a four–page color spread in its monthly issue. At right, Eddie Shack of the Leafs was watched, at the old Madison Square Garden, by New York defenseman Bob Plager, who would make his NHL mark, after expansion, in St. Louis. And, there were few "missing links" for Toronto sparkplug Dave Keon, pictured, below, checking Bobby Rousseau of Montreal.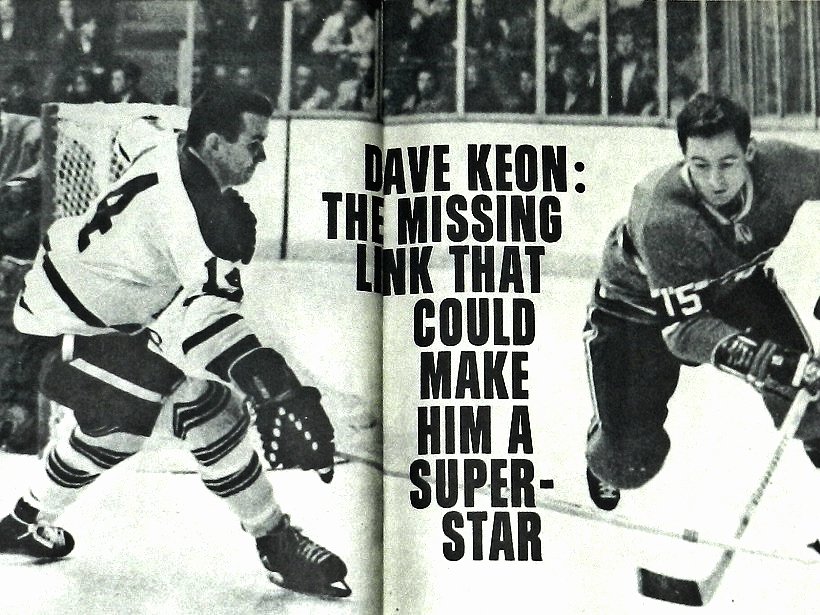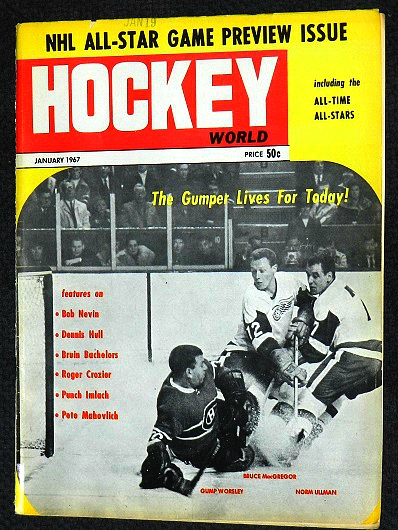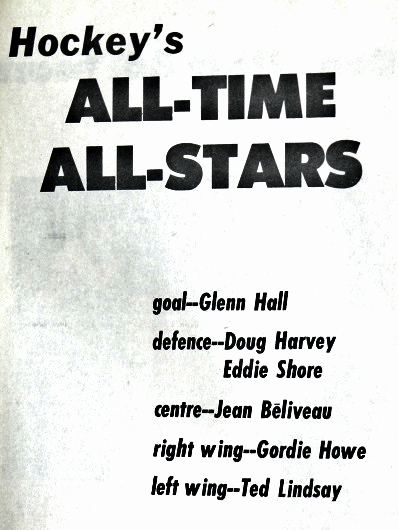 JANUARY 1967 Hockey World: As the NHL concluded its first half–century, Hockey World magazine chose a consensus All–Star team (top–right). Most difficult, surely, was choosing between Gordie Howe and Maurice (Rocket) Richard for top right–winger. Intriguing, was the designation of Ted Lindsay at left–wing over Bobby Hull, who owned the NHL record for goals in one season, 54, the previous year (1965–66). Were this poll taken today, only Howe — and, maybe, Doug Harvey — would retain their spots. Martin Brodeur would likely be atop the goaltending list. Bobby Orr would undoubtedly be the No. 1 defenseman (he was a rookie in January 1967) with seven–time Norris Trophy winner Nick Lidstrom challenging Harvey. Wayne Gretzky would hold down the top spot at center with Alex Ovechkin (693 goals and counting) at left–wing.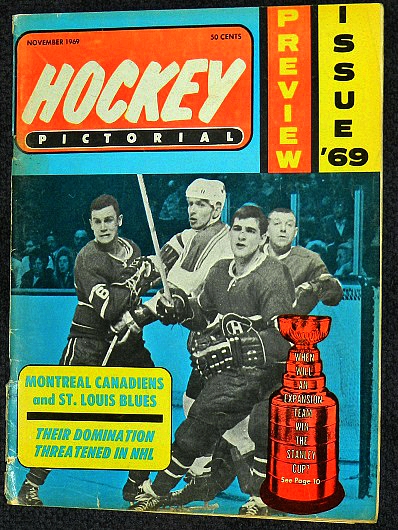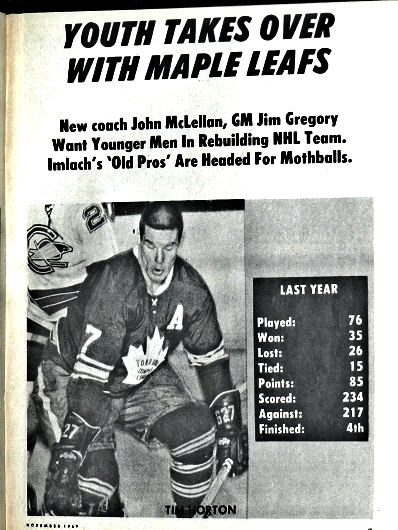 NOVEMBER 1969 Hockey Pictorial: In the Toronto section of this 1969–70 preview magazine, the photo, top–right, of defenseman Tim Horton (from a 1967 game against the expansion California Seals) proved clairvoyant. On Mar. 3, 1970, while the Leafs were in Oakland, rookie GM Jim Gregory traded Horton to the New York Rangers. The Leafs finished last in the East Division, missing the playoffs with Montreal.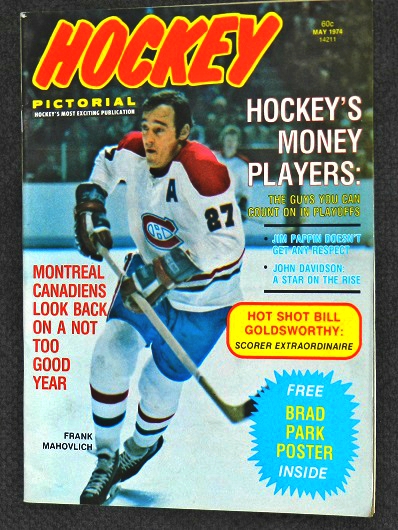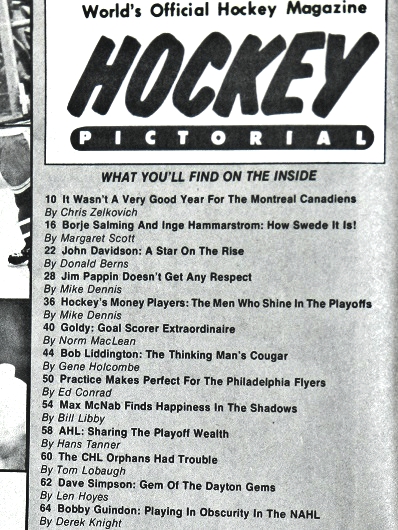 MAY 1974 Hockey Pictorial: No, it wasn't a great year for the Montreal Canadiens in 1973–74, not with goalie Ken Dryden on sabbatical to finish law studies and prove his financial worth to GM Sam Pollock. In Dryden's absence, the trio of Wayne Thomas, Michel (Bunny) Larocque and Michel Plasse split the netminding chores. The Canadiens still finished second in the East Division with 99 points, 14 fewer than first–place Boston. But, they bowed to the New York Rangers in the opening round of the playoffs. It would be the final NHL season for Frank Mahovlich (on the cover). The Big M led Montreal with 80 points, but signed with the Toronto Toros of the World Hockey Association for 1974–75. The Maple Leafs enjoyed a bounce–back season in '73–74, improving by 22 points under new coach Red Kelly. The Swedish rookie tandem of Borje Salming and Inge Hammarstrom (below) contributed to the turnaround.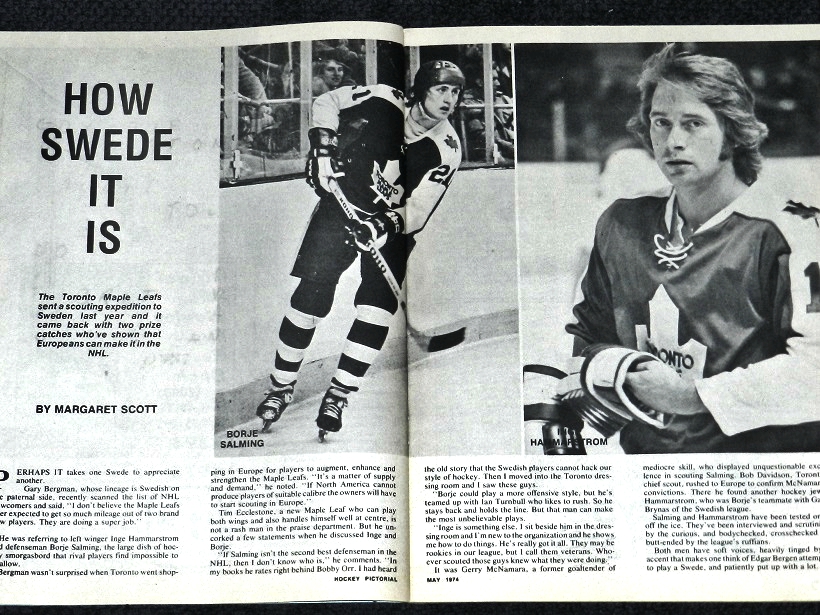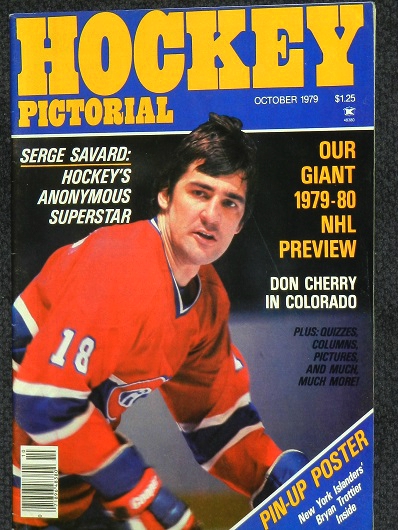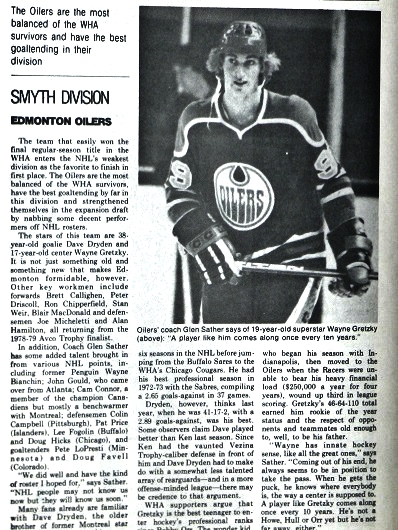 OCTOBER 1979 Hockey Pictorial: The 1979–80 season was a watershed year for the NHL. The Stanley Cup dynasty of Serge Savard (cover) and the Montreal Canadiens (four consecutive titles under Scotty Bowman) ended in a second–round playoff loss to the Minnesota North Stars. A new dynasty began when the New York Islanders defeated Philadelphia to win their first of four in succession under Al Arbour. The NHL absorbed the remnants of the WHA — Edmonton, Hartford, Quebec and Winnipeg bloating membership to 21 teams. Wayne Gretzky of the Oilers (top–right) burst on the scene with 137 points, same as Marcel Dionne of Los Angeles. But, Dionne won the Art Ross Trophy by out–scoring Gretzky 53–51. 1979–80 also proved to be the last for Don Cherry as coach. Having been fired after five years in Boston, Cherry signed an ill–fated contract with the old Colorado Rockies (below). His rancorous partnership with GM Ray Miron lasted only one season. Ahead for Grapes was 38 years of TV stardom on Hockey Night In Canada.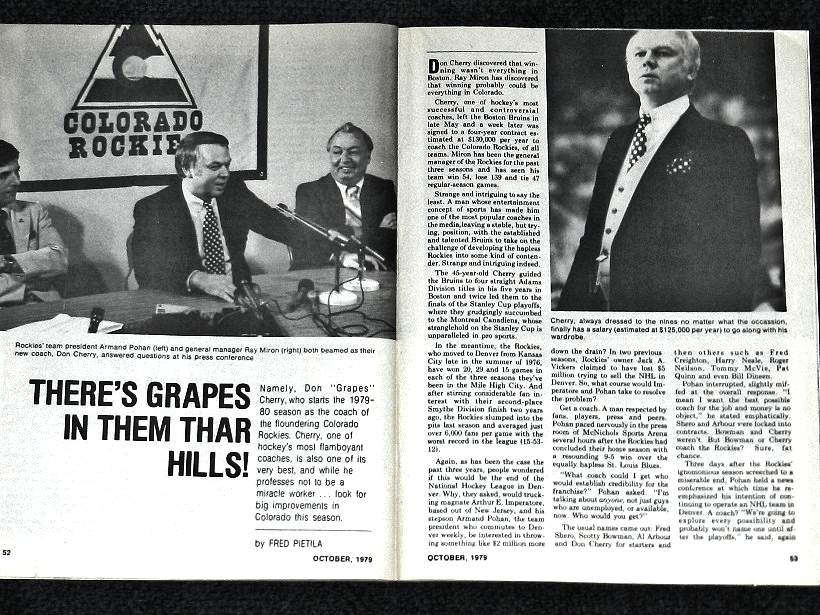 EMAIL: HOWARDLBERGER@GMAIL.COM