TORONTO (Jan. 24) — Though it may seem unlikely, let's assume the Maple Leafs accrue enough points in their final 33 games to finish third in the Atlantic Division, thereby securing one of the three allocated playoff berths. It would mark the fourth consecutive season in which the club has placed behind Boston and Tampa Bay, having qualified as a wild card entry in 2016 (losing to Washington in the first round). Should No. 3 in the division, year after year, be considered acceptable for the franchise and its followers? Is it simply understood that the Maple Leafs will not challenge the Bruins or Lightning to begin the Stanley Cup tournament on home ice? Or, has this been a half–decade of underachievement for the Blue and White?
When matched against the previous five years (2011–15), the Leafs are in a Stanley Cup dynasty. Only once during that time did the club make the playoffs — the lockout–shortened season of January–to–May 2013; its first–such appearance in eight springs (ending in Game 7 at Boston with the infamous overtime defeat after a blown, 4–1 lead in the third period). So, yes, the team has undoubtedly progressed. But, has it also bumped up against an imaginary ceiling, incapable of nudging aside either of its divisional nemeses? At some point, you might anticipate a club spending to the cap every year; with a trio of elite draft picks (William Nylander, Mitch Marner, Auston Matthews) and the most–lucrative free agent procurement in franchise history (John Tavares) to emerge from its third–place quagmire. Yet, there's no indication the Maple Leafs are capable of entering the high–rent district perennially occupied by Boston and Tampa Bay.
Similar fate, this season, would actually be welcomed by all of Leafs Nation. At the National Hockey League All–Star break, the club, with 57 points, has tumbled rather precariously into 10th place in the Eastern Conference standings, trailing both the No. 2 wild card entry (Carolina) and the third–place occupant in the Atlantic (Florida, on a 7–1–0 streak) by four points. At the moment, no team in back of the Maple Leafs is a playoff threat: Buffalo and Montreal have 51 points; the New York Rangers, 50. Still, it's quite a comedown for fans of the Blue and White, virtually none of whom would have envisioned the club trailing Philadelphia and Columbus after the mid–season mark. Neither can the Leafs, coming out of the break, prolong a 1–3–2 dry spell; not after the 9–10–4 start that prompted the demise of Mike Babcock. So, challenging Boston and Tampa Bay for home–ice advantage in the first round of the Stanley Cup tournament — if ever to happen — is now two steps beyond the Maple Leafs. Hardly a level of expectation in Year 7 of the so–called Shanaplan.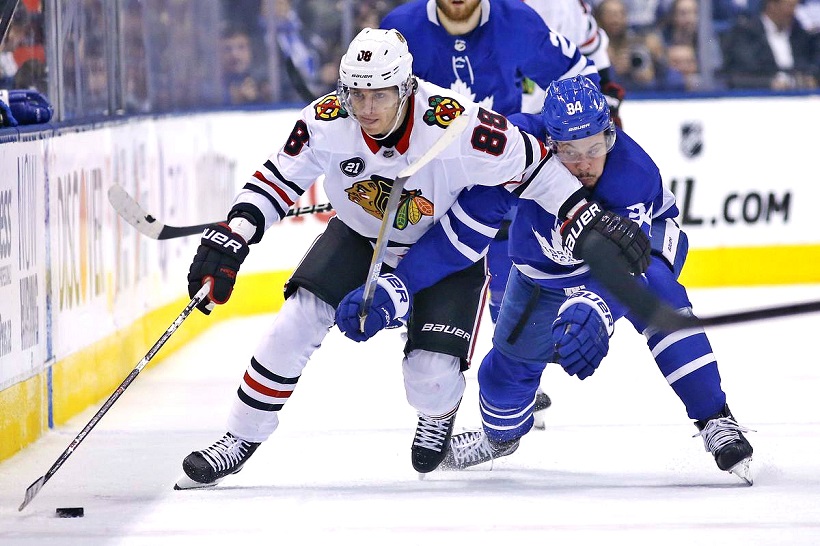 SADLY FOR THE LEAFS, THEY ARE SPENDING THE ALL–STAR BREAK WITH GORY RECOLLECTION OF THEIR MOST–RECENT GAME: A 6–2 MAULING BY PATRICK KANE AND THE CHICAGO BLACKHAWKS LAST SATURDAY NIGHT AT SCOTIABANK ARENA. RICK MADONIK TORONTO STAR
MARVELOUS CHIP: If general manager Kyle Dubas is hoping for more than a depth–addition prior to the NHL trade deadline (Feb. 24), he has only one legitimate option. It would necessitate a reversal of the public stance that Dubas "will not trade William Nylander while I'm GM of the team" — established on the day (Nov. 30, 2018) he signed the Swedish forward to a six–year contract with an annual cap–hit of $6,962,366. Given that Nylander is on a 40–goal pace, such term and compensation could be rather attractive to rival clubs (Columbus, New York Islanders, Dallas, Calgary, Arizona) with inadequate scoring. Or, perhaps, to the Rangers, who blew a bundle on Artemi Panarin last summer, yet are only two games above .500 and 10 points out of playoff territory in the East. The trade speculation involving goalie Alexandar Georgiev, 23, makes little sense given his age and vast potential. Nor would Dubas likely swap Nylander, straight up, for Georgiev. But, the Toronto GM knows that Nylander affords him the best opportunity to acquire an impact player that would narrow the Leafs' defensive incapacity. Anyone who believes such a component can be obtained for Kasperi Kapanen or Andreas Johnsson is dreaming in blue and white technicolor. Neither will the Leafs move Tavares, Marner, Matthews or Morgan Rielly. So, the immediate options for a significant pre–deadline swap rest with Nylander… providing that Dubas has the stomach to explore such a transaction.
THE LAST TIME: This weekend's All–Star festivities will be held in St. Louis, as in 1970 and 1988. I have the program (below) from the last–such occasion — Feb. 9, 1988 at the old St. Louis Arena. Hockey's two biggest stars at the time, Wayne Gretzky (Edmonton) and Mario Lemieux (Pittsburgh), graced the cover. Lemieux, 23, stole the show with three goals and three assists, including the winner at 1:08 of overtime on Mike Vernon (Calgary). The Wales Conference defeated the Campbell Conference, 6–5.

THE BOYS WERE BACK IN TOWN: It was a treat to spend a few moments, last Sunday, with Maple Leaf legends Darryl Sittler, Borje Salming and Mike Palmateer, who gathered for an autograph session at Hersh Borenstein's FROZEN POND outlet near Weston Rd. and Highway 7. In my teenage years (1975–79), I attended the majority of NHL games at Maple Leaf Gardens, watching from season tickets in Sec. 30 of the south–mezzanine Blues. During that time, Sittler, Salming and Palmateer (along with Lanny McDonald) were the biggest stars in the white–and–blue Toronto jersey; all but Palmateer are, today, honored members of the Hockey Hall of Fame. After arriving at the FROZEN POND location, I was happily ushered (by my friend, the hockey author, Kevin Shea) to an upstairs loft, where the alumni trio was busily signing all matter of Maple Leafs memorabilia. It was an honor to become acquainted, professionally, with Sittler, Salming and Palmateer during my 23–year term as a radio reporter at The FAN–590. Spending time in their company never grows old. Here are some images from the autograph session, courtesy of my trusty NIKON: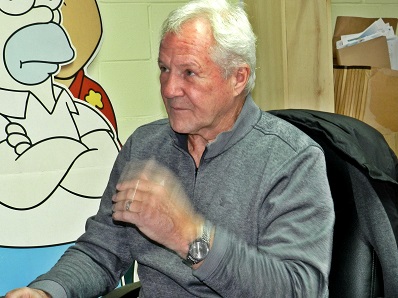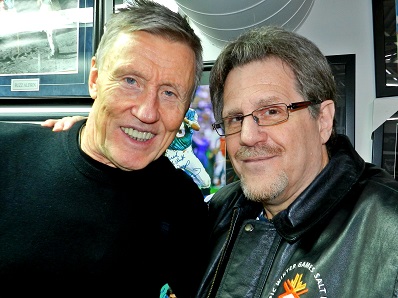 DARRYL SITTLER (LEFT) WILL TURN 70 ON SEP. 18 OF THIS YEAR. THE FORMER LEAFS CAPTAIN CONTINUES TO AGE GRACEFULLY. BORJE SALMING, STILL 68, POSES (RIGHT) WITH AN OLD RADIO GUY.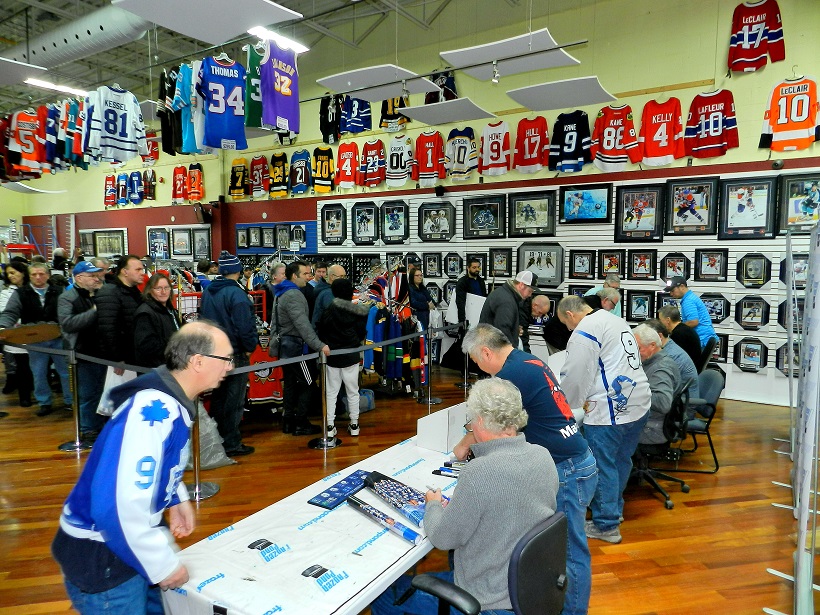 FROZEN POND AUTOGRAPH SEEKERS LINE UP TO MEET THEIR LEAF HEROES FROM THE 1970's.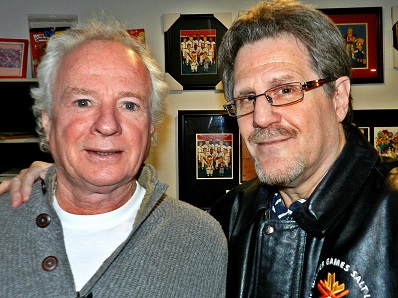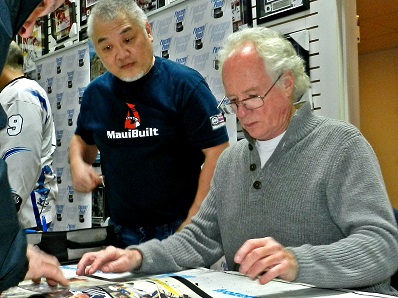 RADIO GUY MEETS OLD LEAFS GOALIE (LEFT). AND, OLD LEAFS GOALIE — MIKE PALMATEER — GETS READY TO SIGN AN AUTOGRAPH (RIGHT) BENEATH A RATHER WIDE–EYED FOLLOWER.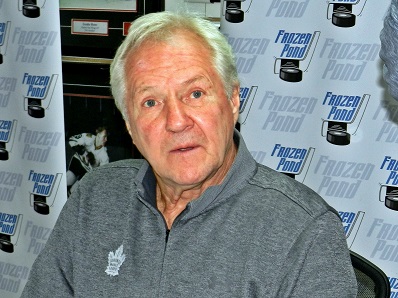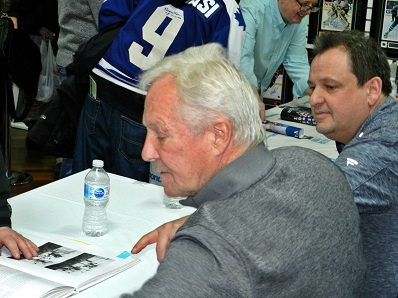 MORE THAN 38 YEARS AFTER BEING TRADED BY THE LEAFS TO PHILADELPHIA (Jan. 20, 1982), DARRYL SITTLER REMAINS SECOND ON THE CLUB'S ALL–TIME POINTS LIST WITH 916, TRAILING ONLY MATS SUNDIN (987). DURING THE MID–TO–LATE–70's, THERE WAS NO BIGGER SPORTS STAR IN THE CITY.
EMAIL: HOWARDLBERGER@GMAIL.COM