TORONTO (Jan. 14) — For a brief moment last Wednesday, and despite all of the challenges encountered so far this season, I felt that maybe karma was on the side of the Toronto Maple Leafs.
Trailing the Winnipeg Jets, 3–2, at Scotiabank Arena, Sheldon Keefe pulled Frederik Andersen for a sixth attacker. The Jets had two opportunities to seal the victory with an empty–net goal that most National Hockey League players could score blindfolded. Both attempts failed. With 14 seconds remaining in regulation, Auston Matthews took a pass from Morgan Rielly and ripped a low shot past Connor Hellebuyck to send the match into overtime. And, I thought to myself: "Maybe this is, finally, the Maple Leafs' year."
Six nights later and — whoosh!! — that sentiment has gone up in smoke.
It is never difficult, of course, to assume the Leafs will not win the Stanley Cup. More than 52½ calendar–years have come and gone since George Armstrong — who turns 90 in July — raised the trophy at Maple Leaf Gardens after the 1967 upset of Montreal. Twenty franchises have since won the NHL title, including a combined 20 championships by the other five teams in existence on May 2, 1967 (Boston, Chicago, Detroit, Montreal, New York Rangers). So, predicting that a season will end with a club other than Toronto on top is akin to feeling pain after stubbing your toe. Rather inevitable. That said, professional sport has been kind, in recent years, to teams that were apparently destined to never–again prevail. The Boston Red Sox, in 2004, won the World Series for the first time since 1918. A year later, the Chicago White Sox triumphed for the first time since 1917. The Chicago Cubs, baseball's closest facsimile to the Maple Leafs, ended a 108–year famine in 2016. In football, the Philadelphia Eagles (on Feb. 4, 2018) won their first Super Bowl, busting off a 58–year championship drought. The Kansas City Chiefs have a chance, by Feb. 2, to win their first NFL title in 50 years… since Super Bowl IV after the 1969 season. And, last June, the St. Louis Blues captured their first Stanley Cup, having joined the NHL in the expansion of 1967–68. So, indications elsewhere suggest the Leafs will, at some point, end the longest current dry spell in hockey. Just don't expect it to happen in 2020.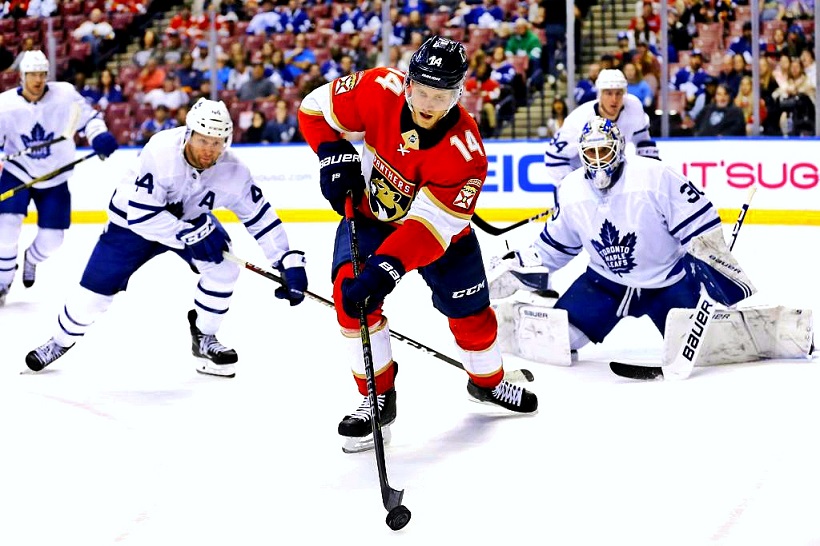 MORGAN RIELLY (LEFT) WAS INJURED DURING THE LEAFS' EMBARRASSMENT IN SUNRISE, FLA. ON SUNDAY NIGHT — AN 8–4 DEFEAT. TORONTO'S TOP BLUE–LINER WILL BE SIDELINED FOR EIGHT WEEKS. GETTY IMAGES/NHL
Though nearly half the NHL schedule remains, I ask you this: When last (if ever) did a team lose three players, including its two most–reliable defensemen, in a five–week span to a broken foot from blocking shots? This has happened to the Maple Leafs — first with forward Trevor Moore, then blue–liners Jake Muzzin and Rielly. You and I have a better chance of winning the next Lotto–649 draw. When I was a kid, I would call it "Leafs luck", not–yet comprehending how the franchise was legitimately doomed under cheapskate–owner Harold Ballard. Today, though the club is majority–controlled (75%) by warring factions, both Rogers Communications and Bell Canada Enterprises are national conglomerates that provide the team the financial resources to succeed. President Brendan Shanahan is universally respected in hockey and the youthful general manager–coach tandem of Kyle Dubas and Keefe appears to be on the same, contemporary page. This is hardly a remake of the Ballard–Gerry McNamara black hole in the 1980's.
Circumstances, nonetheless, that are both chancy and self–inflicted continue to form a black cloud over the Blue and White. Only in Toronto, it seems, could the most–lavishly compensated coach in the game's history arrive with inimitable fanfare. And then grow old and outdated before our eyes in less than half–a–decade. Only in Toronto, it seems, could the GM spend so grandly on four players (John Tavares, Matthews, Mitch Marner, William Nylander) and not be able to afford the necessity of a reliable, back–up goaltender. Only in Toronto, it seems, could two regimes fail to understand that the No. 1 goalie is prone to weariness and cannot endure 60–plus assignments in the regular season. Only in Toronto, it seems, could a club lose three Games 7 to the same team, in the same arena, over the span of seven years. Only in Toronto, it seems, could a team spit up a best–of–seven playoff series three times (1977 vs. Philadelphia; 1987 vs. Detroit; 1995 vs. Chicago) after winning the first two games on the road. And, only against Toronto, it seems, would the NHL's premier attraction survive overtime of a playoff match after cutting an opponent with his stick… and then score the decisive goal to avoid elimination (yeah, Gretzky–Gilmour–Fraser endures like a foul smell).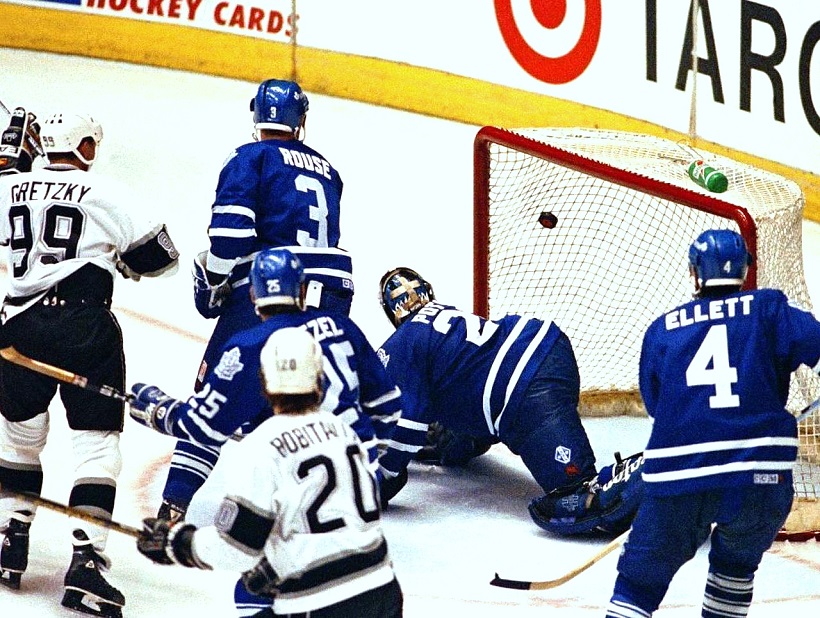 THIS PHOTO DOESN'T REQUIRE DESCRIPTION FOR TORONTO HOCKEY FANS THAT REMEMBER 1993. IT IS WAYNE GRETZKY LIFTING THE PUCK OVER FELIX POTVIN IN OVERTIME OF GAME 6 AT THE LOS ANGELES FORUM, PREVENTING THE LEAFS FROM ADVANCING TO THE STANLEY CUP FINAL AGAINST MONTREAL. I COVERED THE MATCH FOR THE FAN–590. THE GREAT ONE HAD ESCAPED BANISHMENT, MOMENTS EARLIER, AFTER CUTTING DOUG GILMOUR'S CHIN. LOS ANGELES TIMES PHOTO
Opportunity for the Maple Leafs, with their top–end skill at the forward position, would appear to be plentiful beyond this season. But, who knows? Two of the club's most–important figures — Andersen and Tavares — will both soon be in their 30's, beyond the biological prime for NHL players. Neither do we know what the blue line will look like after this season, with Tyson Barrie, Travis Dermott and Cody Ceci needing to be re–signed or replaced (we can pencil in Rasmus Sandin and Tim Liljegren, but without big–league resumes). Nor do we have any idea whether Andersen will be accorded the luxury of an established goaltending partner before his contract expires after next season, though now might be a good time for Dubas to explore with $5,809,517 of LTIR cap–space at hand (according to capfriendly.com).
My 61st birthday is on the horizon (Feb. 3) and I have only vague, ghostly recollection of sitting at the foot of my parents' bed on May 2, 1967; watching a black–and–white television when George Armstrong raised the Leafs' last Stanley Cup. Any person younger than me knows of the occasion only via color film or historic accounts in writing. The latter group — immense and perpetually increasing — must surely wonder if it will ever be the Maple Leafs' year. Three broken feet in five weeks would appear to rule out the current season.
Call it "Leafs luck" or a "jinx". But, don't try to explain it.
50 YEARS AGO
at Maple Leaf Gardens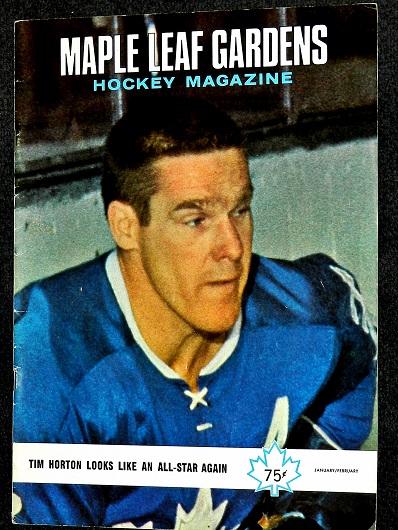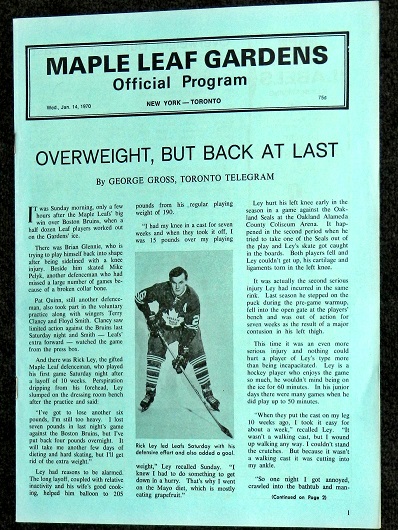 Continuing with my series of programs from games I attended at Maple Leaf Gardens in 1969–70, here are two from 50 years ago this week — Leafs vs. New York and Pittsburgh.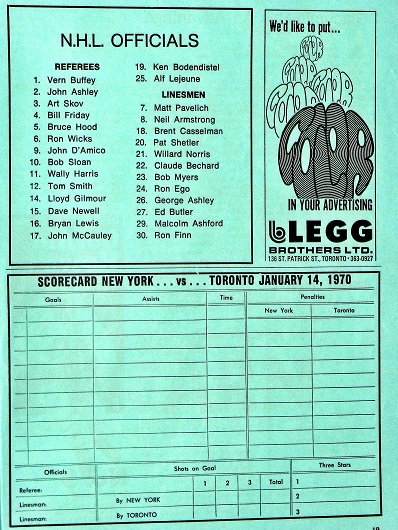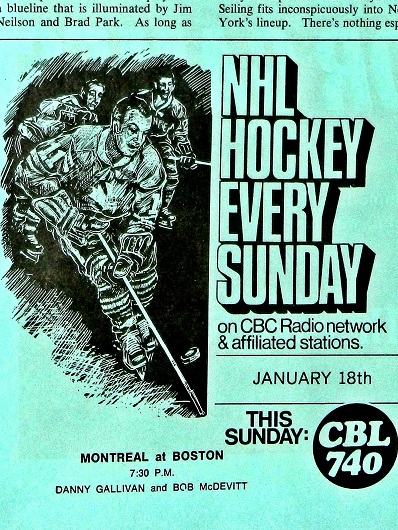 The substandard Leafs of '69–70 would finish last in the six–team East Division and miss the playoffs. But, 50 years ago tonight, the club took its longest undefeated streak of the season (3–0–3) into a home encounter with the strong New York Rangers, who ended the run rather rudely with a 7–1 spanking. With goalie Marv Edwards sidelined, Bruce Gamble started for the Leafs and was relieved, at 6:44 of the third period, by Gerry McNamara, the club's future GM (1981–88). Bill Fairbairn and Arnie Brown scored twice for New York; Rod Gilbert, ex–Leaf Bob Nevin and Dave Balon had singles. McNamara entered the game after Nevin's marker provided the visitors a 5–1 lead. Dave Keon scored the Leafs only goal at 16:24 of the first period, tying the match 1–1. Ed Giacomin stopped 39 shots for the victory. The Rangers improved to 23–8–9 for 55 points; Toronto fell to 15–17–9 for 39 points. Bruce Hood was the referee; John D'Amico and Ed Butler the linesmen.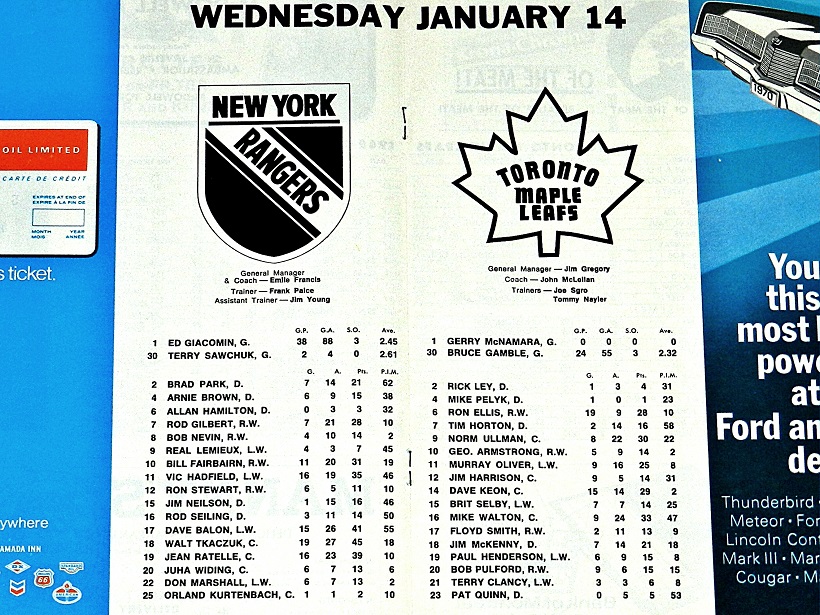 Hall–of–Fame goalie Terry Sawchuk was Ed Giacomin's back–up in 1969–70 with New York. Sawchuk, who helped guide the Leafs to their 1967 Stanley Cup win, had only 4½ months to live. He would perish on May 31, 1970 resulting from internal bleeding caused by a drunken spat with teammate Ron Stewart.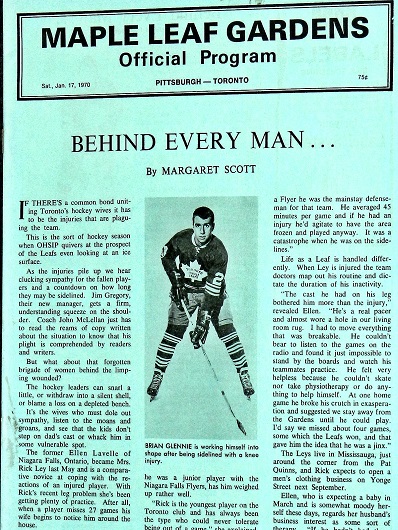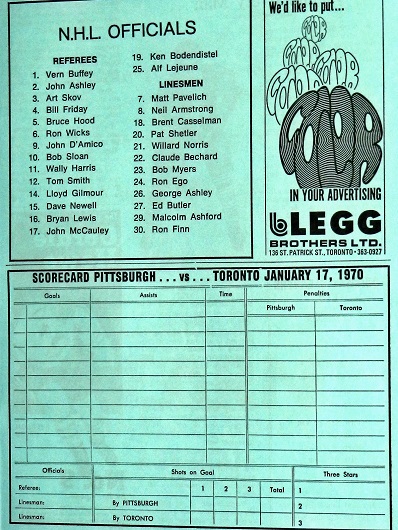 One night after the lopsided defeat against New York, the Leafs went to St. Louis and got blanked, 2–0. The club came back to the Gardens for a date with the Pittsburgh Penguins (Jan. 17, 1970) and prevailed, 4–0. Bruce Gamble went the distance in goal, stopping 38 shots for the shutout. Les Binkley took the loss at the other end, making 23 saves. Dave Keon had a big night for the Leafs with a hattrick. Paul Henderson also scored for Toronto; Bob Pulford assisted on two of Keon's goals. With the loss, the Penguins dropped to 11–23–6 on the season for 28 points. The Leafs improved to 16–18–9 for 41 points. The referee was Dave Newell; the linesmen John D'Amico and Malcolm Ashford.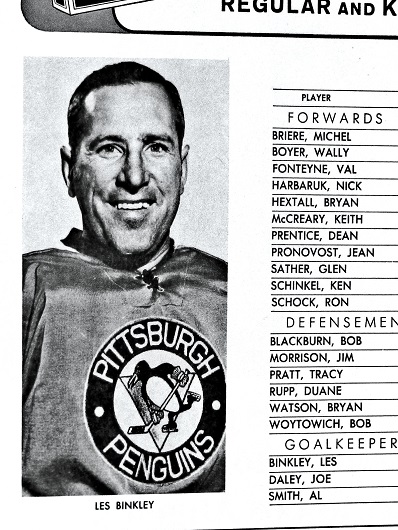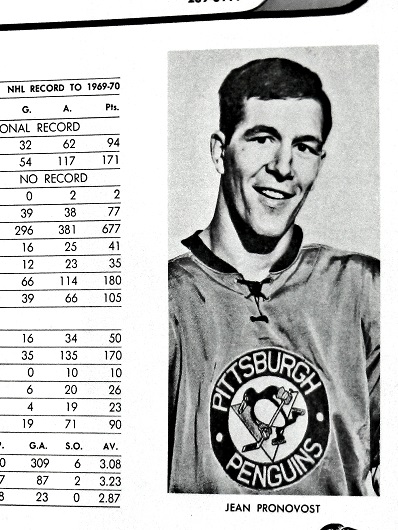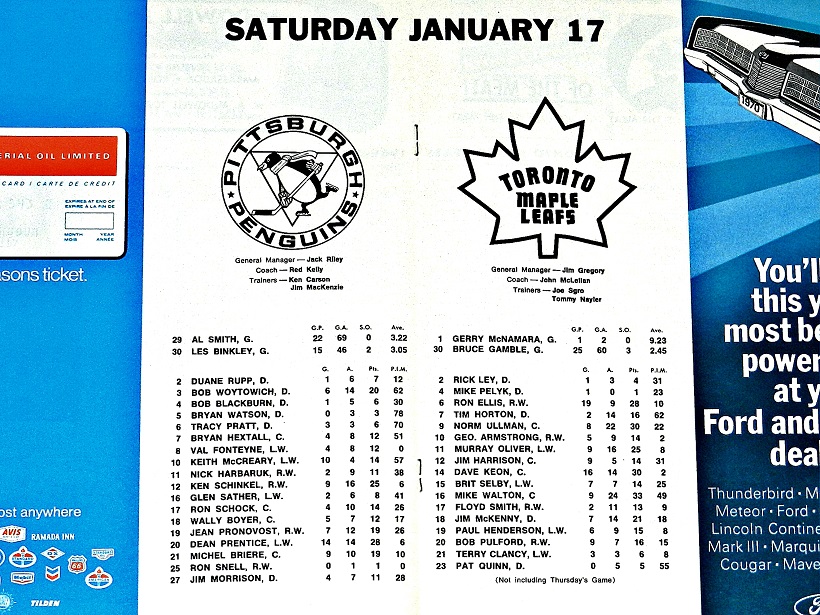 Gerry McNamara continued as back–up goalie for the Maple Leafs. In the program that night (below) was a story about the future Toronto GM and his relief appearance, three nights earlier, against New York.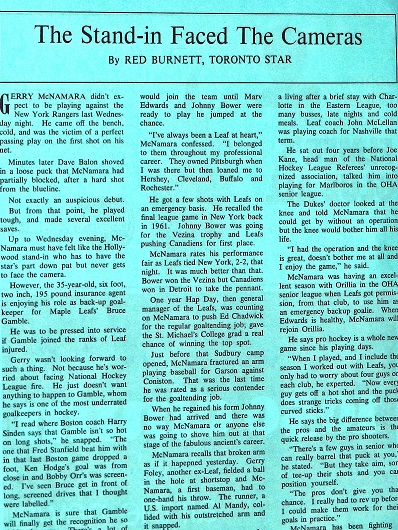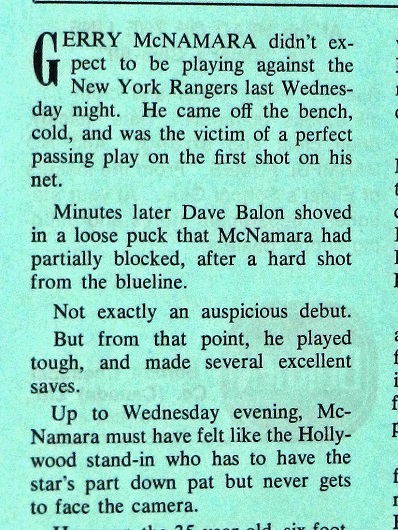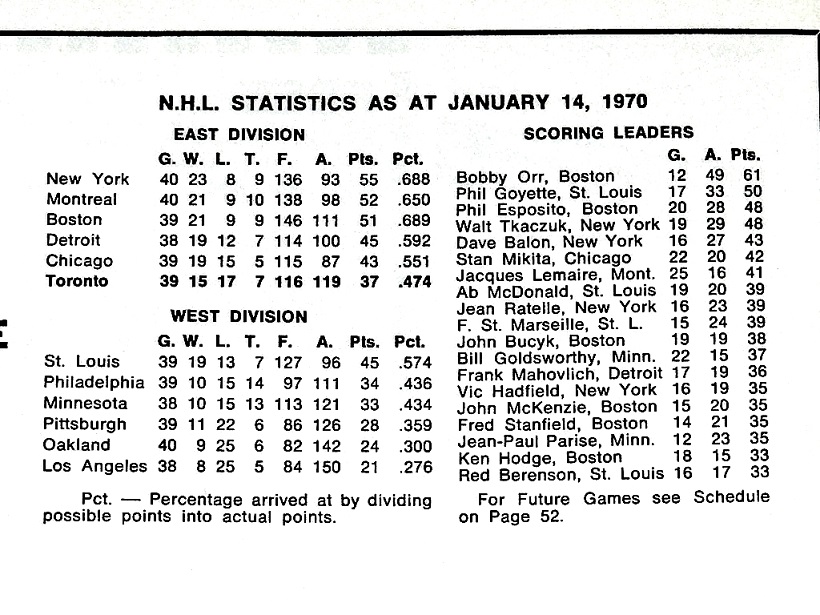 Bobby Orr of the Boston Bruins was well in front in the NHL points race after the midway mark of the 1969–70 schedule. He would become the first defenseman in league history to win the Art Ross Trophy.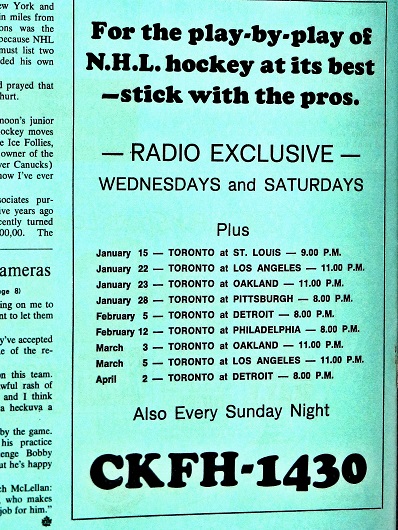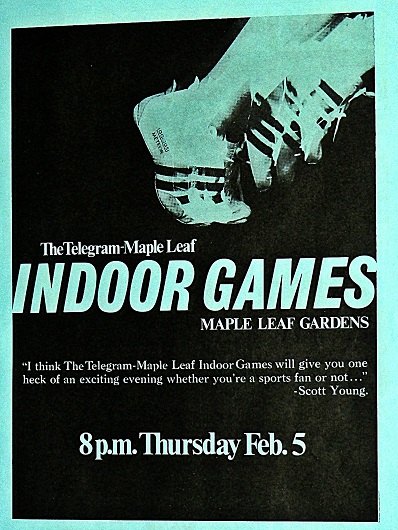 The Leafs flagship radio station, CKFH–1430 (the 'FH' standing for Foster Hewitt), handed all games, home and away, with Foster and son, Bill Hewitt, calling the action. I fondly remember struggling to stay awake (as an 11–year–old) and listen to games from Los Angeles and Oakland that faced off after 11 p.m. Eastern. Virtually all NHL night matches began at 8 p.m. local time. The Toronto Telegram–Maple Leaf Indoor Games was a prominent event at the Gardens in the 60's and 70's, bringing together many of the world's best track–and–field stars. The Toronto Star assumed sponsorship of the meet in the 70's.
EMAIL: HOWARDLBERGER@GMAIL.COM