TORONTO (Feb. 29) — With Don Cherry and Bob McCown having been turfed by Rogers Communications — and with Bob McKenzie about to roll back his hours on TSN — former National Hockey League executive Brian Burke will soon become the most–watched and recognized face on Canadian sports television.
"Brian's presence on Hockey Night In Canada will become more centralized," explained a Rogers source (and friend) to me this week. "He may occupy the former Coach's Corner slot (in the first intermission), but we're still ironing out details. We're really excited to move in this direction. It's a natural progression for us. Considering his background with the NHL and several of its teams (Vancouver, Anaheim, Toronto, Calgary), Brian is the most–authoritative hockey voice in the country right now. He always has something to say."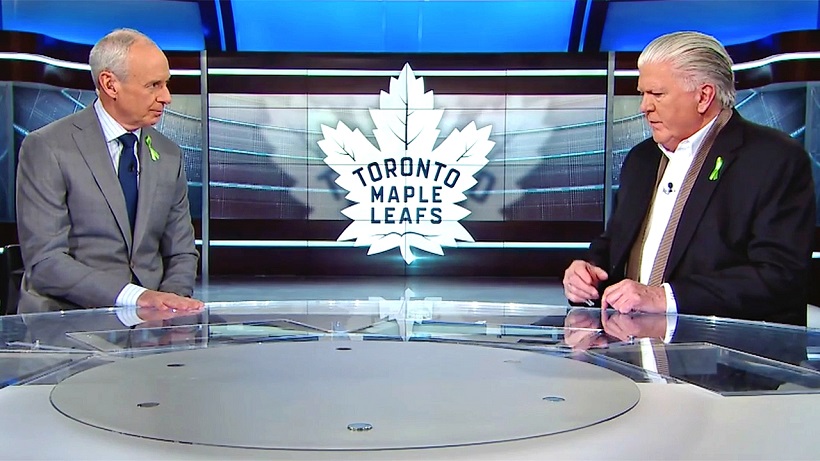 BRIAN BURKE (RIGHT) AND RON MacLEAN DISCUSS THE MAPLE LEAFS ON HOCKEY NIGHT IN CANADA.
Of that, there can be no debate. Burke is the best addition to sports TV in our land since Cherry debuted on HNIC back in 1981. He is knowledgeable, connected, unafraid to speak his mind… and he gets to the point quickly. Clarity and lack of verbosity made Harry Neale the perfect game–analyst during his years (1986–2006) alongside Bob Cole on Hockey Night's No. 1 broadcast team. And, while working with Joe Bowen on midweek telecasts of Maple Leaf games. Most broadcasters on TV and radio talk endlessly while promoting an idea or theory. Encapsulating one's thoughts is a gift shared by few in the industry, but endemic to Neale and Burke. The latter is particularly unique in the realm of providing strong opinion — an art that used to be common throughout sports broadcasting, yet has sadly diminished in the era of cross–pollination. As I've written several times, that Sportsnet (Rogers) and TSN (Bell) own 75 percent of Maple Leaf Sports and Entertainment (and, thereby, the Leafs hockey club) is, by far, the most–egregious conflict–of–interest in Canadian broadcasting history. Since the competing enterprises acquired controlling interest in MLSE, opinionated personalities have been lopped off, one after another… almost all by Rogers, which also controls national TV rights to the NHL. Glenn Healy, Nick Kypreos, Doug MacLean, McCown and Cherry headline the incomparable list of brash, assertive voices sent packing by the tall foreheads at 333 Bloor St.
Burke, right now, is last man standing and — apparently — the apple of the company's eye.
Here's hoping it stays that way.
Apart from Burke, Rogers is still in possession of premier hockey talent. Ron MacLean, Jeff Marek, David Amber, Elliotte Friedman, Kelly Hrudey, Chris Johnston and my old Leafs pal, Colby Armstrong, provide splendid analysis and information. Yet, all are very careful while commenting on the "home" team. This is where the shackles of conflict inhibit broadcasters. At TSN, McKenzie, James Duthie, Dave Poulin and Jeff O'Neill are the gold standard of the ubiquitous panel format. O'Neill does offer opinion (sometimes comically) yet has always made clear his rooting interest in the Maple Leafs, for whom he played 148 games at right–wing in 2005–06 and 2006–07. Pumping his fist and cheering on national TV when Toronto won the 2016 NHL draft lottery (and the right to select Auston Matthews) will never be the pinnacle of O'Dog's TV career, but it left no one doubting his allegiance. Only Craig Button, another Maple Leafs alumnus (hired as a scout in 2004), ventures refreshingly outside the lines with strong and authoritative opinion.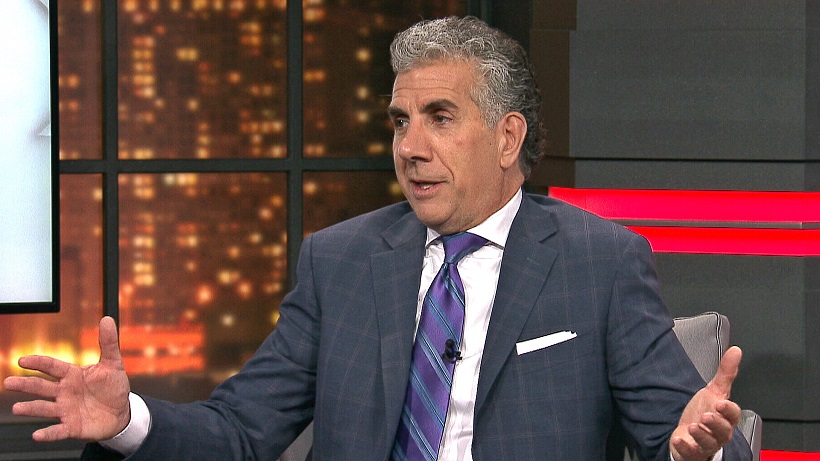 CRAIG BUTTON HAS STEADILY EVOLVED INTO A FRONT–LINE HOCKEY COMMENTATOR AT TSN.
The entire hockey broadcasting industry in Canada changed on Aug. 22, 2012 when the Ontario Teachers' Pension Plan sold its 79.53% stake in MLSE to Bell and Rogers for $1.32 billion. And, not for the better.
Hockey on television needs Brian Burke. As, perhaps, never before.
LEAFS EARN PROPS — FINALLY
On this day that occurs once every four years, it is hardly a "leap" to suggest the Maple Leafs earned praise while battling hard against two very good teams down in Florida. Heaven knows, the club has absorbed more than a few verbal jabs for apparently underachieving this season; I say "apparently" because perhaps we overrated the Leafs to begin with. And, yes, the team will disappoint again, maybe as soon as tonight's home game against Vancouver. But, there was nothing easy about winning consecutive matches in Tampa and Sunrise FL this week. Such accomplishment would have been a challenge with a full and healthy roster. Doing so in the absence of its top two defenseman (Morgan Rielly and Jake Muzzin) — and, given the importance of all points in the standings right now — reflected quite brilliantly on the Blue and White.
Not unlike other teams, the Maple Leafs showed, with concerted effort, they can be stronger than the sum of their parts. The Boston Bruins shook off crippling injury all of last season to appear in the Stanley Cup final (losing Game 7 to St. Louis). In basketball, the defending–champion Toronto Raptors have risen above the loss of Kawhi Leonard and ailments to all of their most–significant players (Pascal Siakam, Kyle Lowry, Marc Gasol, Serge Ibaka, Fred VanVleet) to remain near the top of the NBA standings throughout the season. How? By everyone pitching in. It is hardly unusual for a team beset by injury to maintain its momentum. The Leafs have done so without Matthews (18–13–3 in 34 career games). And, though appearing lethargic on more than a few occasions, the club is a respectable 10–7–2 in 19 games since Rielly went down with a fractured foot (in Florida) on Jan. 12. The Maple Leafs proved, in Tampa and Sunrise, that only effort (particularly from their star players) has held them back this season. When Matthews, John Tavares, Mitch Marner and William Nylander commit to a 200–foot game, there is enough skill to conquer any opponent.
50 YEARS AGO
at Maple Leaf Gardens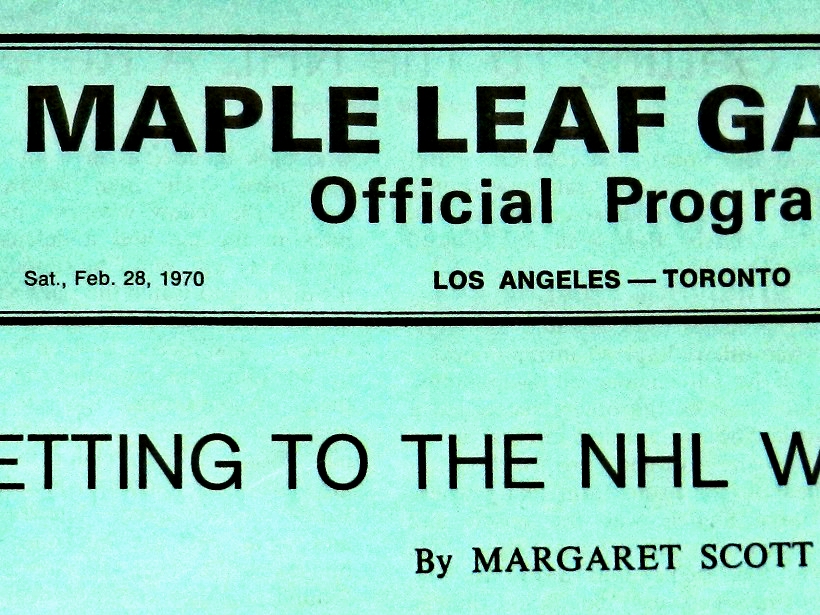 Continuing with my collection of programs from attending games at Maple Leaf Gardens in 1969–70, the Leafs — in a mostly terrible season — incurred quite an embarrassment on Feb. 28, 1970, when playing the dreadful Los Angeles Kings to a 3–3 tie. The Kings entered the match dead–last in the 12–team NHL with a record of 9–42–8 (26 points) in 59 games. The Maple Leafs were at the bottom of the East Division at 24–24–8 (56 points). Toronto seemed on its way to a predictable rout when Norm Ullman sandwiched goals around Murray Oliver for a 3–0 lead after one period. But, former Leaf Eddie Shack came through in his old stomping ground, scoring twice for the Kings, including the game–tying marker at 4:06 of the third period. Rookie center Butch Goring (known as "Bob" in the program line–ups, below) provided the first L.A. goal, at 13:33 of the middle frame. The Kings wore their primarily gold road uniforms with purple pants and trim. The Maple Leafs were in their home–blue with white trim. Toronto outshot Los Angeles, 43–29. Denis DeJordy (Kings) and Marv Edwards (Leafs) were the goalies. Referee Wally Harris handed out only 10 penalty minutes in a mild affair. Linesmen Willard Norris and Dave Shewchyk worked with Harris.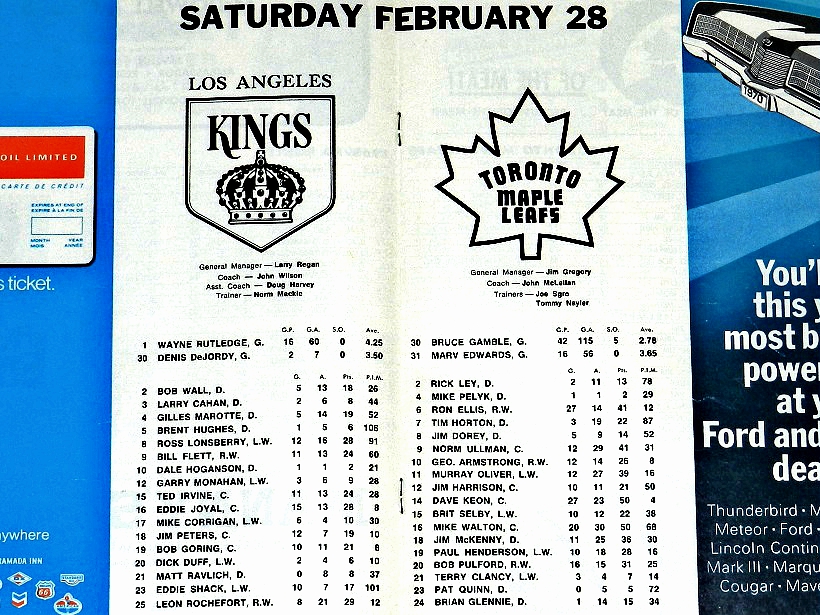 RANDOM MEDIA GUIDES… from my collection: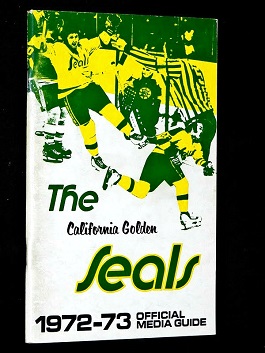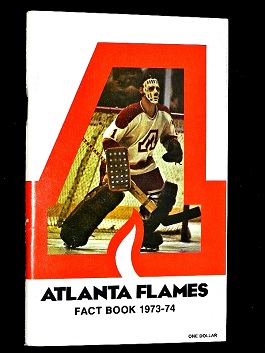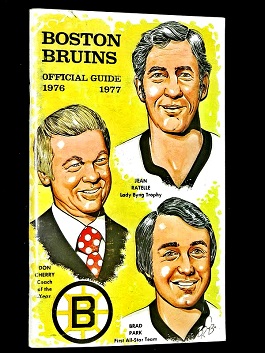 These items, published from the 1950's until roughly 2010, comprise the bulk of my hockey collection. I have more than 1,000 NHL media guides, including inaugural issues from all teams in the post–expansion era (beginning 1967–68). Top row: In 1972–73, the California Golden Seals were playing their sixth of nine seasons in Oakland; the 1973–74 Atlanta Flames were in their second year, under general manager Cliff Fletcher. The franchise would re–locate to Calgary in 1980–81; Don Cherry was the defending Jack Adams Award winner as the Boston Bruins began 1976–77. Cherry and Co. would lose to Montreal in the Stanley Cup final that season. Bottom row: The cover of the New York Islanders 1980–81 media guide, after Bob Nystrom's overtime goal clinched the first of four consecutive NHL titles; the 25th anniversary edition of the Buffalo Sabres, in their second–to–last season playing out of the old Memorial Auditorium; the second–to–last media guide published by the Hartford Whalers before the club moved to North Carolina in 1997–98.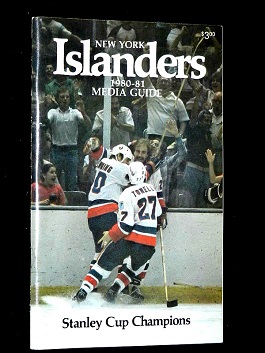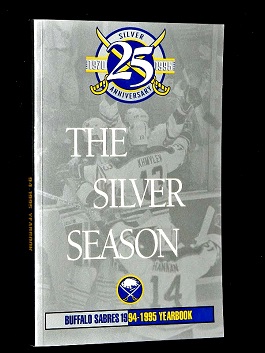 EMAIL: HOWARDLBERGER@GMAIL.COM