TORONTO (Feb. 6) — In case you lost count, 20 or 30 years ago, Jack Campbell is the 70th man to play goal for the Maple Leafs since May 2, 1967, when the club last won the Stanley Cup (over Montreal). Before assessing Wednesday night's unavoidable trade with Los Angeles, here's the complete, updated and chronological list of Toronto netminders since the start of the 1967–68 National Hockey League season:
JOHNNY BOWER, BRUCE GAMBLE, AL SMITH, MARV EDWARDS, GERRY McNAMARA, JACQUES PLANTE, BERNIE PARENT, MURRAY McLACHLAN, GORD McRAE, RON LOW, DOUG FAVELL, DUNC WILSON, ED JOHNSTON, PIERRE HAMEL, WAYNE THOMAS,  MIKE PALMATEER, PAUL HARRISON, JIRI CRHA, CURT RIDLEY, VINCENT TREMBLAY, JIM RUTHERFORD, MICHEL (BUNNY) LAROCQUE, BOB PARENT, RICK ST. CROIX, ALLAN BESTER, KEN WREGGET, BRUCE DOWIE, TIM BERNHARDT, DON EDWARDS, JEFF REESE, MARK LaFOREST, PETER ING, DAMIAN RHODES, GRANT FUHR, FELIX POTVIN, RICK WAMSLEY, DARREN PUPPA, DON BEAUPRE, MARCEL COUSINEAU, GLENN HEALY, CURTIS JOSEPH, COREY SCHWAB, TOM BARRASSO, SEBASTIEN CENTOMO, ED BELFOUR, MIKAEL TELLQVIST, TREVOR KIDD, JEAN-SEBASTIAN AUBIN, ANDREW RAYCROFT, SCOTT CLEMMENSEN, VESA TOSKALA, MARTIN GERBER, JUSTIN POGGE, JEAN-SEBASTIEN GIGUERE, JONAS GUSTAVSSON, JOEY MacDONALD, JAMES REIMER, BEN SCRIVENS, JUSSI RYNNAS, JONATHAN BERNIER, DREW MacINTYRE, GARRET SPARKS, FREDERIK ANDERSEN, JHONAS ENROTH, ANTOINE BIBEAU, CURTIS McELHINNEY,  CALVIN PICKARD, MICHAEL HUTCHINSON, KASIMIR KASKISUO, JACK CAMPBELL.
Alarmingly, Campbell will become the 23rd stopper to suit up for the Leafs since they last won a Stanley Cup playoff series, with Hall–of–Famer Ed Belfour, on Apr. 20, 2004 — an opening–round, Game 7 victory over Ottawa at the Air Canada Centre. Given the overwhelming numbers, it may be a stretch to concede Campbell the designation of "missing link", though he'll have an opportunity to prove capable of sharing the load, next season, with Frederik Andersen; to show that he can competently appear in 25–to–30 games. Not since 1992–93, when Grant Fuhr went 13–9–4 in 29 games behind Felix Potvin (48 games, 25–15–2), has Toronto possessed an adequate one–two combo between the pipes. The NHL of today is barely compatible with such a goalie as Curtis Joseph playing 67, 63 and 68 games, as he did for the Leafs from 1998–99 to 2000–01. Andersen, in particular, needs a strong partner, being prone to weariness in the final two months of the regular season… and, of course, the playoffs. Only Curtis McElhinney seemed qualified to share such a load with Andersen, but Kyle Dubas, in his first significant call as general manager, chose Garret Sparks as the No. 2 goalie to begin last season, thereby losing McElhinney on waivers. That poor decision cost the Maple Leafs — on Wednesday night — energetic forward Trevor Moore and a couple more draft choices.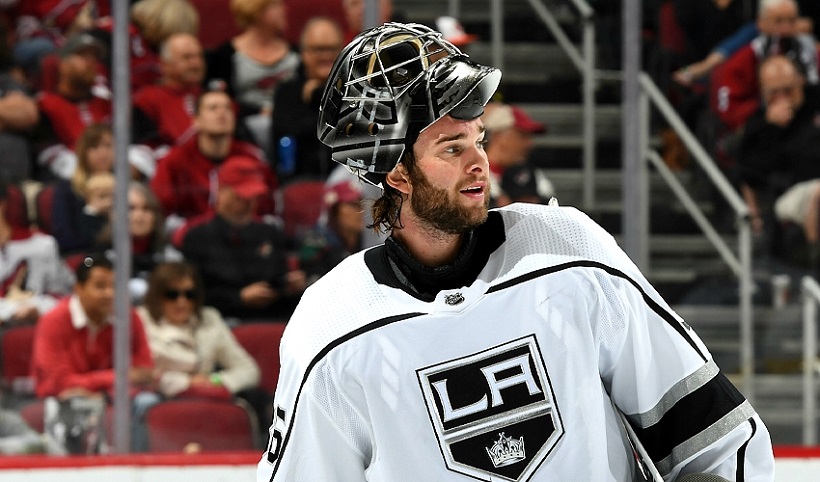 NEW LEAFS GOALIE JACK CAMPBELL WHILE A MEMBER OF THE L.A. KINGS. THE ASSOCIATED PRESS
Campbell is hardly a predictable element for the Blue and White. A first–round pick by Dallas (11th overall) in 2010, he was given up for dead by the Stars and traded to Los Angeles on June 25, 2016 (for defenseman Nick Ebert). Despite a knee injury that sidelined him from Nov. 10 to Dec. 31 of last season, he put up respectable numbers with a bad Kings team: 10–14–1 in 31 appearances / 2.30 goals–against average / .928 save–percentage. He was 8–10–2 / 2.85 / .900 in 20 games for L.A. this year, prior to the trade. Whatever becomes of Campbell in a Toronto jersey, Dubas had no alternative but to pull off the deal with Kings counterpart Rob Blake. Though he always put forth maximum effort, Michael Hutchinson was not the answer to the Leafs' back–up position… and certainly not capable of stepping into the starter's role while Andersen recuperates from his latest neck injury. Given there is no apparent timetable for the Dane to return, Campbell will be entrusted with a significant chore — to keep the Maple Leafs within shouting distance of a playoff berth in the Eastern Conference. Only time, of course, will determine the answer.
Meantime, Kyle Clifford comes to Toronto as one of the most likable veterans in the NHL. This trade will hardly knock Mookie Betts and David Price off the front sports page of the Los Angeles Times, but Kings' fans are probably bummed over losing the popular left–winger, a regular with the club since 2010–11, including the Stanley Cup teams of 2012 and 2014. He isn't a scorer (60 goals in 660 NHL games), but Clifford does have some bite (819 career penalty minutes) and will provide the Leafs that missing ingredient.
As such, he was hardly a "throw–in" for Dubas.
EMAIL: HOWARDLBERGER@GMAIL.COM