Toronto is nowhere close to being a winner, has no idea how to become a winner and no plan for imminent winning.
— Globe and Mail columnist Cathal Kelly
TORONTO (Feb. 25) — The reason I most–enjoy Cathal Kelly's sports column in the Globe and Mail is that I look upon him as a kindred spirit. He tells you what's on his mind — clearly, honestly and without sugar–coating. Which I have attempted to do since covering the Toronto Maple Leafs on radio for The FAN–590 between 1993 and 2010. And, on this website since June 2011. If you live and die with the Leafs, you probably don't like us. But, neither will you be left wondering where we stand on a particular issue.
That said, Cathal's blunt, single–line assessment of the Leafs in the aftermath of Monday's trade deadline somnolence may have been a trifle harsh. I'm not certain the club is "nowhere close" to being a winner nor has "no idea" how to become a winner. If the definition of "winner" is ending the longest current Stanley Cup drought, Kelly is bang on. And, I tend to sway in that direction. If, on the other hand, Stanley Cup contention characterizes a "winner", perhaps Toronto is in the neighborhood — though a single playoff–round conquest, not accomplished since April 2004, will be essential to help to validate such a claim.
For me, and I doubt I'm alone, the biggest question surrounds management of the club. As it has for most years since 1967. It starts with president Brendan Shanahan, who affirms every decision made by the hockey department. And, it now adamantly includes Kyle Dubas, who Shanahan chose as general manager on May 11, 2018. As we speak, and given the club's dismal performance this season, the Leafs possess five of the most–overcompensated players in the National Hockey League — defenseman Jake Muzzin, on Monday, joining John Tavares, Auston Matthews, Mitch Marner and William Nylander. Their contracts, gobbling up $46,114,366 in salary–cap space next season, were negotiated by Dubas and sanctioned by Shanahan. On a team clinging to third place in the Atlantic Division; nowhere close to challenging either Tampa Bay or Boston. And, one that refuses to commit itself when not in possession of the puck.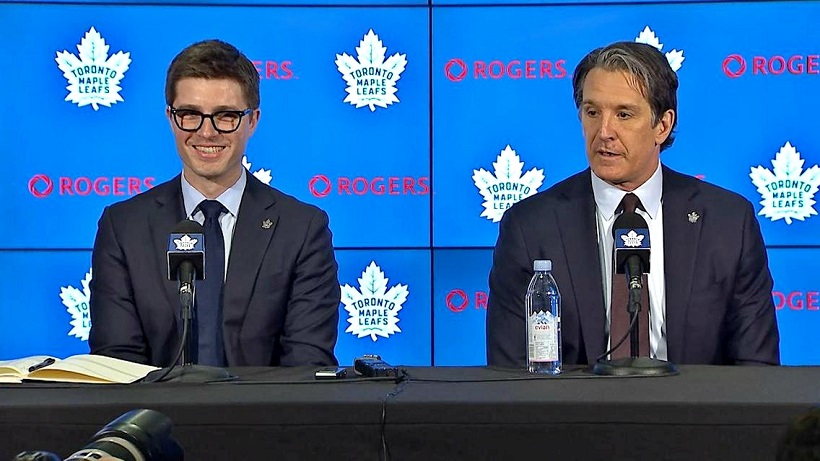 THE LEAFS HAVE GRADUALLY DECLINED UNDER THE LEADERSHIP OF BRENDAN SHANAHAN (RIGHT) AND KYLE DUBAS.
Which begs the following questions: What, in fact, are the Leafs paying for? How can the team move forward without breaking up its one–dimensional nucleus? And, most importantly, is Dubas capable of executing the elemental and philosophical change required? Guided by analytics, the young GM is uncompromising in his view that skill, speed and puck–possession can prevail in the near–absence of size, tenacity and defensive posture. Analytics is capable of measuring tangible elements of performance. But, thoroughly incapable of calculating such–basic intangibles as willingness to compete and desire to win. Which, at the moment, reflects poorly on the core of the Toronto roster. Without such regular commitment from Tavares, Matthews, Marner and Nylander, the Leafs have no chance to exploit the obvious talent of these players. That sloth and apathy has now prevailed under two coaches indicates the problem is not behind the bench. But, rather, in the executive suite and on the ice. Pointing to a far–more difficult solution for the hockey club.
The bane of any GM is a propensity to fall in love with and over–value his acquired assets. Which bore itself again on Monday when Dubas signed defenseman Muzzin to a four–year extension with a $5.65 million annual cap hit — $625,000 more than Morgan Rielly, who compiled 72 points for the Leafs last season. Acquired by Dubas from Los Angeles a year ago, Muzzin has not improved the club one iota. How can he possibly be worth $5.65 million at age 31; past his biological prime, and with no capacity to make a difference on the team? Perhaps Muzzin will be lost to the Seattle expansion club after next season. Otherwise, this irrational move complicates the debatable choices already made by Shanahan and Dubas.
Right now, the Leafs do not seem committed to winning, which always begins with energy and responsibility when not in possession of the puck. Scoring goals comes naturally to the Big 4 shooters, but it cannot compensate for defensive apathy. Until one of Matthews, Marner or Nylander is dealt for competitive balance, Shanahan and Co. will continue to spin its wheels. At the moment, there is no indication that Dubas is willing to, or capable of, performing outside his comfort zone.
50 YEARS AGO TONIGHT
at Maple Leaf Gardens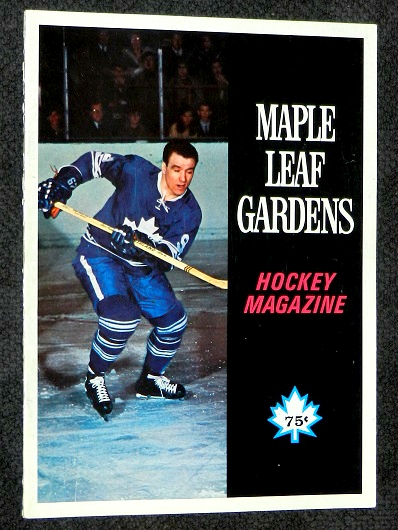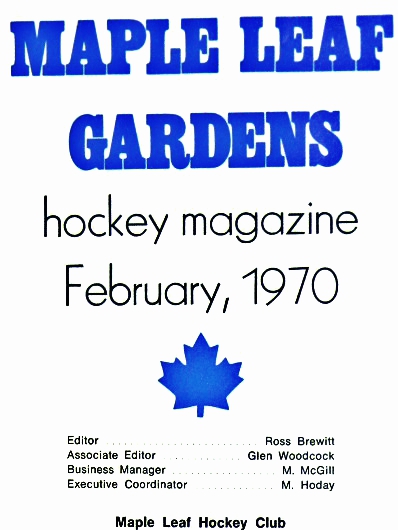 Continuing with programs, in my collection, from games I attended at Maple Leaf Gardens in 1969–70 is this edition from Feb. 25, 1970 — a 4–1 Toronto victory over the Oakland Seals. Joining the NHL as the California Seals in the Great Expansion of 1967–68, the club re–named itself "Oakland" after two months to try and draw more local patrons. Attendance at the Oakland Coliseum–Arena was poor, as the club — chosen, by many, to be the class of the new, six–team West Division — struggled from the outset. On this night, the Maple Leafs rebounded after losses at home to Detroit (7–5, Feb. 21) and at New York (5–3, Feb. 22). Bob Pulford, Brit Selby (shorthanded) and Mike Walton beat Oakland netminder Gary Smith to provide Toronto a 3–0 lead by 13:41 of the first period. Carol Vadnais scored a powerplay goal on Toronto's Marv Edwards at 4:44 of the second period and Dave Keon fooled Smith 21 seconds into the final frame. There was one fight in the game, as Rick Ley of the Leafs and Norm Ferguson of the Seals squared off at 18:21 of the second. With the win, Toronto evened its record to 24–24–9 after 57 games. Oakland fell to 17–32–9 after 58 matches. The referee was Bill Friday; the linesmen, Neil Armstrong and John D'Amico.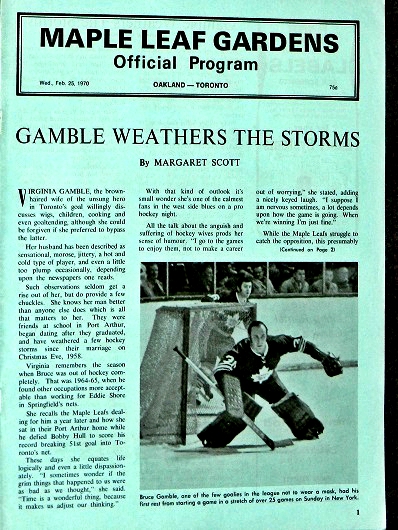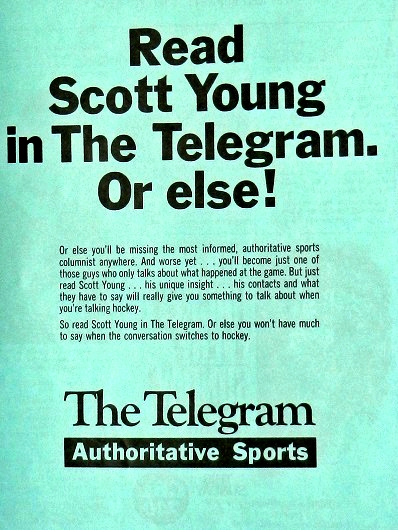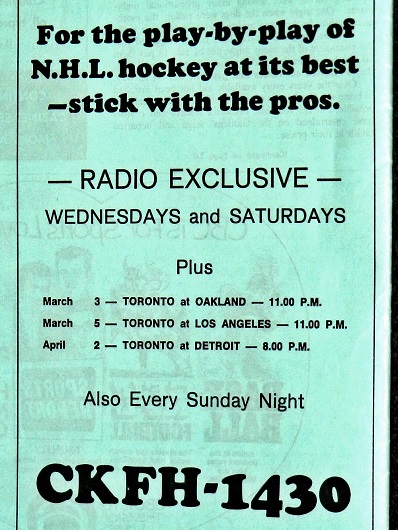 Fifty years ago, the Toronto Telegram (top–left), beset by labor issues, was on its last legs. A broadsheet newspaper founded Apr. 18, 1876, it published daily (except for Sunday) until Oct. 30, 1971. The Telegram was on pace to lose $900,000 in '71 when shut down by owner John Bassett. Many employees moved to the Toronto Sun, a tabloid which debuted two days later (Nov. 1, 1971) and remains popular today.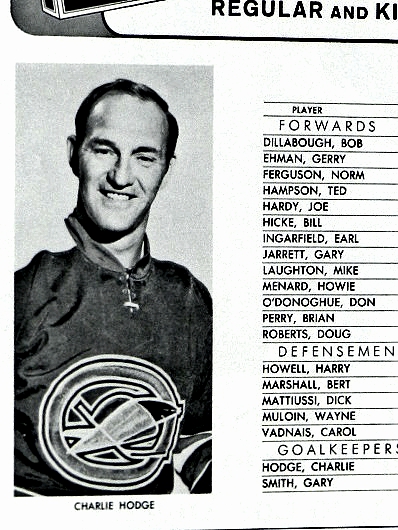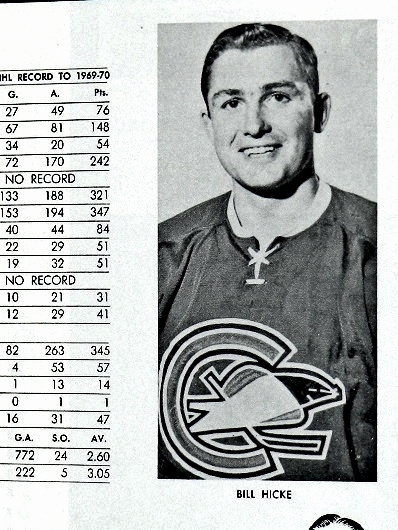 Charlie Hodge (July 28, 1933 – April 16, 2016) and Bill Hicke (March 31, 1938 – July 18, 2005) were original members of the California Seals, both acquired in the 1967 expansion draft — Hodge from Montreal; Hicke from New York. Hodge and Lorne (Gump) Worsley shared the Vezina Trophy in 1965–66, as the Canadiens won the Stanley Cup. He later served as western scout for the Winnipeg Jets (1981–91) under ex–Habs teammate John Ferguson and died at 82. Hicke, born on Gordie Howe's 10th birthday, led the Seals with 25 goals and 61 points in 1968–69. He died at 67 after a long battle with cancer.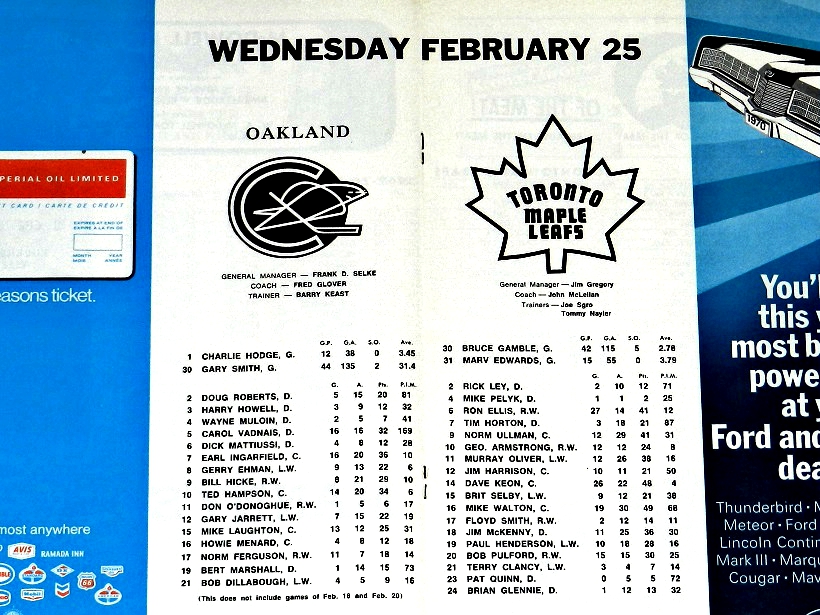 In his first season with Oakland was future Hall–of–Fame defenseman Harry Howell (December 28, 1932 – March 9, 2019), sold to the Seals by Emile Francis after 17 years in New York. Nearing 37 and coming off spinal–fusion surgery, Howell (the 1967 Norris Trophy winner) was considered expendable by the Rangers.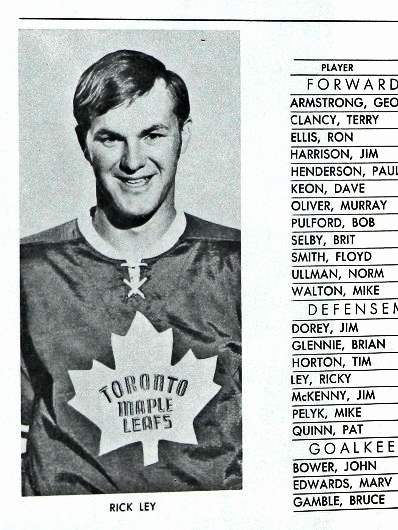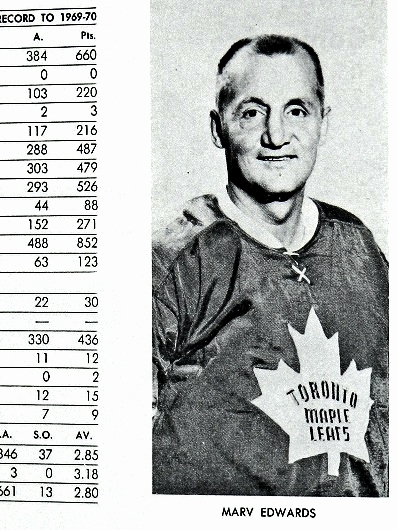 Rick Ley (b. Nov. 2, 1948) was in his second year on the Leafs blue line. He would later (1998–2006) be an assistant coach with Toronto under former teammate Pat Quinn. Goalie Marv Edwards (b. Aug. 15, 1935) made 25 appearances for the Leafs (10–9–4, 3.25 goals–against average) in 1969–70. He would finish his NHL career in Oakland, playing two seasons (1972–74) with the re–named California Golden Seals.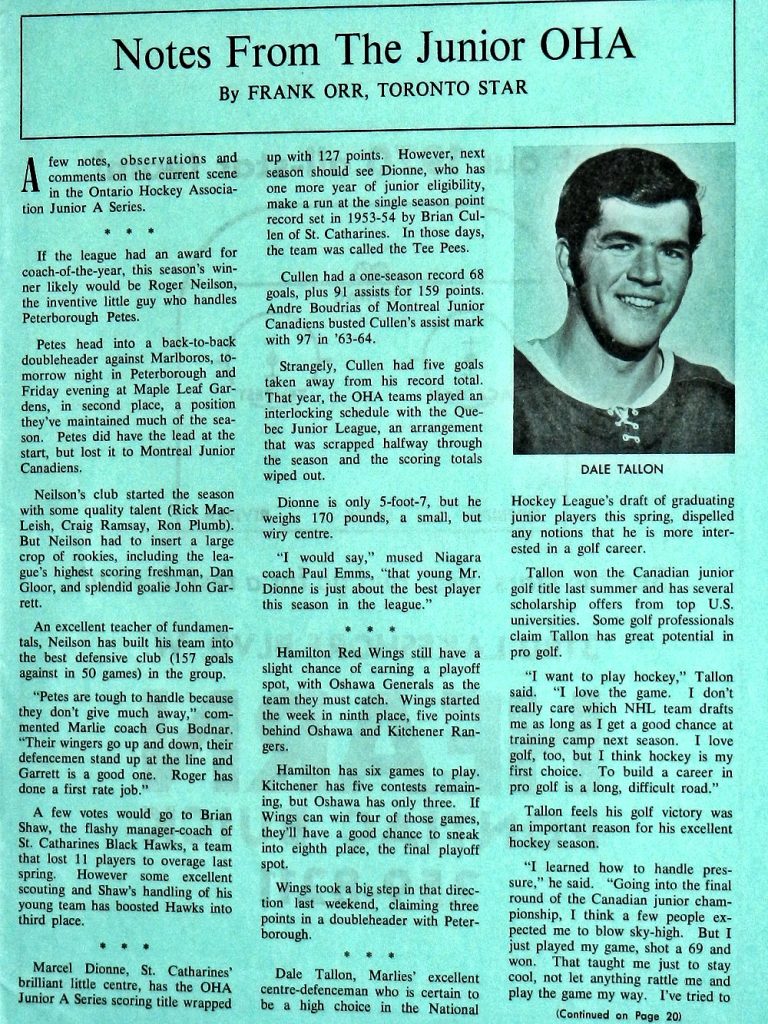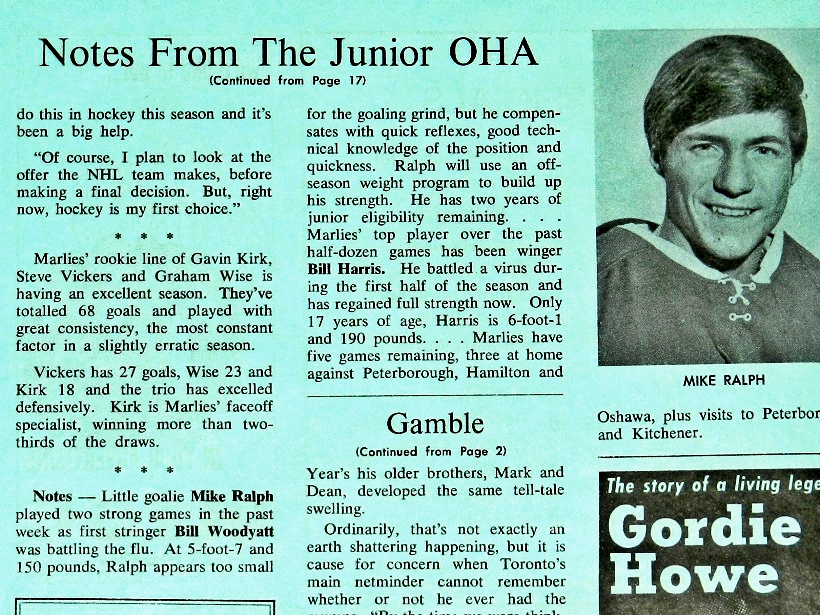 Frank Orr of the Toronto Star provided a report (above) on the Ontario Junior 'A' scene for the Gardens program. By late–February, 1970, Bobby Orr was beginning to run away with the NHL points lead (below) over Boston teammate Phil Esposito. The Bruins would win the Stanley Cup that season.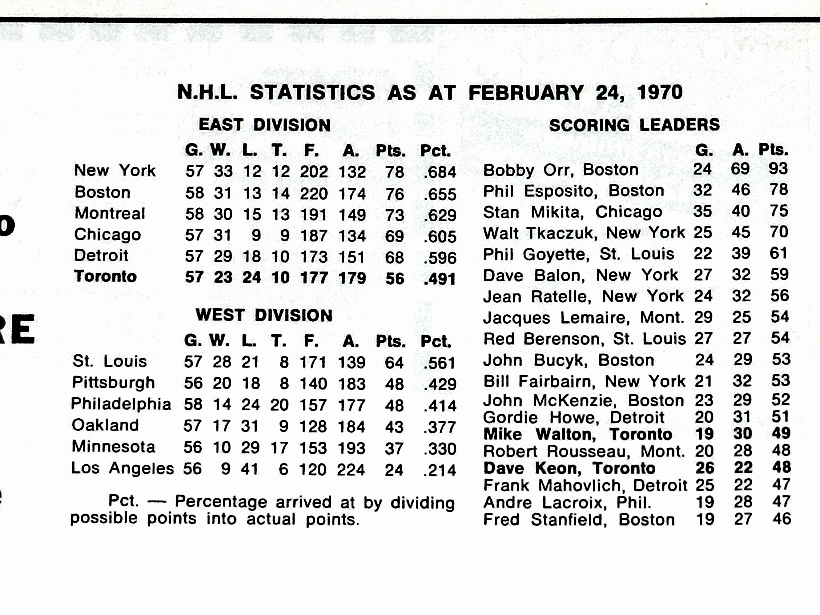 EMAIL: HOWARDLBERGER@GMAIL.COM