TORONTO (Feb. 19) — There is only one strategy that Kyle Dubas can deploy in order to salvage the 2019–20 schedule for the Toronto Maple Leafs: start looking toward 2020–21.
And, do it without heed to Monday's National Hockey League trade deadline.
Season No. 52 without a Stanley Cup is progressing from disappointment to disaster. It will, and should, end without a playoff appearance for the first time since 2015. An ego–driven effort by Dubas — or such–direction from anyone above the Leafs general manager — to make a desperation move before the deadline will result in further damage. It's time for the hockey arm of Maple Leaf Sports and Entertainment to "man up" and acknowledge that fundamental change must occur over time; not amid the burden of Monday's embargo. Dubas, minimally, would be wise to offload the expiring contracts of Tyson Barrie, Jason Spezza and Kyle Clifford. I would also attempt to trade Jake Muzzin, but it appears the Leafs are nearing a contract extension with a veteran blue–liner that will never make a difference on the club (though six defenseman must be dressed each game). It's over the summer that Dubas needs to accomplish his best work… which will succeed only if prepared to modify his analytics–driven approach to speed, skill and puck possession.

Not for a moment do I believe that such components are frivolous; they are, in fact, essential for any progressive club in today's NHL. And, the Leafs are loaded with front–line skill in their $40 million quartet of John Tavares, Auston Matthews, Mitch Marner and William Nylander. Whether or not the aforementioned can lift the club into Stanley Cup contention has not been determined; it is still premature to suggest that Dubas committed salary–cap suicide when locking up his Big 3 from the NHL draft, and the prize of the 2018 free agent crop. There is no indication, yet, that Toronto's nucleus of star players (including Morgan Rielly) can perform similarly to Chicago's Stanley Cup core (Jonathan Toews, Patrick Kane, Duncan Keith); the Pittsburgh championship trio (Sidney Crosby, Evgeni Malkin, Kris Letang) or the Los Angeles threesome of Anze Kopitar, Jeff Carter and Drew Doughty. The Blackhawks won three NHL titles between 2010 and 2015; the Penguins have three in the Crosby–Malkin era (2009–16–17) and the Kings prevailed twice in three years (2012 and 2014). One–such accomplishment would change the city of Toronto like nothing since the C.N. Tower and the canyon of skyscrapers on Bay Street. Just one. But, it will not happen with the current group.
The Chicago, Pittsburgh and Los Angeles championships were achieved not only by the skill component (and, of course, stability in goal: Corey Crawford; Marc–Andre Fleury/Matt Murray; Jonathan Quick), but, equally, by filling out the rosters with appropriate balance. Which was, undoubtedly, the toughest chore for GM's Stan Bowman (Chicago), Ray Shero/Jim Rutherford (Pittsburgh) and Dean Lombardi (Los Angeles). Identifying and committing to front–line players is simple. Amassing the other 17 skaters, cost–efficiently, determines legitimate Stanley Cup contention. And, this is the element most failing the Maple Leafs. Dubas has not accumulated anything close to roster equilibrium. Not only is the gap between his star contingent and his support players enormous (as with all contending teams in the salary cap era), but he's assembled too many of the same type: small, decent with the puck… and without a sliver of tenacity (Kyle Clifford was a productive change–in–approach but the long–time Kings' forward is on the down–slope of his career). Dubas unquestionably needs to re–work his bottom two forward lines and make some prudent decisions with Kasperi Kapanen, Andreas Johnsson, Alex Kerfoot, Pierre Engvall, Frederik Gauthier and Dmytro Timashov.
This group isn't nearly effective enough… and never will be.
Ilya Mikheyev (sidelined since Dec. 27 and, not coincidentally, with size) is a keeper up front, as may be Yegor Korshkov (tall, but requiring some bulk). If I were Dubas, none of Barrie, Muzzin, Martin Marincin or Codi Ceci would return on defense. It's another area that must be re–worked beneath Rielly, Travis Dermott, Rasmus Sandin and Justin Holl (I'm not sure about Tim Liljegren). The Leafs would clearly benefit from the addition of an elite blue–liner via trade or free agency, though such acquisitions are rare and extremely difficult. I would sacrifice any (or all) of Kapanen, Johnsson and Dermott in pursuing that component.
As mentioned, if Dubas peddles anything of long–term value to the club for a short–term "fix" prior to Monday's deadline, he'll rue the moment. This team is not "one player away" from a Stanley Cup challenge. The "Shanaplan", from Day 1, was about careful, long–term planning. The first attempt hasn't worked. But, neither should the concept be abandoned. The Maple Leafs require strategic and elemental change in order to properly exploit their Big 4 cap–consumers.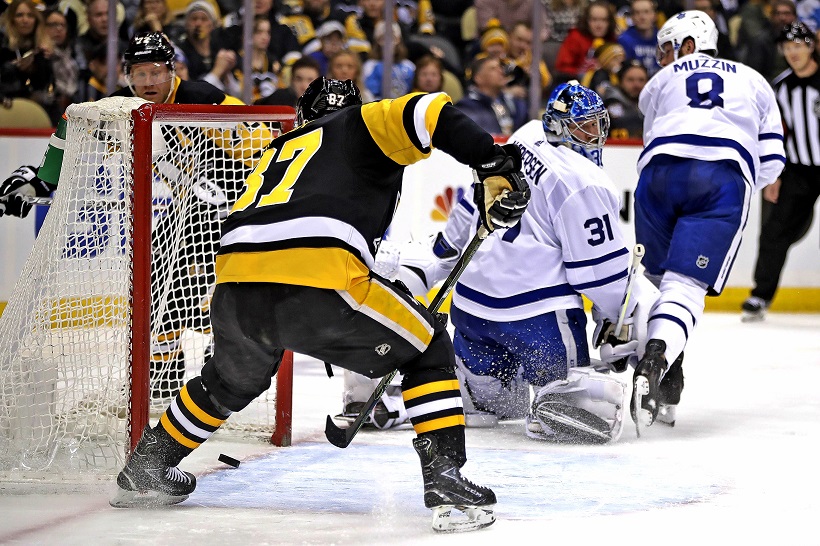 THE SLUMPING MAPLE LEAFS WERE FULLY EXPOSED BY SIDNEY CROSBY AND THE PITTSBURGH PENGUINS ON TUESDAY NIGHT, LOSING 5–3 AT PPG PAINTS ARENA. GENE J. PUSKAR THE ASSOCIATED PRESS
TIME TO RUN WITH JACK: For whatever reason(s), Frederik Andersen has either lost or misplaced the confidence and form that put him near the apex of NHL stoppers prior to the new year. Since Jan. 2, his record is a dismal 3–7–1. At first glance, it appears that Dubas made a splendid deal to acquire Jack Campbell from the Kings. Campbell is 3–0–1 in four appearances and, to my eye, has some Mike Palmateer in him. He may not be as technically sound as Andersen, yet he possesses more flair for challenging shooters. And, the Leafs need every bit of flair and aggressiveness they can summon. If I'm Sheldon Keefe, I relinquish the No. 1 and No. 2 designation and provide Campbell the bulk of assignments for the foreseeable future. If that hurts Andersen's feelings, too bad. Freddy is three years older than Jack; hasn't yet won a playoff series in Toronto, and his contract expires after next season. If Campbell proves capable of filling the No. 1 role, it will prevent Dubas from making a long–term mistake with Andersen. He and Keefe can begin to determine this by riding Campbell hard in the final six weeks of the regular schedule.
TELL–TALE SIGN: How else do we know the Leafs are an average, disappointing team this season? Among the ways is to acknowledge only two signature wins to this point of the schedule — a 4–3 overtime triumph over Boston at Scotiabank Arena (Oct. 19) and a 5–2 decision at St. Louis (Dec. 7) over the defending Stanley Cup champs. Otherwise, it's been primarily lop–sided failures against elite NHL opposition: 4–3 losses (home and away) to Washington; the 6–1 and 5–2 embarrassments at Pittsburgh; a 7–3 home–ice spanking by Tampa Bay and a pair of 4–2 losses against Boston. Toronto has helped itself to points against weaker clubs — three wins over Detroit; two each over Buffalo, New Jersey, Arizona, Ottawa and Minnesota; one apiece over Los Angeles, San Jose and Anaheim. Again… the picture of a middling, often–mediocre team.
EMAIL: HOWARDLBERGER@GMAIL.COM