TORONTO (Feb. 4) — First, let's try to not lose our minds over one game… as ghastly as the third–period collapse against Florida seemed. If the Leafs can plummet from third place in the Atlantic Division to beyond playoff contention with one defeat, they can achieve the opposite with a timely win. That's how kooky and bunched up it remains in the Eastern Conference. The bigger issue, however, involves the timeworn definition of insanity: returning to the same practice while expecting a different result. As such, Kasimir Kaskisuo has been recalled from the Toronto Marlies to replace Frederik Andersen on the roster Wednesday night, at Madison Square Garden, against the New York Rangers. Yes, we have all been here before.
The mother–lode of nightmare scenarios for a Maple Leafs fan has arrived, at least temporarily. Not because Andersen is a carbon–copy of Martin Brodeur in his prime — fact remains, ol' Freddy has performed well beneath expectation for much of the past six weeks — but rather as a result of the Kyle Dubas archetype: ignore the back–up goaltending situation and hope it will go away. It began with the calamitous decision to pull rank and reward Garret Sparks the No. 2 role at the beginning of last season and hasn't yet been resolved. Michael Hutchinson, good guy, from everything I hear, is capable of beating Ottawa, Detroit, New Jersey and the other National Hockey League dregs (to be fair, he also blanked the New York Islanders). But, there is no evidence he can be counted upon to share the load with Andersen against high–caliber opposition. And, the Leafs will go nowhere until Dubas somehow assembles a 2020 prototype — such as in Washington, Boston, St. Louis and Pittsburgh, where two stoppers of commensurate skill alternate through the regular season. The NHL of the 21st century is no longer a place for 65 goaltending assignments.
To continue such a practice, again, falls into the rank of insanity.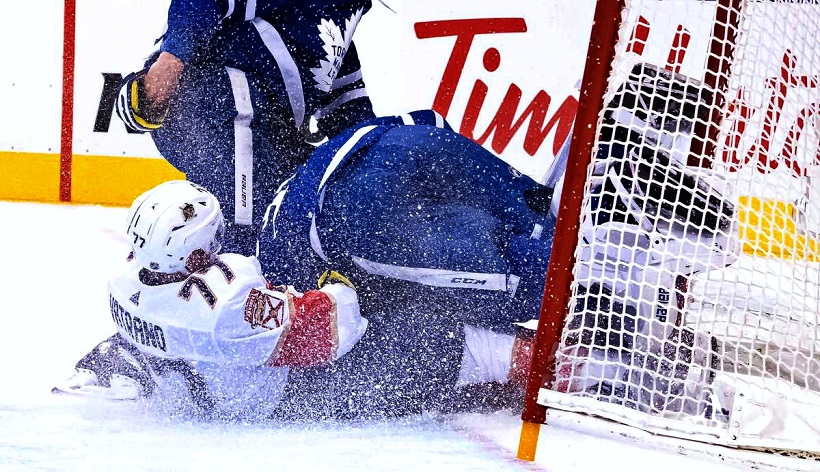 FREDERIK ANDERSEN LEFT MONDAY NIGHT'S GAME AGAINST FLORIDA AFTER A PAIR OF COLLISIONS IN HIS GOAL–CREASE. THE LEAFS BLEW A 3–1, THIRD–PERIOD LEAD AND WERE UPENDED, 5–3.
TORONTO STAR PHOTO
Neither will the problem be solved by the Feb. 24 trade deadline… unless Dubas is willing to peddle a generous salary for an established No. 1 goalie from a team unlikely to make the playoffs. For example, Martin Jones of the San Jose Sharks (four more years of contract–term at $5.75 million). Or, John Gibson (Andersen's old partner) of the Anaheim Ducks (six more years at $6.4 million). Cheaper, short–term options include Craig Anderson of the Ottawa Senators or Jimmy Howard of the Detroit Red Wings — each an unrestricted free agent this summer (Anderson must submit a list of 10 teams to which he cannot be dealt). Merely grabbing a goalie from the NHL scrap–heap prior to the deadline won't help the Leafs. This is a long–overdue consideration; the Achilles Heel, thus far, in Kyle's young managerial term with the Blue and White.
Should the goaltending dilemma move into the summer, Dubas might be wise to start looking beyond Andersen (aforementioned deals for Jones or Gibson could solve the issue). Freddy has only next season remaining on his contract and though spectacular at times — the best Maple Leafs stopper of the salary cap era (post–2005) — he's prone to weariness toward the end of the regular schedule… and, perhaps, to a chronic neck issue. For a big man encased in full netminding gear, Andersen's a bit of a china doll. Neither 'crease collision against Florida seemed particularly startling, yet he could not continue on Monday night and the club ultimately fell apart in front of Hutchinson. Given a lack of stamina, and his corresponding resume in the playoffs since 2016, I don't believe Freddy's the answer to a Stanley Cup challenge. Perhaps he would be in conjunction with a sound partner with whom he can share the load. But, surely not by himself.
50 YEARS AGO TONIGHT
at Maple Leaf Gardens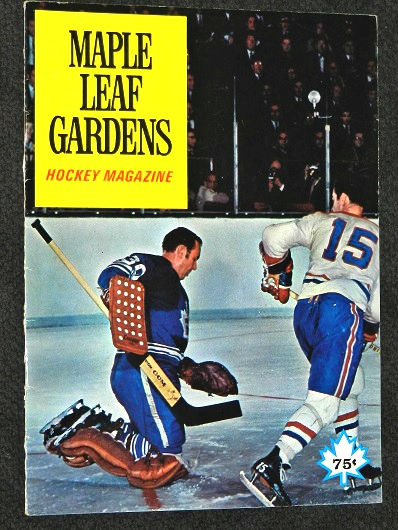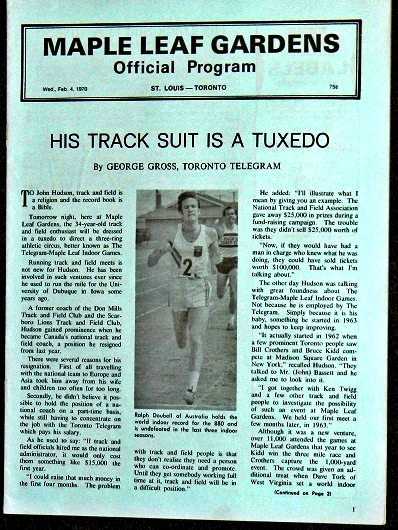 Continuing with my series of Maple Leaf Gardens programs from games I attended in 1969–70, St. Louis came to town 50 years ago tonight and got blanked, 1–0, by the Leafs, who were in the midst of their hottest streak in an otherwise–miserable season: 7–3–4 from Jan. 17–Feb. 14, 1970. Mike Walton (assisted by Brian Glennie and Jim Harrison) scored the only goal of the game at 6:05 of the third period, beating veteran Jacques Plante. Bruce Gamble stopped all 42 St. Louis shots for the shut–out. It was a quiet match, save for Walton's 10–minute misconduct penalty at 10:56 of the final frame. Bill Plager and Al Arbour of the Blues received minor penalties from referee Art Skov, whose linesmen were Matt Pavelich and Pat Shetler.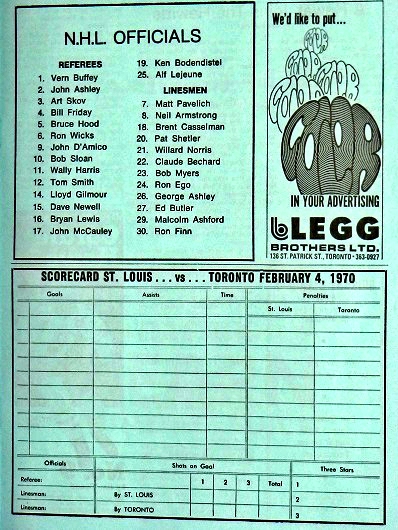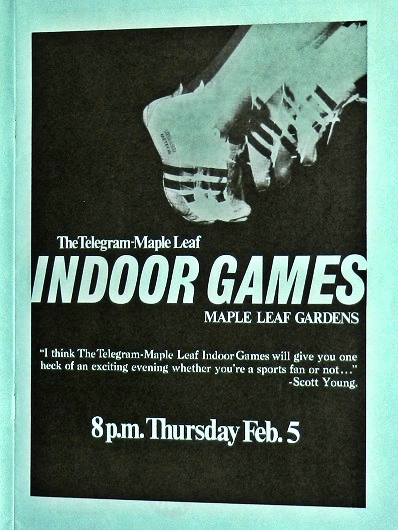 The cover–story on that night's program–insert (at top) concerned the annual indoor track meet at the Gardens — as advertised above. The old Toronto Telegram sponsored the event until it folded (Oct. 30, 1971). Then the Toronto Star assumed naming rights. My uncle, Ralph Blatt, took me to the meet for my birthday each year from 1969 to 1972. It was among the big non–hockey nights at the arena.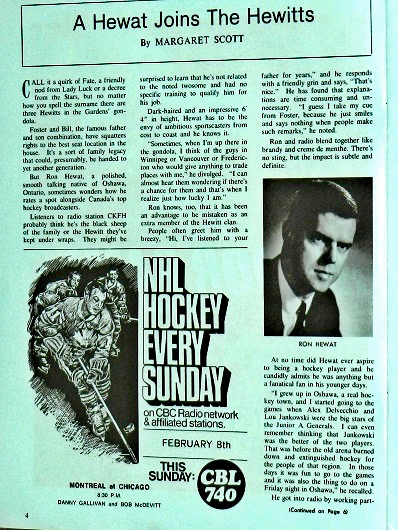 I got to know Ron Hewat (now 82) during my radio career. He called Leafs games on CKFH–1430 with Foster and Bill Hewitt for 16 years (1968–78, then 1980–82). Ron was always a big, friendly chap.

The St. Louis Blues, in 1969–70, featured four of the most–significant names in hockey history: goalies Glenn Hall and Jacques Plante; defenseman Al Arbour and coach Scotty Bowman. Arbour (New York Islanders) and Bowman (Montreal) won a combined 13 Stanley Cups and were the last two men to coach four consecutive Cup winners — Arbour from 1980–83; Bowman, 1976–79. With back–up Marv Edwards injured, future Leafs GM Gerry McNamara (1981–88) dressed as No. 2 to Bruce Gamble. Pat Quinn (No. 23) was in his second, and final, season on the Toronto blue line. Winger Terry Clancy (No. 21) was the son of Leafs legend King Clancy.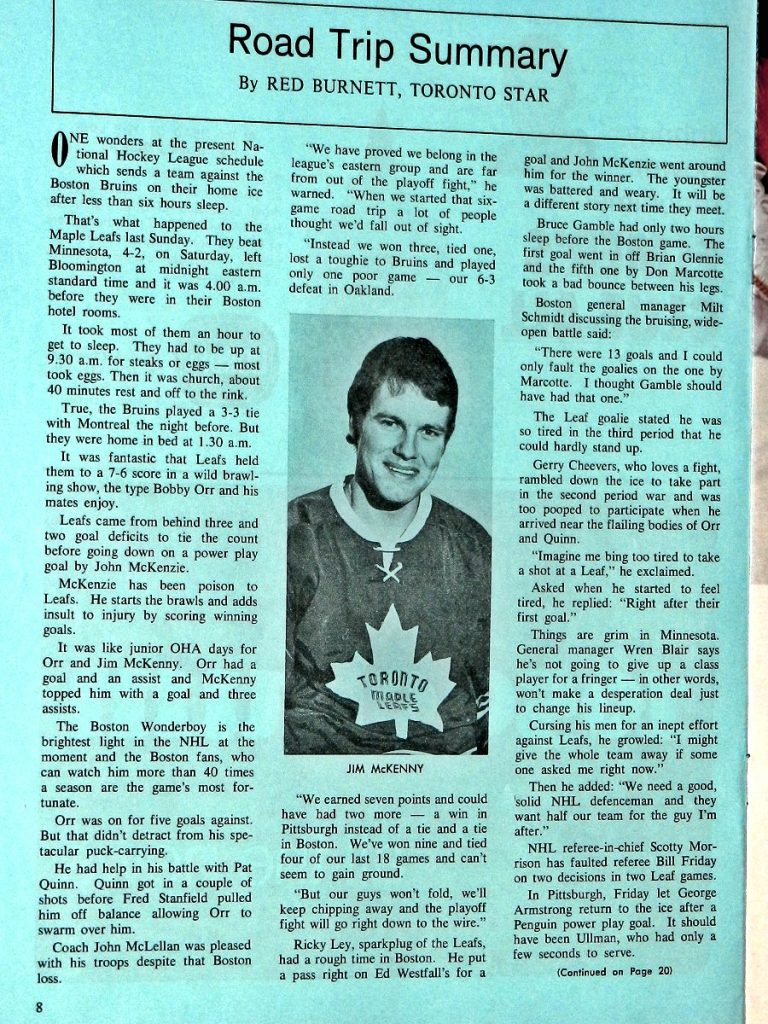 The Leafs compiled a 3–2–1 mark during a six–game road trip (Jan. 22–Feb. 1, 1970) to Los Angeles, Oakland, Chicago, Pittsburgh, Minnesota and Boston. Red Burnett covered the trip for the Toronto Star and penned a review (above, bottom–left) for the program. Leafs radio "exclusives" on CKFH–1430 (bottom–right) were advertised.  West–coast matches from L.A. and Oakland began at 11 p.m. Eastern.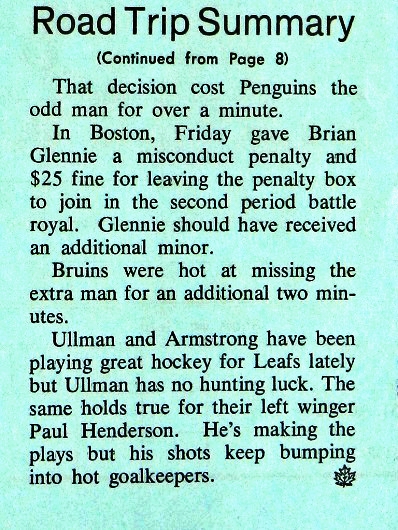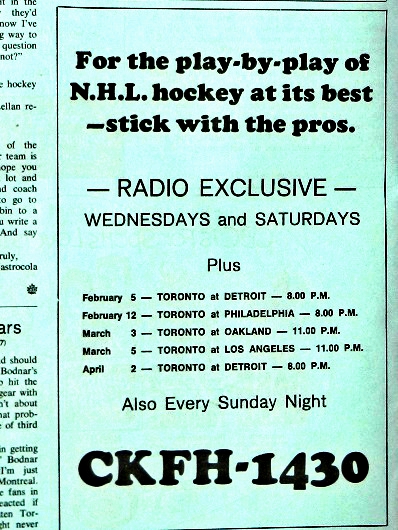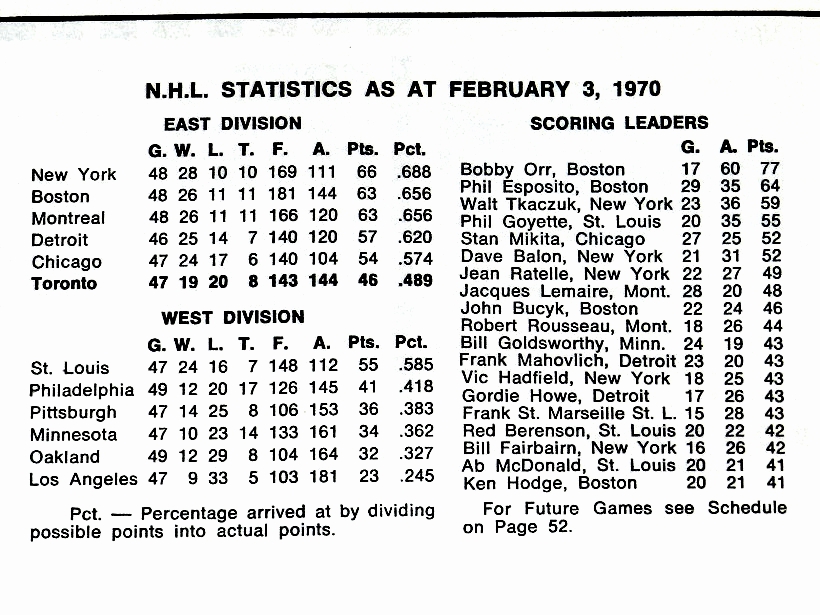 Bobby Orr of the Boston Bruins was well on his way to becoming the first defenseman to win the Art Ross Trophy as NHL points leader. He would repeat the exclusive accomplishment in 1974–75.
EMAIL: HOWARDLBERGER@GMAIL.COM