TORONTO (Feb. 23) — It is fundamentally indecent to take candy from a child; to trip an old lady crossing the street or to eat cabbage before entering a packed movie theater. Why, then, should we toe–kick a bunch of hockey players that, today, are feeling lower than a water well? Yes, Saturday night's story line at Scotiabank Arena will live in hockey infamy — alongside the nearly 92–year–old yarn of New York Rangers coach Lester Patrick, then 44 and with silvery hair, donning the pads in a Stanley Cup final match (Apr. 7, 1928) against the Montreal Maroons. And, prevailing… as did Zamboni driver David Ayres against the Toronto Maple Leafs.
The incredulous gathering on Bay Street jeered the home club more loudly and bitterly than during that infamous week in December 2010 when uncooked Eggos rained from the upper reaches of then–Air Canada Centre toward Phil Kessel, Dion Phaneuf, Joffrey Lupul et al; audience members showing originality to express dismay for a "waffling" team. But, not as virulently as the most–spontaneous and rancorous reaction by a Toronto hockey crowd in my memory — April 10, 1988 — when projectiles were hurled from all levels of Maple Leaf Gardens during an 8–0 playoff trouncing by Detroit. I can close my eyes and still see, from the press box, goalie Allan Bester crouching inside his net to avoid the onslaught. While Leafs fans are generally passive and difficult to dissuade, they do occasionally revolt. As on Saturday, when the big–money boys apparently refused to assail the ice cleaner from the Coca Cola Coliseum. This was an all–new twist to a season of sloth and negligence under two coaches, yet hardly a shocking development. Had James Reimer or Petr Mrazek remained between the pipes for Carolina, the 6–3 defeat would not have been featured on CNN, ESPN and other places where hockey is a foreign word. David Ayres made it an international story.
As you might imagine, social media and chat–rooms, our mainstays of perception and measured response, erupted like never before; most arrows flung toward general manager Kyle Dubas. This was typical… from "Ponder" on the website HF Boards: There needs to be some sort of reaction to this game. Bag–skate practice; mass benching of players for our next game; firing [Sheldon] Keefe and/or Dubas. Something! A new coach; a new GM; top minutes going to Denis Malgin and Miikka Salomaki in Tampa on Tuesday night.
No purpose in overreacting.
Dreadful as it were, the Maple Leafs awoke on Sunday still third in the Atlantic Division, two points ahead of Florida, after the Panthers (3–7–1 in their past 11 games) were beaten, 5–3, in Las Vegas. So, while the stench lingers over downtown Toronto, the Zamboni debacle was but a single match. With 19 more on the docket.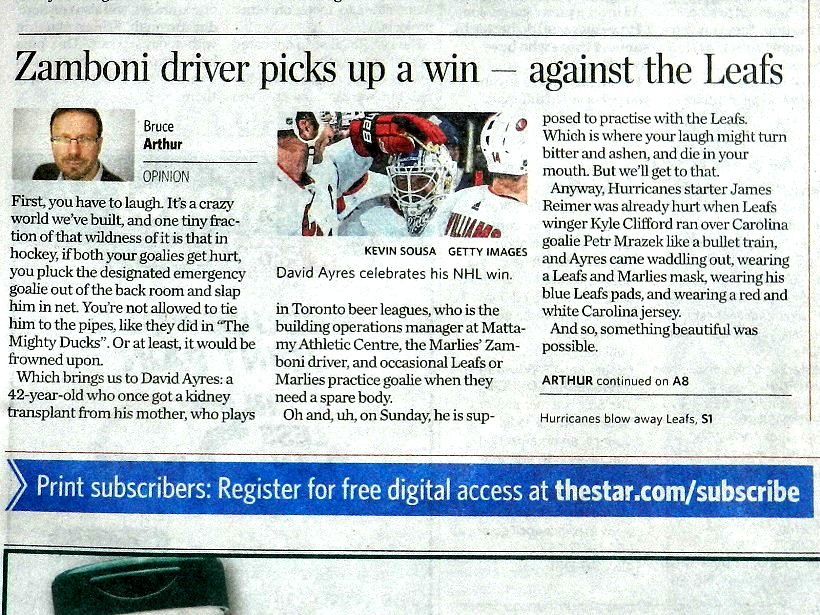 No one knows how, or if, the Carolina capitulation will impact Trade Deadline Day on Monday. Though undoubtedly sensing heat from all directions, Dubas understands he cannot re–make the Leafs in less than 48 hours. Nor does he likely wish to. While offloading, for example, the expiring contract of Tyson Barrie may seem prudent, it would be an admission of failure in the deal that sent Nazem Kadri to Colorado. And, not particularly luminous on the resume. Neither would any drastic activity involving William Nylander, Mitch Marner, Auston Matthews or John Tavares (who cannot be moved), given that Dubas zealously inked all four to lucrative, long–term contracts. So, let's take a breath; acknowledge that this season will not unfold as anticipated, and look toward modifying the club in the summer. There is no other recourse. Anyone expecting Zach Bogosian* or Matt Dumba to instantly revamp the Blue and White will be disappointed.
*Bogosian, an unrestricted free agent, has signed a one–year deal with Tampa Bay.
Nor is it time to write off the Big 4 money–men as entitled and unmotivated, though it was alarming to watch the indifference toward making life a bit miserable for Ayres on Saturday. It does, however, put the 4–0 win over the Penguins on Thursday in context. The Maple Leafs, two nights earlier, left Pittsburgh thoroughly mortified, while Sidney Crosby and Co. likely flew north expecting another walk in the park. One club kicked it up a few notches; the other conveniently relaxed. Which is human nature in professional sport.
It's also the reason I suspect the Maple Leafs will provide the Lightning a competitive environment on Tuesday, though T–Bay is likely to be in a collective funk as well after getting trounced, 7–3, in Arizona. For the Lightning, Saturday night was an anomaly. For the Leafs, the resumption of a season–long pattern.
And, a story line they'll be recounting 100 years from now.
EMAIL: HOWARDLBERGER@GMAIL.COM