TORONTO (Feb. 16) — Chuckle, if you wish. Belly–laugh, even. But, understand that this scenario comes from a person with more than three decades of hockey media experience in Los Angeles. Everyone in the sports–writing (broadcasting?) business knows him (her?). And, given the Kings are the most–popular trading partner for Kyle Dubas, well… listen: "Drew Doughty is wasting away here," said my So–Cal friend. "I'm certain he would waive his no–movement clause for the right deal. The Leafs need a stud defenseman. The Kings can't score (145 goals, 30th in the National Hockey League). Drew goes to Toronto, with a second–round draft pick, for William Nylander, Kasperi Kapanen and Justin Holl. The Leafs take on the full $11 million of cap–space from Doughty, through the 2026–27 season (when he is 37). Los Angeles assumes the $12 million from the three Toronto players. Doughty is back on a winning team, after his two Stanley Cups here. The Leafs' blue line gets a phenomenal boost. And, the Kings can suddenly put the puck in the net.
"What doesn't make sense?"
"Okay, is this a figment of your imagination, or has any–such deal been discussed?" I asked.
"Drew Doughty to Toronto has been a topic around the Kings for four years," came the indirect answer.
All together now: "Hmmmmmm."

WILL JACK SUPPLANT FREDDY?
When Dubas completed the most–imperative and belated swap of his young managerial career, it was assumed he acquired a back–up goalie from the Kings. Less than two weeks later, we're not so sure.
With Jack Campbell between the iron, the Maple Leafs have accrued seven of eight points: three regulation victories (over Anaheim, Arizona and Ottawa) and an overtime loss (at Montreal). Which is merely two points less than Michael Hutchinson provided the club between Oct. 2 and Feb. 5. More significantly, it is only one point less than Frederik Andersen has accumulated in his past ten appearances, spanning six weeks. That's right, the Maple Leafs' starting netminder is a dismal 3–5–2 since defeating Winnipeg, at Scotiabank Arena, on Jan. 2. While it's imprudent to form a lasting opinion of Campbell in such a brief period (his wins have come against mediocre opposition), he appears brash and self–assured for the Blue and White. Which is antithetical to the image offered by Andersen since an 8–1–1 personal streak between Dec. 7 and Jan. 2. The big Dane, as we know, may still be recovering from a (chronic?) neck injury sustained in a home loss to Florida on Feb. 3. His return, Thursday night, resulted in a 3–2 regulation defeat at home to Dallas. Andersen will start again tonight, at Buffalo. At which point, the Maple Leafs' netminding rotation could become rather intriguing — particularly if ol' Freddy were to struggle against the Sabres (3–1–0 in their past four games).
In their six games after tonight, the Leafs play Pittsburgh (twice), Tampa Bay, Carolina, Florida and Vancouver. All quality opponents. Given that Toronto needs every available point to hold off the slumping Panthers for third place in the Atlantic Division (first and second place, as usual, are beyond reach), does Sheldon Keefe stand on ceremony and continue to anoint Andersen his starter? Or, does he go with the hot hand? At this moment, if I'm the Toronto coach, I'm contemplating that Campbell gets a minimum four of the six upcoming assignments. The games are Tuesday, Thursday and Saturday of this week; Tuesday, Thursday and Saturday next week. No back–to–back's. Let's see how it shakes out — and where the Maple Leafs stand — after the home encounter with the Canucks, Feb. 29; after the Feb. 24 NHL trade deadline, and before a three–game Pacific jaunt to San Jose (Mar. 3), Los Angeles (Mar. 5) and Anaheim (Mar. 6).
BE WARY OF A MUZZ–TAKE: It appears that defenseman Jake Muzzin is on the verge of signing a four–year contract extension with the Maple Leafs that carries up to a $5 million cap–hit. I can appreciate the first year… maybe the second. But, the third and fourth years will bite Kyle Dubas in the tush. Muzzin — solid, but hardly a difference–maker for the Blue and White — will be 31 on Friday and has lots of miles behind him. I don't like his chance of being anywhere close to a $5 million player when he's 33 and 34. Perhaps this is the cost of doing business in the NHL. But, it carries long–term ramification for the Maple Leafs. Be careful, Kyle.
FROM SIX TO TWELVE TEAMS
This was an historic week, 54 years ago, for the National Hockey League. As depicted in the Feb. 19, 1966 edition of The Hockey News (from my collection), the NHL announced its long–awaited plan to expand beyond the six teams that had comprised the circuit since 1942–43. It was, and still is, the most–ambitious one–year growth in the history of professional sport: six new clubs for the 1967–68 season (at $2 million apiece), doubling the NHL membership. Added to the existing teams — Boston, Chicago, Detroit, Montreal, New York and Toronto — were the California Seals, Los Angeles Kings, Minnesota North Stars, Philadelphia Flyers, Pittsburgh Penguins and St. Louis Blues. There was much consternation in Vancouver for its expansion bid being overlooked… and across Canada for the placement of all new entries south of the border. At the bottom of his photo–feature are summaries from four NHL games (Feb. 9–13, 1966), including all six teams in the pre–expansion era. Many names instantly recognizable more than a half–century later: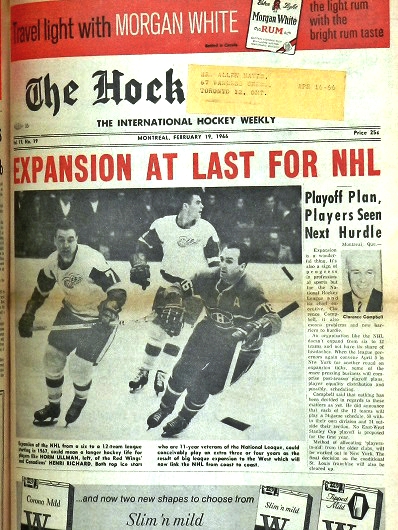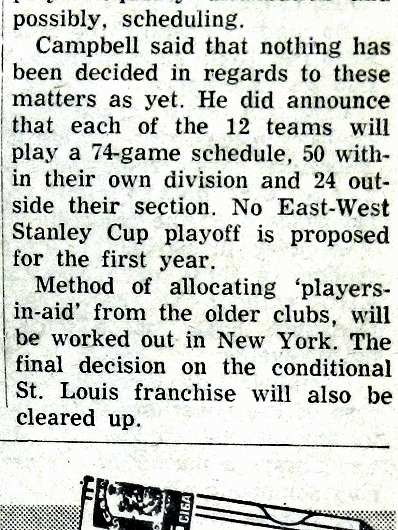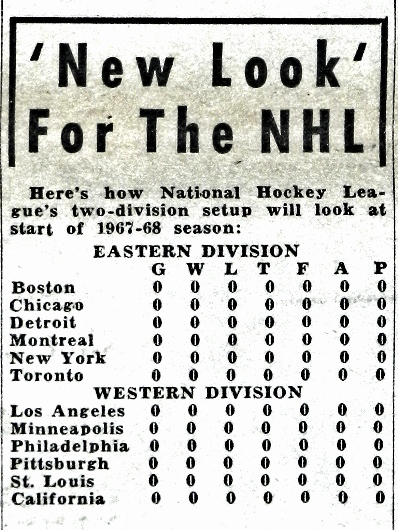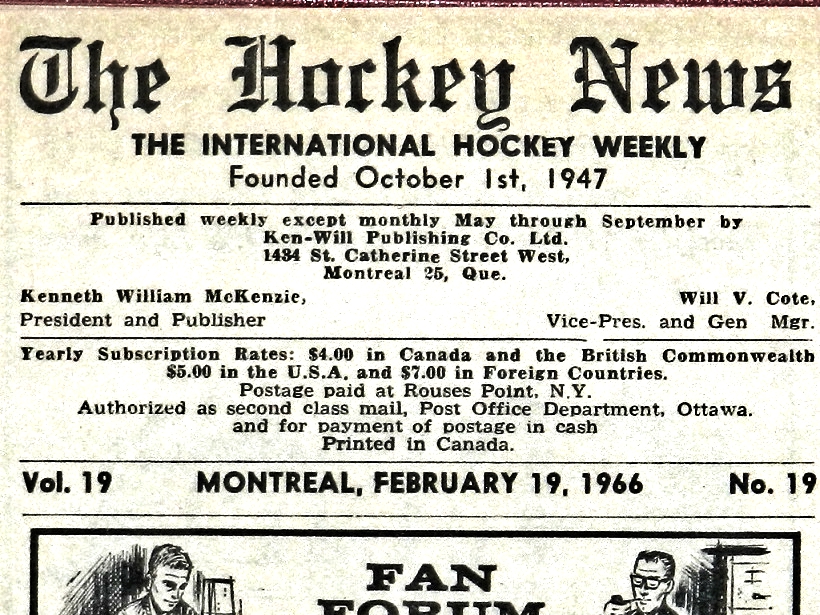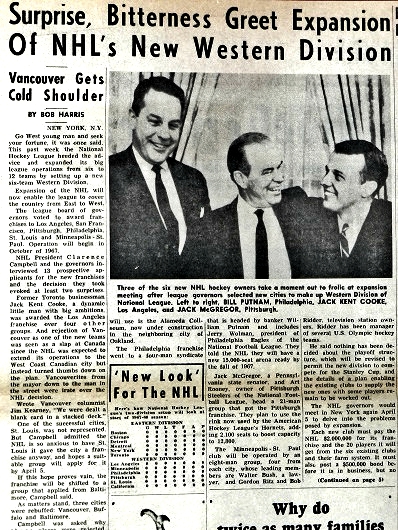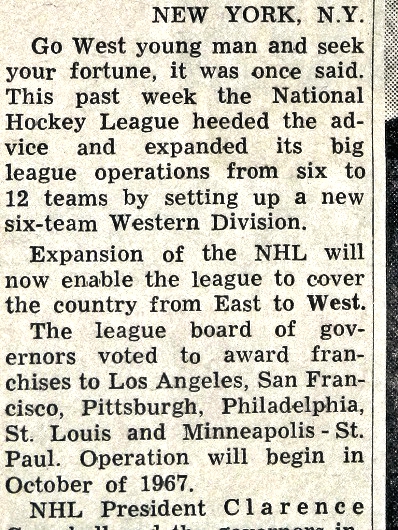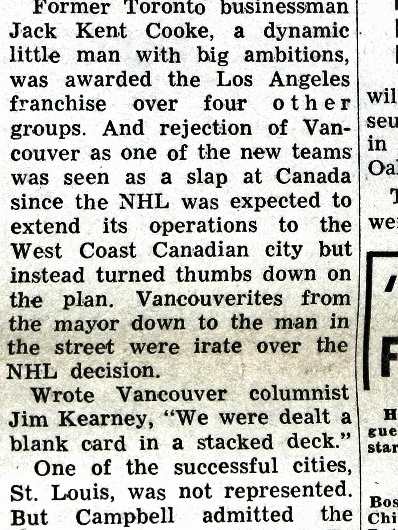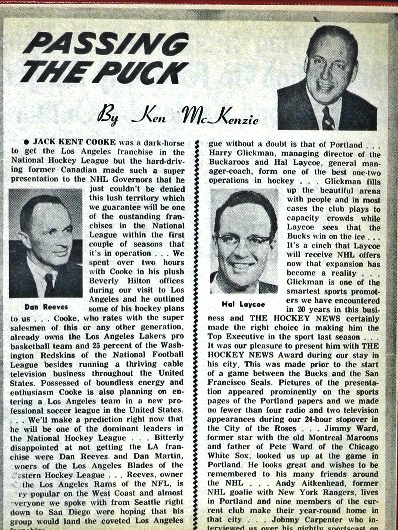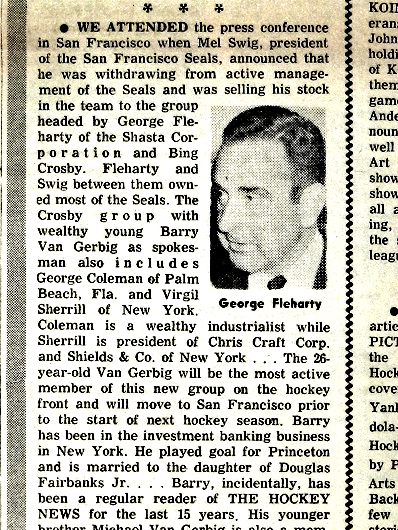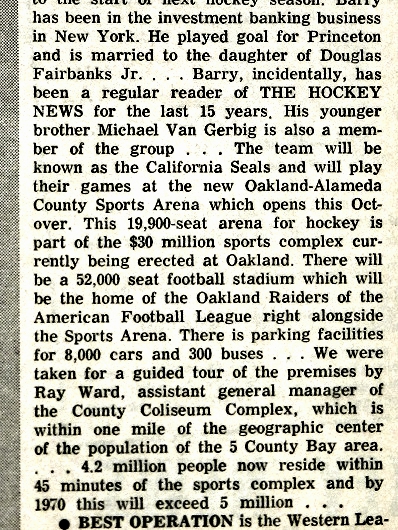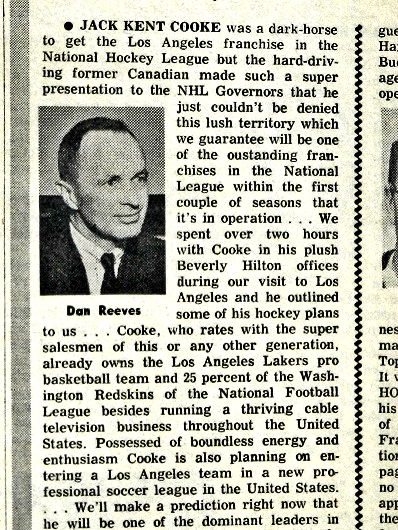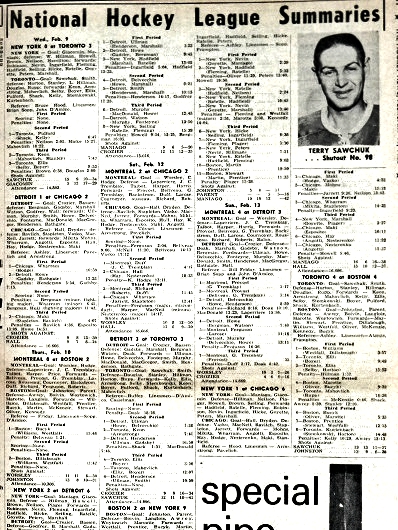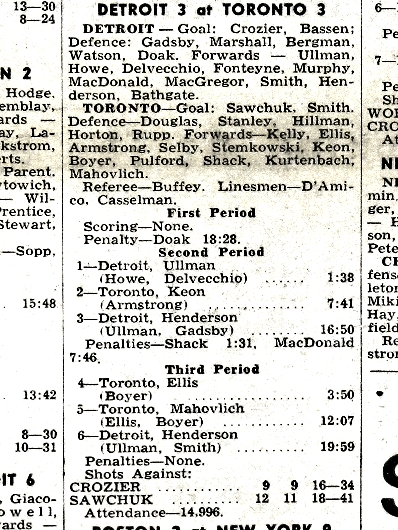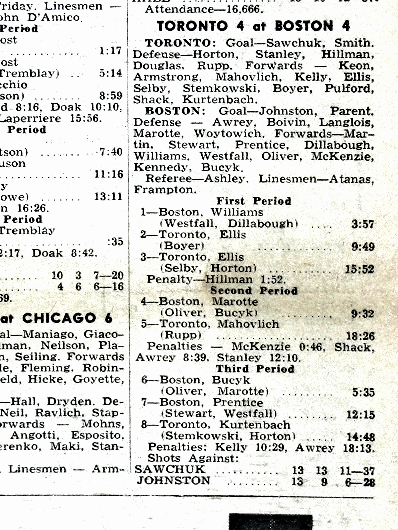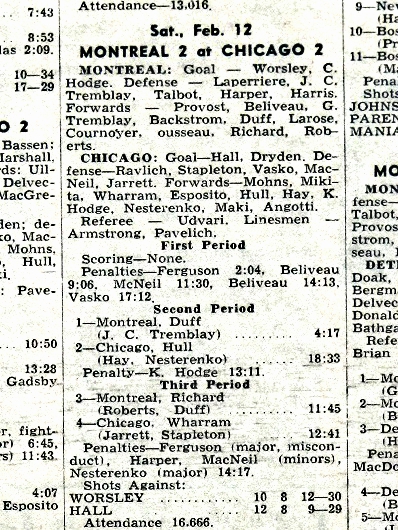 EMAIL: HOWARDLBERGER@GMAIL.COM