TORONTO (Mar. 12) — As professional sports and college tournaments tumbled like dominoes earlier today, there was one unequivocal consolation: none of these events will be played in empty arenas.
Of all the contingency plans for COVID–19, nothing rang with such absurdity and desperation. Conducting, for example, the NCAA men's basketball tournament without the charge and commotion supplied by a frenetic audience would have cheapened the event beyond measure. Instead of March Madness, we'd have March Sadness. This applies equally to the National Hockey League and National Basketball Association. I shudder when comprehending the loud echo of sticks and pucks; the endless squeaking of high–topped footwear. All without the surrounding tumult that is endemic to live competition. It simply would not work.
While response to the coronavirus is undoubtedly over the top — and gusting toward delirium — better, I suppose, to be cautious than apathetic. The fear–mongering engendered by the 24–hour news networks has only one purpose: to lure as many eyeballs as possible. Even a pandemic does not repudiate the concern over ratings and advertising revenue. Were the talking heads south of the border to submit that 39 related deaths (as of today) in a country of 372.5 million people is below infinitesimal, viewers would change the channel. Anyone's 600–pound life is more compelling. Same with hockey here in Toronto. It's unlikely that emergency rooms across the city would have been on high alert had the Maple Leafs and Nashville Predators faced off, as scheduled, at Scotiabank Arena. Imagine this announcement, midway through the third period: "Ladies and gentlemen, tonight's attendance was 19,385. It is now 4,692." Highly improbable.
But, there's no desire to assume risk, however minuscule. So, three of the big four professional sports in North America have suspended operation, indefinitely. The National Football League is clearly hoping the pandemic runs its course by mid–July, when teams report to training camp. Untold millions of addicted gamblers are similarly in prayer. Major League Baseball, played primarily in open–air facilities, is likely to resume before the indoor sports of winter and spring. The six ballparks with retractable roofs — Rogers Centre (Toronto), Chase Field (Phoenix), SafeCo Field (Seattle), Minute Maid Park (Houston), Miller Park (Milwaukee) and Marlins Stadium (Miami) — would probably need to be open, necessitating rain–check tickets for foul weather (as in all other cities). Otherwise, it should be "Play Ball!" in the foreseeable future.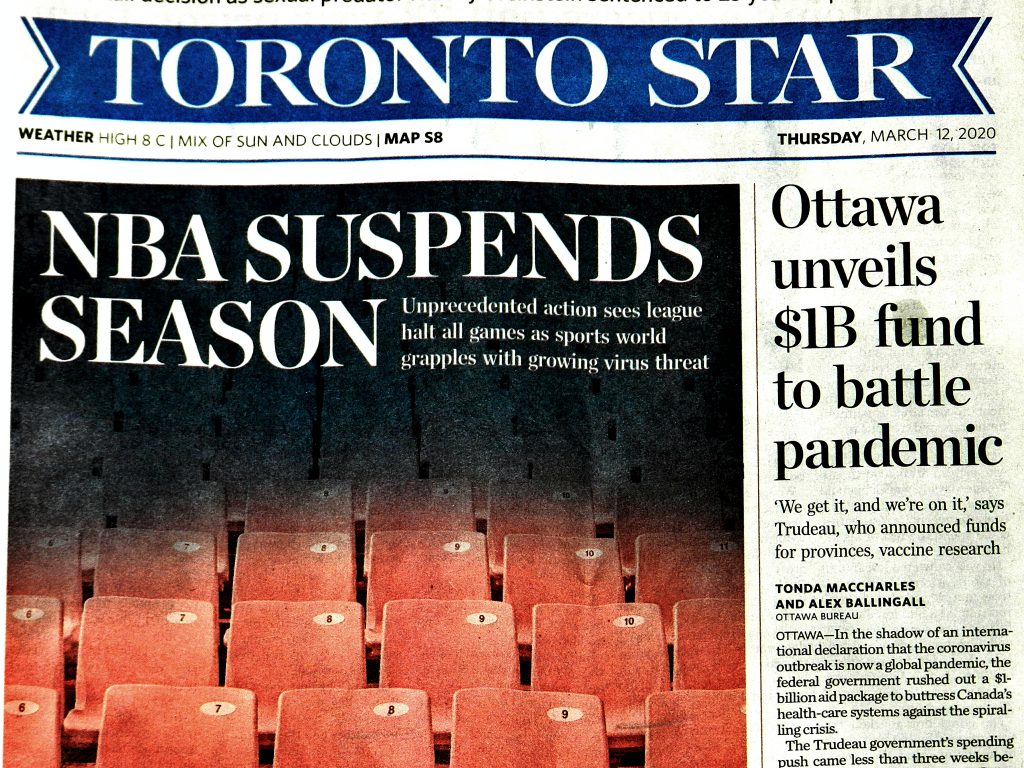 Conversely, I don't expect the NHL to return in time to complete the 2019–20 regular schedule. Not unless it's willing to conduct playoff games in the middle of summer. As such, an idea presented by ESPN.com is most credible. Should hockey be fortunate to resume in, say, a month from now (which, according to projection, is highly unlikely), it should immediately embark on the Stanley Cup tournament. The 16 qualifying teams would be admitted based on points–percentage, as of today, rather than total points in the standings. First–round match–ups would, therefore, be as such (points–percentage in brackets):
Eastern Conference
A1 Boston Bruins (.714) vs. WC2 New York Islanders (.588)
A2 Tampa Bay Lightning (.657) vs. A3 Toronto Maple Leafs (.579)
M1 Washington Capitals (.652) vs. WC1 Carolina Hurricanes (.596)
M2 Philadelphia Flyers (.645) vs. M3 Pittsburgh Penguins (.623)
Western Conference
C1 St. Louis Blues (.662) vs. WC2 Calgary Flames (.564)
C2 Colorado Avalanche (.657) vs. C3 Dallas Stars (.594)
P1 Vegas Golden Knights (.606) vs. WC1 Nashville Predators (.565)
P2 Edmonton Oilers (.585) vs. P3 Vancouver Canucks (.565)
In this scenario, neither the Columbus Blue Jackets nor the Winnipeg Jets — currently in wild card positions based on total points — would make the playoffs. There would be an all–Canadian match–up in the opening round: Edmonton vs. Vancouver. Tampa Bay and Toronto would meet for the first time in the post–season.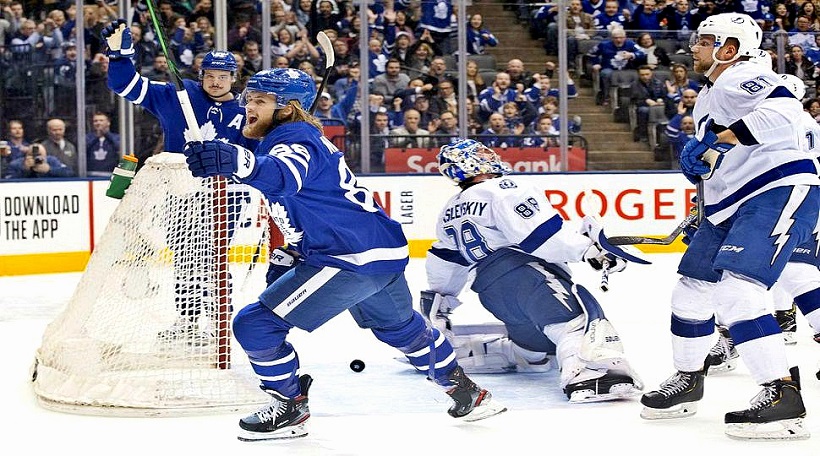 WILLIAM NYLANDER (BEARD) CELEBRATES GOAL AGAINST ANDREI VASILEVSKIY DURING THE LEAFS 2–1 VICTORY OVER TAMPA BAY, TUESDAY NIGHT, AT SCOTIABANK ARENA. WAS IT THE FINAL GAME UNTIL NEXT SEASON FOR THE CLUBS? OR, A FIRST–ROUND PLAYOFF PREVIEW? CHRIS YOUNG THE CANADIAN PRESS
Another option is to limit the playoff qualifiers to 12. The four Division winners would receive a bye into the second round, with the next eight teams listed in order of points–percentage, regardless of Conference. As in the 1970's and 80's, the opening round would feature match–ups of 1 vs. 8, 2 vs. 7, 3 vs. 6 and 4 vs. 5. In this format, Boston, Washington, St. Louis and Vegas would receive byes. First–round series — perhaps best–of–five — would be (HOME TEAM in capital letters):
TAMPA BAY vs. Edmonton
COLORADO vs. New York Islanders
PHILADELPHIA vs. Dallas
PITTSBURGH vs. Carolina
The four series survivors would line up, according to points–percentage, with the Division winners in the Stanley Cup quarterfinals (also best–of–five). Again, 1 vs. 8, 2 vs. 7, etc. The semifinals (1 vs. 4, 2 vs. 3) and the final (each a best–of–seven) would follow. This scenario will obviously prompt derision among fans in Toronto, Vancouver, Nashville and Calgary, as their teams would not qualify for the Cup tournament.
All of this will be moot, of course, if the COVID–19 pandemic worsens (as expected) and encompasses the next two or three months. That's why I wrote, last night (http://bit.ly/33cFnXq), that the Stanley Cup may not be presented for only the third time, including 1919 (during the Spanish Flu outbreak) and 2005 (after the season–long labor dispute). Clearly, there will be limited (or no) appetite for hockey in July and August.
EMAIL: HOWARDLBERGER@GMAIL.COM