TORONTO (Apr. 27) — Amid the ambiguity with regard to finishing the 2019–20 National Hockey League season, only one thing is certain: a Stanley Cup tournament cannot be conducted without players.
As much as anyone, I wish for a 2020 champion to crowned. I also understand, as best I can, the dilemma facing commissioner Gary Bettman and I similarly wish for him to fulfill his business obligations. I would be thrilled for my former media colleagues in their quest to resume work. But, none of that supersedes my concern for athletes during the COVID–19 crisis — whether or not they perform in empty arenas. Unlike the commisioner, or any person viewing the resumption of play, the athletes cannot practice social distancing. The only facsimile in hockey has been the All–Star Game in recent years, during which the participants ardently avoid contact. A legitimate competition for the Stanley Cup would require the game's typical approximation and aggressiveness, ignoring the most–common form of coronavirus prevention. One can therefore conclude that the NHL is willing to sacrifice the potential health of its athletes in order to conclude business obligations. But, the players do not have to comply. One would clearly suspect their own safety — and that of their families' — would supplant any competitive instinct. Neither should economics be an overriding factor; even the lowest–paid NHL player (entry–level salary: $925,000) is lavishly compensated.

This is where Donald Fehr and the NHL Players' Association should step up — loudly and forcibly. Though the PA and the league partner with respect to accumulative revenue (it was $5.09 billion U.S. in the 2018–19 season), there will be no cooperative social distancing if the 2020 Stanley Cup tournament moves forward. Observers will, presumably, be able to watch at a distance of six feet from one another. This won't be possible for the athletes — in the dressing room; on the bench, and, most–assuredly, while competing.
Though young and generally robust, the players have no added immunity from the coronavirus. Nor from the potential spread among themselves and to family members. In my view, it would be completely immoral for the NHL to resume activity until there is, minimally, a therapeutic agent that can counter COVID–19 and, ultimately, a vaccine that can all–but eradicate the virus. Waiting time is immaterial. COVID–19 neither cares about the economy nor the NHL's desire to fulfill business commitments.
Only human beings can make educated decisions.
Returning to play, anytime in the foreseeable future, would be reckless and irresponsible.
MY FUNERAL WORK DURING COVID–19
Given the eternal fascination about death, there is natural curiosity that pertains to the funeral business. At no time during my nearly 2½ years as an employee of Benjamin's Park Memorial Chapel has this been so evident as during the COVID-19 pandemic. I covered a number of topics in a radio interview, Thursday night, with my former FAN-590 colleague, Barb DiGiulio, who now handles the weeknight, 7-11 p.m. shift on Newstalk-1010 (CFRB). But, there are other questions that relate to essential work amid the coronavirus struggle. I will attempt, here, to quell curiosity relating to the most-common:
ARE YOU AFRAID TO BE WORKING DURING THIS VIRUS OUTBREAK WHILE OTHERS ARE STAYING HOME?
The simple answer is no. That doesn't mean I haven't contemplated the increased risk of exposure to COVID-19 and the added peril of exposure to those that have perished as a result of the virus. As with my colleagues, however, I am closely adhering to the science of being able to avoid such a fate. While ignoring the white noise of social and mainstream media. We have very strict measures in place at the chapel with regard to handling all bodies – and increasingly-strict guidelines for COVID-19 victims. Without exception, they are accorded the same dignity as those that die of other, more common maladies. We just ensure to protect ourselves more stringently… with masks, aprons, latex gloves and powerful disinfectant spray for surfaces that come in contact with coronavirus bodies. Though we've had our share of COVID-19 deaths, they are not yet predominant – and I use the word "yet" because we obviously cannot predict patterns in the immediate future. But, no, fear has not entered my mind. Besides, a person once told me – significantly – that worrying about something will never prevent it from happening. Better to be careful and enjoy life.
WHAT WOULD HAPPEN AT THE FUNERAL CHAPEL IF AN EMPLOYEE CONTRACTED COVID-19?
This vital consideration was foremost among topics for the Benjamin family. Clearly, if one of us became infected, the others would be imperiled. Given that we provide an essential service, it was compulsory to execute a plan that would minimize the chance of the business being interrupted. As such, employees have been split into two teams. Each team works seven consecutive days, then has seven days off while the other team is at the chapel. This obviously decreases the risk of an interruption by 50 percent. If a member of one team were infected, those employees would enter isolation and be picked up by the other group. Thank goodness, we've all stayed healthy in the early stages of the plan. I will also say, without equivocation, how fortunate we are to be working for the Benjamin family. While essentially having 14 days "vacation" per month, we are drawing our full salaries. As you know, so many others across the planet have been laid off from work and are struggling to meet expenses.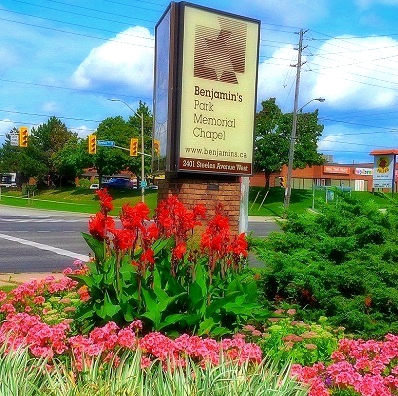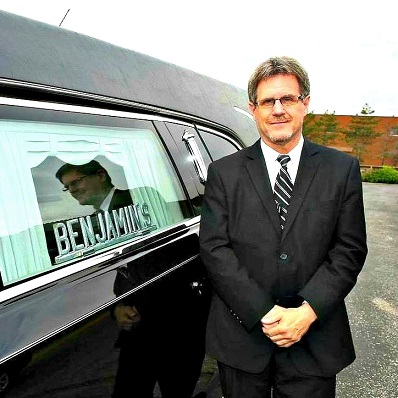 PEOPLE HAVE NOTICED, WHILE LOOKING AT THE BENJAMIN'S WEBSITE, THAT WE'VE BEEN PARTICULARLY BUSY THE PAST COUPLE OF WEEKS, WITH UPWARD OF SEVEN AND EIGHT FUNERAL SERVICES PER DAY. IS THIS A DIRECT RESULT OF COVID-19?
It's a very good question, but we have no scientific evidence just yet. The inherent nature of the funeral business is one of ebb and flow. In the past, we've had stretches of constant work… and periods of two or three days when there are no services at all. So, we aren't entirely sure if we've experienced a coincidental surge over the past 14 days, or if there is, in fact, a link to the coronavirus. It'll require more time and evidence to make such a determination. One train of thought suggests that people ill with other diseases may not be acquiring the same level or promptness of care. But, again, COVID-19 hasn't been prevalent long enough to confirm any-such theory.
IS IT MORE DIFFICULT, EMOTIONALLY, WORKING THE FUNERAL OF A COVID-19 VICTIM?
No, not at all. Every funeral is emotional; if you have a heartbeat, it is impossible to not feel sorrow and compassion for those burying loved ones. Of course, such feelings cannot impact our work performance. But, none of us are robots. Where we truly feel heartache, right now, is for the immediate families of coronavirus victims, for NO PERSON* beyond clergy, funeral chapel and cemetery staff can attend such a service. I mentioned in my radio interview with Barb about the double-whammy of a Chiropractor friend who lost his mother last week. We handled her arrangements. Not only was my friend unable to be alongside his mother in her final days and hours – she died at a retirement residence and COVID-19 has spread like wildfire through such facilities – he could not attend her funeral. Once informed by our staff of such a heart-wrenching circumstance, he emailed me, incredulously, wondering how he could possibly not be entitled to appear. I explained the regulations to him and I suspect he understood them, intellectually. As for processing such a fate emotionally, I don't believe it's possible.
*This has now been amended providing, a) an attendee provides a letter from a physician that no one in the family has had contact with the deceased in the 14 days prior to death, or b) a statement is obtained from the hospital or long–term–care facility that no person, resulting from lock–down protocol, visited the deceased in the prior 14 days.
VINTAGE CANADIAN FOOTBALL LEAGUE
Given the COVID-19 pandemic, there isn't likely to be a Canadian Football League season in 2020. The CFL was incorporated on Jan. 19, 1958 in a merger between the Interprovincial Rugby Football Union and the Western Interprovincial Football Union. Four teams (the Hamilton Tiger–Cats, Montreal Alouettes, Ottawa Rough Riders and Toronto Argonauts) comprised the Eastern Conference. Five others (the British Columbia Lions, Calgary Stampeders, Edmonton Eskimos, Saskatchewan Roughriders and Winnipeg Blue Bombers) made up the Western Conference. Never has there been an interruption to the CFL schedule. A binder, as part of my sports collection, contains full sets of O–Pee–Chee CFL cards from 1968, 1970, 1971 and 1972.
Here are examples from Eastern teams. Western teams will follow: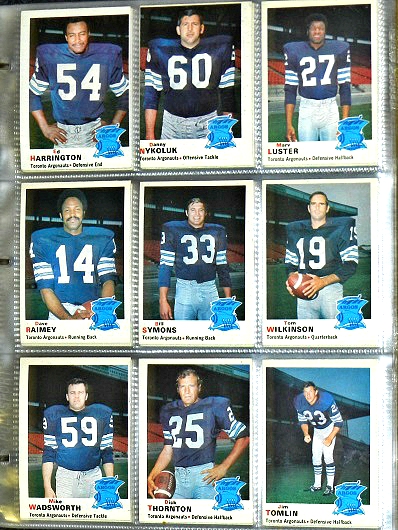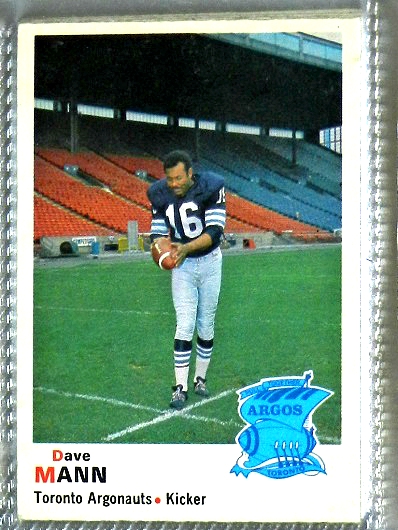 From the 1970 set (above and below), cards of the Toronto Argonauts — photos taken at the old CNE Stadium. The Argos of the late–60's and early 70's, coached by Leo Cahill, are my favorite sports teams ever. Until 1977, when the Blue Jays arrived, Toronto was a two–sport city: the Maple Leafs in the winter; the Argos in summer and fall. They were equal in popularity. Prior to expansion for baseball, the stadium at the Canadian National Exhibition seated 33,135 fans. And was routinely sold out between 1969 and 1972. Under the colorful Cahill, the Argos featured a cast of lively, outspoken players such as Dick Thornton, Mel Profit, Dave Mann and Bobby Taylor. I attended my first CFL game on Sep. 20, 1969 (a Saturday night) when the eventual Grey Cup–champion Ottawa Rough Riders (guided by Canadian–born quarterback Russ Jackson) defeated the Argos, 34–27. Later that season, I attended my second game: a Sunday-afternoon affair in poring rain (Nov. 2), as the Argos upended the Montreal Alouettes, 22–18. They remain vivid memories.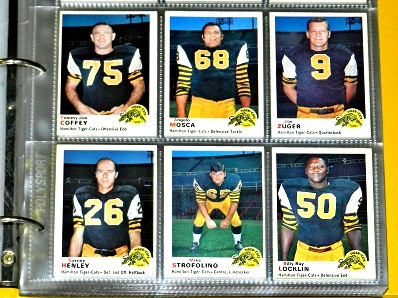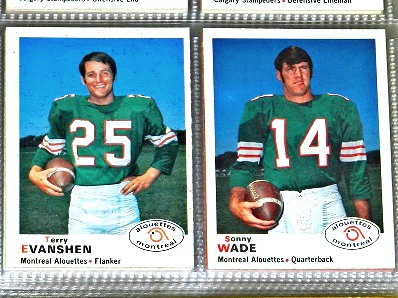 Members of the 1970 Hamilton Tiger–Cats (top–left), including CFL and wrestling legend Angelo Mosca (now 83). The Montreal Alouettes, wearing green jerseys for the first time, won the 1970 Grey Cup (over Calgary), thanks largely to the pass–and–catch tandem (top–right) of Sonny Wade and Terry Evanshen.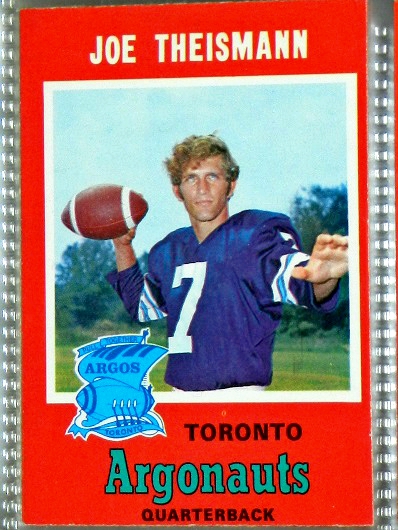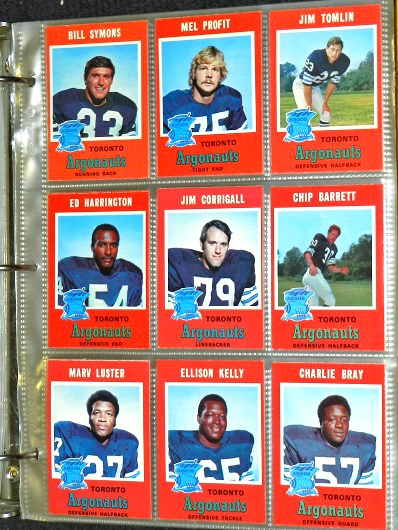 Leo Cahill embarked on a recruiting binge in the off–season prior to 1971, signing such American talent as Joe Theismann (top–left), Greg Barton, Leon McQuay, Tim Anderson, Zenon Andrusyshyn and Jim Stillwagon. These are the Argo cards (above and below) from the '71 CFL set. Theismann, signed out of Notre Dame and pilfered from the Miami Dolphins, led the club to a 10–4 record and a berth in the Grey Cup game. On a rainy, miserable afternoon at Empire Stadium in Vancouver, McQuay legendarily fumbled the football at the Calgary 11–yard–line, late in regulation, allowing the Stampeders to escape with a 14–11 victory. Though the Argos have since won the Grey Cup seven times (1983–91–96–97–2004–12–17), that one still hurts.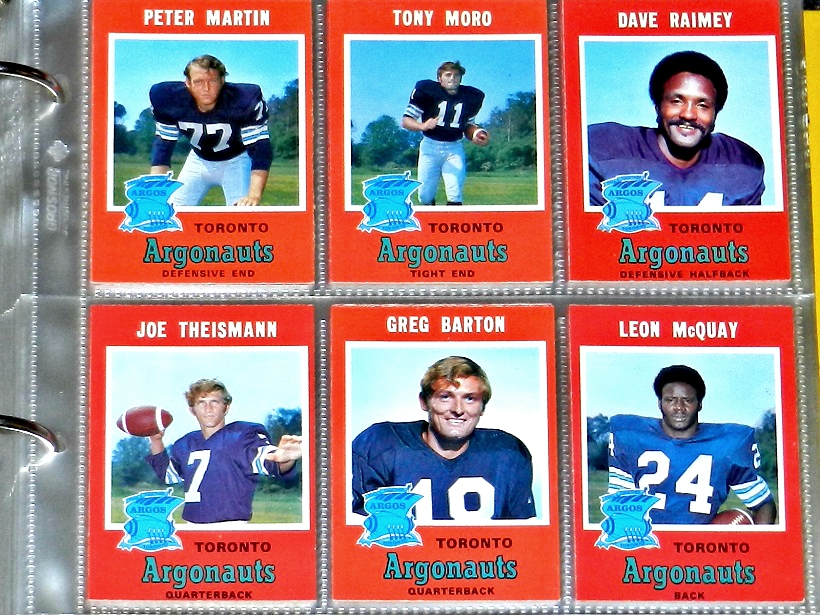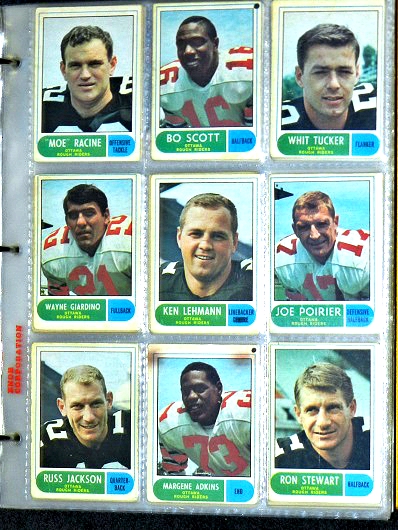 Cards of the Ottawa Rough Riders (top–left) and Toronto Argonauts from the 1968 O–Pee–Chee set. Ottawa, under coach Frank Clair, would win its first of consecutive Grey Cup titles that season, defeating the Calgary Stampeders at CNE Stadium in Toronto. The Riders would follow with a victory in the 1969 game over the Saskatchewan Roughriders at The Autostade in Montreal. Russ Jackson retired after the second triumph.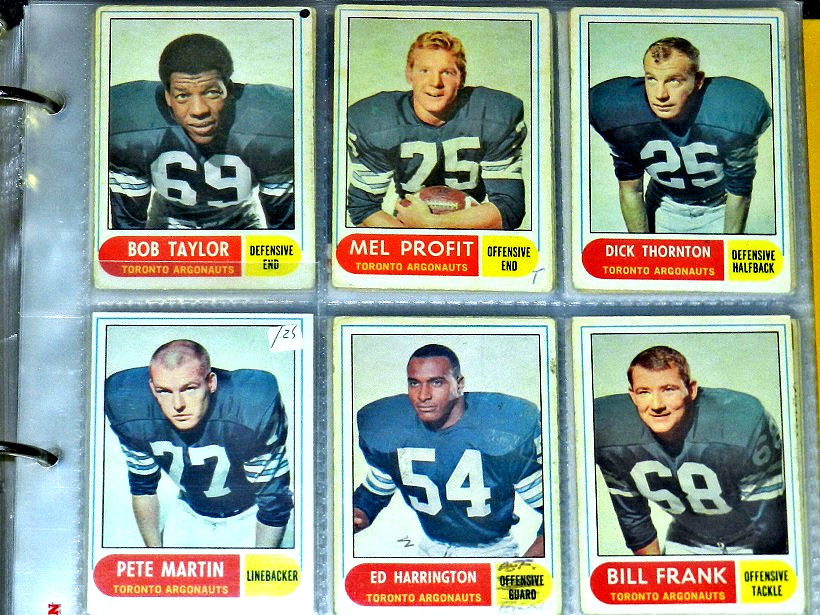 EMAIL: HOWARDLBERGER@GMAIL.COM