TORONTO (Apr. 12) — It became, without question, the most–familiar lament among hockey fans in this city during the "lost decade" of the 1980's: "The Maple Leafs won't win the Stanley Cup until Harold Ballard dies."
That departure occurred 30 years this weekend (Apr. 11, 1990). And… we're still waiting.
The hypothesis of Ballard holding back the Maple Leafs required minimal comprehension. He was cheap, stubborn, petulant and vindictive (though somewhat philanthropic). His skeletal hockey department restricted such bright minds as Jim Gregory, Bob Davidson, John McLellan, Red Kelly and Roger Neilson. Ballard's lone full decade of proprietorship (1980–89) resulted in the three worst seasons in modern franchise history — 1981–82: 20–44–16 for 56 points / 1984–85: 20–52–8 for 48 points / 1987–88: 21–49–10 for 52 points. So detrimental was he to the hockey club and the arena that every time he became ill with circulatory problems in 1989 and 1990, Maple Leaf Gardens stock went through the roof. Peter Mansbridge, host of The National on CBC, aired this retrospective, 30 years ago Saturday night: https://bit.ly/2yT8NyZ.
The hypothesis of the Leafs not winning the Stanley Cup until Ballard died was also true. But, three decades and three ownership entities (Steve Stavro; the Ontario Teachers' Pension Plan; Rogers/Bell/Larry Tanenbaum) in the interim hasn't changed a thing. In fact, the Leafs are much–farther removed from a championship today than when Ballard expired. In April 1990, it had been only 23 years since George Armstrong lifted the Cup at the Gardens. All four National Hockey League titles under Punch Imlach (1962–63–64–67) occurred in the 30–year epoch before Ballard's death. So, yeah, the Leafs weren't going to win the Stanley Cup with ol' Harold alive. Yet, neither have they done all that tootin'–well since he stopped breathing.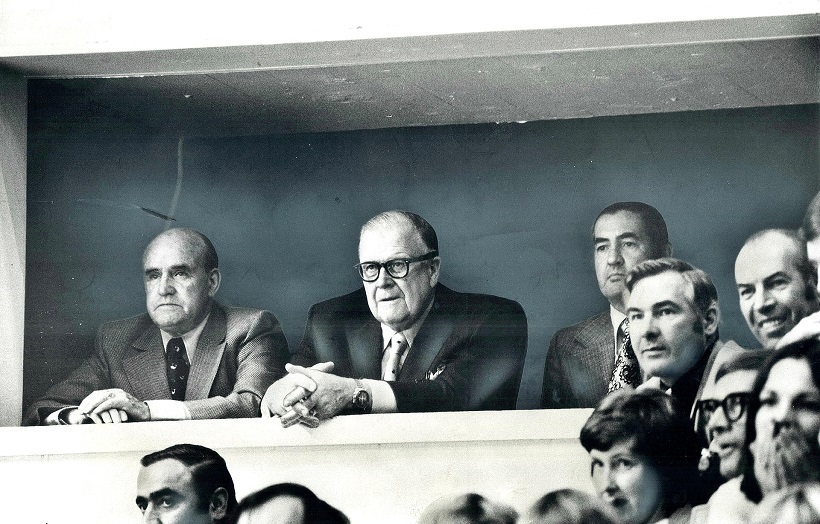 HAROLD BALLARD (GLASSES) WATCHES A GAME IN 1974 FROM HIS PRIVATE "BUNKER" NEAR ICE LEVEL IN THE NORTHEAST CORNER OF MAPLE LEAF GARDENS. HE IS FLANKED BY LEAFS LEGEND FRANK (KING) CLANCY (TO HIS RIGHT) AND BY FORMER LEAFS COACH (1969–73) JOHN McLELLAN.
THE LEAFS NUMBERS SINCE BALLARD DIED
(28 SEASONS, BEGINNING IN 1990–91):
REGULAR SEASON
GP–2,298 / W–1,061 / L–940 / T (through 2003–04)–85 / OT/SOL–167 / GF–6,818 / GA–7,006 / PTS–2,374
PLAYOFFS
QUALIFIED–14 Times / MISSED–14 Times
SERIES–25 / SERIES WINS–11 / GP–159 / GAMES WON–77 / GAMES LOST–82 / GF–409 / GA–441
The 28 seasons since Ballard's death have been comprised as such: 84 games (2); 82 games (23); 48 games (2, abbreviated by lockouts); 70 games (this season, as of the suspension of play on Mar. 12 resulting from the COVID–19 pandemic). As you can see, above, the Leafs are below the break–even mark in all categories except regular–season games won or lost. Not surprisingly for a franchise playing mediocre defensive hockey, before and after Ballard, the club has scored fewer goals than yielded… in the regular season and playoffs. The Leafs have qualified for the Stanley Cup tournament in half of the 28 seasons since 1989–90, but they missed a team–record seven consecutive times (from 2005–06 to 2011–12) and 10 consecutive years of a full, 82–game schedule (2005–06 to 2015–16). Toronto hasn't won a playoff series in 16 years (since 2004) — by far the longest–such drought in club annals. Of course, there have been no appearances in the Stanley Cup final. The other five pre–expansion teams (Boston, Chicago, Detroit, Montreal, New York Rangers) have all played for the Cup since 1990, winning 10 times. As well, 21 expansion teams (Pittsburgh, Minnesota*, Los Angeles, Vancouver, New Jersey, Colorado**, Florida, Philadelphia, Washington, Dallas, Buffalo, Carolina, Anaheim, Tampa Bay, Calgary, Edmonton, Ottawa, San Jose, Nashville, Vegas, St. Louis) have made at least one Cup final appearance, winning 18 times. *Minnesota North Stars / **Colorado Avalanche
Only once during Ballard's ownership tenure (1972–90) did the Leafs advance as far as the Stanley Cup semifinals. That was in the spring of 1978, when the club swept Los Angeles in a best–of–three preliminary round series then upset the New York Islanders in the quarterfinals on Lanny McDonald's overtime goal in Game 7 at the Nassau Coliseum. The Maple Leafs were eliminated in four straight, by Montreal.
Since Ballard, the Leafs have made four appearances in the semis — twice each under Pat Burns and Pat Quinn. In 1993, led by Doug Gilmour, Wendel Clark and Felix Potvin, the club knocked off Detroit and St. Louis before losing Game 7 of the semifinals, at the Gardens, to Wayne Gretzky and the Los Angeles Kings. It still represents the farthest the Leafs have advanced in any year since 1967. The next spring (1994) came series wins over Chicago and San Jose before a five–game loss to Vancouver. In 1999, led by Curtis Joseph, Mats Sundin and Steve Thomas, the Leafs kayoed Philadelphia and Pittsburgh before running out of steam against Buffalo (in five). Three years later (2002), an injury plagued Toronto team defeated the New York Islanders and Ottawa in seven–game series, then lost in six to Carolina. A first–round triumph over the Senators in 2004 represents the last series win for the franchise — occurring on Apr. 20 of that year.
The Leafs are playing for their 12th head coach since Ballard's death: Doug Carpenter, Tom Watt, Pat Burns, Nick Beverley*, Mike Murphy, Pat Quinn, Paul Maurice, Ron Wilson, Randy Carlyle, Peter Horachek*, Mike Babcock, Sheldon Keefe) *interim replacements. The longest tenure belongs to Quinn: seven seasons (1998-99 to 2005–06). The shortest tenure: Beverley, who replaced Burns for the final 17 games of 1995–96. The most–inglorious tenure, without question, belongs to poor Horachek, on whom the 2014–15 club disgracefully quit after Carlyle was canned. Between Jan. 12 and Mar. 26, 2015, Phil Kessel, Dion Phaneuf and Co. went 5–25–3 in 33 games. As of now, the Leafs are 27–15–5 in 47 games under Sheldon Keefe.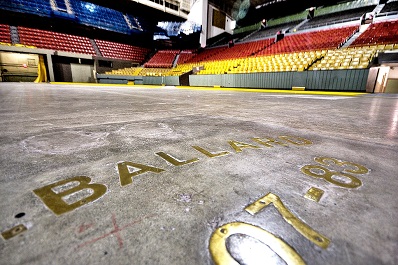 BALLARD CARVED HIS INITIALS (TOP–LEFT) IN THE GARDENS FLOOR AFTER A CEMENT RE–SURFACING ON JULY 29, 1983. HE WATCHED MOST GAMES FROM HIS "BUNKER" (RIGHT), AMID THE GOLDS, IN THE NORTHEAST CORNER OF THE ARENA. THESE PHOTOS WERE TAKEN IN 2000, AS THE GARDENS WAS BEING PREPARED FOR RENOVATION AND CONVERSION INTO THE MATTAMY ATHLETIC CENTRE.
Most Leaf observers would classify the acquisition of Doug Gilmour, by general manager Cliff Fletcher, as the best trade of the post–Ballard era. On Jan. 2, 1992, Gilmour, Jamie Macoun, Rick Wamsley, Kent Manderville and Ric Nattress came aboard for Gary Leeman, Michel Petit, Jeff Reese, Craig Berube and Alexander Godynyuk. It remains, more than 28 years later, the largest–volume swap (10 players) in NHL history. Gilmour established team records for points (127) and assists (95) in 1992–93 then rang up 111 points in '93–94. The worst trade, post–Ballard, is subjective, but Tuukka Rask to Boston for Andrew Raycroft (June 24, 2006) would top many lists. Others still groan over two first–round picks (Tyler Seguin/Dougie Hamilton) to Boston for Phil Kessel (Sep. 18, 2009), but Kessel played his part for the Leafs with a pair of 37–goal seasons; finishing sixth in NHL points (80) in 2013–14. The following year, however, Kessel was chief among those who packed it in after Horachek replaced Carlyle. Chosen second overall by Boston (behind Taylor Hall) in the 2010 NHL draft, where the Maple Leafs would have selected, Seguin has 635 points in 741 regular–season games with the Bruins and Dallas… including seasons of 84, 80, 78 and 77 points.
So, it turns out that Ballard's death on Apr. 11, 1990 was not the elixir that Maple Leaf fans were hopeful of.
In fact, not even close.
HOW ABOUT MARNER TO THE CAPS FOR OVECHKIN?
Given the near–absence of hockey news during the COVID–19 interruption, anything apparently goes. Here was a question, posed earlier this week by a reader, to Kevin McGran, hockey writer at the Toronto Star:
QUESTION: I believe if the playoffs somehow get played this spring/summer, the Washington Capitals would win the Stanley Cup. If that were to happen, Kyle Dubas should consider the following trade in the off–season. The Leafs send Mitch Marner, Morgan Rielly and Zach Hyman to Washington for Alexander Ovechkin, John Carlson and Ilya Samsonov. I know this goes against the Shanaplan, but we saw Masai Ujiri with a blockbuster trade for one of basketball's best players in Kawhi Leonard. This deal brought the NBA championship to Toronto. Enough said, right? So why would Washington do this deal? Like many championship teams, there comes a time when the old guard can be parlayed into players for the future. Getting Marner, Rielly and Hyman make the Caps younger and the Leaf players going the other way are very good, young players. So the Leafs would be prepared to move Marner, Rielly, and Hyman, because two of the players coming the other way are simply the best at their position in the NHL; Kawhi Leonard like players. I know people reading this are going to think I'm off my rocker. However ask yourself, what are the Leafs really doing to win a cup? Do we wait for this current crop of players to bring us a Stanley Cup?
The current Leaf team could win consistently if it were playing on a European international size ice surface, but the NHL ice surface size is smaller. Stanley Cups are won by teams that play both skillful and hard, physical contact hockey. I don't see the Leafs, as currently constructed or even in the near future, competing at a level that is required to win. Is MLSE really interested in winning a Stanley Cup? Or, as Brendan Shanahan has said many times, just a team that competes every year for a championship. Competing is one thing, but having the resolve to really do it is another. So If I'm going to make changes, you give up your best to get the best… a la Kawhi Leonard. Kyle Dubas, stop playing safe… go big or go home. Marner, Rielly, and Hyman salaries = $18,143,000. Ovechkin, Carlson, Samsonov salaries = $18,463,000. Dan W.
ANSWER: So where do I begin? First, the Caps are never trading Alex Ovechkin. His climb toward Wayne Gretzky's all–time goal-scoring number is a ticket seller for that market. They can replenish with younger players in other ways, not by trading their captain. Second, to trade for Carlson is to buy high. The Leafs of the past 50 years have been guilty of that. Dubas is not. Thirdly, it doesn't address the Leafs key need: team defence. In fact, it may make them worse. Marner and Hyman are key penalty killers. Rielly is their best all–round defenceman. This franchise is incredibly guilty of trading youth for experience. It didn't work for Jim Gregory, Gerry McNamara, Gord Stellick, Floyd Smith, Cliff Fletcher, Ken Dryden, John Ferguson Jr., Brian Burke or Dave Nonis. It ain't going to work now. It will just shorten their competitive window.
IF YOU'RE A LEAFS FAN, READ THIS BOOK…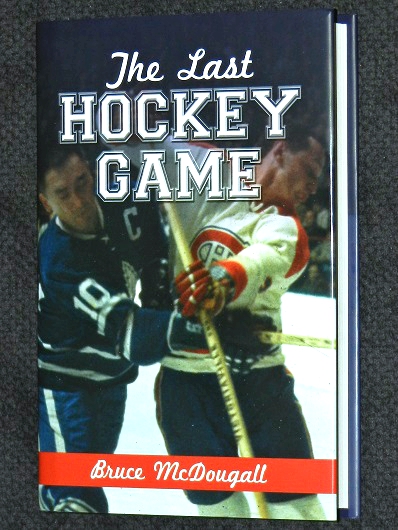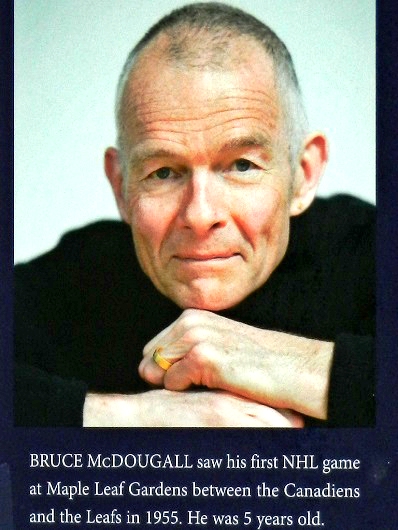 Among literary works related to hockey, Ken Dryden's 1979 book, The Game, is still considered the gold standard. In my view, however, this 2014 offering isn't far behind. Perhaps because author Bruce McDougall is hardly a household name among sports readers in our country, The Last Hockey Game got kind of lost in the shuffle. It shouldn't have. This book is superbly written, as McDougall researched facts about the May 2, 1967 clash, at Maple Leaf Gardens, between Toronto and Montreal… then projected the details into a semi–fictional account of "the last hockey game" in the pre–expansion era. And, of course, the most–recent night in which the Leafs lifted the Stanley Cup. If you're a fan of the Blue and White — young or old — read this book and you'll comprehend, quite easily, how underrated it truly is. Among the dozens that I've read since Roger Crozier's autobiography (in 1971), it ranks near the very top.
The Last Hockey Game can be ordered from Amazon.ca here: https://amzn.to/2ViCfpK.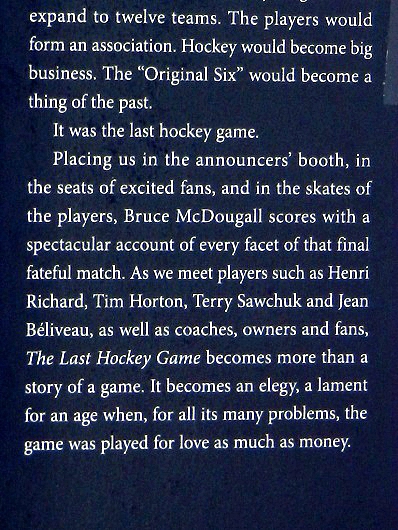 EMAIL: HOWARDLBERGER@GMAIL.COM