TORONTO (Apr. 10) — Next week, beginning Wednesday afternoon, will be the 50th anniversary of the ill–fated Apollo 13 lunar voyage, during which astronauts Jim Lovell, Fred Haise and Jack Swigert suffered an explosion of their main oxygen tank while more than 200,000 miles from Earth. Against all odds, the bright minds at Mission Control in Houston invented ways to bring the three men back to their families. The odyssey was immortalized in the 1995 docudrama directed by Ron Howard and starring Tom Hanks.
Fifty years ago this week was the most–memorable wrestling odyssey of my life.
That's right… wrestling. Not the Hollywood choreography of today's WWE slams and mania, but hard–core stuff. When guys bled from being stabbed in the forehead by a pencil. That the "blood" was actually plastic–encased pellets of red-colored liquid the wrestlers broke on their own face is irrelevant. It pored into their eyes and down their cheeks onto their shoulders and chests. Women screamed. And, it was on Apr. 5, 1970 (a Sunday eve) that I sat ring–side at Maple Leaf Gardens as the diabolical Sheik jabbed Flying Fred Curry with a "blood"–stained writing utensil that I recovered after it flew from battle. As Flying Fred took a beating, his father — Wild Bull Curry — scampered into the ring and chased the Sheik to the dressing room. As a result of parental interference, Flying Fred was disqualified and the Sheik maintained his incomparable string of victories on Carlton St. Not five minutes later came an announcement that the main event on the following week's card would feature Wild Bull trying to exact revenge on the Sheik. This would be the equivalent of a tangle between Saddam Hussein and Osama bin Laden, as Wild Bull and the Sheik were contemporaries among wrestling heels. And, damn if I wasn't going to be on hand to witness the carnage.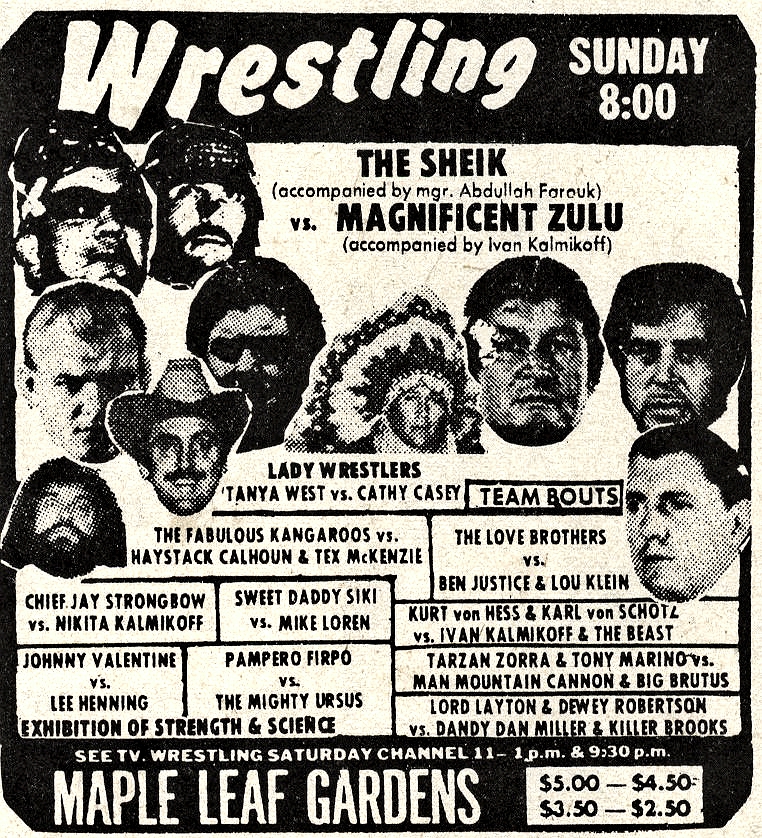 If I recall correctly, on Apr. 12, 1970, Wild Bull (best–remembered for his bushy, unkempt uni–brow) pummeled the Sheik again only to somehow get himself disqualified. These were the days when promoter Frank Tunney would routinely attract 12,000 rabid souls to the Gardens for Sunday–night wrestling: an "exhibition of strength & science" according to newspaper ads of the time (above). The Sheik came over from Detroit (or, Syria, as billed) in 1969 and kept winning matches, incomprehensibly, for nearly six years. His bout, the fourth of a 10 or 11–fight card, would be the main event. And, always refereed by an incompetent named Tiger Tasker. When he clashed with the other big names of the era — Whipper Billy Watson, Bobo Brazil, Dick (Bulldog) Brower, Tex McKenzie, Haystack Calhoun — the Gardens would fill to near–capacity.
The shows were "teased" each Saturday by a one–hour presentation from a television studio in Hamilton — aired at 1 p.m. and repeated at 9:30. Host Lord Athol Layton would interview the principles. When the Sheik appeared with manager Abdullah Farouk, any form of mayhem could ensue. Tongue hanging from mouth; eyeballs rolling crazily, the Sheik would repeat something that sounded like "Ela–ba–koo". Out of nowhere, he would stop; look upward and point startlingly at an apparent object on the ceiling. He was every bit the crackpot needed to lure spectators to the famous home of the Toronto Maple Leafs. Athol Layton eventually had his fill of the Sheik's antics on TV and came out of retirement to pummel the wild Syrian, himself.
Again, more than 12,000 assembled on Carlton St.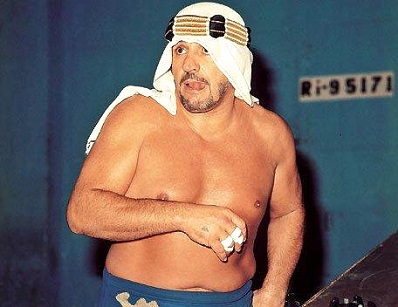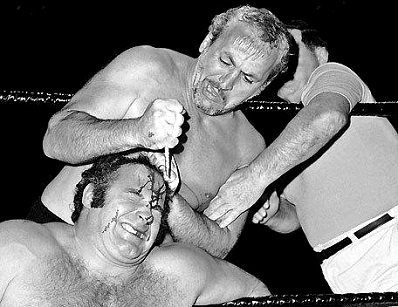 THE "ORIGINAL" SHEIK, AS HE WAS KNOWN, TERRORIZED MAPLE LEAF GARDENS FROM 1969–74.
For the old codgers like myself that remember this era — and those learning about it here — these were the most–prominent names among wrestlers in the southern–Ontario region. We knew them indelibly:
RING NAME: The Sheik. REAL NAME: Edward George Farhat.
b. June 7, 1926 in Lansing, Mich. / d. Jan. 18, 2003. Age if alive today: 93.
Eddie Farhat owned a used–car lot in Detroit and rose to fame in that city for his sequence of bouts with Bobo Brazil — all of which sold out the 13,000–seat Cobo Hall. His first of 127 matches at Maple Leaf Gardens occurred in the autumn of 1969. Entering the ring with manager Abdullah Farouk, he would lay out an Islamic prayer rug and launch into a series of bows amid loud derision from the audience. During his reign of terror here in Toronto, the Sheik defeated all of the other big names of the era. He was best–known for biting the forehead of opponents… and for his "submission hold", the Camel Clutch, whereupon he would sit on his opponents' back; cup hands under the chin and arch the body upward. By far, the biggest headliner in Toronto wrestling annals, he was finally dethroned by Andre the Giant in August 1974.
RING NAME: Abdullah Farouk. REAL NAME: Ernie Roth.
b. Aug. 30, 1926 in Canton, Ohio. / d. Oct. 12, 1983. Age if alive today: 93.
The obnoxious manager of the Sheik — forever wearing a Fez and a scowl — was a little Jewish guy from Ohio. Ernie Roth began his "entertainment" career as a disc–jockey. Among his actual chores was ensuring the wrestling ring arrived for all shows. During TV interviews, Roth would speak about the "exulted, noble Sheik" while insulting all other wrestlers. Haystack Calhoun, the 600–pound grappler, was known as "Haystack Balloon". Roth would occasionally interfere in matches from outside the ring to help his undefeated protege. After his death from a heart attack at age 57, he was revealed to be homosexual.
RING NAME: Wild Bull Curry. REAL NAME: Fred Thomas Koury Sr.
b. May 2, 1913 in Hartford CT. / d. Mar. 8, 1985. Age if alive today: 106.
Fred Koury Sr. was an American of Lebanese descent and his eyebrows scared the hell out of me. So, too, did his maniacal expressions and wild eyes… while watching him wrestle live or on TV. Sitting in the Golds at Maple Leaf Gardens one night, I must have shown my fear, as ol' Fred ran up to me; cupped his hands over his ears, and yelled "quiet!! quiet!!". I nearly sh**. Only my maternal grandfather, Al Robins, settled me. As I looked over at him, grandpa Alec was laughing; his shoulders hunching up and down. Wild Bull Curry began wrestling in the 1930's and carried on through the late–70's. A heel of the highest order.   

WILD BULL CURRY AND SON, FLYING FRED.
RING NAME: Flying Fred Curry. REAL NAME: Fred Thomas Koury Jr.
b. June 12, 1943 in Hartford CT. / Age today: 76.
The athletic, nice–guy son of Wild Bull Curry was among the most–popular wrestlers of the early–to–mid–70's — his nickname derived from the "flying" drop–kicks with which he assaulted opponents. As mentioned earlier, I have fond memory of sitting ring–side at the Gardens, 50 years ago this week, when Flying Fred battled the Sheik… and was rescued by his crazed father.
RING NAME: Bobo Brazil. REAL NAME: Houston Harris.
b. July 10, 1924 in Little Rock, Ark. / d. Jan. 20, 1998. Age if alive today: 95.
A big (6–foot-6. 270 pounds), friendly man, popular throughout the wrestling world, Houston Harris is best–remembered for his finishing move: the coco-butt, in which he would slam the front of his head into an opponent's skull, rendering the latter unconscious. He played baseball in the old Negro Leagues before turning to the craft that made him famous. Harris was almost–certainly the most–frequent ring rival of the Sheik. They tangled numerous times in Detroit and Toronto.
RING NAME: Whipper Billy Watson. REAL NAME: William John Potts.
b. June 25, 1915 in East York, Ont. / d. Feb. 4, 1990. Age if alive today: 104.
Without question, the most–popular Toronto–born wrestler in history, Bill Potts began his lengthy career in 1935. He appeared at Maple Leaf Gardens for the first time on Oct. 3, 1940. His final Gardens' match was on Nov. 28, 1971 — a tag–team affair with frequent partner Dick (Bulldog) Brower — hours after the Toronto Argonauts had lost the Grey Cup game to the Calgary Stampeders, in Vancouver. Two days later, Potts was struck by an automobile as he placed an item in the trunk of his car. He eventually recovered but had to retire from the ring. Potts won the National Wrestling Alliance (NWA) world championship belt over Lou Thesz (in a bout refereed by boxing legend Jack Dempsey) on Mar. 15, 1956. Thesz regained the belt with a victory over Potts, in St. Louis, later that year. Whipper Billy Watson made the Gardens his wrestling home and became one of Toronto's most–recognizable citizens. He lost a pair of battles to the Sheik. After his career, his philanthropy helped raised millions of dollars for the Easter Seals campaign.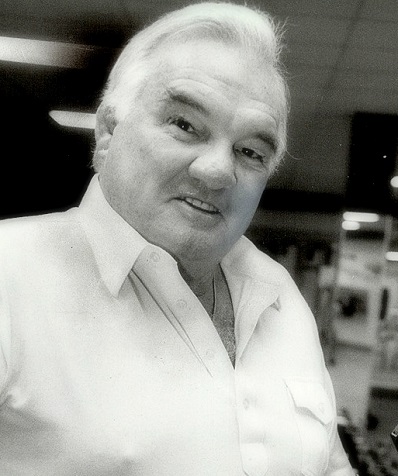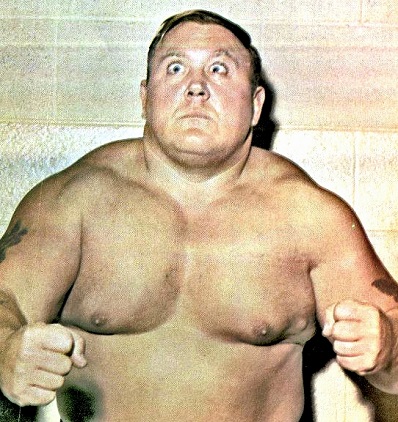 POPULAR TAG–TEAM PARTNERS WHIPPER BILLY WATSON (LEFT) AND DICK (BULLDOG) BROWER.
RING NAME: Dick (Bulldog) Brower. REAL NAME: Richard Gland.
b. Sep. 17, 1933 in Wilmington, Del. / d. Sep. 15, 1997. Age if alive today: 86.
Early in his career, big, barrel–chested Richard Gland was a much–loathed heel — working for promoter Stu Hart on the Stampede Wrestling circuit in Calgary. He arrived in Toronto (under Frank Tunney) in 1968 and became a relative good guy. Alongside Whipper Billy Watson, he twice won the Toronto version of the NWA tag–team championship. I remember watching Brower and Watson, at the Gardens, taking on such tag–team opponents as The Fabulous Kangaroos and The Love Brothers. Gland switched back to villain mode and was among early the heels for Vince McMahon in the World Wrestling Federation (WWF) of the 1980's.
RING NAME: Lord Athol Layton. REAL NAME: Athol Layton.
b. Aug. 20, 1919 in Surrey, England. / d. Jan. 18, 1984. Age if alive today: 100.
Athol Layton is best–remembered, in these parts, for hosting the CHCH–TV Channel 11 (Hamilton) wrestling show that promoted Frank Tunney's upcoming cards at Maple Leaf Gardens. As mentioned, the shows aired twice on Saturday, at 1:30 and 9:30 p.m. A tall man (6–foot–5) with a suave British accent, he seemed almost too sophisticated for such a role. Layton had been a headline wrestler in the 1950's and early–60's. He retired to devote full time to his various television commitments, but re–entered the ring in 1969 to straighten out the deplorable Sheik. He and Eddie Farhat were actually close friends; Layton did some TV work in Detroit for a company owned by Farhat. After his career, he did tireless work for underprivileged children. Proving the good die young, a heart attach took Layton at only 62 years of age.
RING NAME: The Mighty Igor. REAL NAME: Dick Garza.
b. July 16, 1931 in Dearborn, Mich. / d. Jan. 7, 2002. Age if alive today: 88.
Strong as an ox, but with a teddy bear persona, Dick Garza was given the name The Mighty Igor (in 1965) by grappler Verne Gagne of the American Wrestling Alliance (AWA). He was billed as hailing from Poland and, therefore, never took part in TV interviews. During his Toronto years, Garza was accompanied by manager (and fellow wrestler) Ivan Kalmikoff (real name: Edward Bogucki). Shaggy–haired and massively built in the chest and arms, he would occasionally bring toys and kielbasa into the ring, sharing his culinary treats with nearby fans. "He was a very gentle man," Garza's wife, Donna, told the Detroit Free Press after his death from a heart attack at age 70. "Kids just loved him." As did wrestling fans in the southern–Ontario region.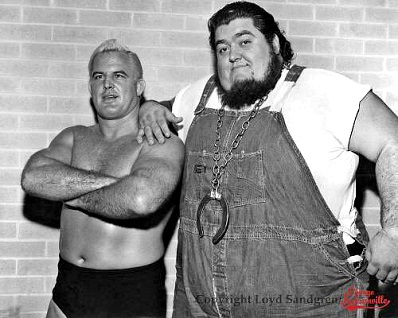 DICK GARZA (THE MIGHTY IGOR), LEFT. HAYSTACK CALHOUN (WITH HORSESHOE).
RING NAME: Haystack Calhoun. REAL NAME: William Dee Calhoun.
b. Aug. 3, 1934 in McKinney, Tex. / d. Dec. 7, 1989. Age if alive today: 85.
Everyone's favorite fat wrestler of the early–70's, William Calhoun adopted a hillbilly persona and billed himself as hailing from Morgan's Corner, Arkansas. He reportedly weighed more than 600 pounds and would enter the ring sporting a bushy beard, white t–shirt, blue overalls, and a genuine horseshoe around his neck on a chain. Haystack was a good guy and would win matches by merely sitting on his prone rival — while always tugging on the ring–ropes so as to lessen the load and prevent an actual crumbling of ribs, muscles and internal organs. Calhoun fought the Sheik at Maple Leaf Gardens. While bleeding from the forehead, he had the presence of mind to fetch his steel horseshoe and inflict similar damage on the wild Syrian. Sadly, Haystack lost his left leg to diabetes in 1986 and died three years later, still only 52.
RING NAME: Sweet Daddy Siki. REAL NAME: Reginald Siki.
b. June 16, 1940 in Montgomery, Tex. / Age today: 79.
Apart from his ring swagger, Reginald Siki is best–remembered for being a black man with a bleach–blonde Afro (say that quickly, five times). Though he spent part of his time in the early–60's on the Stampede Wrestling circuit in Calgary, Siki was a mainstay here in town and a frequent headliner at Maple Leaf Gardens between 1962 and 1980. He moved here from his native Texas in 1961 and sang country music on the side. He wrestled all the big names of the era, including the Sheik (in 1971). In the 70's and 80's, Siki lived in a house at the foot of Dufferin St., one block from the entrance to the Canadian National Exhibition grounds. It seemed that every time I walked toward the Dufferin Gates for a football or baseball game at the old CNE (later Exhibition) Stadium, Sweet Daddy would be on his front porch, waving to passers–by.
RING NAME: Tex McKenzie. REAL NAME: Frank McKenzie.
b. July 21, 1930 in Edmonds, Wash. / d. May 31, 2001. Age if alive today: 89.
No wrestling persona between 1970 and 1975 here in town equaled the joy and happiness of Frank McKenzie. A towering 6–foot–10, he wore a cowboy hat; a constant smile, and played his friendly, fictional Texan character to the hilt. Upon approaching Lord Athol Layton for a TV interview, he'd thrust out his right hand and say "how ya doin' today, Lordy?" Twice, McKenzie absolutely toyed with the Sheik at the Gardens — knocking him around the ring for 20 minutes — only to lose diabolically (interference by Abdoullah Farouk). He retired in 1979 and died at 70 years of age from an abdominal aortic aneurysm.
RING NAME: Pampero Firpo. REAL NAME: Juan Kachmanian.
b. Apr. 6, 1930 in Buenos Aries, Argentina. / d. Jan. 9, 2020. Age if alive today: 90.
Among the oddest wrestling characters of the 1970's, Juan Kachmanian was a short, stocky figure with bushy hair all over his face and head. During TV interviews, he carried with him the "shrunken head" of a tribal leader from Ecuador called "Chimu". He would talk directly to Chimu; wide–eyed, while rubbing the head in a circular motion, promising to destroy his opponents. On July 17, 1976 (the day the Summer Olympics opened in Montreal), Pampero Firpo became one of the few wrestlers to upend the Sheik, winning the NWA United States heavyweight belt at Cobo Hall in Detroit. Kachmanian died early this year in California.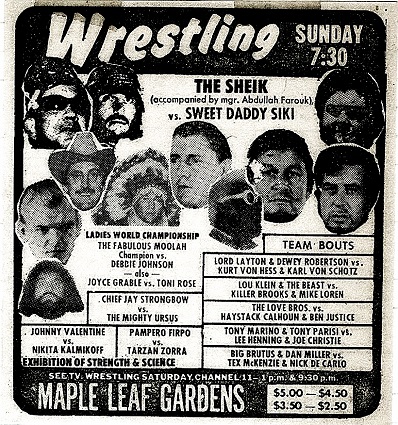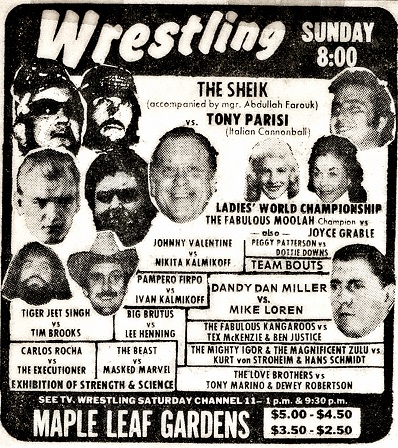 OTHER WRESTLERS OF THE ERA…
DEWEY ROBERTSON (Byron James Robertson): b. Feb. 28 1939 in Hamilton. / d. Aug. 16, 2007. Age if alive today: 80.
BILLY RED LYONS (William Snip): b. May 17, 1932 in Hamilton. / d. June 22, 2009. Age if alive today: 87.
THE BEAST (Yvon Cormier): b. Nov. 3, 1938 in Dorchester, N.B. / d. Mar. 4, 2009. Age if alive today: 81.
CHIEF JAY STRONGBOW (Luke Scarpa): b. Oct. 4, 1928 in Nutley, N.J. / d. Apr. 3, 2012. Age if alive today: 91.
MAN MOUNTAIN CANNON (George McCarthur): b. Mar 28, 1932 in Montreal. / d. July 1, 1994. Age if alive today: 88.
JOHNNY VALENTINE (John Wisinski): b. Sep. 22, 1928 in Maple Valley, Wash. / d. Apr. 24, 2001. Age if alive today: 91.
CARLOS ROCHA (actual name): b. Jan. 11, 1927 in Fatima, Portugal. / d. Jan. 28, 2020. Age if alive today: 93. 
DOMINIC DeNUCCI (Dominic Nucciarone): b. Jan. 23, 1932 in Venice, Italy. Age today: 88.
THE MASKED MARVEL (John Bonica): b. Feb. 16, 1917 in Sicily, Italy. / d. Aug. 15, 1994. Age if alive today: 103.
GORILLA MONSOON (Robert Marella): b. June 4, 1937 in Rochester, N.Y. / d. Oct. 6, 1999. Age if alive today: 82.
WALDO von ERICH (Walter Sieber): b. Oct. 2, 1933 in Toronto. / d. July 5, 2009. Age if alive today: 86.
LOU THESZ (Aloysius Thesz): b. Apr. 24, 1916 in Banat, Mich. / d. Apr. 28, 2002. Age if alive today: 103.
GENE KINISKI (actual name): b. Nov. 23, 1928 in Edmonton. / d. Apr. 14, 2010. Age if alive today: 91.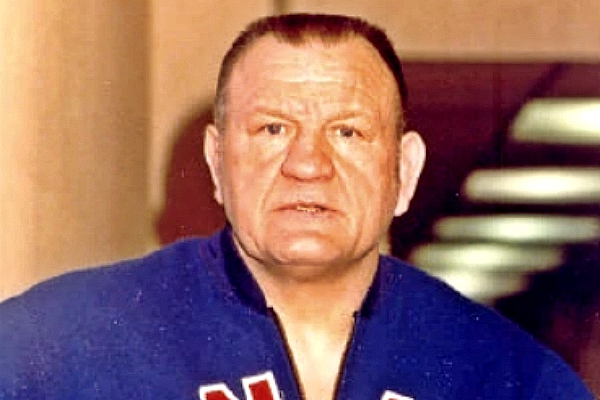 GENE KINISKI ALSO PLAYED FOOTBALL FOR THE EDMONTON ESKIMOS.
DORY FUNK Jr. (actual name): b. Feb. 3, 1941 in Hammond, Ind. Age today: 79.
ERNIE "THE CAT" LADD (Ernest Ladd): b. Nov. 28, 1938 in Rayville, La. / d. Mar. 10, 2007. Age if alive today: 81.
TONY PARISI (Antonio Pugliese): b. Jan. 22, 1941 in Calabria, Italy. / d. Aug. 19, 2000. Age if alive today: 79.
TIGER JEET SINGH (Jagjeet Singh Hans): b. Apr. 3, 1944 in Punjab, India. Age today: 76.
THE ASSASSIN / GUY "STOMPER" MITCHELL (John Hill): b. July 8, 1941 in Hamilton. / d. Mar. 10, 2010. Age if alive today: 79. 
BRUNO SAMMARTINO (actual name): b. Oct. 6, 1935 in Pizzoferrato, Italy. / d. Apr. 18, 2018. Age if alive today: 84.
IVAN KOLOFF (Oreal Perras): b. Aug. 25 1942 in Montreal. / d. Feb. 18, 2017. Age if alive today: 77.
ANGELO MOSCA (actual name): b. Feb. 13, 1937 in Waltham, Mass. Age today: 83.
HANS SCHMIDT: (Guy Larose): b. Feb. 7, 1925 in Joliette, Que. / d. May 26, 2012. Age if alive today: 95.
KILLER KOWALSKI (Edward Spulnik): b. Oct. 13, 1926 in Windsor, Ont. / d. Aug. 30, 2008. Age if alive today: 93.
EDOUARD CARPENTIER (Edouard Weiczorkiewicz): b. July 17, 1926 in Rhone–Alpes, France. / d. Oct. 30, 2010. Age if alive today: 93.
THE FABULOUS MOOLAH (Mary Ellison): b. July 22, 1923 in Kershaw County, S.C. / d. Nov. 2, 2007. Age if alive today: 96.
MIDGET WRESTLERS…
SKY LOW LOW (Marcel Gauthier): b. July 21, 1928 in Montreal. / d. Nov. 6, 1998. Age if alive today: 91.
LITTLE BEAVER (Lionel Giroux): b. Jan. 14, 1934 in Sainte–Jerome, Que. / d. Dec. 4, 1995. Age if alive today: 86.
FUZZY CUPID (Leon Stap): b. Sep. 24, 1928 in Newport, R.I. / d. 1976. Age if alive today: 91.
TAG TEAMS…
THE FABULOUS KANGAROOS
AL COSTELLO (Giacomo Costa): b. Dec. 14, 1919 in Salina, Italy / d. Jan. 22, 2000. Age if alive today: 100.
DON KENT (Leo Smith Jr.): b. June 24, 1933 in Fort Benjamin Harrison, Ind. / d. June 7, 1993. Age if alive today: 86.
THE LOVE BROTHERS
REGINALD LOVE (Johnny Evans): b. 1928 in Cardiff, Wales, U.K. / d. Jan. 7, 2018. Age if alive today: 92.
HARTFORD LOVE (Wes Hutchings): b. 1940 in Spaniard's Bay, Nfld. Age today: 80.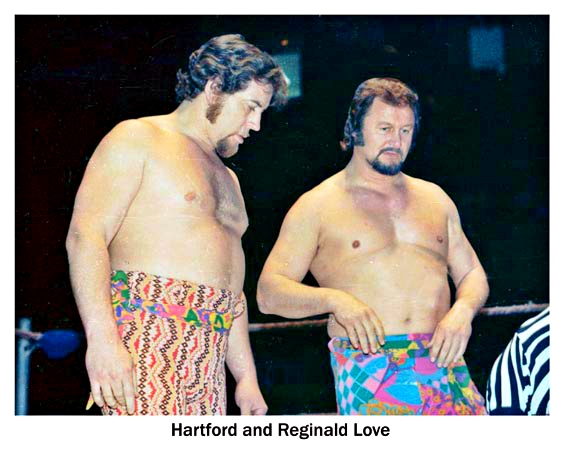 EMAIL: HOWARDLBERGER@GMAIL.COM