TORONTO (June 6) — In a week during which former Minneapolis policeman, Derek Chauvin, was charged with second–degree murder in the death of black citizen George Floyd — and reviled across the globe — ESPN commentator Max Kellerman took a run at ignominy here in Canada for his dismissive remarks about the National Hockey League. While chatting about the potential return of pro sport with network colleague Stephen A. Smith, Kellerman, 46, said: "Listen, I don't want to hurt anyone's feelings in the [USA], but no one really cares about hockey. The old joke is every town has 20,000 hockey fans and they all have season tickets. So, the arenas are sold out. But, the TV ratings don't do anything. So, it's not one of the four major team sports." As you might imagine, fans, players and NHL officials were quick to fire back at Kellerman. In the comparatively–minuscule realm of professional sport, it caused an international incident.
Conversely, the truth can be rather scathing. Though it isn't factual that "no one" cares about hockey south of the border, Kellerman's reference to (and inference about) the ratings on national television were hardly inaccurate. While the NHL is enjoying an unprecedented financial windfall — a ten–year contract, signed in 2011, with NBC provides $200 million per season — it pales in comparison to the the network–TV arrangements with baseball, basketball and football. The NFL receives $4.95 billion per year from CBS, NBC, FOX and ESPN, a figure that will increase when the current pact expires after the 2021 season. Nationwide viewership of hockey in the United States falls well beneath the other team sports… and vastly behind the numbers generated by college productions (football and basketball). Neither is the NHL a frequent topic among sports shows in the U.S. How often, for instance, do Tony Kornheiser and Michael Wilbon chat about hockey on Pardon The Interruption, which is carried each weekday afternoon here in Canada by TSN? During roughly 260 editions in a calendar year, perhaps four or five times… and, typically, after an episode of violence captures the attention. Almost never is there a debate over which team (or player) dominates the NHL. Though merely one example, it is characteristic of hockey's relative profile in the United States.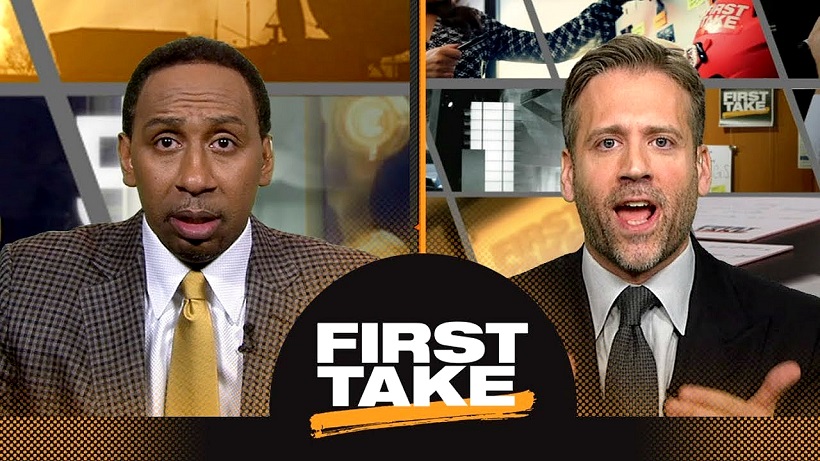 MAX KELLERMAN (RIGHT) AND STEPHEN A. SMITH ON THEIR WEEKDAY, ESPN SPORTS SHOW.
And, it's the reason I contend the NHL may further damage its credibility south of the border by conducting a late–summer competition for the 2020 Stanley Cup — in neutral sites; without a live audience, and more than five months removed from its most–recent games (the league suspended activity on Mar. 12 as a result of the COVID–19 pandemic). The National Basketball Association is planning a similar event, roughly at the same time, with all playoff matches occurring in Orlando, Fla. But, basketball can be perceived as a hot–weather sport given its place in the Summer Olympics. International hockey is appropriately part of the Winter Olympics and is universally recognized as a cold–weather sport. As columnist Cathal Kelly recently pointed out in the Globe and Mail, "Canadians would watch Connor McDavid play marbles with his dog." It is doubtful, however, that a late–summer clash for the Stanley Cup will engender widespread interest (either on television or in newspapers) in the United States… particularly if situated against an NBA tournament.
To be fair, Kellerman's remarks did not reflect how the administration of Gary Bettman has grown the NHL as never before (neither does he likely care). TV money is unprecedented; games are available on the NBC Sports Network virtually every night of the season and the main NBC network carries a weekly Sunday matinee after the Super Bowl. Doc Emrick, Ed Olczyk, Mike Milbury, Pierre McGuire, Keith Jones and the others provide a splendid product. Though making a generally accurate point, Kellerman spoke insensitively when opining that "no one" cares about hockey in his native land. But, there was nothing at all absurd about his position, as it relates to the other team sports (including soccer). Predictably, feelings were hurt (and passions aroused) north of the border. We Canucks protect our national game with a vengeance.
BASEBALL TREASURES — Part 1
With the Major League players and owners at an impasse over how to proceed with a shortened season (resulting, of course, from COVID–19), it appears unlikely we'll see baseball in 2020. As such, I figured a bit of nostalgia might be timely. Digging through a box of mostly (but, not exclusively) Toronto Blue Jays publications in my collection, I came upon these now–ancient treasures. Enjoy this trip down memory lane: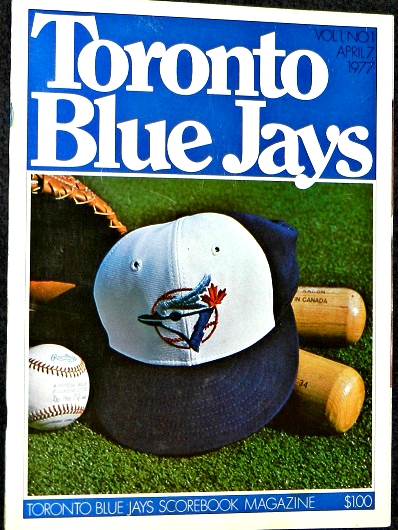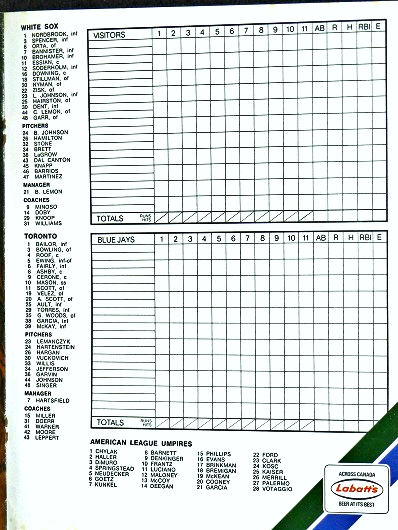 Program–cover and line–ups from the first–ever Blue Jays game, which I attended, at old Exhibition Stadium, two months after my 18th birthday (ticket–stub, below). On that legendarily cold and snowy afternoon at the CNE, the Jays defeated the Chicago White Sox, 9–5, led by two home runs by the late Doug Ault (Mar. 9, 1950–Dec. 22, 2004). Pitcher Bill Singer (b. Apr. 24, 1944) threw the first pitch to catcher Rick Cerone (b. May 19, 1954). It was called a strike by plate–umpire Nestor Chylak (May 11, 1922–Feb. 17, 1982). Starting pitcher for the White Sox was the late Ken Brett (Sep. 18, 1948–Nov. 18, 2003). CBC carried the game across Canada with play–caller Don Chevrier (Dec. 29, 1937–Dec. 17, 2007) and color–man Tony Kubek (b. Oct. 12, 1935).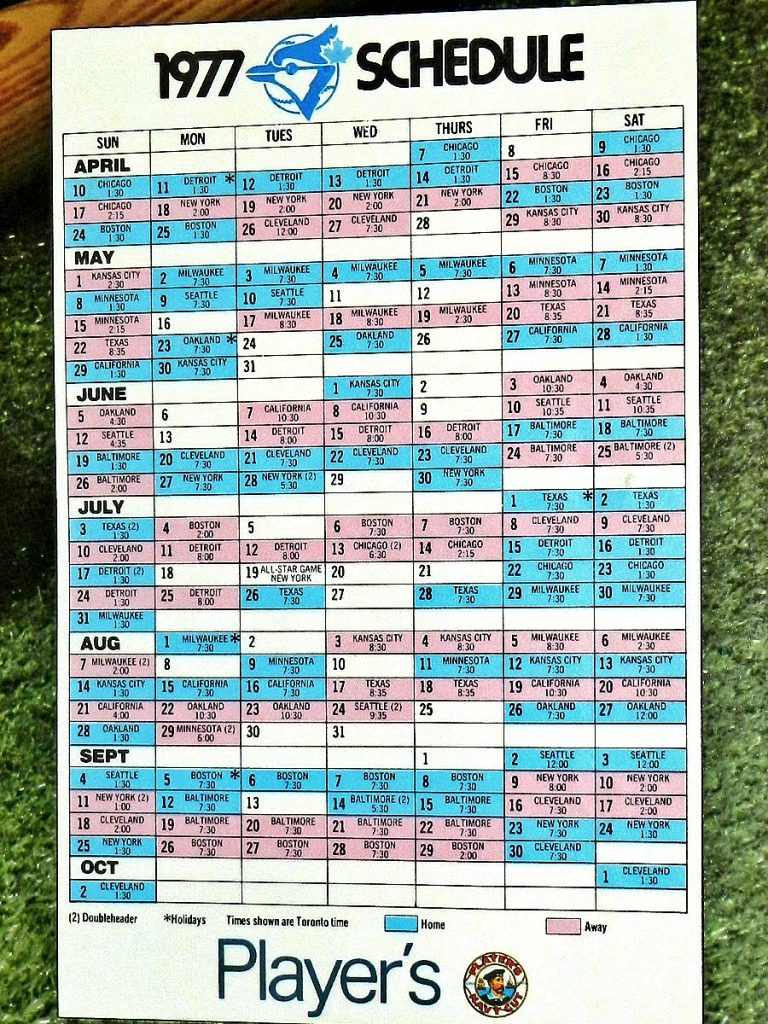 The Blue Jays first schedule. The Los Angeles Angels (of Anaheim) were still called the California Angels. The Milwaukee Brewers were still in the American League (until 1998). There were still doubleheaders — or, two games, played consecutively, for the price of one ticket. The second game would start roughly 40 minutes after the first ended. Among my sharpest memories of that 1977 season was attending the twi–night (beginning at 5:35 p.m.) doubleheader between the Blue Jays and New York Yankees on June 28. I also remember struggling to stay awake until nearly 3 a.m. while listening to the doubleheader from Seatlle (Aug. 24) that began at 9:35 p.m. Eastern. Tom Cheek (June 13, 1939–Oct. 5, 2005) and Hall–of–Fame pitcher Gus (Early) Wynn (Jan. 6, 1920–Apr. 4, 1999) called the game on CKFH–1430 (now Sportsnet–590).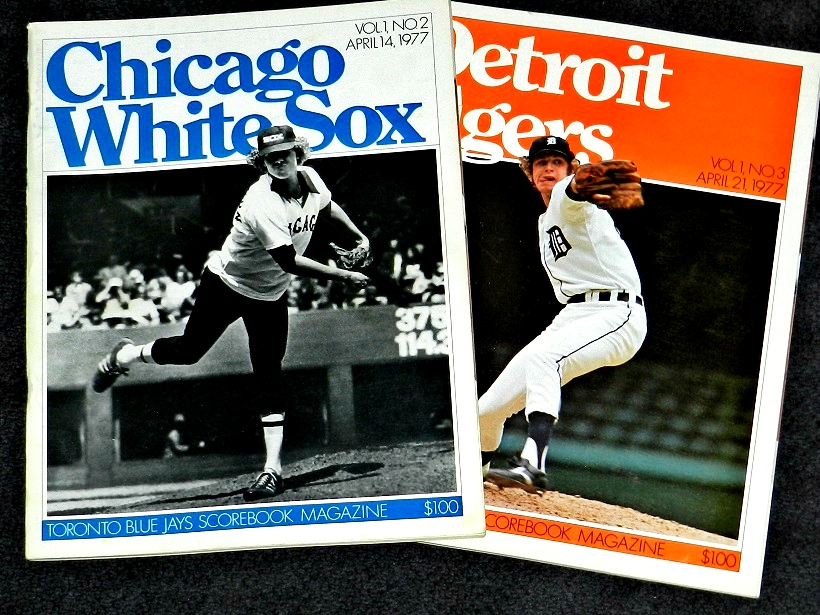 Program covers from the first weeks of baseball at Exhibition Stadium — in April 1977.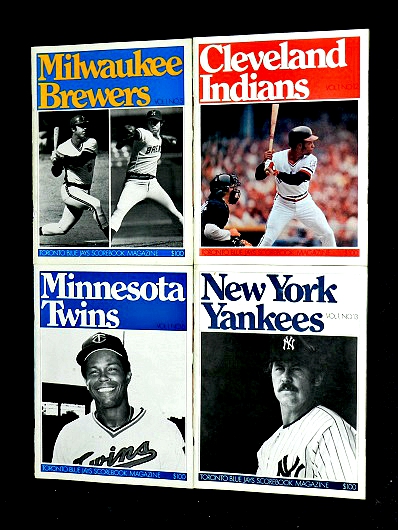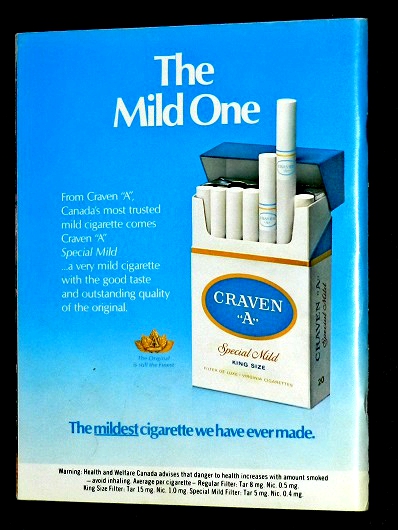 Other programs from the inaugural Blue Jays season… and the cigarette ad (now illegal) on the back–cover.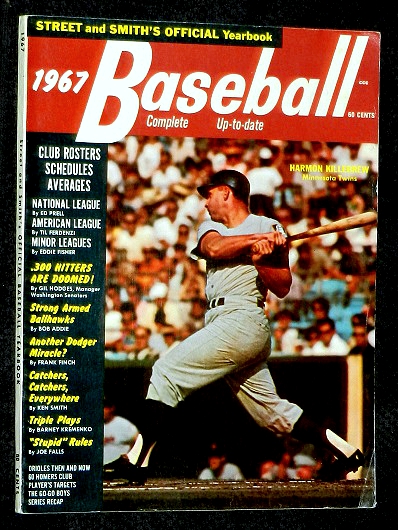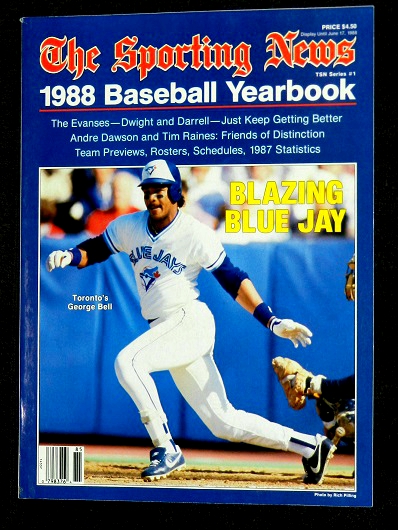 A relic from 53 years ago (top–left). Hall–of–Fame slugger Harmon Killebrew (June 29, 1936 – May 17, 2011) of the Minnesota Twins graced the cover. Twenty–one years later (top–right), George Bell (b. Oct. 21, 1959) of the Blue Jays was on the Canadian cover of The Sporting News Baseball Yearbook. Bell had been named American League most–valuable player in 1987 after belting 47 home runs and leading the A.L. with 134 RBI.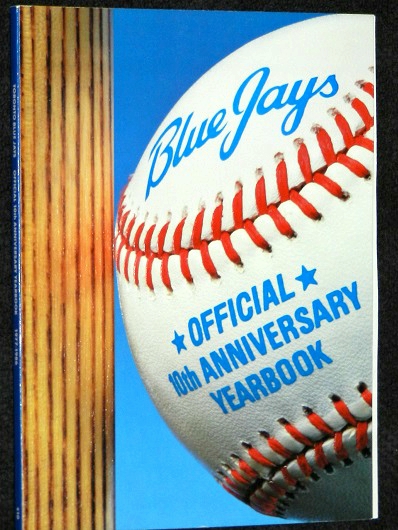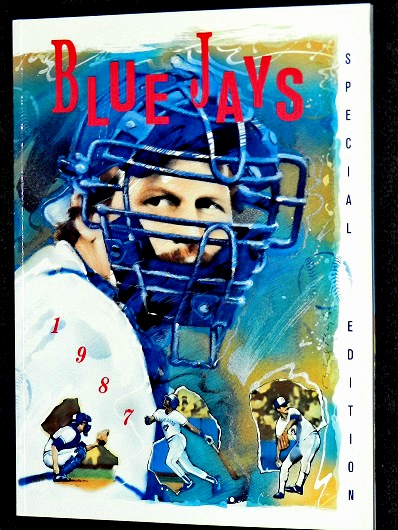 Toronto Blue Jays yearbooks from 1986 (top–left) and 1987.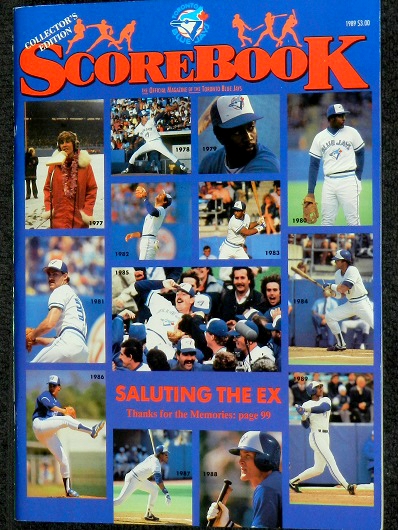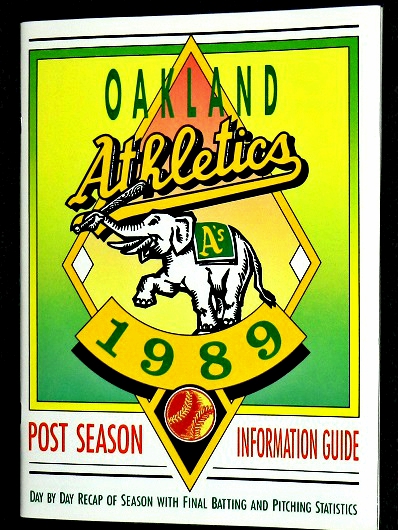 Program–cover (top–left) from the last Blue Jays game at Exhibition Stadium (also against the Chicago White Sox) on May 28, 1989. Toronto won, 7–5, on a two–run, walk–off homer by George Bell in the 10th inning. A few months later, I traveled to Oakland to cover Games 1 and 2 of the 1989 American League Championship Series between the Blue Jays and A's (top–right). Oakland easily prevailed in five games.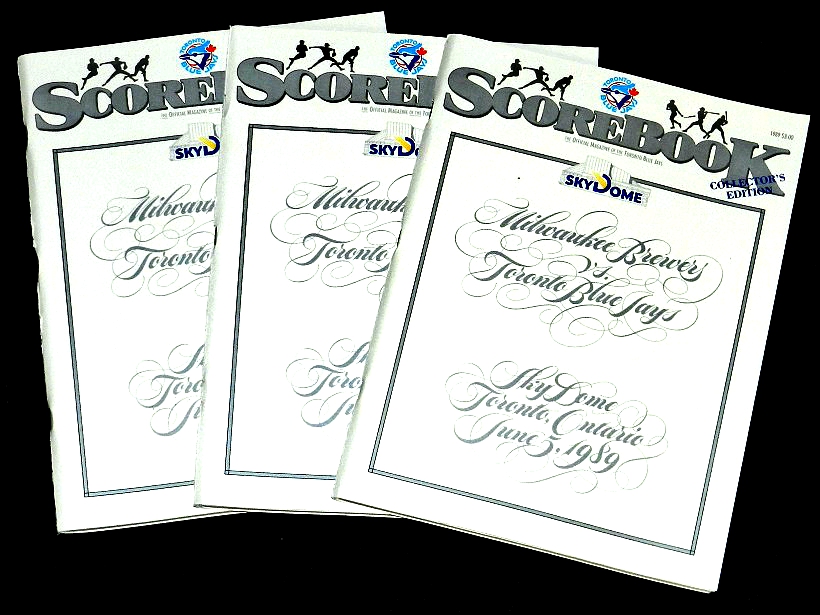 My three copies of the program from the first–ever Blue Jays game at SkyDome (now Rogers Centre). Toronto lost, 5–3, to the Milwaukee Brewers. Left–hander Jimmy Key (b. Apr. 22, 1961) delivered the first pitch to Milwaukee's Paul Molitor (b. Aug. 22, 1956) at 7:46 p.m. It was called a strike by plate–umpire Rocky Roe (b. Aug. 16, 1950). Molitor lined Key's third pitch into left–center–field for the first hit in the new stadium. Blue Jays first–baseman Fred McGriff (b. Oct. 31, 1963) launched the first home run at SkyDome… to left–center in the bottom of the second inning off Milwaukee starter Don August (b. July 3, 1963).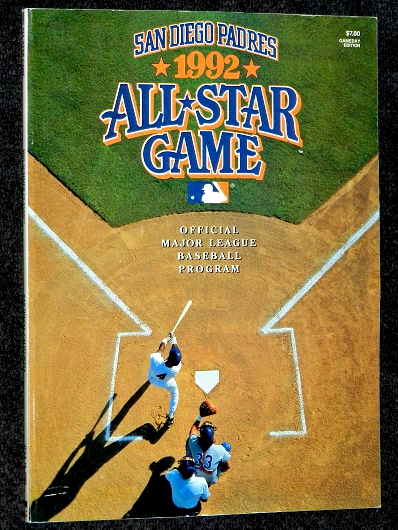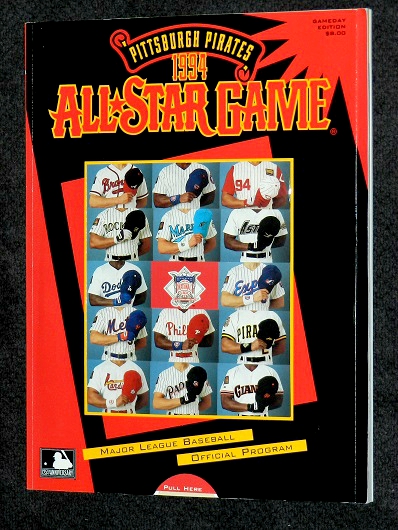 Programs from Major League All–Star Games I covered for The FAN–590: 1992 (top–left) at Jack Murphy (now SDCCU) Stadium in San Diego; 1994 (top–right) at the old Three Rivers Stadium in Pittsburgh.
EMAIL: HOWARDLBERGER@GMAIL.COM