TORONTO (June 25) — If the National Hockey League is able to move forward with its Return To Play initiative this summer — and I don't believe COVID–19 will cooperate — predicting the best–of–five "play in" rounds will be rather novel. Never, quite obviously, have we experienced a five–month gap between the last games of the regular season and the opening games of the Stanley Cup tournament. As such, it will be analogous to forecasting the first 10 days of a new season. In other words, something completely different.
Here is a list of the best–of–five preliminary round series, with Conference rankings bracketed. EAST: Montreal (12) vs. PITTSBURGH (5). New York Rangers (11) vs. CAROLINA (6). Florida (10) vs. NEW YORK ISLANDERS (7). Columbus (9) vs. TORONTO (8). WEST: Chicago (12) vs. EDMONTON (5). Arizona (11) vs. NASHVILLE (6). Minnesota (10) vs. VANCOUVER (7). Winnipeg (9) vs. CALGARY (8). The higher–ranked clubs (in CAPITAL letters) would ordinarily receive home–ice advantage, hosting Games 1, 2 and (if necessary) 5. But, no–such element will arise in this tournament — being conducted in one of two neutral (or hub) cities and without fans in attendance. Which abjectly complicates the "art" of prediction. Further muddling the situation will be the inevitability of players testing positive for COVID–19 and having to withdraw for a period of isolation (how that will impact exposed teammates is another matter, still unanswered). As mentioned in my previous blog, had the Maple Leafs and Blue Jackets begun their series in the middle of last week, Auston Matthews would have bowed out after the opener. Thereby profoundly altering any pre–series forecast.
So, how to choose a winner between Toronto and Columbus?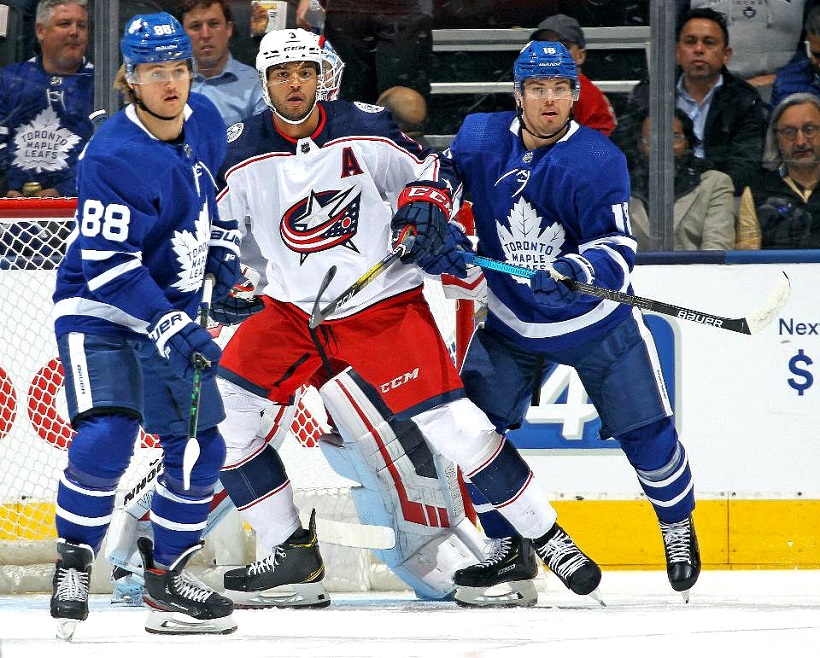 Though finishing the abbreviated schedule with the same number of points (81), the teams were viewed quite differently. After losing core components Sergei Bobrovsky, Artemi Panarin and Matt Duchene as free agents last summer, the Blue Jackets (33–22–15 in 70 games) looked to be decimated. No one expected them to challenge for a playoff spot. That's why John Tortorella is favored to win the Jack Adams Award as coach–of–the–year in the NHL. By comparison, the Leafs (36–25–9 in 70 games) fired a coach (Mike Babcock) and were largely considered a disappointment, even with Matthews striking for 47 goals.
The COVID–19 hiatus has allowed for each club's top defenseman to heal. Seth Jones of the Blue Jackets underwent ankle surgery and missed the final 13 games of the season (Feb. 10 to Mar. 8). Morgan Rielly of Toronto, playing through groin–muscle discomfort all season, blocked a shot at Florida on Jan. 12 and sustained an ankle–fracture. He missed 23 games (Jan. 14 to Mar. 6) and returned for the final match before the pandemic shutdown: a 2–1 home victory over Tampa Bay, Mar. 10. Each blue–liner is key to his club's attack. Jones has seasons of 57, 46 and 42 points; Rielly put up 52 and 72 points in consecutive years. Both struggled this season: Jones with 30 points in 56 games; Rielly 27 in 47 games. If the coronavirus allows for the Return To Play scenario, it should be a treat to watch Jones and Rielly perform at full strength.
As compared to most NHL teams, Toronto has a distinct edge over Columbus in skill and firepower up front. The Leafs scored 58 more goals (238–180) than the Blue Jackets in the same number of games. Matthews led Toronto with 47 goals; Oliver Bjorkstrand paced Columbus with 21. Matthews (80), Mitch Marner (67), John Tavares (60) and William Nylander (59) all registered more points than Columbus leader, Pierre–Luc Dubois, with 49. The Blue Jackets, however, were superior defensively, allowing 40 fewer goals (187–237) than the Leafs. Which was surprising, given the loss (to Florida) of Bobrovsky. No–name replacements Joonis Korpisalo (2.65 goals–against average in 35 starts) and Elvis Merzlikins (2.35 in 31 starts) each outperformed Toronto's Frederik Andersen (2.85 GAA in 52 starts). And, this is where a short playoff series gets interesting.
When games were last played, the Leafs remained steadfastly behind Andersen, even with his inflated GAA and lack of success in the playoffs. Many believe Andersen ranks with the best Maple Leaf stoppers of the post–1967 era, which his regular–season numbers support. Yet, seven others have won playoff series with the club — Gord McRae (1975), Wayne Thomas (1976), Mike Palmateer (1977–78–79), Ken Wregget (1987), Felix Potvin (1993–94), Curtis Joseph (1999–2000–01–02) and Ed Belfour (2004). Andersen is 0–for–3 in the post–season… and notoriously slow to begin the regular schedule. Given the enormous gap between Mar. 12 and whenever (if ever) the 2020 Stanley Cup tournament begins, will Sheldon Keefe stay with Andersen between the pipes, or switch to Jack Campbell at the first sign of trouble? Remember, the play–in series is a best–of–five. The margin for error is therefore razor–thin. As such, the key element of a Toronto–Columbus series will be Andersen's performance in the opener. And, Keefe's response if his No. 1 goalie founders.
BACK IN TIME — CFL STYLE
There is no indication, with COVID–19 spreading, that the Canadian Football League will conduct a 2020 season. The Grey Cup has been presented since 1909… and every year since 1920, after a four–year hiatus during World War I. That century long streak is very much in jeopardy. As part of my collection, I have CFL programs and magazines dating to the 1940's. Here are some examples from the 1960's and 70's: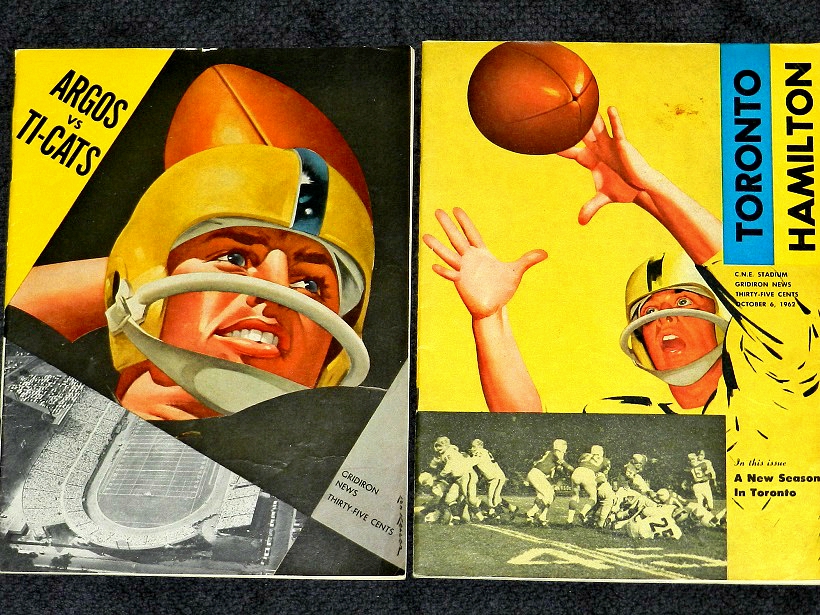 Programs dating to 1961 (top–left) and 1962 from games involving the Toronto Argonauts and Hamilton Tiger–Cats. Line–ups, below, from the match of Oct. 6, 1962 at the old C.N.E. Stadium in Toronto. The Argos prevailed, 10–9, in a defensive struggle before 25,174 fans. The quarterbacks were Tobin Rote (Toronto) and Bernie Faloney (Hamilton). The Argos would get trounced, 50–21, at home by Montreal the following week and finished the season at 4–10–0, last in the CFL Eastern Conference. Hamilton topped the East at 9–4–1 and lost to the Winnipeg Blue Bombers, 28–27, in the 1962 Grey Cup — the famous "Fog Bowl" in Toronto.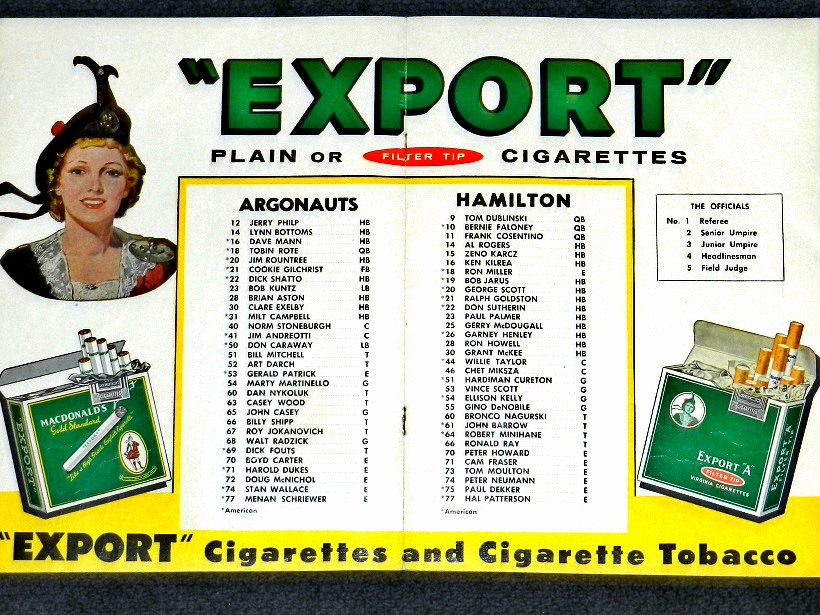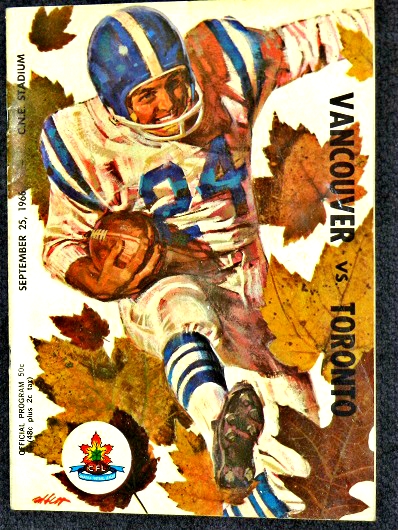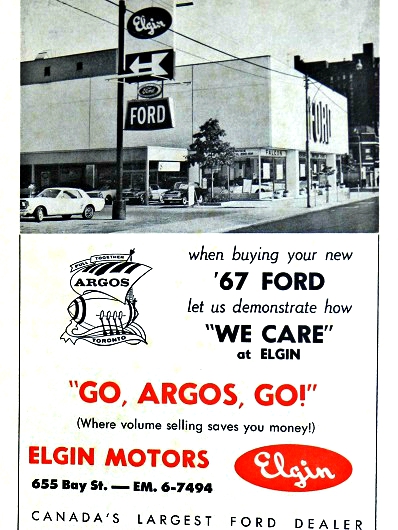 Program (above) and line–ups (below) from the game of Sep. 25, 1966 at C.N.E. Stadium between the Argonauts and British Columbia Lions. Toronto was 1–7–0 coming into the match, having been drubbed, 43–9, at Winnipeg the previous week. But, the Argos bounced back to beat the Lions, 29–27, before 18,926 fans. B.C. would lose again, two days later, at Montreal, 25–23. Neither club made the playoffs in '66. Lions quarterback Joe Kapp went on to play for the Minnesota Vikings (1967–69) and Boston Patriots (1970) of the National Football League. Rookie running back Bill Symons (18) of B.C. would later enjoy success with the Argos under coach Leo Cahill. Toronto's rookie quarterback in '66 was Wally Gabler.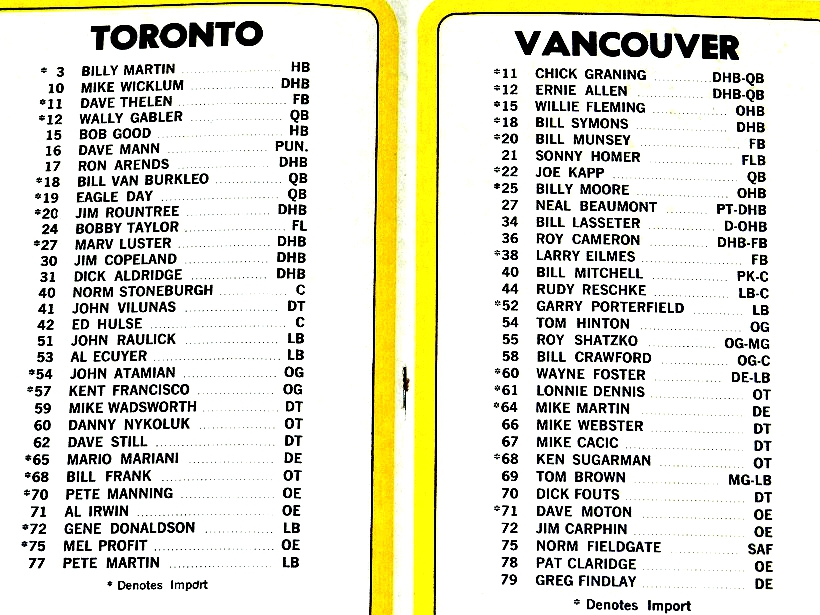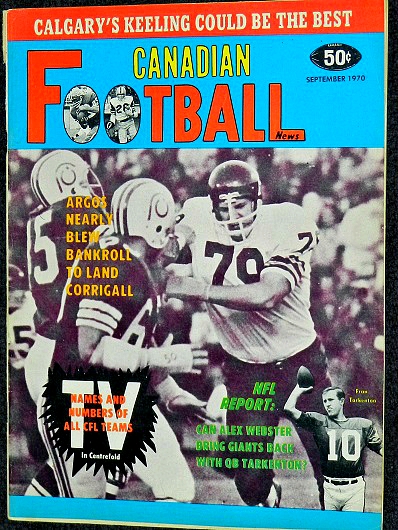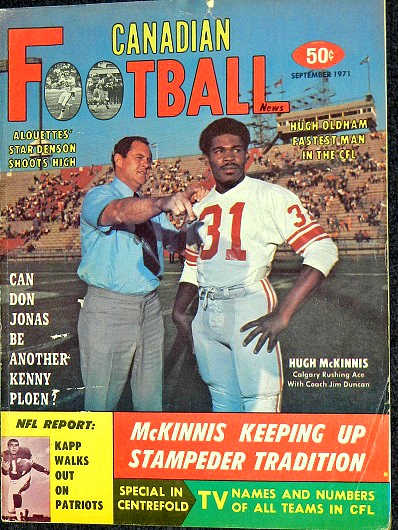 The Canadian Football News magazine (above and below) was published monthly (August–November) in the 1960's and early 70's by the company that produced The Hockey News each week during the NHL season. Issues above are from September 1970 and September 1971. Below (left–to–right) from October 1971, September 1972 and October 1972. The magazines ranged in length from 66–74 pages.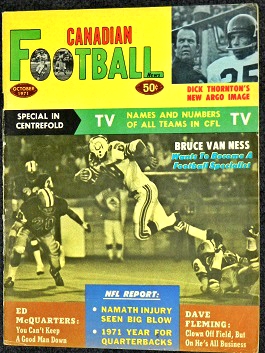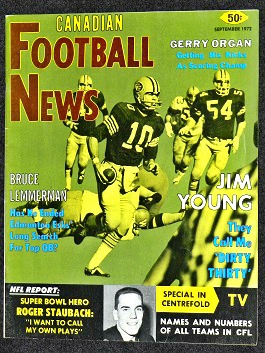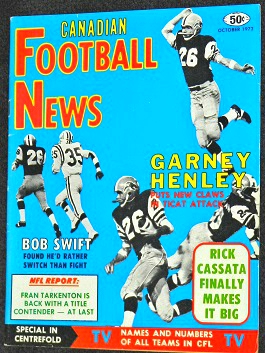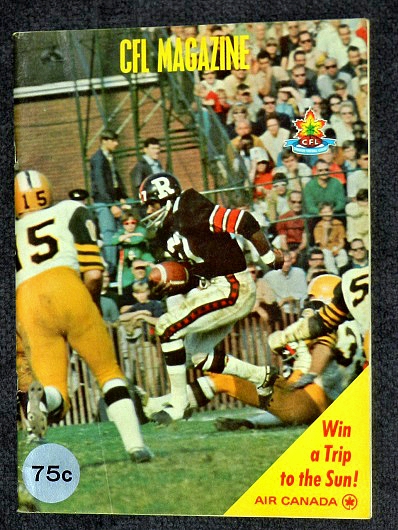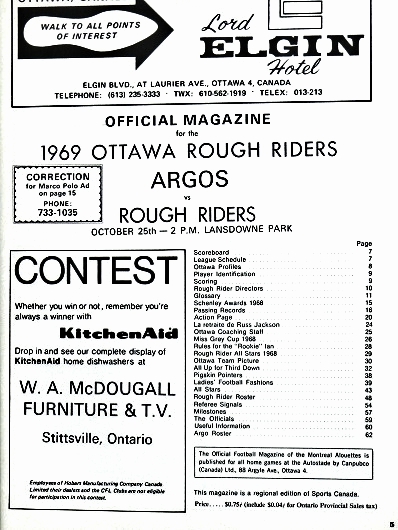 Program from game between the Argonauts and Ottawa Rough Riders on Oct. 25, 1969 at Lansdowne Park.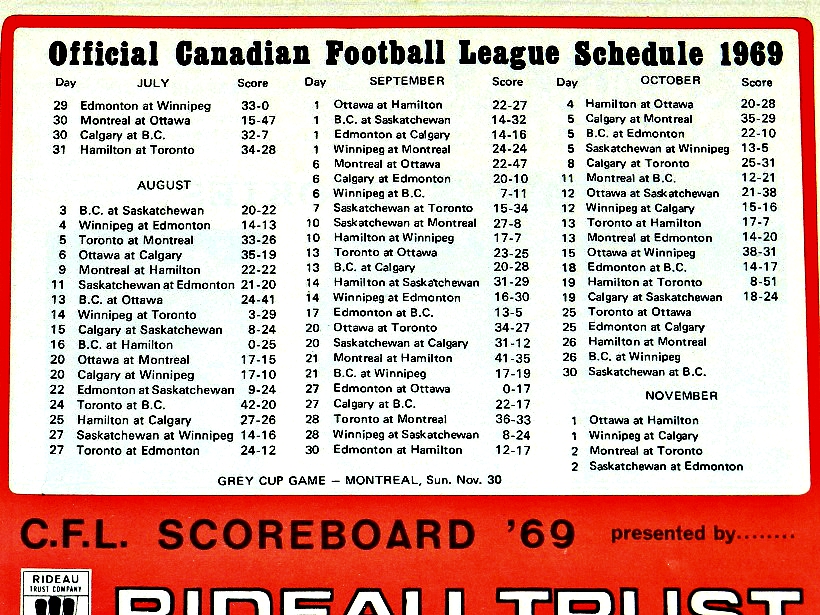 From the program, CFL scores in 1969 through Oct. 19. The Argos and Rough Riders were battling for first place in the East — Toronto (9–3) coming off a 51–8 mauling of Hamilton at C.N.E. Stadium; Ottawa (10–2), a 38–31 victory at Winnipeg. The Riders had won the previous two games against Toronto: 25–23 at home on Sep. 13 and 34–27 at Toronto on Sep. 20 (my first–ever live CFL game). The Argos simply could not beat Ottawa quarterback Russ Jackson, playing in his final CFL season. A third triumph would lock up first place and the Rough Riders succeeded, prevailing 20–9 before 27,115 at Lansdowne Park. Program line–ups are below. Ottawa would defeat Saskatchewan for the '69 Grey Cup. Jackson retired immediately after the game.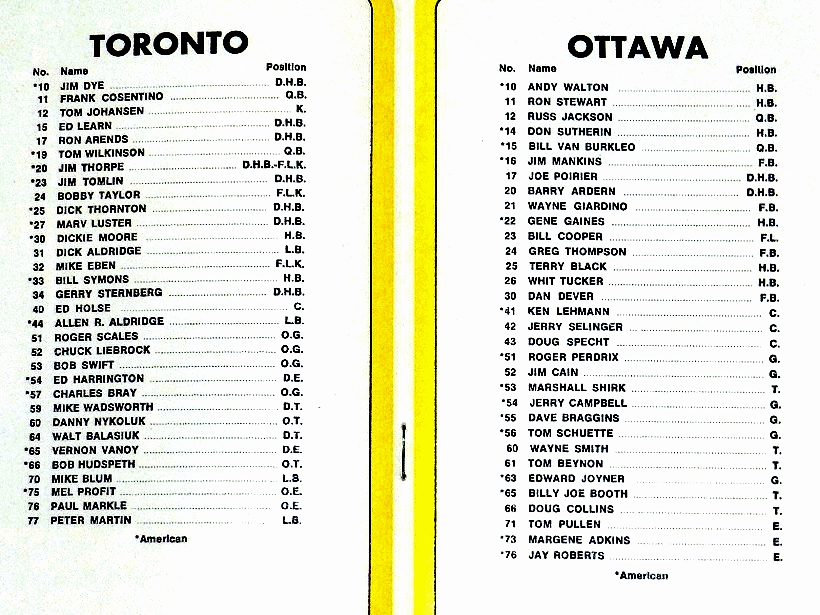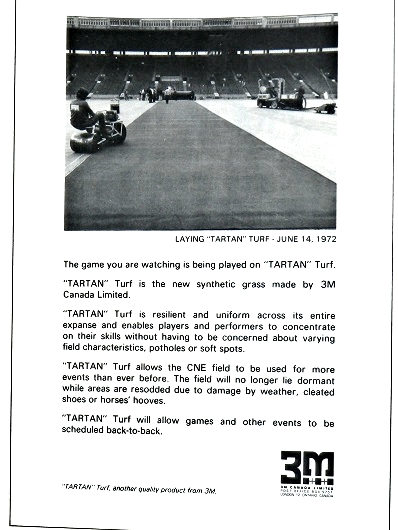 Program from a game veteran Argo–watchers would still rather forget: the 1972 season opener against the Montreal Alouettes at C.N.E. Stadium. Metropolitan Toronto had installed artificial Tartan Turf (top–right) in mid–June, replacing the grass field that would get chopped up during the annual Canadian National Exhibition fare in August, when a giant concert stage was rolled out in front of the 20,000–seat grandstand. Coming off their first Grey Cup appearance in 19 years (a 14–11 loss to Calgary), the Argos were favored to run away with the CFL East. But, plans went awry on this night when quarterback Joe Theismann broke his ankle against Montreal. Back–up Greg Barton could not move the football and the Alouettes won the game, 19–11. Theismann wouldn't return until Oct. 8. By that time, the Argos were 1–9–0, en route to a last-place finish that spelled the end of coach Leo Cahill after a successful, six–year term. Cahill was fired by owner John Bassett moments after a season–ending, 26–16 loss in Hamilton to the eventual Grey Cup champion.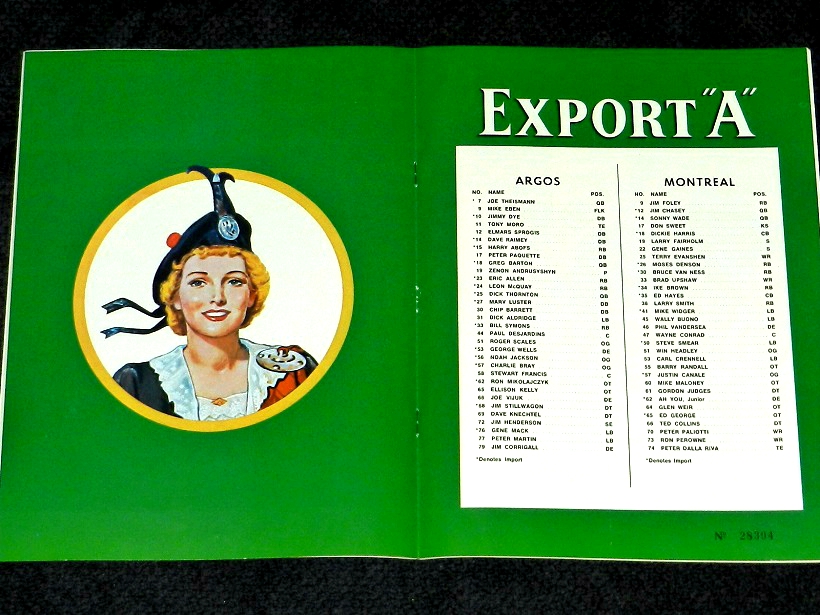 Toronto–Montreal line–ups (below) for the 1972 season opener at C.N.E. Stadium.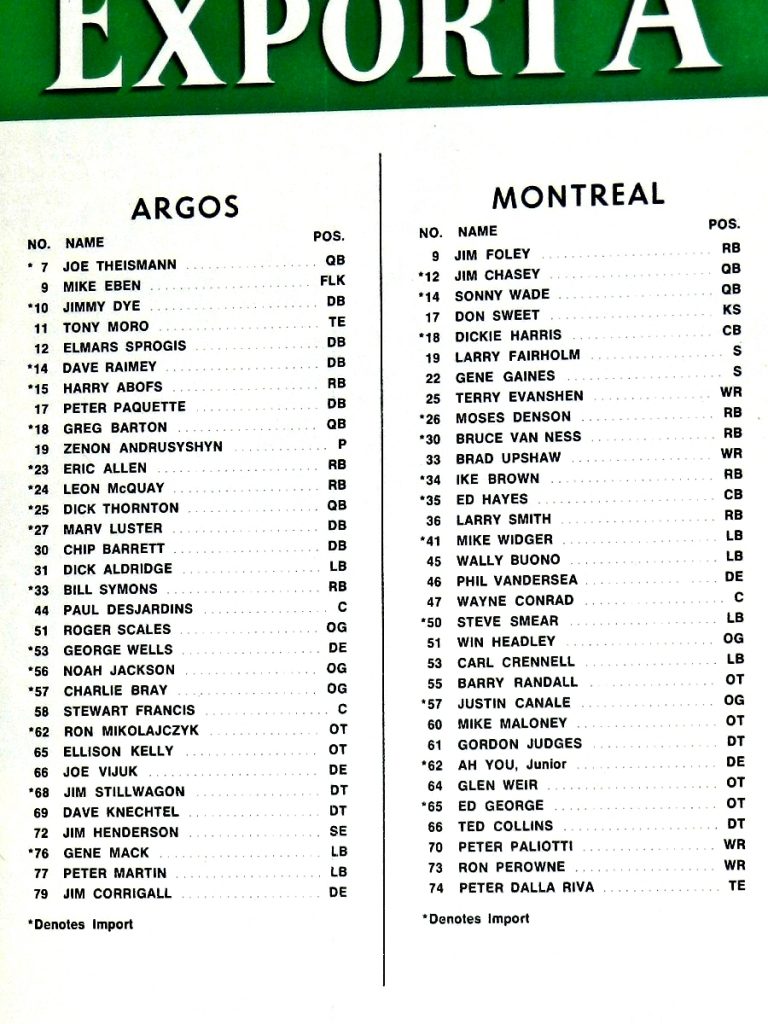 EMAIL: HOWARDLBERGER@GMAIL.COM