TORONTO (July 24) — As an avid golfer throughout his life, Eddie Shack knows what it's like to be on the "back nine." Sadly, that's where Shack resides today in his battle with throat cancer.
After spending a period of time at home while in palliative care, Eddie is now back in hospital here in Toronto; his body too weak to receive periodic attention. "No, he needs to be looked after full time," confirmed Shack's nephew, Peter Woitowich, over the phone from Sudbury. "I spoke with him last week and he was only able to converse for about 30 seconds. He understands the situation he's in."
Now 83, Shack played in the National Hockey League from 1958 to 1975 and scored the Stanley Cup–winning goal for the Maple Leafs in 1963. He was a member of all four championship teams under Punch Imlach. He also wore the uniform of the New York Rangers, Boston Bruins, Los Angeles Kings, Buffalo Sabres and Pittsburgh Penguins. Shack survived cancer in 1997, undergoing a full prostatectomy. The malady returned in his throat this year, for which he received radiation in the spring. The tumor shrunk, but the harsh effects of treatment ravaged his body. He is no longer undergoing radiation; neither has chemotherapy been an option. "He lost a lot of weight from not eating and just wasn't strong enough to stay at home," explained Woitowich, 58, the son of Shack's late sister, Mary. "Norma (Shack's wife) has been a pillar of strength during this ordeal, but she needs help. That's why Eddie has returned to the hospital. It was during his radiation treatment that he told me he was on the back nine… getting closer to the end."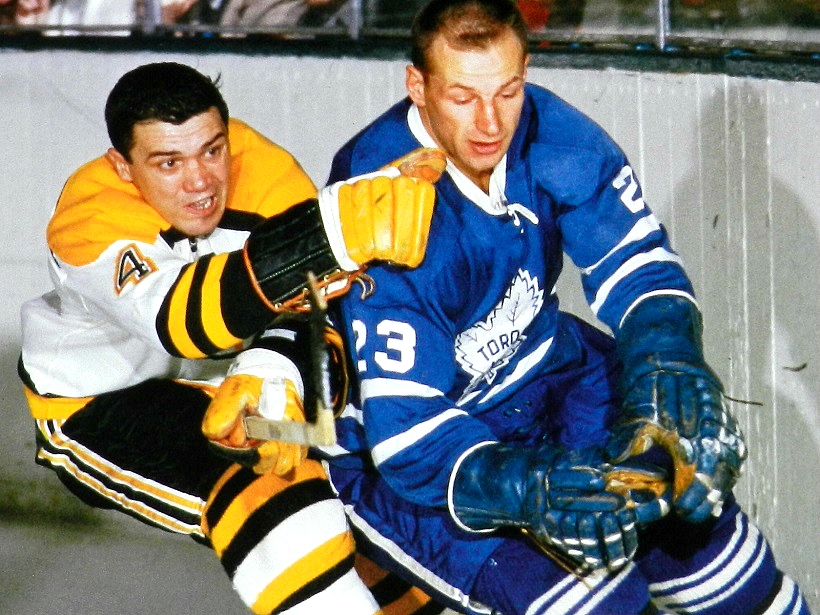 EDDIE SHACK IS CHASED BY BOSTON DEFENSEMAN BOB McCORD DURING A GAME AT MAPLE LEAF GARDENS IN 1965. SHACK PLAYED 504 REGULAR–SEASON GAMES FOR THE LEAFS, SCORING 99 GOALS. HAROLD BARKLEY PHOTO
Shack was a veritable folk–hero while playing with the Leafs in the 1960's. Known as The Entertainer, he resisted the trends of a conservative era and flouted his colorful persona — often clashing with the dour Imlach. Shack famously scored a minimum of 20 goals during all six NHL stops. A rather fluky goal with 6:32 remaining in the third period of Game 5 in the 1963 Stanley Cup final proved the decisive margin against Detroit. A shot by defenseman Kent Douglas ricocheted off a Red Wings player and bounced off Shack's stick before fooling netminder Terry Sawchuk. Douglas and Bob Pulford were awarded assists on the play. An empty–net goal by Dave Keon at 19:55 clinched Toronto's second of three straight NHL titles; that club of 1962–63 widely considered the best of the Imlach dynasty. During the winter of 1965–66 — with Shack on his way to a career–best 26 goals — broadcaster Brian McFarlane, who called Leaf games on television with Bill Hewitt, wrote a song about Eddie. Clear the Track, Here Comes Shack! was recorded by Douglas Rankine and The Secrets. Released in February 1966, it quickly rose to the top of Toronto music charts.
Shack sustained popularity after his NHL career as a pitch–man for Christmas trees, garbage bags and other items. His handlebar mustache, second in volume–of–hair only to Lanny McDonald, was a trademark, along with a protruding beak. In his second term with the Leafs (on Jan. 12, 1974), Shack was legendarily chased around the boards at Maple Leaf Gardens by a thwack of incensed St. Louis Blues, including Bob Plager, Garnet Bailey and Bob (Battleship) Kelly. Weaving and ducking as he made his way around the south end of the rink, he arrived at the safety of the Leafs bench before encountering harm. "Why did I run?" Shack once told me. "I looked around and saw [Inge] Hammarstrom and [Borje] Salming on the ice. Who, exactly, was gonna protect me?" Hammarstrom and Salming were rookie players from Sweden… and rather passive.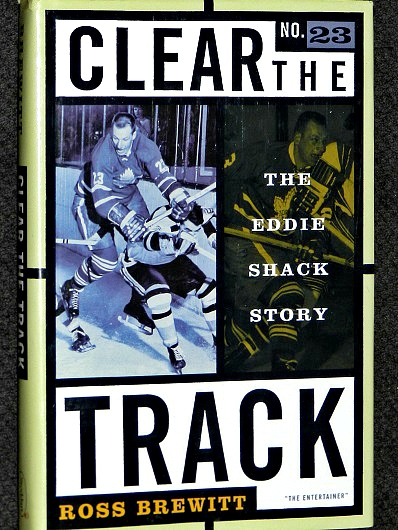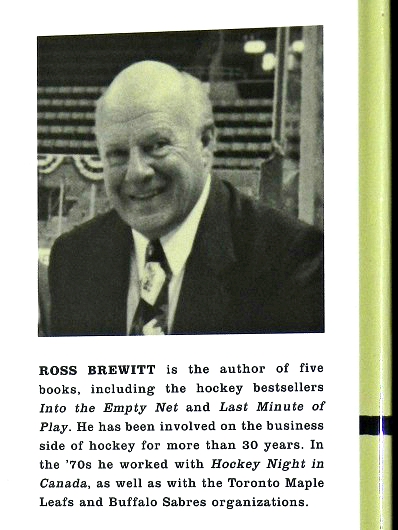 TWO BOOKS ABOUT EDDIE SHACK HAVE BEEN PUBLISHED: HIS 1997 BIOGRAPHY (ABOVE), WRITTEN BY ROSS BREWITT, WHO EDITED THE MAPLE LEAF GARDENS PROGRAM IN THE LATE–60's. AND, A COMPILATION OF PHOTOS AND STORIES (BELOW), RELEASED LAST NOVEMBER IN CONJUNCTION WITH KEN REID OF SPORTSNET AND FRAMEWORTH PUBLISHING AND SPORTS COLLECTIBLES.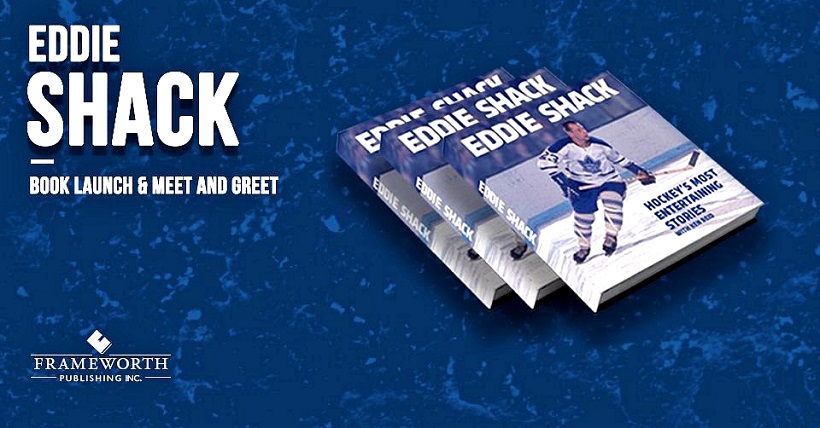 When asked if his Uncle Eddie has been given a time–prognosis by doctors, Woitowich replied "not that I'm aware, but you don't have to be a genius to understand he's in trouble. Right now, it's a matter of treating symptoms and keeping him comfortable in palliative care. Every so often, when we talk, I hear that familiar, feisty voice. But, it's hard. He's weak. Those radiation treatments took a lot out of him."
LEAFS vs. COLUMBUS IN THE "COVID" CUP: Predicting the outcome of a best–of–five playoff series is difficult in a normal circumstance… and virtually impossible in the environment that will prevail when the Maple Leafs and Columbus Blue Jackets begin their qualifying round next Friday at Scotiabank Arena. With players potentially, and suddenly, disappearing after testing positive for the coronavirus (the NHL will shroud such diagnoses by listing them as "unable to compete"), who knows which club will be strong enough to prevail — physically and emotionally? The only forecasting criteria that is plausible involves the most–recent competition: roughly 70 games per team conducted between Oct. 2, 2019 and Mar. 11, 2020.
Even so, how do we factor in a nearly five–month interruption during the pandemic? Or, that games will be played without the tumultuous incentive created by a home crowd? Will players sustain motivation while being sequestered in a "bubble" environment (minus the conjugal visits), knowing they cannot see their families for up to 2½ months? Might some grow weary of the climate and perform beneath their capacity? Even though precautions will be foremost, what happens to the tournament if there's even a mild spread of COVID–19 in the Toronto and/or Edmonton groups; if one or two of the best players on a team are forced to withdraw and isolate for two weeks? This is why I've been resolutely opposed to any such competition during a global crisis. Professional leagues are putting money in front of health. Particularly, the NHL, with matches conducted indoor, where the virus can transmit more easily. But, a prediction is harmless.
Both the Leafs and Blue Jackets accrued 81 points this season. Toronto underachieved while doing so; Columbus vastly overachieved, after losing such integral components as Sergei Bobrovsky, Artemi Panarin and Matt Duchene to free agency. How, then, should we not pick the club guided by presumptive Jack Adams Award recipient John Tortorella to make it through? COLUMBUS IN FOUR.        
MORE COVERS OF THE HOCKEY NEWS
These issues, in my collection of The Hockey News, date from October 1965 to September 1975: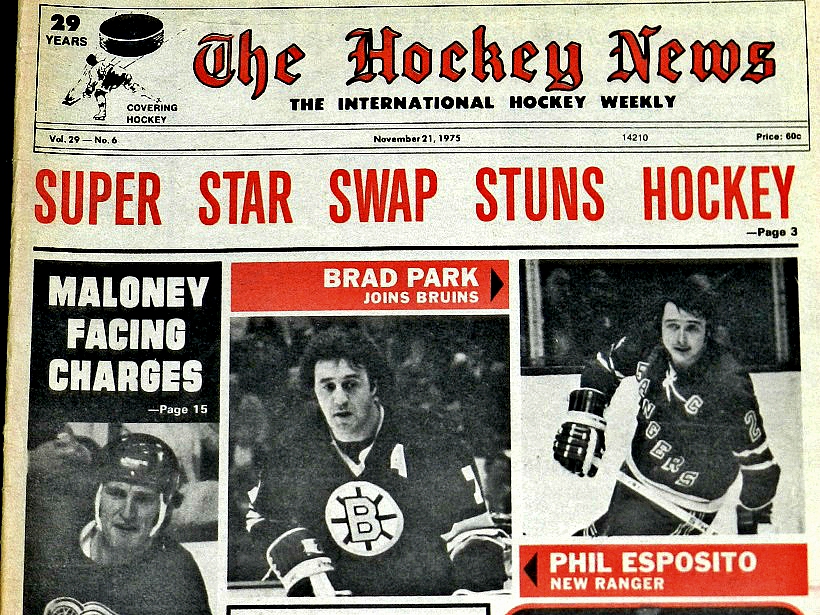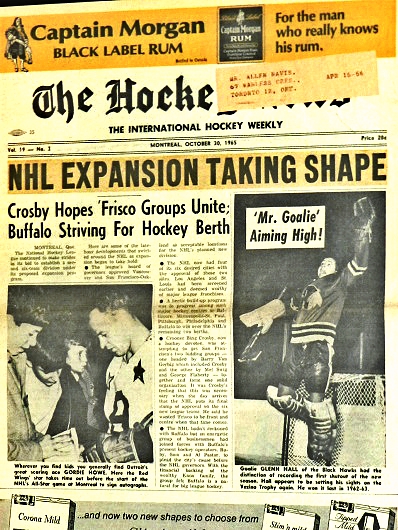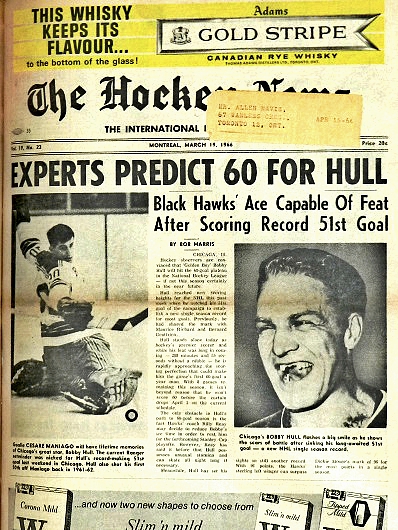 OCT. 30, 1965 (left): With NHL expansion still two years away, the San Francisco–Oakland group had the attention (and financial backing) of singer/actor Bing Crosby. Buffalo submitted an application and was bitterly disappointed to be overlooked among the six entries for 1967. The city would, of course, join the league (along with another 1967 applicant, Vancouver) for the 1970–71 season. MAR. 19, 1966 (right): After a drought of nearly two weeks, Bobby Hull of the Black Hawks became the first player to break the 50–goal barrier, beating Cesare Maniago of New York, at Chicago Stadium, on Mar. 12, 1966.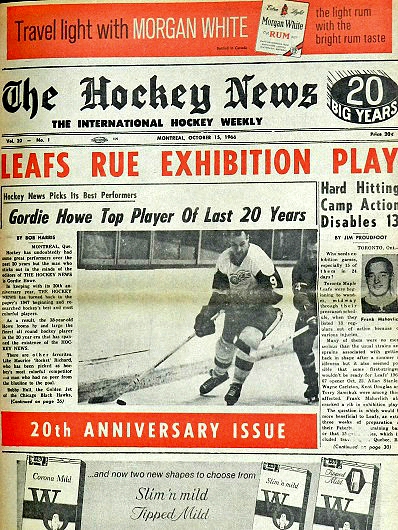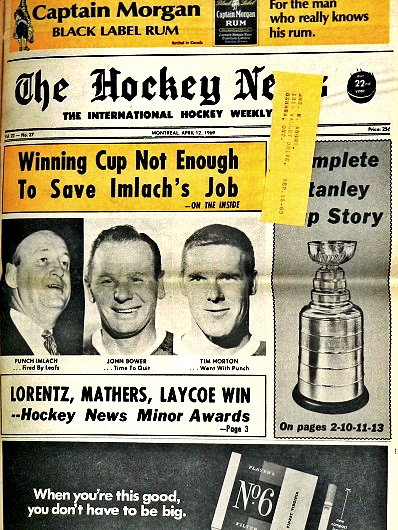 OCT. 15, 1966 (left): As part of its 20th anniversary issue, it was no surprise that The Hockey News chose Gordie Howe of Detroit as the best player in the NHL since first publishing on Oct. 1, 1947. The Leafs, meanwhile, were battling injuries during the 1966 exhibition games. APR. 12, 1969 (right): No, winning four Stanley Cups in six seasons (1962–67) was not enough for Leafs owner Stafford Smythe, who fired GM/coach Punch Imlach after an embarrassing playoff sweep by Boston in the '69 quarterfinals. Toronto stalwarts Johnny Bower and Tim Horton threatened to retire with Imlach, but changed their minds. Money talked back then.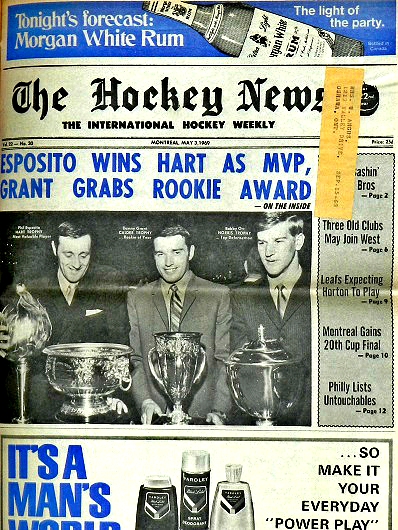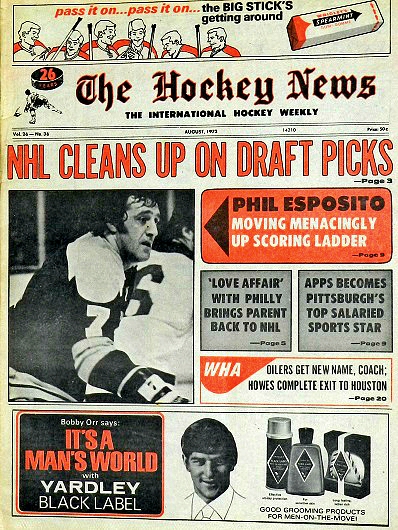 MAY 3, 1969 (left): The NHL handed out its silverwear for the 1968–69 season. Pictured on the cover (left–to–right) were Phil Esposito of Boston (Hart Trophy, Art Ross Trophy); Danny Grant of Minnesota (Calder Trophy) and Bobby Orr of Boston (Norris Trophy). AUGUST 1973 (right): In its battle for players with the World Hockey Association, the NHL was successfully locking up draft choices. Bernie Parent returned to the Philadelphia Flyers from the WHA and would backstop his team to consecutive Stanley Cup titles the next two seasons.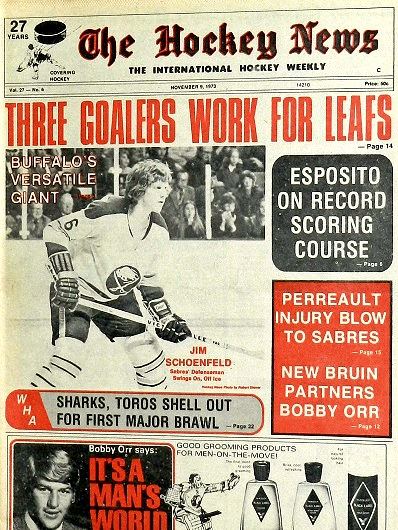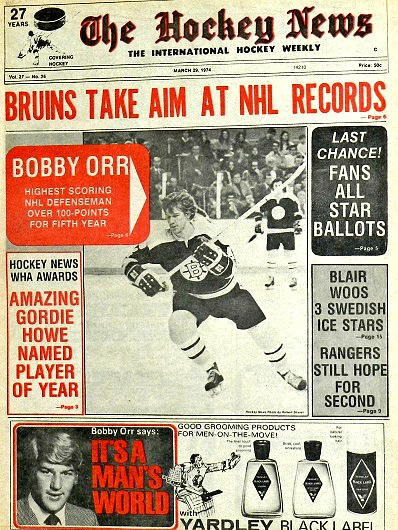 NOV. 9, 1973 (left): Throughout the 1973–74 season, the Maple Leafs successfully alternated three goaltenders — Ed Johnston, Doug Favell and Dunc Wilson. Toronto, coached by Red Kelly, and with rookies Lanny McDonald, Borje Salming and Ian Turnbull, improved by 22 points in the standings. MAR. 29, 1974 (right): Led by the incomparable Bobby Orr, the Bruins' offensive juggernaut would march into the 1974 Stanley Cup final, only to become the first victim of an expansion team from 1967, the Philadelphia Flyers. And, Gordie Howe was still going strong, at 46 years of age, with Houston of the WHA.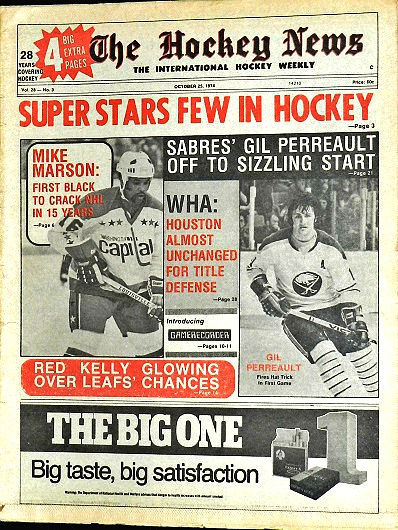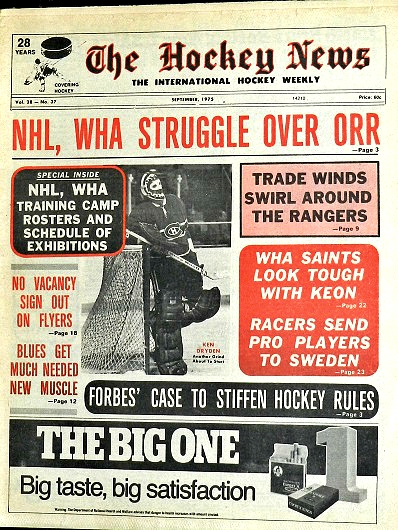 OCT. 25, 1974 (left): Having begun the worst season in NHL history (8–67–5 for 21 points), the expansion Washington Capitals could, at least, celebrate the inclusion of a black player — Mike Marson of Scarborough, Ont. Red Kelly, meanwhile, wouldn't be glowing for long about his Toronto club, which digressed by eight points in 1974–75. SEPTEMBER 1975 (right): Bobby Orr considered an offer from the Minnesota Fighting Saints of the WHA, but chose to remain with the Boston Bruins. The Saints did sign former Leafs star Dave Keon, who'd been unceremoniously dumped by owner Harold Ballard after a 15 seasons.
EMAIL: HOWARDLBERGER@GMAIL.COM