TORONTO (July 19) — There is, of course, no shame in being nominated for any award the National Hockey League distributes, including the Lady Byng Trophy for gentlemanly comportment.
Among the three finalists for the Byng is Auston Matthews of the Toronto Maple Leafs, whose 47 goals and eight penalty minutes in 70 games connotes unquestioned merit. It is also, however, symptomatic of a magnificently skilled, but passive, Toronto club that underachieved during the pandemic–shortened schedule. Mike Babcock went over the edge and lost his job trying to coerce his players into being "hard" on the puck, especially in the defensive portion of center–ice. Babcock's replacement as coach, Sheldon Keefe, encountered the same overall weakness. The Maple Leafs simply aren't built to be "hard" on the puck; neither will they win the Stanley Cup until accorded the necessary balance by general manager Kyle Dubas.
Much has been made, this week, of the Matthews nomination and how it relates to the current Toronto outfit. But, these are not the Maple Leafs of Dave Keon in the 1960's; Darryl Sittler in the 70's or Mats Sundin in the 2000's. Keon won the Lady Byng in 1962 and 1963 while helping the Leafs to consecutive NHL championships. He was small and graceful, expending the same energy in all areas of the rink. Though hockey players generally fought their own battles in that era, Keon was insulated from combat by such brawny teammates as Tim Horton, Bob Baun, Carl Brewer, Kent Douglas, Eddie Shack and Orland Kurtenbach. Sittler, a decade later, could handle his dukes as efficiently as anyone. Were he abused, however, the offending party would answer to Dave (Tiger) Williams, Kurt Walker, Pat Boutette or Ian Turnbull, all of whom were fearless. At 6–foot–4, 225 pounds, Sundin rarely withstood nonsense, but had, by his side, such ornery comrades as Tie Domi, Shayne Corson, Gary Roberts, Darcy Tucker and Wade Belak. The Leafs of the Pat Quinn era (1998–2006) were the most ill–tempered of any Toronto teams, post 1967.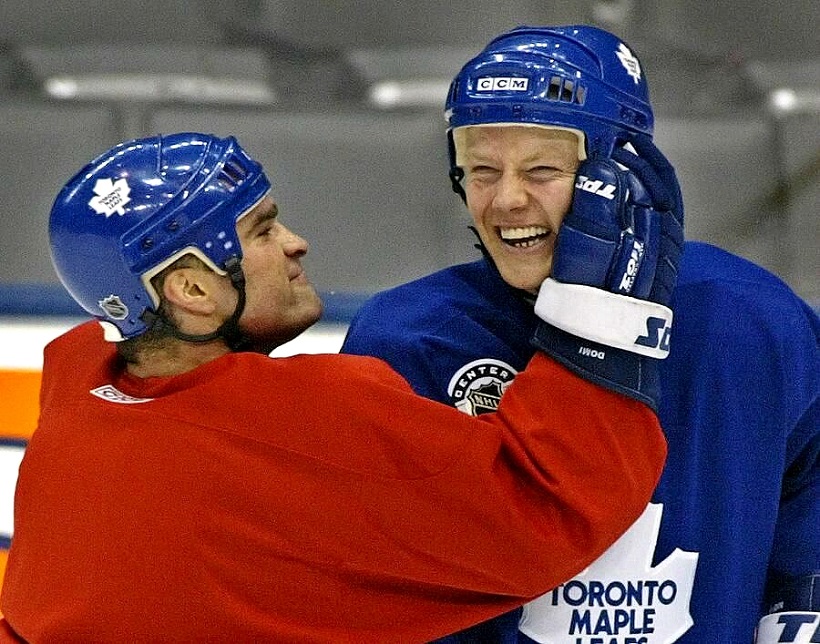 TIE DOMI (LEFT) ALWAYS HAD THE BACK OF MAPLE LEAFS TEAMMATE MATS SUNDIN (RIGHT).
By comparison, and by composition, the current Leafs are utter darlings. Matthews is not inherently aggressive. Neither is William Nylander nor John Tavares. Mitch Marner has more of a fiery demeanor but is too small to offer resistance. What is Sheldon Keefe to do when his top players are molested? Send Alex Kerfoot over the boards? This is where Dubas, in his compulsive quest for skill and puck–movement, has failed the club. Under normal circumstances, which entirely preclude the made–for–TV summertime event about to unfold, the Leafs could not endure four grueling rounds of Stanley Cup toil. Whatever materializes between August and October this year will — for many obvious reasons — bear no correlation to a typical playoff tournament. Whether the Leafs get swept by Columbus in the best–of–five "play in" round or win 19 consecutive games for their first Stanley Cup in 53 years, this event will stand on an island, unto itself.
The NHL should neither include statistics in its annals of Stanley Cup competition nor dishonor the 127–year–old trophy by engraving the names of its 2020 champion. Not during a global crisis, in which players will suddenly be determined "unfit to compete", with no details provided. Not amid empty arenas and without the normal provision for home–ice advantage. And, certainly not after a nearly five–month gap since the most–recent games (of Mar. 11), a pause that is roughly seven weeks longer than the normal off–season.
HENNY BIDS ADIEU: You have likely read and heard, this week, that Paul Hendrick has been among the most–respected and likable figures in hockey media over the past generation. You will read nothing differently in this corner. Henny parted company with the LeafsNation Network on Tuesday, looking to spend more time with his wife, Alicia, who has long and courageously battled cancer. During more than a quarter–century covering the Maple Leafs, Hendrick perfectly executed the role of "home team" reporter. His was not the place to challenge coaches, players or management; that was left to others in the so–called "mainstream" media. Neither did Paul avoid the company or friendship of those that followed the club with a critical eye — myself included, for 17 seasons, on behalf of The FAN–590. He was, and is, among the truly nicest human beings any of us had the pleasure of knowing. And, of hanging around on the Leafs beat.
I still chuckle (and Paul will know exactly where I'm going here) over watching Henny have a nervous breakdown in Boston on the afternoon of Nov. 11, 1999. My book ON THE ROAD AGAIN (about covering the 1998–99 Maple Leafs during Pat Quinn's initial season as coach) had been released and I gave Paul a copy. Encompassing pages 70 and 71 was a funny tale involving the three of us (me, Hendrick and Quinn) from a Leafs practice at St. Michael's Arena on Oct. 29, 1998. At the time, neither myself nor others in the local media were getting along with Quinn, who came here from Vancouver with a giant chip on his shoulder. His first move was to ban reporters from riding on the team bus away from home — freedom allowed by Quinn's predecessors, Pat Burns and Mike Murphy. This precluded the convenience of traveling to and from hotels, arenas and airports with the players and coaches. No reason was given. Those amid the electronic rights–holders (Hendrick, Joe Bowen, Jim Ralph, Bob Cole, Harry Neale) were exempt from the new rule.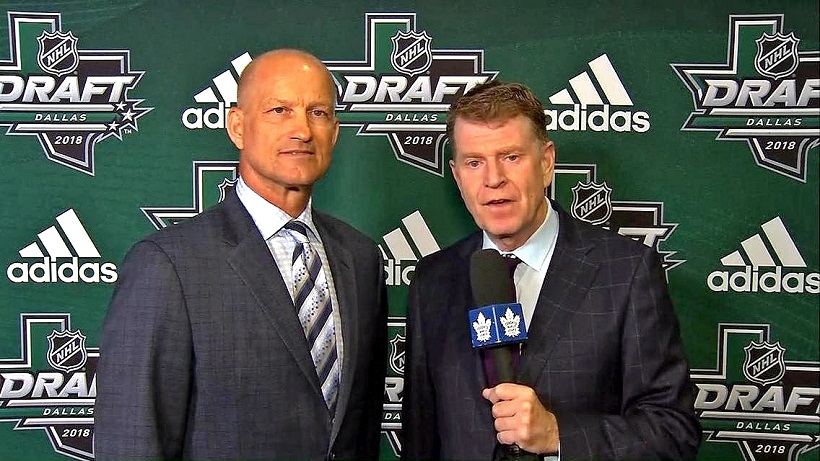 PAUL HENDRICK (RIGHT) AND EX–LEAFS DEFENSEMAN BOB McGILL REPORT FROM THE 2018 NHL DRAFT IN DALLAS. HENNY TRAVELED WITH THE BLUE–AND–WHITE FOR MORE THAN 25 YEARS.
After the St. Mike's skate, the club was leaving on a bus for Buffalo and a game, the following night, against the Sabres. I suggested to my colleagues in the frigid arena that I might offer Quinn a wisecrack in his follow–up media scrum… and a big smile spread across Henny's face. Quinn held his scrum outside the entrance to the arena. Toward the end, I felt a knee dig into the back of my leg from behind. It was Paul, with a subtle reminder to speak up before the cameras and microphones dispersed. Whereupon I asked, "Pat, is it okay for the media to travel on the same highway as the team bus?" An awkward silence (and some snickers) followed as Quinn began to seriously answer the question. Then, he caught himself. "What's the matter, Howard, did the lobotomy not work?" Quinn replied before thundering off.
Fast–forward to 13 months later, in Boston, and Henny read the passage in my book. Clearly, he felt Quinn would be angered by the notion that he "egged me on" to ask the ridiculous question at St. Mike's. And, poor Paul was beside himself. Alternating between nice guy and wanting to strangle me, Hendrick could hardly spit out a word. "Howard, what were you thinking… I mean what if he reads… I can't have him see this…. how could you write… you shouldn't have included that," Henny sputtered. I tried calming him, to no avail, suggesting that Quinn wouldn't be upset over something so benign that occurred more than a year prior. But, it was no use. "I mean, how could you write…" Paul continued while marching off to his hotel room.
I figured I'd better take no chance. So, after arriving at TD Garden 90 minutes prior to the Leafs–Bruins game, I went up to Quinn and showed him the passage, informing the coach that Hendrick had spent the afternoon melting down. Quinn read the page and burst out laughing. "I remember that dumb question," he snarled, glaring at me. "But, I think it's funny now. Tell Paul not to worry. I'll talk to him after the game."
My other moments around Henny were far lighter. And, always enjoyable. Look after Alicia, Paul, as she would you. And feel secure, my friend, in knowing what a remarkable career you crafted. 🙂           
OLD COVERS OF THE HOCKEY NEWS
In my collection, these issues of The Hockey News date from April 1966 to October 1976: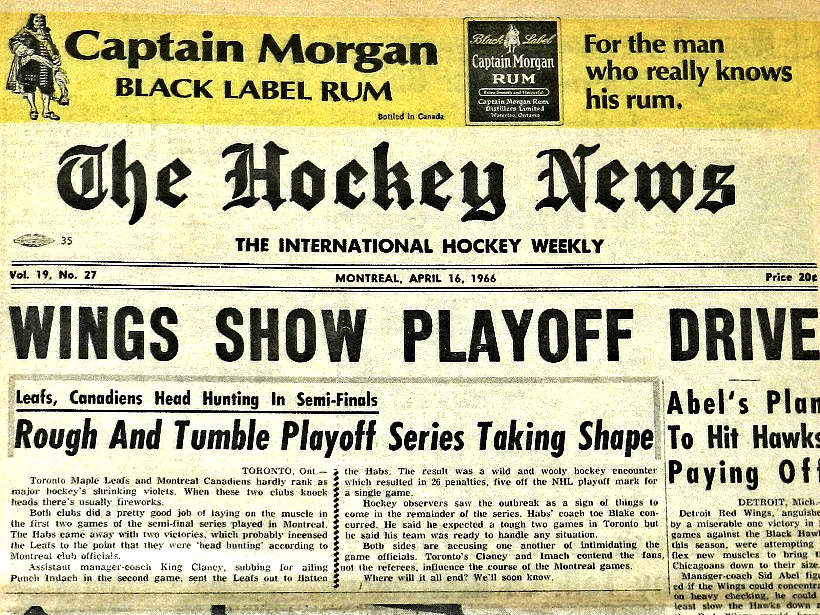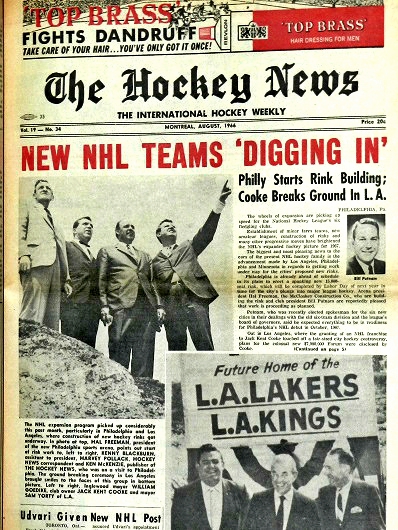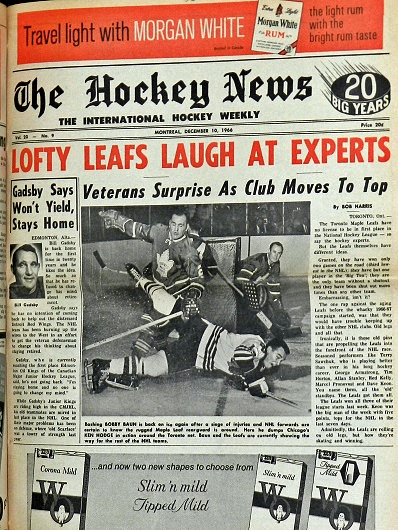 AUGUST 1966 (left): Still 14 months prior to NHL expansion, the six new teams (California Seals, Los Angeles Kings, Minnesota North Stars, Philadelphia Flyers, Pittsburgh Penguins, St. Louis Blues) were busily constructing arenas and comprising hockey staffs. DEC. 10, 1966 (right): Yes, those "lofty" Leafs would somehow with the Stanley Cup in 1967. And, not since.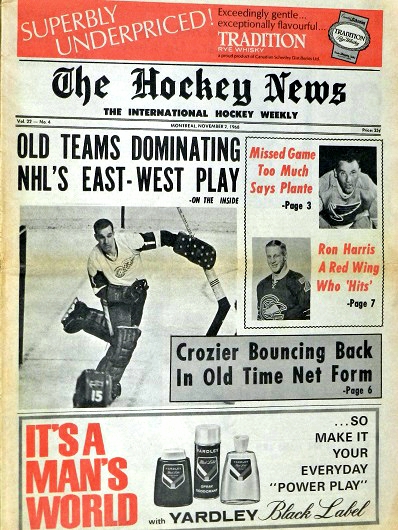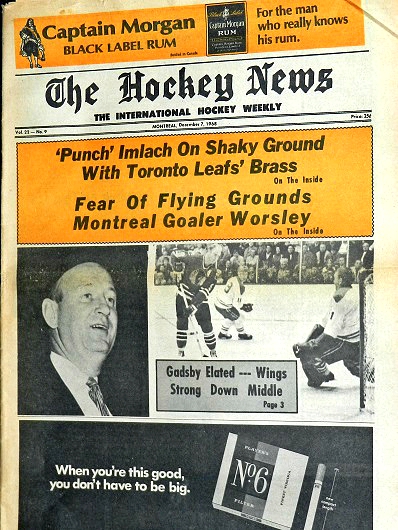 NOV. 2, 1968 (left): The night the renovated Montreal Forum opened. Jacques Plante, who backstopped the Canadiens to a record five consecutive Stanley Cups (1956–60), was back in the NHL with St. Louis after a three–year retirement. DEC. 7, 1968 (right): Punch Imlach would remain on "shaky" ground throughout the 1968–69 season, then be fired by Leafs owner Stafford Smythe after an embarrassing first–round playoff sweep against Boston.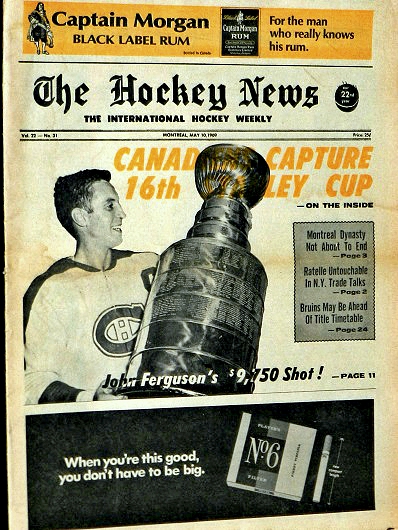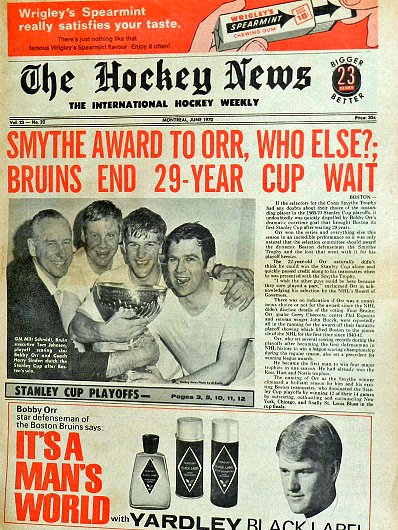 MAY 10, 1969 (left): Montreal captain Jean Beliveau cradles the Stanley Cup at St. Louis Arena after the Canadiens swept the Blues for the second consecutive spring. JUNE 1970 (right): St. Louis was again victimized in four straight during the 1970 Stanley Cup final — this time by the Boston Bruins. Posing with the Cup on the cover were (left–to–right) Milt Schmidt, Tom Johnson, Bobby Orr (who famously scored the overtime winner) and coach Harry Sinden.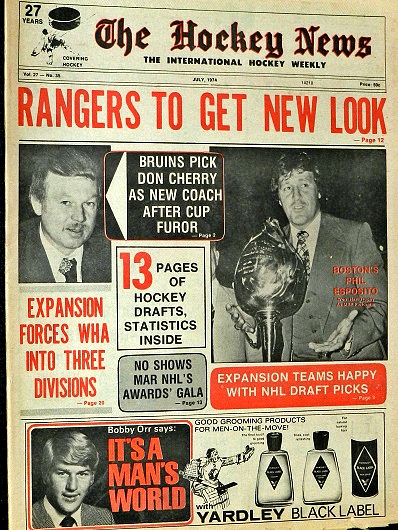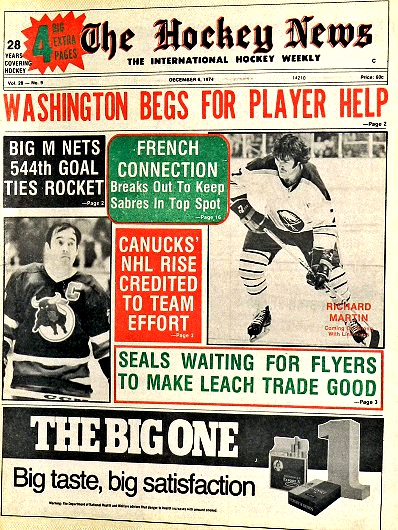 JULY 1974 (left): Boston hired Don Cherry as head coach to replace Bep Guidolin, who had guided the Bruins to a Stanley Cup final defeat by the Philadelphia Flyers. Meanwhile, the New York Rangers fiddled with their uniform. But, the change (the logo replacing "Rangers" diagonally on the jersey) would last only two seasons. DEC. 8, 1974 (right): Two months into the worst season of any club in modern NHL history, the expansion Washington Capitals were 2–16–3 after 21 games and "begging" for anyone that could skate and hold a stick. The Caps would finish 1974–75 at 8–67–5 for 21 points. Frank Mahovlich, meantime, was wearing a Toronto Toros jersey, having defected to the rival World Hockey Association.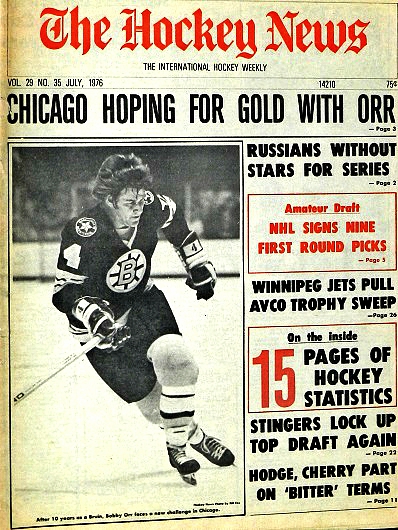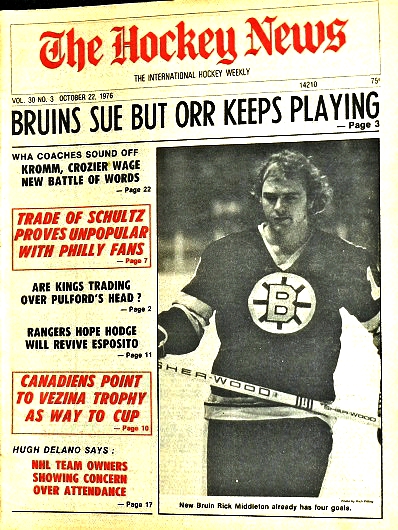 JULY 1976 (left) and OCT. 22, 1976 (right): Having signed Bobby Orr as a restricted free agent, apparently with the blessing of the Boston Bruins, the Chicago Black Hawks were in a legal battle to retain the NHL's all–time greatest player. After a virtuoso performance, however, for the host country in the 1976 Canada Cup, Orr would play only 26 games for Chicago over two seasons; his damaged knees forcing a retirement announcement on Nov. 8, 1978.
EMAIL: HOWARDLBERGER@GMAIL.COM