TORONTO (July 6) — Having known George Armstrong for roughly 35 years, I figured to be informed, rather quickly, about a shift in personality leading up to his tenth decade on Earth. And, quite frankly, I grew concerned when ol' George failed to greet me on the telephone with his usual reply: "Fu– you, Howard!!"
"Well, my daughter's here, or I would," said the Chief, with a loud, hearty laugh. Which is typical of Armstrong on both accounts… forever whimsical and abrasive with the boys; dignified and elegant in front of ladies. Perhaps old–fashioned, though it shouldn't be. Still the last captain of the Toronto Maple Leafs to raise the Stanley Cup — 53 years two months and four days ago — Armstrong is quietly marking his 90th birthday amid the COVID–19 pandemic. "Yeah, everyone is being careful around me," he chuckled. "But, y'know, I was never much for birthday or anniversary parties. I did plenty of celebrating when I was young: winning four Stanley Cups with the Leafs; a Calder Cup with Pittsburgh and some Junior championships [as a player and coach] with the Marlboros. That was good enough for me. At my age, now, it's all about family."
And, it's family that accords him both pleasure and heartache. For much of the past decade, Armstrong's wife, Betty, has lived a quiet, hollow existence in a nursing home, having contracted dementia after surgery to repair a broken hip. "It's been awhile since she recognized any of us," offered Fred Armstrong, George and Betty's 60–year–old son. "But, Dad is loyal to the bone. He's still by her side for three hours every day; feeding her and making sure she knows — even if she doesn't — that he still loves her." For the Chief, it couldn't be any other way. "Hey, Howard, she looked after me for 66 years; this is the least I can do. [Dementia] is not a nice illness. It's sad to see her like this; very unfortunate. But, that's life when you get older. Thankfully, she's being well looked after. I try and spend some time with her every day."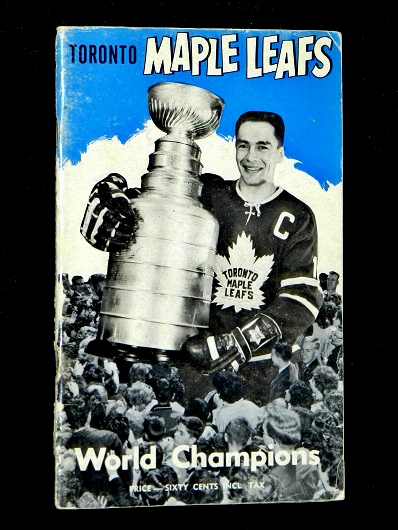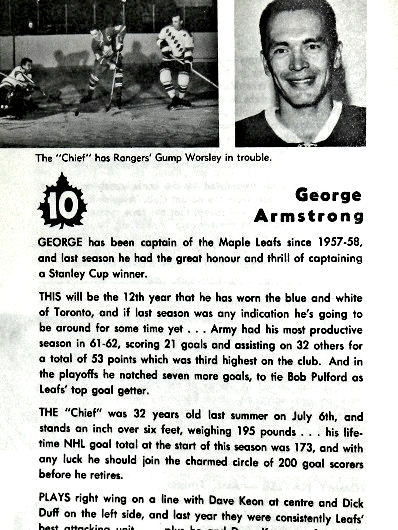 GEORGE ARMSTRONG ON THE COVER (TOP–LEFT) OF THE TORONTO MAPLE LEAFS 1962–63 MEDIA GUIDE, AFTER WINNING THE FIRST OF FOUR STANLEY CUP TITLES AS CAPTAIN OF THE TEAM.
Armstrong also keeps tabs on his teammates from the Toronto clubs that won the National Hockey League title in 1962–63–64 and 1967. He lost his closest pal, and foil, when Johnny Bower died on Boxing Day 2017.
"Yeah… old 'Cooz,'" said the Chief, invoking the nickname he anointed the Hall–of–Fame Leafs goalie. "Johnny had a good life and he was a prize as a teammate and friend. No one ever said a nasty word about him. If you didn't like Johnny Bower, you couldn't get along with anyone." George laughs out loud when recalling some of the pranks he pulled on Bower, such as switching the goalie's dentures, one day, in the dressing room at Maple Leaf Gardens. "Oh yeah… he put in someone else's teeth and they didn't fit," Armstrong roars. "I can close my eyes and  still see the look on his face at that moment. But, Johnny never got mad. We roomed together in hotels for many years. You would never meet a finer man." Another prank? Urinating on sauna coals one day at the Gardens when his teammates complained about him opening the door. "There was no room for the Chief to sit and all the guys began to gripe," said Darryl Sittler, who told me the story years ago. "So, he peed on the hot coals and left. Oh, did that mist ever smell and burn our eyes." To which Armstrong responds, nearly half–a–century later: "There was plenty of fu–ing room in the sauna after that!"

BEST OF HOCKEY PALS GEORGE ARMSTRONG (RIGHT) AND THE LATE JOHNNY BOWER DURING A PRE–GAME CEREMONY AT SCOTIABANK ARENA (THEN, THE AIR CANADA CENTRE) IN 2003.
About other Stanley Cup teammates in Toronto, Armstrong reports: "I haven't spoken to Nevvy (Bob Nevin) in awhile but I did talk on the phone with Dave Keon the other day in Florida. He's fine and being very careful with all the [COVID–19] infections down there. Unfortunately, Shackie (Eddie Shack) isn't doing well in his cancer fight. Which is sad (Shack, 83, has entered palliative care). And, I'm told Bobby Baun is also ailing, though I'm not certain what's wrong; if he also has cancer. And, of course, we lost ol' Red [Kelly] a few years ago. What a super guy. And, a great hockey player. But, hey, that's life. None of us are going to live forever."
As for the NHL planning to return in the midst of the pandemic, Armstrong says, "I don't like the idea because they're putting money ahead of health. I would prefer if they played it safe. Hopefully, everyone will get through it, but I'm not sure that's possible. Like a lot of elderly people, I don't see my children as much today, but I understand why they are being careful. I wish hockey would do the same." With regard to the Leafs still not winning [or playing for] the Stanley Cup since the now–ethereal night of May 2, 1967, the Chief says, "yeah, but they've got a pretty talented group right now so maybe there's a chance. I look at the Leafs and see a lot of skill, but not enough maturity. I don't see them as wanting to win badly enough and making the physical sacrifices on the ice. They seem satisfied with trying to score goals, which is the fun part of the game. But, the top guys don't yet have the burning desire to win a championship. Maybe that will come."
As he turns 90, does the Chief ponder death? "I think about it occasionally but it doesn't bother or scare me," he says. "I certainly don't want to die tomorrow. I want to keep living; keep driving my car; seeing my kids and grandchildren; talking to people about hockey. I'm fortunate to be blessed with good genes. My mom died at 98 and my dad passed young… at 84. So, I'm hoping to stick around for a bit. Right now, it's all about family. About spending time with Betty. The kids always ask to do things for me and I tell them I want to do them myself, for as long as I can. But, I'm not afraid of dying. How can you be at 90?"
BACK IN TIME — CFL STYLE (Part 2)
More in my collection of Canadian Football League/Toronto Argonauts programs and magazines. These items, dating from 1965 to 1971: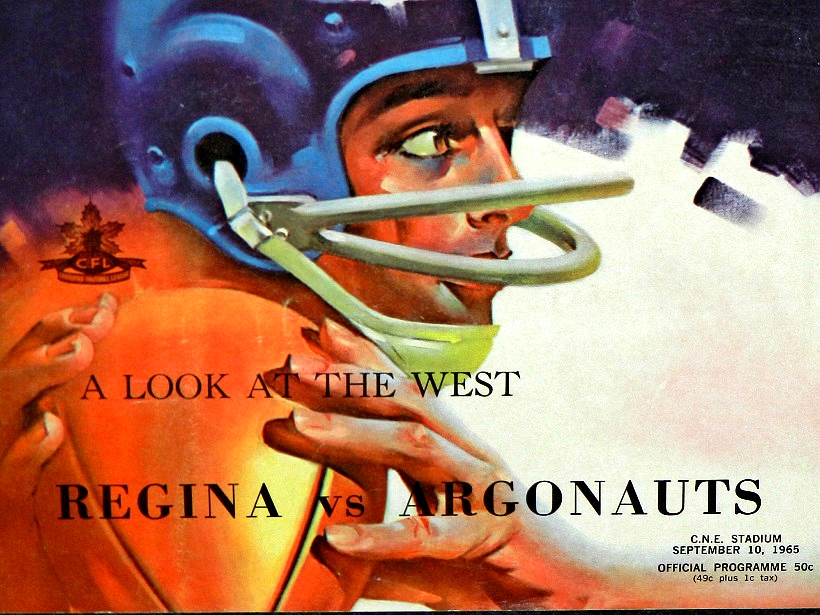 The 1965 Toronto Argonauts rank among the most–inept in franchise history, finishing 3–11–0 and last in the CFL East. Program cover (above) from a Sep. 10 game against the Saskatchewan Roughriders at CNE Stadium. The Argos lost, 28–9, before 20,497 fans to stay winless after seven games. Nine days later, Toronto would fall to 0–8, getting blanked at home, 33–0, by the Hamilton Tiger–Cats before finally winning its first match of the season (Sep. 26) — defeating Winnipeg, 24–22, at the CNE. Argo games in '65 were aired by CFRB (now Newstalk–1010), which presented the club's schedule in an advertisement (below).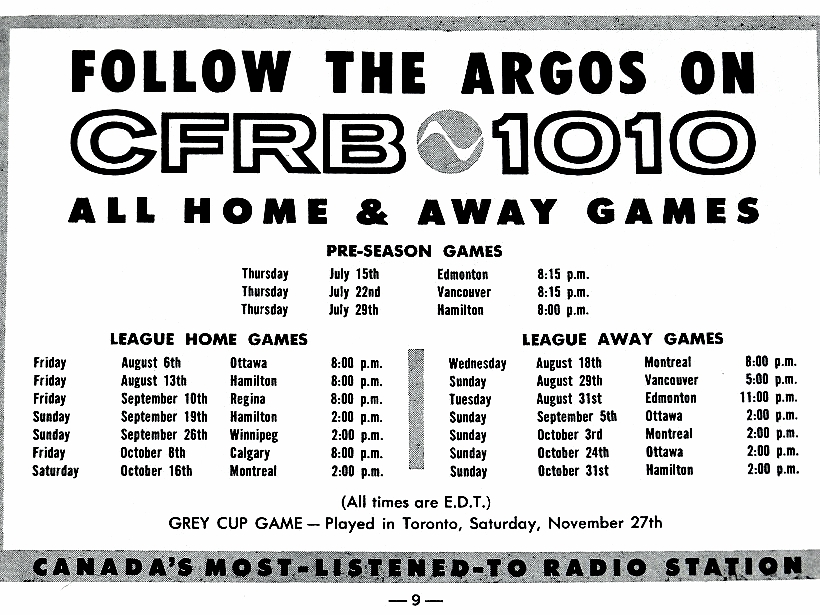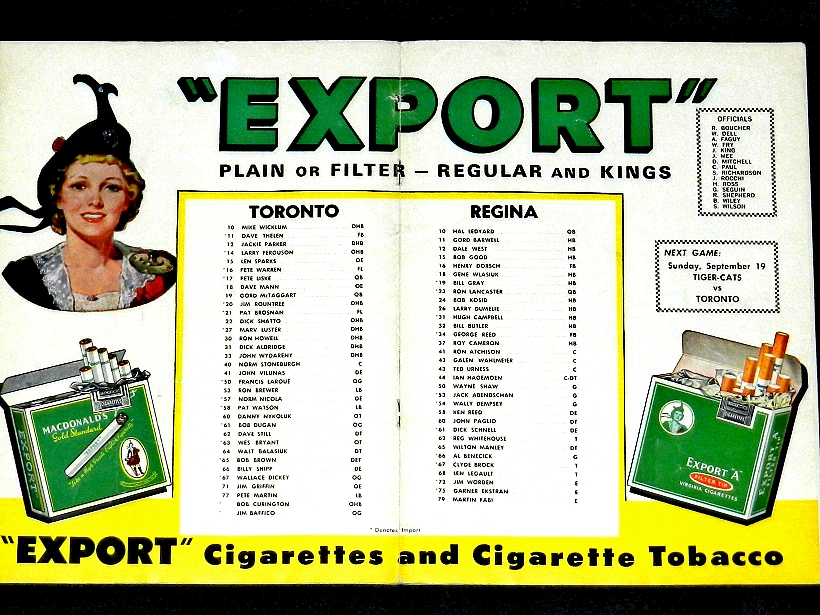 Saskatchewan finished third in the CFL West in 1965 with an 8–7–1 record and lost at Winnipeg in the Conference semifinal. But, the components were in place (line–ups, below) for the club's first Grey Cup triumph a year later. Quarterback Ron Lancaster (23), running back George Reed (34) and receiver Hugh Campbell (31) paced an attack in 1966 that totaled 351 points, 87 more than second–place Winnipeg. Saskatchewan beat Ottawa, 29–14, in the '66 Grey Cup at old Empire Stadium in Vancouver. The Roughriders wouldn't prevail for a second time until 1989, winning the first Grey Cup played at Toronto's SkyDome..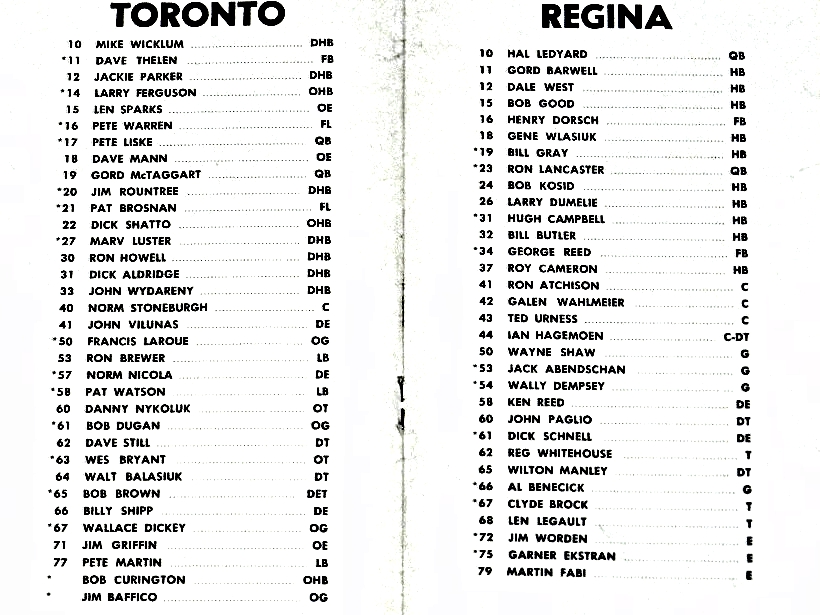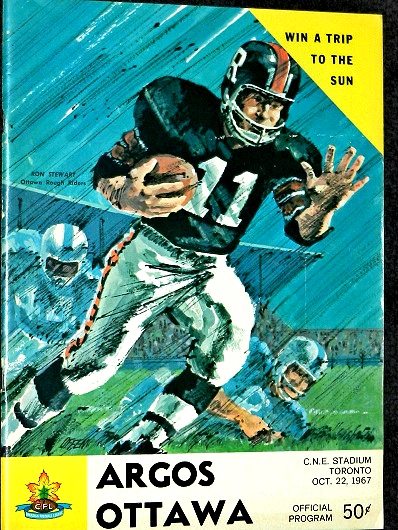 There was a special visitor to CNE Stadium for the Argos–Ottawa Rough Riders game of Oct. 22, 1967. U.S. Senator Robert F. Kennedy was in town and attended the match as part of the 27,238 fans that witnessed a 28–28 tie. RFK had been at the Leafs–Rangers hockey game the previous night at Maple Leaf Gardens on the second weekend of the expanded National Hockey League. Tragically, he would be assassinated less than eight months later, in Los Angeles, after winning the '68 California Democratic Primary.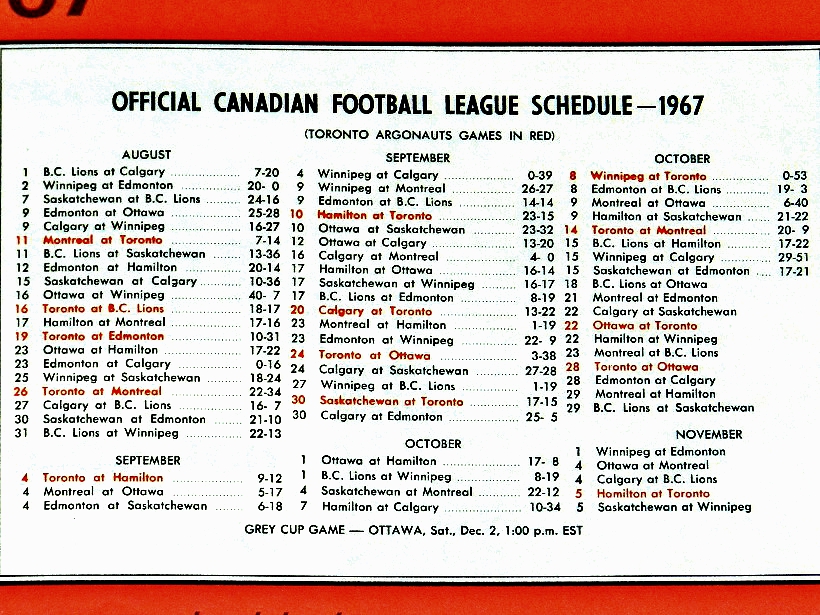 In 1967 (schedule, above) — their first season under coach Leo Cahill — the Argonauts ended a five–year playoff absence, finishing third in the CFL East with a record of 5–8–1 in 14 games. Both Toronto and Ottawa were riding three–game win streaks heading into the Oct. 22 match; the Argos having destroyed Winnipeg, 53–0, in their previous home encounter (Oct. 8). The 28–28 draw against the Rough Riders was a major step forward for Toronto, which had been annihilated, 38–3, at Lansdowne Park on Sep. 24. The Argos would again bow to the Rough Riders, 38–22, in the East semifinal (Nov. 12); the club's first post–season match since an infamous 48–2 overtime loss at Civic Stadium in Hamilton on Nov. 25, 1961.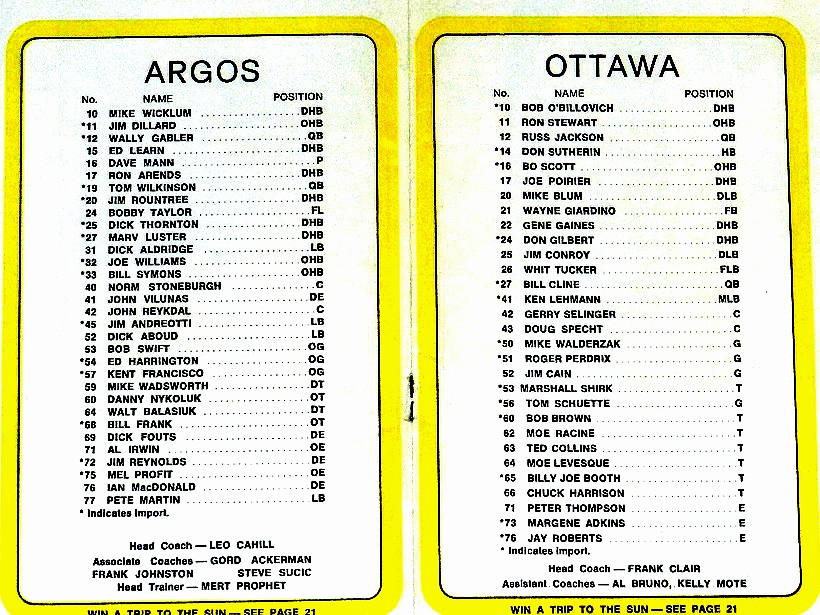 The most–prominent acquisition by the Argos in 1967 was running back Bill Symons (33) in an off–season trade with the B.C. Lions for the rights to Canadian receiver Jim Young. The deal worked out well for both teams. In 1968, Symons would become the first Argo to win the Schenley Award as the CFL's most–outstanding player. Young, known as "Dirty 30", was a mainstay in Vancouver from 1967–79, being named the league's outstanding Canadian player in 1970 and 1972. For Ottawa, future Argos coach Bob O'Billovich (10) was in his final season as a defensive back. Obie would guide the Argos to the 1983 Grey Cup.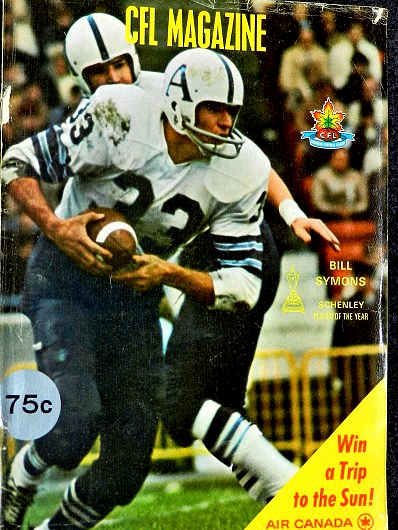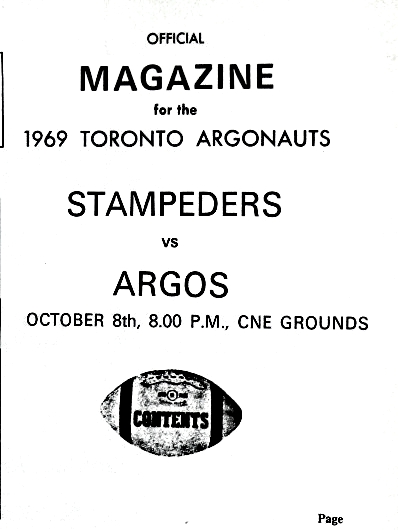 Bill Symons (33) graced the program–cover for the Oct. 8, 1969 game at CNE Stadium between the Argos and Calgary Stampeders. This was the best Toronto team since 1960, finishing 10–4–0, one game behind first–place Ottawa in the CFL East. The Argos upended a very good Stampeders club, 31–25, before a sold–out home audience of 33,135. The radio station today known as 680 News (CFTR) was still CHFI–680 in 1969 (bottom–left). All Argonaut games were called by John Badham and Norm Marshall, the latter, a fixture with Hamilton TV station CHCH, Channel 11. Among the Argos pictured (bottom–right) in the program was defensive back Gerry Sternberg (34) on the grass field at CNE Stadium with the 12,000–seat south bleacher in the background. That structure was demolished after the 1974 CFL season to make room for the V–shaped stand that would frame the baseball infield at re–named Exhibition Stadium once the Toronto Blue Jays arrived in 1977. Sternberg, from the University of Toronto, was the Argos' lone Jewish player in 1969.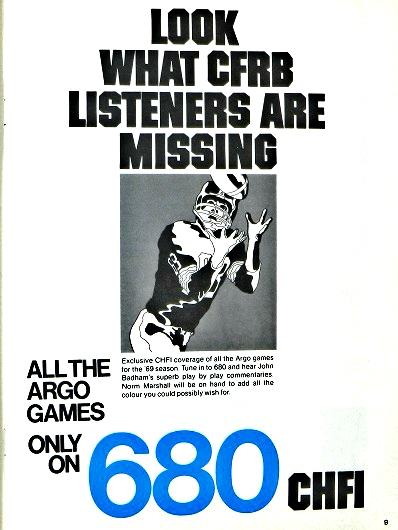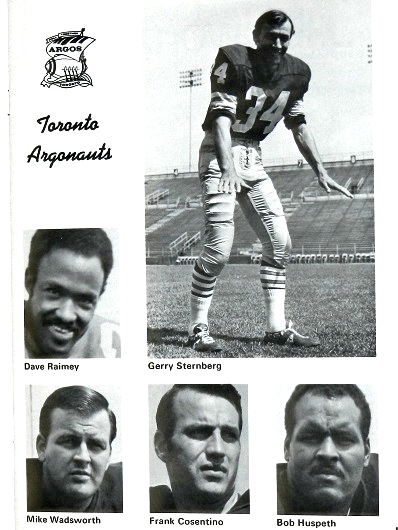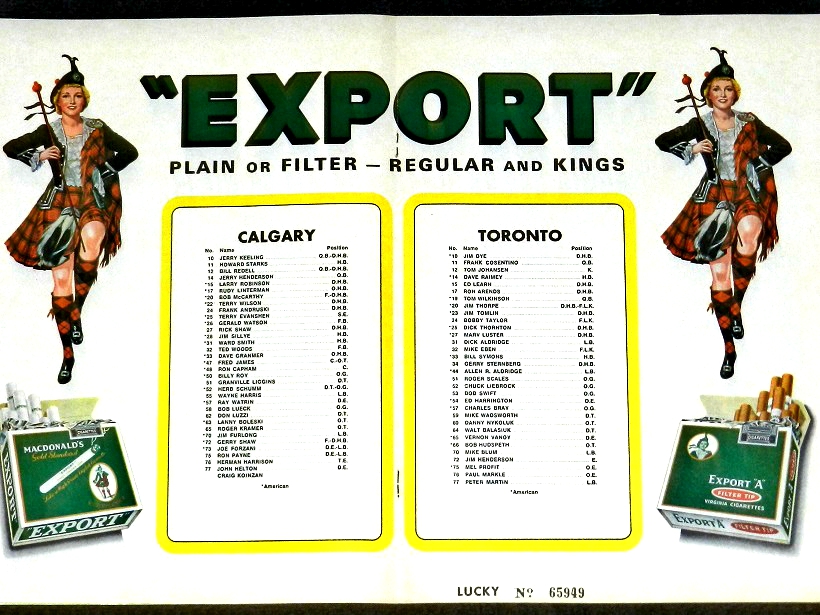 The Stampeders had represented the West in the 1968 Grey Cup game at CNE Stadium, losing to the Ottawa Rough Riders. Many of the players listed in the program (above and below) would be part of Calgary's 1971 championship team. The '69 Argos acquired running star Dave Raimey (14) from the Winnipeg Blue Bombers at the end of August, only to lose him to torn knee ligaments sustained during a 51–8 rout of Hamilton, at the CNE, Oct. 19. The Argos would defeat the Tiger–Cats in the East semifinal; then upend Ottawa, 22–14, in the opener (at CNE Stadium) of the two–game, total–points East final. After which, Leo Cahill infamously told a luncheon crowd it would "take an act of God" to keep his club out of the 1969 Grey Cup. The Rough Riders pounded Toronto, 32–3, the following Sunday on a slippery, frozen field at Lansdowne Park to win the two–game series, 46–25. Ottawa then beat Saskatchewan to capture its second consecutive CFL title.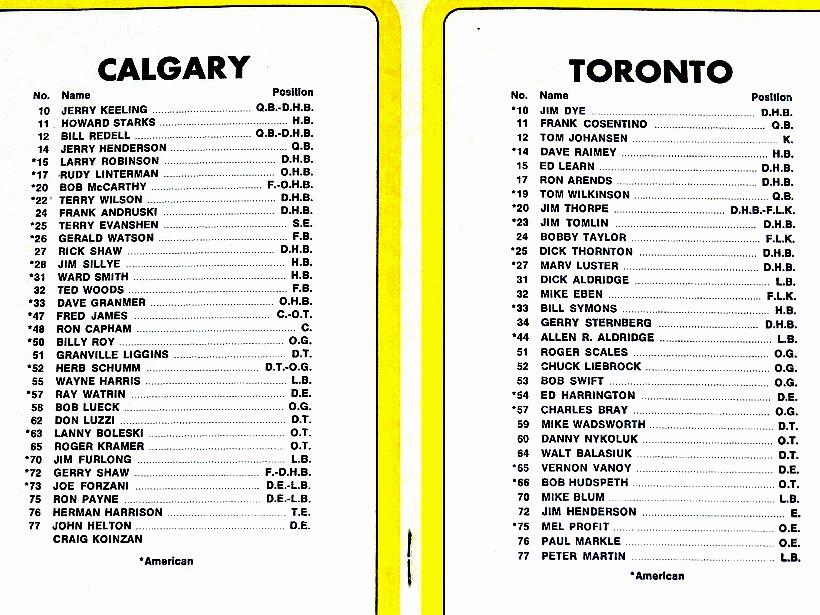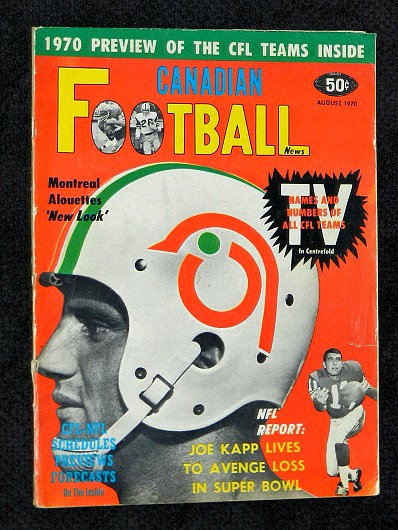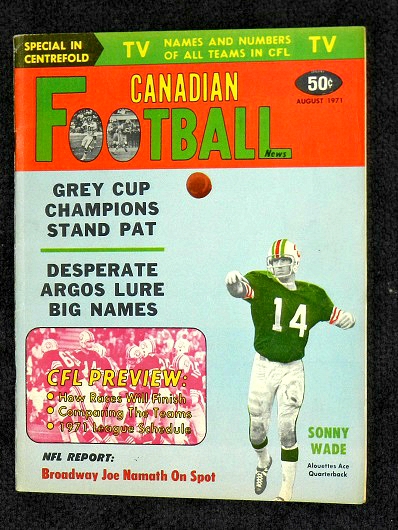 The cover of Canadian Football News magazines from August 1970 (left) and August 1971. Story, below, by the late Toronto Star columnist, Jim Proudfoot, in the 1970 issue. It seemed the Argos were chosen, rather unanimously, to win the Grey Cup every year in the late–60's and early–70's. Toronto players pictured were (left–to–right) wide receiver Bobby Taylor, running back Bill Symons and quarterback Tom Wilkinson.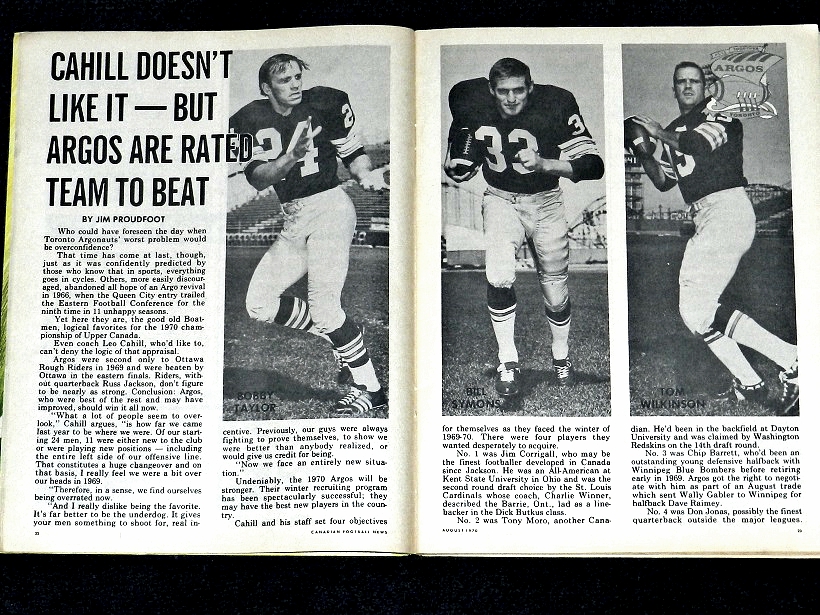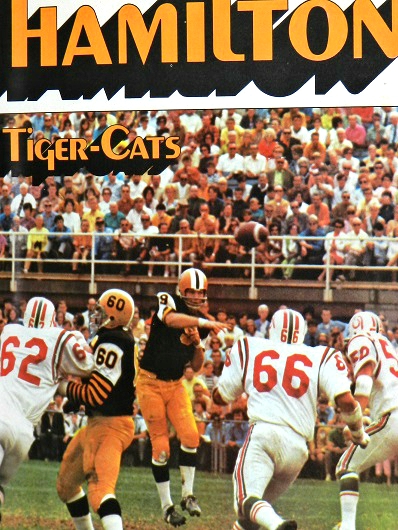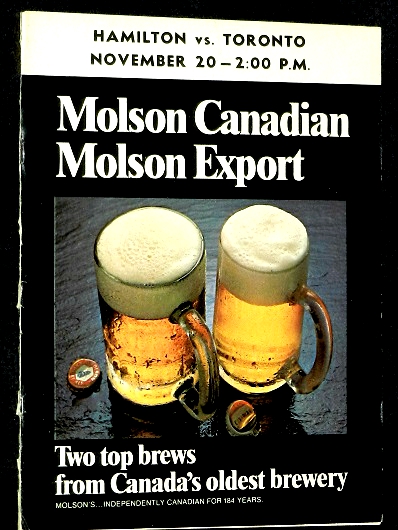 Program cover (top–left) and program–insert (right) from a joyous day in Argonauts history — the back end of the two-game, total–points Eastern Conference final at CNE Stadium in 1971 against the Hamilton Tiger–Cats. After winning the opener, 23–8, at Ivor Wynne Stadium the previous week, the Argos played to a 17–17 draw with the TiCats at home and took the series, 40–25, in front of a jubilant, sell–out crowd of 33,135. It sent Toronto to the Grey Cup game for the first time since 1952. Among the Argos' star performers of that era — and the city's most–popular figures — was tight–end Mel Profit (75, bottom–right).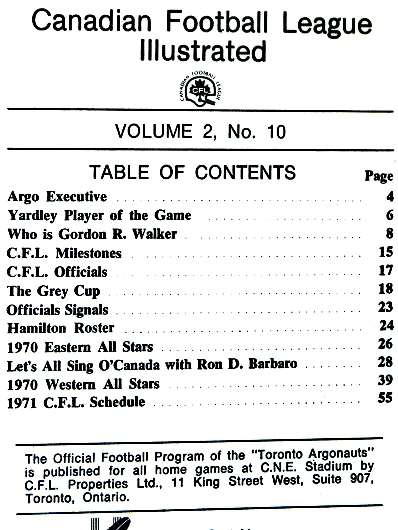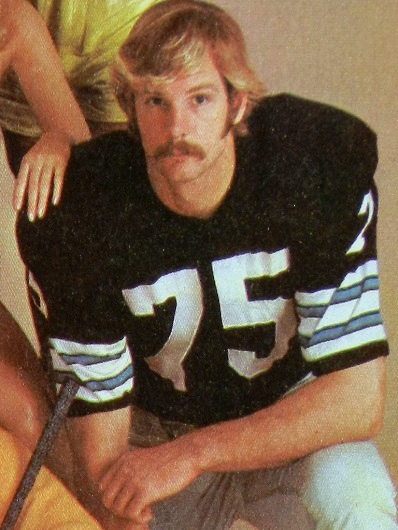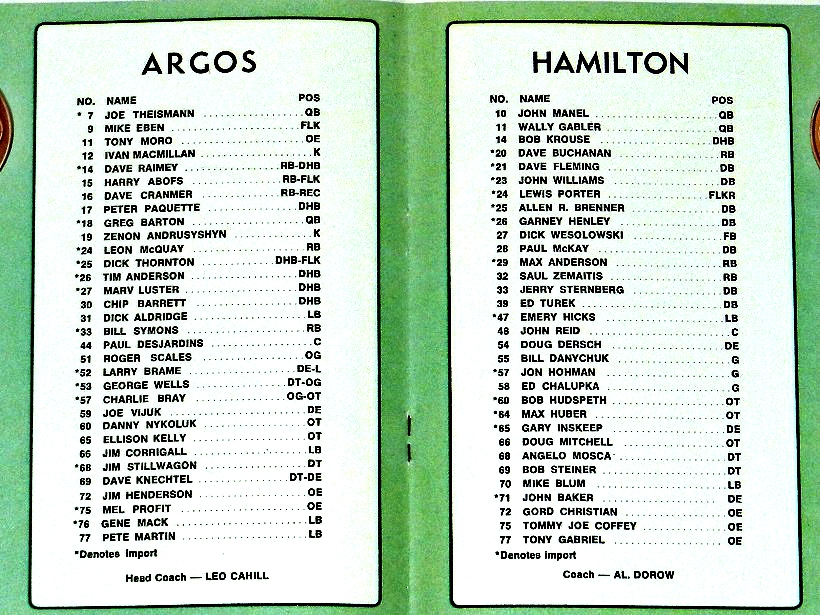 The 1971 Argonauts were engorged with a number of rookie stars culled, by Leo Cahill, from the American college ranks. Included, was quarterback Joe Theismann (7, Notre Dame), kicker Zenon Andrusyshyn (19, UCLA), running back Leon McQuay (24, University of Tampa), defensive back Tim Anderson (26, Ohio State), linebacker Larry Brame (52, Western Kentucky), defensive tackle George Wells (53, New Mexico State), defensive tackle Jim Stillwagon (68, Ohio State) and linebacker Gene Mack (76, University of Texas, El Paso). It ranks as, arguably, the most–prolific, off–season recruiting blitz in CFL annals. Toronto lost, 14–11, to Calgary in the 1971 Grey Cup after a fumble by McQuay (the East's most–outstanding player) at the Stampeders 11–yard–line in the dying moments precluded, at least, a game–tying field goal.
EMAIL: HOWARDLBERGER@GMAIL.COM