TORONTO (Aug. 13) — Let us compare words spoken, this week, by general managers of teams eliminated during the best–of–five qualifying round in the 2020 Stanley Cup playoffs.
First, from Hall–of–Fame builder Jim Rutherford of the Pittsburgh Penguins; his team the last to record consecutive National Hockey League championships (2016–2017). After a qualifying upset against Montreal: "It was so disappointing in Game 4. You're waiting for the desperation at the drop of the puck. It didn't come in the first period. It didn't come in the second period. And it was even worse in the third period. There's something wrong if you don't have the drive to win at that point in the series. Changes need to be made."
Then, from Kyle Dubas of the Toronto Maple Leafs, whose team gagged on a 3–2 series lead against Boston last spring; then couldn't hit the backside of a barn against Columbus in the qualifier this year, despite four forwards gobbling up more than $40 million of cap space: "I think the players who we have committed the salaries to are all extremely talented players. They all produce. They are continuing — especially Auston and Mitch and William, who are all very young — to improve and get better. [We will] not overreact, even though that may be what people want when things don't go as smoothly as you envisioned."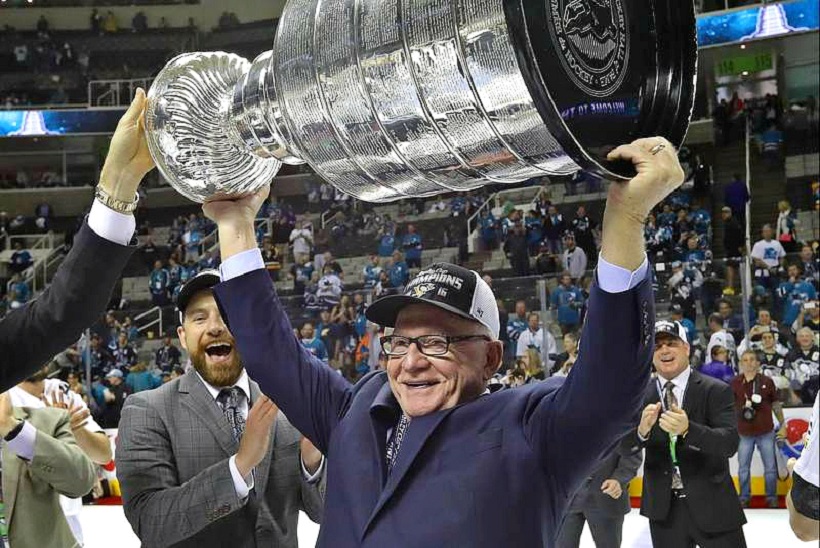 FAMILIAR SIGHT: PITTSBURGH GENERAL MANAGER JIM RUTHERFORD LIFTING THE STANLEY CUP.
As mentioned a gazillion times in this corner — and during many of the 17 years I covered the Leafs for The FAN–590 — urgency is not part of the franchise DNA. Here in Toronto, the business model looks after itself, unlike in Pittsburgh, where the Penguins drew flies in the calamitous years before Mario Lemieux arrived (in 1984) and Sidney Crosby (in 2005). Rutherford knows he has to keep his club near the top of the NHL or local interest in hockey will plummet. Pittsburgh, as everyone recognizes, is a Steelers town. The Leafs, by comparison, could dress 20 mannequins and fill Scotiabank Arena. As such, there is not even a hint of remorse or liability from the GM after his team loses in the first elimination round for a fourth consecutive year, extending a franchise–record drought to 16 seasons. Rutherford, with three Stanley Cups on his resume (the first, with Carolina, in 2006) is upset and will make changes. Dubas "still believes" in a core group that withers every year, like clockwork, in April and competes only sporadically. Why? Because he can.
Consequently, the only hope for Leafs Nation is that Dubas was fudging his words so as to not verbally depreciate assets; that he really doesn't view his current roster as the eighth holy sacrament. But, I wouldn't wager on it. Not after obsessively engorging the Leafs with skillful, passive workers that have choked off his roster maneuverability at the expense of dogged, determined players that rise to the occasion between April and June (August and October in this pandemic season). Even the most impassioned Maple Leafs observer knows the club has to ditch at least one major salary this summer in order to allow for a shred of roster balance in 2020–21. Yet, Dubas — apparently stubborn beyond reason — strongly hinted that all of John Tavares (who cannot be moved), Mitch Marner (who can, but shouldn't be), Auston Matthews (going nowhere for the next four seasons) and William Nylander (by far, the most–obvious trade chip) will return, despite the playoff bungling since 2017. If true, Leaf fans, get ready to rinse and repeat a year from now.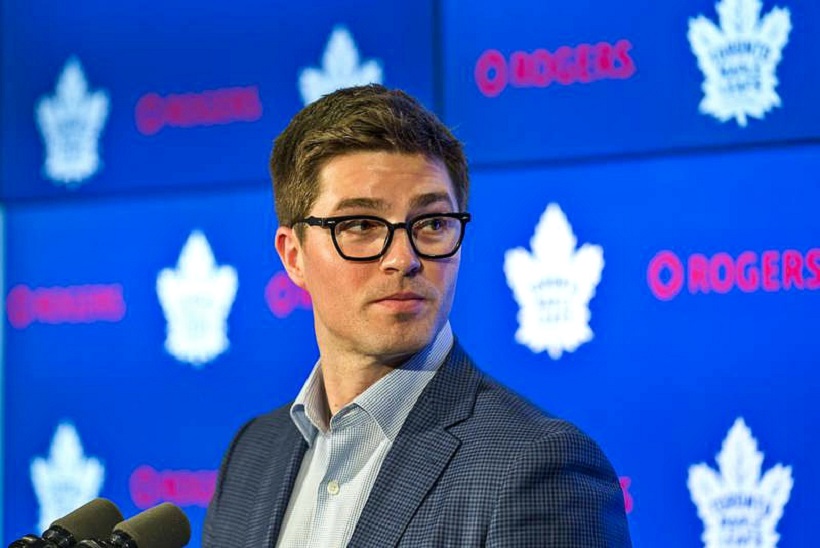 LEAFS GM KYLE DUBAS: HAIL… HAIL… THE GANG'S ALL HERE.
Interestingly, though unsurprisingly, there wasn't a word written about the Leafs goaltending conundrum in end–of–season media dispatches. This was expected from those that cover the Leafs for team–owned TSN and Sportsnet… and from other cheerleaders in the mainstream media. Unless I missed it, however, I expected to read something about the club's most–grievous playoff obstacle from such–astute columnists as Dave Feschuk (Toronto Star), Steve Simmons (Toronto Sun) and Cathal Kelly (Globe and Mail). I can therefore only assume the local hockey media believes the team can challenge for the Stanley Cup with Frederik (Soft Goal) Andersen — a preposterous claim. If keeping Andersen for the final year of his $5 million contract is the path of least resistance, expect Dubas to comply. Same, apparently, with his Big 4 forwards. It will be easier to reassemble for another futile attempt with the same group than to acknowledge any misjudgment and go back on such an absurd vow as telling Nylander (without a corresponding contract clause) that he won't be traded. I mean, what is there to risk by standing pat? Nothing economical, I can assure you.
And, what about Brendan Shanahan, who anointed Dubas to the manager's chair in place of Lou Lamiriello? If the Leafs come up lame again next season, how could Shanahan fire his personal boy wonder and then look himself in the mirror? And, despite a six–year contract extension last summer, how much longer will Shanahan be the apple of Maple Leaf Sports and Entertainment's eye… should his club continues to fizzle?
At the moment, these are questions without answers.
EMAIL: HOWARDLBERGER@GMAIL.COM