**BREAKING (Aug. 22, 8 p.m. EDT): MIKE MILBURY HAS BEEN EXCUSED BY NBC SPORTS FOR THE REMAINDER OF THIS YEAR'S STANLEY CUP TOURNAMENT.**
TORONTO (Aug. 22) — As of this morning, Mike Milbury was still employed as a hockey analyst for NBC Sports, a position he has held since parting company with the New York Islanders in 2007. Milbury did not work, as scheduled, Game 6 of the Montreal–Philadelphia Stanley Cup playoff series Friday night after the network and the National Hockey League censured him for an observation made over the air on Thursday.
While calling the Islanders–Washington match with John Forslund, Milbury commented on the NHL "bubble" environment, saying "there are not even any women here to disrupt your concentration." For those familiar with the former Boston Bruins defenseman, it was a characteristic attempt at irreverence and hardly the most–abhorrent remark in the history of sports broadcasting. In our touchy–feely universe, however, it went over like a lead balloon, initiating the predictable sh**–storm on social media. Given the firing of Don Cherry by Rogers Communications last November for a similarly insensitive, yet benign, comment, I don't like the odds of Milbury keeping his job. Network bigwigs, today, seem to look for the most–convenient excuse to terminate a pundit that offers strong opinion, which has always been the hallmark of sports commentary. And, of course, to save money, which Rogers accomplished by the bushel–full in removing Cherry. In our environment of correctness and decorum, it was plain stupid for Milbury to let out a one–liner about the opposite sex. Of course, if a woman broadcaster had said "there aren't even any fellow men to disrupt your concentration," it would have drawn a chuckle as a temperate wisecrack. Not so the other way around. As such, and likely contingent upon whether the uproar continues, Milbury is walking a tight–rope today.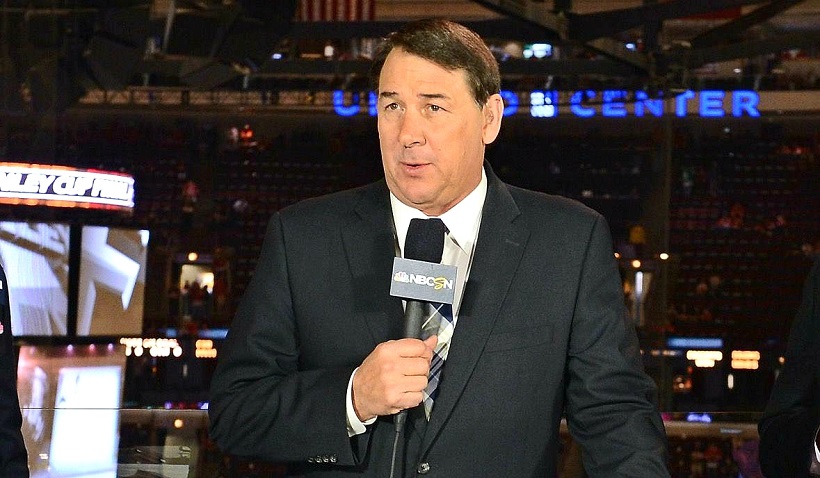 MIKE MILBURY COMMENTS FOR NBC SPORTS FROM THE UNITED CENTER IN CHICAGO.
If he is canned by NBC, it will leave Brian Burke of Sportsnet as the last man standing among those, in network hockey, that offer blunt, assertive narration. Perhaps Brian is too savvy to fall into the Cherry–Milbury trap, yet words on live media occasionally manifest and cannot be choked back. I got into trouble, some years ago, after making a comment on The FAN–590 that defamed the alleged character of Sean Avery, for Crissakes. Thousands may have been cheering my slipshod remark, but the law is the law.
Since he first appeared on Sportsnet and Hockey Night In Canada last year, I have loudly commended Burke as the best addition to sports analysis, in recent memory, across the land. I maintain he is being underutilized by the network, particularly during game telecasts, and have often wondered if he is satisfied with his role. In that vain, I emailed Brian on Friday, asking if he'd give me a quick call on the telephone. That he chose not to was disappointing, though hardly a surprise. Dating to his years as general manager of the Toronto Maple Leafs — and to my final years covering the team for Canada's first all–sports radio station — Brian hasn't thought much of me, personally or professionally. Which is his prerogative. My attitude toward him changed irreversibly when his son, Brendan, was killed in an auto accident just days before the 2010 Vancouver Winter Olympics. That Brian summoned the courage and fortitude to attend the Games as GM of the United States men's hockey team was the most–inspiring act of my 23 years in radio. But, I digress.
Several months ago, I was told by a Rogers "insider" that Burke's profile on Hockey Night In Canada would increase. Whether or not the pandemic interruption curtailed those plans, I cannot answer. Earlier this month, however, an email arrived from a former Sportsnet employee — instantly recognizable to all hockey fans in Canada. It read: "Just one note, confidentially, on your Brian Burke comment. [Rogers] will never again build up or create as big a star as 'Grapes' (Cherry). They want inner–replaceable pieces that don't ask for big dollars or hold them hostage, as 'Grapes' did. Creating stars based on longevity; those days are over."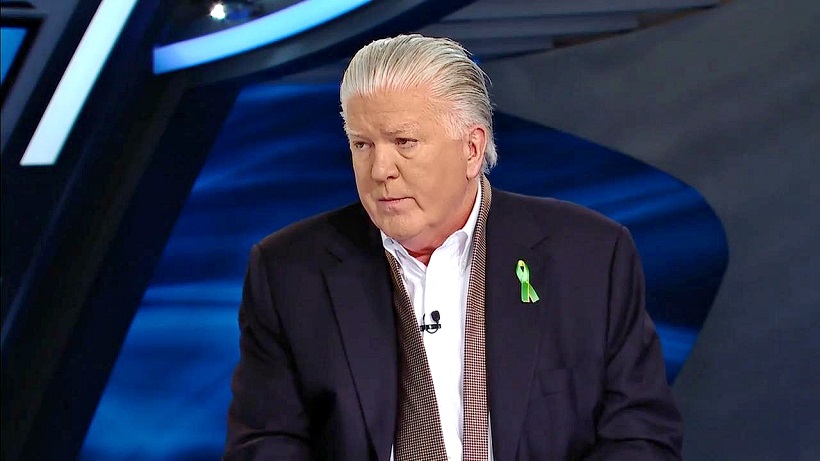 BRIAN BURKE, IN FULL EXECUTIVE COSTUME, OFFERS AN OPINION FOR SPORTSNET.
Whether this was inside information, or opinion, I found it intriguing. As I've written here on numerous occasions, Rogers went on a dumping spree last year in order to save its media wing from catastrophe, given the ridiculous, 12–year, $5.2–billion contract it agreed to in 2013 for national broadcast rights to the NHL. The six and seven–figure salaries of Cherry, Bob McCown, Nick Kypreos, Doug MacLean, John Shannon, George Stromboulopoulos, Bob Cole and Paul Romanuk were chopped, several years after the company's best game–analyst, Glenn Healy, suffered the same fate. So, sadly, it does appear as if Rogers is "holding back" on Burke, lest he become popular in the Don Cherry realm and derive a commensurate salary.
With Milbury, as of this writing, still on the NBC payroll, Burke at least has a hockey counterpart south of the border. If Milbury is rinsed for his comment about women, Brian will move into the on–deck circle.
Sadly, and unnaturally, he'd best be very careful.
EMAIL: HOWARDLBERGER@GMAIL.COM