TORONTO (Aug. 8) — It has never happened before and we'll likely not see it again.
What the Maple Leafs pulled off at Scotiabank Arena Friday night was merely the greatest comeback in franchise history. Regular–season, play–in or playoffs. You know the story: Facing elimination against the Columbus Blue Jackets with a 3–0 deficit and just more than four minutes left in regulation time, coach Sheldon Keefe pulled goalie Frederik Andersen for a sixth attacker. What, in his mind, was the difference between losing 3–0 or 4–0? With 3:57 to play, William Nylander shoveled the puck under Blue Jackets goalie Elvis Merzlikins. A minor victory… at least the locals would avoid being shut out. Then, lightning struck. As only it can when these Leafs switch to desperation mode with an extra skater. How many times have we seen it… under Keefe and Mike Babcock? A deficit of one or two goals erased by Toronto's big sticks in the dying moments. But, three goals? In an elimination "playoff" game? Never. Not once. And, not again. John Tavares scored 51 seconds after Nylander and Zach Hyman topped the inconceivable with 23 seconds left.
Of course Auston Matthews won the game in overtime, even if it required 13 minutes and 10 seconds.
But, I ask: Was I the only observer watching this miracle unfold on television and bemoaning that it occurred in an empty arena? When Morgan Rielly coughed up the puck to Boone Jenner for what was surely the final nail in the Maple Leafs coffin — the 3–0 goal with 5:42 remaining — I could well imagine the stunned silence mixed with scattered booing from 19,000–plus spectators. If you have followed the Leafs for any length of time, the noise I'm describing would be the millennial soundtrack to a team record–album. The Air–out–of–the–balloon Centre. Now Scotiagroan Arena. And then, far–more unimaginable, the cacophony that would have rattled the girders when Hyman knotted the count in the final half–minute. Probably louder and more unrestrained than after the overtime winner; at that point, all–but ordained. Instead, we were treated to the vague tone of a goal–horn drowned out by tempered, artificial crowd noise. Think about it: When you consider the multitude of misdeeds authored by this blundering franchise in the past 53 years, how could, arguably, the most–captivating, enthralling moments since May 2, 1967 occur with no one in attendance?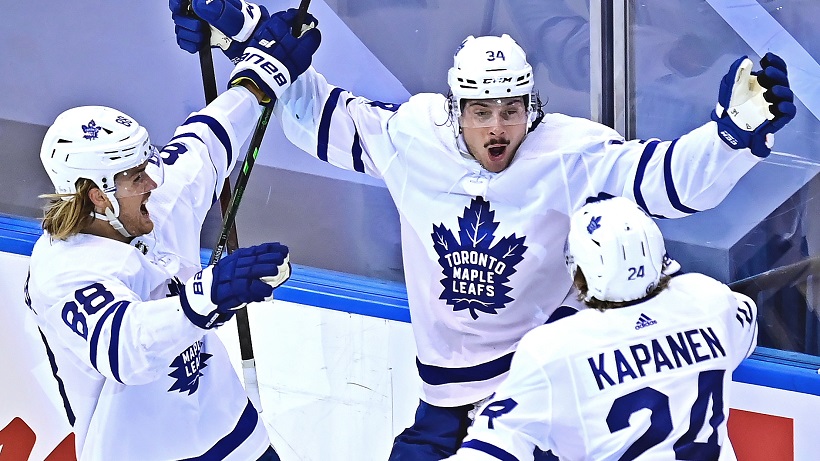 IT'S OVER. AUSTON MATTHEWS FINISHES THE MOST–ENTHRALLING COMEBACK IN MAPLE LEAFS FRANCHISE HISTORY. SETTING UP GAME 5 WITH THE COLUMBUS BLUE JACKETS SUNDAY NIGHT. CANADIAN PRESS PHOTO
If that, too, doesn't seem ordained by a higher power, you haven't been paying attention.
And, it's the reason I have droned on about viewing this gimmicky, made–for–TV competition with many grains of salt. I'll say it again: Though, as a Leafs fan, your Dopamine levels soared out of control Friday night, this is not the Stanley Cup that should end your half–century drought. Neither am I anointing the Maple Leafs such an accomplishment while still in the qualifying round. But, it doesn't take a hockey genius to understand things are happening that would otherwise have not occurred without the COVID–19 interruption. The Montreal Canadiens, missing the playoffs for the fourth time in five seasons, could have upset the Pittsburgh Penguins only in a video game. Same with the Arizona Coyotes and their elimination of Nashville. The Edmonton Oilers would have qualified for the Stanley Cup tournament, but could not have been sent packing by Chicago: six points out of wild card territory in the Western Conference with five teams blocking its path. So, again, I use the word gimmicky. Yes, it's fun to watch hockey again, but this stand–alone event, occurring nearly five months after the regular schedule, is being taken far–more seriously than it should… by fans and knowledgeable members of the hockey media on both sides of the closed border.
Toronto fans, for example, have been warbling on–line about the club dismissing general manager Kyle Dubas if it fails to knock off the Blue Jackets. Does anyone honestly believe it would be fair to make an employment decision in such an offbeat circumstance? I certainly do not. Heck, if the Maple Leafs drop Game 5 to Columbus on Sunday, it won't be considered a fourth consecutive playoff loss in the opening round. We aren't even in the playoffs. This best–of–five exercise is merely for the privilege of qualifying; thus the bizarre presence of Montreal, Arizona and Chicago in the actual 2020 Cup tournament. Once again, I implore you to not equate this competition with anything previously involving his Lordship's mug.
And, perhaps we here in the eastern part of Canada haven't experienced the biggest calamity of all. Imagine the Leafs and Canadiens somehow catching fire and hooking up in the playoffs for the first time in 41 years.
With nobody allowed to watch in person.
Oy… and vey.
"OH, WHAT A NIGHT…"
With apologies to Frankie Valli, it was "mid–December, 1963″ and the Toronto Maple Leafs were in the thick of their Stanley Cup dynasty under Punch Imlach. I stumbled, the other day, upon really old issues of The Hockey News in my collection, dating to nearly 57 years. The edition of Dec. 14, 1963 detailed a donnybrook at Maple Leaf Gardens between Toronto and Chicago (sparked, perhaps, by the late Edward Shack?). There was also mention of a crew–cut, 16–year–old defenseman with the Oshawa Generals of the Ontario junior circuit that would become rather famous within three years. As you prepare for Game 5 between the Leafs and Blue Jackets, enjoy this reflection from the old six–team NHL: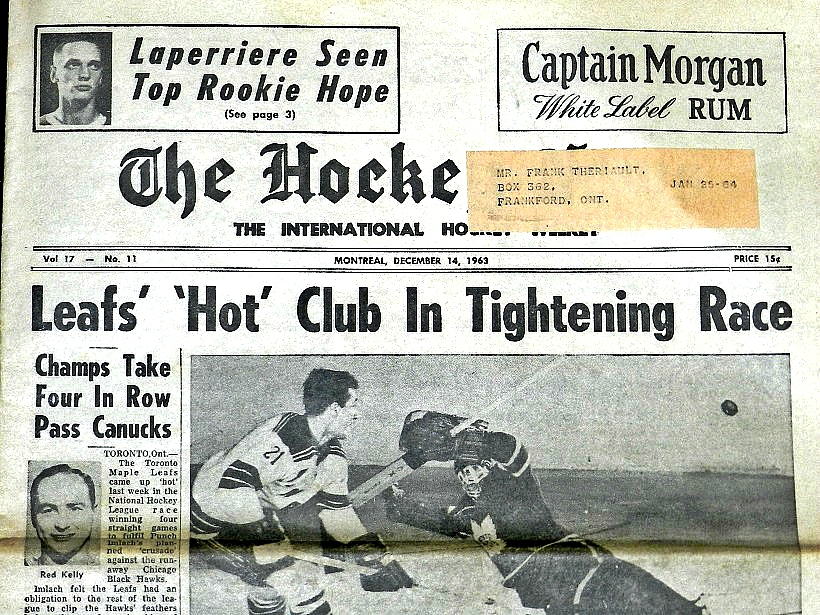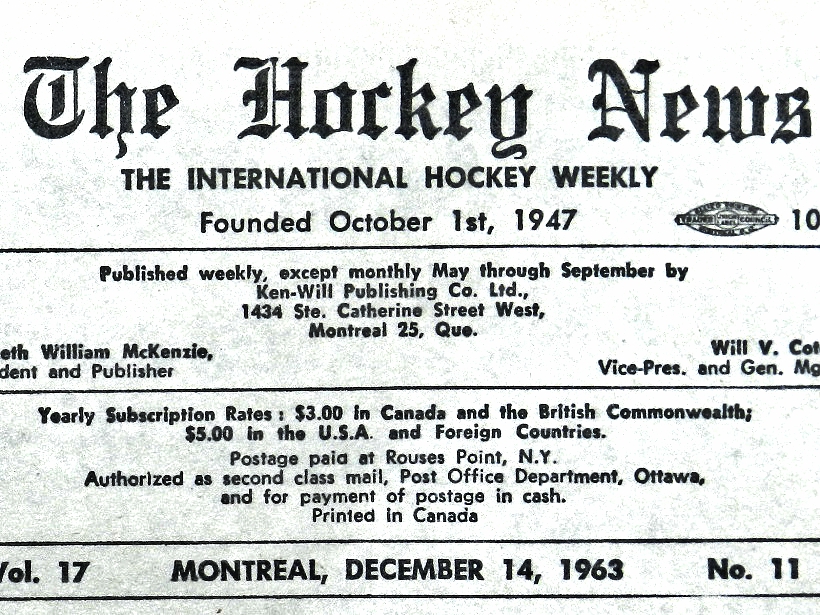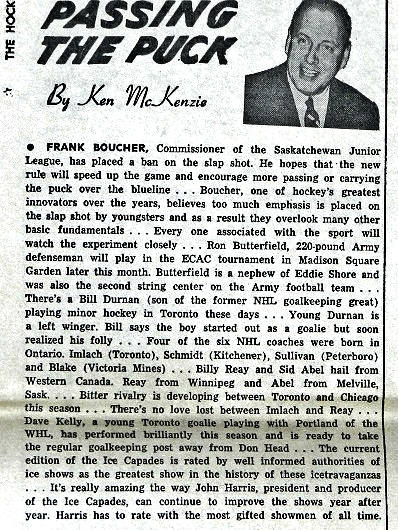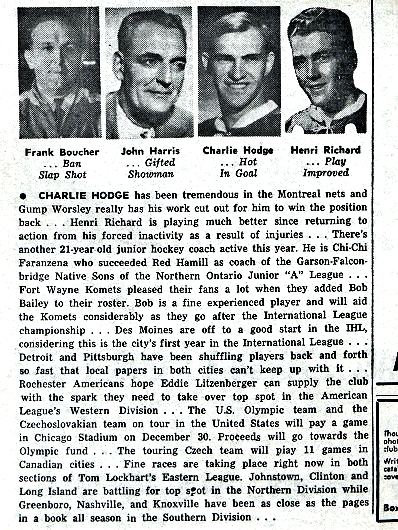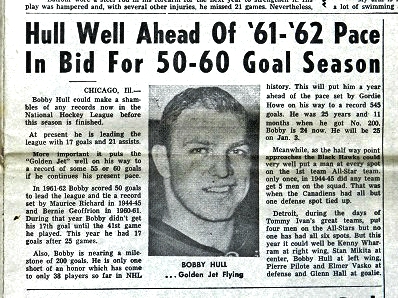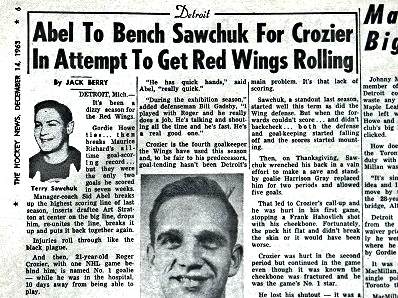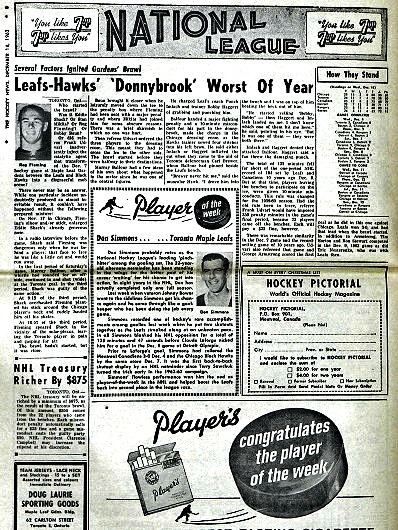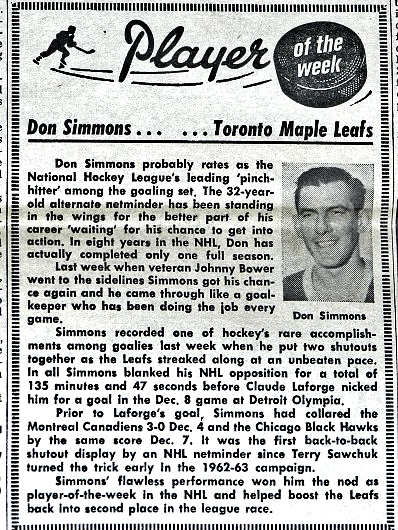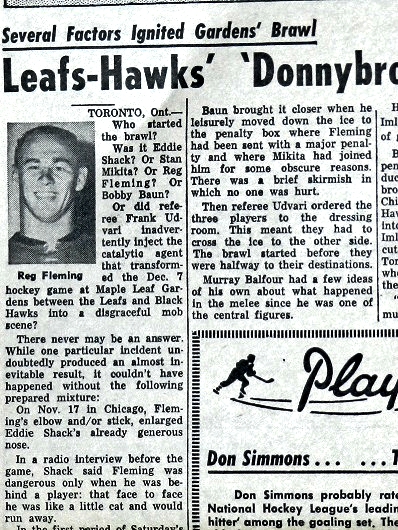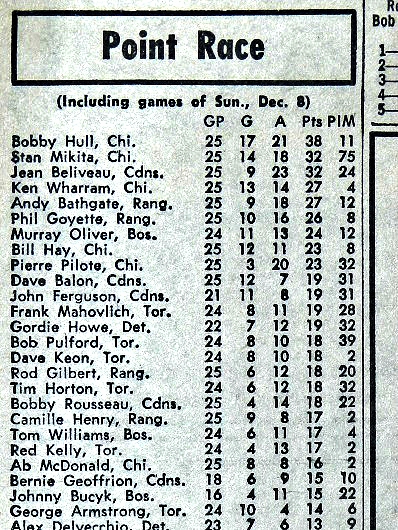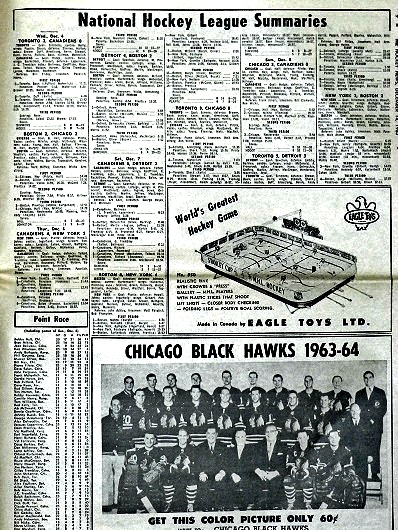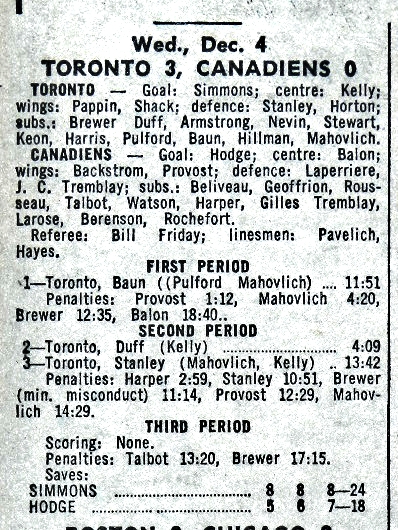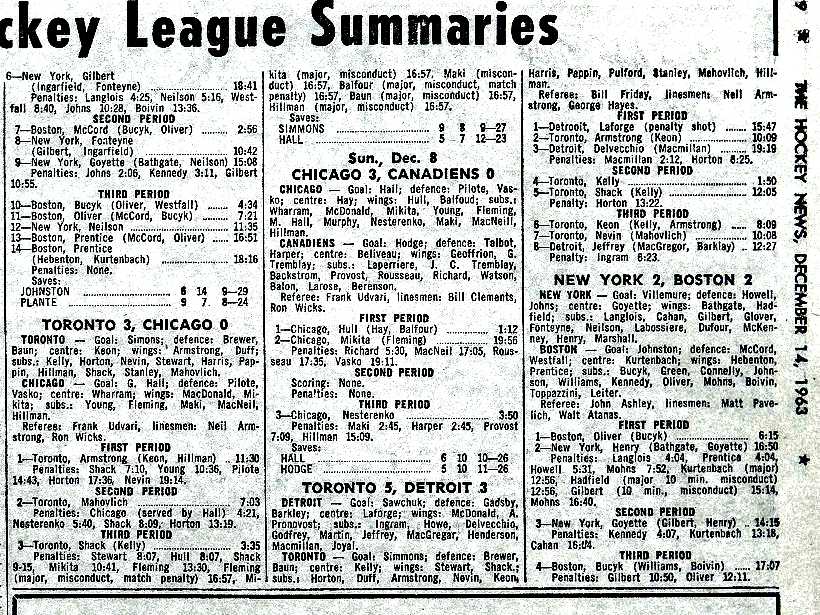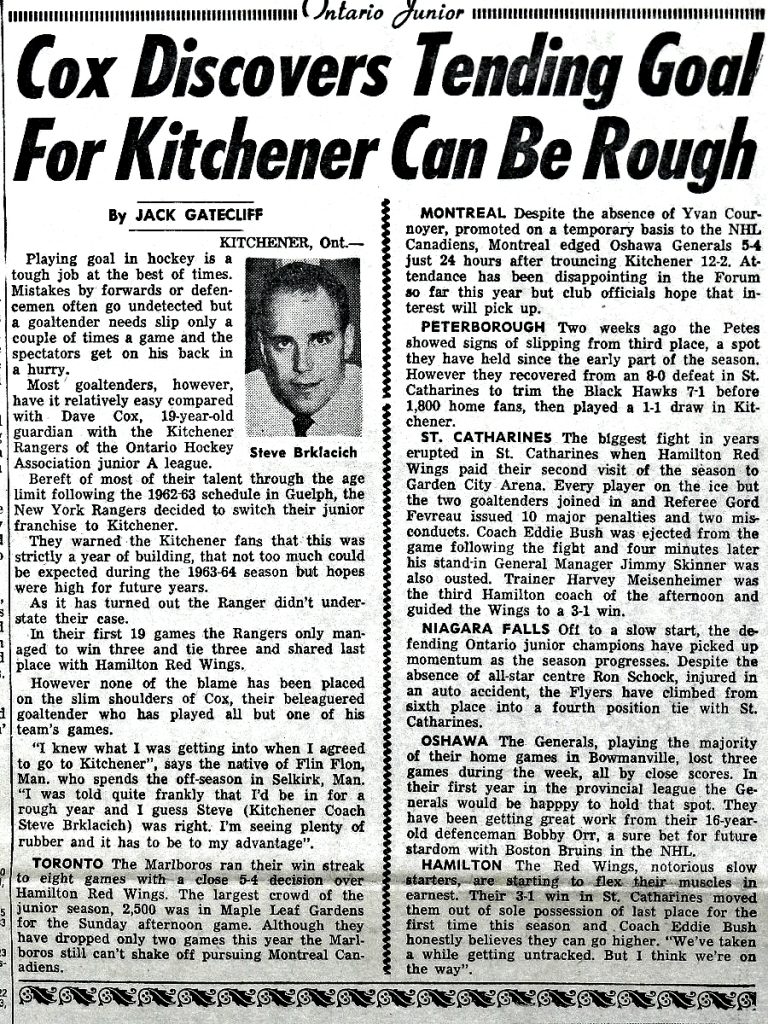 EMAIL: HOWARDLBERGER@GMAIL.COM