TORONTO (Aug. 20) — With the Maple Leafs continuing their one–and–done trend this season in opening, or qualifying, rounds of the Stanley Cup playoffs, general manager Kyle Dubas has incurred the wrath of fans and media (mostly the former); much of it warranted. Less deserving is the criticism toward his trade, last summer, of Nazem Kadri to the Colorado Avalanche for Tyson Barrie. The current uproar is grounded entirely in hindsight rather than a perpetuation of anxiety from the deal. Fact remains that the majority of observers, myself included, felt Dubas had done very well to acquire a top–pairing defenseman for a forward. The swap backfiring on the Maple Leafs — as it did — could not have been reasonably forecast.
Which, of course, isn't at all related to Kadri's prolific output in the 2020 Stanley Cup tournament: six goals (tied for first) and 11 points (tied for third) in eight games; Colorado making short work of Arizona in the opening round, prevailing in five. Remember, Nazem put up back–to–back 32–goal seasons for the Leafs; then 16 more as undoubtedly the best third–line center in the National Hockey League (behind John Tavares and Auston Matthews) last season. Many assume he was traded by Dubas for the consecutive suspensions incurred during the 2018 and 2019 playoffs against Boston, but I maintain his loss of composure resulted from mounting frustration as the only Toronto player willing to sacrifice himself. Kadri watched big–money teammates doing pirouettes against a gritty Division rival and probably saw himself on an island. There has been no–such misbehavior with a more–balanced Avalanche club; rather a deployment of the skill and tenacity that prompted Brian Burke to select him seventh overall (from the London Knights) in the 2009 NHL draft. Kadri's offensive eruption this summer should surprise no person that has followed his career.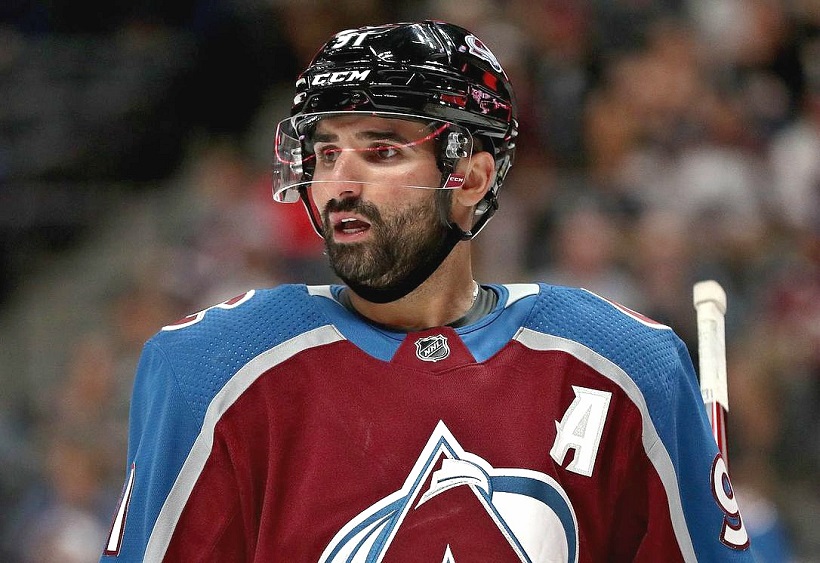 The same cannot be said for the regression of Barrie in a Leafs uniform. Neither is he the first good defenseman to plummet after arriving from another team; Hall–of–Famer Larry Murphy (1995–97) immediately comes to mind, and there are others. That stated, I have no idea why Barrie declined so noticeably this season. The notion, a year ago, of the Leafs allowing him to walk as an unrestricted free agent would have been preposterous. Yet, he became, in 2019–20, nothing more than a convenient salary dump. Having registered point–totals of 59, 57, 53 and 49 with the Avalanche, Barrie, a coveted, right–shooting defenseman, should have been the ideal compliment to Morgan Rielly, providing the Maple Leafs their best one–two punch on the blue line since Bryan McCabe and Tomas Kaberle in the early–2000's.
Instead, he appeared wonky and out of place from the outset.
In no way should this have been anticipated by Dubas when he acquired the Victoria, B.C. native (July 1, 2019). Though forfeiting the last vestige of belligerence on a soft team, Dubas had every right to believe he was acquiring a valuable offensive defenseman; one that might top his career–best 59 points while working the gifted Toronto powerplay. The sort of talent that is rarely available via trade; far more–so in free agency. Rather, Barrie stumbled to 39 points in 70 games, scoring once with the man advantage. Go figure.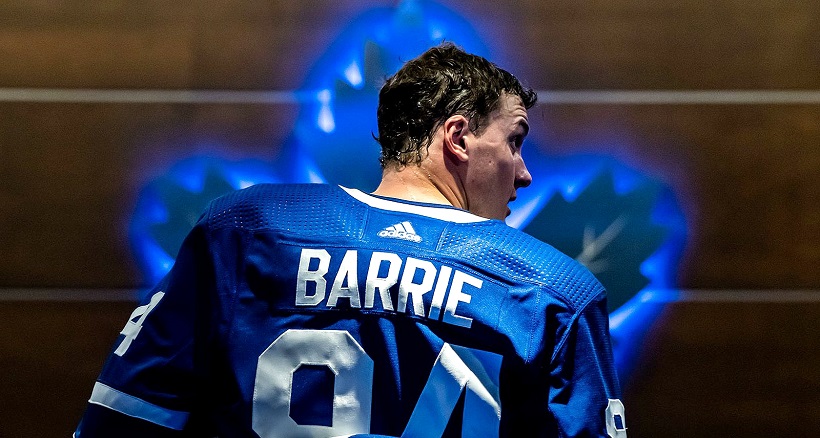 Now, Leafs Nation is clamoring for Kadri — one of the best people I dealt with in my years covering the team for The FAN–590 — forgetting that he, alone, could not embolden a passive club. Neither was he at all suited for a No. 3 role at center. Naz needed to play regularly, in all opportune situations, including the powerplay. In Denver, while riding shot–gun with Nathan MacKinnon, he scored 19 goals in 51 games, missing the final 19 matches of the pandemic–shortened season after sustaining a lower–body injury, Feb. 9, at Minnesota. If healthy, he could have threatened the 30–goal mark as a No. 2 pivot. The Leafs didn't need his numbers.
Dubas, instead, made what appeared to be a shrewd acquisition in Barrie.
But, you know what they say about best–laid plans. Especially pertaining to the Blue and White.
REMEMBERING DALE HAWERCHUK
The NHL family lost one of its brightest stars on Tuesday morning when Hall–of–Fame center Dale Hawerchuk died of stomach cancer at 57. During a brilliant, 16–year career (1981–82 to 1996–97) — mainly with the original Winnipeg Jets (now Arizona Coyotes); closing with Buffalo, St. Louis and Philadelphia — the Toronto native played 1,188 regular–season games. He scored 518 goals and added 891 assists for 1,409 points (20th, all time, in the NHL). Though among the top ten players in the NHL between 1982 and 1986, Hawerchuk rarely appeared on the cover of The Hockey News — owing, mainly, to the presence of Wayne Gretzky and Mario Lemieux. Gretzky and the Oilers won the Stanley Cup twice in that span. Lemieux burst upon the scene as a rookie with the Pittsburgh Penguins in 1984–85.
The Hawerchuk covers, here: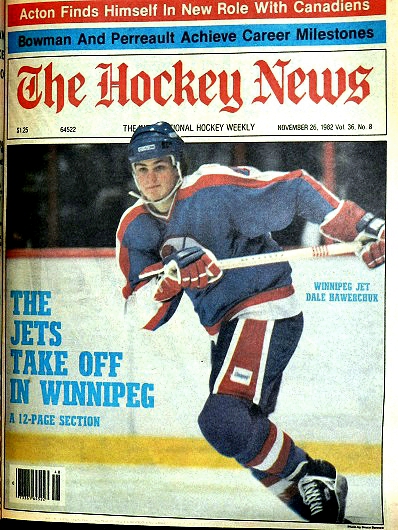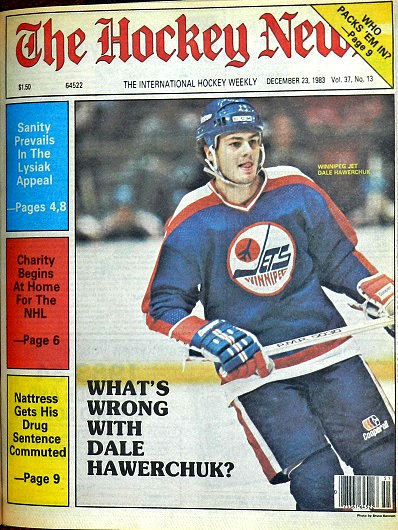 LEFT: NOV. 26, 1982 / RIGHT: DEC. 23, 1983.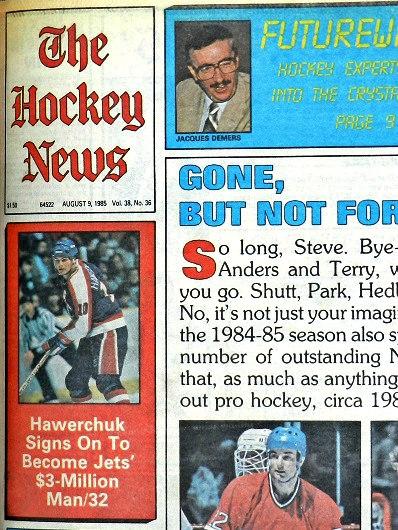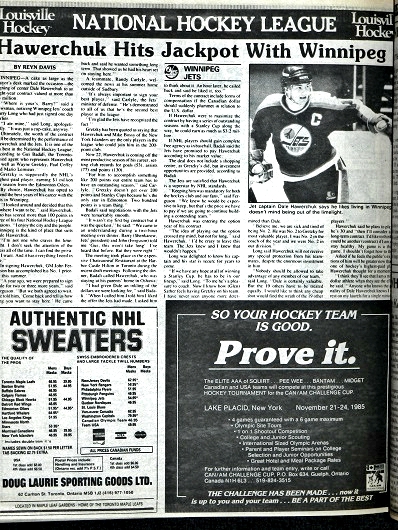 AUG. 9, 1985.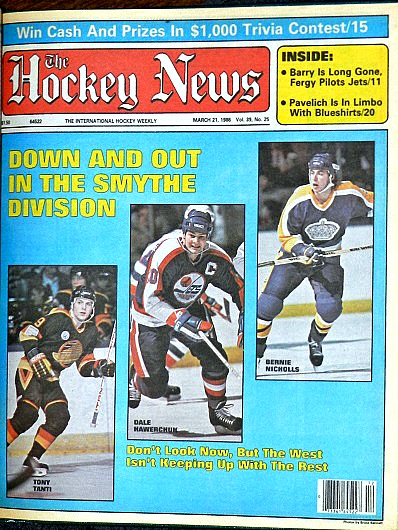 MAR. 21, 1986.
HAWERCHUK SCORING
In 1984–85, his fourth NHL season, Hawerchuk put up the best numbers of his career. Appearing in all 80 games with the Jets, he topped the 50–goal mark for the only time (53) and added 77 assists for 130 points. Just once, in 1992–93 with Buffalo, did Hawerchuk register more assists (80) in one season. Here are the summaries of 15 games in '84–85; Hawerchuk playing against Gretzky; rookie Lemieux; a second–year forward in St. Louis (and former Junior teammate with the Cornwall Royals) named Doug Gilmour… and others.
Dale centered a line with Brian Mullen (brother of Hall–of–Famer, Joe Mullen) and Paul MacLean (future coach of the Ottawa Senators). Also on that Jets team were former Leafs center Laurie Boschman; future Leafs defenseman Dave Ellett; coach Randy Carlyle and Thomas Steen, father of 2002 Leafs draft pick and current St. Louis veteran Alex Steen. The player named Ron Wilson is not the future Leafs coach (2008–12), but the Toronto–born center who played 832 NHL games from 1979–94 with the Jets, St. Louis and Montreal.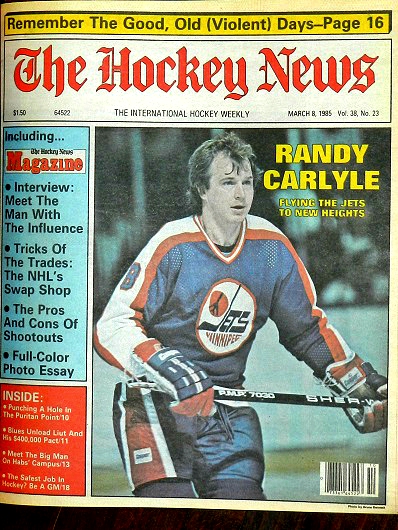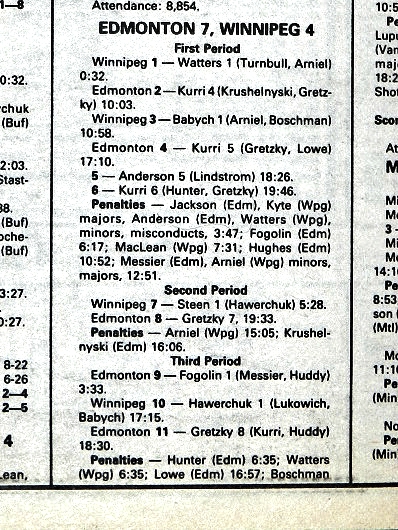 LEFT: WINNIPEG TEAMMATE RANDY CARLYLE HAD 51 POINTS WITH THE 1984–85 JETS. RIGHT: OCT. 19, 1984 — EDMONTON at WINNIPEG. HAWERCHUK SCORED HIS FIRST GOAL IN THE JETS THIRD GAME.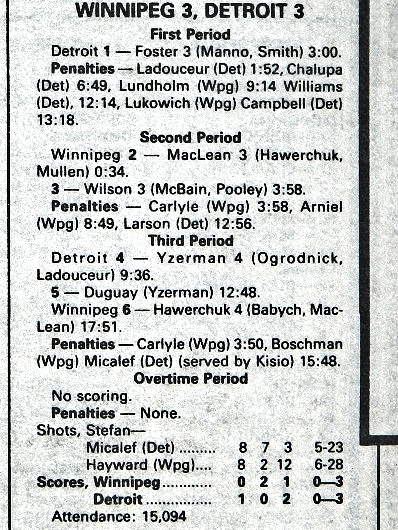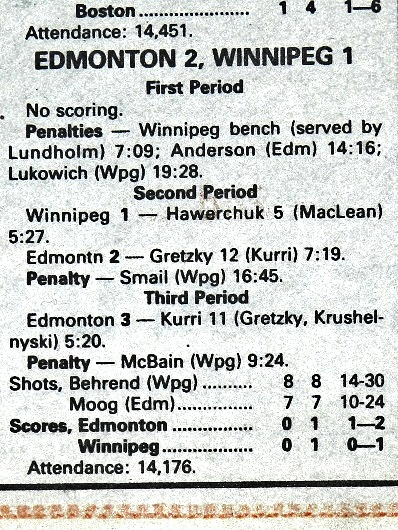 LEFT: NOV. 2, 1984 — WINNIPEG at DETROIT. RIGHT: NOV. 4, 1984 — EDMONTON at WINNIPEG.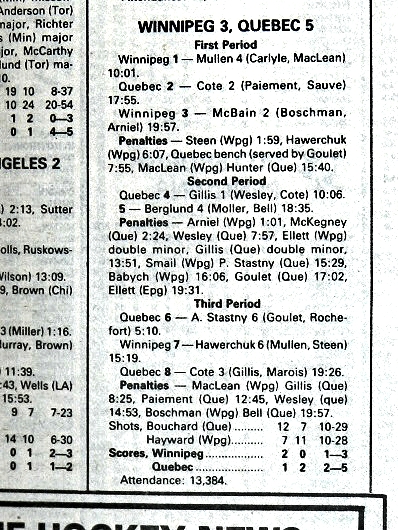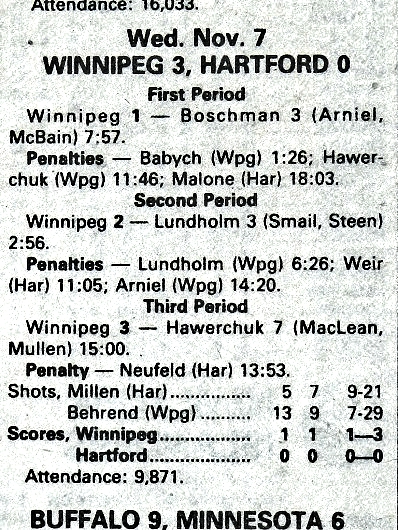 LEFT: NOV. 6, 1984 — WINNIPEG at QUEBEC. RIGHT: NOV. 7, 1984 — WINNIPEG at HARTFORD.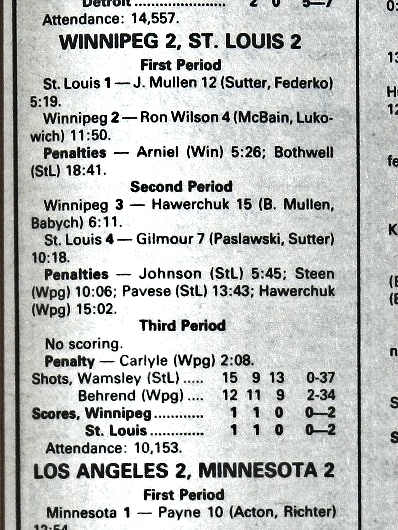 LEFT: NOV. 14, 1984 — PITTSBURGH at WINNIPEG (HAWERCHUK AND LEMIEUX FACE EACH OTHER FOR THE FIRST TIME). RIGHT: DEC. 4, 1984 — WINNIPEG at ST. LOUIS (HAWERCHUK AND GILMOUR).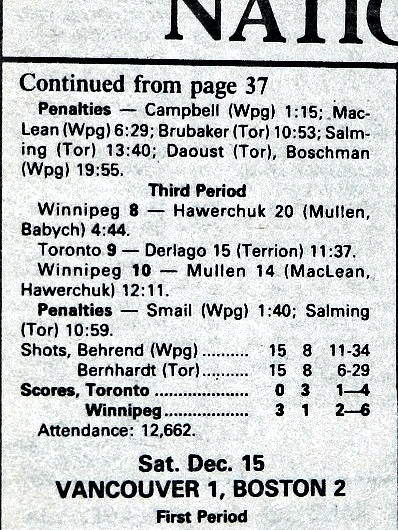 DEC. 14, 1984 — TORONTO at WINNIPEG.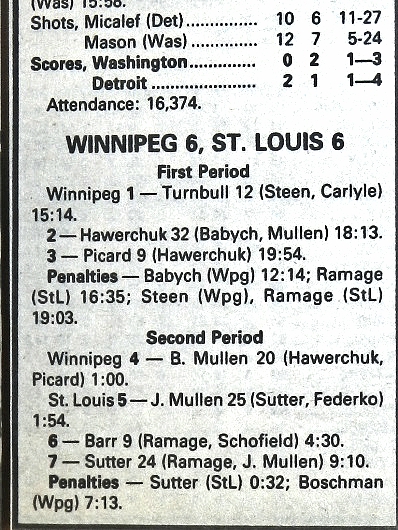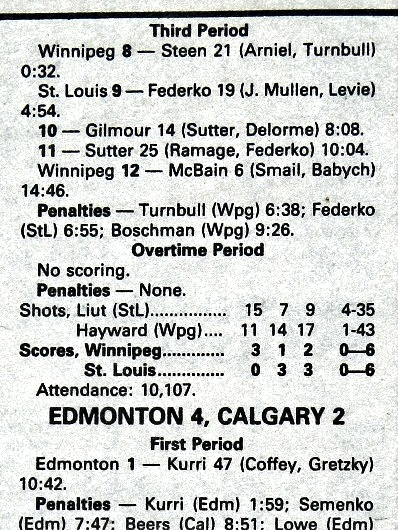 JAN. 29, 1985 — WINNIPEG at ST. LOUIS.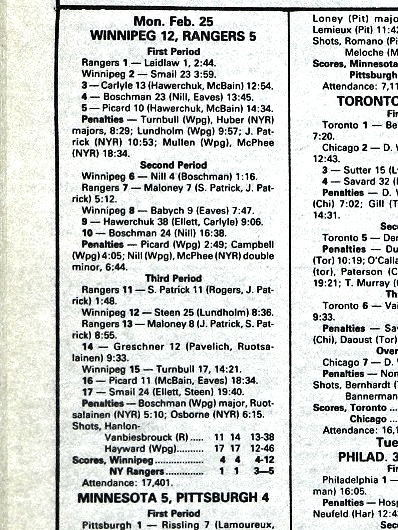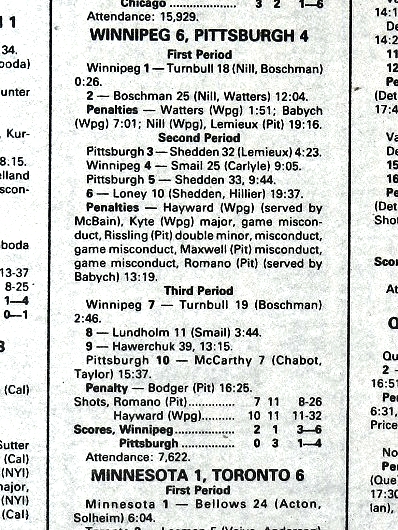 LEFT: FEB. 25, 1985 — WINNIPEG at NEW YORK RANGERS. RIGHT: FEB. 27, 1985: WINNIPEG AT PITTSBURGH.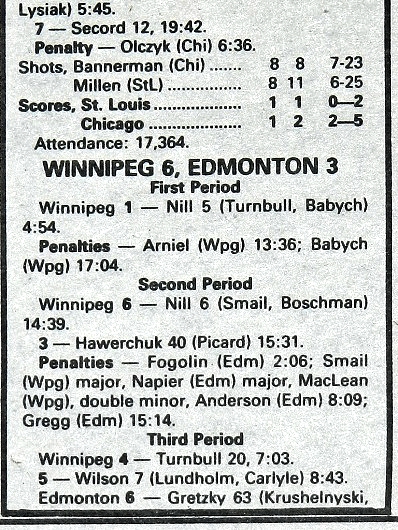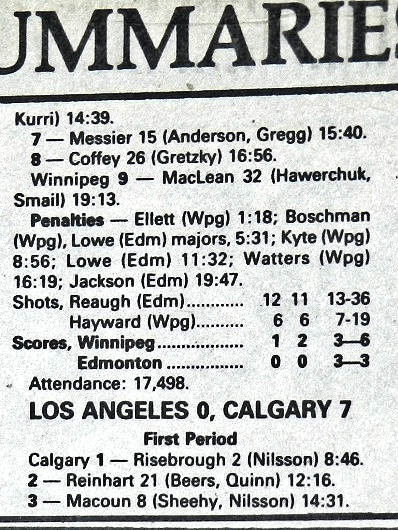 MAR. 3, 1985 — WINNIPEG at EDMONTON.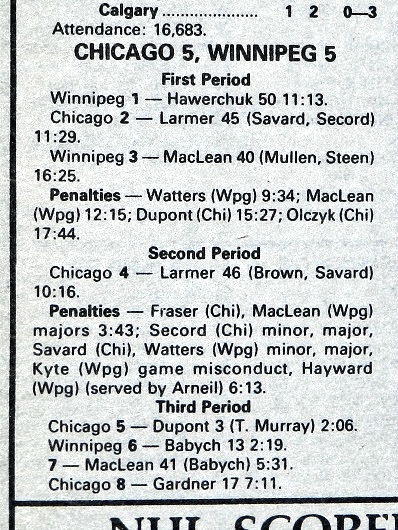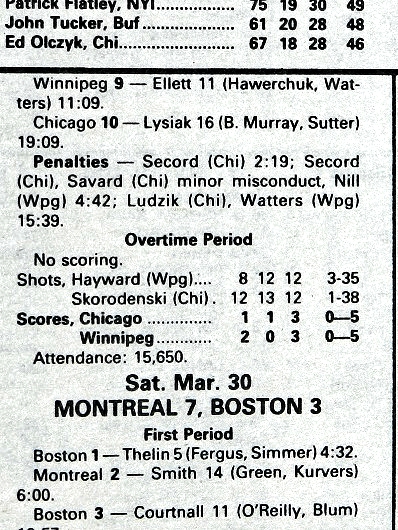 MAR. 29, 1985 — CHICAGO at WINNIPEG (HAWERCHUK SCORES 50th GOAL).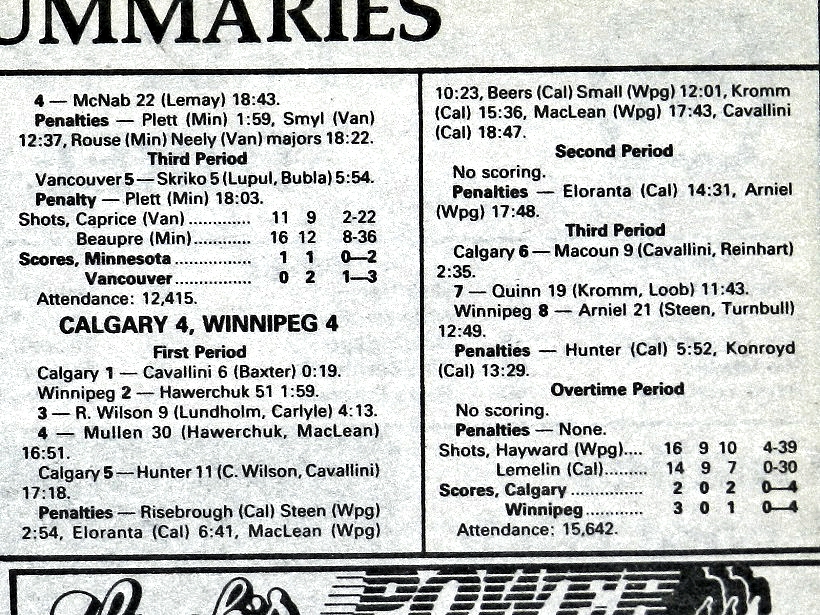 MAR. 31, 1985 — CALGARY at WINNIPEG.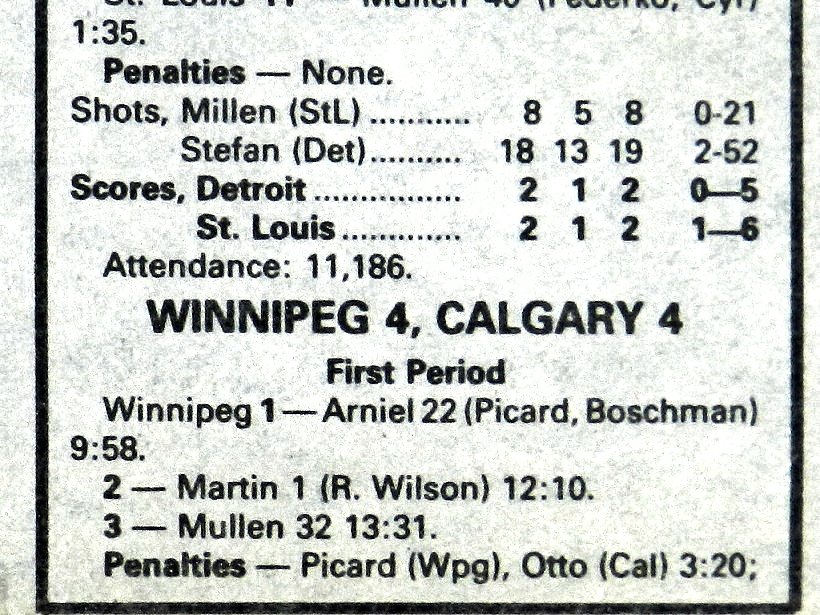 APR. 7, 1985 (ABOVE and BELOW) — WINNIPEG at CALGARY (SEASON FINALE).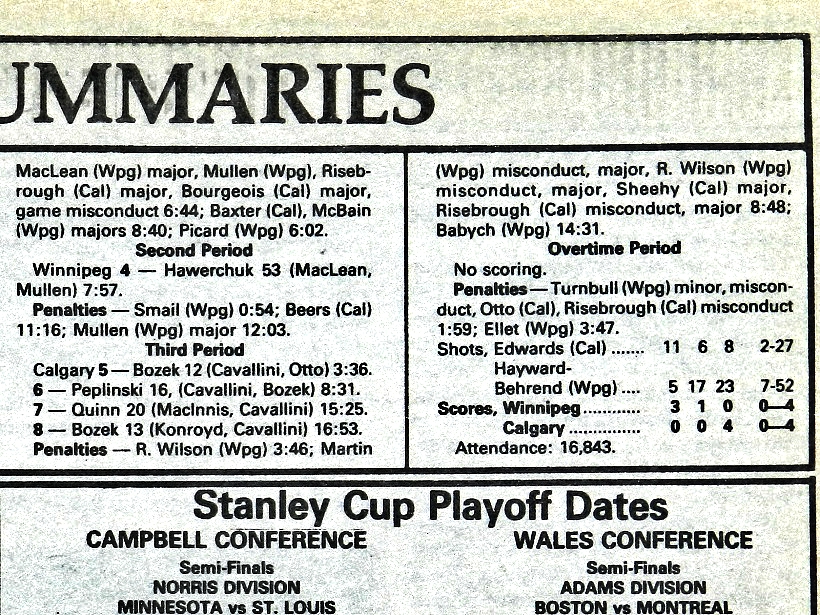 EMAIL: HOWARDLBERGER@GMAIL.COM