TORONTO (Aug. 4) — Game 2, this afternoon (at 4 o'clock) of the made–for–TV Stanley Cup tournament represents the final opportunity, in my view, for Frederik Andersen to prove he's a playoff–worthy goaltender. If the Leafs fall behind Columbus 2–0 in the best–of–five qualifying series — and Jack Campbell is not between the pipes on Thursday, facing elimination — serious questions will remain unanswered.
Such as: What do the Maple Leafs owe a netminder that comes into today's match with an 8–12 playoff mark and a bloated, 2.94 goals–against average? Given the Leafs almost–certainly will not re–sign Andersen when his contract expires after next season, when does it become time to look at someone else in a high–leverage situation? And, why stick with a man that offsets brilliant saves by allowing ugly, untimely goals such as in the scoreless third period of Game 1 against the Blue Jackets? Continuing a pattern established in the past two Games 7 against Boston? These questions are simply rhetorical. The Leafs owe Andersen nothing.
They do, however, owe their long–tormented fans a moment or two of thinking outside the box.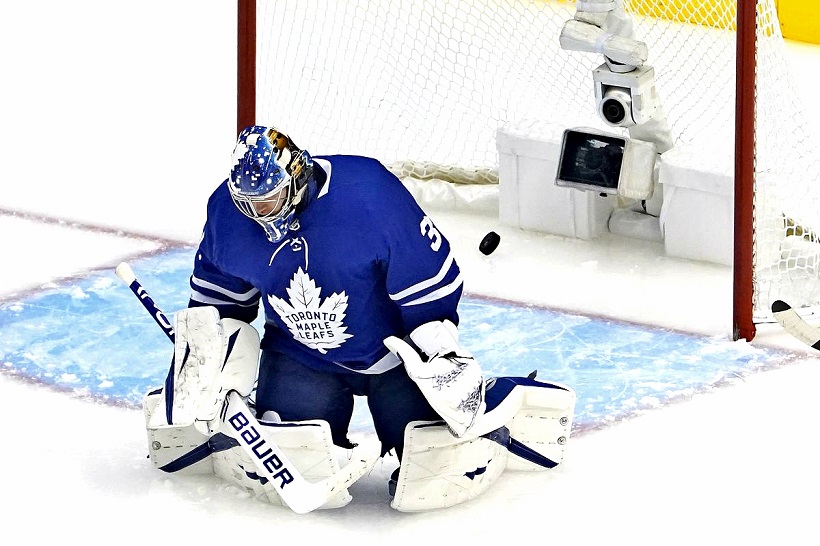 LEAFS GOALIE FREDERIK ANDERSEN WHIFFS ON A THIRD–PERIOD SHOT BY CAM ATKINSON OF COLUMBUS IN THE THIRD PERIOD OF GAME 1 ON SUNDAY. ANDRE RINGUETTE GETTY IMAGES
Andersen may be the best regular–season goalie the Leafs have deployed since Ed Belfour, 16 years ago, but championships are not won, nor reputations crafted, in the 82–game warm–up to the playoffs. Were that the case, a statue of Andrew Raycroft would today adorn Legends Row for his club–record–tying 37 victories in 2006–07. It's only during the Stanley Cup tournament that a goalie can substantiate his value. And, Frederik Andersen — winless in three opening–round series; thoroughly unreliable with his team facing elimination — has not proven a thing for the Blue and White. He'll be approaching 32 years of age when his contract is up next July. With a flat salary cap and nearly $40 million committed to John Tavares, Auston Matthews, Mitch Marner and William Nylander, the Leafs will not have an extra penny to satisfy Andersen's regular–season value of $7 or $8 million. Whether Campbell — acquired last February from Los Angeles — is an appropriate replacement cannot be answered until he is seen under fire. Either on Thursday night in Game 3 against Columbus or next summer, providing the Leafs qualify to compete for the 2021 Stanley Cup.
Draft picks Justin Woll and Ian Scott have spent time with the American Hockey League Toronto Marlies and show promise. As did assorted others in the post–1967 era such as Ken Wregget, Allan Bester, Jeff Reese, Mikael Tellqvist, Raycroft, Justin Pogge, Jonas Gustavsson and Garret Sparks. None of whom validated their press clippings. So, the Leafs cannot — at this point — throw any weight behind Woll or Scott. If Andersen fizzles again while facing the Blue Jackets, Campbell becomes the only legitimate option for the Blue and White. And, perhaps a terrific option. Though a small sample–size, the native of Port Huron, Mich. displayed flair and agility in his six appearances after the trade from L.A. (Feb. 6; Kyle Clifford also becoming a Leaf). His willingness to challenge shooters with a dollop of swagger reminded me a bit of Mike Palmateer's sudden ascent to the National Hockey League early in the 1976–77 season. Palmateer remains — alongside Felix Potvin and Curtis Joseph — the most–accomplished Leafs stopper since the club's last Stanley Cup.
Andersen can temporarily quiet this conjecture by coming up large against the Jackets later today… the key word being temporarily. Given that the big Dane is almost–surely not in the long–term plans of the Blue and White, at which point does Sheldon Keefe switch priorities between the pipes?
If the Leafs are facing elimination Thursday night, I strongly suggest it should be then.
EMAIL: HOWARDLBERGER@GMAIL.COM