TORONTO (Aug. 3) — Well, that took no time at all.
The loud, cracking noises heard near downtown Toronto on Sunday night were thousands of ankles breaking, as fans of the Maple Leafs leapt off the bandwagon. Nearly five months of intense emotional build–up dissipated in less than three hours. The firepower–laden locals, infinitely more–talented than their play–in opponent, had been reduced, yet again, to a bracket of overpaid bums. Before the clock struck 11.
Do you know where your children are?
They may have been spewing vitriol, on line, until the wee hours of this morning. In the wake of a 2–0 victory by Columbus in Game 1 of the best–of–five qualifying round, Leaf zealots were boiling–mad. As always, nothing revealed such agony better than a quick perusal of the Toronto page on H–F Boards — the chat forum dedicated to National Hockey League teams. There it was… in the first dozen submissions:
STICTY 111 — That was really bad. No excuses here. Also Marner should be benched for that performance.
McLEEX — Team is a f***ing joke.
LEAF4LIFE — We still suck. Why am I not surprised?
LASTONE2100 — Our management, handing out multiple ridiculous contracts, will guarantee that this core goes nowhere. Tavares was a no–show and multiple good shifts immediately died on Marner's stick with blind passes to no one. $22 million of our roster down the drain.
PROMISEDLAND — CBJ have no overpaid forwards taking up half the cap. Played hard–nosed, in–your–face hockey by hustling every shift; stifled Leafs offense. Leafs have overpaid forwards and a smug GM who thinks he is God's gift to mankind and hockey. Dubas: there are some things money cannot buy (heart, compete, grit, winning 50–50 puck battles). For everything else, there is Mastercard.
STEVEN1562 — Dubas created a pond–hockey team. Columbus and Carolina play a style that wins. We play a style that looks good in the regular season but gets shut down in the playoffs.
MATS13 — Marner is so bad when it matters.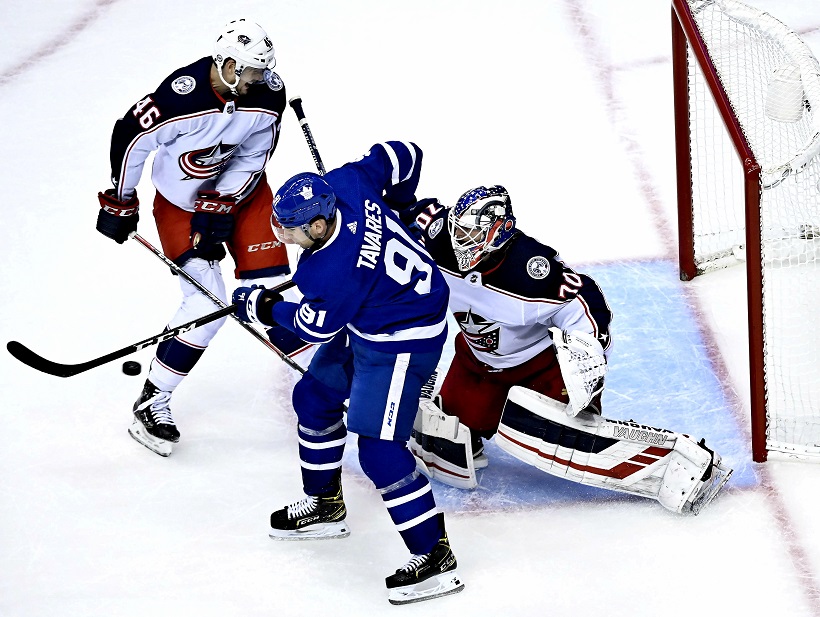 NEITHER JOHN TAVARES NOR ANY OTHER LEAFS PLAYER COULD FOOL COLUMBUS GOALIE JOONIS KORPISALO IN GAME 1 AT EMPTY SCOTIABANK ARENA. NATHAN DENETTE THE CANADIAN PRESS
Indeed, Mitch Marner, the Maple Leafs most–gifted player, wore the scapegoat horns after Game 1.
AVROARROW — Embarrassing f***ing effort. Looked like a pre–season game. No intensity; nobody wanted it. So frustrating to watch that garbage. Marner's drop passes and centering passes tape–to–tape to Columbus. Like, what the hell are you thinking? Complete garbage.
HAVOC — I guess we under estimated quarantine/having gyms closed. 18–year–old Marner would have smacked today's Marner.
THEWAVE — Heartless. Gutless. Overpaid. Marner just floated the puck to nobody in particular.
REMU — Yessir, the Leafs are back alright.
THEBEYONDER — Started out great in the third period then Freddy let in a weak goal. You can't be an elite goalie and miss shots like that. He can pull off all those amazing saves, but if he lets in a bad one like that, the other saves are meaningless.
BAYSTBULLIES — The coach is in over his head. Plain and simple.
SHANER89 — Think I'm done with these losers. Hope to get the first [draft] pick.
STEPHEN — Marner is a major question mark because it feels like he hasn't matured as a player. He seems confident in his arsenal of Junior plays and careless "creative" plays like floating soft passes to nowhere and no one. Or, managing the puck so casually it's like he's out for a roller hockey session. Tavares feels like a lost cause. His hands are still excellent but he has no separation speed left, and it feels like his only move with the puck is to stop up, curl and try to dish it off before getting swarmed. He's always a step behind on the forecheck and backcheck. The only thing he brings is a net–front garbage goal. How you squeeze $11 million [per season] in value out of this is beyond me.
HOLLYWOODNORTH — This series is over. It's going to be three shutouts and the Leafs will be golfing.
So, yes, it appears the Toronto–Columbus qualifying round was a best–of–one. Should the Leafs, however, bounce back in tomorrow's second clash (4 p.m. EDT start, Sportsnet) — which is hardly out of the question — the Debbie Downers will pull a one–eighty. It's the nature of fandom. That said, who really knew what to expect in Game 1? As I've written many times, the unique circumstance surrounding this made–for–TV competition rendered it virtually unpredictable. Would the Leafs, for example, have shown more pizzazz in the company of 19,000 rabid spectators? Those light–blue tarpaulins near ice level at Scotiabank Arena aren't particularly noisy or inspiring. Conversely, the big money boys up front have rarely earned their keep in the playoffs since 2016. And, yes, Frederik Andersen is usually good for one stinker per game.
When it occurs in the absence of scoring by his teammates, the blunder becomes fatal.
Perhaps we should also remember — from the pre–pandemic era — that the Leafs were hardly a shoo–in to make the playoffs in a full, 82–game schedule. When the COVID–19 shutdown occurred on Mar. 12, Toronto stood only three points ahead of fourth–place Florida in the Atlantic Division; the Panthers with a game in hand. Florida was three points behind Columbus for the second, and last, wild card berth in the Eastern Conference. So, this qualifying round may have been the Leafs' ticket to the 2020 Stanley Cup tournament. With four weeks left in the regular season, the old–fashioned method offered no guarantee.
That said, tomorrow is another day. Let's see how Game 2 unfolds.
THE EARLY BLUE JACKETS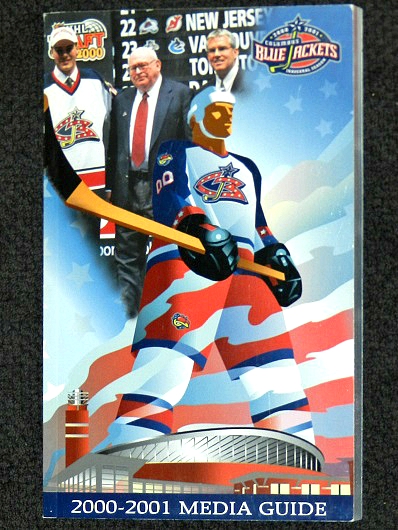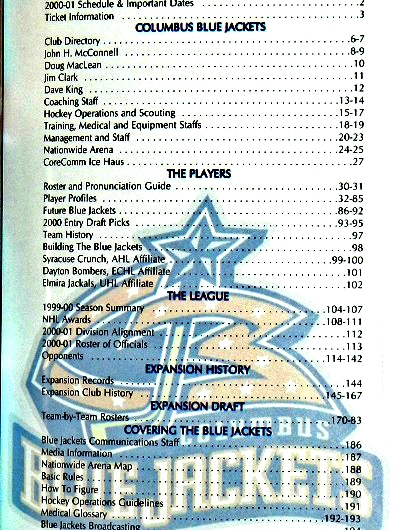 Columbus entered the National Hockey League as an expansion team for the 2000–01 season, along with the Minnesota Wild. The club's first president and general manager was Doug MacLean, later of Sportsnet fame. The first coach was Canadian national team mentor Dave King. The Blue Jackets were somewhat respectable in their expansion season, finishing 28–39–15 for 71 points in 82 games. The club failed to qualify for the playoffs in its first eight seasons and got swept in four by Detroit in its first Stanley Cup series (Apr. 16–23, 2009). A shocking, four–game romp over Tampa Bay last spring provided the Blue Jackets their only series triumph… to date. From my collection, back in the days when media guides were published, these are the first seven issued by the Blue Jackets, including the inaugural edition, above.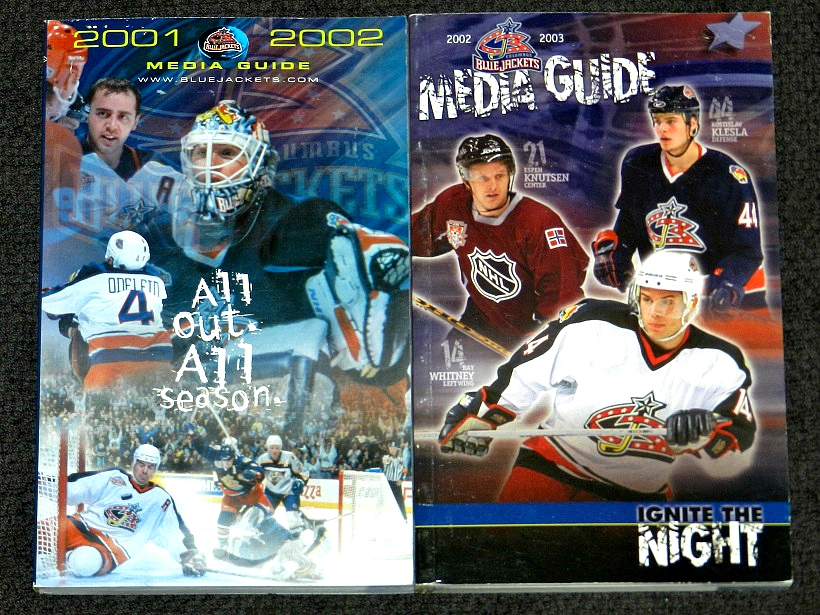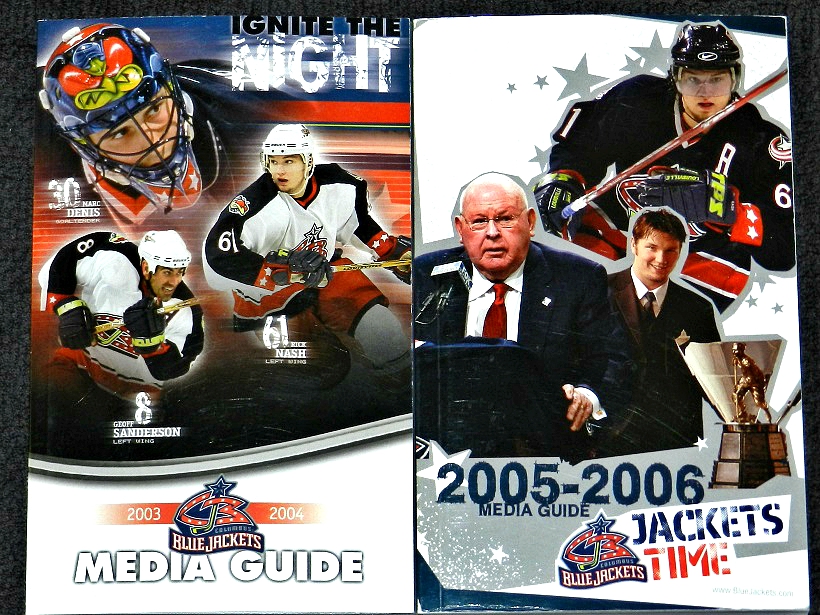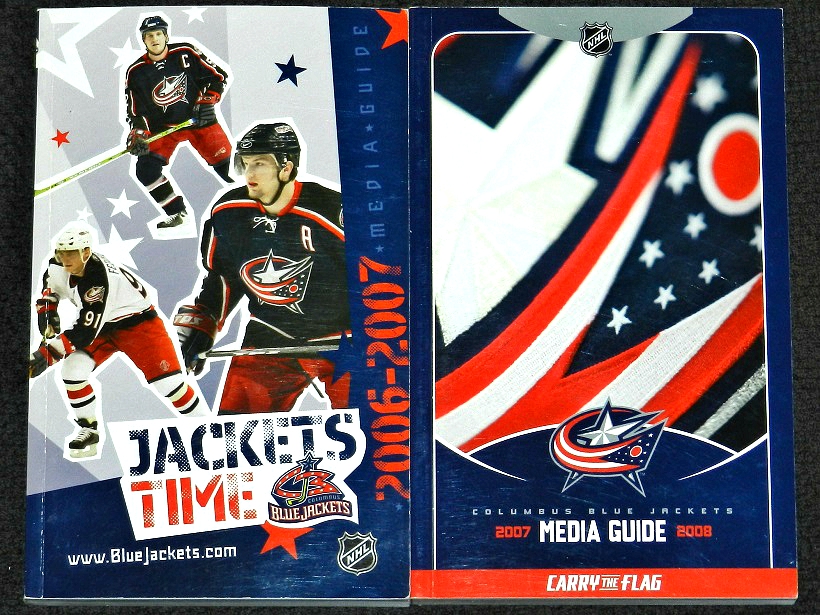 EMAIL: HOWARDLBERGER@GMAIL.COM