TORONTO (Aug. 2) — Among the redeeming qualities of rabid sports fans are forgiveness, renewed hope and living in the moment. We should all carry such traits through our entire lives.
For followers of the Toronto Maple Leafs, hope returns tonight at empty Scotiabank Arena in Game 1 of a best–of–5 qualifying playoff round against the Columbus Blue Jackets. The living–in–the–moment aspect of hockey fandom will enable long–suffering Toronto rooters to wish for a Stanley Cup this year, as they have in the past. But, I can guarantee: Should the Leafs prevail in this heat–of–summer, made–for–TV reality event — and then not again for another decade — even the most–avid followers will look back and say, "yeah, but they won that Cup." Meaning the championship with no connection to a regular season; occurring nearly five months after the COVID–19 pandemic forced suspension of activity. The triumph after which the winning club will raise the Stanley Cup in a vacant arena… and be precluded from celebrating with the masses in a victory parade. Having endured a 53–year famine, is this really the conquest Leaf fans are hoping for? Or, would it not be infinitely more legitimate once the the coronavirus is under control; teams can travel yet again; perform in front of live audiences, and begin the Stanley Cup chase, as per usual, four or five days after the conclusion to the regular schedule? The answer, in my view, renders the question rhetorical.

As such, I am astonished that learned members of the Toronto media are placing so much stock in this fabricated tournament. Apparently, we're about to discover exactly what Sheldon Keefe is comprised of behind the bench… and whether or not Leafs general manager Kyle Dubas has assembled a championship–caliber squad. Both claims are nonsensical. As I've written previously, everything with respect to this "all–about–money" competition should stand by itself — on an island and apart from other Stanley Cup battles. Not only does it include teams that would have missed the playoffs this season, but participants that would have been absent to start the actual tournament in April, such as Steven Stamkos of Tampa Bay, Seth Jones of Columbus and Ilya Mikheyev of the Maple Leafs, all of whom were injured. Should COVID–19 enter the picture, players that begin the 2020 Cup event will be forced to step aside and isolate for a period of 14 days, thereby potentially skewing the results. So, I repeat, there is virtually nothing about this tournament that relates to the past… and, hopefully, just as little that corresponds with the future. From a Toronto perspective, I place no importance on whether the Leafs get swept in three games by the Blue Jackets, or advance to the Final Four in Edmonton. Come back to me when the regular season and playoffs are mated.
Having watched the opening night games on Saturday, I give the National Hockey League marks for an artistic environment at Scotiabank Arena and Rogers Place. Rather than inserting bogus images of fans in the seats near ice level, the NHL has cloaked the sections that appear on TV in tarpaulins and has nicely "decorated" the areas above the low–level stands. Sportsnet has not gone overboard with fabricated crowd noise or the use of the silly goal horns, thereby focusing on its broadcasters. And, it's darned nice to hear Chris Cuthbert on Hockey Night In Canada once again. Clearly, and demonstrably, the NHL — in its "bubble" environment — appears more prescient than Major League Baseball, even if the jury in the O.J. Simpson double–murder trial would look brilliant today next to Rob Manfred and Co. Let's hope that COVID–19 can be evaded among the teams in Toronto and Edmonton that are moving about with pre–planned caution.
THE YEAR THEY CLEARED THE TRACK
FOR EDDIE SHACK
The hockey world lost an original last weekend when Eddie Shack succumbed to cancer at 83 years of age. Neither before, nor since, has the NHL owned such a character… yet one that generally thrived in the 1960's and through the early years of expansion. As noted in virtually every story about Shack since his retirement in 1975, he scored at least 20 goals for five of the six teams with which he played — Toronto (1965–66), Boston (1967–68), Los Angeles (1969–70), Buffalo (1970–71) and Pittsburgh (1972–73) — finishing his career with 239. On the flip side, Eddie's antics; injuries, and habit of taking bad penalties, prevented him from dressing for a full NHL season. He came closest with the Penguins in 1972–73, appearing in 74 of 76 games.
Shack's best season was 1965–66, here in Toronto, when he struck for 26 goals in 63 games. It was in February of '66 that the song Clear The Track, Here Comes Shack! quickly soared to the top of music charts.
In this tribute to Eddie, gleaned from pages in my collection of The Hockey News, I present 30 NHL game–summaries in which he registered at least one point, including his last goal (Dec. 11, 1974 at Maple Leaf Gardens). I begin with Shack's watershed '65–66 performance… and finish with his return to the Blue and White from 1973–75. There are also summaries from games with Boston, Los Angeles and Pittsburgh.
R.I.P. "Entertainer". You were truly one of a kind.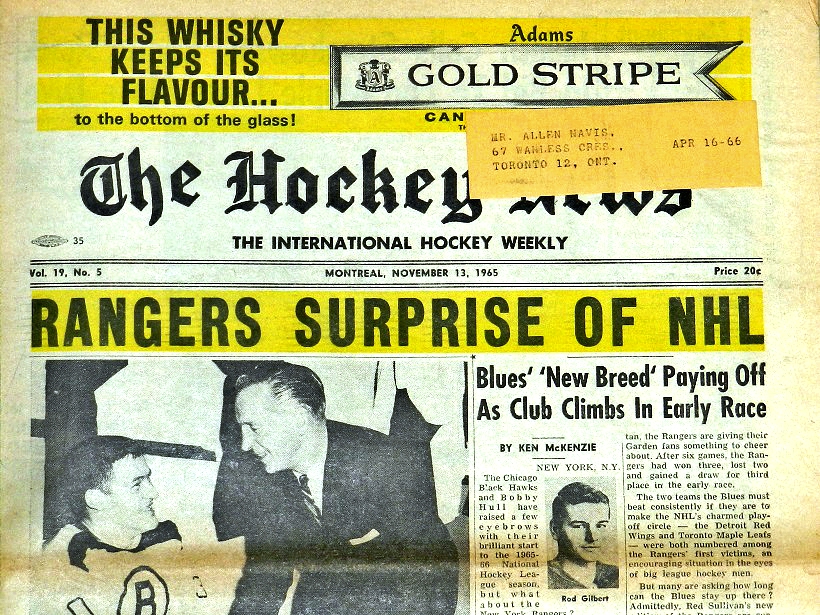 The Maple Leafs were 2–5–1 after eight games of the 1965–66 schedule and coming off a 9–0 decimation at Chicago when Punch Imlach recalled Eddie Shack and Peter Stemkowski from Rochester of the American Hockey League (below), demoting forward Jim Pappin. Shack and Stemkowski debuted against Montreal, at Maple Leaf Gardens, on Nov. 10, 1965 and the Leafs scratched out a 3–3 draw with the Canadiens.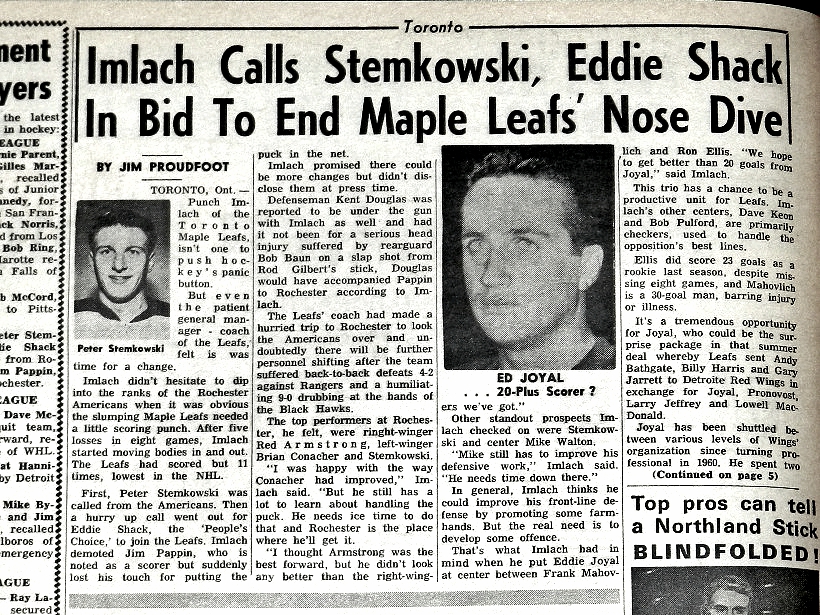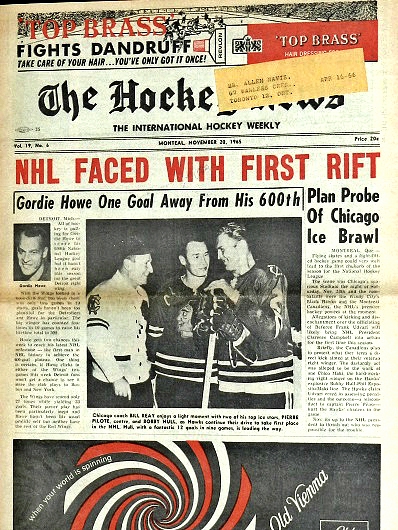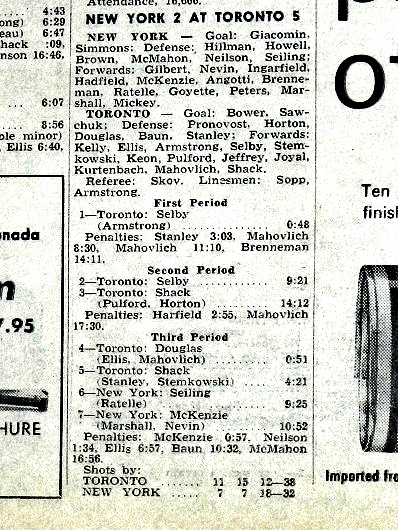 Playing his second game with the Leafs, Eddie scored his first two goals of the season in a 5–2 victory over New York at Maple Leaf Gardens (Nov. 13, 1965). Shack beat Ed Giacomin of the Rangers at 14:12 of the second period (the eventual game–winner) then clicked again early in the third.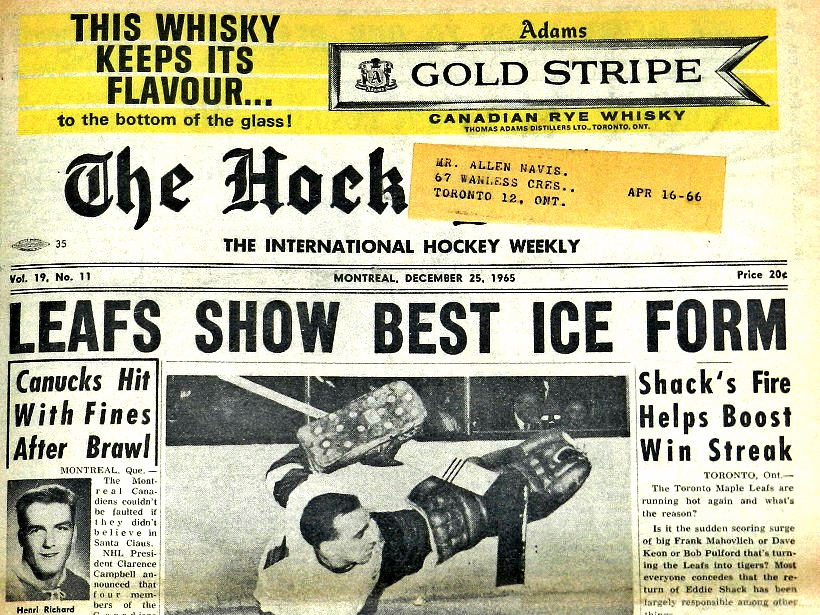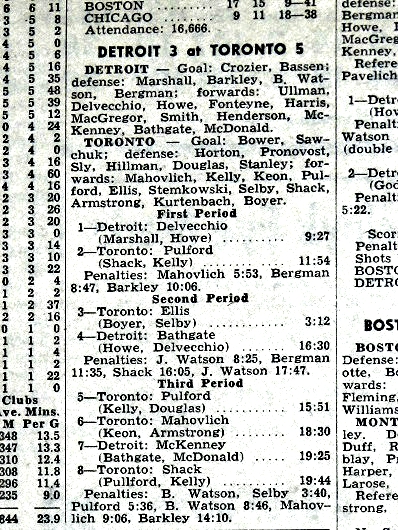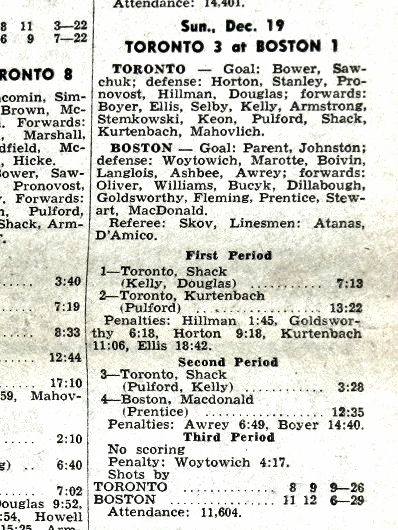 The Maple Leafs (9–10–4) were clawing toward the .500 mark when Shack salted a victory over Detroit at the Gardens (Dec. 15, 1965 — top–left) with an empty net goal in the final minute. Toronto was in the midst of an 8–0–2 streak, four nights later, and Eddie scored twice on future Hall–of–Famer Bernie Parent at the Boston Garden (top–right) while skating on a forward unit with Bob Pulford and Red Kelly. The Hockey News re–printed a column on Shack (below) by Dink Carroll of the Montreal Gazette.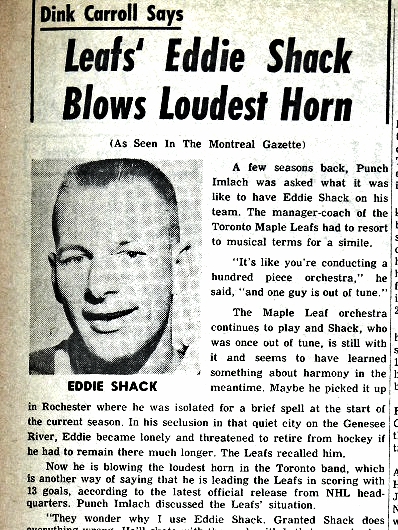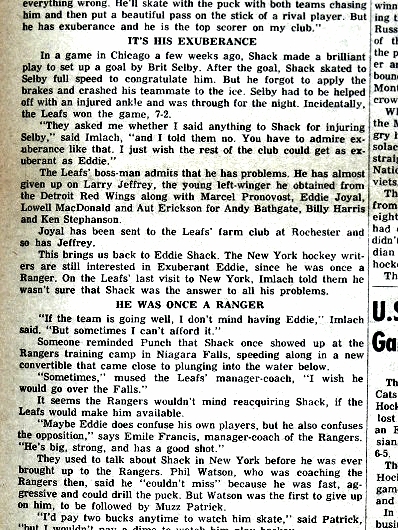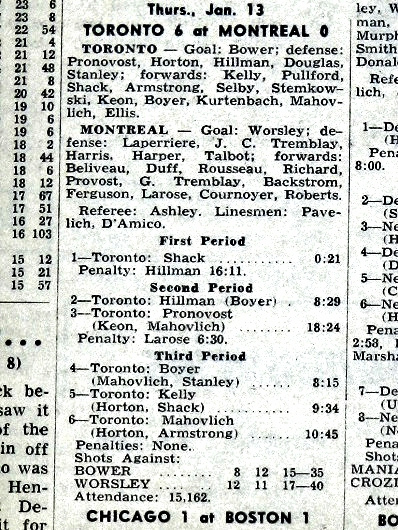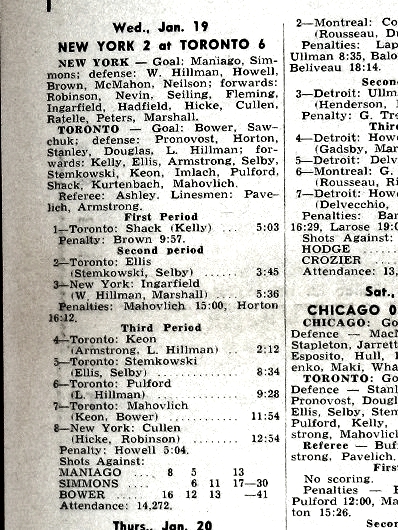 Arguably the biggest win of the season for the '65–66 Maple Leafs occurred at the Montreal Forum on Jan. 13 (top–left), as the club ended a three–game losing streak with a romp over the defending and eventual Stanley Cup champion. Johnny Bower stopped all 35 shots by the Canadiens. Shack scored on Gump Worsley just 21 seconds after referee John Ashley performed the opening face–off and assisted on Red Kelly's goal in the third period that put Toronto ahead, 5–0. Six nights later, at the Gardens (top–right), the Leafs rebounded from a 4–0 loss in Detroit by whipping the Rangers, 6–2. Again, Shack scored the first goal of the match, beating Cesare Maniago at 5:03 of the opening period. Meantime, Coca Cola produced a set of 108 black–and–white cards (below) during the 1965–66 season, featuring players from all six NHL clubs.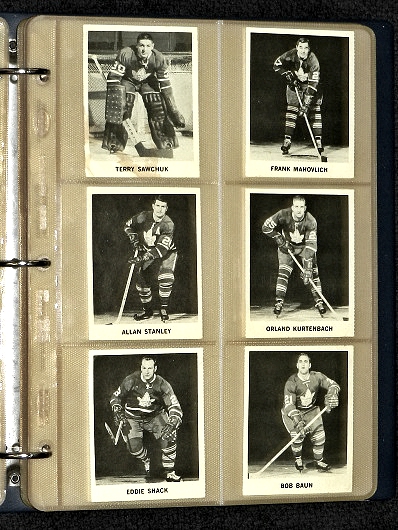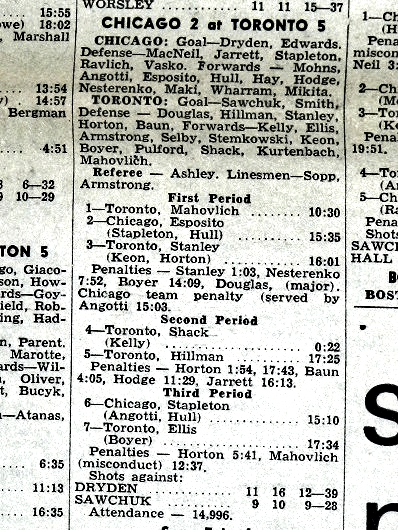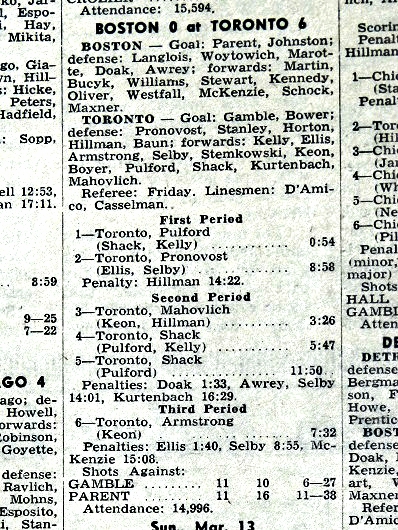 Another impressive win for the Leafs occurred on Feb. 5, 1966 (top–left) at the Gardens against Bobby Hull and the Black Hawks. The Golden Jet assisted on both Chicago goals but could not beat Terry Sawchuk. Shack scored on Dave Dryden at 0:22 of the middle frame and it stood as the game–winner. The second hot streak of the season (7–0–2) continued in Boston on Mar. 12, 1966 (top–right), as Bruce Gamble — subbing for the injured Sawchuk — finished a remarkable run of four shutouts in five games by blanking the Bruins at the Boston Garden. Shack scored consecutive goals on Bernie Parent in the second period. This was the final season before Bobby Orr joined the Bruins from the Oshawa Generals. Defenseman Al Langlois was the last Bruins player to wear No. 4 prior to Orr's arrival. It was also on this night, at Chicago Stadium, that Hull became the first NHL player to exceed 50 goals in a season, beating Cesare Maniago of New York.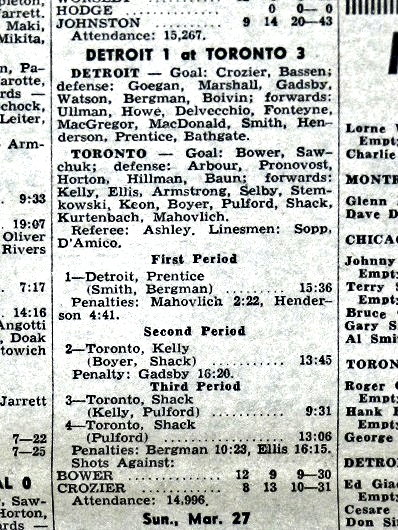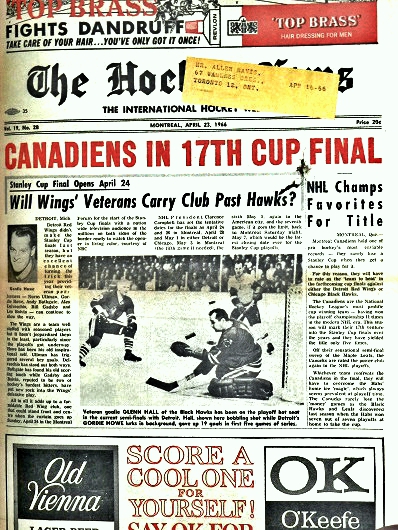 Eddie Shack had his best game of 1965–66 on the second–to–last Saturday of the season (top–left), scoring twice and adding an assist in a victory at the Gardens over Detroit. It lifted the Leafs 10 games over .500 (33–23–9) after 65 games. Toronto finished third in the six–team NHL, three points behind Chicago. The Leafs and Canadiens hooked up in a lopsided semifinal playoff; Montreal breezing to a four–game sweep, outscoring Toronto 15–6. Below, are summaries from Game 3 (bottom–right) and Game 4 (left) at Maple Leaf Gardens. Shack and Tim Horton (from Shack) gave the Leafs a 2–0 lead after the first period of Game 3 only to have the Canadiens score five unanswered goals against Johnny Bower. A wild brawl at 3:37 of the opening frame in Game 4 involved Shack, Pete Stemkowski and Orland Kurtenbach of Toronto; Ted Harris, Claude Larose and John Ferguson of the Habs. Again, the Leafs scored first, but Montreal counted the next four to eliminate the home side. The Habs then rebounded from a 2–0 series deficit against Detroit and won the 1966 Stanley Cup with a disputed overtime goal, at the Olympia in Game 6, by Henri Richard.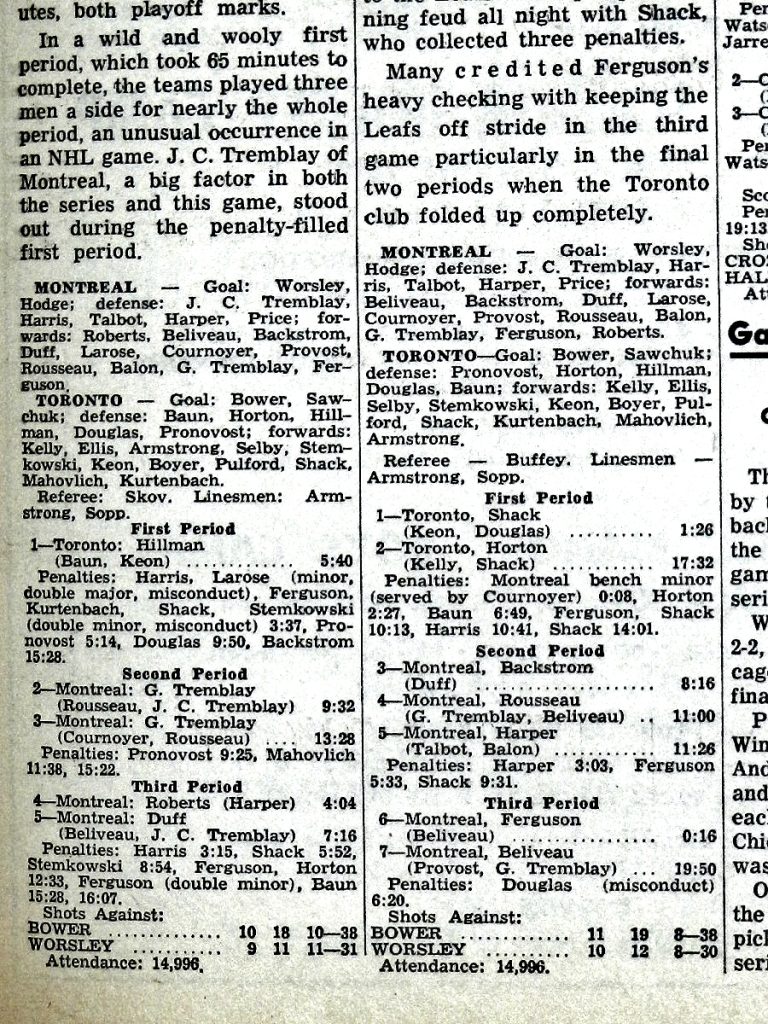 EDDIE ELSEWHERE…
BOSTON BRUINS

Punch Imlach traded Eddie Shack to Boston on May 15, 1967 for small but crafty center Murray Oliver, who had seasons of 68, 62 and 60 points for the Bruins. That same day, Boston pulled off a slightly bigger deal, acquiring Phil Esposito, Ken Hodge and Fred Stanfield from Chicago for Pit Martin, Gilles Marotte and goalie Jack Norris.
It remains, by many lengths, the most lopsided trade in NHL annals.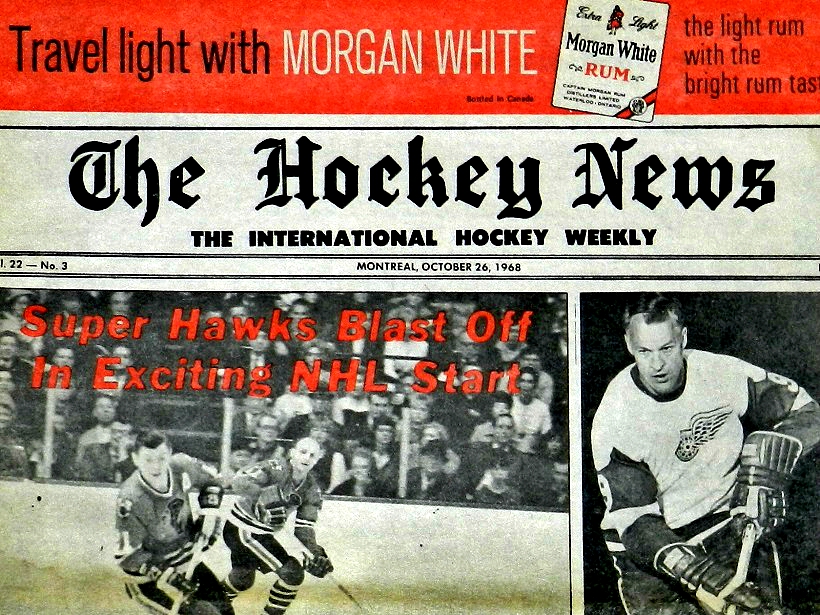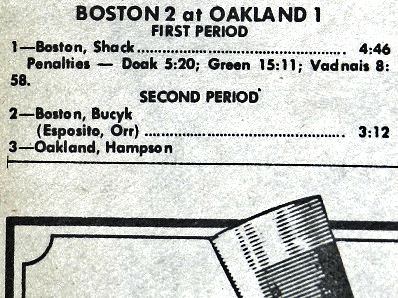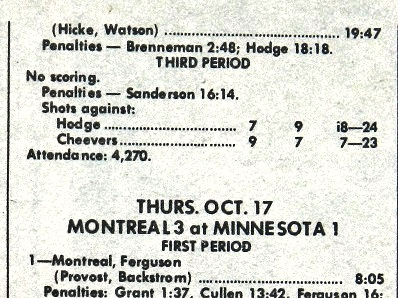 Shack enjoyed a productive trip to Oakland, Los Angeles and Pittsburgh after the Bruins began the 1968–69 season with home victories over Detroit and Philadelphia. Eddie opened the scoring in Oakland (above) with an unassisted goal against Charlie Hodge. Boston goalie Gerry Cheevers came within 13 seconds of a shutout, but Ted Hampson scored for the Seals. Shack beat Wayne Rutledge for the Bruins only goal (bottom–left) in a narrow defeat at Los Angeles and completed a productive first period for the visitors in Pittsburgh (bottom–right), scoring on Les Binkley. Eddie also took a couple of minor penalties.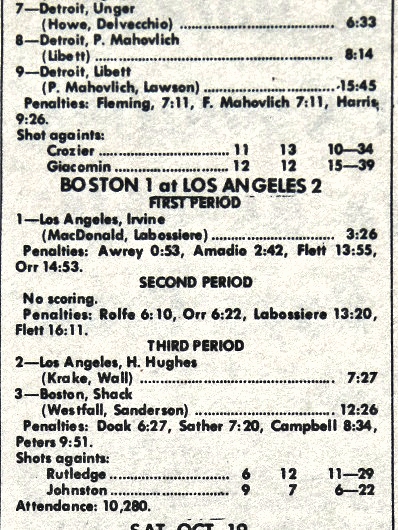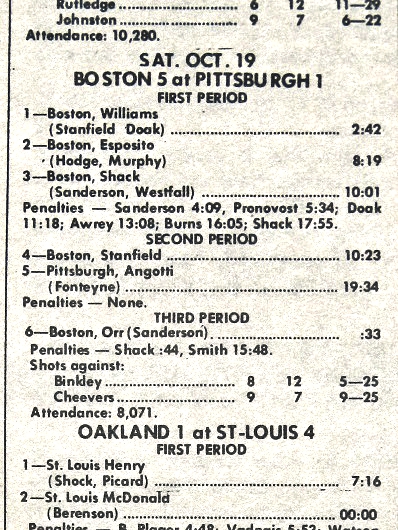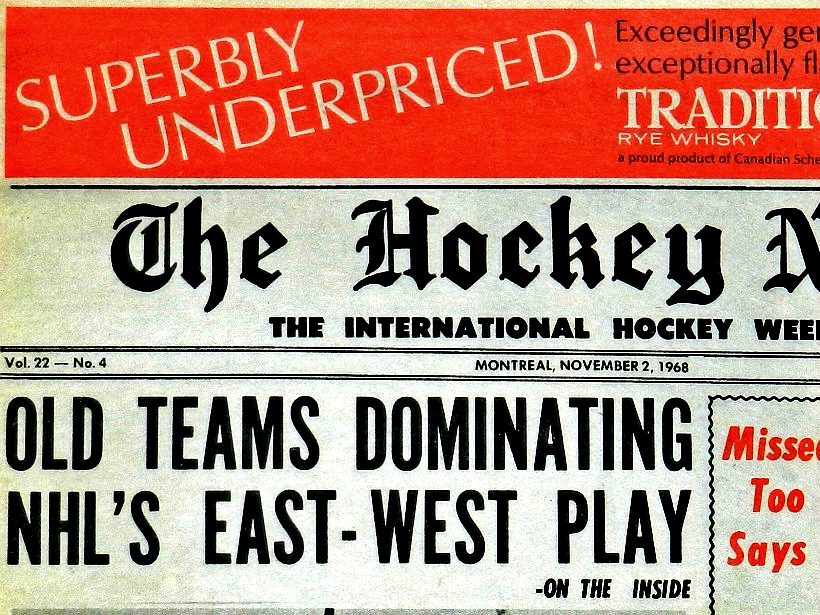 The Bruins, with Bobby Orr and Phil Esposito, would become a powerhouse during the 1969–69 schedule. An early season win, at the Boston Garden, over the defending Stanley Cup champion sent a loud message. Eddie scored on Rogatien Vachon at 2:03 of the second period (time missing from summary, below), just 37 seconds after a goal by Esposito, and the Bruins had their margin of victory over Montreal. Shack skated on a line with veteran Ed Westfall and sophomore Derek Sanderson.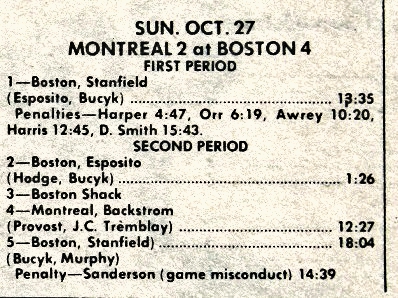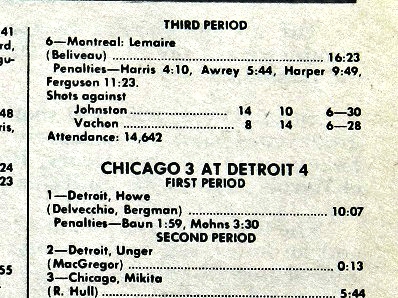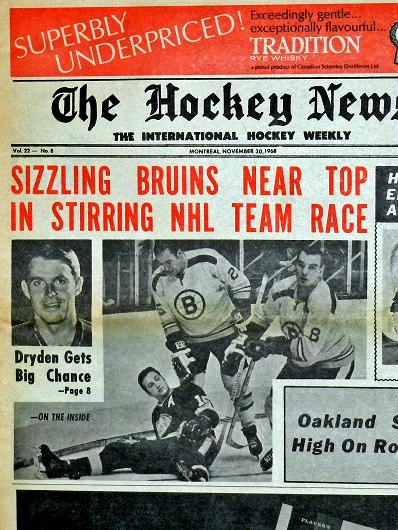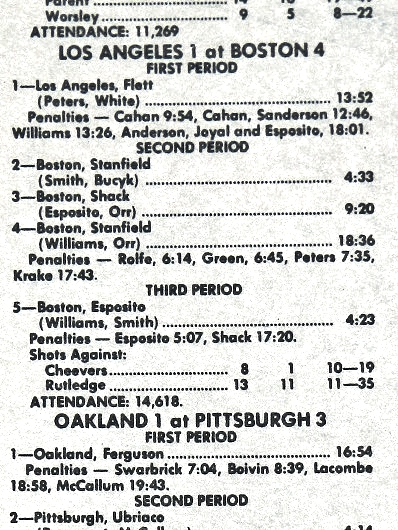 An easy home victory over Los Angeles (Nov. 21, 1968, above) improved Boston's record to 10–5–2 after 17 games. Midway through the second period, Eddie took feeds from his two star teammates and beat Wayne Rutledge on the powerplay for his seventh goal. The Bruins outshot the Kings, 11–1, in that frame.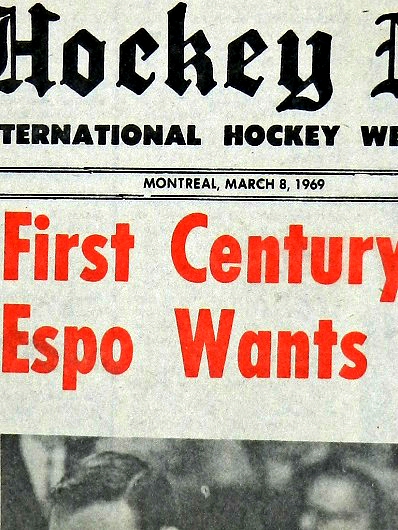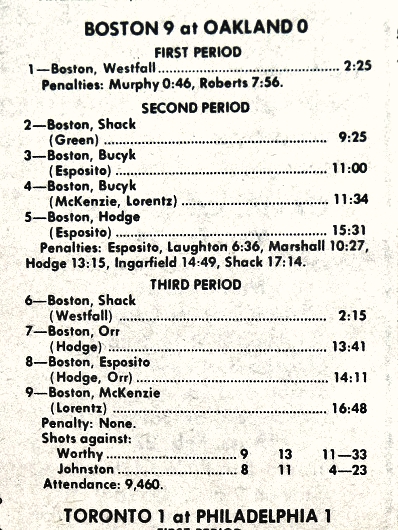 The Oakland Seals were much–improved in their second NHL campaign but ran head–long into a sore pack of Bruins on Feb. 27, 1969 (above) — sadly for an atypical home audience of 9,460. Shack counted twice against Chris Worthy as Boston destroyed the Seals, 9–0, just four days after being annihilated by the same score at Madison Square Garden in New York. The Bruins were 35–13–12 after 70 games.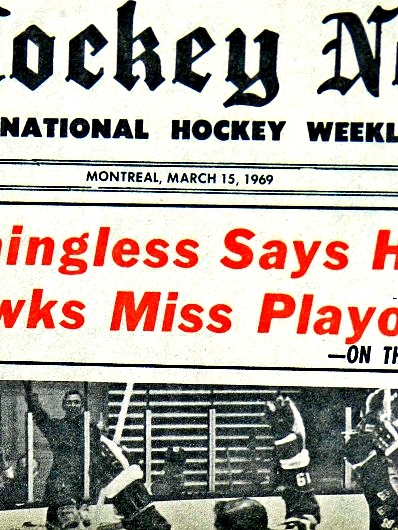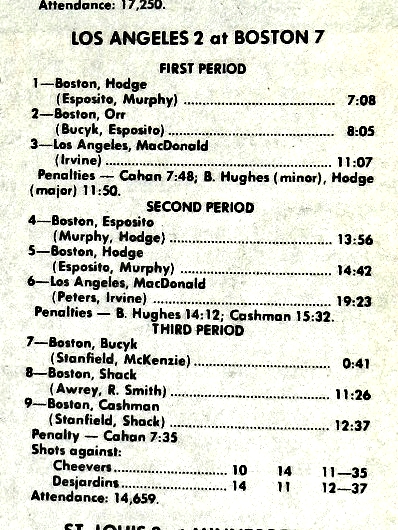 Eddie's goal and assist (against rookie netminder Gerry Desjardins) in a 1:11 span of the third period (above) punctuated another easy win over an expansion team, as the Bruins hammered the Kings at Boston Garden. Phil Esposito had a goal and three assists en route to an NHL–record 126 points.

LOS ANGELES KINGS
Boston traded Eddie Shack (and Ross Lonsberry) to Los Angeles on May 14, 1969 for Ken Turlik (zero NHL games) and first–round draft choices in 1971 and 1973. L.A. owner Jack Kent Cooke "expected" Shack to help draw big numbers to the Forum in 1969–70 (below). Eddie, however, joined what is still the worst team in Kings history (14–52–10 for 38 points).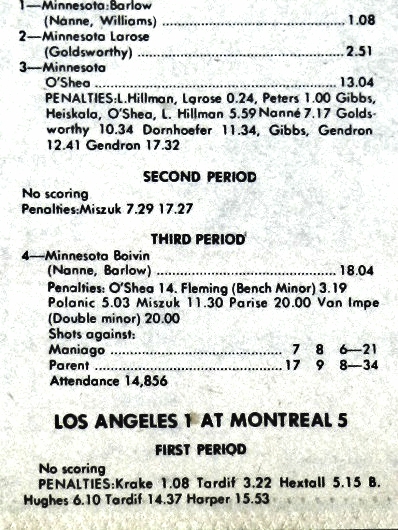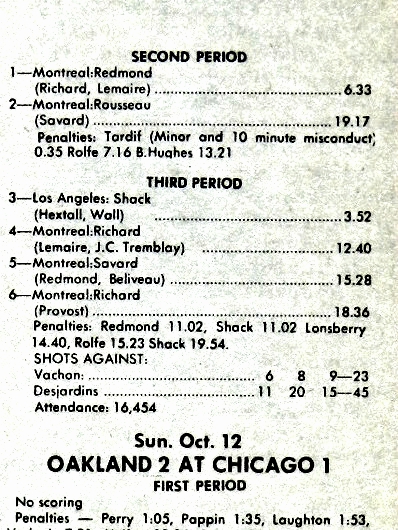 Shack scored the Kings only goal in their season–opening loss at the Montreal Forum (above), taking passes from Dennis Hextall and Bob Wall to beat Rogatien Vachon early in the second period. In his first of 331 NHL appearances, L.A. goalie Gerry Desjardins was blitzed for 45 shots. The Kings lost their first three games.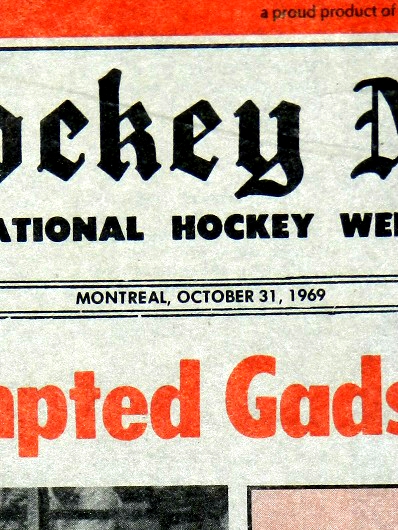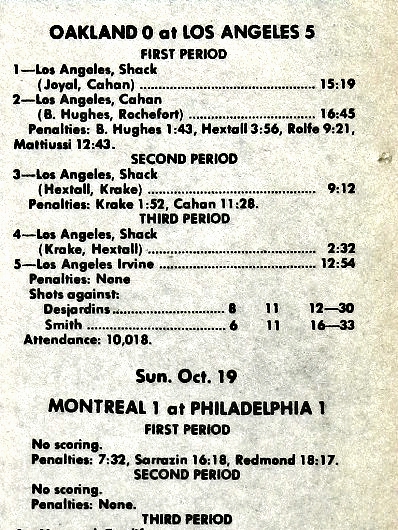 One night after losing, 5–1, in Oakland, the Kings won their first game of the season (Oct. 18, 1969), as Desjardins stopped 30 shots to blank the Seals at the L.A. Forum. Eddie paced the attack with three goals, scoring on Gary Smith in each period. Dennis Hextall and Phil (Skip) Krake assisted on two of them.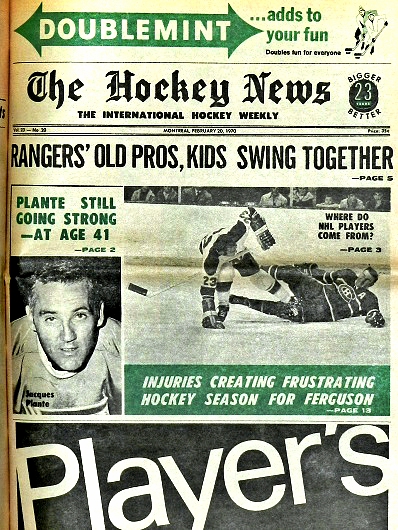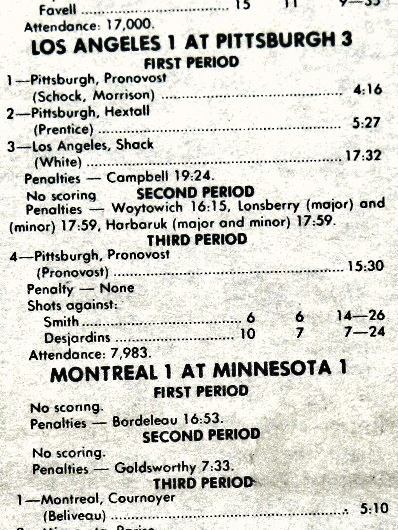 Shack scored the only goal for Los Angeles (from defenseman Bill White) late in the first period of a 3–1 loss at Pittsburgh (Feb. 7, 1970) that dropped the Kings abysmal record to 9–35–5 after 49 games. Eddie beat one–time Maple Leafs teammate Al Smith. According to this summary, Jean Pronovost of the Penguins set himself up for a goal at 15:30 of the final frame.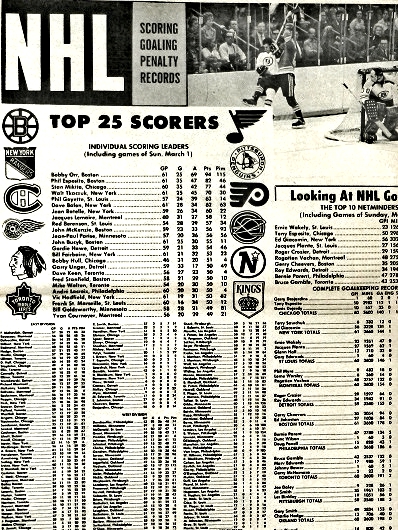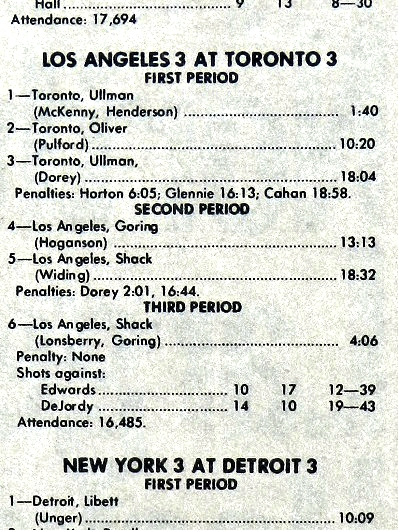 The 1969–70 Maple Leafs were also bad (29–34–13 for 71 points, missing the playoffs) and were rather qualified to play pasty for the NHL's worst team, as evidenced, above, by blowing a 3–0 first period lead at home on Feb. 28, 1970. It must have been sweet for Shack to score twice (on Marv Edwards) against his former team, tying the match (on passes from Ross Lonsberry and rookie Butch Goring) early in the third period. With the comeback draw, the Kings remained winless (0–11–3) in 14 games. Smarting from the result, the Leafs would reach a new low the following afternoon by getting obliterated, 8–0, at Minnesota in a game televised nationally on CBS. The North Stars were reeling with a 0–15–5 mark in 20 games prior to the match at the Metropolitan Sports Center. Which means Toronto gained one of four points on the weekend against expansion clubs with a combined record of 0–26–7 in their previous 33 starts.
PITTSBURGH PENGUINS
Eddie played 111 games for the Buffalo Sabres (and ex–Leafs coach Punch Imlach) in their first two NHL seasons before Imlach dealt him to Pittsburgh on Mar. 4, 1972 for Rene Robert. It turned into a bad trade for Pittsburgh as Robert — as part of the "French Connection" line with Gilbert Perreault and Richard Martin — had seasons of 40, 40, 35 and 33 goals for the Sabres. Shack enjoyed a fine season in 1972–73, scoring 25 goals on a forward unit with Ron Schock and Ken Schinkel. Yes, it was Shack, Shock and Schinkel for the Penguins.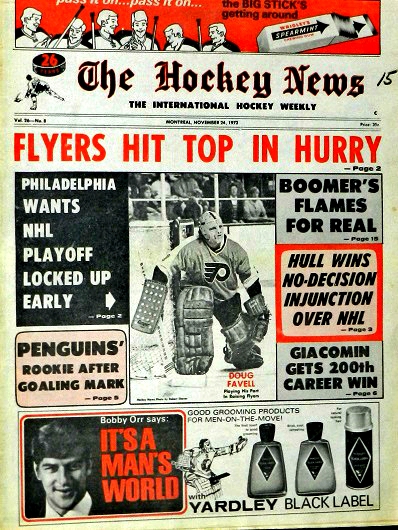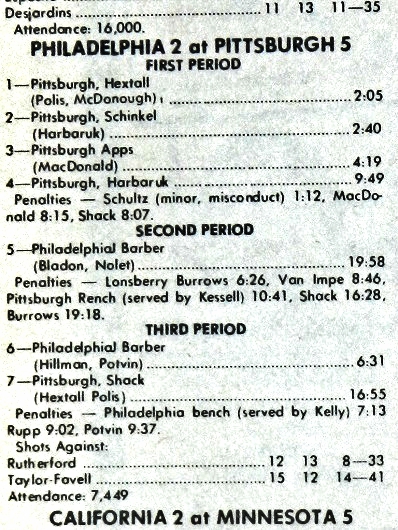 A 5–2 victory at the Civic Arena against fast–improving Philadelphia (Nov. 8, 1972) leveled the Penguins record at 7–7–1 after 15 games. Shack put the game out of reach with 3:05 remaining (on passes from Bryan Hextall and Greg Polis), beating Doug Favell.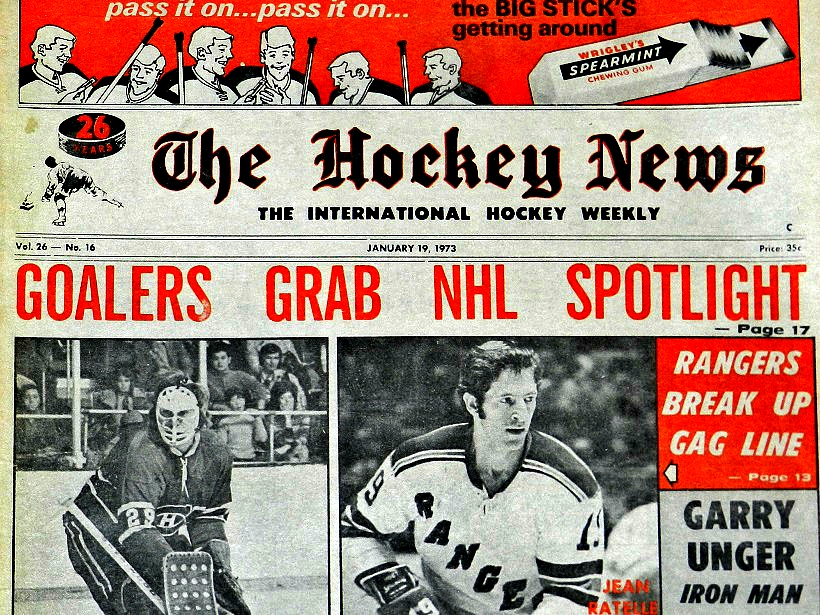 The Penguins lost their first game of the new year (Jan. 2, 1973) at St. Louis (bottom–left) when Phil Roberto of the Blues beat Jim Rutherford with 1:26 to play. Shack assisted on two of three Pittsburgh goals in the middle frame, by Jean Pronovost and Al McDonough. But, the Pens rebounded the following night at Chicago Stadium (bottom–right) with a 5–3 triumph. Eddie scored the first two Pittsburgh goals (on Tony Esposito), his 13th and 14th of the season.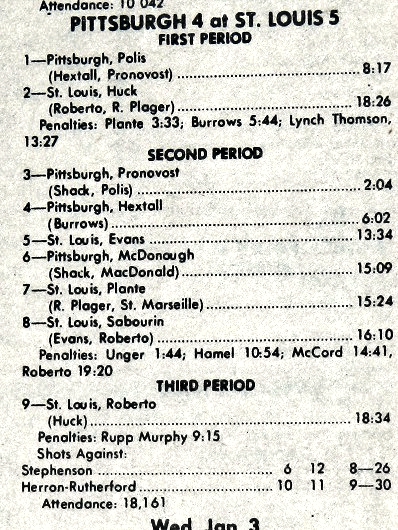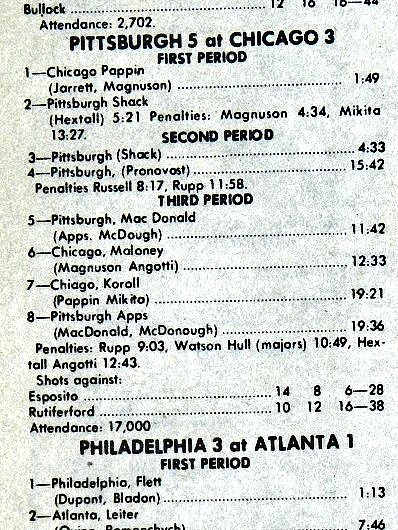 … AND, FINISHING WITH THE LEAFS
As part of a thorough restructuring for 1973–74, the Maple Leafs purchased Shack from the Penguins on July 3, 1973, re–uniting him with former Leafs teammate Red Kelly, the club's new coach. Eddie finished his career by playing 84 games over two seasons with the Blue and White, registering nine goals, 18 points and 85 penalty minutes.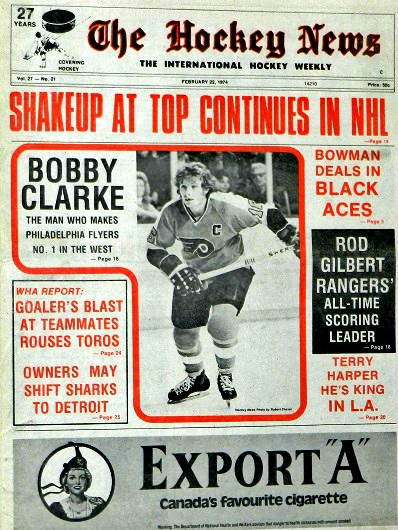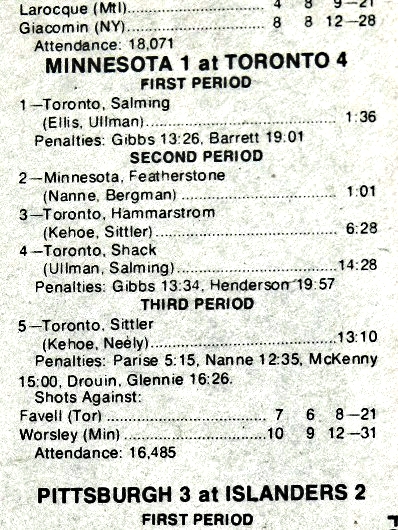 Eddie's goal (from veteran Norm Ullman and rookie Borje Salming) late in the second period was the game–winner in a home triumph (Feb. 9, 1974) over the Minnesota North Stars. Shack beat veteran Gump Worsley.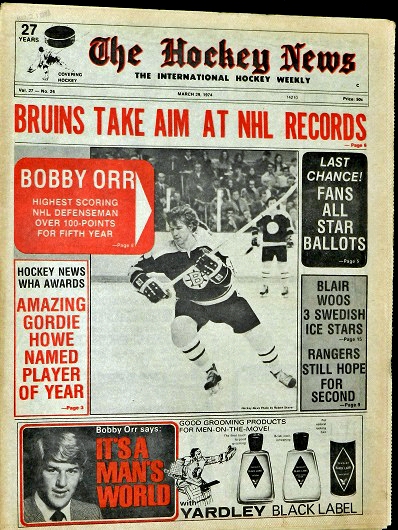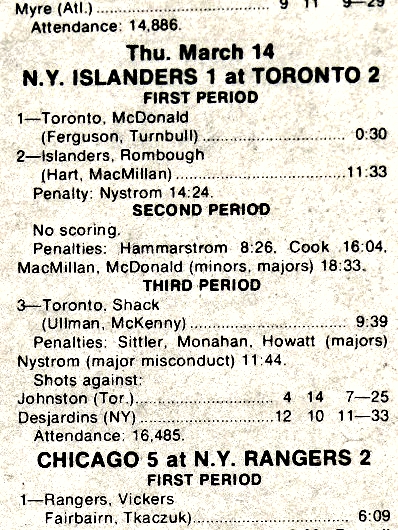 Shack took passes from Ullman and Jim McKenny to score the winning marker midway through the final period against the New York Islanders (and former Kings teammate Gerry Desjardins) at Maple Leaf Gardens (Mar. 14, 1974). This game is remembered for a long, drawn–out fight, two minutes later, between Darryl Sittler of the Leafs and Garry Howatt of the Islanders; each man dropping to his knees during the battle.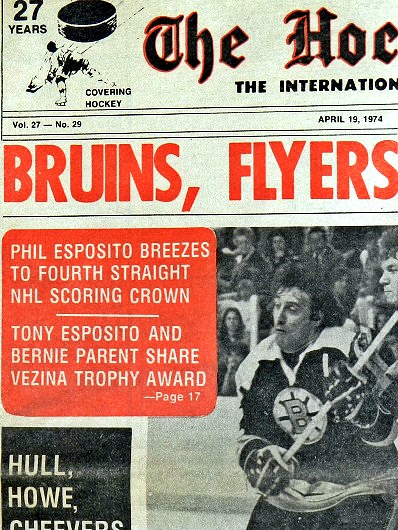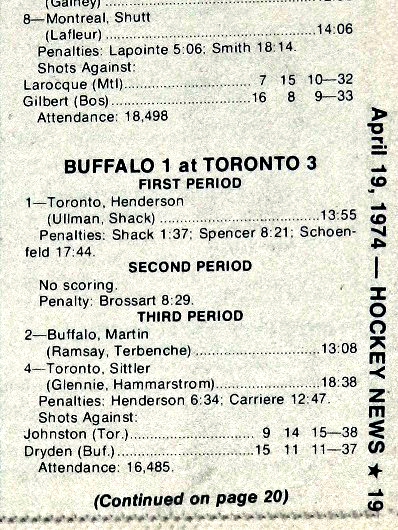 Eddie assisted on a first–period goal by Paul Henderson in the Leafs final home game of the 1973–74 season (Apr. 6), a 3–1 triumph over his former team from Buffalo. Henderson beat goalie Dave Dryden.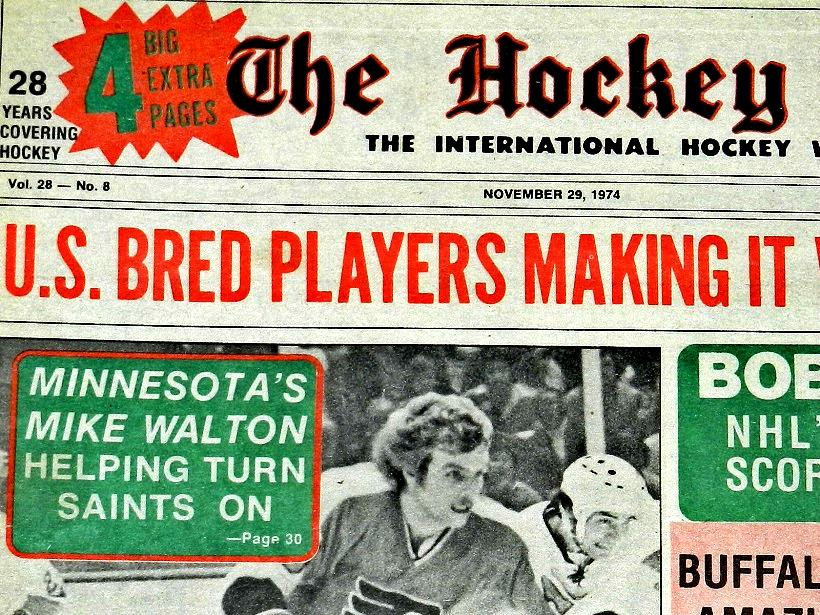 Shack appeared in only 26 games for the Leafs in the 1974–75 season. He and Ron Ellis assisted on Darryl Sittler's game–clinching goal with 5:15 left against the California Seals (Nov. 15, 1974) at the Oakland Coliseum–Arena (below). Gilles Meloche was in net for the Seals; Pierre Hamel for the Maple Leafs.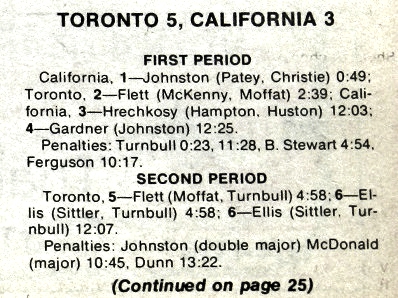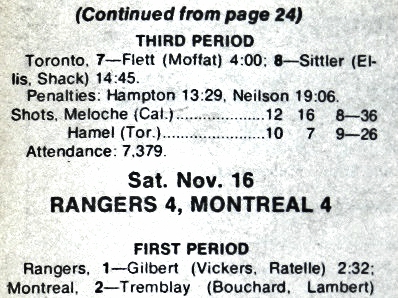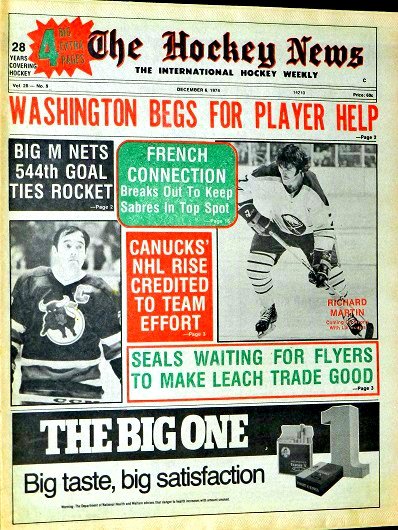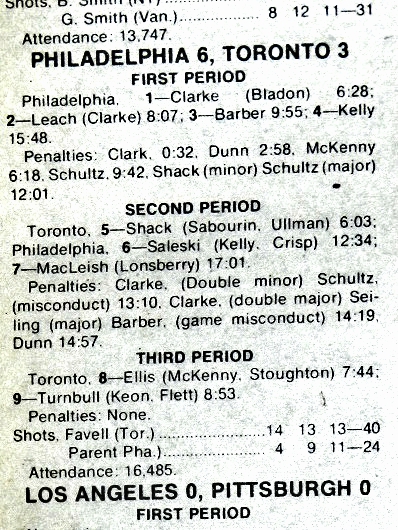 The disappointing Leafs dropped to 5–11–3 after 19 games with a 6–3 loss to the defending Stanley Cup–champion Philadelphia Flyers, at Maple Leaf Gardens, on Nov. 23, 1974. Toronto trailed, 4–0, after the first period and Eddie put the home side on the board at 6:03 of the middle frame, taking passes from Gary Sabourin and Norm Ullman. Ex–Philadelphia teammates Doug Favell and Bernie Parent were the.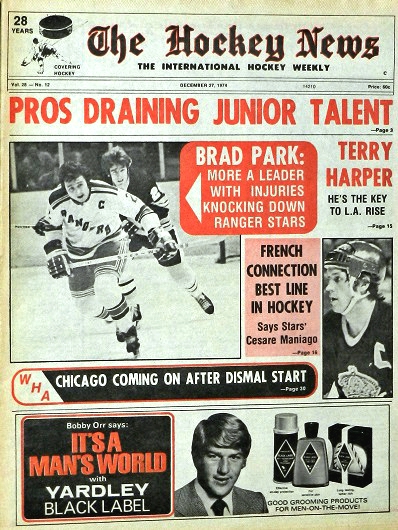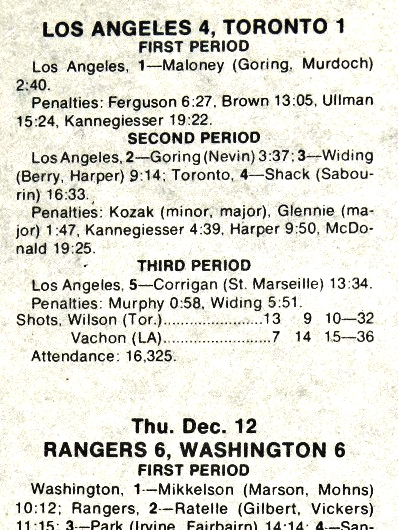 Shack scored his 239th, and final, NHL goal (on Rogie Vachon) in a 4–1 loss to the L.A. Kings at the Gardens on Dec. 11, 1974. Gary Sabourin provided the lone assist. Former Leafs teammate Bob Nevin assisted on a second–period Los Angeles goal by Butch Goring.
EMAIL: HOWARDLBERGER@GMAIL.COM