TORONTO (Aug. 12) — The amendments considered by the Toronto Maple Leafs before next season will starkly reveal the mindset of management. If the objective is to traverse the nearly two–decades–long obstacle of winning one playoff round, Brendan Shanahan and Kyle Dubas will alter the club cosmetically and cross their fingers once again. If, however, the goal is to actually try and win the Stanley Cup, modifications will be far–more extensive, even while hamstrung by self–inflicted wounds of the salary cap era. To that end, the Maple Leafs require significant change — physically and philosophically. Any effort to merely fiddle with the roster will beget a repeat of the past four springs. It is time, at last, to move forward creatively and boldly. Assurances, if made to any player, must be abolished; emotional ties severed.
Otherwise, and undeniably, the franchise will continue to decay.
That said, it is once again imperative to differentiate between the demands of the business model and a legitimate desire to resolve more than 50 years of mediocrity. The first issue, when raised, is one that perpetually aggravates the club's legion of ardent followers: the Maple Leafs need to do nothing but dress 20 bodies per game. In the years since 1967, there has never existed a correlation between loyalty and performance. Hockey in Toronto is the easiest sell of any sport in any city. The Leafs could return next season with economic impunity by icing the exact line–up that bowed to Columbus in the qualifying round. Any grumbling from the locals would fade, as always, into white noise. Adoring the Leafs is simply a habit.
Unconditional support has been exploited in the past, though not during the Shanahan era. The Leafs, every season, are up against the National Hockey League's payroll cap. But, there's no longer any doubt the club has spent imprudently. With $40,219,366 of a flat $81.5 million salary ceiling committed to four players — all forwards — it will be a colossal challenge to improve the Leafs. Not that Dubas has a choice. Right now, his team cannot win a playoff round, let alone challenge for the Stanley Cup. If the young general manager truly promised William Nylander he would never be traded; then secured Nylander, Auston Matthews and Mitch Marner for $29,219,366 of cap space to fulfill a pledge that helped lure John Tavares from the New York Islanders, Toronto hockey fans must hope he has learned from his sophomoric blunders. He'll almost certainly have to renege on his vow to Nylander if there's any hope of freeing up cap room in the pursuit of roster balance. A manager should never offer a player such assurance without a contract clause.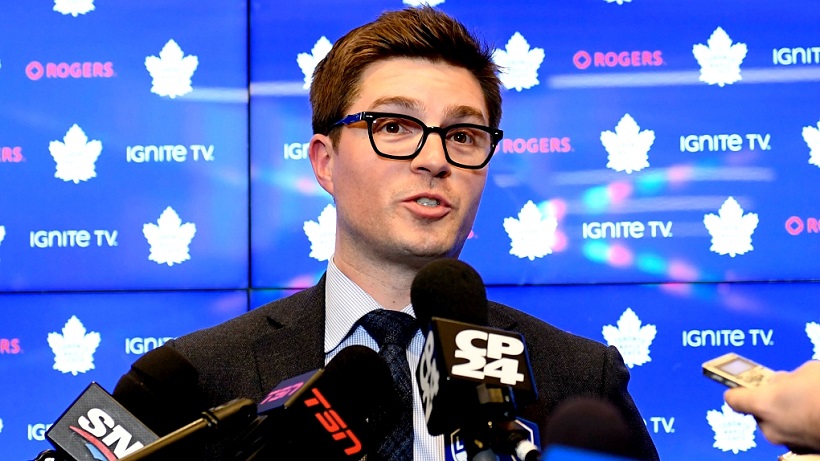 You may remember that the "Shanaplan" called for the Leafs to take a big step backward in order to move forward. The club was an embarrassment for much of the 2014–15 season (quitting on interim coach Peter Horachek: 9–28–5 in 42 games) before deliberately "tanking" in 2015–16 to try and secure Matthews. Well, hard as it may be for Leaf zealots to swallow, the club must again regress before it can flourish. Given the objectives of ownership and management, the past half–decade has been a failure. To continue in the current mode will prolong the misadventure. It's time to pocket any over–sized egos and acknowledge that the first attempt didn't work. The second foray must start, in my view, with the following two measures:
REPLACE FREDERIK ANDERSEN: It is no longer unfounded conjecture that the Leafs No. 1 goalie since 2016–17 cannot perform to standard in the playoffs. Neither does it matter where Andersen ranks, subjectively, among Toronto netminders of the post–1967 era, nor that he's won a thwack of regular–season games. His penchant for allowing untimely soft goals in the clutch is now conclusive. Nor do the Leafs owe Andersen a thing. He's been paid handsomely ($5 million) without delivering on return when it matters most. He fell apart in Game 7 of the 2018 series against Boston (a 7–4 rout); came up small at home in Game 6 of the 2019 clash, with the Bruins facing elimination (4–2 loss) and totally failed the team in the decisive match at TD Garden. Joakim Nordstrom fooled him with a dribbler from beside the net in the first period to open the scoring and Sean Kuraly provided the dagger early in the third with a high, un–screened shot from 35 feet. Neither Nordstrom nor Kuraly are household names. The Bruins, once more, were easy victors, 5–1.
Though not lagging from fatigue, as in the prior two years, Andersen again fizzled, last week, at inopportune moments against Columbus. His apologists argued that the Leafs weren't able to score during the best–of–five series; therefore, how could the goalie be held accountable? In so doing, they affirmed Andersen's fatal flaw. It matters not that a weak shot goes in during a lopsided match. In a defensive slog, however, it proves the difference. As it did in Game 1 when Andersen flubbed on an easy shot by Cam Atkinson in the scoreless third period. And, in Game 5 on Sunday, when Liam Foudy deflated the Leafs at 11:40 of the third to give the Blue Jackets a 2–0 lead. How much more evidence is required before the club moves in a different direction?
It is unimaginable that the Leafs will re–up with Andersen — 32 when his contract expires next summer. His regular–season numbers will likely translate to $6 or $7 million in cap space, which he'll neither deserve nor help conform to Toronto's cap crunch. As such, the Leafs should work hard toward peddling the final year of Andersen's deal and turn to Jack Campbell as their No. 1 stopper. We obviously do not know whether Campbell can effectively carry the load. At $1.65 million for the next two years, however, he'll provide the club some financial wiggle–room… when no one expects the Blue and White to pose a Stanley Cup threat. The 28–year–old showed some promise in six appearances after the trade from Los Angeles (2.63 goals–against average; Andersen was 2.85). And his numbers in 2018–19 with a sorrowful Kings team were off–the–charts: 10–14–1 in 31 games; 2.30 GAA; .928 save–percentage. The Leafs have nothing to lose — and, potentially, much to gain — by promoting Campbell and dumping the final year of Andersen's deal.
Is Kyle Dubas bold enough to make such a decision? Only time will tell.
DISCARD WILLIAM NYLANDER'S CONTRACT: You'll notice that I didn't say trade William Nylander for the missing link on the blue line, or for commensurate value. The Leafs are so–terribly disadvantaged by the Big 4 contracts up front that one of them must be sacrificed. The killer, of course, is Tavares at $11 million for the next five years, but his pact is untouchable. Matthews is going nowhere and though Mitch Marner hasn't yet earned his $10.9 million salary with playoff distinction, the Leafs would be wise to hang onto their most–gifted forward and craft balance around him. To that end, the only dollar–for–dollar trade I would pursue with Nylander is for Matt Dumba of Minnesota, whose $6 million pact runs through 2022–23. Dumba is a good, right–shooting defenseman and the Wild owns a middling attack (tied for 15th this season). Nylander would look smart in forest–green and red. But, this swap, rumored before the trade deadline in February, could be more of a challenge today give how Dumba, a black player with Filipino–Canadian roots, has personified the quest for racial equality in Minneapolis–St. Paul after the death of George Floyd.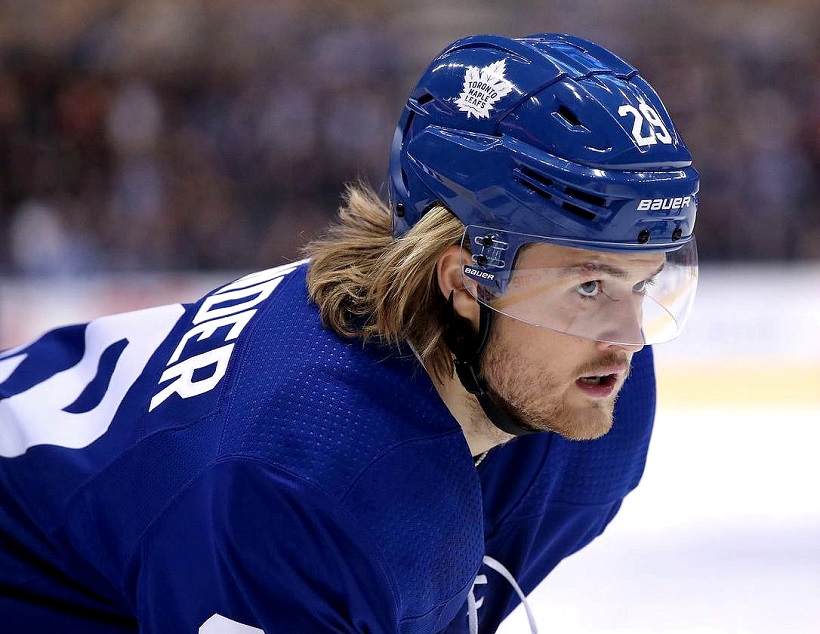 In no way will it harm the Leafs, long–term, to shed Nylander's contract… even (gulp!) for a second–round draft pick. The move would obviously not reflect well on Dubas, who negotiated the six–year deal, but he has to bite the bullet and carve out some necessary cap room. It's his only legitimate option.
Getting out from under the combined $11,962,366 million owed to Andersen and Nylander would be a terrific re–start for Dubas, who will shed another $7.25 million by allowing Cody Ceci and Tyson Barrie to walk. Travis Dermott and Ilya Mikhayev need to be signed off entry level, with Nick Robertson and Rasmus Sandin coming aboard under the ELC restrictions. The Leafs have a chance to move forward still with abundant talent up front, yet with no cap space to acquire a Norris Trophy candidate, whether or not they unload Andersen and Nylander. Rome wasn't built in a day and neither will the Leafs reboot in short order.
But, the team has to start somewhere. And, it has to start now.
EMAIL: HOWARDLBERGER@GMAIL.COM