TORONTO (Aug. 15) — It happens every year — like clockwork — as soon as the Toronto Maple Leafs are eliminated from the Stanley Cup playoffs: Fans and media begin to dream about the club buying its way out of trouble with the premier name in unrestricted free agency. For the record, it's happened twice in a quarter–century; the first, by accident — Curtis Joseph (1998) and John Tavares (2018). CuJo did help turn around a miserable Maple Leafs team and twice backstopped the Blue and White to the Eastern Conference final. With Tavares and his $11 million–per–year contract, the club has gotten progressively worse.
In all other years since Group 3 free agency began after the owners' lockout of October 1994 to January 1995, the top prize has chosen another destination. Given simple mathematics, Toronto's every–two–decades bonanza suggests 2038 as the next UFA triumph. Or, when Alex Pietrangelo is 48 years old. While Pietrangelo is still 30, and in the prime of his career, some are making the case that Kyle Dubas will lure yet another local lad to National Hockey League oblivion. We'll assume, for the moment, that Pietrangelo (from King City, Ont.) — a key factor in St. Louis winning the Stanley Cup last year — is too intelligent to fall for the trap. But, one never knows. Neither are we certain the Leafs can challenge for the NHL title with five players gobbling up $50 million of a flat, $81.5 million cap figure; the other 18 roster positions needing to be divided amid the remaining $31.5 million. But, if any team is absurd enough to try, it's the good ol' Maple Leafs.
Look, I've been bellowing for years in this corner that a Stanley Cup team must possess a Norris Trophy candidate. From Bobby Orr… to Larry Robinson, Serge Savard and Guy Lapointe… to Denis Potvin… Paul Coffey… Al MacInnis… Brian Leetch… Scott Niedermayer and Scott Stevens… Chris Pronger… Nicklas Lidstrom… Duncan Keith… Drew Doughty… Kris Letang… John Carlson and Pietrangelo, the evidence in the past 50 years is overwhelming. The Maple Leafs would therefore be wise to land Pietrangelo on the open market this November. Only problem is the cap. It will not magically rise to $90 million — a figure that might allow a team to carry five skaters at $50 million. The current cap certainly does not. Any more than it allows four players (Tavares, Mitch Marner, Auston Matthews and William Nylander) to consume $41 million.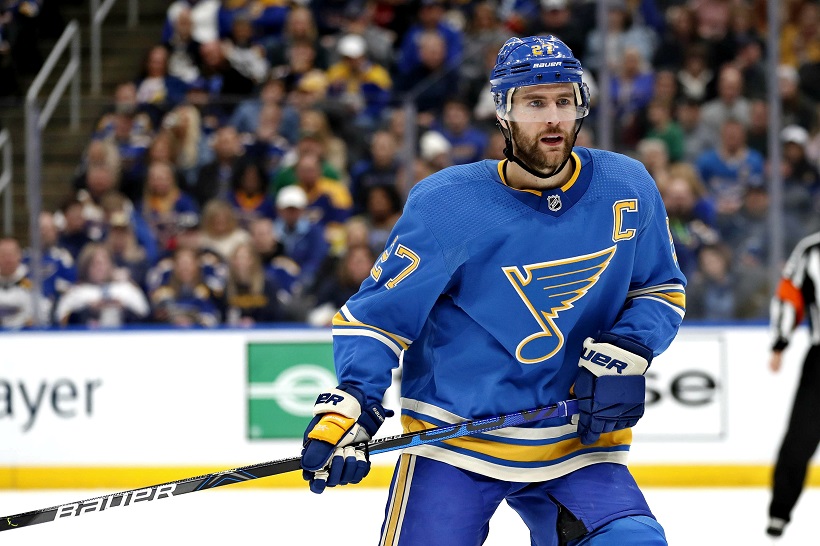 In his weekly Sunday Notes column, Steve Simmons of the Toronto Sun, normally spot–on with the Leafs, offers this scheme to try and land Pietrangelo: "I take Cody Ceci's $4.5 million — he's a free agent — and add it with Tyson Barrie's $2.5 million. Both should be leaving. Now you take $3 million from either Alex Kerfoot, Kasperi Kapanen or Andreas Johnsson and you've got $10 million to play with in a soft free-agent class." What Steve oddly does not mention is that Ceci, Barrie and one of Kerfoot, Kapanen or Johnsson cannot be replaced for free. For less money, definitely. But, still for cash that must be spent under the cap. Neither am I certain that a healthy Morgan Rielly, more than four years younger than Pietrangelo, cannot return to his Norris Trophy form of two seasons ago, when he registered 72 points for the Leafs. Only Borje Salming and Ian Turnbull, in the 1970's, had previously attained the 70–point plateau among Toronto defensemen.
Rather than blowing the bundle on Pietrangelo — and being stuck with a pair of expensive, depreciating assets a couple of years from now (roughly $20 million between Tavares and the St. Louis blue–liner) — I would, as outlined in a previous blog, open up cap space by shedding the contracts of Nylander (just less than $7 million) and Frederik Andersen ($5 million). With Ceci and Barrie moving on, there's another $7 million to play with, or $19 million in total. Using a chunk of that, I would try to add two forwards of medium skill that bring tenacity and balance to the line–up. Virtually none are available in free agency, so Dubas would have to make a clever trade or two. There are, however, a glut of mid–range defenseman on the market (Erik Gustafsson, Brenden Dillon, Travis Hamonic, Radko Gudas, Dylan Demelo) that could economically replace Ceci and Barrie. Without a doubt, it is time for the Maple Leafs to act strategically, rather than flashily, while building around their skilled, expensive forwards (minus Nylander).
Pietrangelo would look smart in a Toronto jersey. But, the Leafs would need to deploy even more riffraff than they currently do while filling out, under the cap, the remaining 75 percent of the roster.
The gap among forwards is already too vast. No purpose in widening it.
BACK IN THE DAY…
More in my collection of The Hockey News from the 1963–64 season. This, the issue of Dec. 7, 1963 recounting games and other stories that occurred in the week after President John F. Kennedy was assassinated in Dallas. It was the season the Toronto Maple Leafs would win their third consecutive Stanley Cup title under Punch Imlach.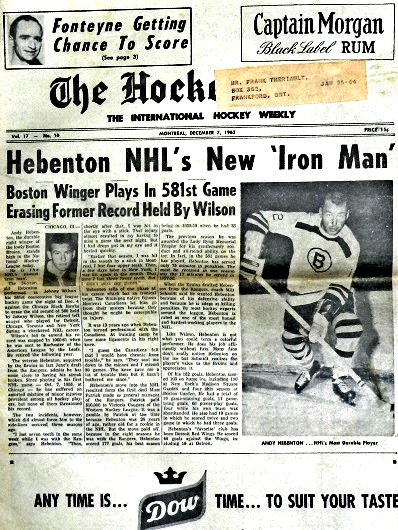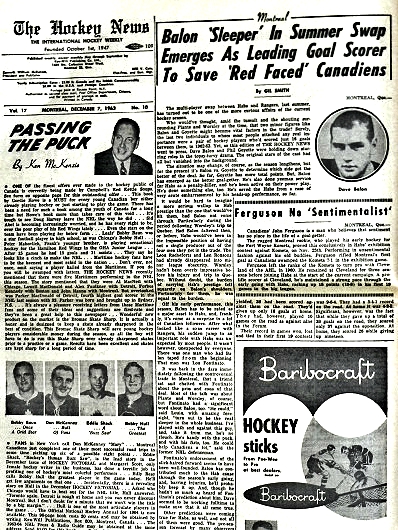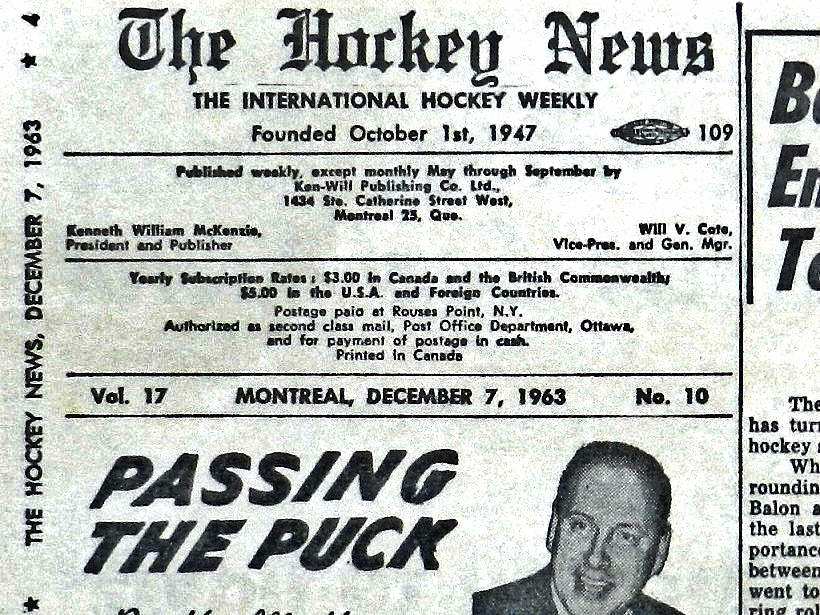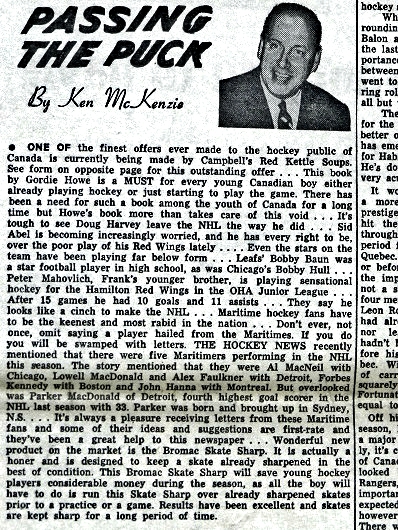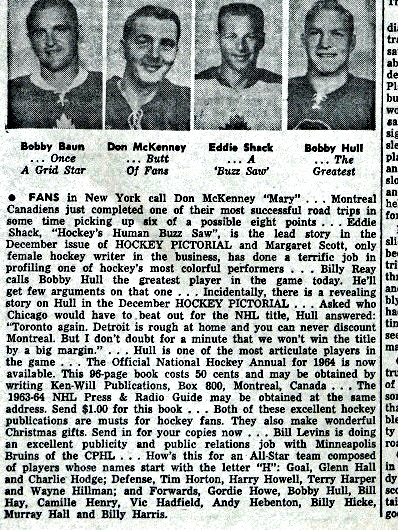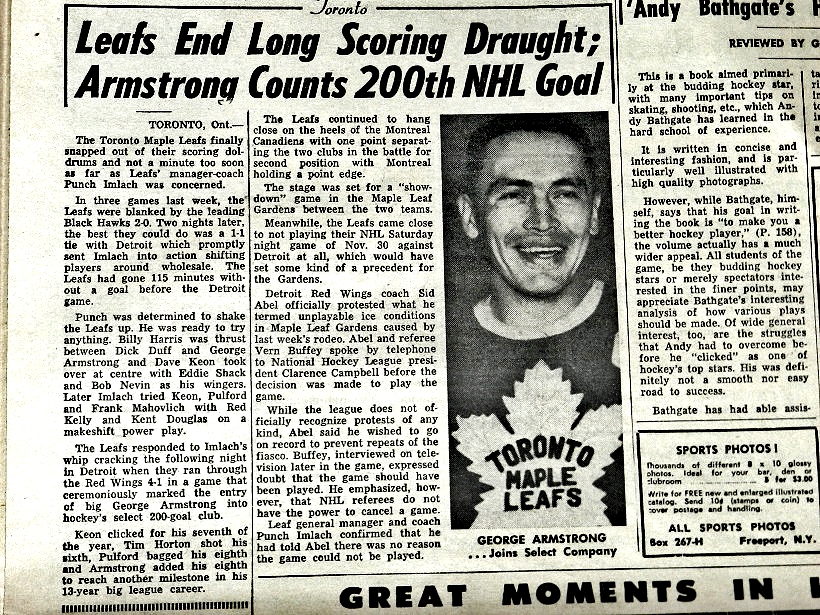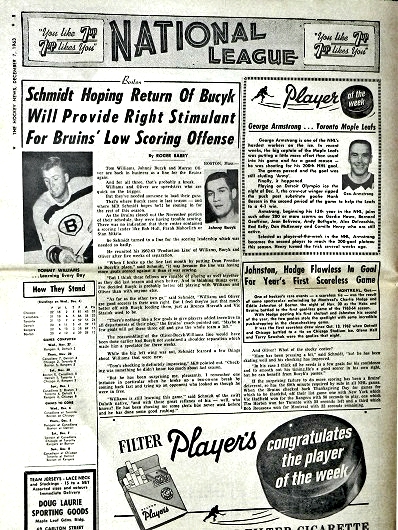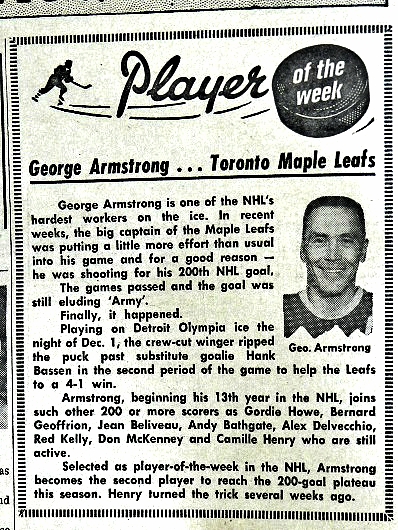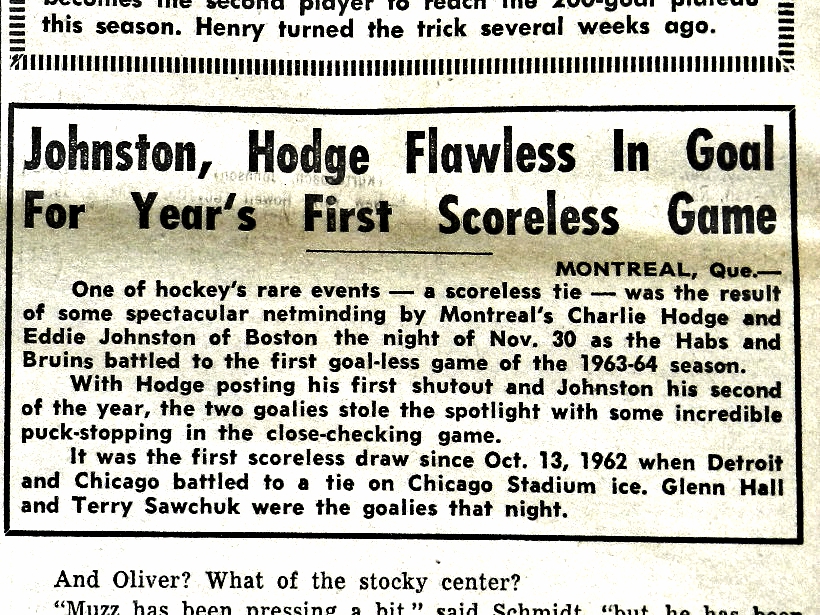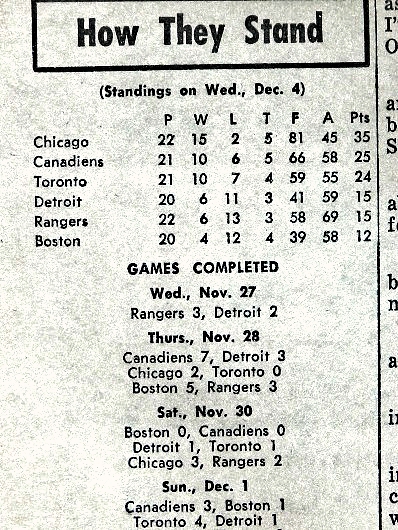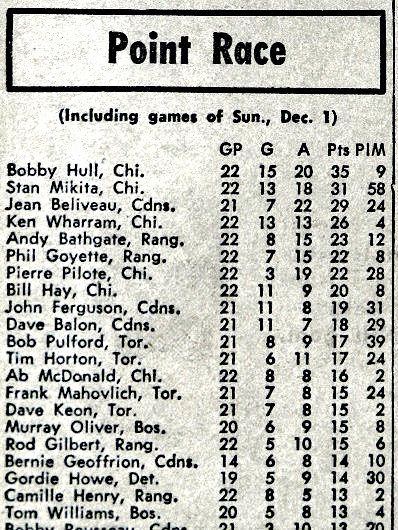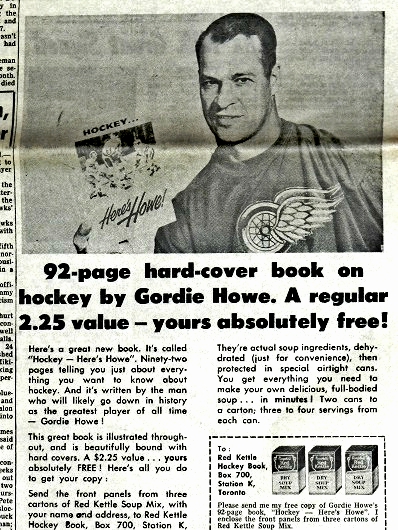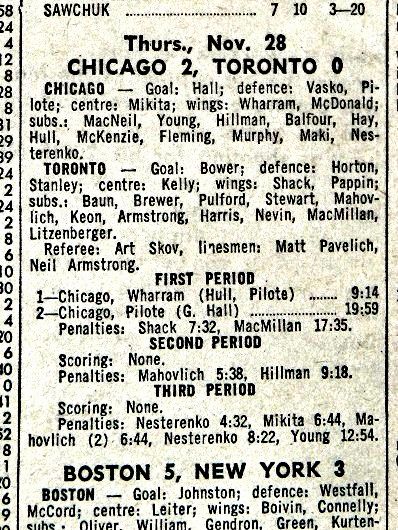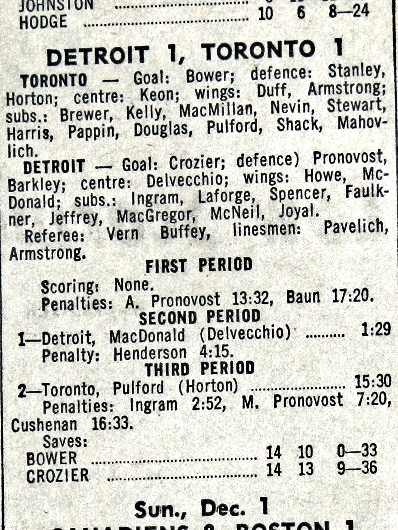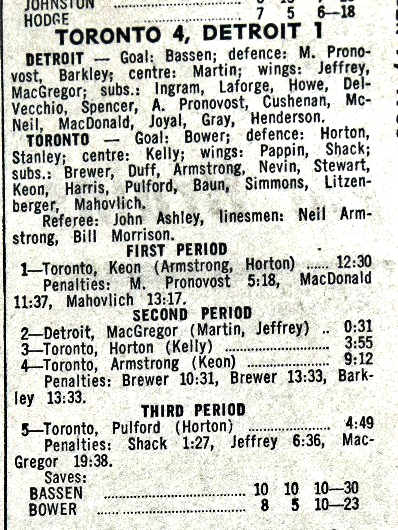 The name of Ian Cushenan appears in the Leafs–Red Wings summaries (above). You may not recognize him. He played 129 NHL games from 1959–64 for all five teams except Toronto.
A native of Hamilton, Ont., Cushenan died in February of this year at 86.
EMAIL: HOWARDLBERGER@GMAIL.COM