TORONTO (Sep. 24) — My old hockey traveling pal, Mark Zwolinski, doesn't believe a word I say. Or, write. Never really has. I believed him, once, and nearly lapsed into Civil War with the 2001–02 Toronto Maple Leafs, featuring Darcy Tucker, Shayne Corson, Gary Roberts and Tie Domi. It required a summit in Mats Sundin's hotel room one afternoon in Philadelphia to quell the ongoing mayhem. But, that's a story for another time. Today, Zwolinski — the veteran hockey scribe at the Toronto Star, known to his friends as Zorro — contends the Leafs are generally comfortable moving forward with Frederik Andersen as their No. 1 goalie. Or, as he has pointedly written twice this week: Andersen "is considered likely" to remain in Toronto.
Mark didn't elaborate on who considers this likely, but neither did I offer specifics in a blog here (https://bit.ly/32Oxxnn), Sep. 3, in which I all–but assured, with my own clandestine information, that the Leafs have decided to trade the final year of Andersen's contract and start anew between the pipes. As such, I have nary a choice but to gather my weapon and challenge Zorro to a saber fight. Last poke wins.
I'll begin by re–stating a position offered liberally in this space: the Maple Leafs will never challenge for the Stanley Cup with Andersen leading the way. He has proven, unequivocally, on four occasions here in Toronto (and a couple beforehand in Anaheim) that he cannot overcome the burden of a decisive playoff match. Sure, Freddy can keep his team close with quick reflexes and acrobatic saves. But, he routinely offsets such brilliance by allowing easy shots to fool him at the most inopportune moments. It has occurred against Washington; Boston, twice, and Columbus. Only the blithe definition of insanity — "doing the same thing over and over and expecting a different result" — would coerce the Maple Leafs toward a fifth attempt.
I'll tell you again: It's not going to happen.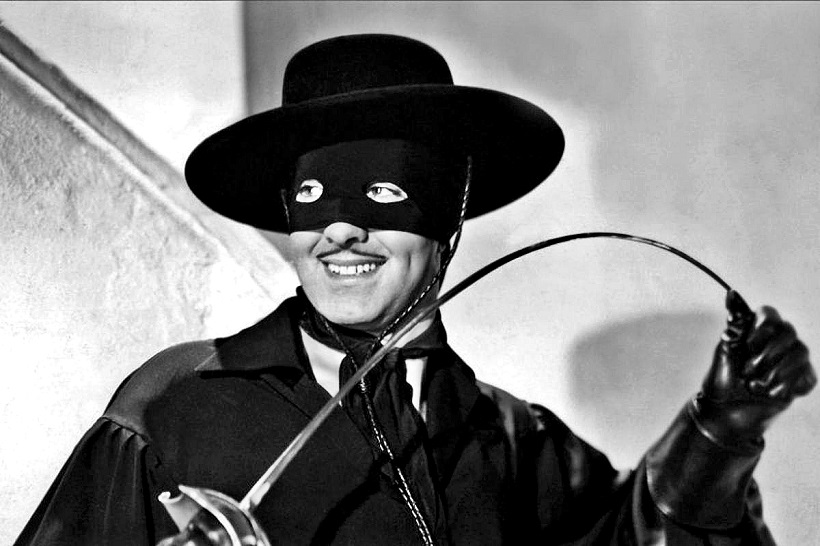 And, why should it during an off–season that will feature the largest goaltending interchange in National Hockey League history? Along with Andersen, others that could switch uniforms prior to next season (whenever that occurs) include Matt Murray (Pittsburgh); Robin Lehner, Marc–Andre Fleury (Vegas); Braden Holtby (Washington); Darcy Kuemper (Arizona); Alexandar Georgiev (New York Rangers); Jacob Markstrom (Vancouver); Corey Crawford (Chicago) and Anton Khudobin (Dallas). There are, by the way, eight Stanley Cup titles amid that group. Should the COVID–19 pandemic preclude, or interminably delay, a 2020–21 schedule, teams that aren't as financially viable as Toronto may seek to unload existing contracts. Which could provide the Maple Leafs even more options in goal. This is undoubtedly the year to seek an upgrade.
In a story on Thursday, my pal Mark — under the curious headline FREDERIK ANDERSEN ISN'T THE MAPLE LEAFS' PROBLEM — cited the goalie's regular–season statistics. Why he chose to not highlight Andersen's post–season misadventures escaped me. I could call Mark and ask… but any such diplomacy would ruin the sword fight. I will therefore hypothesize that Zorro couldn't have presented as strong an argument by assessing Andersen beyond the first week of April. Neither could I. And, neither do such numbers as goals–against average or save–percentage tell an accurate story about the big Dane. For that, the NHL would need a playoff category entitled C. K. G. (crappy–killer goals). Andersen would, accordingly, lead all netminders in the past half–decade among teams that have failed to emerge from the opening Stanley Cup round.
Somewhat to Zwolinski's credit (again, benevolence is not part of this blog), the Star writer penned a more–accurate appraisal of the other illusion this off–season: There are elements of fact and fantasy to speculation linking the Maple Leafs and star defenceman Alex Pietrangelo, the St. Louis Blues captain and pending free agent. FACT: The Leafs most certainly need to land a top–shelf blueliner, preferably with a right–handed shot. FANTASY: The Leafs finding a way to pay the 30–year–old from King City what he wants and make it fit under the frozen NHL salary cap. Mark could have gone farther by offering my assessment of any such transaction: If the Maple Leafs sign Pietrangelo to a long–term deal and do not win the Stanley Cup by 2022, the championship drought will extend beyond 60 years (it is currently 53, and counting). Why? Because the final three or four years of two depreciating, unmovable contracts (the other belonging to John Tavares) will consume nearly $20 million in cap space per season. To wit, I also ask any objective observer: Are the Maple Leafs, right now, one star player removed from a legitimate Stanley Cup challenge? With Andersen in goal; zero roster balance, and not a hint of tenacity? The question, of course, is rhetorical.
And that, my friends is last poke. Sorry, Zorro. 😛
50 YEARS AGO THIS WEEK
Various hockey images from my youth remain seared in memory. Among them is sitting in Sec. 46, Row M of the west Blues (later Reds) at Maple Leaf Gardens on Sep. 23, 1970 — 50 years ago Thursday — as the Maple Leafs and Minnesota North Stars emerged from their dressing rooms to start an exhibition game. For the first time in my life, the Leafs, while playing at home, were adorned in their white "road" uniforms; Minnesota answering with their "home" green sets. It boggled the 11–year–old mind. I can envision veteran Gump Worsley stepping onto the ice in that No. 1 Minnesota jersey I had seen only in color photos… and, occasionally, on the Sunday afternoon Game of the Week, televised, back then, by CBS. Wow–za! 
Little did I realize that the NHL had made a change for the 1970–71 season, decreeing that clubs wear predominantly colored uniforms on the road — an edict that would prevail through the 2002–03 schedule. On that Wednesday night at the Gardens, the Maple Leafs sported the road jerseys they wore from the 1967 Stanley Cup playoffs through the end of the 1969–70 season. Or, as depicted, bottom–left, by the website nhluniforms.com (including the North Stars' green sets, bottom–right):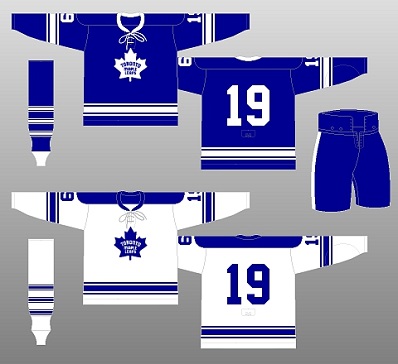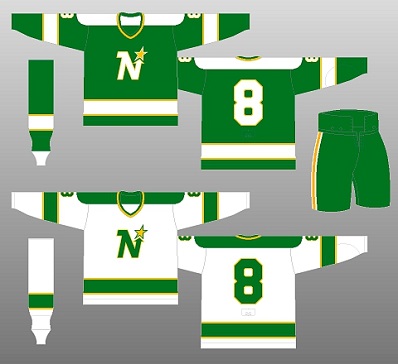 Not until the first home game of the regular season — Oct. 14, 1970 against St. Louis — would the Leafs come out in the white uniform worn through the 1991–92 schedule… with the blue stripe from shoulder to sleeve and the revamped club logo: the home jersey worn exclusively, during their Leaf careers, by such stars as Darryl Sittler, Lanny McDonald, Borje Salming, Ian Turnbull, Dave (Tiger) Williams, Mike Palmateer and Rick Vaive. Toronto would continue to wear its previous blue jersey (top–left) during the first  month of the '70–71 season, for road matches in Vancouver (twice), Philadelphia, New York, Detroit, Los Angeles and California, until its re–designed blue set debuted against the Rangers, at Madison Square Garden, Nov. 15.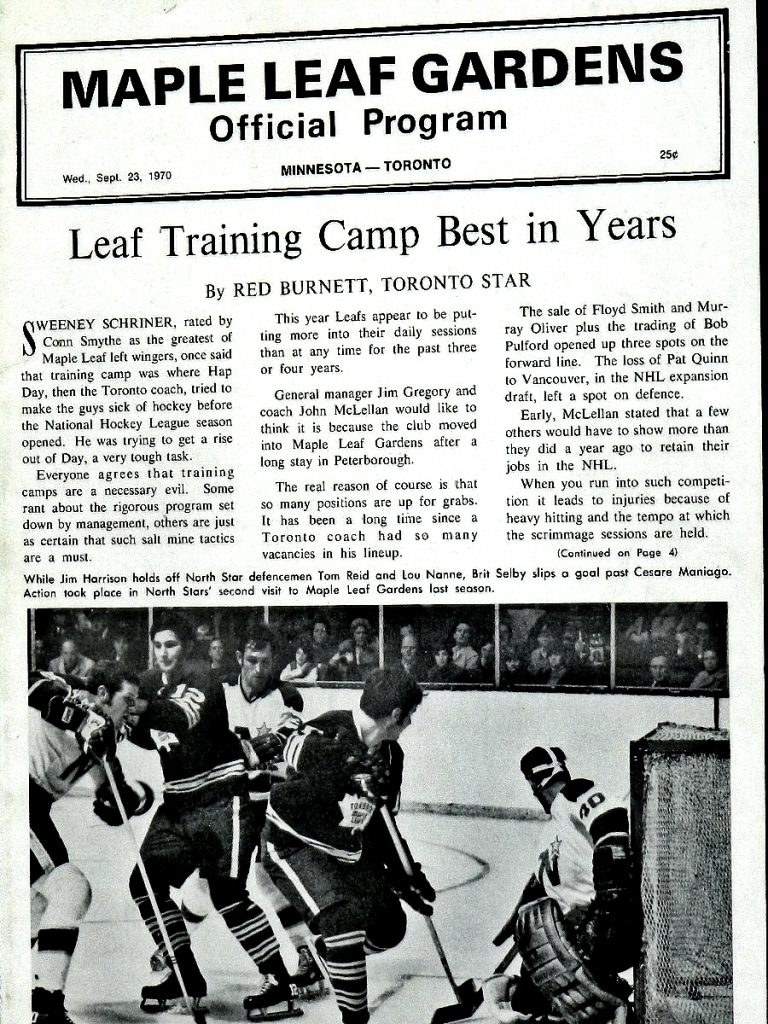 The Gardens program for that Toronto–Minnesota exhibition game was a four–page, cardboard item (above and below) — still in my collection — with an article written by Red Burnett (1910–1979) of the Toronto Star.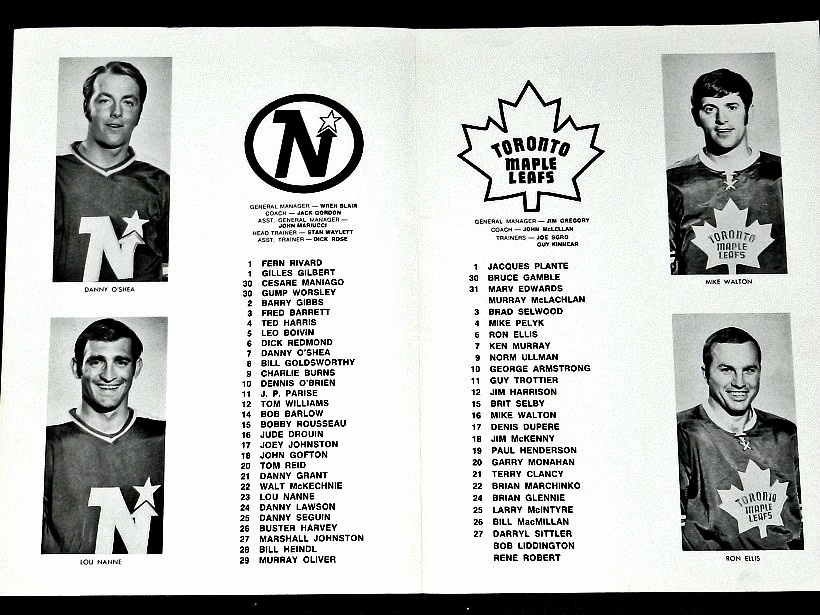 Of note, this was Darryl Sittler's first appearance in a Leafs jersey before Gardens' patrons; he had played in the arena, on several occasions, during his Junior A career with the London Nationals (later, the Knights) in games against the Toronto Marlboros. He wore No. 27 while Bob Liddington and rookie Rene Robert (below) were scratched. Sittler was Toronto's No. 1 draft choice in 1970. Robert would later play right–wing on the famed "French Connection" line of the Buffalo Sabres, alongside Gilbert Perreault and Richard Martin.
It was also the first appearance in a Toronto jersey for veteran goalie Jacques Plante, who had been sold to the Leafs (at age 41) after two seasons with the St. Louis Blues. Plante had backstopped the Montreal Canadiens to five consecutive Stanley Cup titles, beginning in 1956 — still a league record. 

EMAIL: HOWARDLBERGER@GMAIL.COM