TORONTO (Sep. 12) — Whether or not you agree with the cause, there is no question the United States national anthem is being exploited when played prior to sporting events. The cause, of course, is the Black Lives Matter movement, which is difficult (though not impossible) to argue with or condemn.
But, should professional sport provide a vehicle for any form of sociopolitical discord?
In my view, it should not — partly because it engages only with people that follow sports; ignoring countless others. The Miami Dolphins and Detroit Lions are among National Football League teams that have made their intentions known for Sunday afternoon's first full day of the 2020 schedule. The Kansas City Chiefs and Houston Texans protested before the season opener on Thursday night at Arrowhead Stadium — K.C. defensive end Alex Okafor taking a knee and raising his right fist during the anthem while the Texans remained in the visitors' dressing room. Prior to the kickoff, both teams met on the field and joined arms in a "moment of unity", which generated booing from many of the 16,000 fans allowed in the stadium during the pandemic. It's doubtful that any were reacting against "unity" and the message that systemic racism must be eradicated. Rather, they were disputing the stage used for the protest… as well they should.
Here's an idea: Why not discontinue the practice altogether?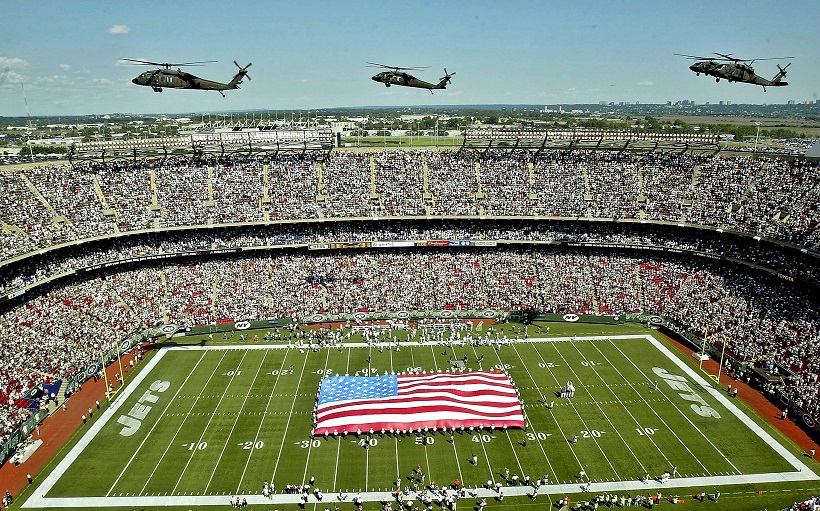 Where is it written that a national anthem (or anthems) must he heard before a professional sporting event? The answer is: nowhere. The routine evolved from America's inclusion in World War I — specifically, from the seventh–inning–stretch during Game 1 of the 1918 World Series between the Boston Red Sox and Chicago Cubs, when a marching–band on the field erupted into The Star Spangled Banner. During World War II, baseball again became a vehicle for displays of patriotism. Public–address systems allowed for songs to be heard throughout a stadium. Playing of the American anthem became cemented as a baseball ritual, after which it spread to other sports. But, never has it been exploited to such an extent as today.
Do you know of any person — having spent lavishly to buy a ticket for a baseball, football, basketball or hockey game — that would storm out of an arena or stadium were the national anthem not played? If so, please counsel that person on acquiring a life. Chances are, the overwhelming majority of spectators would be thrilled to get on with the show as quickly as possible. The reason anthems are heard prior to sports events in North America is simple: It's a habit. Nothing more; nothing less. Most athletes, as you know from watching on TV, shuffle with nervous energy during the songs and would almost–surely prefer to skip the routine. What form of patriotism is aroused, for example, by a hockey game between Ottawa and Arizona? Or a football game between Green Bay and Carolina? If you're thinking "none", you are getting warm.
There are examples of pro sports and national patriotism meshing wonderfully. Such as the practice — during the seventh–inning–stretch at Yankee Stadium in New York — of playing God Bless America, which evolved from the unspeakable crimes of Sep. 11, 2001. To me, that is legitimate "unity" that can be shared by people of all religion and color. But, playing The Star Spangled Banner at a hockey game in Denver, where the participants are mostly of Canadian or European heritage, is inessential… and rather pointless.
Let's get on with the games and compel the athletes to take their grievances elsewhere.
MURPH TURNS 70
For as long as either of us are alive, it appears Mike Murphy will not forget my apparent mistreatment of him while he coached the Toronto Maple Leafs in 1996–97 and 1997–98. "You were good on the radio, but not for me," Mike laments whenever we cross paths. I don't recall what I said on The FAN–590 nearly a quarter–century ago, but I have since emphasized that the regression of Felix Potvin as goalie of the Leafs was foremost in the club missing the playoffs both seasons in which Murph stood behind the bench. Potvin, who had starred with the Pat Burns/Doug Gilmour teams a half–decade earlier, never quite recovered from the horror of Nov. 17, 1997 at Maple Leaf Gardens, when a flip–shot from center–ice by defenseman Al MacInnis of St. Louis bounced past him at 19:58 of the third period, breaking a 2–2 tie. Perhaps Murphy never recovered from that moment as well. He was fired by Ken Dryden far–too–long after the 1997–98 season and replaced by Pat Quinn, who benefited immeasurably from having Curtis Joseph between the pipes.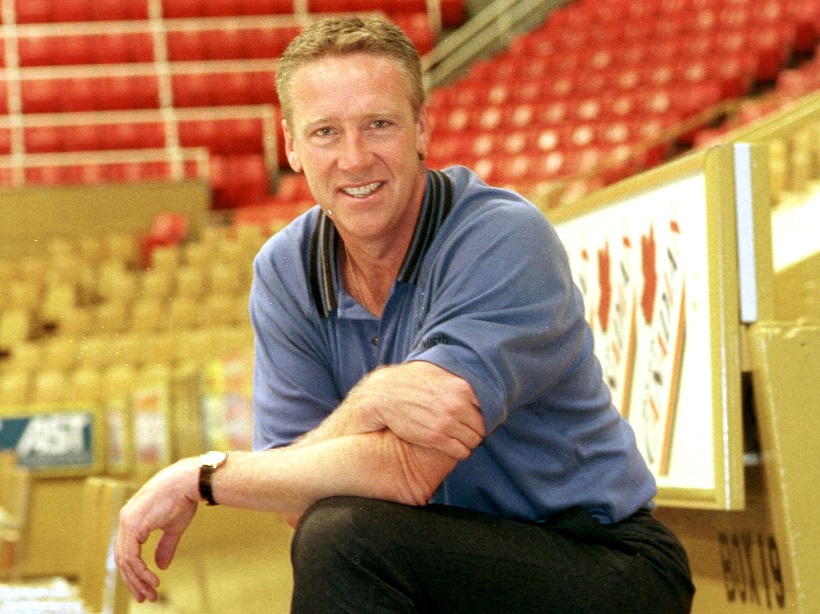 No matter how Mike looks at me, it will not change the fact that he is among the finest people I met in the game of hockey. He has been, for many years, the senior vice–president of operations at the NHL and a widely respected figure. In late–2009, Murph underwent chemotherapy and radiation after being diagnosed with Hodgkin's Lymphoma. To which he thankfully responded. Mike played 831 NHL games between 1972–73 and 1982–83, scoring 238 goals for St. Louis, the New York Rangers and Los Angeles. He was captain of the Kings for seven years, enjoying seasons of 30, 27, 26 and 25 goals in SoCal. Today, the Toronto native turns 70. I wish him infinite more years of health and happiness with wife Yvonne and his beautiful family.
JUNE 18, 1972 — Three Rivers Stadium
San Diego Padres 1, Pittsburgh Pirates 0.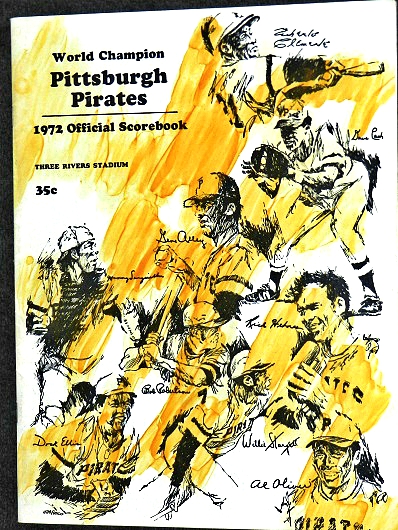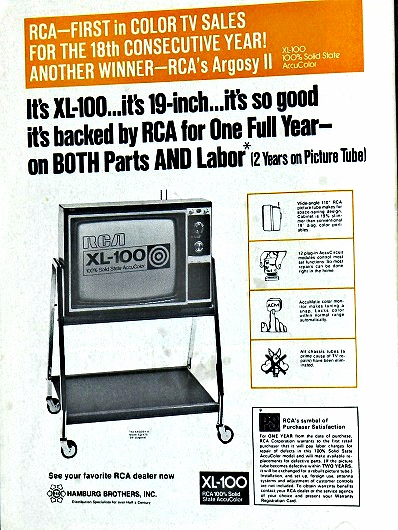 While going through a box in my collection the other day, I came across the program/scorebook from my first live baseball game: San Diego at Pittsburgh on June 18, 1972. In town for a family wedding at 13 years of age, Dad forbade me from going to the game with the previous night with my cousins; he was always a bit over–protective. But, he's also the nicest human being I've ever known. As such, he felt badly about his decision and took me to the Sunday afternoon finale of the series at Three Rivers Stadium — then, in its third year as home of the Pirates and NFL Steelers. I remember we got tickets behind home plate in the second deck; terrific seats. The Pirates were defending World Series champions after defeating Baltimore in 1971. And, I'll always remember watching the great Roberto Clemente (below), not realizing, of course, that he would die in a plane crash six months later while providing aid to earthquake victims in Nicaragua.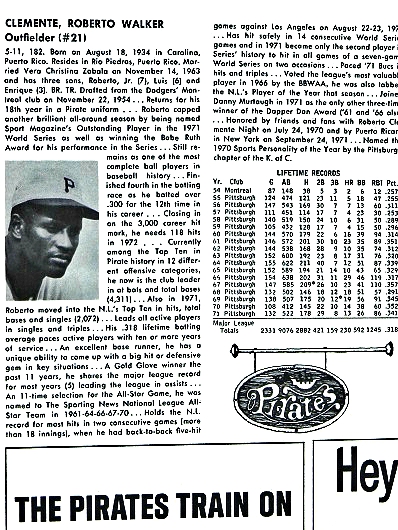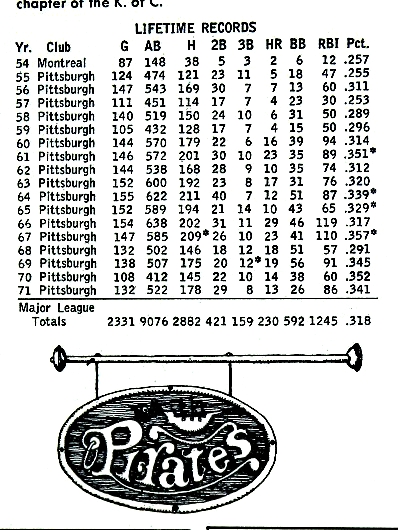 In the Pittsburgh dugout was 35–year–old Bill Mazeroski (bottom–left), whose famous bottom–of–the–ninth home run off Ralph Terry in Game 7 of the 1960 World Series allowed the Pirates to "walk off" against the New York Yankees at Forbes Field, the forerunner to Three Rivers Stadium. It was the first time a home run had decided the Major League championship; the second would occur 33 years afterward, at SkyDome in Toronto, when Joe Carter's line–drive to left field off Mitch Williams allowed the Toronto Blue Jays to "walk off" the Philadelphia Phillies for the 1993 title and repeat as world champs. In the visitors' dugout was the person who would manage the consecutive Blue Jays triumphs just more than 20 years later — outfielder Clarence Gaston (bottom-right) of the Padres (better–known as "Cito")… then 28 years of age.
Toronto's American League inauguration was still five years down the road.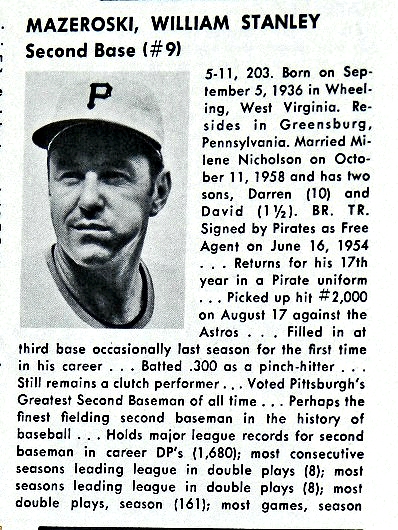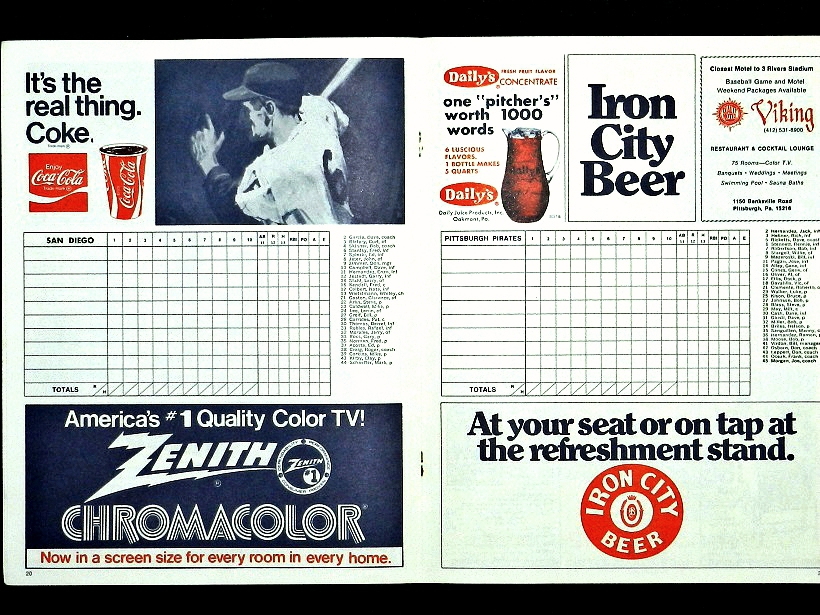 The center scorecard (above) and team line–ups (below).
SAN DIEGO (bottom–left): Don Zimmer (No. 9), or "Popeye", began his managerial career with the Padres in 1972 and 1973; later serving with Boston, Texas and the Chicago Cubs. Nate Colbert (No. 17) was San Diego's big slugger with 38 home runs and 111 RBI in '72. Cito Gaston (No. 21) had seven homers and 44 RBI, but improved his numbers to 16 HR and 57 RBI the following year. Right–handed Steve Arlin (No. 22) tossed a complete game, two–hit shutout against the Pirates, as per the box score beneath the line–ups. A native of Seattle, Arlin died at 70 in August 2016. Outfielder Leron Lee (No. 24) had the game's only RBI, in the top of the first inning. Lee, today, is 72.
PITTSBURGH (bottom–right): Lanky right–hander Bruce Kison (No. 25) was the losing pitcher, despite giving up only three hits and one earned run over eight innings. Dave Giusti (No. 31) pitched the ninth for the Pirates. Giusti, today, is 80. Bill Virdon (No. 41) was in his first year managing Pittsburgh. Danny Murtaugh, who led the Pirates to the '71 World Series title, retired afterward for health reasons. Virdon is still alive, now 89. Murtaugh died in Dec. 1976 at 59 years of age.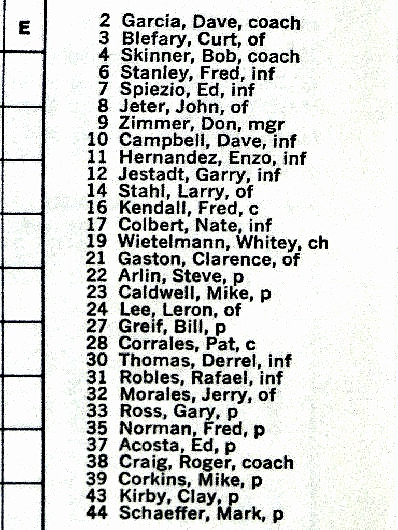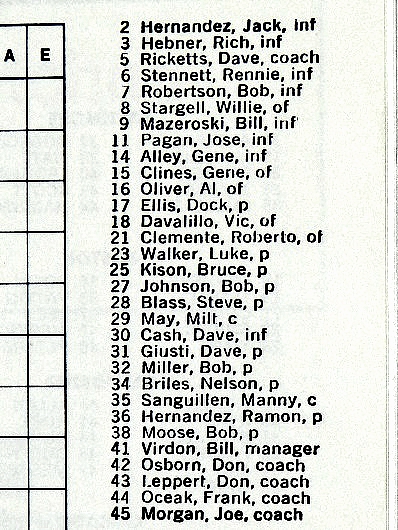 Baseball Almanac Box Scores

San Diego Padres 1, Pittsburgh Pirates 0

Game played on Sunday, June 18, 1972 at Three Rivers Stadium

| | | | | | | | | | | | | | | | |
| --- | --- | --- | --- | --- | --- | --- | --- | --- | --- | --- | --- | --- | --- | --- | --- |
| San Diego | 1 | 0 | 0 | | 0 | 0 | 0 | | 0 | 0 | 0 | – | 1 | 3 | 0 |
| Pittsburgh | 0 | 0 | 0 | | 0 | 0 | 0 | | 0 | 0 | 0 | – | 0 | 2 | 0 |

  San Diego Padres
IP
H
R
ER
BB
SO
Arlin  W (6-6)
9.0
2
0
0
3
9
Totals
9.0
2
0
0
3
9
  Pittsburgh Pirates
IP
H
R
ER
BB
SO
Kison  L (2-1)
8.0
3
1
1
3
7
  Giusti
1.0
0
0
0
1
2
Totals
9.0
3
1
1
4
9
  E–None.  2B–San Diego Morales (6,off Kison); Roberts (4,off Kison).  CS–Colbert (3,2nd base by Kison/May); Morales (2,2nd base by Kison/May).  WP–Arlin (5).  U-HP–John Kibler, 1B–Nick Colosi, 2B–Satch Davidson, 3B–Ed Sudol.  T–2:13.  A–27,143.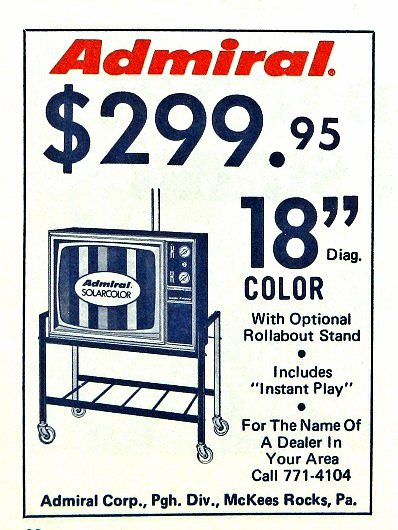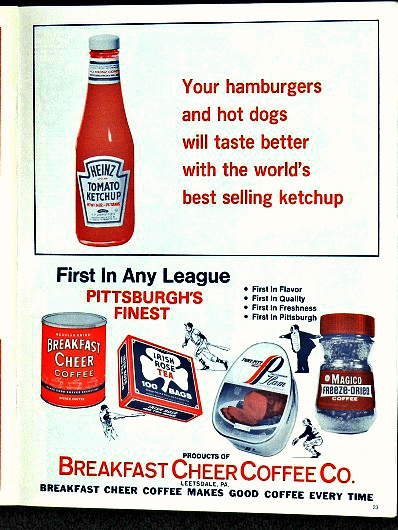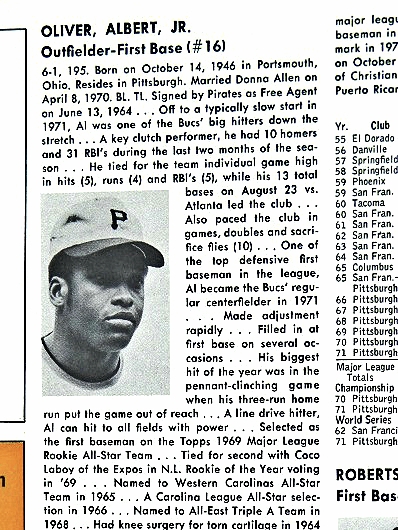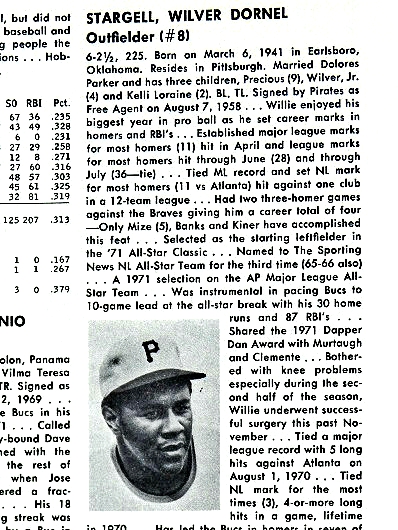 Al Oliver and Willie Stargell were mainstays of the Pirates and the 1971 World Series team. Oliver batted .282 with 14 HR and 64 RBI in '71. Late in the 1985 Major League season, he was obtained from the Los Angeles Dodgers by the Toronto Blue Jays. His two–run double in Game 4 of the '85 American League Championship Series provided the Blue Jays a 3–1 edge over Kansas City in the best–of–seven affair, but George Brett and the Royals roared back to win three in a row, then upended St. Louis in the World Series. Oliver retired after 1985. Today, he is 73. Along with Roberto Clemente, Stargell is considered the greatest Pirates player of all time. He spent his entire, 21–year career (1962–82) with Pittsburgh, hitting 475 home runs. He led the Majors with 48 homers when the Pirates won it all in '71 and hit 32 more for the World Series champs of 1979. Stargell was only 61 when he died of a stroke in April 2001.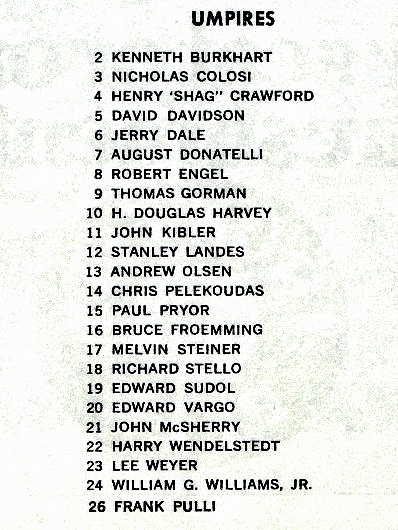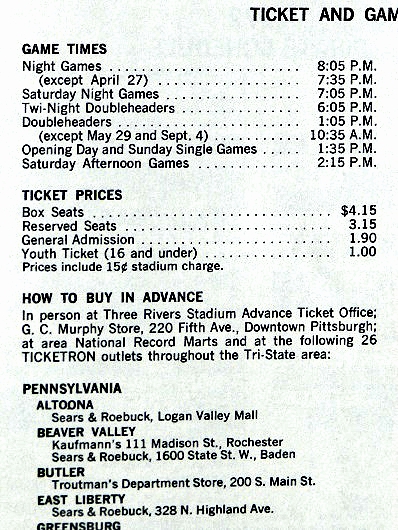 John Kibler (No. 11, top–left) was the plate umpire in my first Major League game. Just more than 14 years later, he was umping first base at Shea Stadium in New York when Mookie Wilson's slow roller up the line famously escaped between the legs of Boston's Bill Buckner, allowing the Mets to win Game 6 of the World Series. Kibler then handled the plate for Game 7, as the Mets became 1986 champion. He died at 81 years of age in February 2010. And, it was awfully cheap to attended Major League games (top–right) in 1972.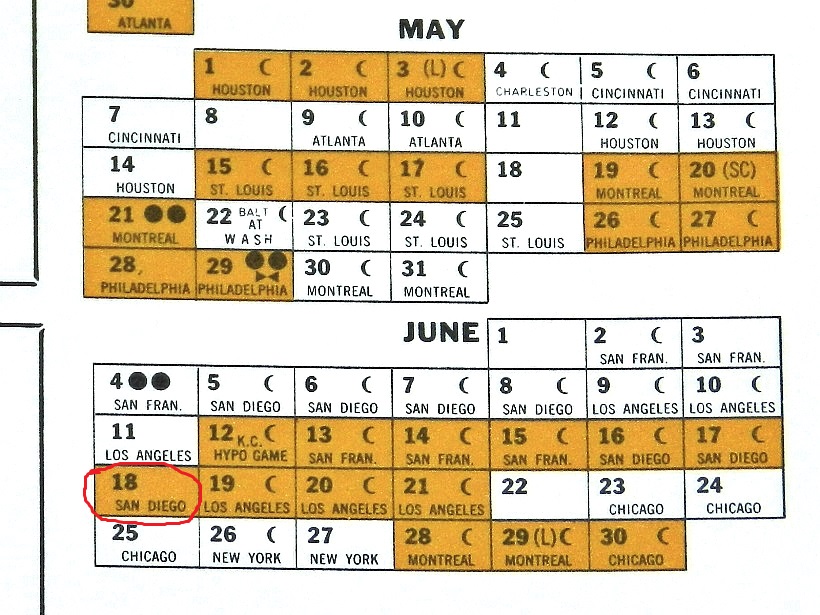 My first MLB game — circled.
AND, FINALLY… four words that have to send shivers up the spine of a Toronto sports fan: "Game 7 against Boston." 🙄
EMAIL: HOWARDLBERGER@GMAIL.COM