TORONTO (Sep. 2) — To their credit, the Toronto Maple Leafs are trying to avoid insanity. You know… doing the same thing over and over while expecting a different result. The club has been down that path on three occasions with Frederik Andersen and will not risk a fourth. A high–profile agent tells me the Leafs have made the decision to replace Andersen before next season, which is scheduled to begin Dec. 1. General manager Kyle Dubas is attempting to trade the final year of Andersen's $5 million contract. Jack Campbell, acquired in February from Los Angeles, will team with Andersen's replacement — rumored, at the moment, to be two–time Stanley Cup winner Matt Murray of the Pittsburgh Penguins. But, others are in the mix.
Murray, 26, is a restricted free agent; his salary cap hit was $3.75 million. Pittsburgh GM Jim Rutherford must also sign RFA netminder Tristan Jarry, who impressed this season with a 2.43 goals–against average and three shutouts in 33 games. The Penguins also have 29–year–old Casey DeSmith between the pipes.
Andersen has proven a solid No. 1 stopper for the Leafs since being acquired from Anaheim (June 20, 2016) by Lou Lamoriello for a first–round pick. In 244 starts over four seasons, his record is 136–66–33 with a 2.77 GAA; .916 save–percentage and 13 shutouts. In 25 playoff games, however, with virtually identical statistics, Andersen is 10–14 and has failed to win the big one. Soft goals at the most inopportune moments have been his downfall in a Toronto jersey. He lost Games 7 at Boston in 2018 and 2019, then could not hold off Columbus in a low–scoring, five–game slog last month during the qualifying (or play–in) round. Though he made numerous tough stops, an easy shot fooled him in the scoreless third period of Game 1 and another, from a terrible angle, clinched Game 5, adding to a 1–0 Blue Jackets lead in the final frame. The Leafs simply cannot stay with Andersen and expect that he'll overcome the soft–goal bugaboo. As I mentioned in a blog here after the loss to Columbus (https://bit.ly/2XQt95F), it is time for a change in net. The Toronto braintrust, with no design on extending Andersen beyond next season, has come to the same conclusion.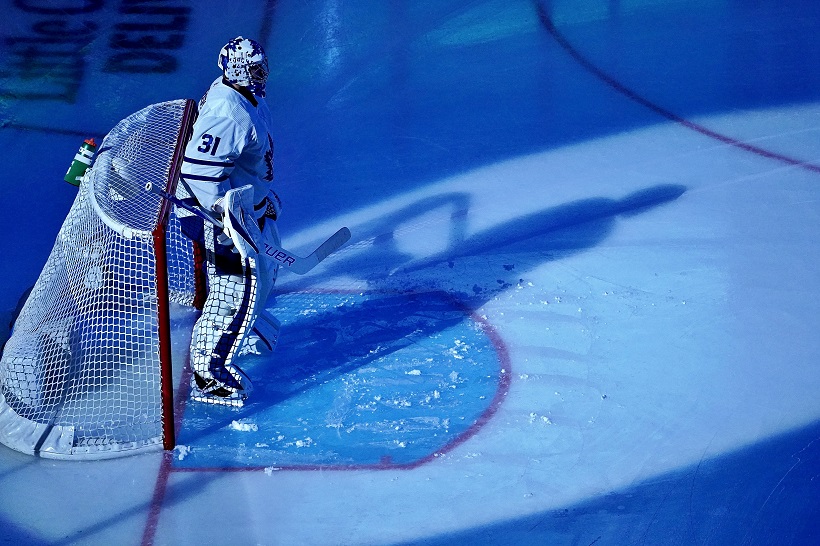 THE SPOTLIGHT WILL SHINE ON ANOTHER PUCK–STOPPER FOR THE TORONTO MAPLE LEAFS NEXT SEASON AS THE HOCKEY CLUB HAS DECIDED TO MOVE ON FROM FREDERIK ANDERSEN.
And, really, it cannot be a surprise. Campbell, on Feb. 7, against Anaheim, at Scotiabank Arena, became the 70th man to play goal for the Maple Leafs since they last won the Stanley Cup, in 1967.
In case you're curious, here's the entire list:
JOHNNY BOWER, BRUCE GAMBLE, AL SMITH, MARV EDWARDS, GERRY McNAMARA, JACQUES PLANTE, BERNIE PARENT, MURRAY McLACHLAN, GORD McRAE, RON LOW, DOUG FAVELL, DUNC WILSON, ED JOHNSTON, PIERRE HAMEL, WAYNE THOMAS,  MIKE PALMATEER, PAUL HARRISON, JIRI CRHA, CURT RIDLEY, VINCENT TREMBLAY, JIM RUTHERFORD, MICHEL (BUNNY) LAROCQUE, BOB PARENT, RICK ST. CROIX, ALLAN BESTER, KEN WREGGET, BRUCE DOWIE, TIM BERNHARDT, DON EDWARDS, JEFF REESE, MARK LaFOREST, PETER ING, DAMIAN RHODES, GRANT FUHR, FELIX POTVIN, RICK WAMSLEY, DARREN PUPPA, DON BEAUPRE, MARCEL COUSINEAU, GLENN HEALY, CURTIS JOSEPH, COREY SCHWAB, TOM BARRASSO, SEBASTIEN CENTOMO, ED BELFOUR, MIKAEL TELLQVIST, TREVOR KIDD, JEAN-SEBASTIAN AUBIN, ANDREW RAYCROFT, SCOTT CLEMMENSEN, VESA TOSKALA, MARTIN GERBER, JUSTIN POGGE, JEAN-SEBASTIEN GIGUERE, JONAS GUSTAVSSON, JOEY MacDONALD, JAMES REIMER, BEN SCRIVENS, JUSSI RYNNAS, JONATHAN BERNIER, DREW MacINTYRE, GARRET SPARKS, FREDERIK ANDERSEN, JHONAS ENROTH, ANTOINE BIBEAU, CURTIS McELHINNEY,  CALVIN PICKARD, MICHAEL HUTCHINSON, KASIMIR KASKISUO, JACK CAMPBELL.
The Toronto goalie situation, since 1967, has been stable on only three occasions: with Mike Palmateer in the late–70's; Felix Potvin in the early 90's and Curtis Joseph from 1998 to 2002. These men won multiple playoff rounds with the Blue and White. Otherwise, it's been a black hole; such players as Andersen and James Reimer enjoying stretches of prosperity in the regular season, but failing to come through in the playoffs. And, it's the reason Kyle Dubas must again venture to find that long, missing ingredient.
STORIES FROM ABOVE
As part of my hockey collection, I have three binders full of black–and–white publicity photos issued by NHL teams between 1967 and 1977. Many were accumulated when the Toronto Sun sports department cleaned out a pile of stuff in the early–80's. Joel Colomby, one of my longest and dearest friends, has been an editor at the Sun since 1980; we worked together for more than a year (starting in May 1979) at the Etobicoke Guardian community newspaper. Joel knew, even back then, I was a hoarder and asked if I wanted the photos before they landed in the dumpster. Silly question. Many were from teams that no longer exist or have re–located: the California/Oakland Seals (1967–76), Minnesota North Stars (1967–93), Atlanta Flames (1972–80), Kansas City Scouts (1974–76), Cleveland Barons (1976–78), Colorado Rockies (1976–82). As I went through the photos this week, I noticed a number of players that have since passed away — some, Hall–of–Famers; others, quite obscure. Here are 13 stories among the deceased who once skated in the NHL: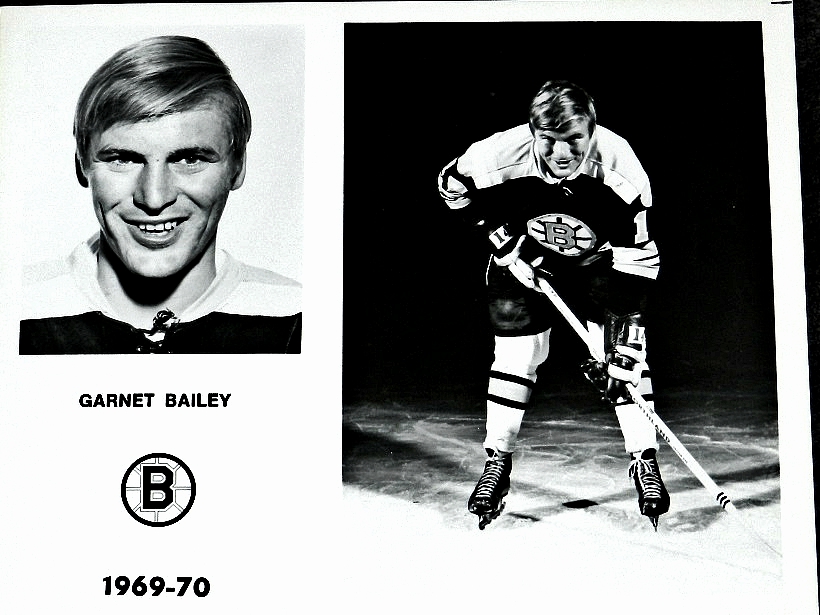 BORN: June 13, 1948 in Lloydminster, Sask. DIED: Sep. 11, 2001 in New York. Though an industrious player; Stanley Cup winner; respected scout and close friend of Wayne Gretzky, Bailey (known as "Ace") is best–remembered for perishing aboard United Airlines Flight 175 (Boston to Los Angeles) when it slammed into the south tower of the World Trade Center. He and fellow Kings scout Mark Beavis were heading to California for training camp. Hijackers commandeered the Boeing–767 and flew it into the massive building. A left–winger, Bailey played 568 NHL games from 1969–78 for Boston, Detroit, St. Louis and Washington. Though he did not appear in the playoffs, Bailey saw action in 58 regular–season games with Boston in 1969–70; the Bruins defeating St. Louis to win the Stanley Cup. Traded by the Blues to Washington on Jan. 10, 1975, he skated for half–a–season with the worst team in NHL history. The Capitals were 5–34–0 in 39 games with Bailey en route to finishing 8–67–5 for 21 points. In 1978–79, Bailey played 38 games with Edmonton of the World Hockey Association. He worked as a scout for the Oilers from 1981–94, a time in which the club (absorbed by the NHL in 1979–80) won all five of its Stanley Cup titles… and where he became friends with Gretzky. Garnet's name is engraved on the Cup for the Oiler triumphs of 1985–87–90.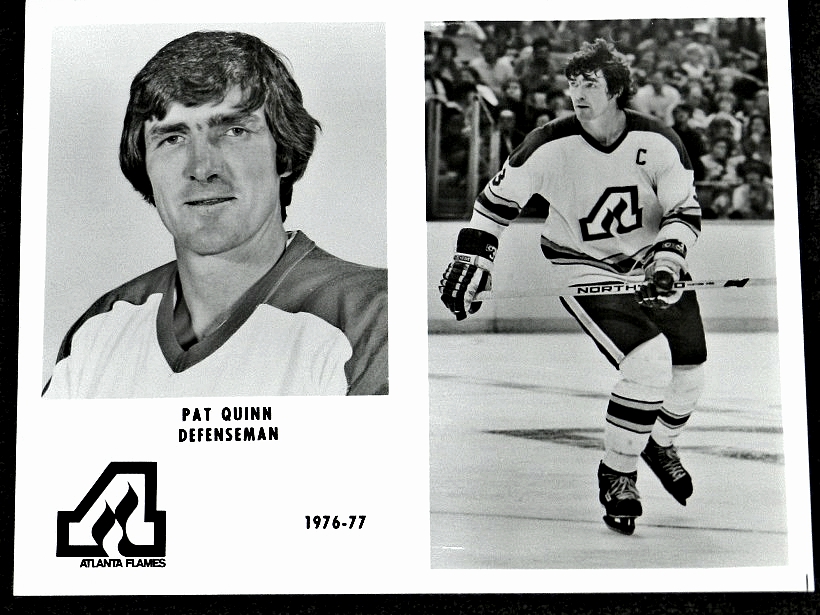 BORN: Jan. 29, 1943 in Hamilton, Ont. DIED: Nov. 23, 2014 in Vancouver. The Big Irishman needs no introduction. He began a nine–year NHL stint on defense with the Toronto Maple Leafs in 1968–69 and coached the team from 1998–99 to 2005–06, twice guiding it to the Stanley Cup semifinals (1999, 2002). This photo is from Quinn's last NHL season. His career ended in the summer of 1977 after a skateboarding accident. He played 608 games with Toronto, Vancouver and Atlanta, scoring 18 goals and amassing 950 penalty minutes. He went to the Canucks (1970) and Flames (1972) in the expansion draft and captained both teams. He coached Canada to the men's hockey title at the 2002 Winter Olympics in Salt Lake City, breaking a 50–year gold medal drought. Pat was chairman of the Hockey Hall of Fame Selection Committee when he died of a liver ailment at Vancouver General Hospital. He coined the term "upper–body injury" after describing, as such, a malady incurred by Leafs defenseman Dmitri Yushkevich in the 1999 playoffs.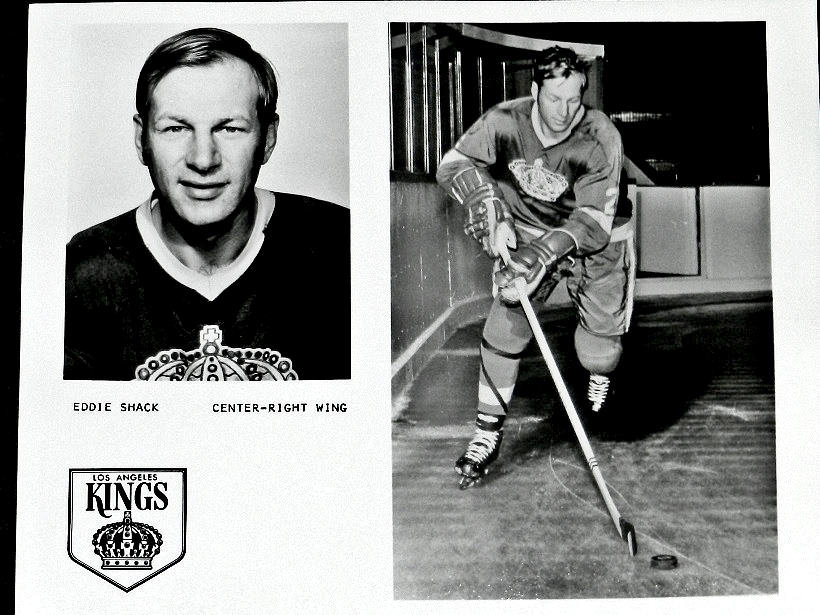 BORN: Feb. 11, 1937 in Sudbury, Ont. DIED: July 25, 2020 in Toronto. They're still re-building the Pearly gates after The Entertainer crashed the Great Beyond this summer. Eddie died after a lengthy struggle with throat cancer. He left an indelible mark on hockey during his 17–year NHL career (1957–58 to 1974–75) with New York, Toronto (twice), Boston, Los Angeles, Buffalo and Pittsburgh. Then, afterward, as a mustachioed huckster for such items as Christmas trees and plastic garbage bags. This is Shack's publicity photo with the 1969–70 Kings, easily the worst team for which he skated. Eddie appeared in a career–high 73 games and scored 22 goals with the NHL's last–place club: 14–52–10 for 38 points, a full 20 points behind the second–worst team, Philadelphia. He was exiled from L.A. early the following season (Nov. 25, 1970), going to the expansion Sabres with Dick Duff; the ex–Leafs re–uniting with GM and coach Punch Imlach. His former Toronto teammate, Red Kelly, brought The Entertainer back to town for a final fling in 1973–74. But, Kelly, the Leafs coach, deployed Shack sparingly and Eddie retired after dressing for just 26 games in 1974–75.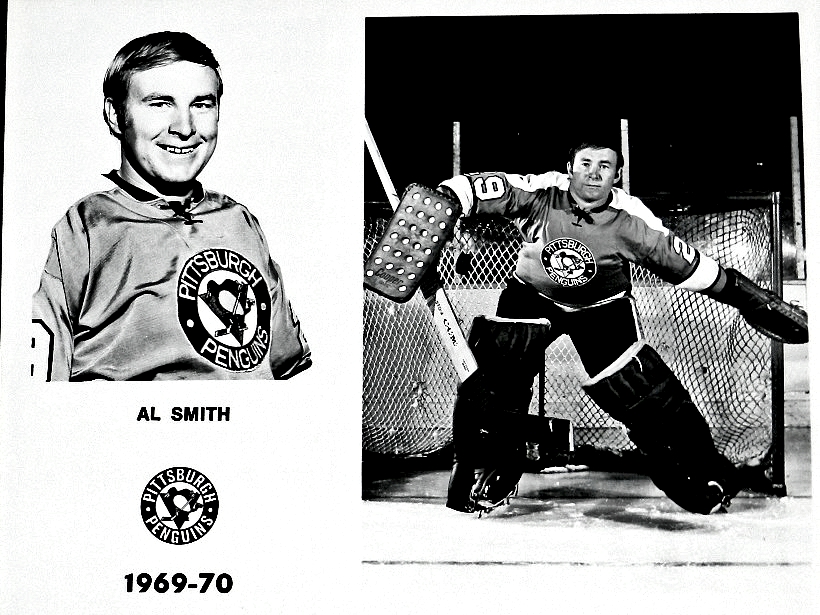 BORN: Nov. 10, 1945 in Toronto. DIED: Aug. 7, 2002 in Toronto. What I remember most about Al Smith was playing goal for the Toronto Marlboros the first time I set foot in Maple Leaf Gardens. That was on March 6, 1966 — a Sunday afternoon, one month past my seventh birthday. Fern Rivard was in net for the Peterborough Petes and the Marlboros won, 7–4. Michelle, by The Beatles, was the No. 1 song at the time. I remember hearing it on 1050–CHUM while Dad drove us to the Gardens. It was before the Mezzanine Blues were constructed in the north and south ends of the arena for the following year. Sunlight filtered through cathedral–like windows on the south wall, overlooking Carlton St. I had watched on TV, the night before, as Bruce Gamble of the Maple Leafs blanked Chicago, 5–0, while brilliantly thwarting Bobby Hull in his attempt to break the 50–goal plateau. It was surreal looking around the place and recalling the NHL game. Al Smith was actually the Leafs No. 2 goalie the night (May 2, 1967) they last won the Stanley Cup. Terry Sawchuk played against Montreal and Johnny Bower was dressed — seated at the end of the bench — but unable to perform. Smith watched on TV in the dressing room. He appeared in 10 games for the Leafs (seven in 1968–69). Claimed by Pittsburgh (June 11, 1969) in the intra–league waiver draft, Al played 91 games for the Penguins in 1969–70 and 1970–71. In the first three seasons of the WHA, he was the No. 1 goalie for the New England Whalers. A free spirit, he drove taxi here in Toronto and died of pancreatic cancer at 56.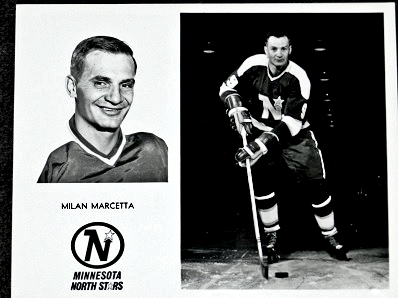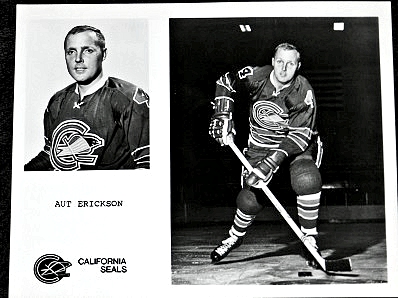 Milan Marcetta — BORN: Sep. 19, 1936 in Cadomin, Alta. DIED: Sep. 18, 2014 in Vernon, B.C. Autry Erickson — BORN: Jan. 25, 1938 in Lethbridge, Alta. DIED: Aug. 21, 2010 in Moreno Valley, Calif. These are the players least–identifiable in the Maple Leafs 1967 Stanley Cup photo (below). They are at far–left and right of the top row, flanking Brian Conacher and Jim Pappin. Both were in uniform during the '67 playoffs: Marcetta for three games; Erickson for one. Thus their inclusion in the team picture. Both were lost in the 1967 expansion draft — Marcetta to the Minnesota North Stars; Erickson, the California Seals (as per photos, above). Marcetta recorded 17 points in 36 games with the North Stars in their inaugural season… then erupted during the playoffs with 14 points in as many games, as Minnesota came within one victory of facing Montreal in the Stanley Cup final. He appeared in 18 games with the North Stars in 1968–69. I had the pleasure of meeting Milan at a dinner in May 1997 to commemorate the 30th anniversary of the last Toronto championship. He died one day before turning 78. Erickson played 226 NHL games with Boston, Chicago, the Leafs and California between 1959–60 and 1969–70. He appeared in 65 of 74 games with the expansion Seals in 1967–68. Autry attended a 30th anniversary event for the '67 Leafs at Air Canada Centre on Feb. 13, 2007, prior to a game against the New York Islanders. It marked Dave Keon's return to the Maple Leafs after a 32–year estrangement. Erickson died 3½ years later, at 72, after a long battle with cancer.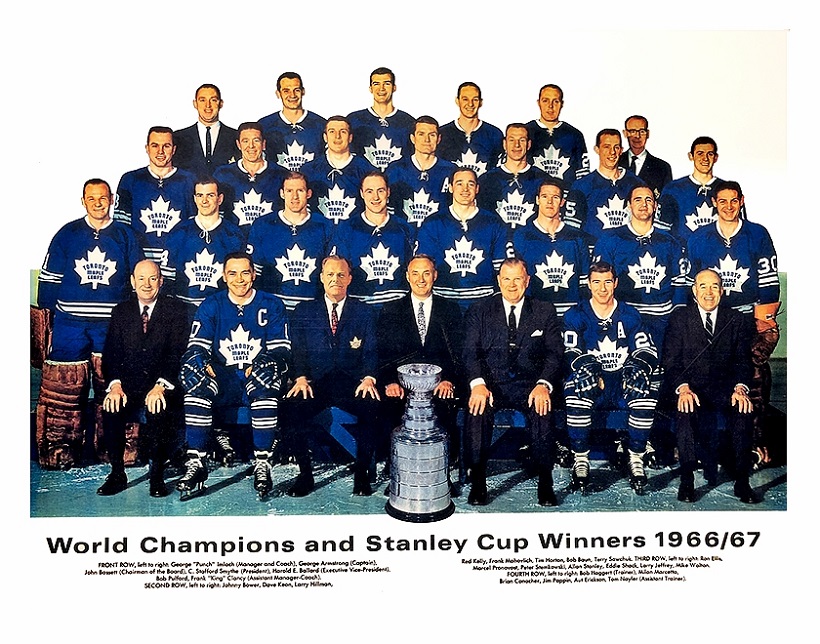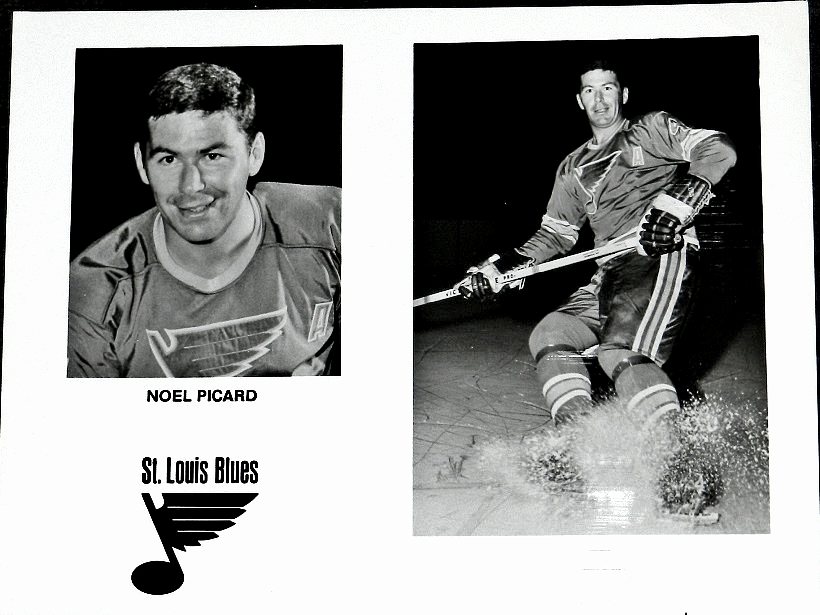 BORN: Dec. 25, 1938 in Montreal. DIED: Sep. 6, 2017 in Montreal. Though he played 335 games in the NHL and was a key figure with the St. Louis teams, under Scotty Bowman, in the early years of expansion, Noel Picard is best–remembered for flipping Bobby Orr's left skate (below) as Orr potted the Stanley Cup–winning goal for Boston in overtime on May 10, 1970. I will never forget the repartee between Picard, Orr and Derek Sanderson on the radio while commemorating the 20th anniversary of the goal — May 10, 1990. As Bob McCown and Bill Watters listened during Prime Time Sports, the three ex–players went back and forth; Sanderson (who set up Orr, standing behind the net, arms raised, below) and Picard exchanging wisecracks. Picard played 16 games with Montreal in 1964–65, setting up seven goals. Chosen by St. Louis in the 1967 expansion draft, he skated for the Blues over parts of six seasons and was claimed on waivers (Nov. 25, 1972) by the expansion Atlanta Flames. Noel retired after playing the final 41 games with Atlanta. In 1973–74, he joined Dan Kelly in the broadcast booth for Blues games on KMOX–1120 Radio. His thick, French–Canadian accent made him a folk–hero in St. Louis, though he constantly aggravated Blues' co–owner, Sid Saloman III, by referring to him as "Sid de turd." He died at 78 after a long cancer struggle.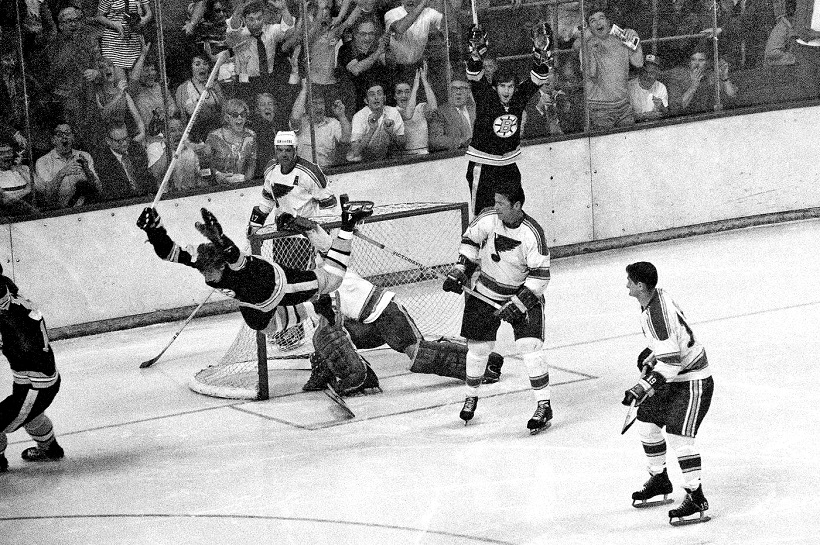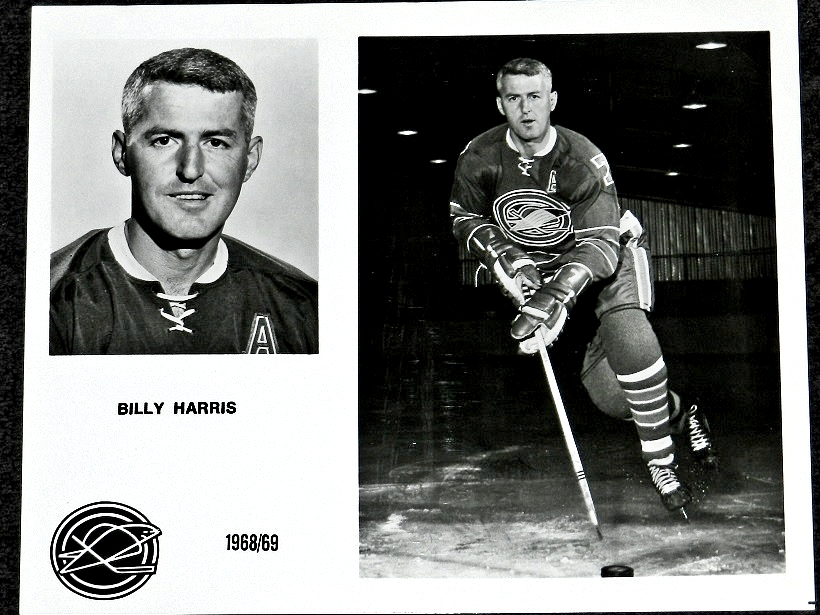 BORN: July 29, 1935 in Toronto. DIED: Sep. 20, 2001 in Toronto. Known throughout the game as "Hinky", Billy Harris spent a decade with the Maple Leafs (1955–56 to 1964–65) and was part of three consecutive Stanley Cup teams (1962–63–64) under Punch Imlach. He went to Detroit on May 20, 1965 as part of a massive, seven–player trade; the Leafs also sending the Red Wings Andy Bathgate and Gary Jarrett for Marcel Pronovost, Larry Jeffrey, Ed Joyal, Lowell MacDonald and Autry Erickson. Had the Leafs retained Joyal and MacDonald (652 combined NHL points), the deal would have been terribly lopsided. But, Imlach lost both players to Los Angeles in the 1967 expansion draft. Harris spent 1966–67 with Pittsburgh of the American Hockey League, helping the Hornets win the Calder Cup. Selected from Detroit by Oakland (above) in the '67 expansion draft, he played 62 games for the expansion Seals and did not get along with coach Bert Olmstead, his former Leafs teammate. Oakland GM Frank Selke Jr. traded Harris to Pittsburgh on Nov. 29, 1968 for forward Bob Dillabough. Hinky appeared in 54 games with the Penguins in 1968–69 before retiring. He returned home in 1973–74 as coach of the WHA Toronto Toros, who played their games at the University of Toronto's Varsity Arena (capacity: 4,800) before moving to Maple Leaf Gardens the following year. While a member of the Leafs, Harris took photos of the club on road trips and celebrating Stanley Cup victories. He compiled them into a best–selling memoir, below, in 1989. Billy died young, at 66, of Leukemia.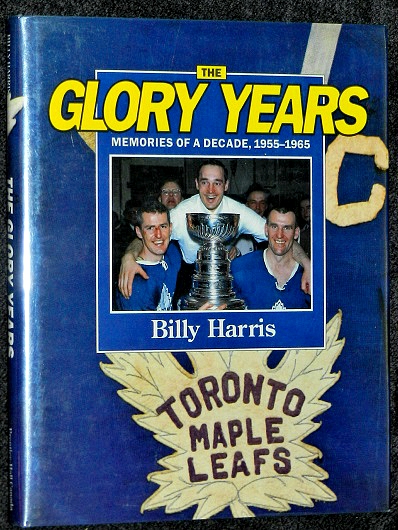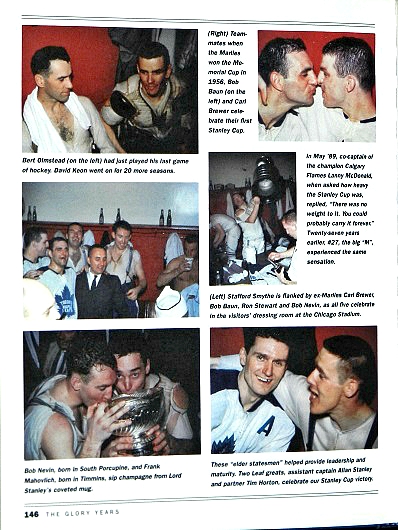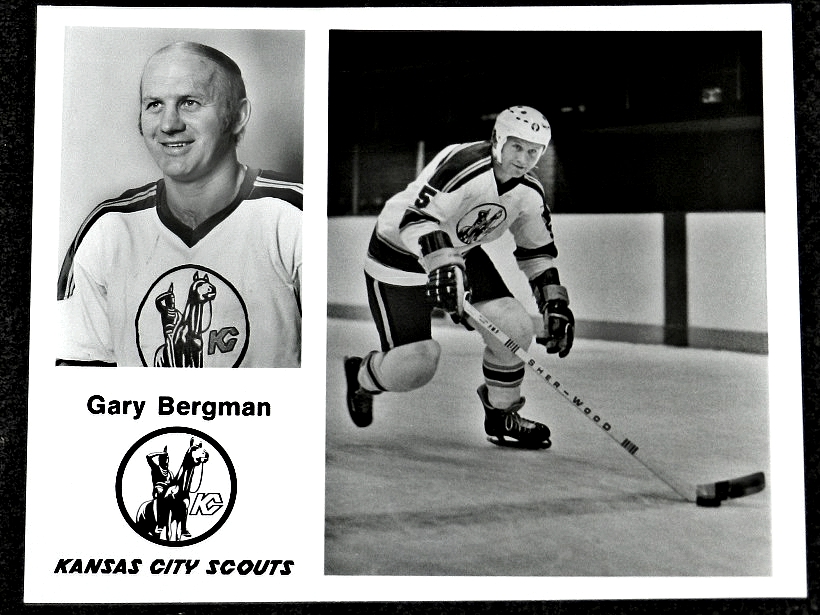 BORN: Oct. 7, 1938 in Kenora, Ont. DIED: Dec. 8, 2000 in Detroit. A mainstay on the blue line of the Detroit Red Wings from 1964–65 to 1973–74, Gary Bergman was strong and resilient. He missed only 20 of 452 regular–season games between 1966–67 and 1971–72. Though I was much more interested in Gordie Howe, Bergman played for the Red Wings in my first live NHL game — a 5–2 loss to the Maple Leafs on Dec. 3, 1966. His steady performance earned him a spot on the 1972 Team Canada roster and he saw action in all eight games of the famed Summit Series against the Russians. His time in a Detroit uniform ended on Dec. 7, 1973 with a trade to Minnesota for fellow defenseman Ted Harris. Prior to the following season, however, the Red Wings re–acquired him from the North Stars for a third–round draft pick. He was dealt to the Kansas City Scouts (above) on Aug. 21, 1975 and played 75 of 80 games for the woebegone team (12–56–12 for 36 points in 1975–76) before retiring; the Scouts moved to Denver for 1976–77 and became the Colorado Rockies. Bergman also died young, at 62, after an eight–month–long battle with cancer.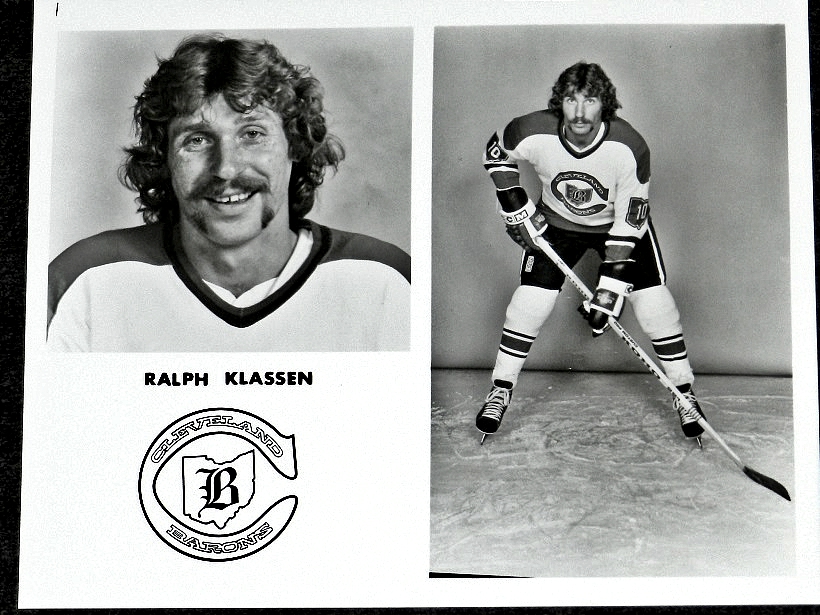 BORN: Sep. 15, 1955 in Humboldt, Sask. DIED: Aug. 3, 2020 in Kinley, Sask. Among the many "can't–miss" players from the first round of the 1975 NHL draft that missed badly, Ralph Klassen was chosen third by the California Seals, behind Mel Bridgman (Philadelphia) and Barry Dean (Kansas City). This was the same draft in which Montreal took someone named Robin Sadler ninth overall. All clubs in the first round would have been much wiser selecting Dennis Maruk of the London Knights, who went to the Seals early in Round 2 and produced 878 points in 888 NHL games. Or, perhaps, Doug Jarvis of the Peterborough Petes, chosen 24th overall by Toronto… then, naturally, unloaded by the Leafs. Jarvis never missed a game in 12 consecutive seasons with Montreal, Washington and Hartford. His strong penalty killing played a key role when the Canadiens, beginning in 1975–76, won four consecutive Stanley Cups under Scotty Bowman. As for Klassen, he spent nine seasons in the NHL with California, Cleveland (above), the Colorado Rockies and St. Louis. His best numbers were 14 goals and 32 points in 80 games with the 1976–77 Barons. After retiring in November 1983, Klassen worked for Canada Post. He died early last month of cancer at 64.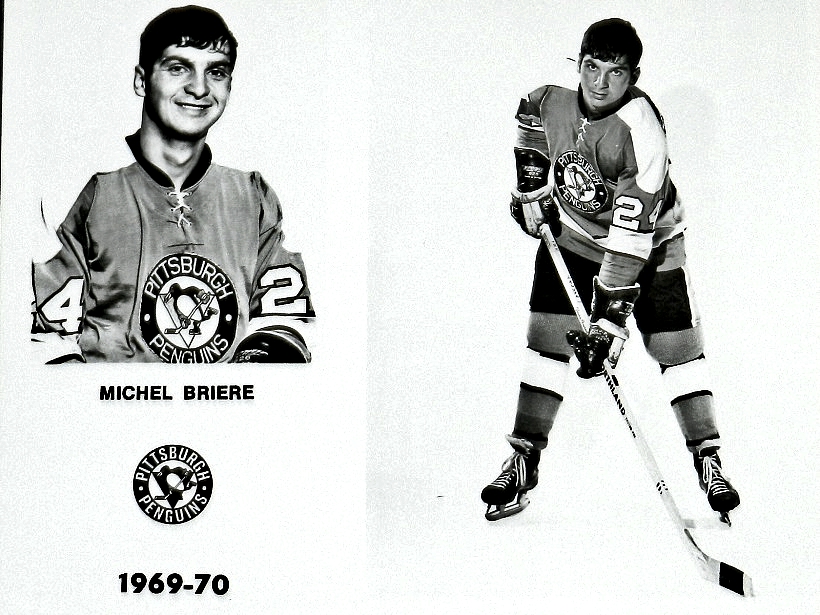 BORN: Oct. 21, 1949 in Malartic, Que. DIED: Apr. 13, 1971 in Montreal. The NHL star that would never be. After playing all 76 games for Pittsburgh in 1969–70 (and amassing a respectable 44 points), Michel Briere starred in the playoffs with five goals and eight points in ten matches. He scored against Gary Smith at 8:28 of overtime on Apr. 12, 1970 at the Oakland Coliseum–Arena to clinch a four–game sweep over the Seals. No one could have imagined him dying just one year and one day later. After the Penguins were eliminated in six games by St. Louis in the 1970 West Division final, Briere returned to Quebec to get married. He and high–school sweetheart Michele Beaudoin were to wed on June 6. On May 15, however, Briere failed to negotiate a turn along Route 117 near Val–d'Or, Que. and was thrown from his 1970 Mercury Cougar, suffering major head trauma. Adding to the tragedy, the ambulance driving Briere to the hospital in Val–d'Or struck and killed an 18–year–old cyclist, Raymond Perreault. Michel was transported to Notre Dame Hospital in Montreal where he underwent four brain operations. He later convalesced at Marie-Clarac Rehabilitation Hospital in Montreal, but never awoke from a coma, and died Apr. 13, 1971 at just 21 years of age. Though no Penguins player ever–again wore Briere's No. 21 (the publicity photo, above, of him wearing No. 24 was taken during the 1969 pre–season), Michel's jersey wasn't officially retired until Jan. 5, 2001.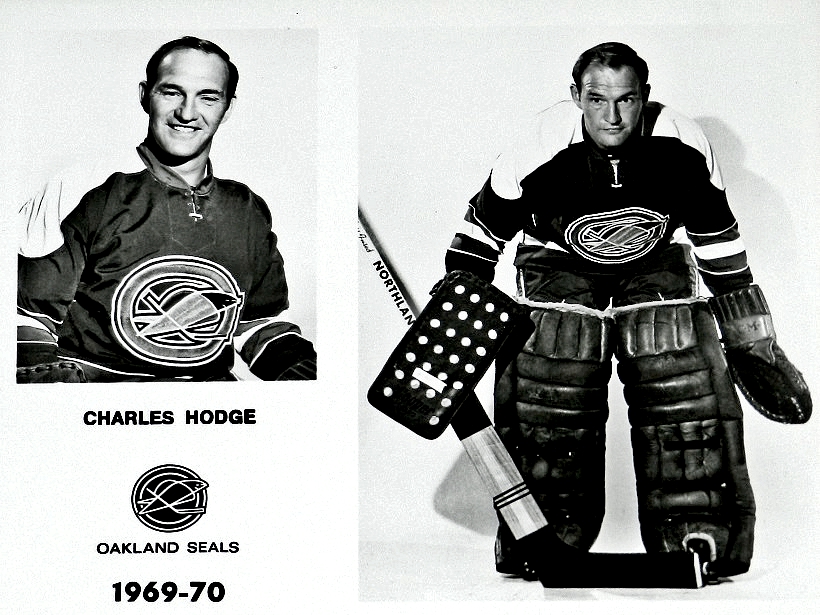 BORN: July 28, 1933 in Lachine, Que. DIED: Apr. 16, 2016 in Vancouver. After a wonderful stint in the middle–1960's with Montreal, Charlie Hodge became "Mr. Expansion Goalie." He was chosen from the Canadiens by the California Seals in the 1967 draft to stock the six incoming teams. Then, by Vancouver from Oakland when the Canucks joined the NHL (with Buffalo) for the 1970–71 season. In each case, he became the club's No. 1 stopper. Between 1963–64 and 1966–67, Hodge appeared in 178 games with Montreal. He was in goal when the Habs defeated Chicago in Game 7 of the 1965 Stanley Cup final (below)… and backing up Gump Worsley when Montreal won the 1966 championship in overtime of Game 6 at the Detroit Olympia. Charlie won the Vezina Trophy in 1963–64 then shared the award with Worsley in 1965–66. He appeared in 58 of 74 games for the Seals in their inaugural season with Gary Smith as his back up. He played only 14 games with Oakland in 1968–69 and 1969–70 (above). As part of the expansion Canucks in '70–71, Hodge appeared in 35 games, the same number as Dunc Wilson. He retired after that season and later scouted for Winnipeg, Pittsburgh and Tampa Bay. Charlie was 82 when he died after a long illness.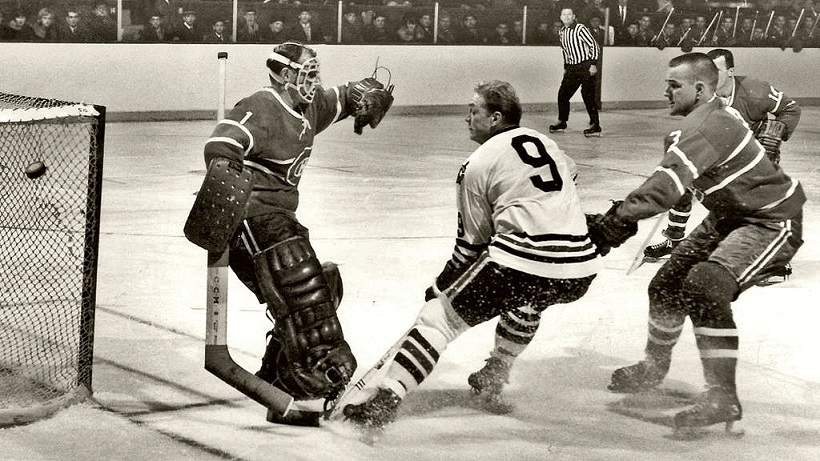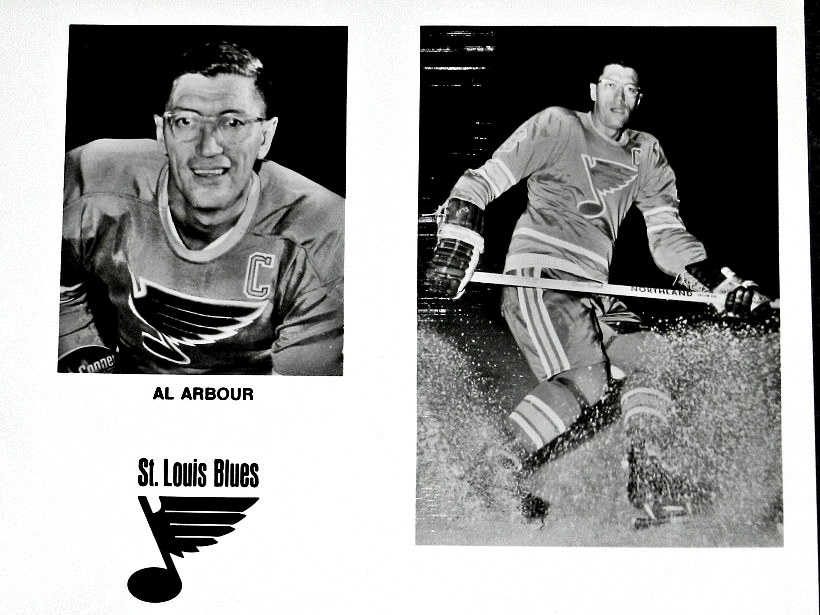 BORN: Nov. 1, 1932 in Sudbury, Ont. DIED: Aug. 28, 2015 in Sarasota, Fla. As he played defense for Scotty Bowman on the St. Louis teams of the early expansion era, who could imagine that Al (short for Alger) Arbour would one day stand second to Bowman in all–time NHL coaching victories? Known for wearing glasses on the ice, Arbour's playing career spanned parts of 18 seasons, from 1953–54 to 1970–71. He skated for Detroit, Chicago and Toronto in mainly part–time roles (except for 1958–59, when he played all 70 games for the Black Hawks) before catching on as a mainstay of the Blues. He won the Stanley Cup with Chicago (1961) and Toronto (1962, 1964). After playing 22 games for the Blues in '70–71, he retired to become the team's coach, replacing Bowman. He guided St. Louis for parts of the following two seasons before Bill Torrey hired him as coach of the New York Islanders for their second NHL campaign, 1973–74 (Phil Goyette and Earl Ingarfield had coached the Islanders in their expansion season to a dreadful mark of 12–60–6 for 30 points, worst in league annals to that point). With rookie defenseman Denis Potvin, Arbour began to turn around the club and it became a power in the late–70's. When Bob Nystrom scored in overtime of Game 6 against Philadelphia on May 24, 1980, it began a string of four consecutive Stanley Cup titles with Arbour behind the bench. He spent time trailing only Bowman in NHL coaching wins and today stands fifth, behind Bowman, Joel Quenneville, Ken Hitchcock and Barry Trotz. In his second–to–last season behind the Islanders bench, Arbour guided the club to one of the biggest upsets in Stanley Cup history — a seven–game defeat, in 1993, of Mario Lemieux, Jaromir Jagr, Ron Francis and the two–time defending champion Pittsburgh Penguins. An overtime goal by David Volek won the series; Pittsburgh had finished 32 points ahead of New York in the regular season. During his final years, Arbour underwent treatment for Parkinson's Disease and dementia. He was 82 when he died at a hospice in Florida.
EMAIL: HOWARDLBERGER@GMAIL.COM