TORONTO (Sep. 4) — I honestly counted hours toward the inevitable. Under the category "any goalie can get hot in a brief span," there was Michael Hutchinson — good guy but failed back-up everywhere in his career — earning a pair of monstrous wins for Colorado; lifting his club from a 3–1 series deficit to all–even against Dallas in the Western Conference semifinals. Yes, the same Michael Hutchinson that was run out of Toronto thanks to a 6–12–1 record in 20 appearances with the Maple Leafs, a 3.38 goals–against average and .891 save–percentage: both figures far below average for a National Hockey League stopper.
Yet, one day after Hutchinson's second conquest with the Avs, there it was… the headline I fully anticipated, in the Toronto Star: "Michael Hutchinson is saving the day for the Avalanche — and making Leafs fans realize maybe he wasn't the problem." Sigh. I didn't necessarily expect the idea to evolve from Kevin McGran, who has covered the Leafs for 20 years and clearly knows better. So, I'll assume Kevin must have been tired to come up with such a lazy narrative. Show me one sentence, anywhere, that even implied the Leafs were making a mistake, last Nov. 11, by placing Hutchinson on waivers. Even a couple of words to that effect.
In five, early season appearances, Hutchinson was 0–4–1 with a 4.44 GAA and .879 SV%. There are beer league goalies that could accrue such numbers. Even Zamboni drivers. In no way did Hutchinson earn the right to continue with the Maple Leafs. Even if it required nearly three months for general manager Kyle Dubas to land a legitimate back–up for Frederik Andersen, acquiring Jack Campbell from L.A. on Feb. 6.
And, now Andersen has played his way out of town by failing in four consecutive post–season tries with the Blue and White; his killer soft goals costing the team last year's Game 7 in Boston and this summer's qualifying round against Columbus. I can only assume that wherever the Big Dane lands after Toronto — and as soon as he wins a couple of regular–season matches — we'll be treated to a newspaper headline suggesting the Leafs should never have unloaded their star goalie. I'll also assume, for the moment, that the idea will emerge from someone other than McGran. When will the Toronto hockey media arrive at the conclusion — collectively — that the Leafs will not threaten to break the longest current Stanley Cup drought with proven underachievers? A term that is polite and rather lenient when describing Michael Hutchinson.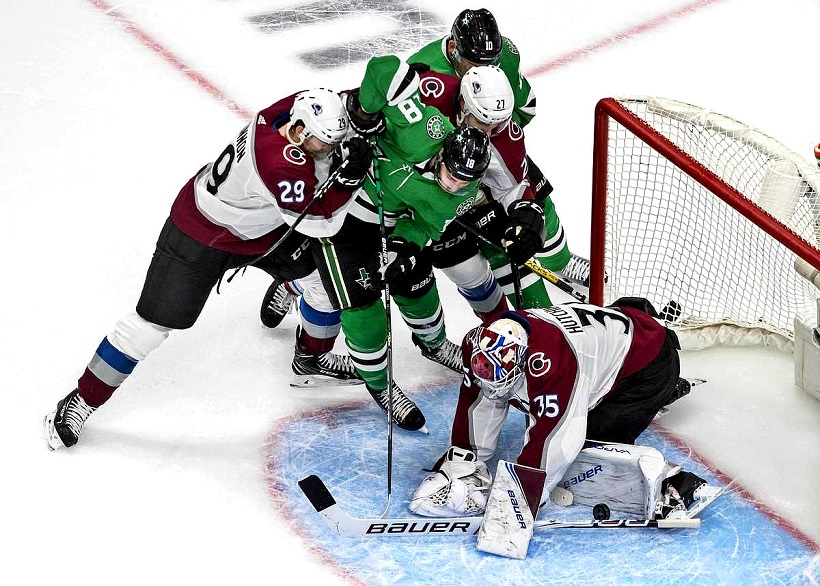 YES, MICHAEL HUTCHINSON HAS TWICE SAVED COLORADO'S SEASON THIS WEEK IN THE PLAYOFFS AGAINST DALLAS. AND, YES, HE RICHLY EARNED HIS SPOT ON NHL WAIVERS LAST NOVEMBER.
BRUCE BENNETT GETTY IMAGES
ONLY IN TORONTO — AGAIN: Where else in the NHL, other than, perhaps Montreal, would a general manager need to "explain" his trade of a marginal, third–line forward? Yet, there was Kyle Dubas going through verbal gymnastics after sending Kasperi Kapanen to Pittsburgh last week. The Kasperi Kapanen who erupted for four goals and seven points in 25 playoff games with the Maple Leafs. Maybe Kapanen will prove more valuable to the Penguins; after all, Jim Rutherford is nobody's fool. But, I contend that acquiring a first–round draft pick for a winger that routinely disappeared in the post–season was exceptional work by Dubas.
Now, there is intense debate among Toronto hockey fans over the future of Alex Kerfoot and Andreas Johnsson. If they didn't play for the Leafs, would people in this city even realize Kerfoot and Johnsson were in the NHL? They combined for 17 goals and 49 points this season (though Johnsson was injured and has shown promise). Pierre Engvall, he of the 15 points in 48 games, is also a hot topic. The biggest challenge for Dubas is upgrading the riffraff that fills out the bottom two forward lines beneath his big–money men — John Tavares, Auston Matthews, Mitch Marner and William Nylander — who gobble up more than half the $81.5 million salary cap figure. Somehow, with so little to spend, the Leafs GM must find a way to improve that element of the hockey club. While re–building his blue line. Yet again. It ranks as a massive chore.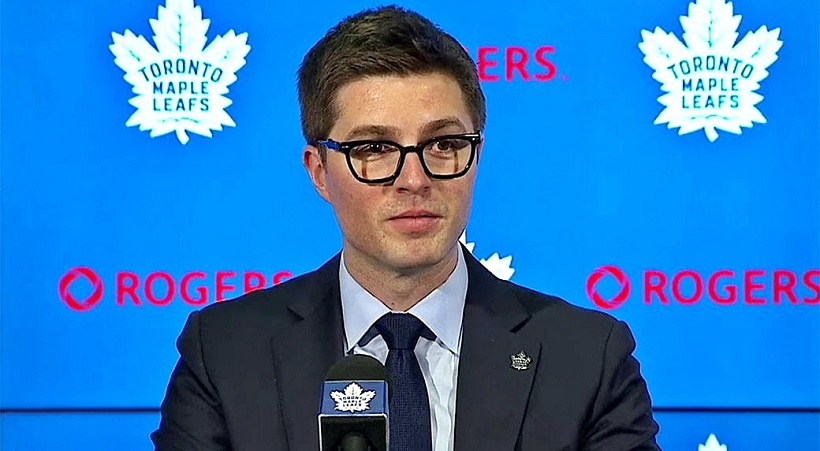 LEAFS GM KYLE DUBAS: LOTS OF WORK AHEAD TO UPGRADE FORWARD DEPTH.
 *     *     *     *     *     *     *     *     *     *
The predictable, yet absurd, notion of the Maple Leafs adding another $9 or $10–million player to their cap crunch seems to have dissipated, for the moment. Expect it, however, to flare, once again, when the playoffs are over and unrestricted free agency looms (Oct. 9, or seven days after the Stanley Cup final). At which point, some person (or people) in the media will advocate the Leafs possessing five players worth $51 million, leaving $30.5 million for the remaining 18 roster spots. Sure, Alex Pietrangelo would look marvelous in a Toronto jersey… if the cap were $90 million and, perhaps, for a year or two. Until beyond his biological prime, when the Maple Leafs would be stuck with a pair of unmovable, depreciating contracts adding up to $20 million. John Tavares was slowing in only the second of a seven–year pact signed last summer. He still has golden hands but his legs (particularly, his closing speed) are beginning to fail. The final four or five years of that contract will be an albatross for the Blue and White. If the club were legitimately one player removed from Stanley Cup contention, I'd be all in with respect to Pietrangelo. But, the Leafs aren't anywhere near that stage. Dubas needs to find another goalie; at least two serviceable NHL defensemen, and a couple or three forwards to upgrade the bottom two lines. How that can be accomplished by adding yet another shiny toy to the roster is anyone's guess. Saner heads will eventually prevail. Maybe. Perhaps?
ON THE WAY… Two more hockey books will soon hit the shelves. The autobiography of former Leafs captain Rick Vaive (bottom–left) has been written in conjunction with Hall–of–Fame scribe Scott Morrison, who covered the bulk of Vaive's Leaf career for the Toronto Sun. I have long advocated, in this space, that Vaive should have a banner among the other franchise legends at Scotiabank Arena. He was the first Toronto player to score 50 goals in a season… and remains the only player to accomplish the feat three consecutive times. It wasn't Vaive's fault that he played here in town during the lost decade of the 1980's, when owner Harold Ballard systematically ran the team into the ground. Had he been part of the Doug Gilmour/Pat Burns/Wendel Clark group in the early–90's, or the Pat Quinn/Mats Sundin/Gary Roberts clan of the early 2000's, Vaive would assuredly have a banner in SBA. Also coming (bottom–right) is the diary of Mike Wilson, the "Ultimate Leafs Fan," who traveled to all Leaf games in 2018–19 and provided columns, along the way, for the Toronto Sun. Now, Wilson, with veteran Sun hockey writer Lance Hornby, has cobbled together his experiences into a book that should be loads of fun to read.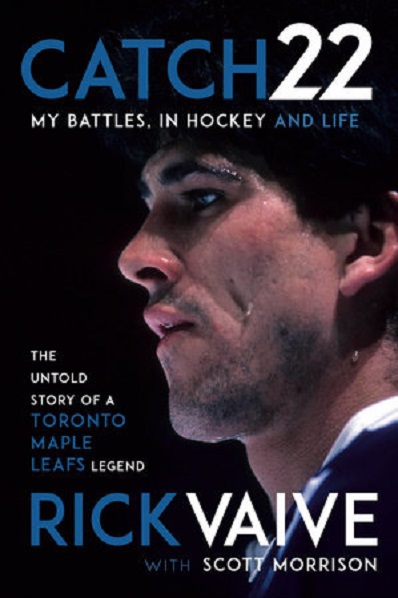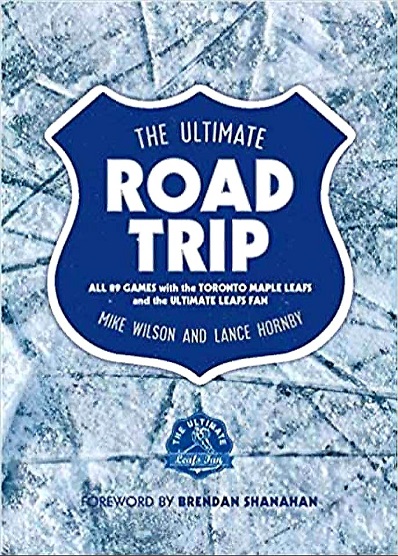 EMAIL: HOWARDLBERGER@GMAIL.COM