TORONTO (Sep. 18) — Darryl Sittler has me by 8½ years and, probably, a couple of million dollars. Not to mention more than two generations of hockey fans that remember his mostly exceptional era as captain of the Toronto Maple Leafs. But, ego has never been a part of Darryl's composition. As such, he had no issue getting together, on his 70th birthday, with an old, washed up radio reporter–turned–funeral worker.
Yes, I got to know Sittler during my 23 years at The FAN–590, the final 17 of them spent covering the Leafs, home and away, for Canada's first all–sports radio station. Humble and forever decent, Darryl hasn't changed one iota from his career apex, in the mid–to–late–1970's, as one of the National Hockey League's best players… to a man, more than 40 years later, that neither looks nor feels his age. Spending a few moments with Sittler earlier today, outside the Yorkdale Shopping Centre, made me feel young. It wasn't just the memory of having season tickets in Sec. 30 of the south–mezzanine Blues at Maple Leaf Gardens for nearly all of his great moments — including the 10–point game against Boston (Feb. 7, 1976) and the five–goal playoff outburst against Philadelphia (Apr. 22, 1976). Heck, I was even at the game (vs. Detroit on Nov. 28, 1970) in which he scored his first NHL goal. Rather, it's the manner in which Darryl has always held his Maple Leafs career (1970–82) in such high regard… while never forgetting those that ran shot–gun with him.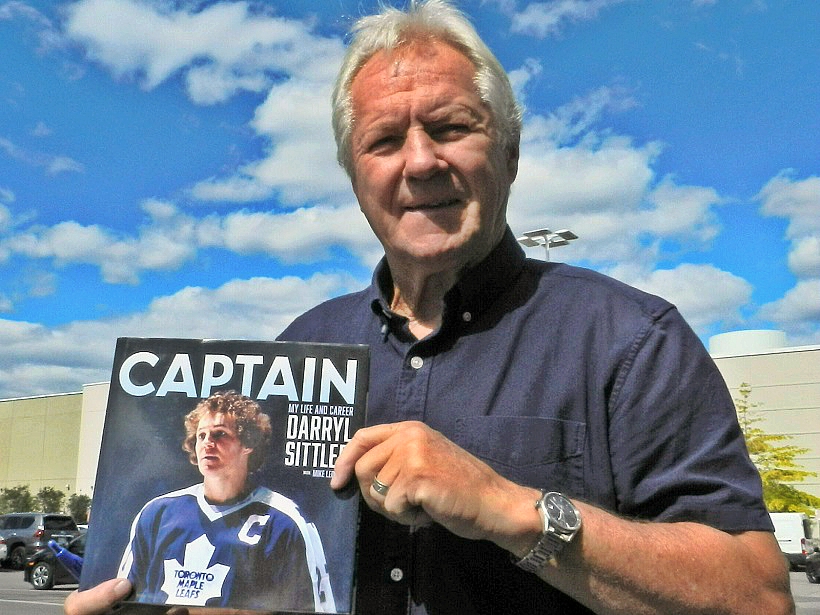 DARRYL SITTLER (ABOVE AND BELOW), EARLIER TODAY ON HIS 70th BIRTHDAY AT THE YORKDALE SHOPPING CENTRE, HOLDING A COPY OF HIS 2016 MEMOIR, WRITTEN WITH THE LATE MIKE LEONETTI.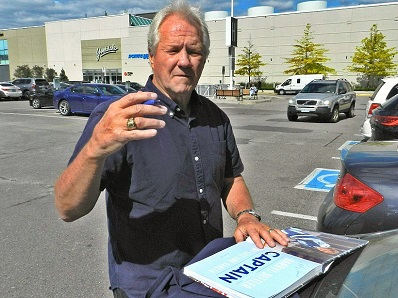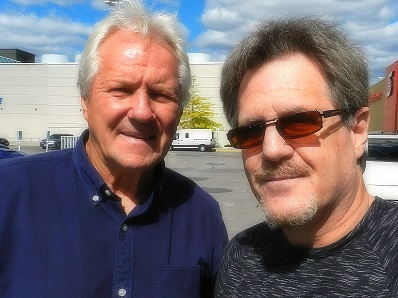 "You know, someone sent me a highlight reel of my games with the Leafs," Sittler mentioned while signing a copy of CAPTAIN to yours truly. "It really struck me to see the number of teammates that are no longer alive. Guys like Brian Glennie, Kurt Walker, George Ferguson, Scott Garland, Don Ashby — all but Brian younger than me. It made me feel thankful for all that I have after 70 years. Yes, I lost my wife [Wendy] to cancer (in October 2001); by far, the toughest moment of my life. She's the mother of my children and will always hold a unique place in my heart. But, I was fortunate to re–marry a wonderful woman, Luba, 16 years ago. And, my life today is special… with children and grandchildren; feeling as well as I do at 70. I'm a lucky man."
For those of a younger generation, Sittler was captain and leader of the first Maple Leafs team to make some playoff noise after the last Stanley Cup, in 1967. In a five–season span (1974–75 to 1978–79), while he averaged 94.8 points per year, the Leafs won six playoff series and advanced to the Stanley Cup semifinals for the only time during Harold Ballard's inglorious ownership reign. The apex of the Sittler Leafs was the night of Apr. 29, 1978, when his linemate and best friend, Lanny McDonald, knocked off the New York Islanders with an overtime goal at the Nassau Coliseum in Game 7 of the quarterfinals. That the Maple Leafs (without injured defenseman Borje Salming) were no match for Montreal in the semifinals was less an indictment of Toronto and more a credit to one of the great Stanley Cup dynasties of all time. Under Scotty Bowman, who shares a birthday with Sittler (Scotty is 87 today), the Canadiens of the 1976–79 had no peer. Sittler, McDonald, Salming and Co. had the misfortune of peaking while the Habs won four consecutive NHL titles; Montreal's 132 points in 1976–77 still a record for one season. Bad timing for Toronto, to be sure.
Yet, it hardly diminishes the hockey memories for those of my vintage that grew up around here. We were in our late–teens and finishing high school the night Lanny scored against the Islanders. To this day, I'm not certain how me and a group of my closest friends didn't destroy my bedroom in the seconds after McDonald beat Glenn Resch. We were so nervous during the intermission between the third period and overtime that we took a walk around the perimeter of Wilmington Park, down the street from where I grew up. Steve Blustein, Mark Goodfield, Jeff Spiegelman, David Silverman… they all remember. To say we went berserk when the Leafs won is an understatement. Somehow, my bedroom furniture survived the ecstasy.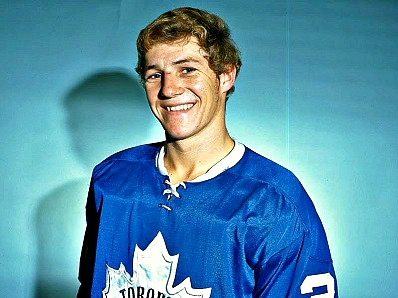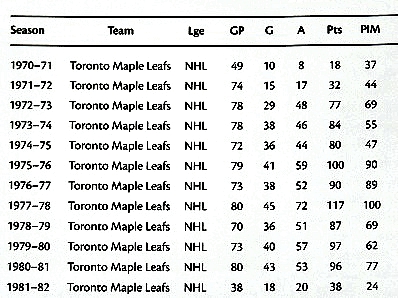 BEGINNING AS A FRESH–FACED ROOKIE IN 1970, DARRYL SITTLER WENT ON TO ENJOY SOME OF THE GREATEST SEASONS IN MAPLE LEAFS HISTORY. IN 1975–76, HE BECAME THE FIRST LEAF TO ACCRUE 100 POINTS. HIS 117 POINTS IN 1977–78 ARE STILL SECOND–MOST TO THE 127 REGISTERED BY DOUG GILMOUR IN 1992–93. ONLY MATS SUNDIN PUT UP MORE CAREER POINTS IN A TORONTO JERSEY.
And, it's the reason I always feel a certain thrill when meeting up, as I did today, with Sittler.
During my years at The FAN–590, I was fortunate to become acquainted, by name, with the two greatest hockey players I've ever seen: Bobby Orr and Wayne Gretzky. I covered most of Gilmour's games with the Leafs and virtually all of Sundin's, getting to know them, as well. Though incredibly privileged for my time in radio, the novelty of being around famous athletes tended to wane. It was simply part of my daily existence. But, I've never felt that way around Sittler. Surely resulting from the countless nights in my 'teens that I sat in those mezzanine Blues at the Gardens, Darryl has always been my No. 1 hockey hero. As I'm certain others felt about Syl Apps, Ted Kennedy and Dave Keon before Sittler; Gilmour, Wendel Clark, Sundin and Auston Matthews in the ensuing years. Spending a few moments with Darryl, no matter how often, is like the first time. The little boy in me comes out, never quite registering that I've gotten to know him as sort of a peer.
And, so it was again today, for 15 minutes, in the Yorkdale parking lot, talking hockey and life with ol' No. 27.
Lucky me. 🙂
WHEN RON WAS GONE FROM SO–CAL
While going through a scrapbook from the 1997 Stanley Cup playoffs, I came upon articles related to the firing of Ron Wilson by the Mighty Ducks of Anaheim (I was in California on vacation at the time, still working for The FAN–590). As evidenced, below, I kept pages from the Orange County Register and Los Angeles Times. Wilson, who would later coach the Maple Leafs (2008–12), had stood behind the Anaheim bench since the beginning of the franchise. Owned by the Walt Disney Company and playing in an opulent arena near the Disneyland theme park, the Mighty Ducks joined the NHL with the Florida Panthers for the 1993–94 season. Each club established a record for most wins by an expansion team: 33.
By the way, Ron Wilson and Darryl Sittler were teammates with the Maple Leafs for 64 regular–season and six playoff games between 1977–78 and 1979–80. Wilson played defense for the Blue and White.
In the spring of 1997, Ron was coming off a pair of big triumphs. He had coached the United States to a colossal upset in the best–of–three final of the 1996 World Cup of Hockey — that team famously rallying from a 2–1 deficit against Canada in Game 3 (at the Bell Centre in Montreal) with four unanswered goals in the final 3:18 of the third period to win, 5–2. Given that the top professionals from each country were involved, it still ranks as the most–legitimate conquest in United States hockey annals, above the 1960 and 1980 Olympic gold medals that were earned by amateur (mostly college) players. Wilson then guided the Mighty Ducks to their first playoff appearance, eliminating Phoenix before bowing to Detroit in the 1997 Stanley Cup tournament. All signs pointed to a lucrative contract extension for the Anaheim coach.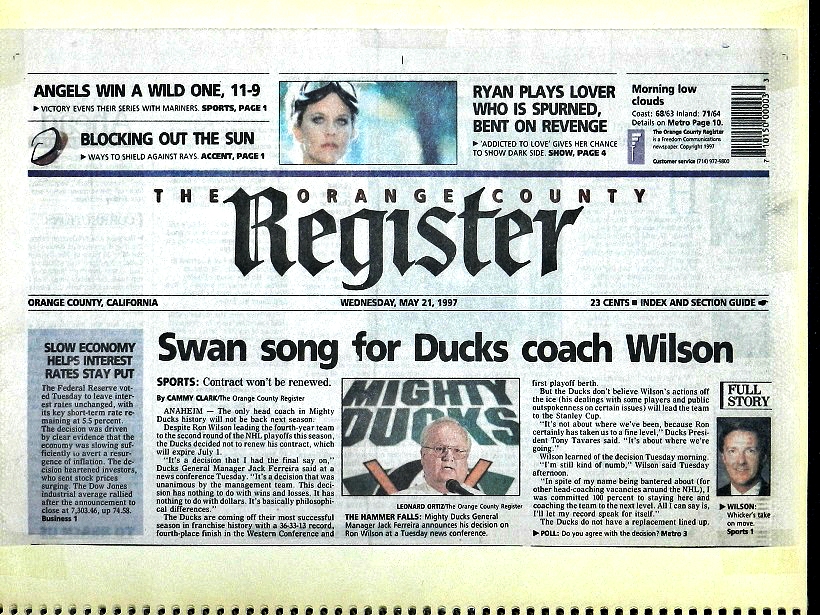 Ron, via email, picked up the story from there on Wednesday night: "I remember those days like yesterday," he wrote. "What I recall most is going to an Angels (baseball) game the night before; I was a season–ticket holder, by the way. I saw [Ducks GM] Jack Ferreira in the press box so I went and sat with him and we talked baseball until the seventh inning, or so. [Ducks president] Tony Tavares was there, as well. Jack asked what I was doing the next day and if I was around to drop by. No problem. I left the stadium and went home.
"The next day they were speculating on the radio that I was getting a new contract and were going to have a press conference to announce it. I went into to office. Jack called me in and closed his door. And, just like that, he told me I was fired because I wasn't loyal enough… and that Tony was really mad because I was getting too much credit ever since the World Cup. Apparently, Tony said anyone could have coached that team. I left to call my agent and soon had three offers to coach elsewhere. It was the worst day that turned into the best day for me in hockey. I left the arena, listened to the radio on the way home, and heard that the Ducks had called a presser to announce my new contract. If only they knew what was really happening.
"Needless to say, my life in hockey was about to change. Big time!"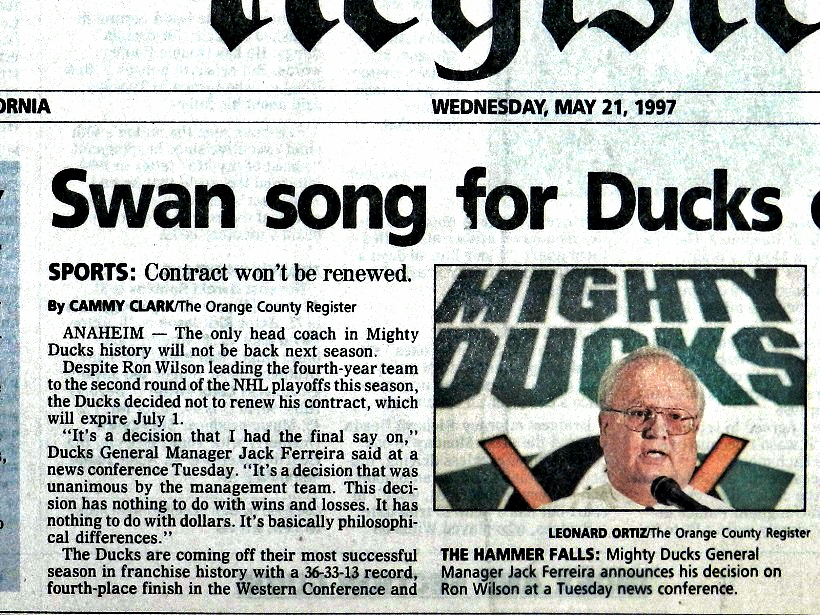 It required nearly three weeks of sniffing out feelers and negotiating a contract, but Wilson signed with the Washington Capitals on June 9, 1997, replacing Jim Schoenfeld (the Caps missed the playoffs in 1996–97 with a 33–40–9 record). Under Wilson, Washington started (7–1–0) and finished (8–2–1) strongly, improving by 17 points (40–30–12). It then embarked on a playoff run that few predicted. With such accomplished veterans as Peter Bondra (52 goals), Adam Oates (58 assists), Phil Housley, Dale Hunter, Joe Juneau and Brian Bellows — and backed by superb goaltending from Olaf Kolzig — the Capitals knocked off Boston, Ottawa and Buffalo to reach the Stanley Cup final for the first time in franchise history (dating to 1974–75).
After losing three close games (2–1 and 5–4 in overtime at Detroit, then 2–1 at home), the Caps were swept by the Red Wings with a 4–1 loss in Game 4 at the MCI Center. The club's performance, however, vindicated the Los Angeles media for its support of Wilson (as seen in these pages) when he was fired by Anaheim.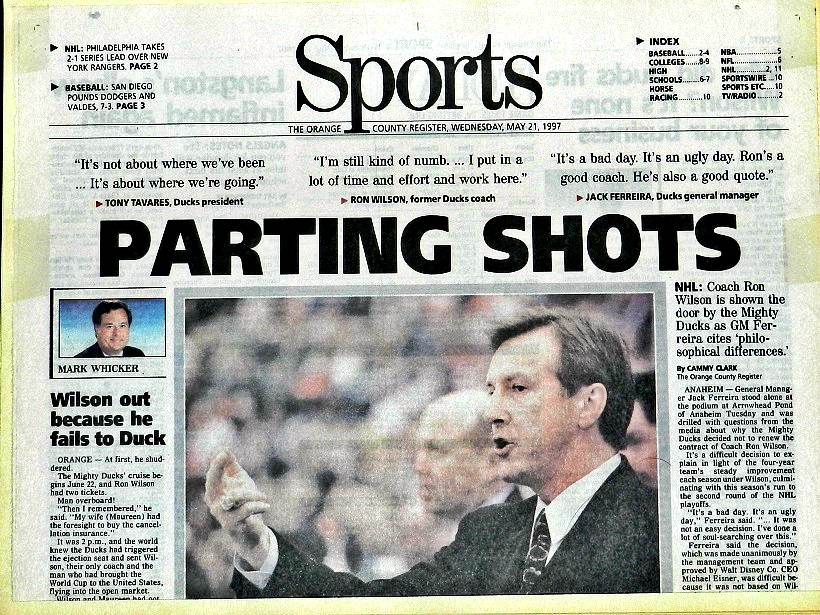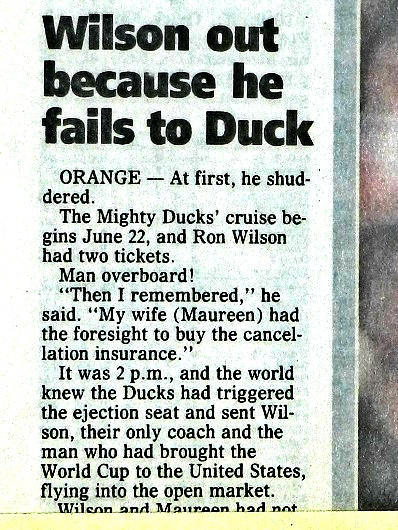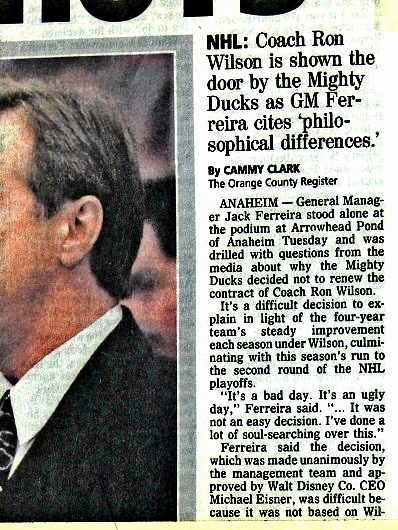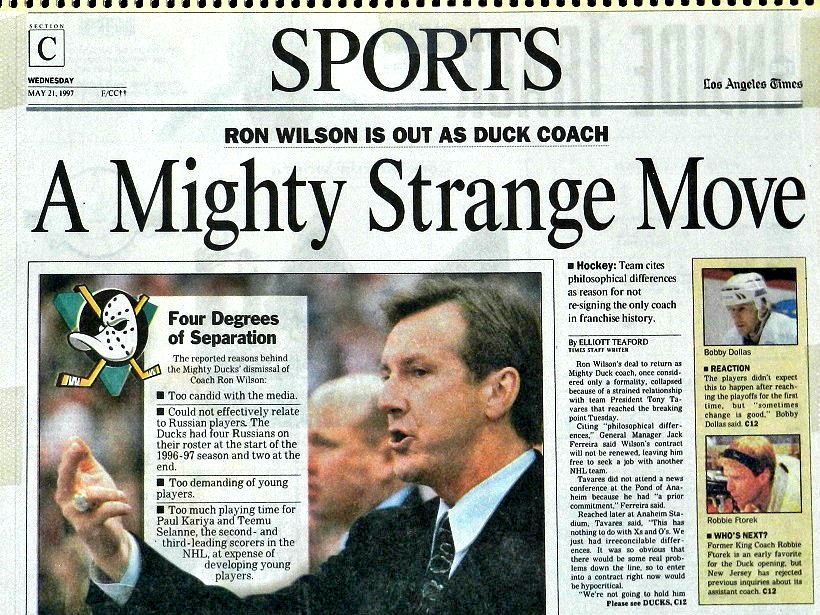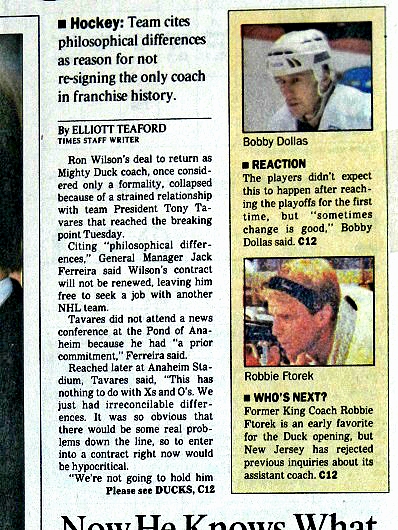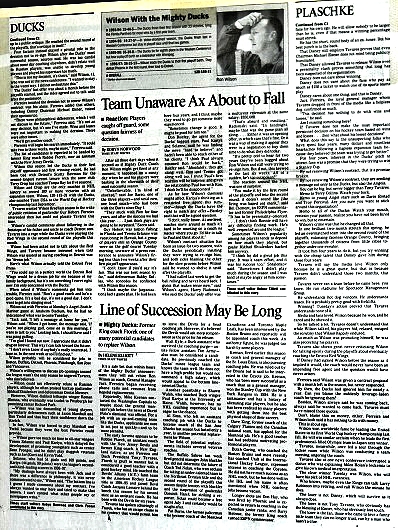 The Los Angeles Times devoted lots of space to Wilson's firing, including the piece (below) by opinionated columnist Bill Plaschke, who left no doubt, in his opening paragraph, with whom he sided.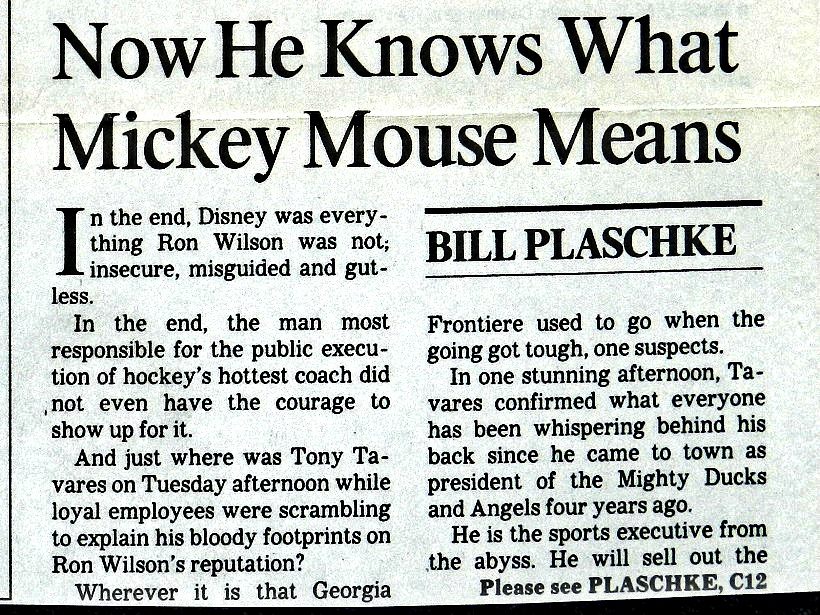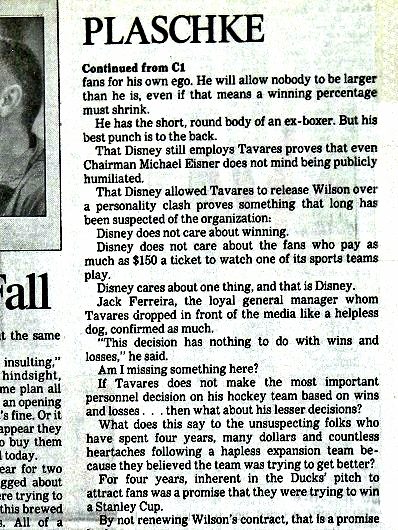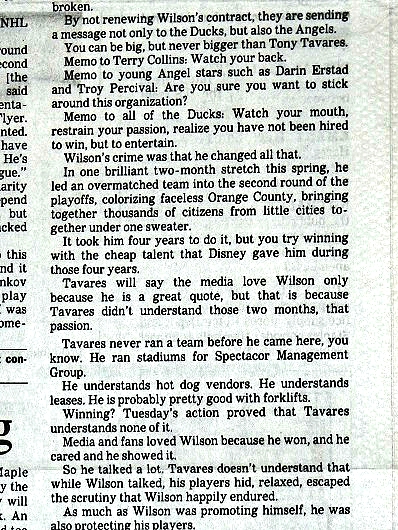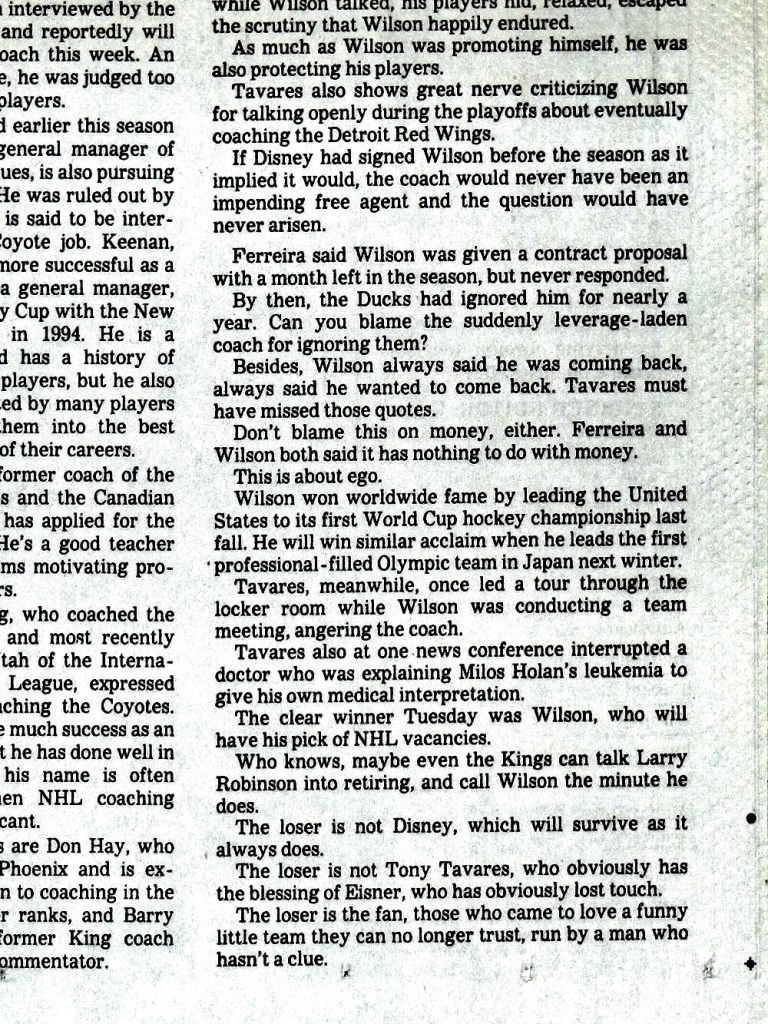 EMAIL: HOWARDLBERGER@GMAIL.COM