***THIS QUESTION WAS ANSWERED LATE TODAY WHEN THE LEAFS SIGNED JOE THORNTON FOR ONE YEAR. BUT, THE MORE IMPOSING PLAYER IS STILL OUT THERE.***
TORONTO (Oct. 16) — While filling out their roster for next season, the Maple Leafs could choose between a couple of greybeard free agents: 41–year–old center Joe Thornton and 43–year–old defenseman Zdeno Chara. Thornton's name has been rampant in Leaf speculation over the past week (he is staying in shape with HC Davos in Switzerland). But, no one has evidently envisioned Chara in a Toronto jersey. Until now.
Though it's true the Leafs are looking for a cheaper alternative to Alex Kerfoot ($3.5 million against the cap) as No. 3 center — and Thornton would likely fill the role rather well for one season — I suspect that Chara would have a greater impact on the club. Why? Because he's Zdeno freakin' Chara! The blue line monster that has chewed on Leaf hide since 2006–07, helping Boston to three playoff–round victories over Toronto.
Of course Chara has slowed in his early 40's; neither was he a speed–skater to begin with. But, he can still move around with guile and wisdom, providing Sheldon Keefe, even for one year, an intimidating presence on the back end. It can be argued the Maple Leafs have deployed no–such creature since their earliest days in the National Hockey League, when Red Horner patrolled the blue line with clout and tenacity, ringing up a minimum 124 penalty minutes in five consecutive seasons (1932–33 to 1936–37). For much of the time since 1967, Toronto has been soft and permissive on defense. Jake Muzzin and Zach Bogosian afford the current team a bit of sandpaper, but neither encompasses the aura of Big Zed. I contend the Maple Leafs would march into enemy territory with an altogether different ambiance were No. 33 along for the ride. Don't you?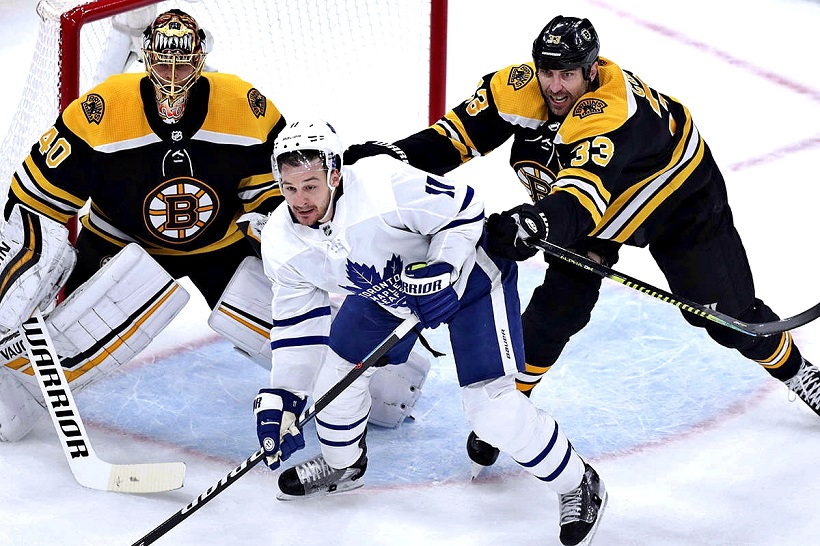 ZDENO CHARA HAS BEEN MAKING LIFE DIFFICULT ON TORONTO FORWARDS FOR AS LONG AS MOST FANS CAN REMEMBER. HERE, HE LAYS THE LUMBER ON ZACH HYMAN AT THE TD GARDEN.
CHARLES KRUPA THE ASSOCIATED PRESS
Naturally, this is no indictment of Thornton, the future Hall–of–Fame center coming off his least–productive full season (31 points in 70 games) since breaking into the NHL with Boston (under the late Pat Burns) in 1997–98. He, too, would imbue the Maple Leafs with character and presence. But, the club went down that road — with minimal impact — just a few years ago when it signed Thornton's long–time San Jose teammate, Patrick Marleau. Wouldn't "old money" be better spent on one of the most foreboding defenseman in NHL history… even if that player is also reaching the end of the line? It's my view that Chara would arouse the Toronto blue line more than Thornton would its already skilled forward posse. Defense is a tougher position to play and there's no telling how much influence big Chara might have on such prospects as Rasmus Sandin, Tim Liljegren and even the more–experienced Mikko Lehtonen, at age 26. Neither can I envision the club's defense leader, Morgan Rielly, being indifferent toward obtaining Chara.
This pre–supposes, of course, that Big Zed would be interested in ending his career with the Leafs… and that he'd be amenable to a one–year contract for a modest salary. For whatever it's worth, I conducted a poll the other day on my Facebook page, asking Leafs fans to choose between Thornton and Chara. Among those that answered the question (some said "neither"), Chara was the overwhelming victor, 16–2. On my Twitter page, it was 8–0 for the big blue–liner. Indeed, it is difficult to imagine that inking No. 33 would hamper the Maple Leafs in any way. I suspect followers of the Blue and White would celebrate Chara's acquisition.
JUST ONE BEEF
My friends Jason Kay, Brian Costello and Ken Campbell at The Hockey News have come out with another of their handsome special editions (below) — this ranking the Top 100 defensemen of all time in the NHL. My only complaint is that Paul Coffey should list higher than ninth. In fact, I would place him fourth, behind Bobby Orr, Doug Harvey (who I saw play only with St. Louis at the end of his career) and Nicklas Lidstrom (arguably the best European to appear in the NHL). Coffey was the closest facsimile to Orr — statistically and while moving the puck. He is also the best skater I have ever seen; not as powerful as Orr, but with more speed and grace than anyone before or since. He was part of four Stanley Cup teams (three more than Ray Bourque), three with Edmonton and another with Pittsburgh. I think he deserves more respect.
Otherwise, this is a terrific magazine, on the shelves today for a mere $9.99 CAD.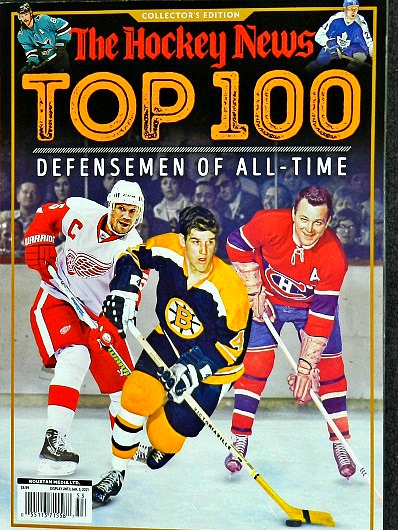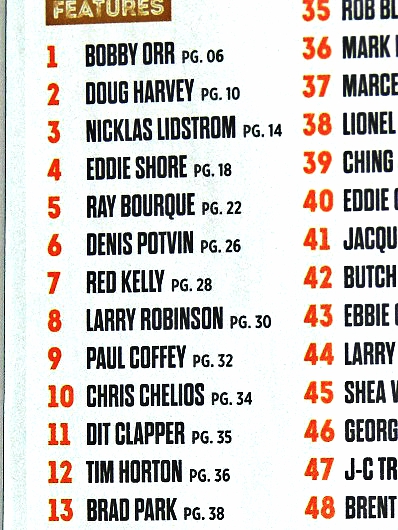 FIVE BEST / FIVE WORST LEAFS MOVES
Only in this hockey city can we grade an element of the local team, over more than 53 years, to the exclusion of a Stanley Cup appearance. That's because every franchise that was part of the National Hockey League in October 1967 has made it to the championship round at least three times. Every franchise, that is, except the Toronto Maple Leafs. This even includes the woebegone California Seals, who never came close, in nine seasons, to vying for the Cup. The Seals, however, are descendants of 2019–20 Western Conference champion Dallas Stars (California moved to Cleveland in 1976; the Cleveland Barons merged with the Minnesota North Stars in 1978; the Minnesota North Stars re–located to Dallas in 1993).
In an upcoming blog, I will subjectively list the five best, and five worst, decisions made by the Leafs in the expansion era — since the NHL doubled in size to 12 teams for the 1967–68 season. Given the club hasn't played for the Stanley Cup during that time, there is more bad than good. But, we'll keep it uniform.
The single–best and worst moves in the 104–year history of the franchise took place before 1967.
No better decision has been made than choosing Johnny Bower from the New York Rangers in the 1958 intra–league waiver draft. Bower played all 70 games for New York in 1953–54 but generally bounced around in the minors with Cleveland, Providence and Vancouver. Though leaning heavily toward staying in Cleveland, Bower changed his mind when visited by the Leafs new general manager, Punch Imlach. Toronto had missed the playoffs in the six–team NHL the previous two years (1956–57 and 1957–58) with goalie Ed Chadwick appearing in all 140 games. The club had not played for the Cup since Turk Broda's retirement in 1951. With Bower, the Maple Leafs quickly improved. Known as the "China Wall," he backstopped the club to six appearances in the Cup final and the four NHL championships under Imlach: in 1962–63–64 and 1967.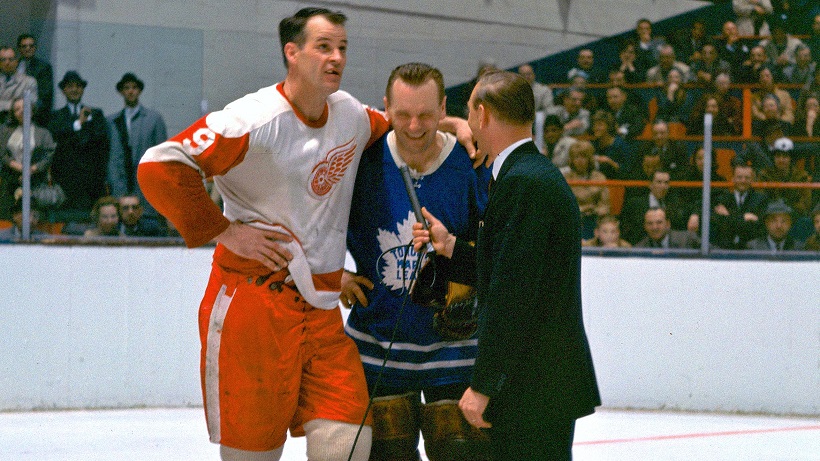 WITH GOOD SPORT AND FELLOW SASKATCHEWAN NATIVE GORDIE HOWE STICKING AROUND, JOHNNY BOWER IS INTERVIEWED BY FRANK SELKE JR. ON THE ICE AT MAPLE LEAF GARDENS — APR. 18, 1963 — AFTER TORONTO DEFEATED DETROIT FOR ITS SECOND STANLEY CUP UNDER PUNCH IMLACH.
The worst decision is a bit obscure, but without rival — ignoring advice to sign 12–year-old Parry Sound youngster Bobby Orr to a standard 'C' form, thereby making him property of the Maple Leafs. In a letter dated Mar. 28, 1960 and addressed to "George Imlack", Orr's Pee Wee coach, Tony Gilchrist, implored the Leafs to "place him on your list now, before [Boston GM] Hap Emms sees him." A reply, sent 11 days later by Toronto's chief scout, Bob Davidson, claimed that Orr was "a little too young to be placed on any list for protection," suggesting he would check again when Orr was 14 or 15. By then, of course, it was too late.
On the recommendation of scout Wren Blair, the Bruins, in the Autumn of 1961, spent $1,000 CAD to sponsor Orr's team in Parry Sound and the crew–cut lad signed a 'C'–form with Boston in early 1962. The rest, of course, is gut–wrenching history for the Leafs. Beginning in 1966–67, Orr evolved into the most–dominant player in NHL history; still the only defenseman to win the Art Ross Trophy as points leader (in 1969–70 and 1974–75). With Orr, Boston twice won the Stanley Cup (1970 / 1972). Toronto foundered and missed the playoffs three times between 1968 and 1973, failing to advance beyond the opening round.
"PIERRE LAPORTE IS DEAD"
Leafs vs. Rangers — 50 Years Ago
The tragic apex of the "October Crisis" occurred 50 years ago this weekend when members of the Front de liberation du Quebec (FLQ) murdered provincial deputy minister Pierre Laporte and stuffed his body in the trunk of a car. It prompted Canadian Prime Minister Pierre Elliott Trudeau to invoke the War Measures Act for the first time with our country not at war. Back to hockey… on the night of Laporte's murder, I attended the Maple Leafs second home game of the 1970–71 season, against New York. After getting home, while watching a late–night movie on TV, the picture was interrupted for a "special report." The news broadcaster, in a very somber, deliberate tone, announced "Pierre Laporte is dead." Shivers ran up my spine.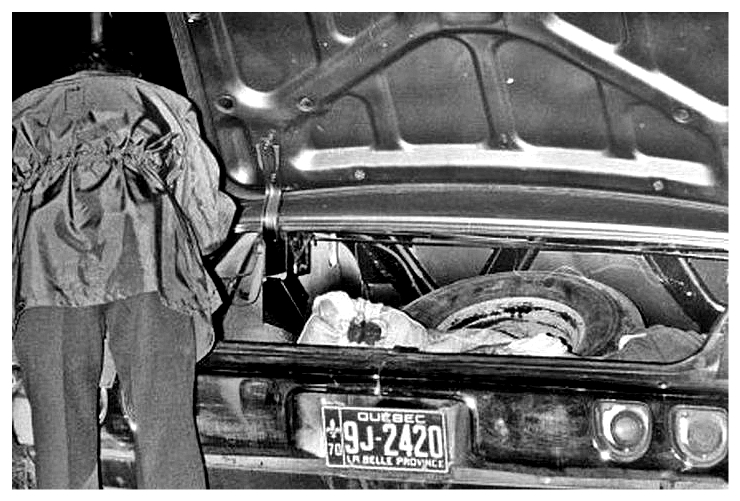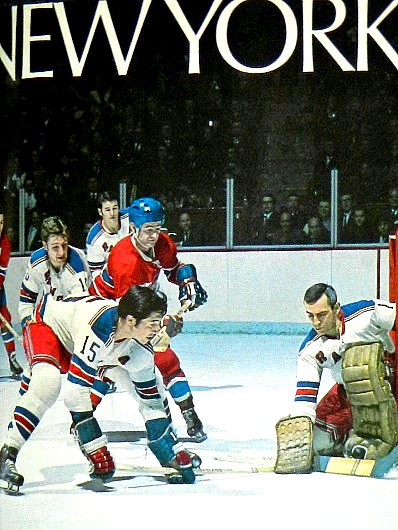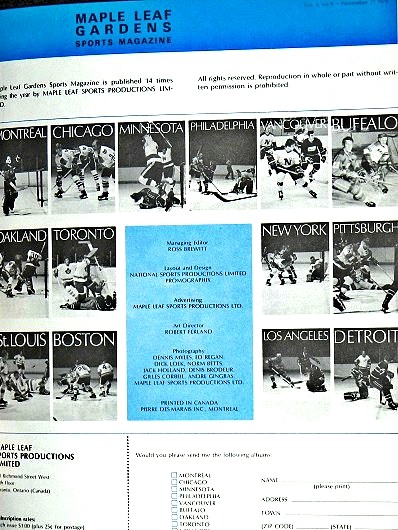 As if to bludgeon the Leafs into reality after their lop–sided win over St. Louis (7–3) in the home opener three nights earlier, the New York Rangers came to town and waltzed to an easy, 6–2 triumph on this weekend, 50 years ago. Under GM/coach Emile Francis, the Rangers had built a very good team, alongside Boston, Montreal and Chicago at the top of the NHL. This game was close until late in the second period, when Bill Fairbairn, Walt Tkaczuk and Brad Park beat Leafs goalie Jacques Plante in a 3:50 span to craft a 4–2 lead. Rod Gilbert and Tkaczuk added goals in the third. Toronto had led, 2–1, after the opening frame — Paul Henderson and Mike Walton sandwiching goals around Gilbert. Jim Harrison of Toronto and Vic Hadfield of the Rangers fought just 6:21 into the match. They would tussle again during an infamous playoff brawl between the clubs six months later at Madison Square Garden, during which Hadfield would yank the mask off Bernie Parent and toss it onto the crowd. But, the 6–2 final score on this night was no mirage… New York outshot Toronto, 49–28, with Gilles Villemure getting the win between the pipes. Former Leaf Tim Horton registered a pair of assists. Wally Harris officiated the game with linesmen Claude Bechard and Pat Shetler.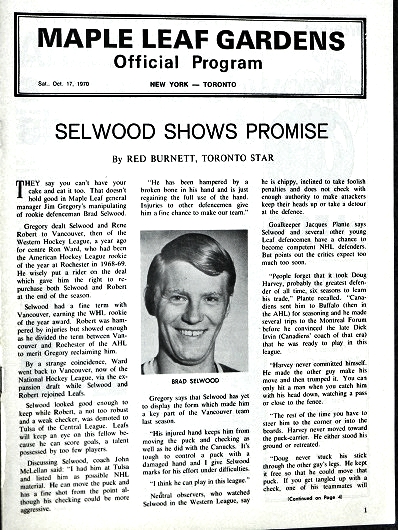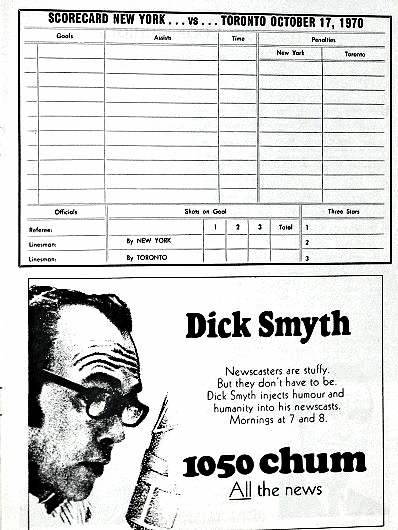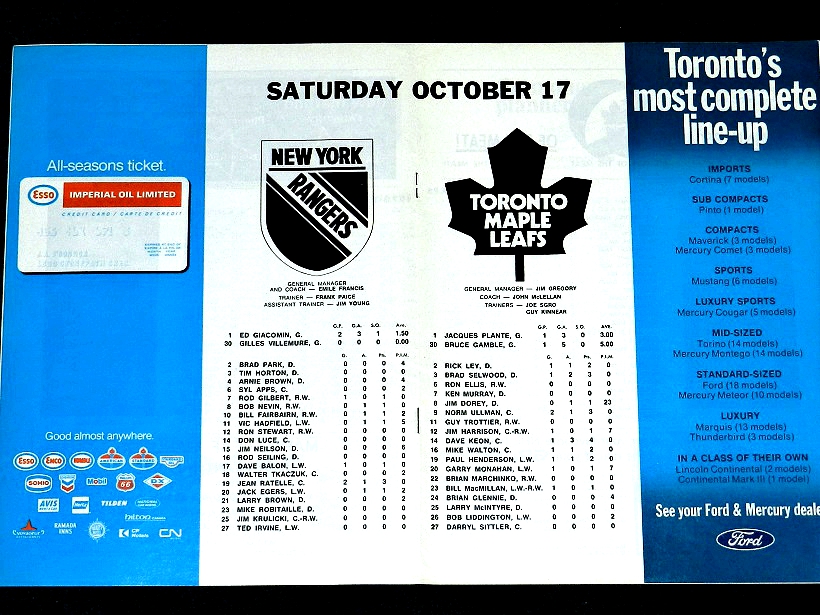 After placing the Leafs logo from 1967–70 above the line–up in the St. Louis program, the re–designed logo made its publishing debut for this Saturday night game against New York.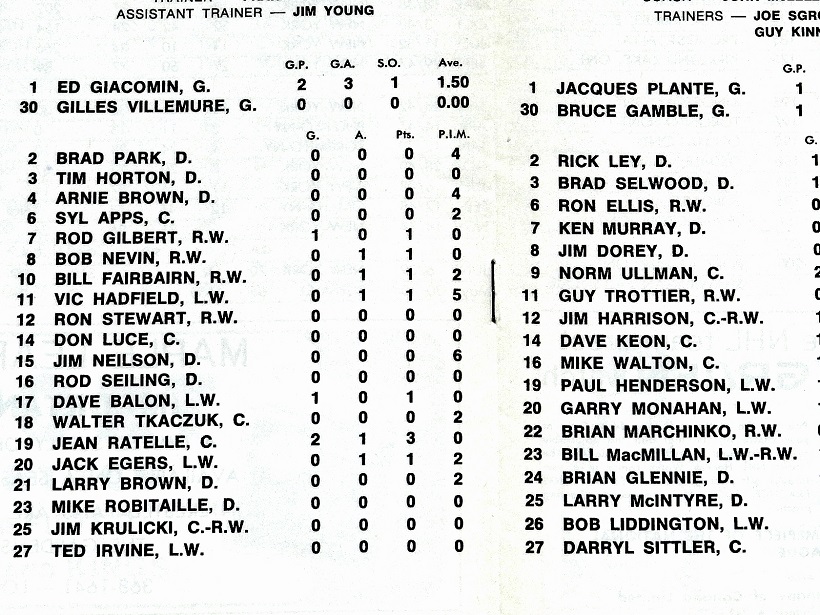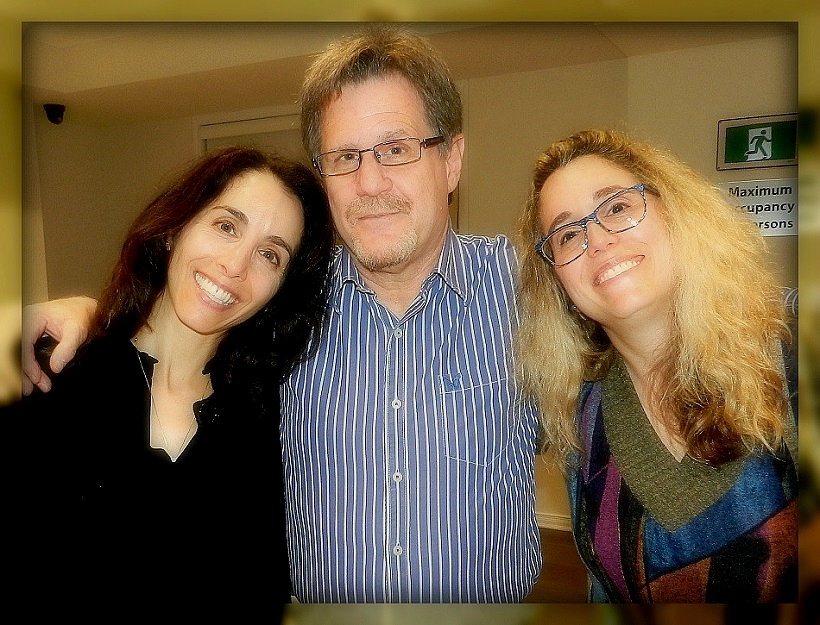 THIS BLOG IS DECIDATED TO MY TWIN–COUSINS, ROBYN (LEFT) AND ALLISON BLATT, WHO WERE BORN 50 YEARS AGO THIS AFTERNOON. IT'S A MOMENT IN MY LIFE THAT I'LL NEVER FORGET.
EMAIL: HOWARDLBERGER@GMAIL.COM