TORONTO (Oct. 11) — Given the time of year, when unrestricted free agents in the National Hockey League can switch teams, fans of the Maple Leafs will read and hear lots this week about T.J. Brodie and Zach Bogosian, both signed by the club since Friday. And, given this is Toronto, both will be massively over–hyped by fans and media cheerleaders: Brodie as the "perfect fit" alongside Morgan Rielly one year after Tyson Barrie was the "perfect fit" alongside Morgan Rielly; Bogosian as the "physical presence" the Leafs have missed on the blue line when, in fact, he is a clone of Luke Schenn, with whom he was selected early in the 2008 NHL draft. Anyone expecting Bogosian — a solid No. 5 or 6 blueliner — to crush opposing forwards will be gravely disappointed. As with Schenn, he never came close to mirroring his draft potential. He's an affordable piece for a team choked up against the cap; insurance against Travis Dermott being traded.
A player you won't read much about this week could become the best addition to the Maple Leafs next season. That, according to a European scout with whom I corresponded on Saturday. "Watch out for Mikko Lehtonen; Toronto is getting him at the absolute perfect time of his development," offered the scout in regard to the Finnish defenseman, from Jokerit of the Kontinental Hockey League, signed as a free agent back on May 4. "At the risk of making an absurd comparison, he reminds me of Nicklas Lidstrom — always skating with his head up and calm with the puck. He is tall and rangy; about to enter his prime physical years at 26. If he makes the adjustment to the NHL, which I think he will, the Leafs could have a real dark–horse."
The Leafs loaned Lehtonen to Jokerit to start the 2020–21 KHL schedule. He has performed exceptionally well, with 13 points (and plus–10) in nine games. "Frankly, he's a bit too good to play in Europe," said the scout. "Whether he's good enough to play in the NHL remains to be seen. But, I like his potential."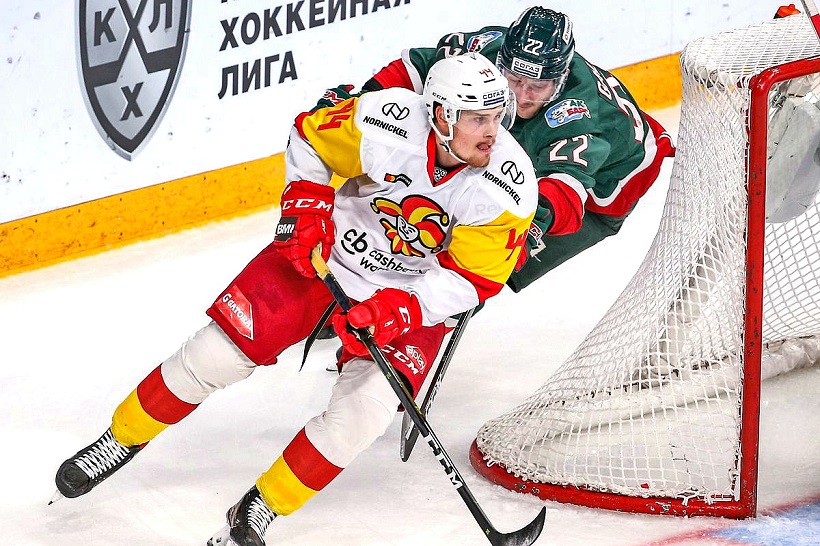 DEFENSEMAN MIKKO LEHTONEN IN ACTION WITH FINNISH CLUB JOKERIT OF THE KONTINENTAL HOCKEY LEAGUE. THE LEAFS SIGNED HIM AS A FREE AGENT IN MAY. YEGOR ALEYEV TASS/GETTY IMAGES
In a best–case scenario for the Leafs, Lehtonen and Rasmus Sandin would both graduate to the NHL, providing the club two defensemen under entry level salary restriction. Lehtonen will consume only $925,000 of cap space; Sandin, the club's first–round draft pick in 2018, just $894,167. While turning 20 years of age, Sandin appeared in 28 games with the Leafs last season and did not look terribly out of place. If Dermott, a restricted free agent, is traded, Lehtonen and Sandin would compete with Tim Liljegren for the sixth spot on the blue line, joining Rielly, Brodie, Jake Muzzin, Justin Holl and Bogosian. Should the duo prove capable of regular deployment in the NHL, the Maple Leafs would be in a wonderful position of depth.
"In my view, Lehtonen ranks ahead of Sandin because he is six years older and has played at the professional level in Europe," said the scout. "As mentioned, this is the perfect time for him to come into the NHL. Sandin has as much potential — perhaps even more — but he has to fill out, physically. Dressing for close to 30 NHL games last season should help Sandin but I think he needs to gain more experience in the American Hockey League (with the Toronto Marlies). Lehtonen could be ready to step in with the Leafs."
IN THROUGH THE OUT DOOR: As with many teams in the cap era, the Leafs have executed a makeover beneath their core players. Gone from last year's team are Tyson Barrie, Kasperi Kapanen, Andreas Johnsson, Frederick Gauthier, Cody Ceci and Kyle Clifford. Next to move on, if general manager Kyle Dubas can trade the final three years of his contract, will be center Alex Kerfoot, thereby slashing another $3.5 million from Toronto's cap load. Coming to the Leafs are Wayne Simmonds, Travis Boyd, Brodie and Bogosian; perhaps joined by Lehtonen, Sandin and Nick Robertson. The status of Dermott and Ilya Mikheyev, both restricted free agents, remains unclear. In the end, and barring further adjustments, nothing has really changed. Dubas is clearly adamant about retaining all of his enormous contracts: John Tavares, Auston Matthews, Mitch Marner and William Nylander — roughly $41 million against the cap. He cannot make a significant addition to the club without unloading one of the aforementioned (Tavares is untouchable). As such, the Leafs will again rise or fall on the blades of their existing core, which includes Rielly on defense and, to this point, Frederik Andersen between the pipes. The goaltenders' market, so wide open prior to unrestricted free agency, is now virtually closed. All of Anton Khudobin (Dallas), Henrik Lundqvist (Washington), Jacob Markstrom (Calgary), Corey Crawford (New Jersey), Braden Holtby (Vancouver), Mike Smith (Edmonton), Cam Talbot (Minnesota) and Tomas Greiss (Detroit) have been signed. Tristan Jarry (Pittsburgh) and Robin Lehner (Vegas) re–signed while Matt Murray (Ottawa) was obtained in a deal with Pittsburgh. It represents a huge missed opportunity for the Leafs, who didn't have cap space to sign one of the more–expensive goalies, but could have easily obtained a stop–gap to team with Jack Campbell, providing Joseph Woll and Ian Scott another year of development with the Marlies.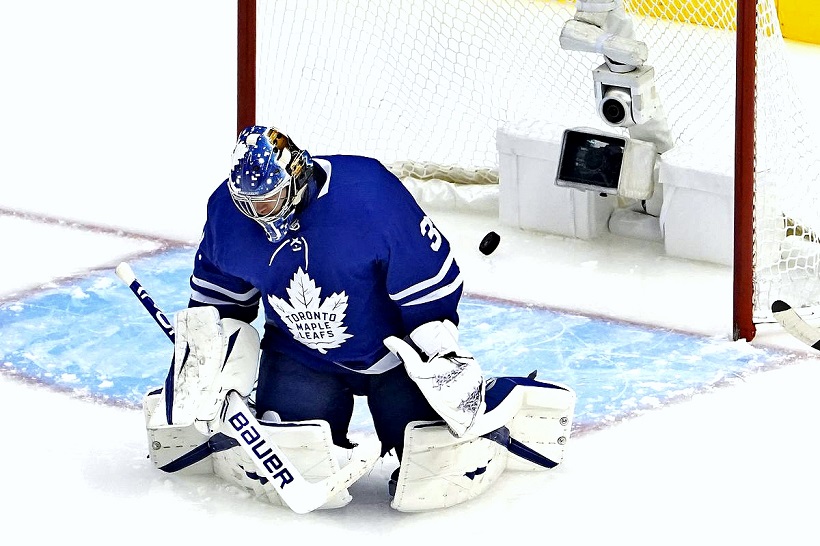 FREDERIK ANDERSEN HAS BEEN FINE, STATISTICALLY, FOR THE TORONTO MAPLE LEAFS. BUT, STATS DO NOT MEASURE HIS SOFT, UNTIMELY GOALS IN THE CLUTCH. THE CLUB SHOULD MOVE ON.
ANDRE RINGUETTE GETTY IMAGES
Instead, Dubas will apparently tie his future as GM to Andersen, with an 0–8 record in deciding playoff matches and, now, with a virtually untradeable contract (one year left and a $5 million cap hit). In my view, and as written on numerous occasions, retaining Andersen is a terribly poor decision by the Leafs. He has proven unequivocally inept in the clutch, offsetting brilliant saves by allowing soft, killer goals. Why the Leafs would even consider providing him a fifth playoff attempt (should the club qualify next season) is beyond a mystery. Leaf apologists say that Andersen would be among the best NHL 'keepers behind a much–improved blue line. Which, as of now, the Leafs do not possess. Neither is it an acceptable theory.
The Leafs shut down Columbus in a defensive slog during the qualifying play–in round in August. Andersen, though fine statistically, made the difference in the series by allowing an easy shot to elude him in the third period of the scoreless opener… and another third–period stinker that added to a 1–0 Blue Jackets lead in Game 4 when the Leafs were eliminated. That he permitted terrible goals by Joakim Nordstrom and Sean Kuraly (not exactly household names) in a 5–1, Game 7 loss at Boston in 2019 — and had been blown out, 7–4, in Game 7 the previous year at TD Garden — is more than enough evidence for the Leafs to move on. There was momentum toward such a decision in the days after the Columbus series. But, Dubas has apparently decided to take the path of least resistance. It will almost certainly offset any personnel gains the club has made this summer… and will waste another year of development among the core players.
Any number, times zero, equals zero.
Same applies to any change the Leafs make in front of a marginal playoff goalie.
EMAIL: HOWARDLBERGER@GMAIL.COM