TORONTO (Oct. 9) — There is no real mystery. Kyle Dubas, general manager of the Leafs, made a couple of moves on Friday that conform to his self–inflicted cap crisis. So long as John Tavares, Auston Matthews, Mitch Marner and William Nylander remain with the club, gobbling up more than half the payroll ceiling, Dubas will have no choice but to dip into the bargain bin. That's why the Alex Pietrangelo chatter was nonsense. He'll definitely play elsewhere after St. Louis signed Torey Krug for seven years and $45.5 million.
All Dubas could afford as a defensive procurement was T.J. Brodie. Whether Brodie pans out better than Tyson Barrie remains to be seen, but no–such comparison between blue–liners would have been made last summer, when the Leafs obtained Barrie from Colorado for Nazem Kadri. That said, Brodie is a safe acquisition; too expensive, obviously, at $5 mil per season, but where do you find cheaper options that can play among your top four blue–liners? Brodie is signed through age 34 without nearly the contract restrictions that would have accompanied Pietrangelo through age 37. In that regard, it was a no–brainer for Dubas. A front–four defense of Morgan Rielly, Jake Muzzin, Brodie and Justin Holl is okay — not Stanley Cup caliber, but certainly middle–of–the–pack, especially if Rielly stays healthy and regains his 72–point form of 2018–19. As it stands right now, with a few more changes likely to come, the Leafs are what they were last season. And, the one before last: a team that will ride its top–end skill at forward to whatever heights that element can achieve. And, ominously, one that hasn't moved on (yet) from a goalie that withers in the clutch.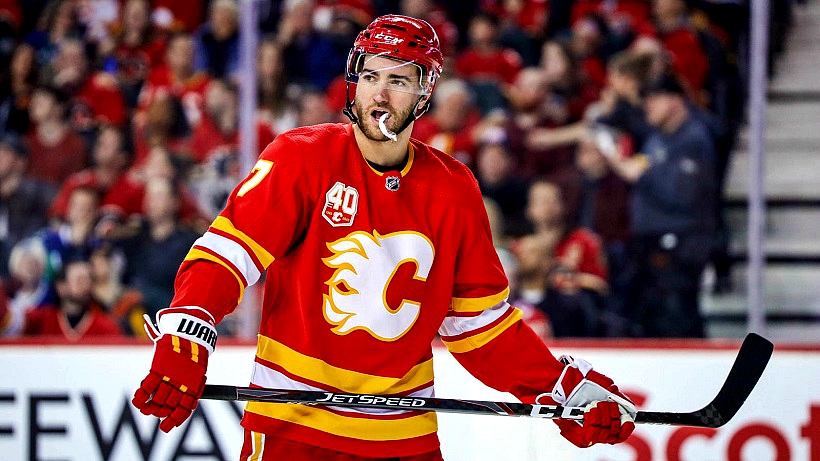 NEW LEAFS DEFENSEMAN T.J. BRODIE, LAST DECEMBER, WITH THE CALGARY FLAMES. SERGEI BELSKI USA TODAY SPORTS
Brodie, according to all information, has recovered from a scary incident while practicing, last Nov. 15, with the Flames. He collapsed at the Saddledome and began to convulse. A battery of tests ruled out any brain disease; Brodie suffered, most likely, a metabolic seizure brought on by hunger and low blood–sugar.
The native of Chatham–Kent, Ont. amassed 19 points in 64 games. His best point accumulation is 45, in 2015–16. After two seasons at minus–16 on the Flames blue line, he improved to a career–best plus–29 in 2018–19 (plus–7 last year). Though he can generally handle himself, physically, Brodie is not an intimidating presence; he registered a career–high 36 penalty minutes last season. He shoots left but plays the right side.
The anticipated arrival of Wayne Simmonds provides the Maple Leafs a roughhouse element; Dubas did extremely well by gleaning him for only one year at $1.5 million. Between now and next season, however, the club must parlay something on its roster into a commodity that can ride shot–gun with Simmonds. No team is transformed from passive to aggressive by a single player; in fact — and as I mentioned in my last blog — acquiring Simmonds and telling him "you're our toughness" will surely backfire. This is the start of a philosophical adjustment that Dubas must build upon. Otherwise, Simmonds will be wasted.
The Krug signing by St. Louis weakens Boston, to some degree, in the Atlantic Division, but the Maple Leafs shouldn't be content to reside near the back door. Toronto is now over the $81.5 million salary cap limit… with Travis Dermott and Ilya Mikheyev to be signed, or discarded, as restricted free agents. I would suggest both players are important to the team. Dermott, though vulnerable defensively and in the rough going, is a good skater and puck–mover; as competent a No. 5 blue–liner as most teams possess. Mikheyev showed some promise as a rookie last season with his size and soft hands. Again, how can Dubas accommodate these players without unloading one of his monster salaries? If you trade, as an example, Alex Kerfoot and Pierre Engvall, you will not replace them for free on the 20–man playing roster. Any way you look at it, the big four contracts are restrictive, and rather debilitating, to the Maple Leafs.
Is the Toronto club better today than on Aug. 9, when eliminated from playoff contention by Columbus?
Not by much. And, certainly not with the same man between the pipes. Some difficult work lays ahead.
EMAIL: HOWARDLBERGER@GMAIL.COM