TORONTO (Oct. 27) — I have written, in this corner, that the Maple Leafs could make no bigger mistake than trading Mitch Marner. Nor do I suspect appetite for such a move among the tall foreheads at Bay St. and Lakeshore Blvd. There is, however a player on the market capable of scoring 50 goals in the National Hockey League. Which is extraordinarily uncommon (both the availability and the feat). That player was chosen one rung beneath Auston Matthews in the 2016 NHL draft. By all appearances, he is wearing out his welcome with the Winnipeg Jets. Could Patrik Laine loom large alongside Matthews in a Toronto Maple Leafs jersey?
Understand: this is neither a trade rumor nor a move I would make — without immense study and consideration — were I Maple Leafs general manager Kyle Dubas. Given the circumstance in Winnipeg, it would be more sensible for the Jets to ponder, but also carefully. On several occasions, I have deemed Marner the most–indispensable commodity among Leaf players. He's a 90 to 100–point producer that has exceptional speed and ice vision. Since 2017, however, the Maple Leafs haven't won a playoff (or play in) series in four attempts with Marner, losing to Washington, Boston (twice) and Columbus. It would therefore befit Dubas to, minimally, accept a phone call from Winnipeg counterpart Kevin Cheveldayoff, were the latter interested in discussing a Laine trade. And, methinks Cheveldayoff has been discussing Laine a lot.
For this to have life, Dubas would need to veer from his apparent blood–pact against touching the Big Four up front, only two of which — Marner and William Nylander — would be in play (John Tavares cannot be moved and Auston Matthews is untouchable). The public vow Dubas made when signing Nylander in December 2018 appears cast in stone… and while there's been no–such comment to reporters about Marner, the Maple Leafs GM has repeatedly claimed the Big Four is out of bounds. So, an in–depth negotiation with Cheveldayoff doesn't seem likely. Still, a forward threesome of Matthews, Laine and Nylander has to make a GM think. It would be, arguably, the best power unit in the NHL. With the most goal potential of any Leafs line since Darryl Sittler, Lanny McDonald and Errol Thompson in the middle–1970's.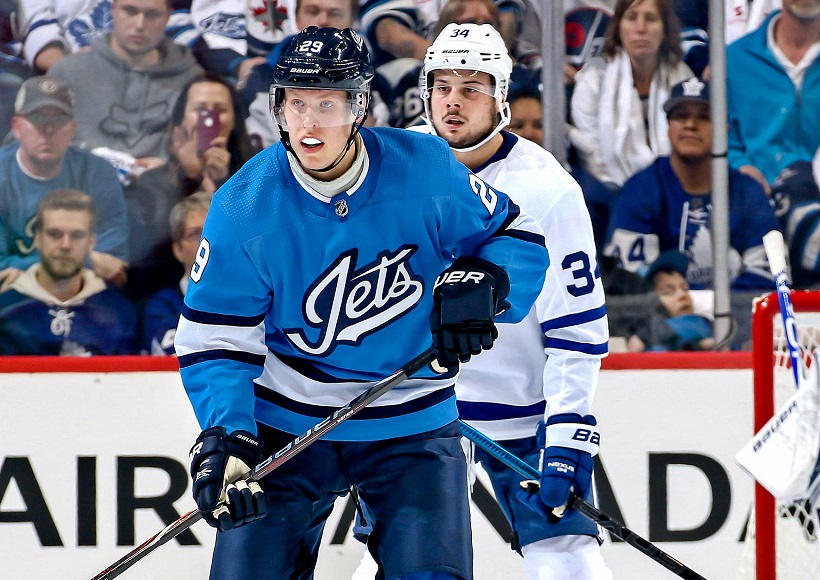 PATRIK LAINE, IN FRONT OF AUSTON MATTHEWS, DURING JETS–LEAFS GAME AT MTS PLACE IN WINNIPEG. THE BIG, FINNISH WINGER HAS 138 GOALS IN 305 NHL GAMES. GETTY IMAGES/NHL
There are, of course, myriad considerations in a trade of this magnitude, tangible and otherwise.
From a salary cap perspective, the Maple Leafs would come out way ahead in the first year of the deal. Laine is under contract to Winnipeg for one more season at a hit of $6,750,000. Marner is locked in at $10,893,000 for five more years. So, the Leafs, in 2020–21, would conserve $4,143,000 of cap space — an absolute blessing for a team currently over the limit. The Jets are also in Cap Hell, but, apart from Laine, the nucleus of Connor Hellebuyck, Blake Wheeler, Kyle Connor, Mark Scheifele, Nik Ehlers, Josh Morrissey and Dylan MeMelo is under contract for at least four more years. Marner would be a splendid addition.
After next season, the Maple Leafs would again be in a situation with four players gobbling up more than half the cap total. Unless he completely bottomed out in a Toronto jersey, Laine would seek a contract similar to Marner: in the $10 to $11 million range per season. Toronto would also, conceivably, have to re–sign such unrestricted free agents as Frederik Andersen, Zach Hyman, Wayne Simmonds and Joe Thornton. Finnish prospect Mikko Lehtonen, were he to crack the Leafs blue line next season (a distinct possibility), would need to be signed out of entry level. And, Dubas would be one season removed from Rielly testing the market; three seasons from Matthews being eligible to walk. So, the challenges would continue to mount for the Toronto GM. When all is said and done, however, Dubas would merely be exchanging Marner's near–$11 million contract for Laine's. With one season of cap breathing room. Were Dubas to trade Marner for Laine and unload Alex Kerfoot's $3.5 million pact, he would loosen up $7,643,000 of cap space — more than enough to entice Zdeno Chara for one year of experience and tenacity on the blue line. Trading the final year of Andersen's $5 million contract to one of the 21 teams not on the goalie's wave list would open up even more space. Sadly, that boat may have sailed, given the wild re–placement of stoppers in free agency.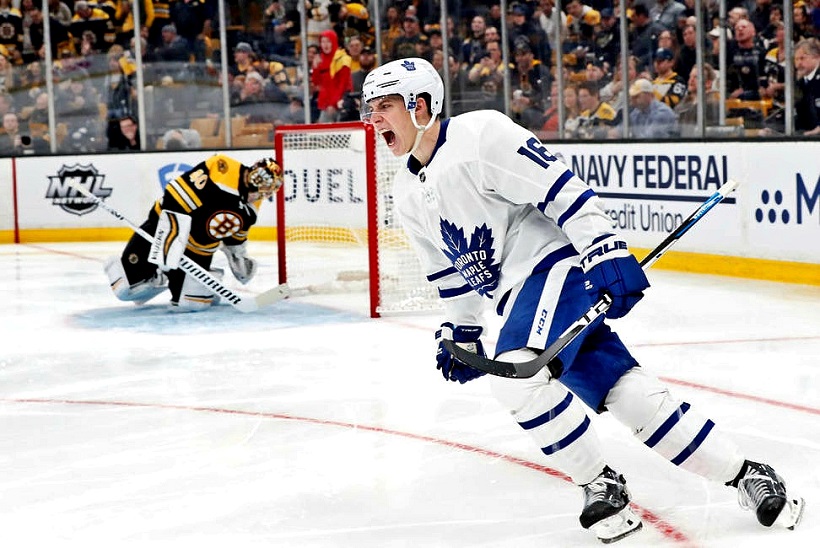 THE DEFINING IMAGE OF MITCH MARNER'S CAREER, THUS FAR, WITH THE LEAFS: BEATING TUUKKA RASK ON A PENALTY SHOT IN GAME 1 OF THE PLAYOFFS, AT TD GARDEN, ON APR. 11, 2019. TORONTO COUGHED UP A 3–2 SERIES LEAD AND LOST TO THE BRUINS IN SEVEN. FRED CFOURY III GETTY IMAGES/NHL
Under the heading of intangibles, the Maple Leafs would acquire a player with a difficult personality. Laine came to North America as an alleged prima donna and hasn't done much to quell that reputation. Of course, most teams would look sideways at a convicted criminal if he were able to score 50–60 goals in a season. And the Leafs, after 53 years of absence from the Stanley Cup final, aren't in a position to merely weed out players that may challenge a coach. Sheldon Keefe never received best–behavior plaudits during his playing days, and for years afterward. He may be the perfect individual to contend with such an obstacle as Laine.
On the other hand, Marner has never created a moment of anxiety or embarrassment for the Maple Leafs in his four seasons. He has 291 points in 300 NHL games; Laine, 247 in 305. But, Laine is more of a sniper than Marner, whose playmaking ability can dazzle. The attraction for the Leafs would be Matthews and Laine on the same forward unit — potentially 100–120 goals worth in a season. In its long NHL history, Toronto hasn't possessed two such–natural scorers on the same line. Still, giving up on Marner would be quite a gamble. No, he has not yet earned his salary in playoff performance; nor does that place him in an exclusive category among Leaf skaters. But, he is, undoubtedly, the most multi–gifted of Toronto forwards… and still just 23.
Perhaps that is why a poll of Leafs fans on Facebook voted 36–8 in favor of not trading Marner for Laine.
Had I voted (as an ex–Leafs reporter), it would have been 37–8.
THE HABS COME TO TOWN
50 Years Ago at Maple Leaf Gardens
It is always a big night when the Montreal Canadiens visit Toronto, as it was 50 years ago this Wednesday (Oct. 28, 1970), when the Habs came to Maple Leaf Gardens in their predominantly red jerseys for the first time in nearly 20 years. NHL teams, in 1970–71, switched to wearing colored uniforms on the road — a league rule that would persist through the 2002–03 season. And, though the Leafs struggled mightily in the first two months of the '70–71 schedule, they had no problem, on this night, with the Canadiens.
Ron Ellis, Guy Trottier, Dave Keon and Norm Ullman scored unanswered goals in the third period to break open a 2–2 deadlock and provide the home team a 6–2 triumph. Jim Harrison and Billy MacMillan had scored earlier for Toronto, offsetting Montreal tallies by Yvan Cournoyer and Guy Charron. Rogie Vachon took the loss in net for the Canadiens; Jacques Plante got the win by stopping 33 of 35 Montreal shots.
John Ashley officiated the match with linesmen John D'Amico and Willard Norris.
I still have the program from the game. Some images, here: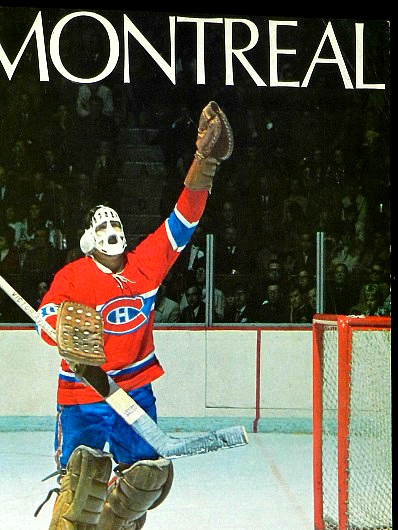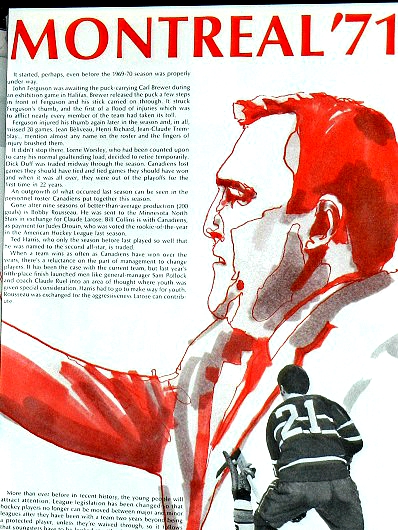 FRONT COVER (LEFT) AND FIRST PAGE OF THE MONTREAL ALBUM FROM MAPLE LEAF GARDENS IN 1970–71.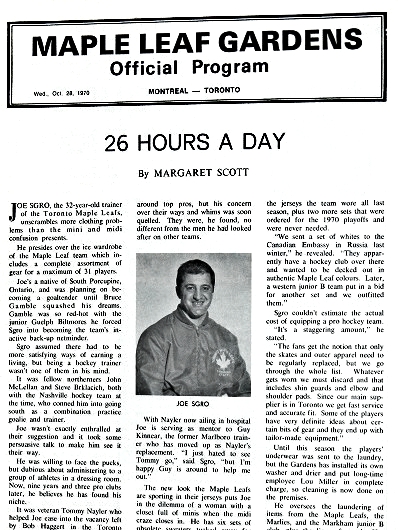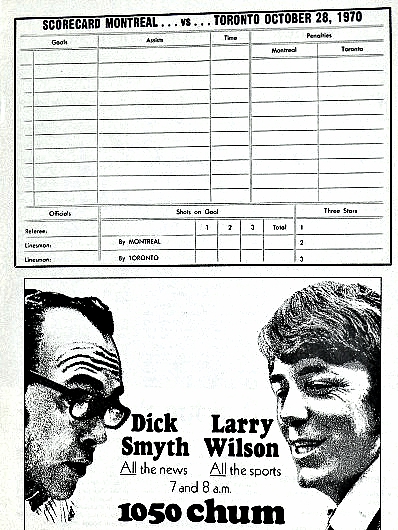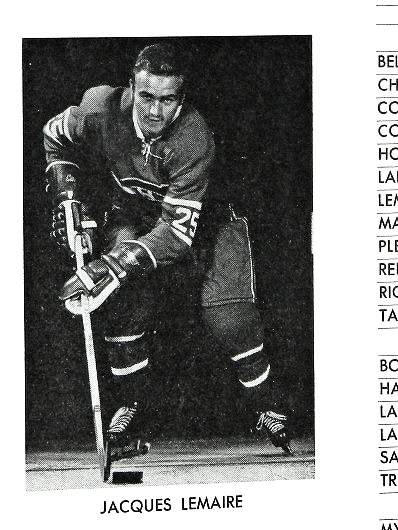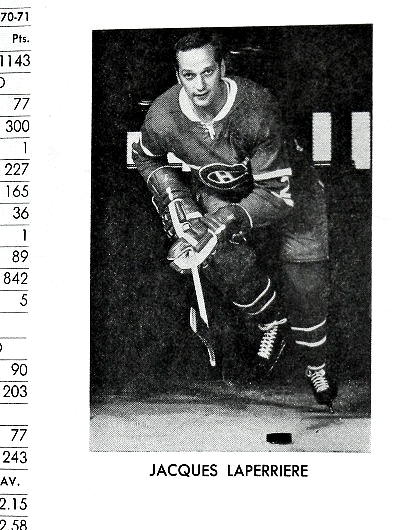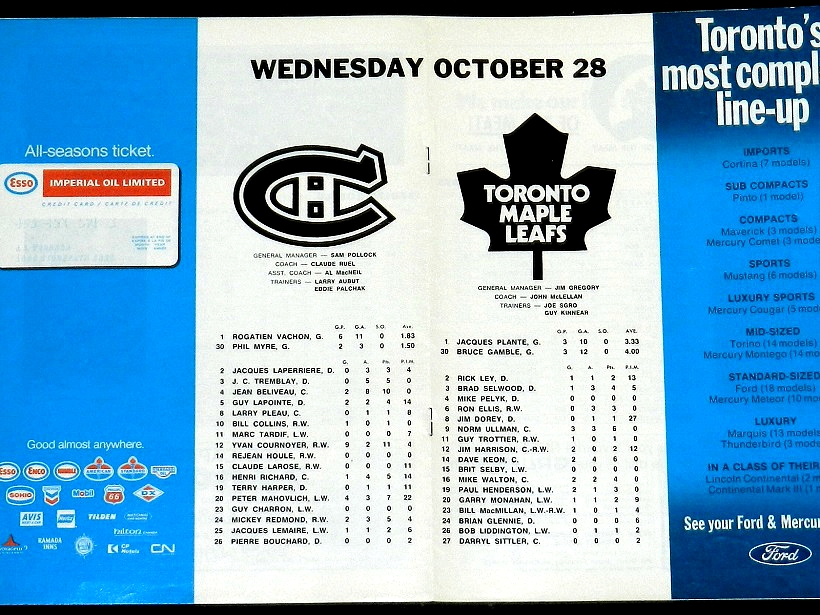 ANY HOCKEY FAN WITH A BEND ON HISTORY WILL KNOW THAT MONTREAL UNDERWENT A SIGNIFICANT CHANGE IN GOAL TOWARD THE END OF THE 1970–71 REGULAR SEASON. KEN DRYDEN WAS RECALLED FROM THE MONTREAL VOYAGEURS OF THE AMERICAN HOCKEY LEAGUE; WON ALL SIX OF HIS MATCHES, AND WENT ON TO BACKSTOP THE CANADIENS TO ONE OF THE BIGGEST PLAYOFF UPSETS OF ALL TIME. LED BY PHIL ESPOSITO (76 GOALS) AND BOBBY ORR (102 ASSISTS), THE BOSTON BRUINS HAD DESTROYED EVERY OFFENSIVE CATEGORY IN THE NHL RECORD BOOK DURING THE SEASON, POSTING A 57–14–7 RECORD FOR 121 POINTS, 24 GREATER THAN THIRD–PLACE MONTREAL. BOSTON SCORED A LEAGUE–RECORD 399 GOALS, 108 MORE THAN MONTREAL. BUT, DRYDEN CAME ALONG AND SENT THE BRUINS PACKING IN SEVEN GAMES DURING THE FIRST PLAYOFF ROUND. MONTREAL THEN ELIMINATED MINNESOTA AND CHICAGO TO WIN THE STANLEY CUP. THE CANADIENS' LEGENDARY CAPTAIN, JEAN BELIVEAU, RETIRED AFTER THE '71 CUP TOURNAMENT.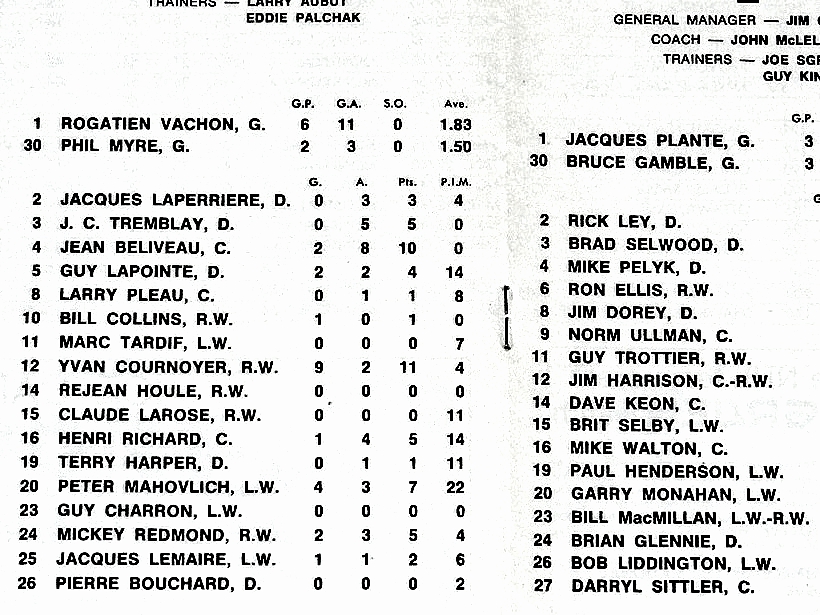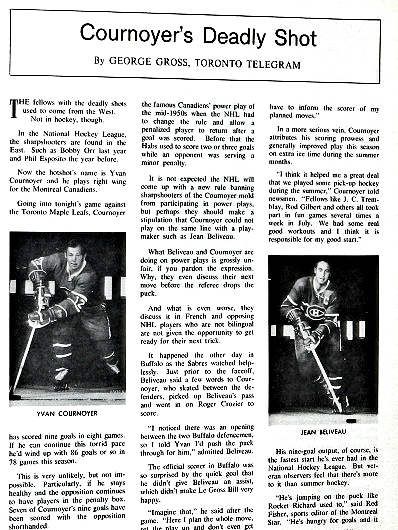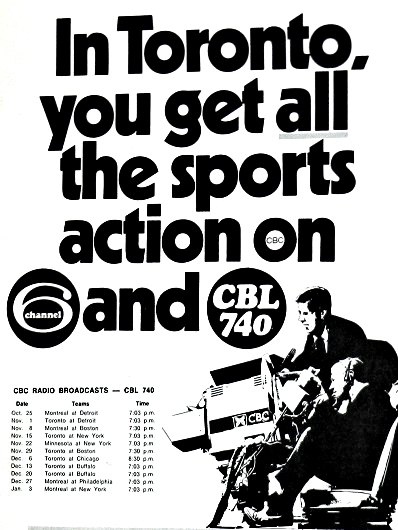 IN THE 1960's AND 70's, CBC RADIO BROADCAST A GAME, NATIONALLY, ON SUNDAY NIGHTS. THE MATCHES WERE HEARD, IN TORONTO, ON CBL–740. THE FIRST HALF–SEASON SCHEDULE OF BROADCASTS IS AT BOTTOM–RIGHT.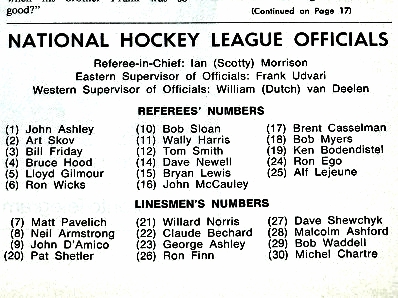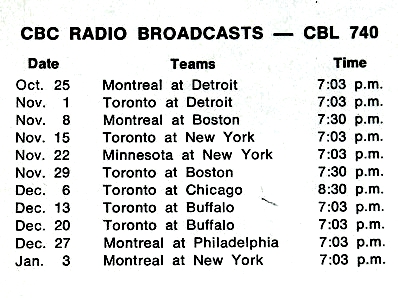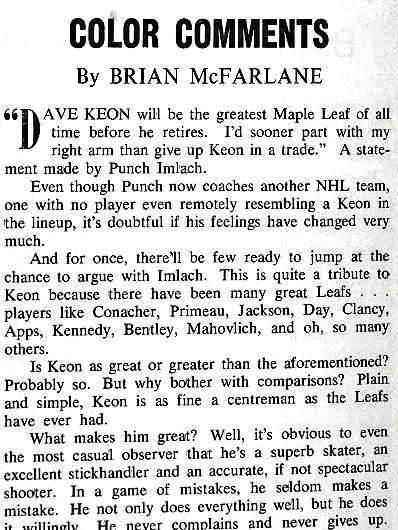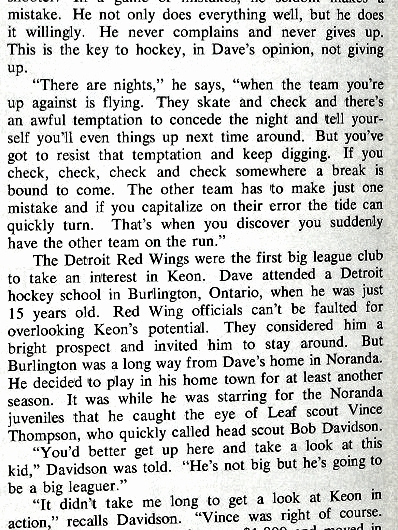 BRIAN McFARLANE WROTE ABOUT DAVE KEON (ABOVE) IN THE PROGRAM–INSERT. AND, BOBBY ORR WAS NOWHERE TO BE FOUND AMONG NHL POINTS LEADERS (BELOW) AFTER TWO WEEKS OF THE 1970–71 SCHEDULE. ORR WOULD ULTIMATELY FINISH WITH AN ASTOUNDING 139 POINTS, SECOND TO TEAMMATE PHIL ESPOSITO (152).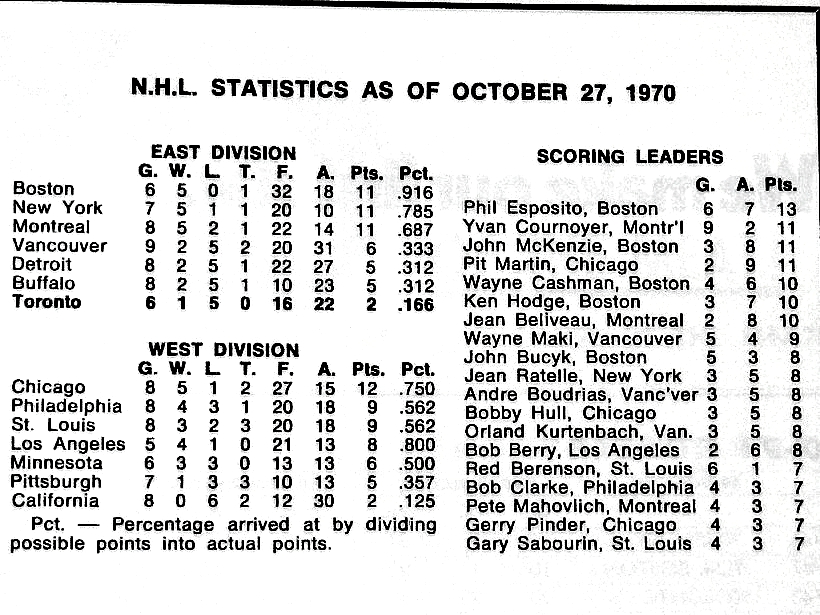 EMAIL: HOWARDLBERGER@GMAIL.COM