TORONTO (Oct. 28) — There has been no indication, publicly, from the Maple Leafs about wanting to change direction in goal before next season. A few days after the Leafs were eliminated by Columbus in the qualifying round, I was told — by someone I consider an excellent source — that the club had chosen to move beyond Frederik Andersen, whose propensity to allow soft, untimely goals flared up against the Blue Jackets, costing the team a winnable series and offsetting an otherwise sound performance. It made perfect sense to me and I wrote a blog about it here (https://bit.ly/32Oxxnn). One of two things happened in the interim: Either my source was wrong (to this day, he's confused about Andersen still being the No. 1 stopper) or management had a change of heart. Were I to ask Kyle Dubas, we know which door he would pick.
In the end, it's immaterial.
Bottom line is, the Leafs still have, as their starting goalie, a player that has come up short in four consecutive post–season series: two against Boston; one each against Washington and Columbus. Neither has the issue been mothballed. It's a discussion topic on chat forums dedicated to the Leafs… and was debated, in length, during Tuesday's edition of OverDrive on TSN Radio–1050 here in town, the late–afternoon show hosted by Bryan Hayes; co–hosted by Jamie (Noodles) McLennan and rabid Leafs fan, Jeff O'Neill. None of the three presented an argument in favor of retaining Andersen. McLennan and O'Neill (the ex–Leafs winger) were non–committal, while Hayes — walking the ubiquitous tight–rope between opinionated host and employee of the company (Bell Media) that owns 37.5% of the hockey club — kept returning to the soft goals. "It's right there and pretty hard to ignore," said Hayes, an exceptional broadcaster; son of my former FAN–590 colleague, Bill Hayes, and nephew of Bill's brother, Q–107 morning man, John Derringer, another FAN –590 alumnus.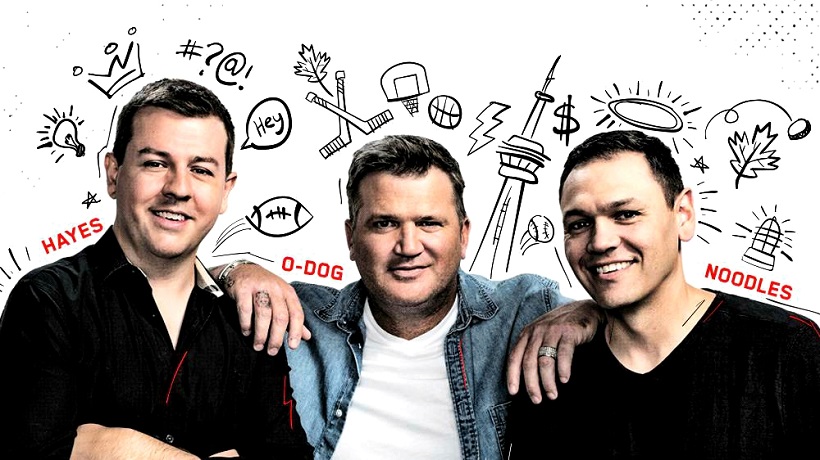 So, it's clear that, outside the doors of Maple Leaf Sports and Entertainment, there is no consensus toward staying with Andersen. And, I'd be shocked if this hasn't been a conversation topic within the walls of 40 Bay Street. At no time since the Columbus series has anyone at MLSE offered Andersen a ringing verbal endorsement. The best Dubas came up with was back on Oct. 5, when addressing the "white noise" surrounding his No. 1 netminder: "As of this moment, yes, I expect him to be the starting goalie for our team… whenever we get going here," stated the GM to reporters. Nothing about Andersen being "one of the best in the NHL" and, certainly, nothing in regard to Andersen's playoff record. Under the category of "actions speak louder than words," the Leafs made a far–bigger statement, five days later, when they sat back and watched the most–furious shuffling of goalies in the 25–year history of unrestricted free agency.
Via trade and signings, nine players changed uniforms: Matt Murray, Henrik Lundqvist, Corey Crawford, Jacob Markstrom, Braden Holtby, Cam Talbot, Devin Dubnyk, Thomas Greiss and Aaron Bell — the latter, signed for one season by the Maple Leafs from San Jose, ostensibly to replace minor league stopper Kasimir Kaskisuo, who moved to Carolina. Other than Murray, traded from Pittsburgh to Ottawa for peanuts, it can be argued there were no long–term alternatives to Andersen. There were, however, stop–gap measures that would allow the club to move away from Andersen and buy time to determine if either of the Toronto Marlies' prospects, Joseph Woll or Ian Scott, are NHL ready. The Maple Leafs chose to stand pat.
No person at MLSE has explained why the Leafs are remaining with a 31–year–old goalie, entering the final year of his contract, that has no local playoff resume. Or, whether management is considering an extension beyond next season. There are no obvious reasons for either… unless Andersen has completely handcuffed the Leafs with his contractual list of 10 destinations to which he'd refuse a trade. Otherwise, we can fall back on the age–old, yet inarguable, narrative that the Leafs need not explain anything to fans that support the team unconditionally. We know Scotiabank Arena will be bursting at the seams whenever it is safe to be filled — whether Frederik Andersen, David Ayres or Ronald McDonald is between the pipes.
That part underlies every Leafs decision… and has, for decades.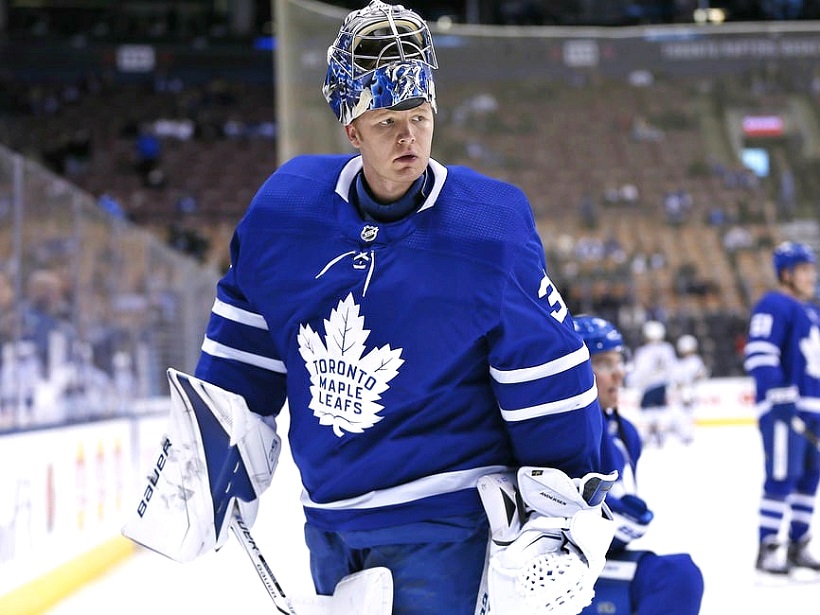 FREDERIK ANDERSEN: STILL, THE MAPLE LEAFS NO. 1 GOALIE. JOHN E. SOKOLOWSKI USA TODAY 
Saving Andersen for the Seattle expansion draft next year makes no sense, given he'll likely be an unrestricted free agent. Those that argue Andersen would thrive behind a better defense overlook that he was just fine, statistically, in the five–game morass against Columbus; two more softies, in fact, were the difference. It also pre–supposes the Toronto blue line is better, now, than at any point in Andersen's tenure.
If, therefore, the Leafs have no interest in moving beyond Andersen for the 2020–21 season, they are being governed by blind hope. Again, there is nothing about Andersen's playoff past that warrants such faith. Which yields to Option 2: that Dubas and Brendan Shanahan are open to change via trade… and hope to acquire a goalie of greater long–term value than the players available in unrestricted free agency. If so, there is a glaring swap partner in the Blue Jackets, who appear to have a pair of No. 1 netminders (Elvis Merzlikins and Joonas Korpisalo) and fairly abundant cap space ($15,991,855 according to capfriendly.com). The Jackets need to re–sign (or trade) leading scorer Pierre–Luc Dubois, a restricted free agent whose 49 points in 70 games does not warrant a monster deal. Otherwise, all Columbus contracts for next season are set.
The Leafs have talked to the Blue Jackets about goaltending — more than likely, Korpisalo. In order for Columbus to execute such a trade, and to assume the final year of Andersen's $5 million cap hit (but $1 million salary), Dubas would have to make it worthwhile for Jarmo Kekäläinen. Perhaps by adding in third–line center Alex Kerfoot; 23–year–old defenseman Travis Dermott (a decent puck–moving defenseman who gets overmatched, physically) and a mid–range draft pick. In this swap, Columbus would add, and Toronto would lose, $6,574,125 of cap allotment. The Jackets would be left with $9,417,730 of space, more than enough to re–up with Dubois. Andersen would serve as No. 2 goalie to Merzlikins, leaving Columbus a solid tandem. Toronto would acquire two years of contract control before having to make a decision on Korpisalo.
The myopic faction of Leaf zealots will scream about this being "too much" to relinquish for a goalie, even if still 26, that hasn't yet proven to be an elite No. 1. Overlooking, of course, the cost of staying with Andersen for another year. And, of suggesting who might be the Leafs' starter beyond 2020–21. Korpisalo would answer the latter question. And, the trade would eliminate the prior concern. Andersen having Columbus on his list of 10 "no–trade" teams would be the only reason for Toronto to not explore this possibility.
We also know that every contract clause is negotiable.
THE HOCKEY NEWS — 55 Years Ago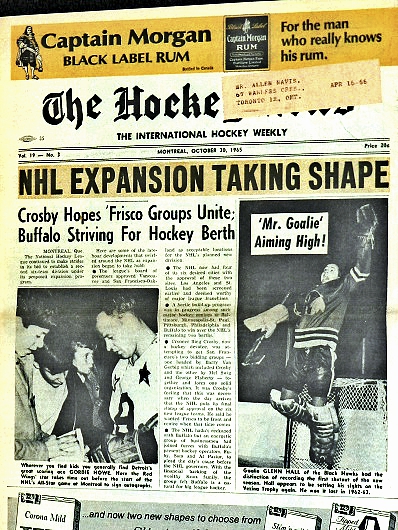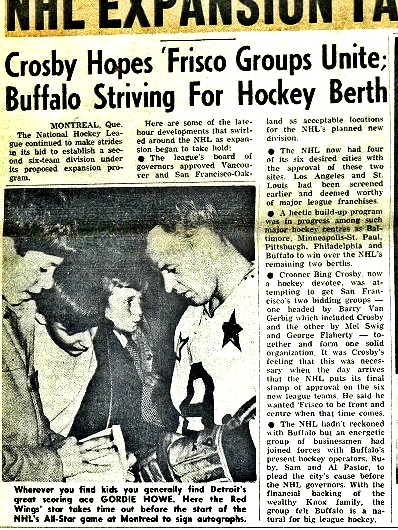 So, what were you doing this week back in 1965?
I suspect many reading this weren't even thought of. Me? I was in my second month of Grade 1 at Wilmington Avenue Public School, across the park from my home on Kennard Ave., in the Bathurst Manor of north Toronto. It was three months before my seventh birthday and the Maple Leafs had won the Stanley Cup in three of the past four NHL seasons. As for the NHL — as depicted in the Oct. 30, 1965 edition of THE HOCKEY NEWS — expansion was gearing up; the league planning to double to 12 teams two seasons later… the NHL All Star Game had been contested at the Montreal Forum with Gordie Howe leading the Stars to a lop–sided victory over the defending–champion Canadiens… All–Star defenseman Carl Brewer, a member of all three Stanley Cup teams in Toronto (1962–63–64), had quit the Leafs over Punch Imlach's autocracy… Bobby Hull was the player–of–the–week in the first week of the 1965–66 regular season. In less than five months, Hull would become the first shooter to break the 50–goal barrier… Mike Walton and Al Arbour were leading the Rochester Americans of the American Hockey League… the Boston Bruins were pondering the absurd: where to play junior sensation Bobby Orr upon his graduation to the NHL the following season… and Toronto Marlboros defenseman Jim McKenny was being most–closely compared to Orr.
Please enjoy this trip back in time: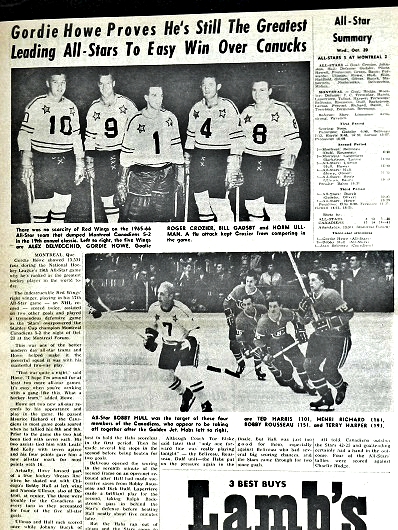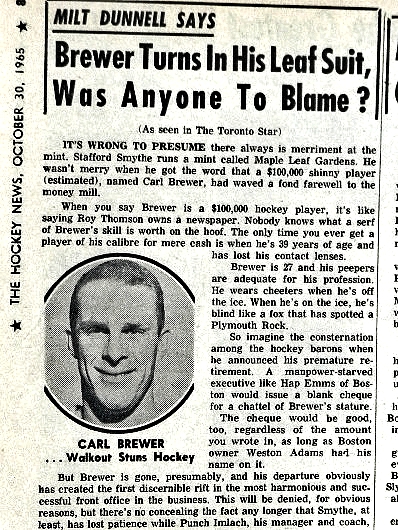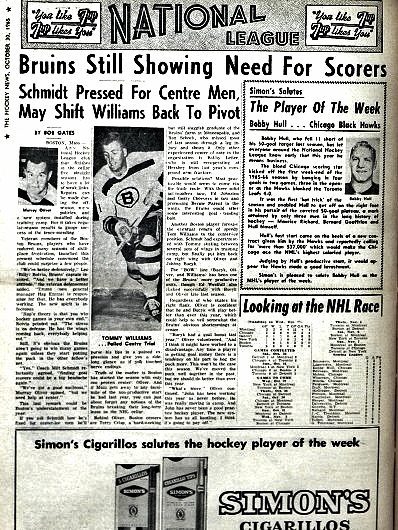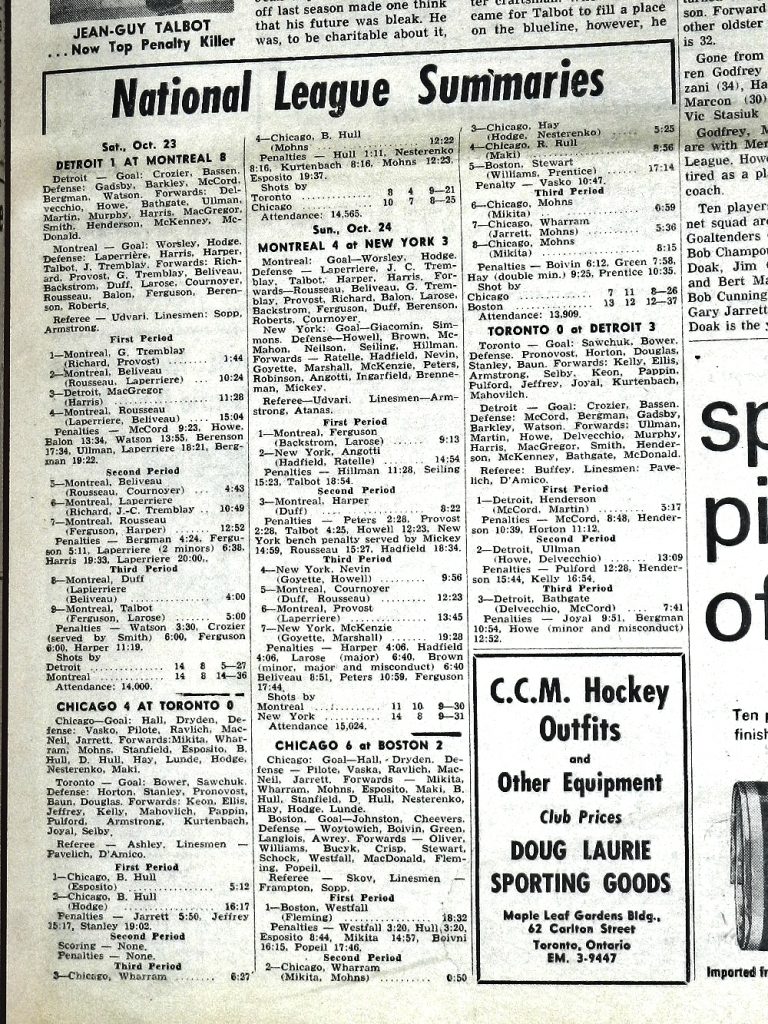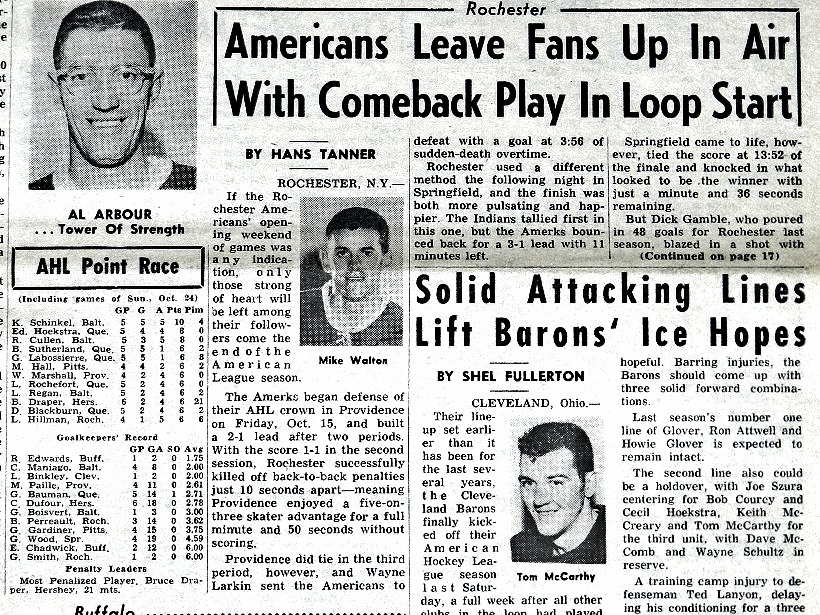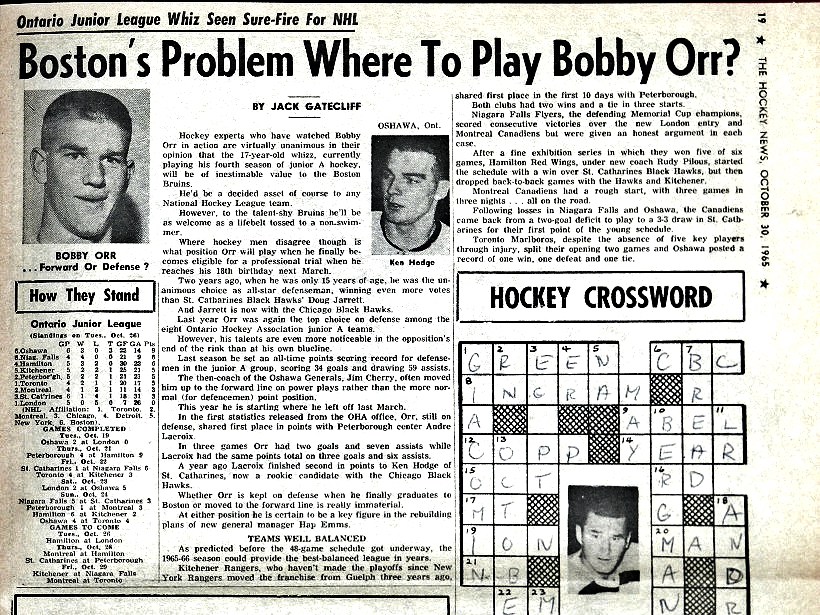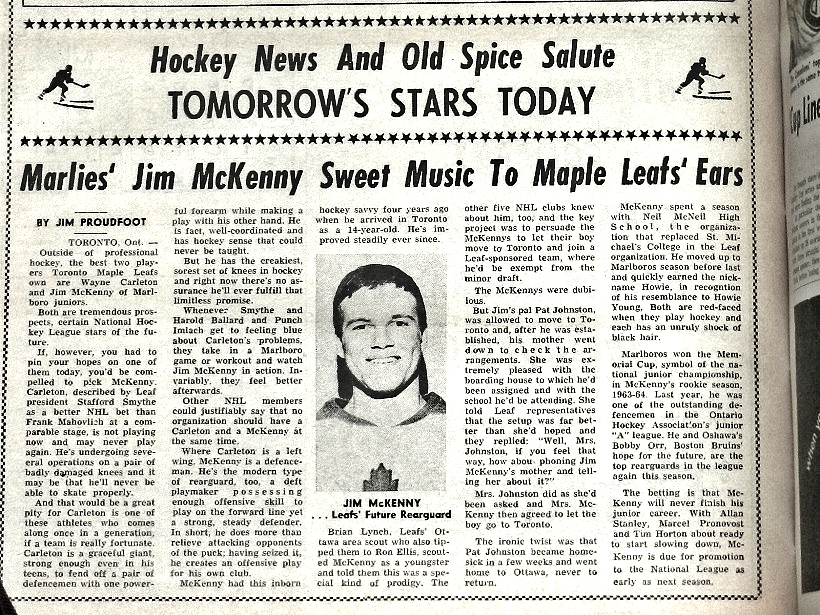 EMAIL: HOWARDLBERGER@GMAIL.COM