TORONTO (Oct. 1) — With unrestricted free agency in the National Hockey League around the corner, many observers in this part of the world will continue to fantasize about Alex Pietrangelo joining the Toronto Maple Leafs. Which isn't entirely out of the question providing the Leafs jettison a large contract they already own. That doesn't mean, as an example, trading William Nylander for commensurate value… or another $7 million forward. It requires Toronto to unload Nylander for a high draft pick and/or a reasonable prospect. Another mid–range salary will also need to be offloaded and somehow replaced more cheaply. As such — and I repeat — adding Pietrangelo with a long–term deal worth $8 or $9 million against the cap is a fantasy.
For a number of palpable reasons, it would also be imprudent.
Pietrangelo will turn 31 in mid–January. Though still an elite blue–liner, he is already past his biological prime, which normally (though not always) occurs between 26 and 29 years of age. The Leafs might get two really good years out of him. Then, as I've written a number of times, they'll be stuck with a pair of immovable, depreciating contracts that gobble up close to $20 million of cap space; the other belonging to John Tavares. This would be terribly unsound strategy for a club that isn't yet constructed to pose a Stanley Cup threat. Alternately, and from what I'm told by sniffing around the league, general manager Kyle Dubas is looking to upgrade his blue line via trade. Atop the list of prey for the Leafs are Colton Parayko of St. Louis and Matt Dumba of Minnesota — each a right–handed shot; neither a target of Toronto for the first time.
With Morgan Rielly, at 26, just entering his prime, and surely to begin the next NHL season in full health, the Leafs need not blow a bundle on the UFA market. Inexplicably, Rielly does not accrue, among most in Leafs Nation, the respect he has earned as a top defenseman. Two years ago, when unburdened by a sore back, he put up 72 points — 18 more than Pietrangelo in any season; with only Borje Salming and Ian Turnbull comparable in Toronto franchise history. Why that impressive number isn't properly recognized escapes me. If healthy (which you can say about any player), Rielly offers the Maple Leafs precisely what a Cup contender requires: a strong, fluid skater on defense that carries the puck effectively. There is no reason for the Leafs to be farther incapacitated by the NHL's flat, $81.5 million payroll ceiling. Moreover, after the 2021–22 schedule, still just 28, Rielly will need to be re–signed to prevent him from testing the open market. That, too, will require some cap flexibility, which the Leafs are devoid of. Dubas has to plan beyond one more year.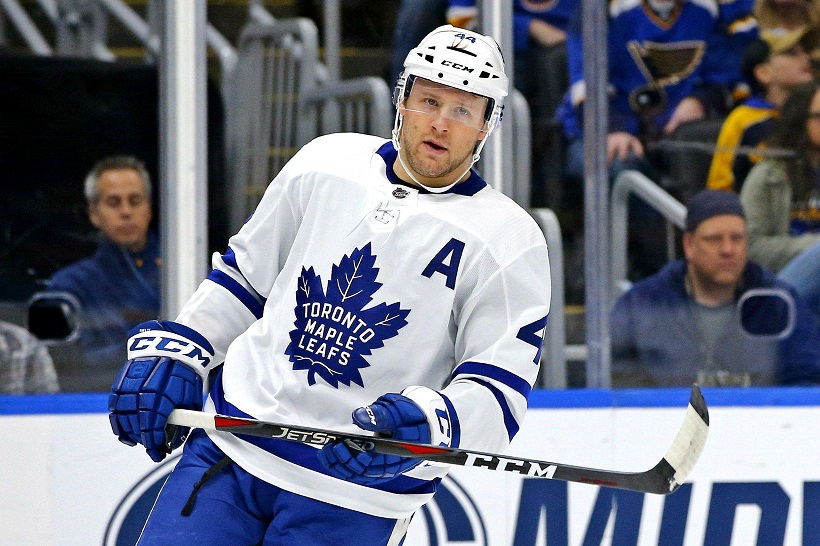 THE TORONTO MAPLE LEAFS HAVE AN EXCELLENT, FRONT–LINE DEFENSEMAN AND LEADER IN MORGAN RIELLY, WHO NEEDS TO BE RE–SIGNED IN TWO YEARS. BILLY HURST THE ASSOCIATED PRESS
That's why trading for a right–shot defender is more sensible. Not that the Leafs can land either Parayko ($5.5 million for the next two seasons) or Dumba ($6 million for the next three years) without discarding a Nylander–type contract ($6.9 million for the next four seasons). Remember, significant upgrades are required beneath the Big 4 (Tavares, Auston Matthews, Mitch Marner and Nylander), as Dubas carried too much riffraff last season. Among the upgrades, without question, must be a player or two with nasty dispositions. Effective performers of that genre, if somehow acquired, do not come cheaply. So, Dubas needs additional cap room to compose some roster balance. Which isn't likely to happen overnight.
St. Louis (225 goals) and Minnesota (220) were middle–of–the–pack among offensive clubs in the pandemic–shortened season. Nylander would look rather nifty in either uniform. For the Blues to trade Parayko, they would have to re–start negotiation with Pietrangelo; clearly, Doug Armstrong couldn't afford to lose both defensemen. That's why Dumba is a more–reasonable target for the Maple Leafs. If the Wild, with nearly $12 million in cap space, would accept Nylander and, say, Alex Kerfoot ($3.5 million for the next three seasons) for Dumba (Minnesota throwing in a mid–range draft pick or prospect), both teams would prosper — Bill Guerin acquiring a good, natural scorer and some forward depth; Dubas obtaining a respected, right–shot blue–liner, still just 26, with three years of contract control… and roughly $4.5 million in cap space.
Of course, Dubas would have to welch on his silly promise to not peddle Nylander. Which shouldn't be overly difficult given that he'll be looking for work if the Leafs don't begin to make some playoff noise.
LEAFS END 1970 EXHIBITION SLATE
It was 50 years ago this week that the Maple Leafs concluded their exhibition schedule and prepared to begin the 1970–71 NHL season in Vancouver, against the expansion Canucks. The Chicago Black Hawks, wearing their classic red jersey for the first time at Maple Leaf Gardens, closed out Toronto's slate of pre–season encounters. I attended the match (program, below, still in my collection) and obtained autographs, on the cover, from King Clancy, Toronto Star columnist Milt Dunnell, NHL referee–in–chief Scotty Morrison, Leafs' second–year GM Jim Gregory and Chicago coach Billy Reay. All but Morrison, today 90, are deceased.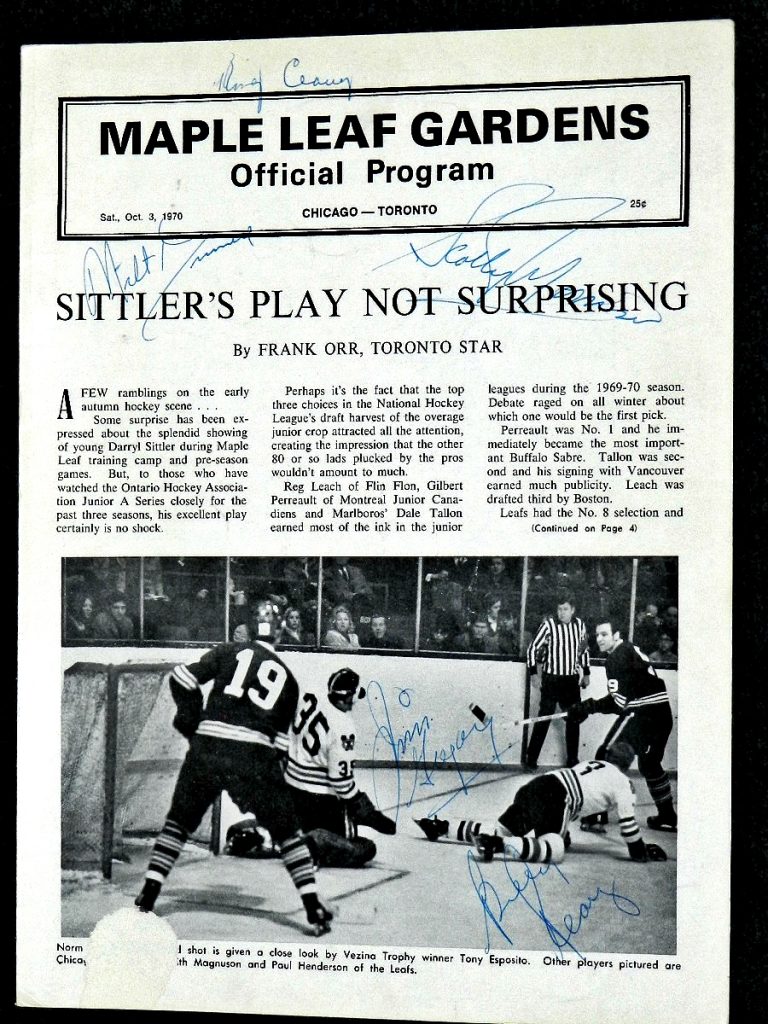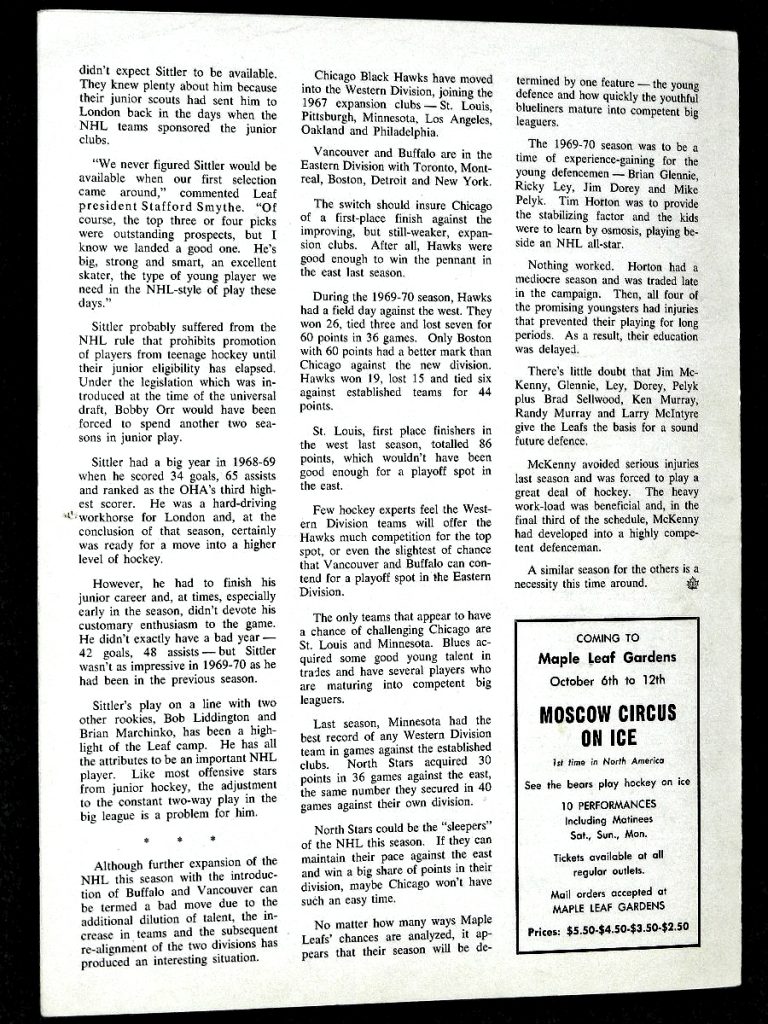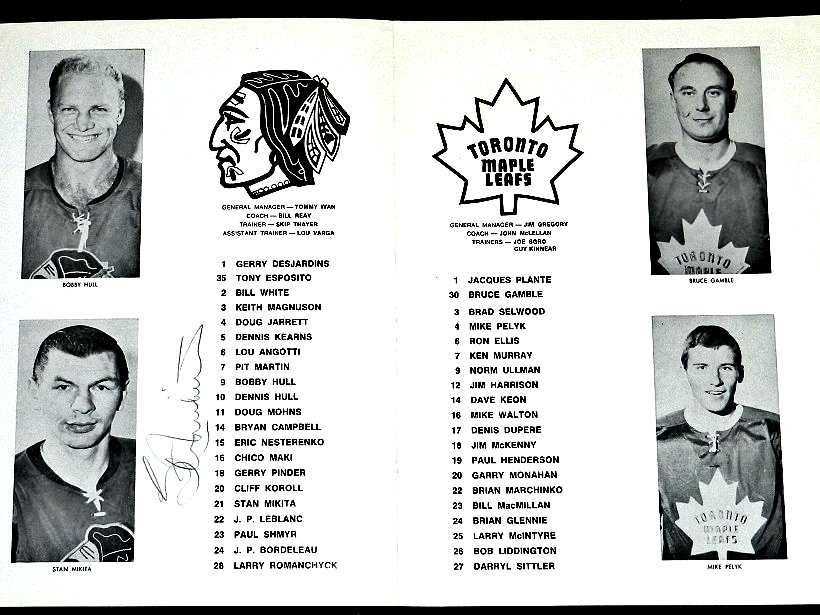 Stan Mikita signed the line–ups section (below) of the four–page, cardboard program.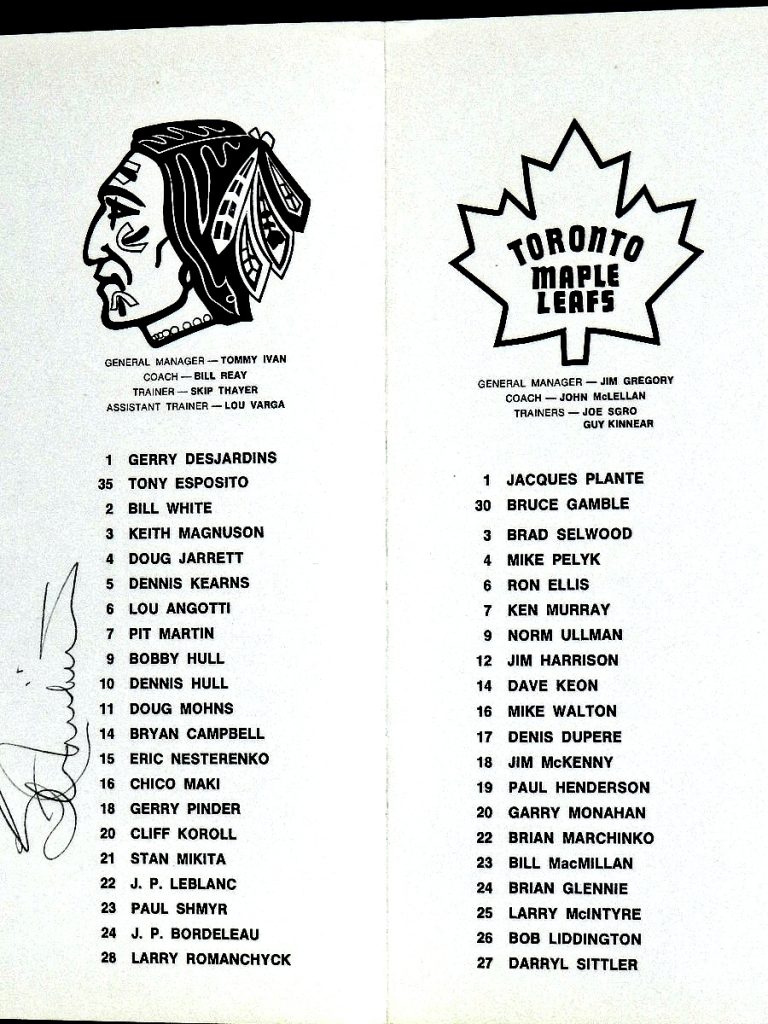 EMAIL: HOWARDLBERGER@GMAIL.COM