TORONTO (Oct. 4) — Over the past few days, I have warmed to the notion of Maple Leafs general manager Kyle Dubas re–uniting with the goalie tandem from his first season running the Sault Ste. Marie Greyhounds of the Ontario Hockey League. One stopper 28; the other still 26 with a pair of Stanley Cup rings. Both, in my view, an upgrade over Frederik Anderson, who has regularly come up small in the playoff crunch, convincing the Toronto brass that it's time for a change. Yes, there will be innumerable options for Dubas this off–season… and neither do we know if, or when, there will be a next season. But, something about Matt Murray and Jack Campbell sharing the netminding load for the Blue and White smacks favorably with me.
For this to happen, there are two requirements: First, and foremost, Dubas has to make another trade with Pittsburgh counterpart Jim Rutherford. In late–August, the Maple Leafs sent winger Kasperi Kapanen to the Penguins for a 2020 first–round draft pick (15th overall). Second, hockey observers here in Toronto need to look beyond the numbers of the past three years, which were not flattering to Murray, now a restricted free agent. He was terrific for the Penguins in the Stanley Cup drives of 2016 and 2017 — posting a 2.08 goals–against average and .923 save–percentage in 21 appearances when Pittsburgh defeated San Jose for the first Cup; he then shared the load with Marc–Andre Fleury the following year (1.70 / .937 in 11 appearances) as Pittsburgh bested Nashville in the Cup final. Over three springs (2016–18), Murray won 28 playoff matches.
Andersen has 10 playoff victories in the past four years with the Maple Leafs.

MATT MURRAY HAS TWICE LIFTED THE STANLEY CUP WITH PITTSBURGH — HERE, IN 2016, AFTER LEADING THE PENGUINS TO VICTORY OVER THE SAN JOSE SHARKS. CHRISTAN PETERSEN GETTY IMAGES
As to why Murray has fallen off since 2016–17, there is no particular answer. Neither has there been goaltending stability in Pittsburgh, with Fleury, Murray, Casey DeSmith and Tristan Jarry all vying for the No. 1 role. It appears that Jarry has won the confidence of Rutherford after signing a three–year contract extension with a $3.5 million cap–hit on Saturday. "Tristan is coming off of an All–Star season and has demonstrated the ability to be a regular starter for us," said Rutherford, who admitted it would be "difficult" to keep Jarry and Murray. Were Pittsburgh not up against the payroll ceiling ($2,634,825 beneath, according to capfriendly.com), perhaps Rutherford would accept the final year of Andersen's contract ($5 million cap–hit) for Murray. Both might benefit from a change of scenery and Andersen's actual salary next season is only $1 million. This could still be a possibility if Rutherford were to clear money elsewhere — a requirement in any commensurate deal for Murray. Otherwise, Pittsburgh would go with Jarry and DeSmith in goal.
The Leafs could try and entice Rutherford by returning that first–round pick to the Penguins. From a Toronto perspective, would a two–time Stanley Cup winner with excellent playoff stats (29 wins, 2.18 / .921) be worth the No. 15 selection in the upcoming draft? I'd say it's a fairly safe gamble. Murray is plenty young enough to regenerate his career and would likely not break the bank when signing a new contract with the Leafs. If Dubas could trade for Murray and lock him up for five years at a cap–hit of, say, $4 million, the Maple Leafs would spent a total of $5,165,000 on both goalies for the next two years, before Campbell's deal expires.
Any trade, of course, for Murray would be predicated on the Leafs unloading the final year of Andersen's contract. Which isn't a red–light emergency given that we don't know when the next National Hockey League season will begin. Calgary is clearly looking for help between the pipes with 35–year–old Cam Talbot an unrestricted free agent and 28–year–old Dave Rittich (2.97 / .907 last season in 48 appearances) signed for one more year. Andersen is just reaching prime years for a goalie in the NHL (early–30's) and, again, would benefit from a change. He could provide the Flames a stop–gap, and some experience, before top goaltending prospect Dustin Wolf graduates to the bigs. Wolf, 19, was goalie–of–the–year in the Western Hockey League with Everett, posting a 1.88 GAA in 46 appearances (1.69 two seasons ago in 61 games). He could become the steal of the 2019 draft, when Calgary unearthed him in the seventh round, 214th overall.
If I'm the Leafs, I'd be happy to accept a second or third–round pick for Andersen; then flip this year's first–rounder to Pittsburgh for Murray, who won't cost as much as UFA stoppers like Braden Holtby (Washington), Jacob Markstrom (Vancouver) or Anton Khudobin (Dallas). Murray and Campbell could form a competitive — and still young — tandem for the Leafs, adding, to Toronto, some valued playoff accomplishment.
THE HOCKEY NEWS: 35 YEARS AGO
A sampling of opinion from just prior to the 1985–86 NHL season: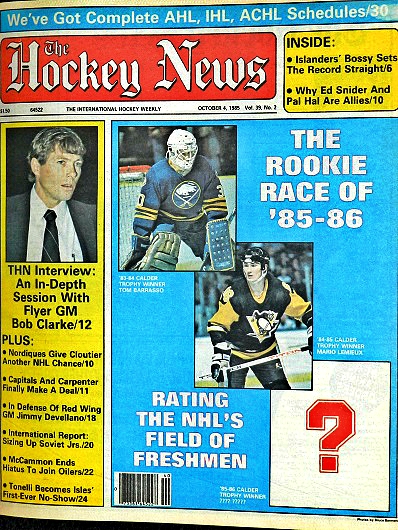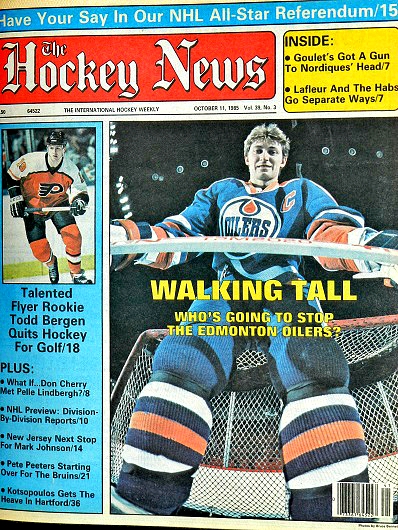 FRONT COVERS OF THE HOCKEY NEWS FROM OCT. 4 AND OCT. 11, 1985.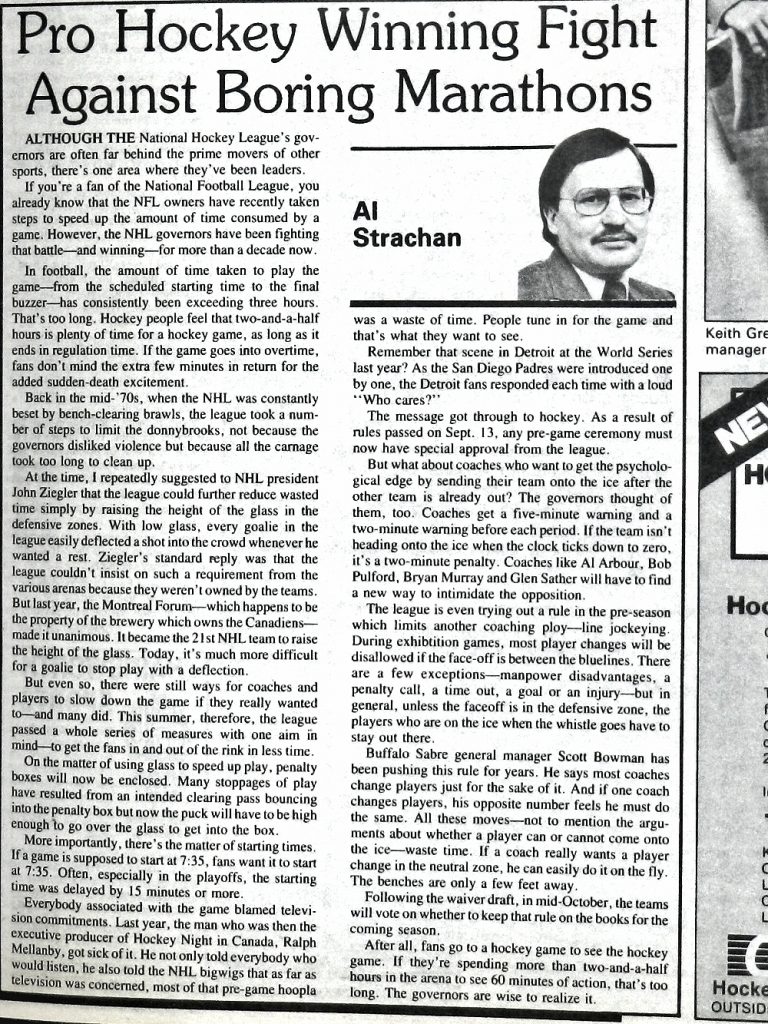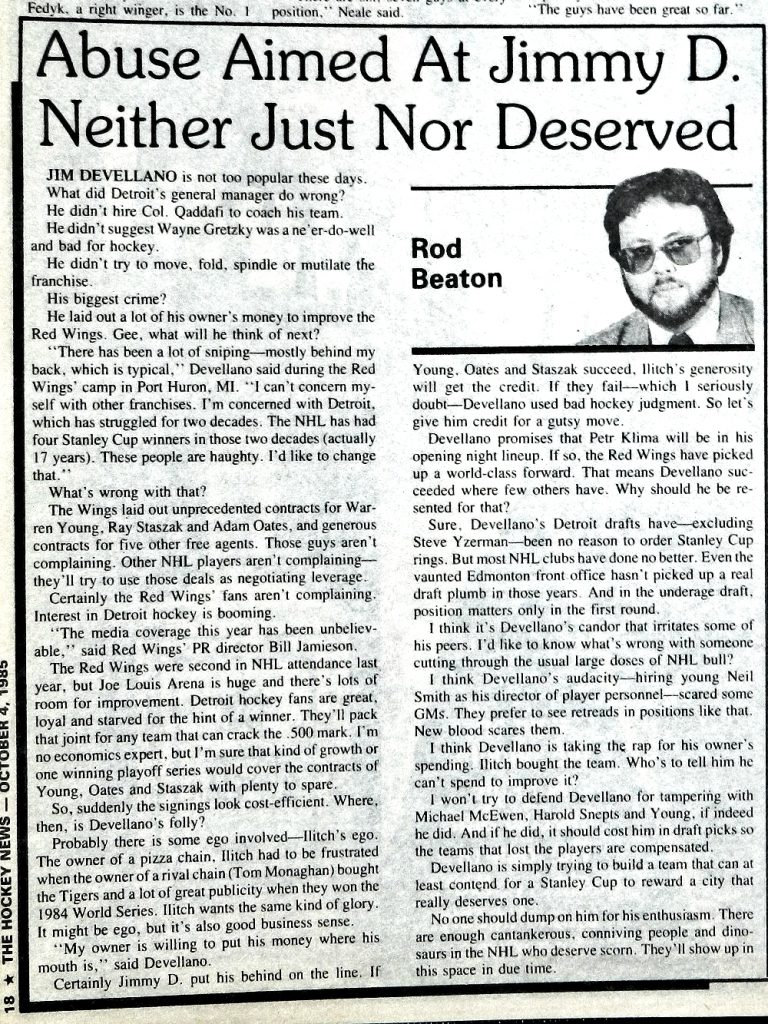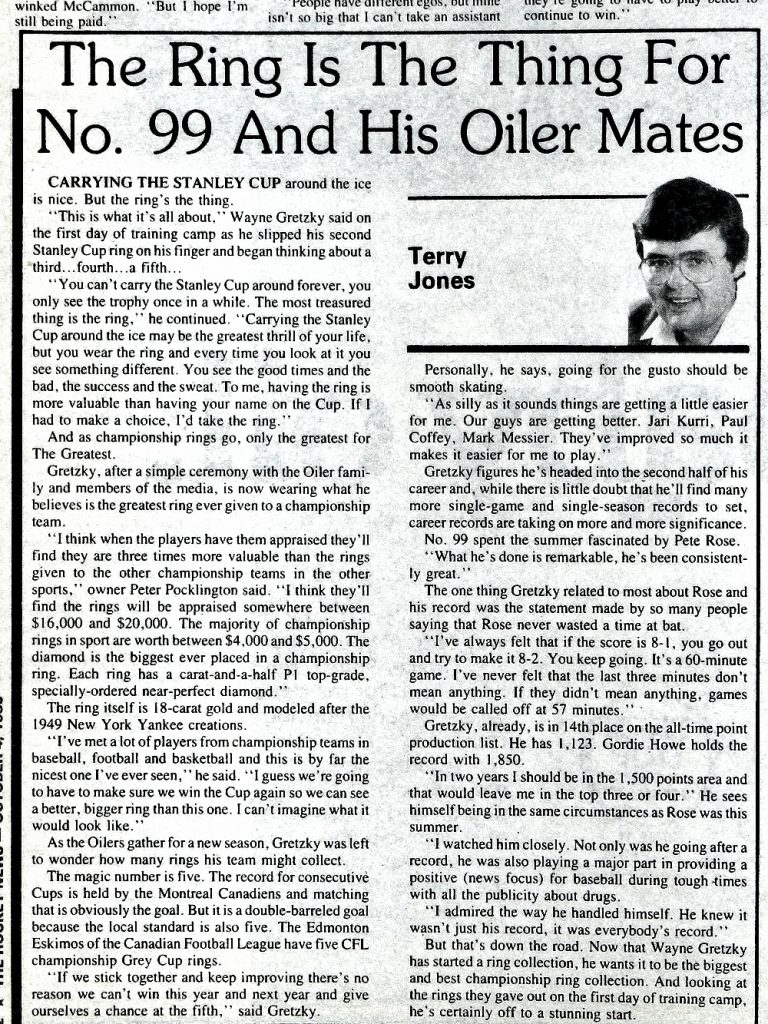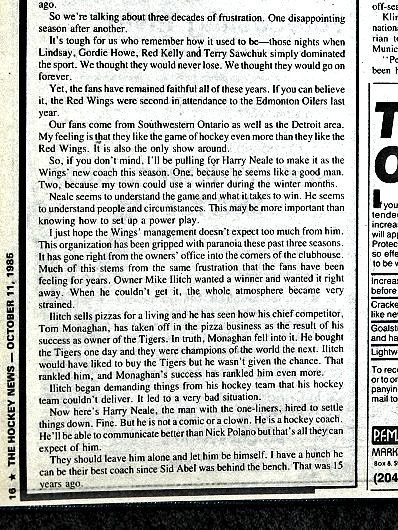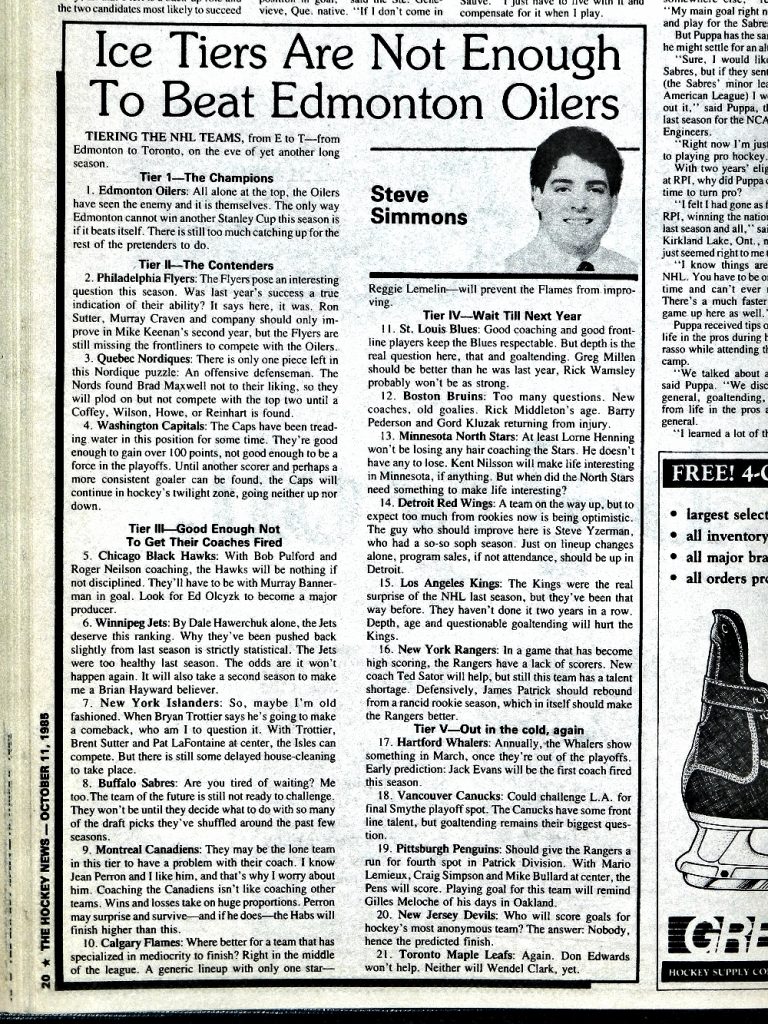 EMAIL: HOWARDLBERGER@GMAIL.COM