TORONTO (Oct. 8) — Perhaps the answer is subliminal.
Someone in the family of Kyle Dubas watched MIDGET wrestling at Maple Leaf Gardens in the 1960's. Or, a favorite uncle worshipped the undefeated Miami Dolphins of 1972 and Hall–of–Fame guard Larry LITTLE. Maybe that relative had a hockey card of former Boston Bruins goalie Cecil (TINY) Thompson. Perhaps Dubas is a fan of Canadian music from the 1970's, particularly Gordon LIGHTfoot and the group LIGHThouse. We know he won't reveal the SKINNY as it pertains to hockey matters. Does he enjoy eating SHRIMP? And, I wonder if he has a late–70's baseball card of Minnesota Twins shortstop Roy SMALLey?
Something, through the years, has coerced the Toronto Maple Leafs general manager into hoarding players that weigh less than 175 pounds — minuscule by today's standards. Maybe analytics. Maybe stubbornness. Certainly not results during the Stanley Cup playoffs, where the Leafs haven't won anything since Rodion Amirov was 2½ years old. Forget, however, the flyweights selected by Dubas during the National Hockey League draft this week. By the time any are capable of graduating, his future as GM will have been determined — favorably or not. In the interim, he must wrangle with a grievous salary cap situation to find a goalie that can win a big playoff game (given the peanuts Ottawa traded to Pittsburgh for Matt Murray, this may have been a missed opportunity) and some physical backbone for roster balance. Otherwise, it's more of the same… and Amirov, if he makes the team, will be skating for another manager. Perhaps even another team president, for it was Brendan Shanahan that personally chose Dubas to replace Hall–of–Famer Lou Lamoriello in the big chair. Neither developments with the Leafs nor the New York Islanders have, to this point, reflected favorably on that exchange. I contend that Dubas is bright enough to understand the changes required for his team to rise from the playoff murk. Whether he is too obstinate is another matter.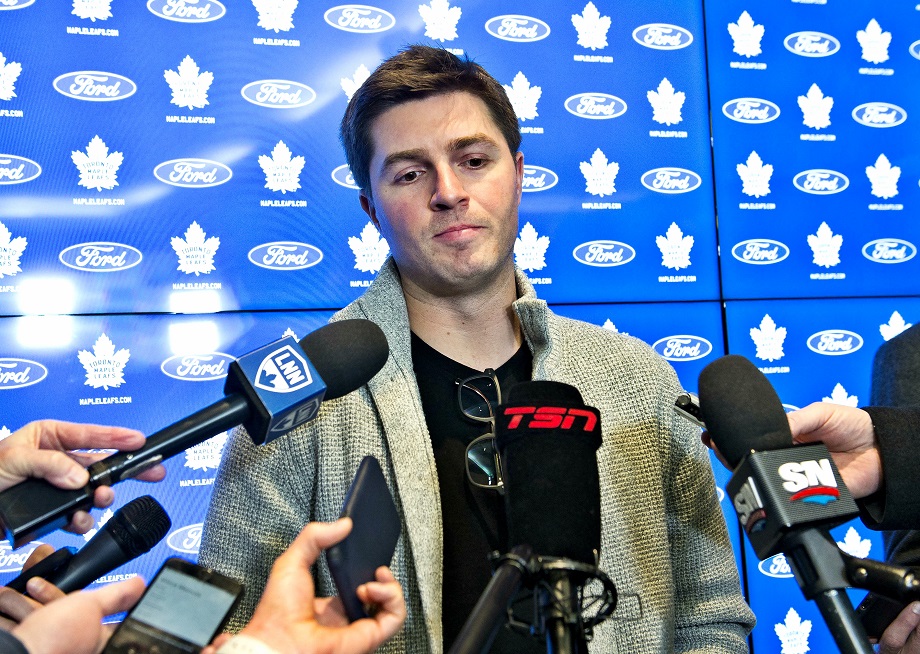 THE FUTURE OF MAPLE LEAFS GM KYLE DUBAS WILL BE LARGELY DETERMINED BY HIS WORK THIS OFF SEASON. AND, IT BEGINS FRIDAY WITH THE ONSET OF UNRESTRICTED FREE AGENCY.
There is ample time between now and the presumptive start of next season, Jan. 1, for the Leafs to modify their course. It will start on Friday with the advent of unrestricted free agency and will necessitate, beyond doubt, some shrewd dealing with rival GM's. Anyone that thinks the cap–strapped Leafs can "buy" a championship hasn't been paying attention the past 25 years. The lone advancement in the UFA market occurred in July 1998 when goalie Curtis Joseph came over from Edmonton to replace Felix Potvin, who, incidentally, won four more playoff rounds for the club than has Frederik Andersen. In four seasons, Cujo won six more series and twice backstopped the Leafs to the Stanley Cup semifinals. With a glut of stoppers available this off–season, and his club screaming for a change, the headstrong Dubas will again be tested. Returning to Andersen is akin to waving the white flag in front of Leafs Nation. That's why, in spite of remarks to the contrary by Dubas, I believe the final year of Andersen's contract will be traded (let's recall that young Kyle, in Vancouver at the 2019 NHL draft, told reporters there's a "good chance" Patrick Marleau would return. Two days later, Marleau and a conditional first–round pick went to Carolina for cap relief).
To begin emboldening a soft, passive club, Dubas is interested in signing Toronto native Wayne Simmonds. If, however, the 32–year–old comes aboard and is told "you're our toughness", the move will backfire. The Leafs are in need of a philosophical adjustment that cannot be executed by one player… though Simmonds, for a couple of years, would help kickstart the process. While reading Bruce Dowbiggin's 1993 book (below) on the pension battle between the NHL and the NHL Players Association, I was struck by a paragraph on Page 177. It was a portion of a letter written to Buffalo Sabres GM Punch Imlach by former Leafs defenseman Allan Stanley, with whom Imlach won four championships in the 1960's. Stanley had been an assistant coach with Buffalo in 1976–77 but retired after one year. His prime reason is in the paragraph (with black dot) that starts "There are too many…" and I couldn't help but think of the current Leafs team: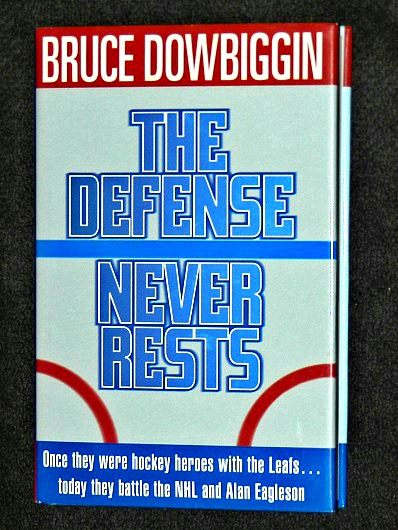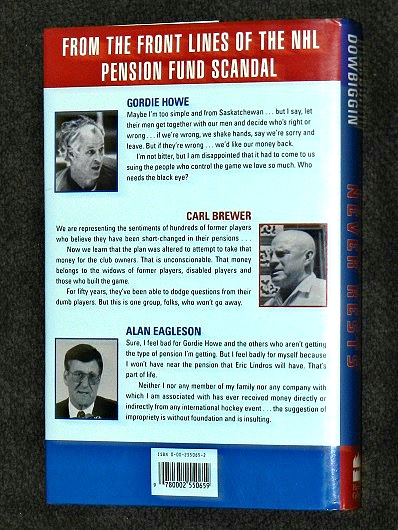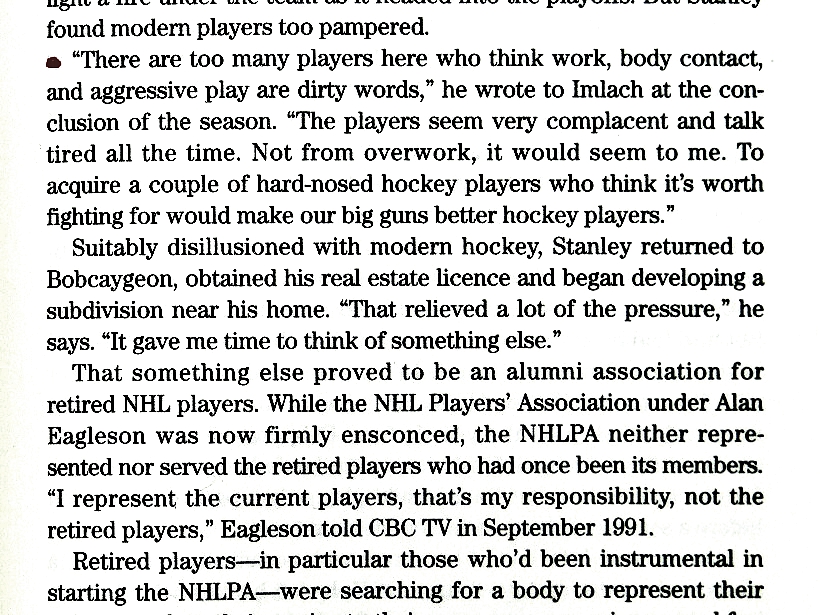 Perhaps not a lot has changed with hockey in the past 43 years.
As such, the vow from Dubas on Wednesday that he plans to create a team far–more difficult to encounter. Maybe a couple of years too late… but better late than never. There was, of course, no indication of any such blueprint in the players selected by Toronto during the eight–round draft. All were skilled, smallish (175 pounds or less) and likely passive. As mentioned, however, Dubas will dictate his future as Leafs GM long before the draftees are prepared to help the team. It begins, as always, in goal and extends outward to bolstering a soft line–up. There is virtually no chance Dubas can begin to execute such a plan without shedding close to $10 million of current cap allotment. This can be accomplished by trading Andersen and William Nylander before next season, thereby repudiating comments made about each player remaining with the club. Kyle's predecessor, Lamoriello, never said "boo" about personnel moves; never made hollow promises. He bulled forward, at times ruthlessly, to improve his teams in New Jersey, Toronto and Long Island. I suspect Dubas has two more years, at most, to imitate Lamoriello. And, it all begins this week.
NHL GROWS TO 14 TEAMS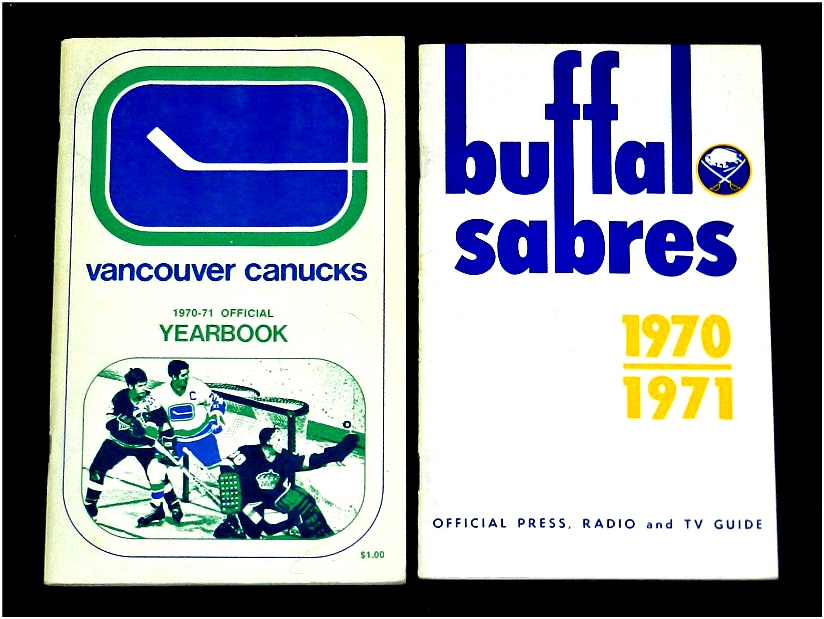 The Vancouver Canucks and Buffalo Sabres played their first games in the NHL 50 years ago this weekend. On Friday, Oct. 9, 1970, the Canuucks were defeated by the Los Angeles Kings, 3–1, at the Pacific Coliseum. Defenseman Barry Wilkins (d. June 26, 2011) scored the first goal in Vancouver history, beating Denis Dejordy at 2:14 of the third period. Bob Berry scored twice for the Kings with Ross Lonsberry adding a single. George Gardner lost the match in goal for the Canucks, stopping 33 L.A. shots. Lloyd Gilmour officiated the game with linesmen Neil Armstrong and Malcolm Ashford. The following night (Oct. 10), at the old Civic Arena in Pittsburgh, Buffalo won its NHL debut over the Penguins, 2–1. Defenseman Jim (Jumbo) Watson, today 77, scored the Sabres first NHL goal (on Les Binkley) at 5:01 of the second period. Wally Boyer tied the game (against Roger Crozier) just more than three minutes later and rookie Gilbert Perreault potted the winner — his first of 512 NHL goals — with 8:34 remaining in the third. Crozier was the game star as Pittsburgh outshot Buffalo, 36–20. Ron Wicks was the referee; Pat Shetler and George Ashley the linesmen.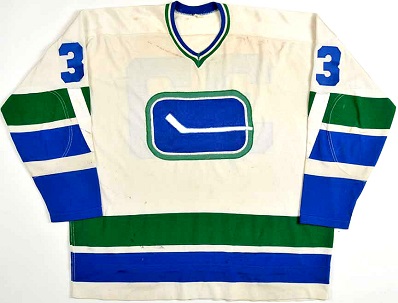 EMAIL: HOWARDLBERGER@GMAIL.COM