TORONTO (Oct. 14) — The off–season makeover (to this point) encompassed five days.
Departing from the 2019–20 Toronto Maple Leafs, among regulars, were Tyson Barrie, Kasperi Kapanen, Andreas Johnsson, Frederick Gauthier, Cody Ceci and Kyle Clifford. Coming aboard are Wayne Simmonds, T.J. Brodie, Joey Anderson, Travis Boyd, Zach Bogosian, Jimmy Vesey and former San Jose goalie Aaron Dell (likely destined for the AHL Marlies). Still to be determined is the status of restricted free agents Travis Dermott and Ilya Mikheyev. Roster challenges are expected from forward Nick Robertson and Finnish defenseman Mikko Lehtonen. When it all shakes out, and barring the unexpected, the Leafs will continue to rise and fall on the blades of their nucleus: the Big 4 up front (John Tavares, Auston Matthews, Mitch Marner, William Nylander); veteran Morgan Rielly on defense, and — mistakenly — Frederik Andersen in goal.
Whether the new roster mix can qualify for the Stanley Cup playoffs whenever next season materializes cannot be measured at this point. Last year's club, in a full 82–game schedule, would have been life–and–death to edge out Florida for a wild card berth. In the pandemic–shortened season (the Leafs had completed 70 games when activity was suspended, Mar. 12), Toronto advanced to the "play in" (or qualifying) round and lost a best–of–five series to Columbus. Clearly, the season was a disappointment for management and fans.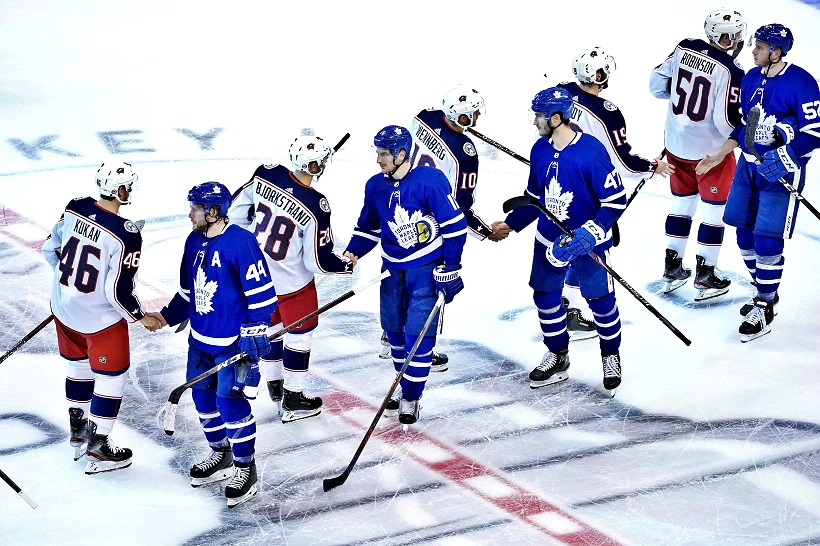 AN ALL–TOO–FAMILIAR SIGHT: THE LEAFS GOING HOME. EARLY. ANDRE RINGUETTE GETTY IMAGES
Followers of the Maple Leafs, steadily evolving from one generation to the next, are an appeasable lot. Yes, they bitch and moan, as with any fan base, but they quickly recover from disappointment and have not yet allowed a half–century absence from the Stanley Cup final to spoil their enthusiasm. Hope is a perpetual condition for a Toronto hockey fan; it often leads to an exaggeration of potential and — at times — to wildly overvaluing assets. This may have been personified by the individual, known as LeafFanForLife23, that began a thread on the H–F Boards chat–room entitled, "Do you like this team?" He answered his own question thusly: Hyman–Matthews–Marner / Mikheyev–Tavares–Nylander / Robertson–Kerfoot–Engvall/Vesey / Spezza, Simmonds. Rielly–Brodie / Muzzin–Holl / Sandin–Bogosian / Dermott–Lehtonen–Lilly. Andersen–Campbell. That roster looks pretty good to me. They have eight or nine NHL defensemen. One of Vesey or Engvall is going to be the 13th [forward] and that's assuming Joey Anderson or [Alexander] Barabanov don't earn a spot. [Kyle] Dubas is FINALLY doing what I have wanted since he became GM.
The glass–half–full (or, in this case, overflowing) sentiment was shared by most others on the board. But, not by all. A pragmatic follower of the Blue and White will have long ago adopted a healthy cynicism. Here, then, were some other responses to the query of "Do you like this team?" (edited for space):
CapFit9: No.
LeafMealonell: [Dubas] did a good job fixing the defense. But, the third and fourth lines are super–bad. Simmonds–Spezza–Vesey/Engvall is horrid. Four or five years ago, a great line. Today? Not so much. I hope the Leafs can hold onto a playoff spot all year and grab a couple UFA depth players at the deadline.
Rubous: Yes, this team is better than the one Columbus beat. Dubas is having a good off season.
Stephen: It's too early to fight over whether we love this new roster or are disgusted by it. The reconstructed bottom–six forwards and defense could easily flop. Or, we could have a team in much better fighting shape.
TheShape: Lots of unknown in the bottom–six forwards. And, I'd like to see Dubas address goaltending.
Meng666: Can't wait to see a healthy top–four defense paired with the best top–six [forwards] in the league. Last year, the team was the Las Vegas favorite to win the Stanley Cup [Editor's Note: I would look again]. Things didn't turn out well, but the club looks more deep and prepared. I think the core is ready to absolutely destroy. I'm calling best [franchise] record ever and, minimum, making the Conference final.
Foglehund: Do I like this team? If it wins a few playoff rounds, yes.
Nineteen67: I like Hyman and Matthews.
Crump: We got freaking Matthews! [Editor's Note: Did this just dawn on him?]
Korg: I like the [Leafs] unconditionally, but I'm lukewarm to this version.
Frizzer1: I can't imagine the team going into the playoffs with Andersen. Soft goals at critical times will derail much of which Dubas has accomplished in the past few days. [Editor's Note: Someone is watching.]
DarcyLoewen: Could use more truculence. [Editor's Note: Is DarcyLoewen Brian Burke?]
Myopic: This team still needs a number–one defenseman; an all–round standout. Rielly stinks, defensively. He's a No. 1 on this team, but that's irrelevant. I'd like Dubas to move [Mitch] Marner and make [cap–space] for Alex Pietrangelo. [Editor's Note: Too late.]
JimmyFirecracker: Honestly? No. I've been optimistic before about this team and, every time, it screws up. Good for [the Leafs] for getting tougher and "harder to play against". But, I'll believe that to be the "next–step" element when I see it. I don't think Brodie is good enough to help move the needle that much. Any improvement will come from the established core getting better and having more fight.
Cap'nFlavor: I think it's a good team and probably Top 5 in the East. But, I won't fully commit until it actually wins a playoff series. Such an emotional rollercoaster. From losing to a Zamboni driver… to scoring three times in the dying minutes with the goalie pulled [in Game 4 against Columbus]… to getting shut out by an average team in the last game of a qualifying series. It's a bit much to handle.
Jozay: Not significantly improved over last year, but, hopefully, a better year from Andersen; some more wins from the backup goalie; better health, and some internal improvement. If so, I think we'll be Top 3 in the Atlantic [Division] again. The bottom–six forwards might be trouble.
Sxvnert: The team is improved, but not complete. It is still missing one Top 4 defenseman. [Justin] Holl and Bogosian are fifth/sixth, at best. And, we need a reliable No. 3 center. [Alex] Kerfoot is a decent winger but a passenger up the middle.
Swint: I like the team. Dubas has stuck to his word and made it harder to play against. That being said, it will live or die on the production of its core. If Marner plays like he cares and the defense can stay healthy, this is a dangerous club. [Editor's Note: Does the addition of a single player — Wayne Simmonds — make the entire team tougher to play against? Hard to say. Could be counter–productive without a side–kick.]
MagicalRazor: This is probably the best Leafs team of the past 15 or 20 years. How can you not love this club? We fixed our defense issues. We have two or three young defense prospects that are looking like gems. [Nick] Robertson is looking like the real deal. Our Top 6 forwards are among the best in the league. We got toughness and size in the off–season. SO EXCITED. [Editor's Note: … aw, never mind.]
In conclusion, fans are correct in fearing an enormous gap (again) between the top–six and bottom–six forwards. But, how can that change when Tavares, Matthews, Marner and Nylander are chewing up $41 million of cap space? The third and fourth lines are completely interchangeable. As mentioned, and previously written, Dubas needs to find someone to ride shot–gun with Simmonds, who is tough, but also has a temper and will be goaded into stupid penalties if he's the Lone Ranger. In my view, that's why Nazem Kadri lost his mind twice during the playoffs. And, not enough fans are concerned about Andersen's inability to perform well in the clutch. It truly offsets any improvement expected from the team.
50 YEARS AGO TONIGHT
at Maple Leaf Gardens
After losing their season opener on the road in Vancouver — the Canucks' first NHL victory — the Maple Leafs played their home opener of 1970–71, 50 years ago tonight, against St. Louis. The game featured a brawl at 2:55 of the second period sparked by Noel Picard of the Blues going after Toronto defenseman Jim Dorey. Also involved were Bob Plager of St. Louis and Jim Harrison of the Leafs. Referee Bruce Hood (working with linesmen Matt Pavelich and Willard Norris) assessed Picard two fighting majors and a 10–minute misconduct. Dorey received one fighting major and a misconduct. Plager and Harrison were sent off for roughing. The Leafs jumped all over veteran goalie Glenn Hall to build a 4–0 lead in the first period — Paul Henderson, Mike Walton, Harrison and Garry Monahan providing the goals. Ernie Wakely replaced Hall to begin the middle frame and Red Berenson scored early for the Blues. But, Norm Ullman and Rick Ley widened the Toronto lead later in the period. Berenson and Bill McCreary scored for St. Louis in the third; Prince Edward Island native Billy MacMillan notched his first in a Maple Leafs jersey for a lop–sided 7–3 win.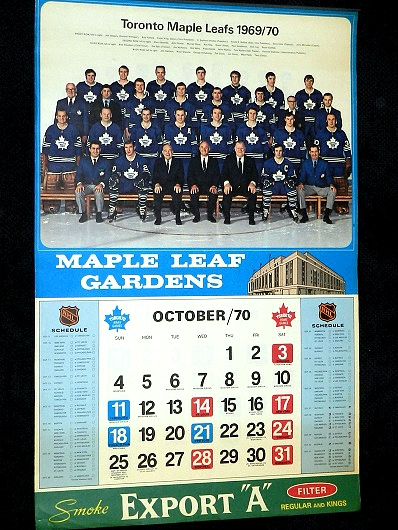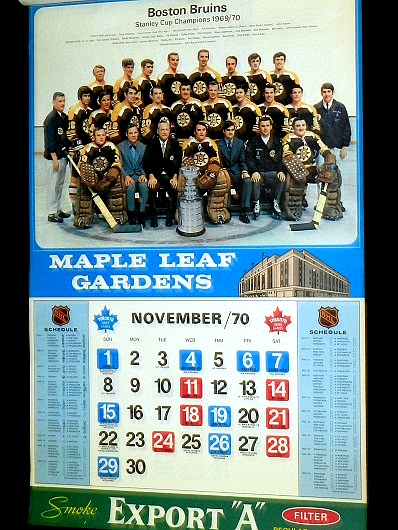 In my collection (above and below) is the EXPORT 'A' Maple Leaf Gardens calendar for 1970–71. This week, 50 years ago, is remembered, grimly, for the so–called "October Crisis" in which the paramilitary separatist group Front de Liberation du Quebec (or FLQ) kidnapped and murdered provincial Deputy Minister Pierre Laporte. In response, Canadian Prime Minister Pierre Elliott Trudeau invoked the War Measures Act. The FLQ was declared an unlawful association, which meant that under the War Measures Act the police had full power to arrest, interrogate and hold anyone whom they believed was associated with the group. Armed troops paraded through the streets of downtown Montreal and strict curfews were enforced.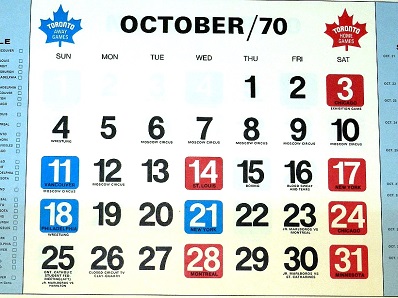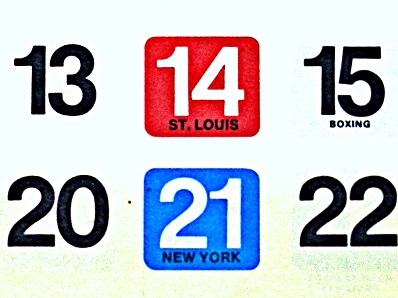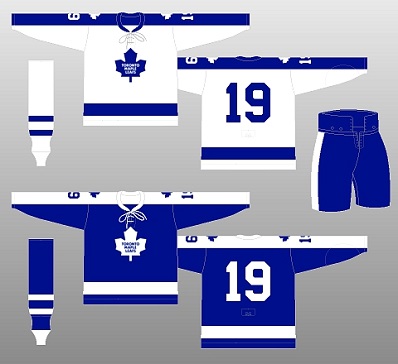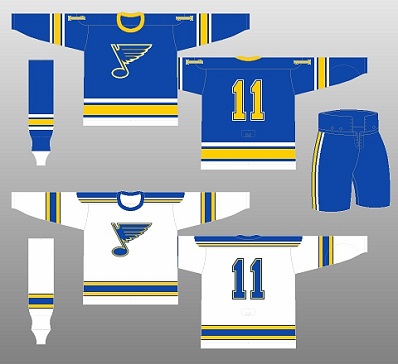 Beginning in 1970–71, NHL teams wore predominantly white uniforms at home and colored sets on the road, a league rule that would prevail through the 2002–03 season. The Maple Leafs redesigned their uniforms and debuted the white–home jersey (top–left, courtesy NHLUNIFORMS.COM) in their Gardens opener against the Blues. It's the design that would be worn, through the 1991–92 season, by such Leaf legends as Darryl Sittler, Lanny McDonald, Borje Salming, Ian Turnbull, Dave (Tiger) Williams, Mike Palmateer and Rick Vaive. For the first time, shoulder piping extended the full length of the sleeve and the 11–point club logo was also modified. It took on a more rounded appearance and the words "Toronto Maple Leafs" were arranged in straight lines. "Toronto" had previously appeared in an arced pattern over "Maple Leafs" (as per below in the transition from 1967–70 to 1970–2016). St. Louis wore its road–blue jersey (top–right). The blue version of the new Leafs design was not made available until a game at New York on Nov. 15, 1970. For their first seven road games, the club wore its home–blue jersey from the previous three years.
"MacLaren Advertising and Molson, which produced Hockey Night in Canada, felt the new design would show better on TV," remembers Howard Starkman, the Leafs' director of media relations from 1969–76; he assumed the identical role with the expansion Toronto Blue Jays in 1977. "I don't specifically recall why the blue jerseys weren't available to start '70–71. For some reason, they took longer to be manufactured."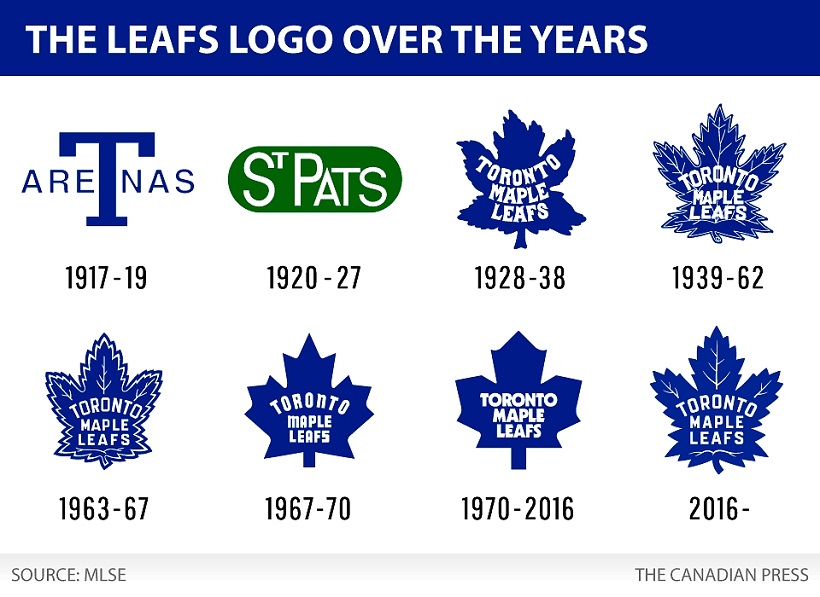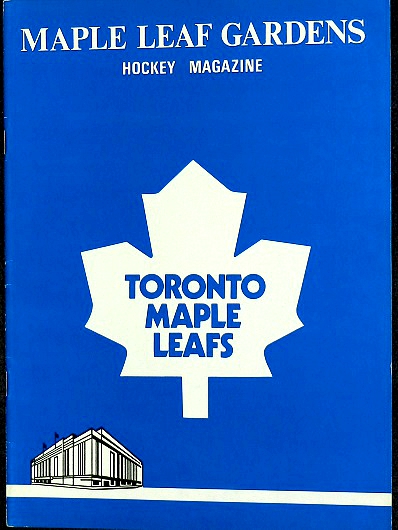 The only evidence of the new Leafs logo was on the front of the program insert (top–right). In 1970–71, Maple Leaf Sports Productions Ltd. composed albums for all 14 NHL teams, which included photos and player biographies (below). Fifty years ago tonight, the Gardens distributed the Toronto album (top–left).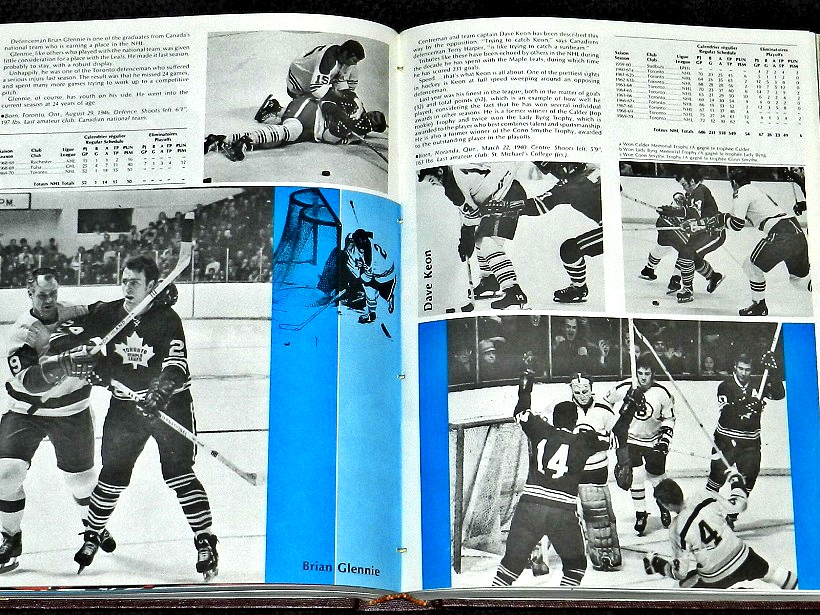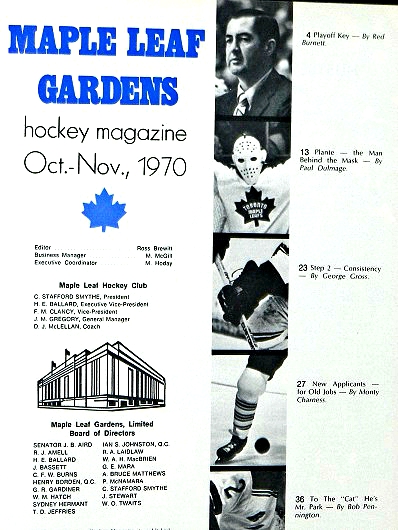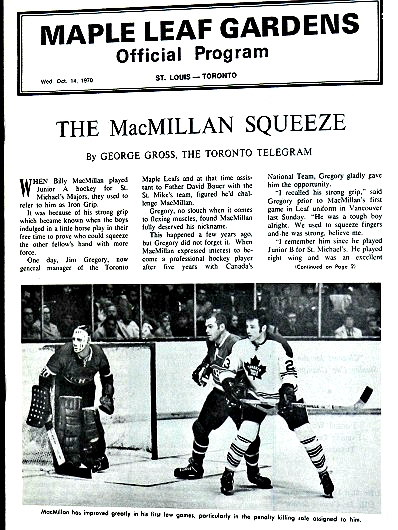 Inside the blue–covered program insert (contents, top–left) was a 20–page program (top–right) that contained the line–ups and team rosters. On this night, legendary goalie Jacques Plante made his Leafs debut, having been sold to the club by St. Louis on May 18, 1970. Plante had backstopped Montreal to its record five consecutive Stanley Cup titles beginning in 1956. He was traded to New York for Gump Worsley on June 4, 1963 and retired after playing part of the 1964–65 season with Baltimore of the American Hockey League. He nearly made a comeback with the expansion California Seals in October 1967 and was talked out of retirement by the Blues for the 1968–69 season. With a sparkling 1.96 goals–against average in 37 games, Plante shared the Vezina Trophy with Glenn Hall. He appeared in 32 games with St. Louis in 1969–70.
"Jacques did such a great job for us but he wanted to locate back to Canada," recalled Scotty Bowman in an email this week (Bowman coached the Blues in their first three NHL seasons). "We had no problem with that request. We had to start re–building our team, which was getting older." Ernie Wakely, a product of the Montreal organization (traded to St. Louis on June 27, 1969), became the Blues No. 1 stopper in 1970–71 (below), appearing in 51 games (Hall played in 32 games before retiring). At age 42, Plante enjoyed the finest statistical season of his career. In 40 appearances with the Leafs, he registered an astounding 1.88 GAA.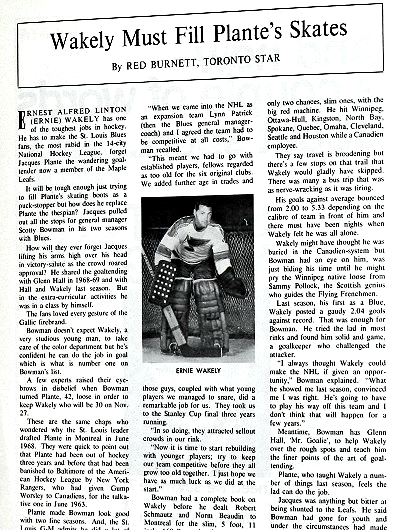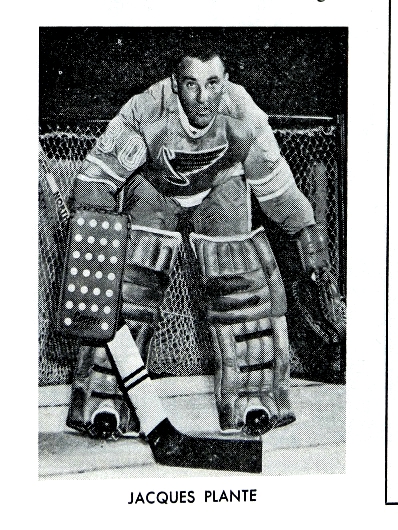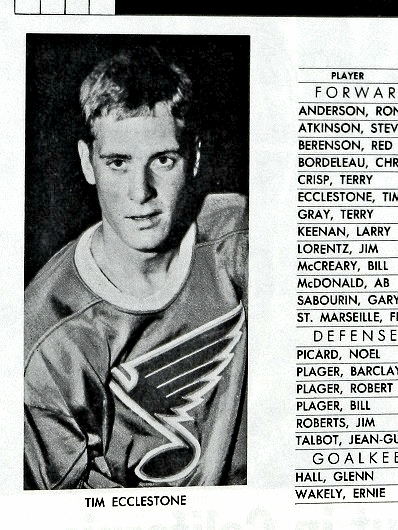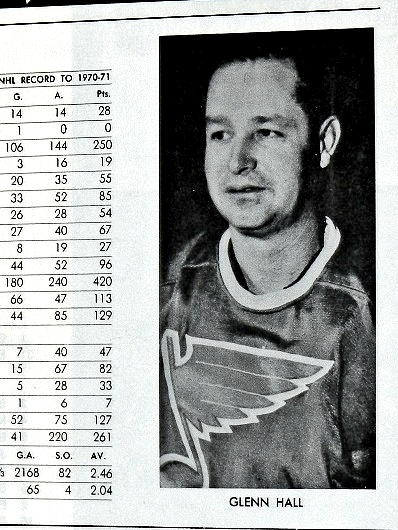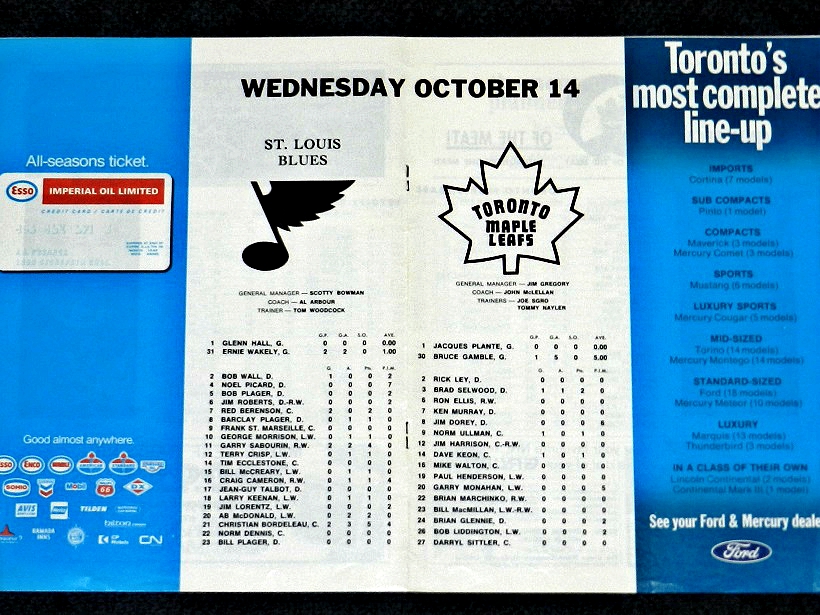 St. Louis came to town with many of the players from the first three years of expansion, when the club represented the West Division in the Stanley Cup final (getting swept twice by Montreal and once by Boston). These players included Glenn Hall, Noel Picard, Bob Plager, Jim Roberts, Red Berenson, Barclay Plager, Frank St. Marseille, Gary Sabourin (mis–spelled in the line-ups, below), Terry Crisp, Tim Ecclestone, Bill McCreary, Craig Cameron, Jean–Guy Talbot and Larry Keenan. The 1970–71 home opener represented the first appearance at Maple Leaf Gardens by rookie Darryl Sittler, chosen eighth overall by Toronto in the 1970 NHL draft. Ken Murray (four games), Brian Marchinko (two games) and Bob Liddington (11 games) would soon be dispatched to the Leafs' Central Hockey League affiliate in Tulsa.
Interestingly, editors of the Leafs program published the 1967–70 team logo in the line–ups (as above). The re–designed logo would appear for the second home game, against New York, three nights later.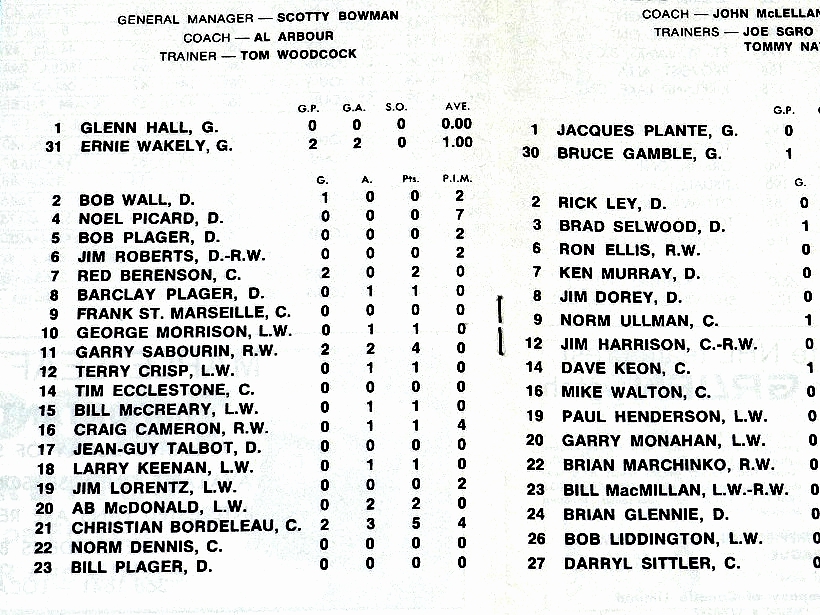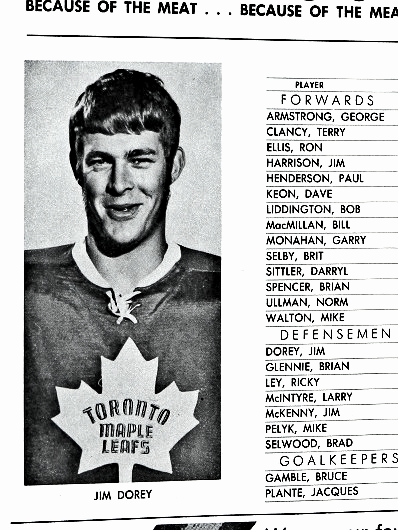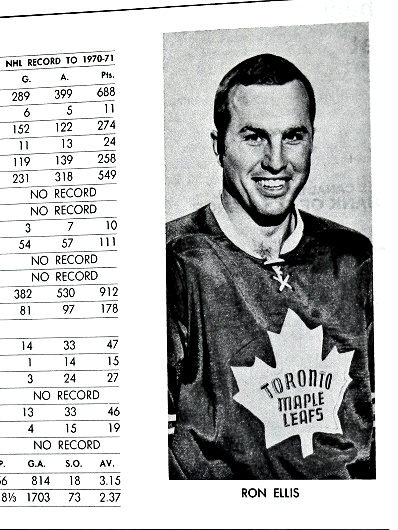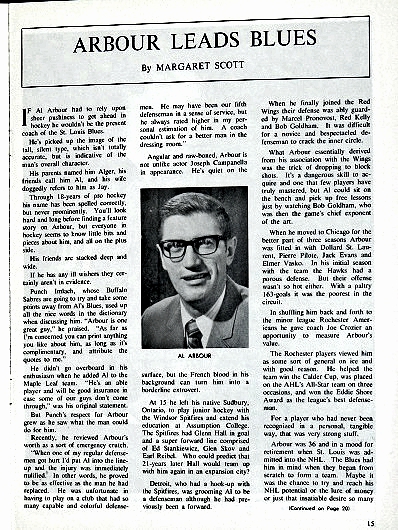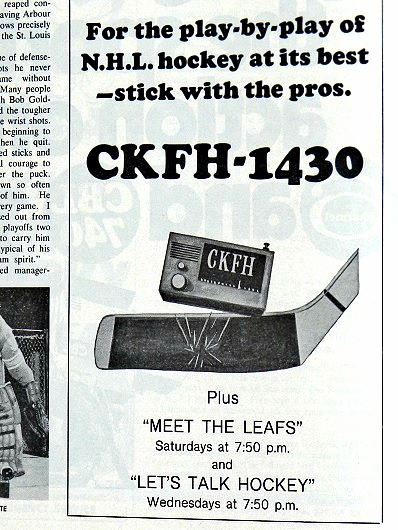 Former Blues' defenseman Al Arbour (above) retired after 1969–70 to become coach of the club, as Scotty Bowman confined himself to managerial duties. This was Arbour's third game behind the bench; the Blues had won their first two matches, at home, against New York and Vancouver. Arbour, of course, would go on to become one of the greatest coaches in NHL history, guiding the New York Islanders to four consecutive Stanley Cup titles (1980–83). For many years, he stood second to Bowman (1,244) in coaching victories (782). Today, he is fifth, trailing Arbour, Joel Quenneville (925), Ken Hitchcock (849) and Barry Trotz (845).
Arbour died in Sarasota, Fla. on Aug. 28, 2015. He was 82.
EMAIL: HOWARDLBERGER@GMAIL.COM