TORONTO (Nov. 14) — So, here's an interesting idea: The Toronto Maple Leafs still need to upgrade their defense, even with T.J. Brodie and Zach Bogosian coming aboard as free agents. The Buffalo Sabres could use some help on the attack after scoring just 195 goals last season — 19th place in the 31–team National Hockey League. Both clubs have good prospects on the blue line: Toronto with 26–year–old Finnish native Mikko Lehtonen, signed as a free agent last May, and 20–year old Rasmus Sandin, a first round pick in 2018; Buffalo, with 20–year–old Rasmus Dahlin (No. 1 pick of the 2018 NHL draft) and 21–year–old Henri Jokiharju (a first–round pick by Chicago in 2017). Both Sabres remain under entry level salary restriction.
The Blackhawks traded Jokinharu to Buffalo on July 9, 2019 for another first–rounder, Alexander Nylander, brother of Toronto's winger William Nylander. What if Leafs general manager Kyle Dubas swapped William to Buffalo for right–shooting defenseman Rasmus Ristolainen, the Sabres' top blue–liner? Ristolainen, 26, has two years left on a contract with a cap–hit of $5.4 million. Nylander, 24, has four years left at a $6,962,366 cap hit. At the moment, Buffalo, with $3,495,833 of space could take on the $1,562,366 difference; the capped–out Leafs preserving the same amount. In such a trade, Buffalo would obtain a sniper to play alongside Taylor Hall with Toronto adding another established veteran to its back end. Potentially, a win for both parties. Yes, I know, Dubas would have to dishonor his sacred vow to never trade Nylander as GM of the Maple Leafs. Big deal. He won't be making vows much longer if the Leafs cannot break their dubious string of 16 years without a playoff–round victory. Upgrading his blue line would largely enhance that goal. Right now, the Leafs appear closer to a playoff challenge than Buffalo, and the Sabres will need to re–sign Hall, Dahlin, Jokinharu and Sam Reinhart after the coming season. Unloading Ristolainen's $5.4–million pact will provide some wiggle room in that endeavor. Even by taking on Nylander's contract.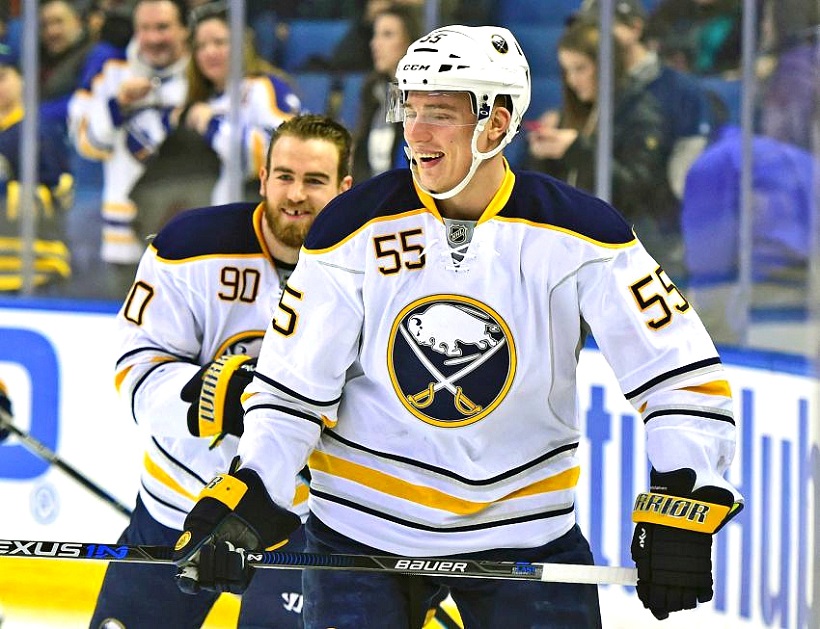 BUFFALO VETERAN RASMUS RISTOLAINEN WOULD LOOK GOOD IN TORONTO BLUE. DAN HICKLING PHOTO
I am asked, quite frequently, about the reason for advocating a Nylander move. The answer is simple: the highly skilled Leafs do not require his goal scoring and Nylander — with no contract restrictions — is easily the club's best trade chip. Ideally, Dubas would seek an improvement in goal, but it appears Toronto is intent on providing Frederik Andersen yet another chance to win a playoff series. I've written many times about the folly of that decision. Clearly, Dubas does not concur, given how the Leafs sat idly during the frenetic exchange of goaltenders in free agency this year. With Andersen proving, conclusively, that he is unreliable in the playoff crunch, the next–best wager would be to hoard established defensemen. Brodie was a decent add–on in the UFA market, but the Toronto blue line is still not strong enough to prop up Andersen in a playoff run. Obtaining Ristolainen would add another valuable layer between Andersen and the forwards, helping the Leafs even if Andersen is not re–signed beyond next season (a virtual certainty).
Another certainty? The Leafs will struggle for a playoff spot with their current roster.
50 YEARS AGO TONIGHT
at Maple Leaf Gardens
The Maple Leafs were in a world of hurt on Nov. 14, 1970, languishing second–to–last in the 14–team NHL with only six points in 13 games, one point ahead of the expansion Buffalo Sabres. And, the early season tumble appeared certain to continue with the first–place Boston Bruins in town. Remarkably, the Leafs broke a four–game losing streak with a 3–2 upset of Bobby Orr, Phil Esposito and Co. — rookie Darryl Sittler recording his first of 1,121 NHL points with an assist on Jim Harrison's goal at 17:22 of the opening period. Derek Sanderson had scored earlier for Boston. The game turned in the second period when Guy Trottier and Billy MacMillan beat Ed Johnston with goals 3:51 apart. Wayne Cashman narrowed the gap by scoring on Bruce Gamble with 2:25 left on the clock, but Gamble blocked 40 of 42 shots to record the surprise win. Orr set up both Boston goals, adding to what would become a league–record 102 assists. Bill Friday officiated the match with linesmen John D'Amico and Pat Shetler. Full disclosure — and how I remember this, I'll never know — but I did not attend the game. Dad was driving with me somewhere downtown and he pulled up in front of Maple Leaf Gardens so I could run in and buy the program.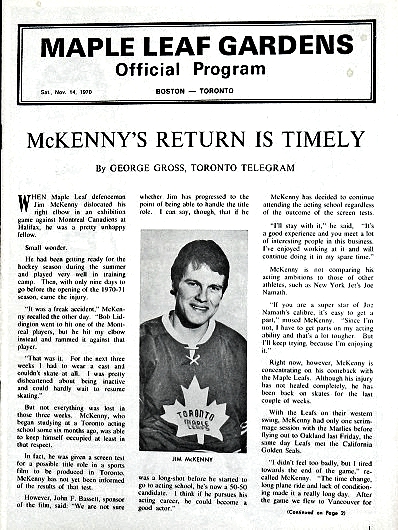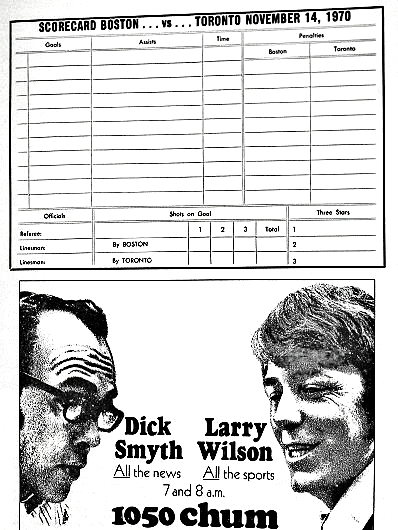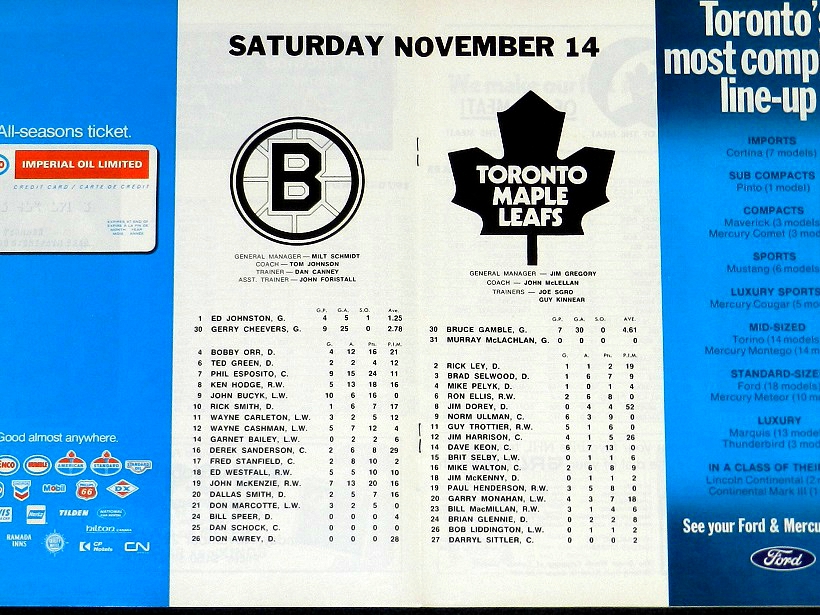 The 1970–71 Bruins remain, by many lengths, the best club to not win the Stanley Cup (line–ups above and below). Boston compiled a 57–14–7 mark for 121 points — NHL records for victories and points in one season. The Bruins annihilated individual standards: Esposito scoring 76 goals to break the record of 58, held by Bobby Hull. And, Orr bested his own mark of 120 points by a defenseman with 139, also becoming the first player to accumulate triple–digits in assists. Infamously, however, the Bruins were dumped by rookie goalie Ken Dryden and the Montreal Canadiens in the opening round of the playoffs.
The Habs went on to beat Minnesota and Chicago for the 1971 NHL title.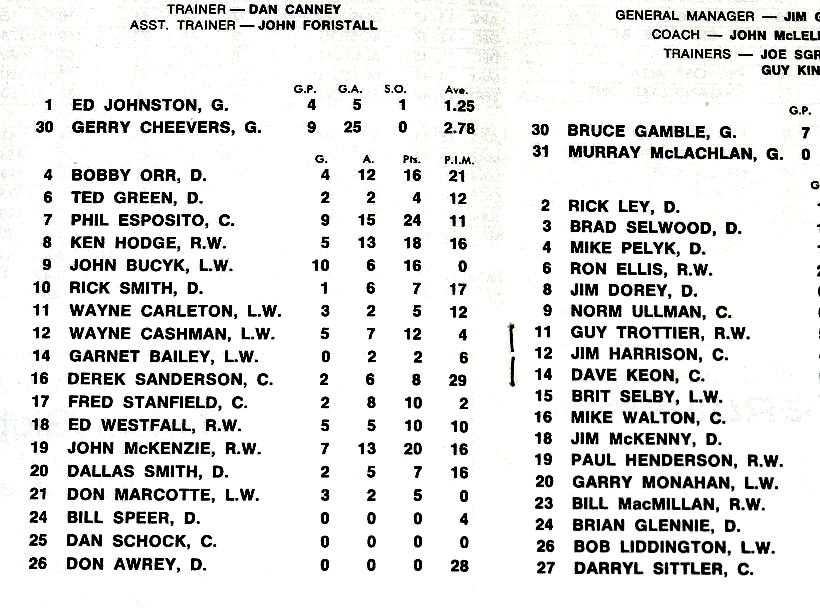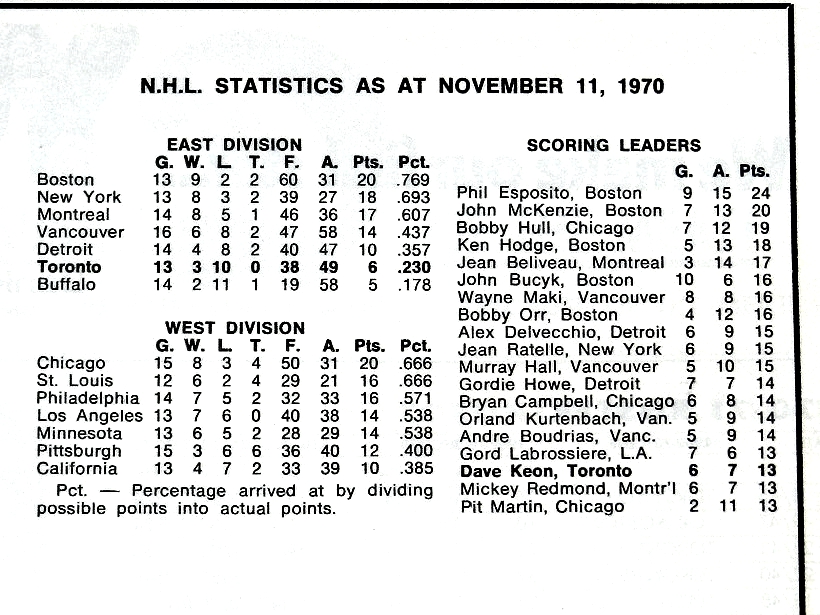 Yes, the Leafs trailed Boston by 14 points heading into the Nov. 14, 1970 match.
EMAIL: HOWARDLBERGER@GMAIL.COM