TORONTO (Nov. 11) — Remembrance Day here in Canada; Veterans Day in the United States. A time to honor the fallen heroes that protected our freedom in the two World Wars. And, for some, a time to remember the National Hockey League conducting activity in mid–November on all but three occasions: 1994, 2004 and 2012, when the owners locked out the players in the midst of labor unrest.
It is so quiet right now that the Toronto Maple Leafs page in the chat forum H–F Boards includes such compelling topics as Coronavirus Discussion Thread and Where Do You Live? The free agent acquisitions of T.J. Brodie, Zach Bogosian, Jimmy Vesey, Joe Thornton and Wayne Simmonds are like a distant echo, even if occurring in the past month. The NHL is striving for a Jan. 1 start to its 2020–21 season with many ideas, but no concrete plan. Our nights, of late, have been occupied not by hockey games on TV, but the grotesque phenomenon of outgoing U.S. president Donald Trump. What, then, to do on a sport–less Wednesday?
How about everyone's favorite fall back: creating lists? Subjective rankings of the best and worst in a particular topic. The NHL has long provided a splendid vehicle for such rumination. Why, just recently, The Hockey News crafted a handsome, colorful magazine on the 100 best defensemen in NHL history. You can find it today at your favorite newsstand. All but No. 1 (Bobby Orr) are open to discussion. These benign projects lead to vigorous debate. As such, I will add to the white noise with the following 20 lists:
BEST FIVE PLAYERS I'VE SEEN IN THEIR ENTIRE CAREER
1. Bobby Orr / 2. Wayne Gretzky / 3. Mario Lemieux / 4. Jaromir Jagr / 5. Guy Lafleur.
BEST FIVE GOALIES I'VE SEEN IN THEIR ENTIRE CAREER
1. Martin Brodeur / 2. Billy Smith / 3. Patrick Roy / 4. Dominik Hasek / 5. Ken Dryden.
BEST FIVE DEFENSEMEN I'VE SEEN IN THEIR ENTIRE CAREER
1. Bobby Orr / 2. Paul Coffey / 3. Denis Potvin / 4. Larry Robinson / 5. Nicklas Lidstrom.
FIVE MOST–NATURAL GOALSCORERS I'VE SEEN
1. Wayne Gretzky / 2. Mike Bossy / 3. Brett Hull / 4. Alex Ovechkin / 5. Phil Esposito.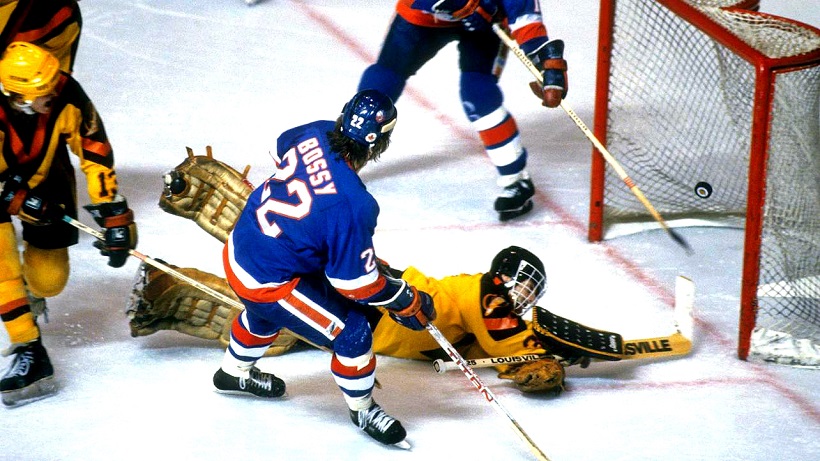 FIVE MOST–UNDERRATED PLAYERS I'VE SEEN
1. Peter Stastny / 2. Marcel Dionne / 3. Adam Oates / 4. Eric Lindros / 5. Jean Ratelle.
BEST FIVE LEAFS I'VE SEEN IN THEIR ENTIRE CAREER
(Minimum Three Seasons)
1. Darryl Sittler / 2. Doug Gilmour / 3. Borje Salming / 4. Mats Sundin / 5. Rick Vaive.
BEST FIVE LEAFS GOALIES I'VE SEEN
(Minimum Three Seasons)
1. Curtis Joseph / 2. Mike Palmateer / 3. Felix Potvin / 4. Ed Belfour / 5. Frederik Andersen.
BEST FIVE LEAFS DEFENSEMEN I'VE SEEN IN THEIR ENTIRE CAREER
1. Borje Salming / 2. Ian Turnbull / 3. Tomas Kaberle / 4. Al Iafrate / 5. Bryan McCabe.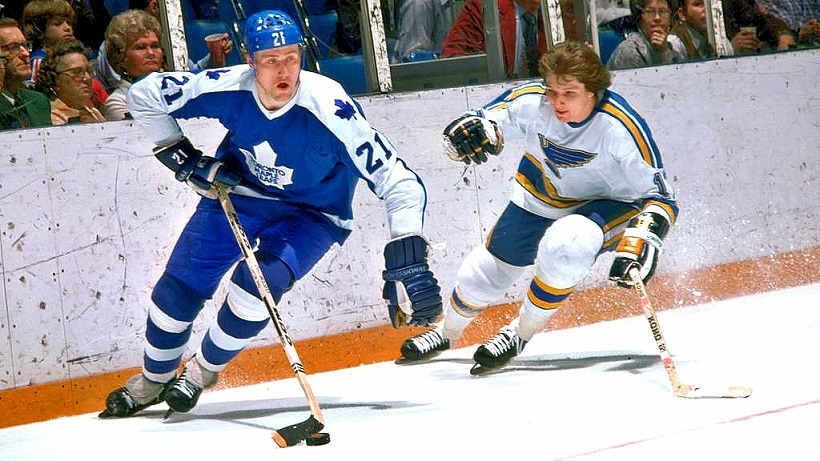 BEST LEAFS COACHES, POST 1967
1. Pat Quinn / 2. Pat Burns / 3. Roger Neilson / 4. Red Kelly / 5. Dan Maloney.
BEST FIVE HOCKEY NAMES OF ALL TIME
1. Harry Dick / 2. Fido Purpur / 3. Fred Saskamoose / 4. Sprague Cleghorn / 5. Ebbie Goodfellow.
BEST FIVE TEAMS I'VE SEEN
1. Montreal, 1976-77 / 2. Boston, 1970–71 / 3. Edmonton, 1983–84 / 4. Montreal, 1977–78 /
5. Montreal, 1975–76.
BEST FIVE LEAFS TEAMS I'VE SEEN
1. 1992–93 / 2. 2001–02 / 3. 1977–78 / 4. 2003–04 / 5. 1993–94.
WORST FIVE LEAFS TEAMS I'VE SEEN
1. 1984–85 / 2. 1981–82 / 3. 2014–15 / 4. 1969–70 / 5. 1987–88.
BEST FIVE NHL ARENAS I'VE ATTENDED
1. Boston Garden / 2. Montreal Forum / 3. Xcel Energy Center / 4. Bell Centre / 5. Philadelphia Spectrum.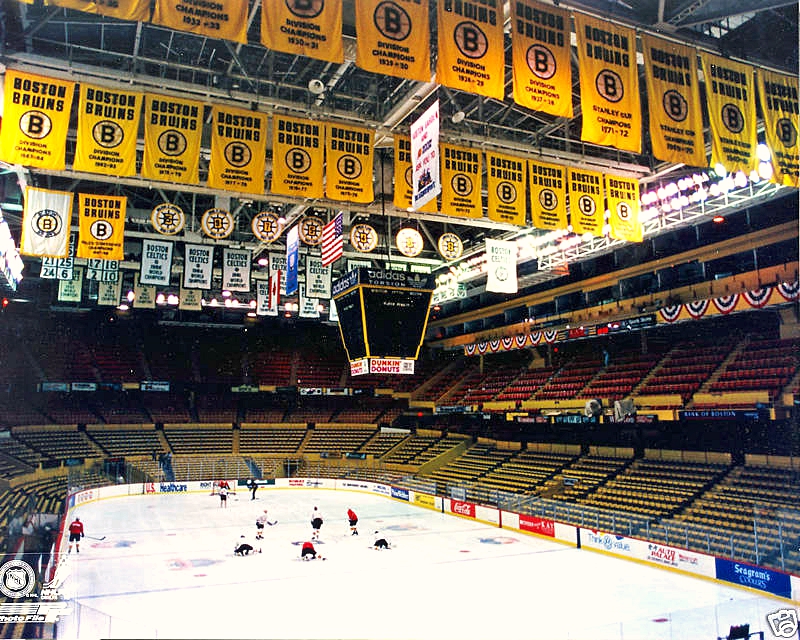 WORST FIVE NHL ARENAS I'VE ATTENDED
1. Greensboro Coliseum / 2. Calgary Corral / 3. Tropicana Field / 4. Capital Center / 5. Miami Arena.
NOISIEST FIVE NHL ARENAS I'VE ATTENDED
1. Metropolitan Sports Center / 2. Bell Centre / 3. Chicago Stadium / 4. RBC Center / 5. St. Louis Arena.
BEST FIVE PRIMARY NHL UNIFORMS I'VE SEEN
1. Chicago (red) / 2. Toronto (1964–67) / 3. Hartford Whalers (green) / 4. Quebec Nordiques (blue) /
5. Phoenix Coyotes (black–original).

WORST FIVE PRIMARY NHL UNIFORMS I'VE SEEN
1. Dallas (2011–13) / 2. Buffalo (1996–2000) / 3. Los Angeles (1998–02) / 4. New York Rangers (1976–78) /
5. St. Louis (1984–87).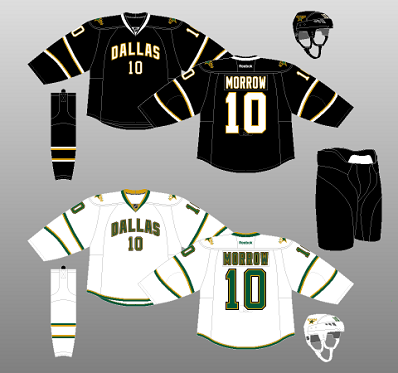 COURTESY NHLUNIFORMS.COM
WORST FIVE LEAFS DEFENSEMEN I'VE SEEN
1. Barry Melrose / 2. Vitezslav Duris / 3. John Grisdale / 4. Joe Lundrigan / 5. Anders Eriksson.
FIVE MOST–UNAPPRECIATED LEAFS I'VE SEEN
1. Ron Ellis / 2. Rick Vaive / 3. Todd Gill / 4. Jim McKenny / 5. Norm Ullman.
50 YEARS AGO TONIGHT
at Maple Leaf Gardens
Rarely, in the post–1967 era, have the Maple Leafs struggled as mightily as during the first two months of the 1970–71 season. After missing the playoffs in 1969–70, the Leafs limped to a 7–18–1 record in their first 26 games, before catching fire (30–14–7 after Dec. 8). Magnifying this predicament was a pair of losses in Vancouver to the expansion Canucks: 5–3 on Oct. 11 and 3–2 on Nov. 7. Adding to it, remarkably, was a third–such defeat, 50 years ago tonight, when the Canucks made their first–ever visit to Maple Leaf Gardens.
A third–period blitz turned around the game. Rosaire Paiement, Barry Wilkins and Ray Cullen scored on Bruce Gamble in a 5:49 span to blow open a 1–1 tie and propel the visitors to a 4–2 triumph. Cullen, chosen in the 1970 expansion draft from the Minnesota North Stars, had traded goals with Paul Henderson of the Leafs in the second period. Billy MacMillan scored a late goal for Toronto. Veteran Charlie Hodge made 36 saves to record the victory. It was a tame affair with only 12 minutes in penalties handed out by referee Art Skov, who worked with linesmen Neil Armstrong and Dave Shewchyk. After the loss, Toronto's record fell to 3–10–2 in 15 games. I attended the match and still have the program in my collection. Some contents: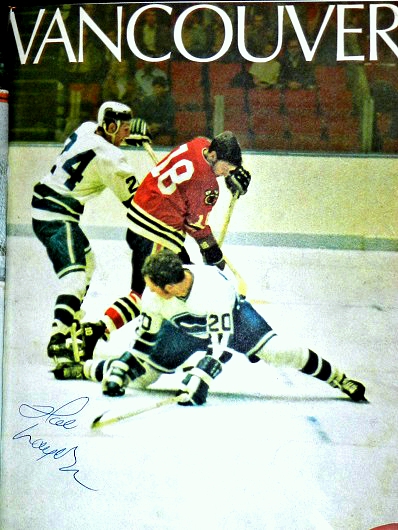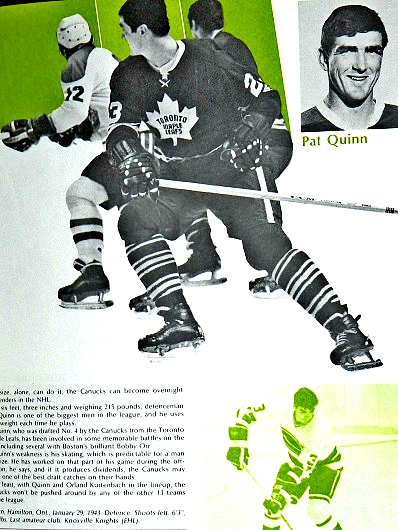 Front cover (top–left) of the Vancouver album from the Maple Leaf Gardens set in 1970–71 (with an autograph I obtained from the Canucks first coach, Hal Laycoe). Vancouver chose Pat Quinn (top–right) from the Leafs in the expansion draft. Quinn left town as something of a folk hero after his now–legendary wallop of Bobby Orr in the 1969 playoffs at the Boston Garden. He would return as GM/coach of the Maple Leafs from 1998–99 to 2005–06, becoming the first–such man to guide Toronto to 100 points in a season.
Front cover and scorecard, below, of the program insert from Nov. 11, 1970.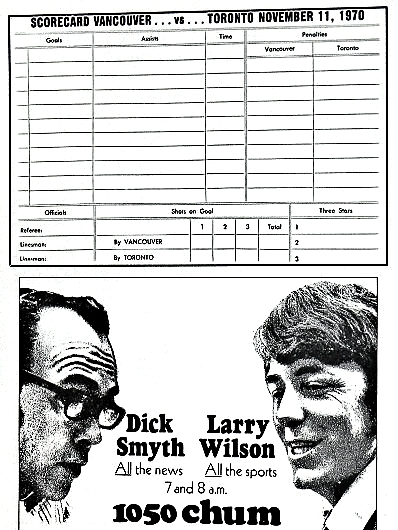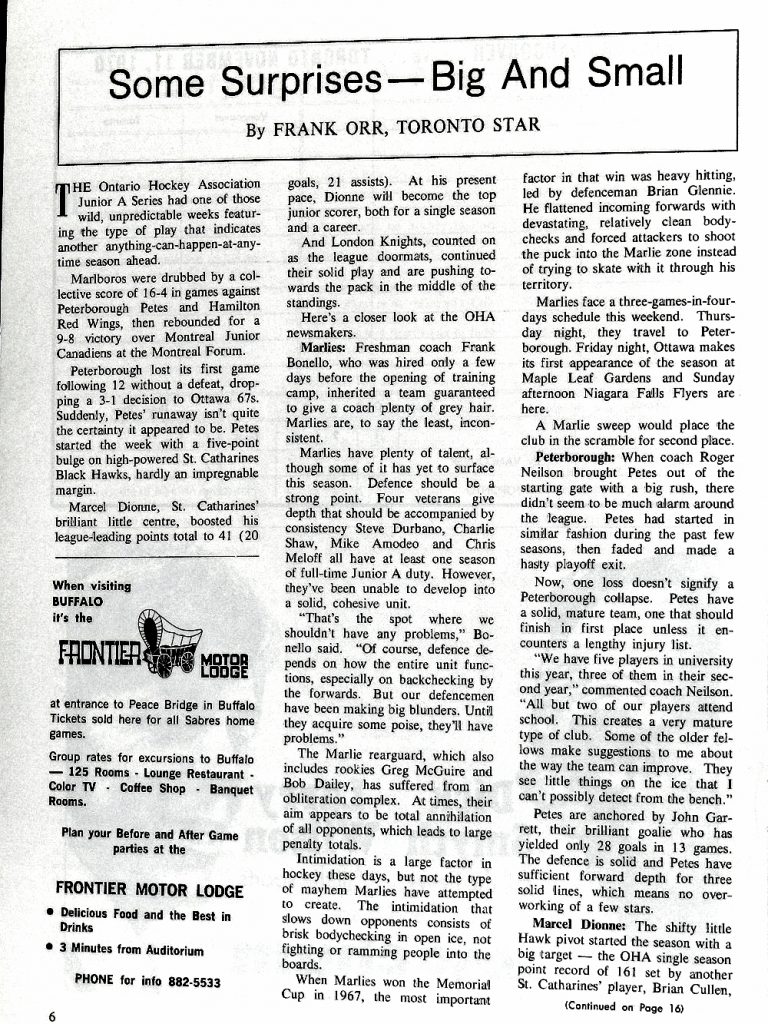 Frank Orr of the Toronto Star provided a report on the Ontario Hockey Association Junior A league (above and below). It's always interesting to read the names of players that went on to the NHL.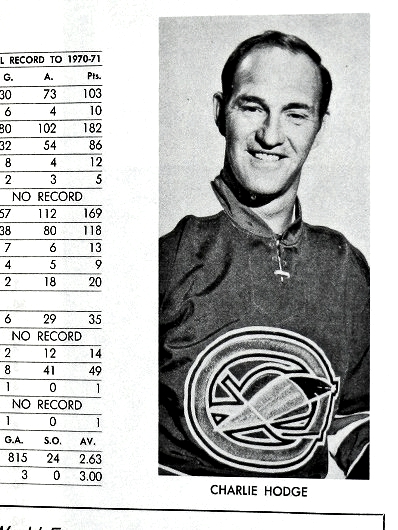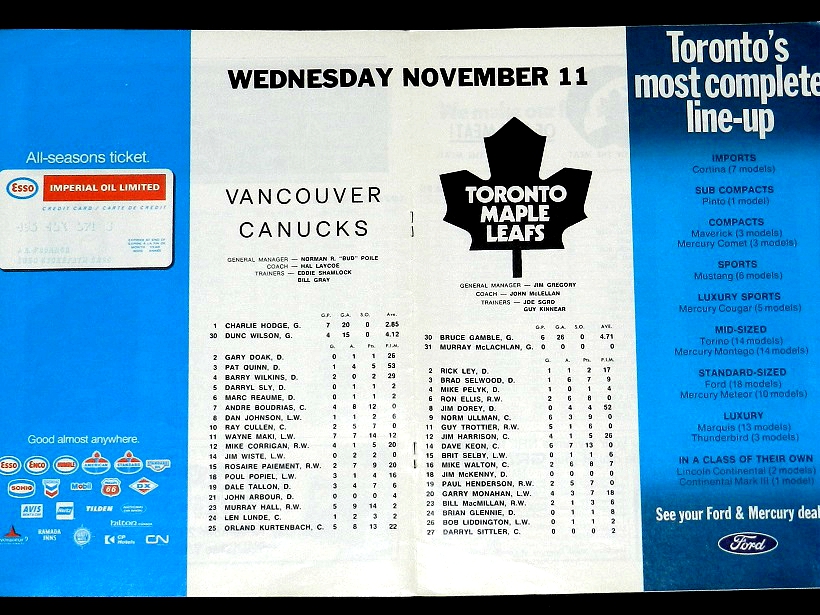 Center line–ups (close–up, below). Charlie Hodge (1) was the No. 1 goalie for the expansion Canucks. After winning the Stanley Cup with Montreal in 1965 and 1966, he joined the California Seals in the Great Expansion of 1967, when the NHL doubled to 12 teams. Defenseman Marc Reaume (6) appeared in 27 games for Vancouver in its first NHL season. More than a decade earlier (Feb. 10, 1960), Reaume had been the player sent by the Leafs to Detroit for Hall–of–Fame defenseman Red Kelly. Coach Punch Imlach converted Kelly to center and he added four Stanley Cup titles in Toronto to the four he had won with the Red Wings. Wayne Maki (11) came from St. Louis in the 1970 expansion draft. He made headlines in September 1969 during an exhibition game in Ottawa between the Blues and Boston Bruins by cracking defenseman Ted Green over the head with the heel of his stick. Green sustained a skull fracture and underwent life–saving surgery. Maki died of brain cancer on May 12, 1974. Dale Tallon (19), a star defenseman with the OHA Toronto Marlboros, went second overall to Vancouver in the expansion draft, just behind Buffalo's selection of Gilbert Perreault. Orland Kurtenbach (25) was the Canucks first captain.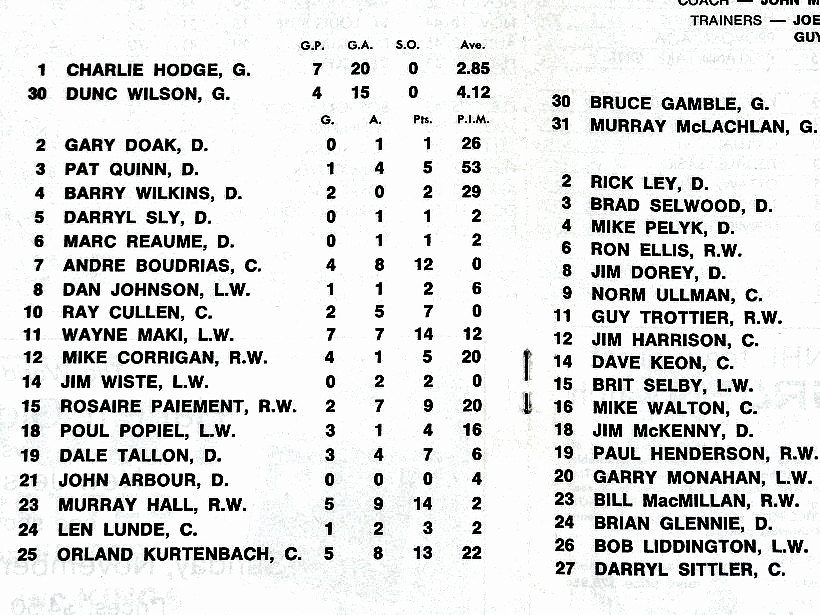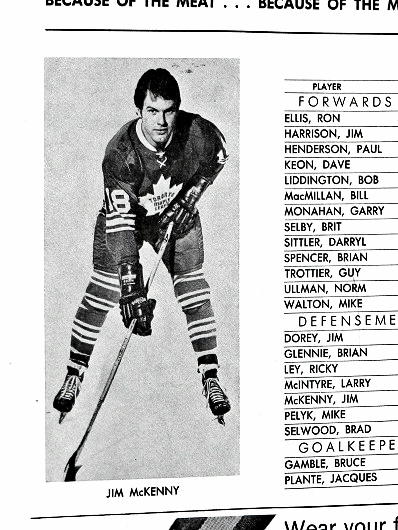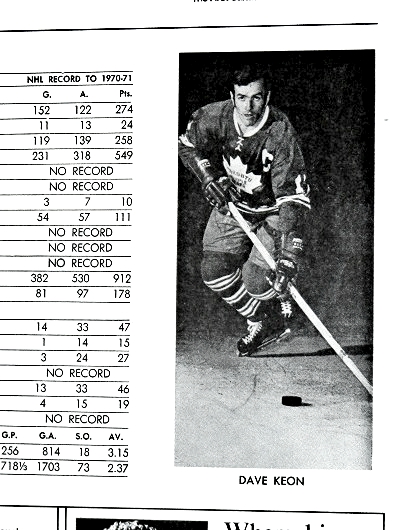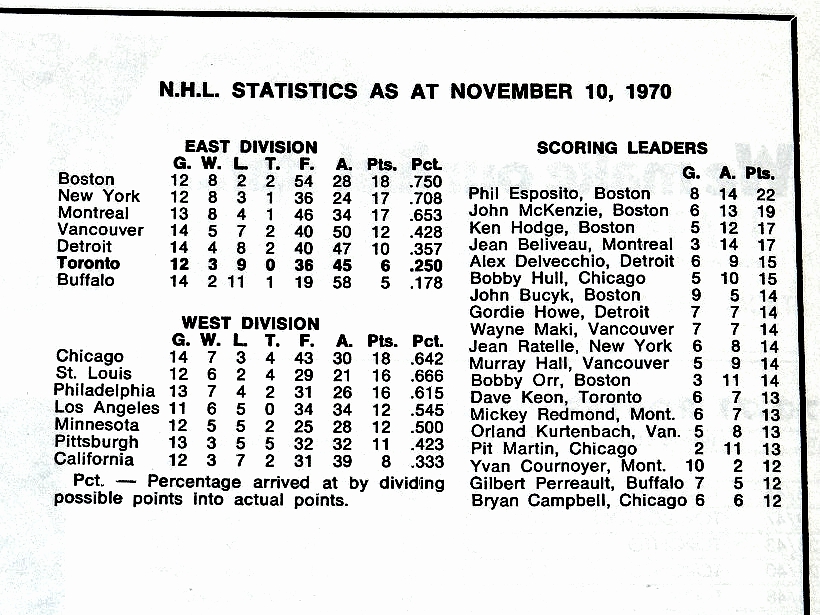 Only the expansion Buffalo Sabres had fewer points than the Maple Leafs on this night, 50 years ago.
EMAIL: HOWARDLBERGER@GMAIL.COM