TORONTO (Nov. 27) — We haven't heard much from George Stroumboulopoulos since he disappeared from the set of Hockey Night in Canada more than four years ago. And, that's by design. Music listeners the world over certainly get their fill of George during his Monday–to–Friday presentation of STROMBO on Apple Music Radio, which distributes more than 70 million songs on mobile devices to 165 countries. In that realm, there is no bigger Canadian–born media celebrity on the planet. Still, he is remembered in our little corner as the man that replaced Ron MacLean, from 2014 to 2016, in the nation's most–coveted sports chair on Saturday night — a bold move by Rogers Communications that polarized hockey fans from St. John's to Victoria.
Seven years have now passed since consummation of largest and most–influential sports/media contract in Canadian history — the 12–year, $5.232 billion (CAD) agreement that provided Rogers and Sportsnet exclusive TV rights to the National Hockey League and its signature program, Hockey Night In Canada. It was back on Nov. 26, 2013 that Rogers CEO Nadir Mohamed and NHL Commissioner Gary Bettman made public the landmark accord, which astounded hockey and media personnel from coast to coast. Every bit as overwhelming was the subsequent revelation that the host of George Stroumboulopoulos Tonight — aired nationwide on the CBC television network from 2006–14 — would become only the fourth person in 55 years to lead the intermission segments on Hockey Night, joining Ward Cornell (1959–71), Dave Hodge (1971–86) and MacLean. Putting a hipster in a straight man's role would, theoretically, lower the median age of the program's audience and attract more female viewers, thereby augmenting advertising potential.
And, after laying out more than $5 billion, we know that Rogers sought the promise of every incoming dime.
History has proven the folly of toying with a traditionally staid audience. Particularly north of the 49th. But, kudos to the tall foreheads at Jarvis and Bloor St. for trying something different. And, to Stroumboulopoulos for attempting nothing different. Rogers decided it needed George. And, it got George. "I kept asking the higher–ups 'are you sure you want to do this?'" recalled Stroumboulopoulos from California on Thursday in a first lengthy chat about his two years at Hockey Night. "I did not need to be informed about the significance of replacing Ron MacLean. He had no bigger fan, or devoted viewer, than me. But, the top executives at Rogers — Keith Pelley, Scott Moore and Guy Laurence — were persistent. And, I was comfortable with the notion of working alongside people I had long known, especially Elliotte Friedman and [producer] Brian Spear, who were at The FAN-590 when I started. I believed we could be successful if the support was there to do what we needed. But, I constantly wondered if Rogers would have the stomach for it."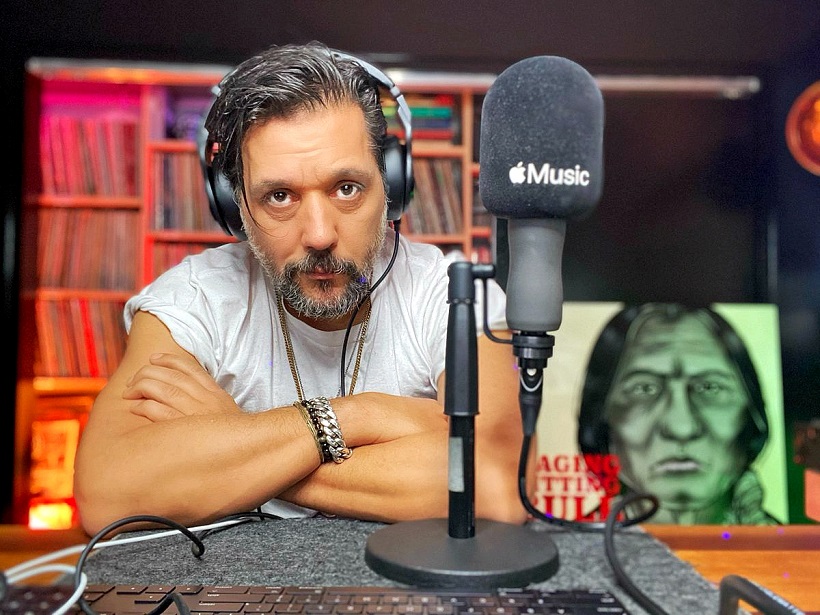 There was nothing ordinary about the transition. MacLean was a national treasure and did not deserve, in any way, to be supplanted. Stroumboulopoulos, by then, was also a national treasure, but in the music industry. Decent to the core, MacLean offered public support to George, as did Don Cherry. But, we know that feelings had to be hurt. "I tried to ignore the discomfort and move forward with the role I'd been entrusted," George recalled. "I made it clear from the outset that Ron and Don should continue with Coach's Corner. And, I was happy when the company created the Sunday Hometown Hockey package for Ron; a perfect role for someone so beloved across the country. I can honestly tell you that Ron was forever cool to me. He got it. Even if hurt by the switch, he understood what Rogers was trying to accomplish. More than anything, though, I had to be authentic and not try to change what had worked elsewhere for me. When I look back on starting with Hockey Night, I chuckle at the image of me as the 'new kid' on the block. In fact, in my early 40's at the time, I was significantly older than both Ron and Dave Hodge when they began hosting.
"But, I knew there were risks. Big ones. And, it's the reason I privately maintained modest expectation."
Still immersed in his music and commuting from home in Los Angeles, Stroumboulopoulos looked upon the Hockey Night gig as anything but career defining. "I was absolutely thrilled and honored to land the role," he said, "but knowing how fundamentally different the show could become, I wondered how long I might last. At the start, without word of a lie, I planned to do Hockey Night for a maximum of three years. In the end, I got two. Which was truly amazing, given the long history of the program… and that within six months, the people who brought me aboard [Nadir Mohamed, Keith Pelley] had left the company. Perhaps unavoidably, and over time, the commitment to change subsided. I knew the traditional hockey audience missed Ron. And, though I enjoyed every minute of my tenure at Rogers, I also knew I was swimming upstream."
What neither George, nor anyone else, could have foreseen was the carnage authored by the $5.2 billion commitment to the NHL. Following Strombo out the door at Rogers were virtually all of the company's big–contract headliners: Daren Millard, Glenn Healy, Scott Morrison, Bob McCown, Bob Cole, Paul Romanuk, Mike Johnson, Nick Kypreos, Doug MacLean and, ultimately, Cherry. Reasons may have slightly differed but the underlying motive — cutting costs to survive the NHL deal — prevailed. "Look, Rogers is a publicly traded company in a largely competitive field so business and shareholding value ultimately comes first," Stroumboulopoulos reasoned. "When you consider that, no level of change can be surprising. Don't pretend the entertainment field is anything but a business. I've been part of it too long to think otherwise.
"Having said that, damn, do I miss McCown on the radio. There was nobody like him."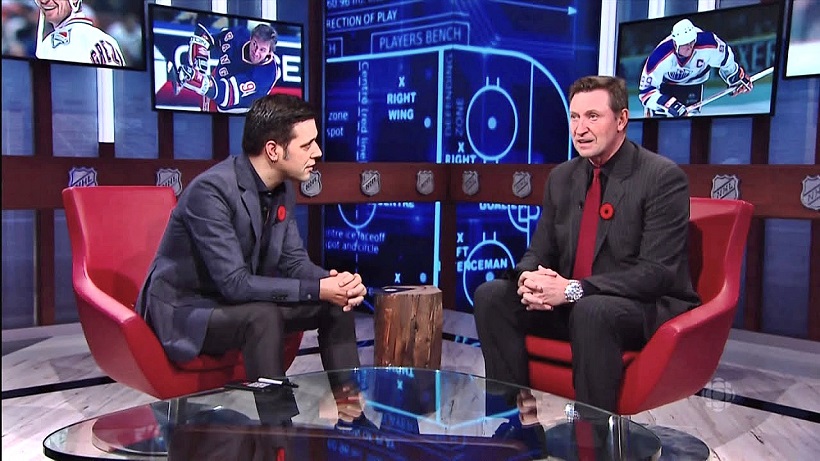 GEORGE STROUMBOULOPOULOS INTERVIEWS WAYNE GRETZKY ON HOCKEY NIGHT IN CANADA.
In wrapping up our phone conversation, I asked George if he felt that ultimately being rejected by the Hockey Night In Canada audience damaged his career. "Are you kidding? Not in the least," he quickly replied. "It was the most cool experience of my life. To count myself among a handful of people that have hosted that program will always be a thrill. I will never bemoan the opportunity to work with such TV icons as Ron, Don, Elliotte, Kelly Hrudey, Kyper and so many more. Though I knew we'd be up against tradition, I have not a single regret. I don't mourn stuff in the business anyway. We all have ups and downs and the Hockey Night thing wasn't my only setback, I can assure you. There is no ill will whatsoever toward anyone at Rogers.
"I thankfully have a bigger platform today [with Apple Music] than at any time in my career," George concluded. "Our show goes to 165 countries world–wide. I have nearly 900,000 followers on social media [Twitter]. Hockey Night was just one part of my career. And, I'm so glad I had that opportunity."
REMEMBERING STROMBO AT THE FAN–590
"Back here on sportsraijoh the FAN with my producer, Georgie Stroumboulopoulos."
Ah, yes… the charming inflection of boxing guru–turned–nighttime–host Charles (Spider) Jones in the early years of Canada's first all–sports radio station. I was privileged to be at CJCL AM–1430 when it switched to the sports format on Sep. 4, 1992. And, doubly privileged to have, as colleagues, so many wonderful people during my 23–year term; the final 17 spent covering the Toronto Maple Leafs, home and on the road.
As with the traditional megastar, George Stroumboulopoulos arose from humble beginnings. He joined our radio station in mid–1993 as a part–time producer and overnight host… at roughly the same time that Dan Shulman was rocketing to superstardom. Both would achieve international fame on TV. Add in Elliotte Friedman, the most–knowledgeable hockey person with whom I've crossed paths, and you can imagine the thrill of working with such an illustrious trio. What I love most about Strombo is that today — while recognized in many parts of the globe — he is no different than the straggly haired kid that joined our radio group 27 years ago. Fundamental decency and self–confidence have forever defined George. As we gabbed over the phone on Thursday, the conversation ultimately turned to our brief time together at The FAN.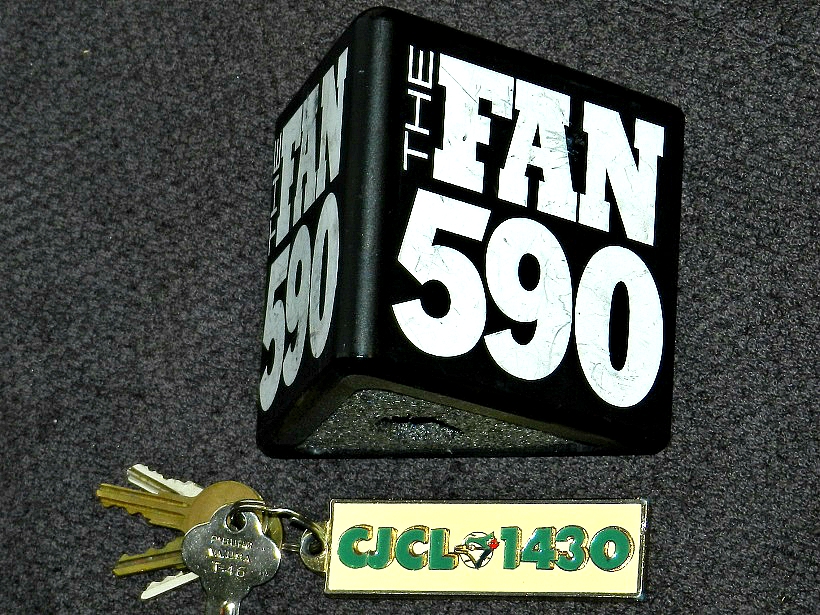 FROM THE RADIO DAYS: AN EARLY KEYCHAIN AND THE MICROPHONE–FLASH I LUGGED THROUGHOUT NORTH AMERICA WHILE COVERING THE TORONTO MAPLE LEAFS FOR THE FAN–590.
As long as I live, I will never forget how Strombo announced the birth of my first child. Leaving Mount Sinai Hospital to drive northbound on University Avenue during a snowstorm in the wee hours of Dec. 6, 1996, Dad and I heard George say, as only he could, "The FAN–590 family has grown by one. Congratulations to my colleague, Howard Berger, on the arrival, moments ago, of his baby son. Welcome aboard, Shane." Still dazed after the miracle of watching that little creature come into the world, George perfectly encapsulated the moment. At a different time; owned by a smaller company, we were family at the radio station.
As mentioned, Strombo, in his early years with us, had long, straggly hair that extended three–quarters of the way down his back. I walked into The FAN newsroom one afternoon in our old building on Holly St. and noticed, from behind, someone sitting at our sports desk. It was Jacqui Delaney, another colleague of the early years. In somewhat of a hurry to begin writing a sportscast, I asked her to please move elsewhere. When 'Jacqui' turned around, she was George. Heck, from behind, they had the identical hair–do. "Oh, sorry Strombo," I muttered in total embarrassment. On Thursday, we laughed like hell at that memory.
DARRYL SITTLER'S FIRST NHL GOAL
Nov. 28, 1970 — Maple Leaf Gardens
It is easy to conclude that that stars were aligned, 50 years ago this weekend, for Toronto Maple Leafs rookie Darryl Sittler to score his first of 484 NHL goals. As you'll see, Darryl was both the subject of the lead story in the Maple Leaf Gardens program for the Nov. 28, 1970 clash with Detroit… and the first–intermission guest on Hockey Night in Canada with host Ward Cornell. He concluded the interview by stressing to Cornell how badly he wished to count that first big–league tally. It occurred as hardly a pivotal moment — Sittler taking Mike Walton's drop–pass inside the blue line and overpowering Don (Smokey) McLeod with a wrist shot at 1:41 of the third period, providing the Leafs a 7–3 lead (Toronto would romp, 9–4). But, it removed the 20–game–long monkey from Darryl's back and sparked a terrific, Hall of Fame career. Earlier in the day, at the old CNE Stadium here in Toronto, the Montreal Alouettes had beaten the Calgary Stampeders, 23–10, to win the 1970 Grey Cup. But, the evening headlines belonged to the Maple Leafs… and the club's young No. 27.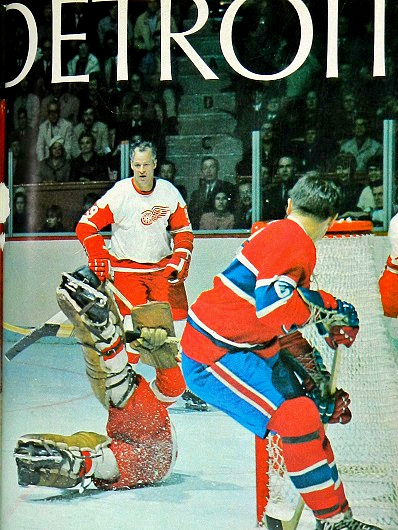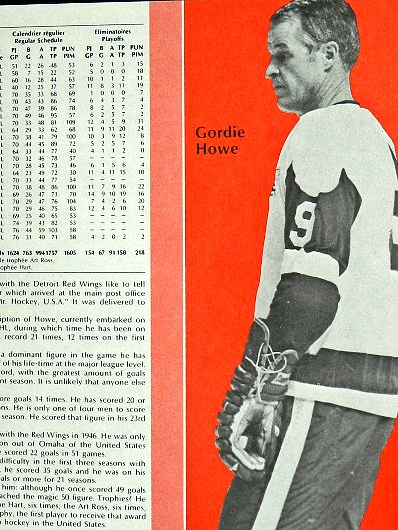 The Red Wings have rarely been more lamentable than in 1970–71 under rookie coach Ned Harkness. In Gordie Howe's 25th and final season with the club, it fell by 21 points in the standings and finished 13th in the 14–team NHL, ahead of only the California Golden Seals, with a record of 22–45–11 for 55 points. Both expansion teams — the Buffalo Sabres and Vancouver Canucks — were superior to Detroit. Howe graced the cover (top–left) of the Red Wings team–album sold at Maple Leaf Gardens in '70–71.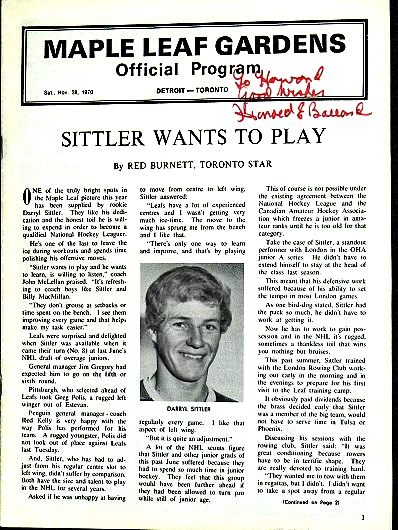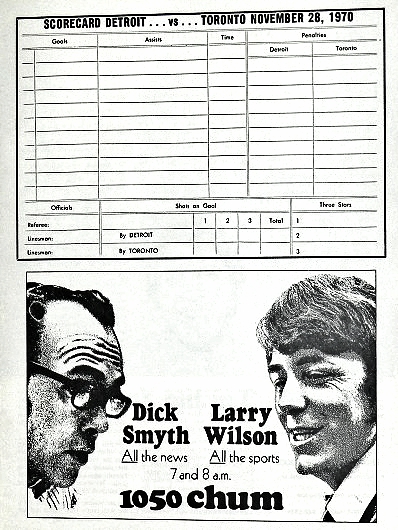 As mentioned, a story on Darryl Sittler by hockey writer Red Burnett of the Toronto Star appeared on the cover (top–left and below) of the Gardens program–insert. Another omen was the autograph I obtained, in the top–right–hand corner… from Leafs owner Harold Ballard. He offered me "good wishes" just before starting his prison term at Millhaven Penitentiary, near Kingston, Ont., for tax evasion and misappropriation of Gardens' funds. Ballard, of course, would later quarrel with Sittler, his captain, as did the owner with all key players in blue and white. Darryl was ultimately traded (in January 1982) to Philadelphia.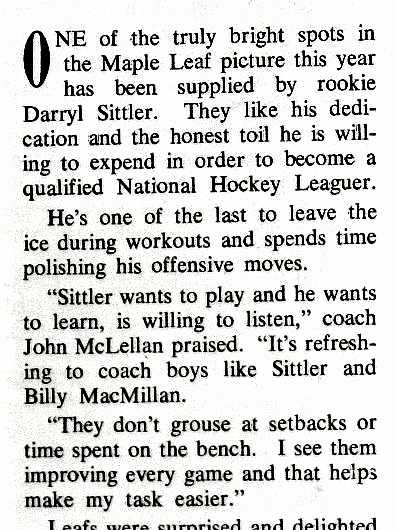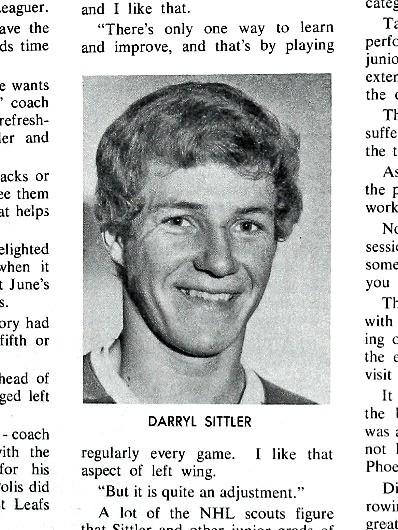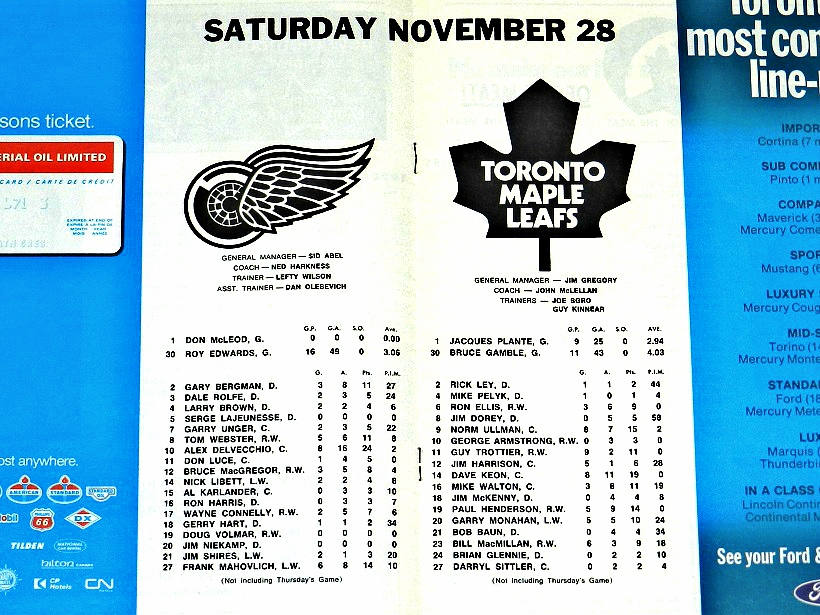 Line-ups (above and below) for the Nov. 28, 1970 Leafs–Red Wings game.
The regression under Harkness, former college coach at Cornell University, was toughest on Detroit's veteran players, such as Gary Bergman (2), Howe (9),  Alex Delvecchio (10), Bruce MacGregor (12) and former Leaf icon Frank Mahovlich (27). The Big M would happily find himself part of a blockbuster trade to Montreal on Jan. 13, 1971 that brought Mickey Redmond, Guy Charron and Bill Collins to the Motor City. As you can see, below, Roy Edwards had played goal for the Red Wings in 16 of 19 games; Jim Rutherford appearing in the other three. With Rutherford sidelined, Harkness recalled Don (Smokey) McLeod from Fort Worth of the Central Hockey League. Edwards and McLeod would share the carnage in the 9–4 loss to the Maple Leafs. Detroit rookie Don Luce (11) would later enjoy many years as a terrific, two–way center with Buffalo.
In this lop–sided match, the Maple Leafs led 3–0 after the first period on goals by Guy Trottier, Paul Henderson and Dave Keon. The lead ballooned to 6–0 by 15:49 of the middle frame — Ron Ellis, Keon and Norm Ullman scoring. Garry Unger (in the final minute of the period) and Tom Webster (in the first minute of the third frame) got the visitors on the board, but Sittler struck for his milestone first NHL goal shortly after Webster. Mahovlich and Al Karlander also scored for Detroit; Ellis (with his second) and George Armstrong for the Leafs. Jacques Plante stopped 29 Red Wing shots for the goaltending victory.
Bruce Hood officiated the match with linesmen Pat Shetler and Dave Shewchyk.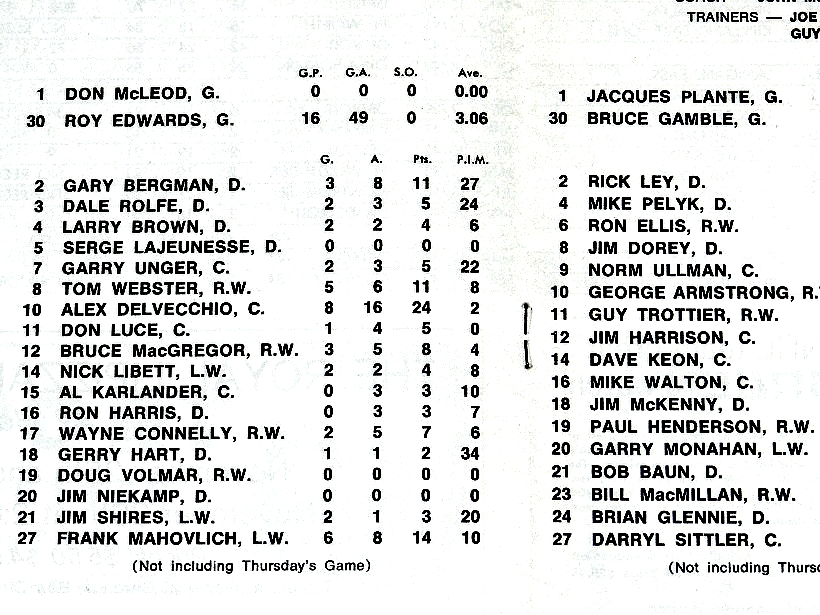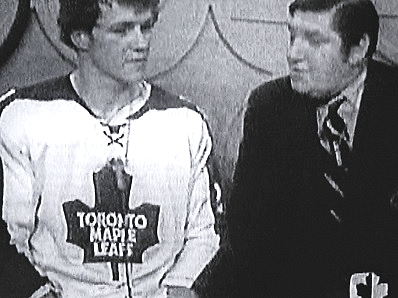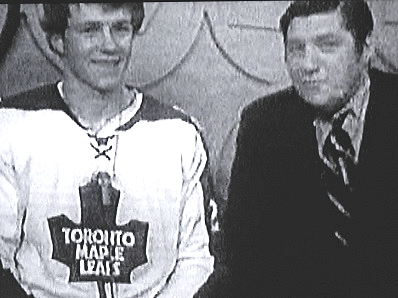 Darryl Sittler was the guest of Ward Cornell (above) in the first intermission on Hockey Night In Canada — these grainy images from the CBC telecast. After scoring his first NHL goal on Don McLeod (below), Sittler gathered the puck for a souvenir. Mike Walton and Jim McKenny assisted on the play.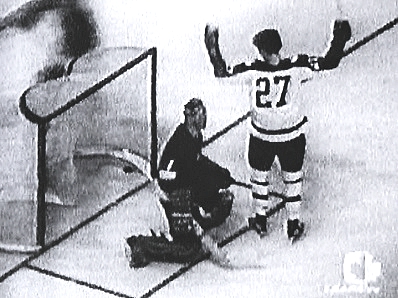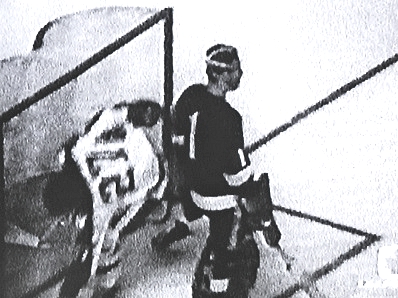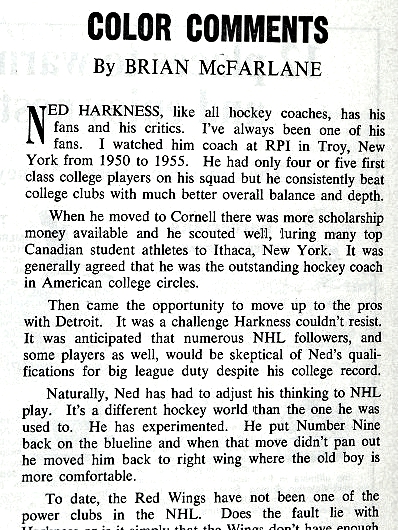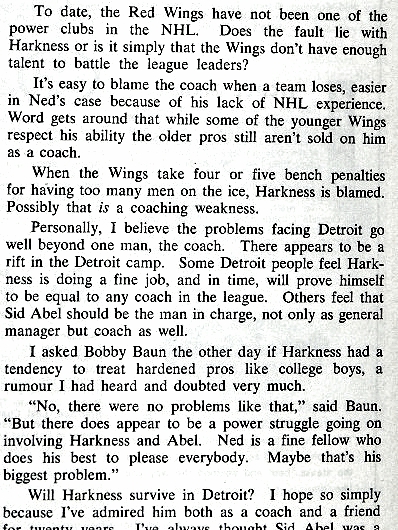 Brian McFarlane (above) attempted to offer balance to the disaster that was Ned Harkness.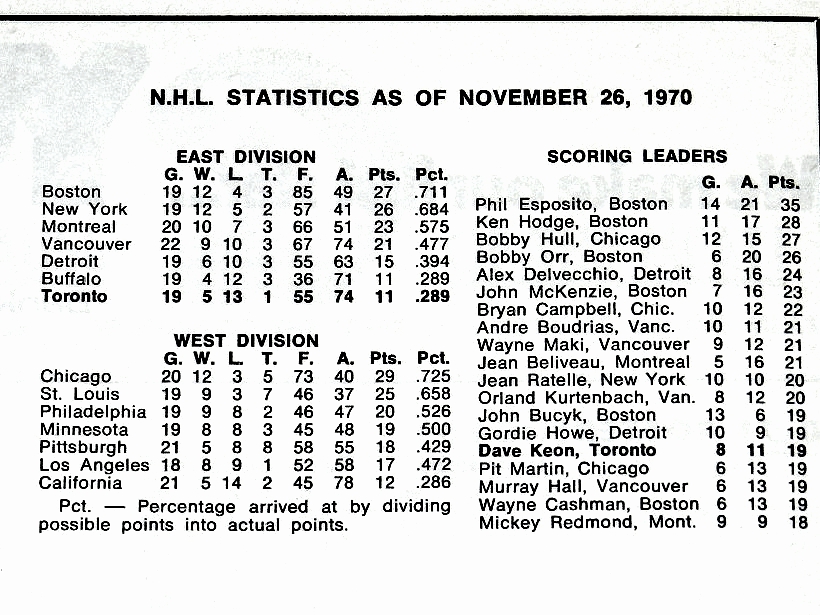 The Maple Leafs were still deadlocked in the NHL basement with the expansion Sabres but would soon begin a renaissance in which they amassed a record of 30–15–7 in their final 52 games to make the playoffs.
EMAIL: HOWARDLBERGER@GMAIL.COM