It would have been nice to end my career with another Stanley Cup over my head instead of face–down at Madison Square Garden, but most people don't get to choose how their career will end.
— Nick Kypreos in UNDRAFTED
TORONTO (Nov. 22) — To be sure, former National Hockey League winger Nick Kypreos was not compelled to begin his autobiography by rehashing, arguably, the worst moment of his life. Certainly not after winning the 1994 Stanley Cup with the New York Rangers and dressing for Game 7 of that terrific quarrel against the Vancouver Canucks. Nick could have taken us into the delirious home lair at Madison Square Garden on that June night, thereby commencing the book triumphantly. Instead, he introduces UNDRAFTED (written with Perry Lefko) in the same arena, but more than three years later, as a member of the Toronto Maple Leafs.
When Ryan VandenBussche of the Rangers one–punched his career into darkness. Forever.
"It got me square to my cheekbone," Kyper said of the blow. "The second hit belonged to Madison Square Garden. Leafs winger Kelly Chase was close enough to see it. He told me I had passed out while I was still standing. I was unconscious, without the ability to break my fall, and my forehead hit the ice full force."
Sadly, I, too, witnessed the carnage in New York during the Leafs/Rangers exhibition game of Sep. 15, 1997. At the start of my fourth season covering the Maple Leafs for The FAN–590, Canada's first all–sports radio station. Until Telemedia Communications Inc. bestowed me the privilege, in 1994, there had never been a radio beat–reporter in the NHL. Only newspaper. Over 17 years, I attended Leafs games, home and away, during the pre–season, regular season and (occasionally) the playoffs. I will never forget that night, at the world's most–famous arena, for the ghastly pool of blood that widened beneath Nick's face. Clearly visible from the upper–33rd St. press colonnade. For a brief, horrendous moment, I thought he'd been killed.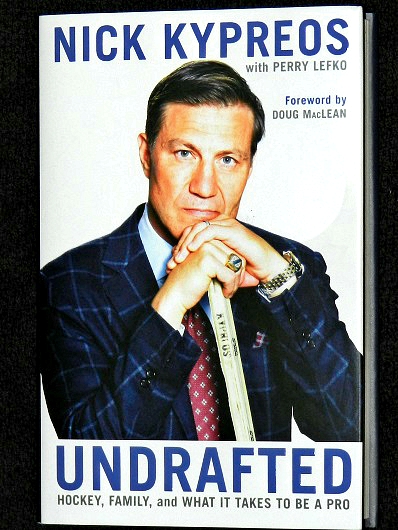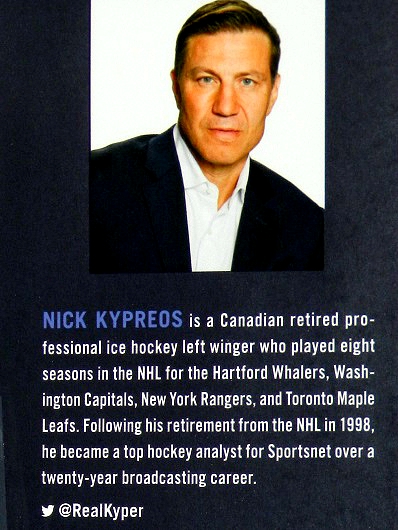 I recall reflecting, immediately, about Bill Masterton, the only NHL skater to succumb to an incident during a game, nearly 30 years prior. Also on the 15th day of the month. A forward with the expansion Minnesota North Stars, Masterton died on Jan. 15, 1968, less than two days after striking his head on the ice in a game against the Oakland Seals. On that occasion, a simultaneous check by defensemen Ron Harris and Larry Cahan sent Masterton catapulting backward. Players from both teams would recall the sickening thud as Masterton's head struck the ice at the old Metropolitan Sports Center. My mind's eye flashed to the lone, haunting image (below) of Masterton being wheeled away — trainer Dick Rose keeping the player's unconscious head stable; defenseman Bob McCord (3) pulling the foot end of the stretcher; helmeted teammate Andre Boudrias (15) discussing the moment with Parker MacDonald (17); fellow North Stars Ray Cullen (10), Elmer Vasko (4) and Bill Collins (18) looking dazed. "This can't be happening," I said to myself in Madison Square Garden as blood expanded beneath the motionless Nick Kypreos. But, if Masterton could die falling backward, I feared the worst for Nick, having plummeted forward from a standing position.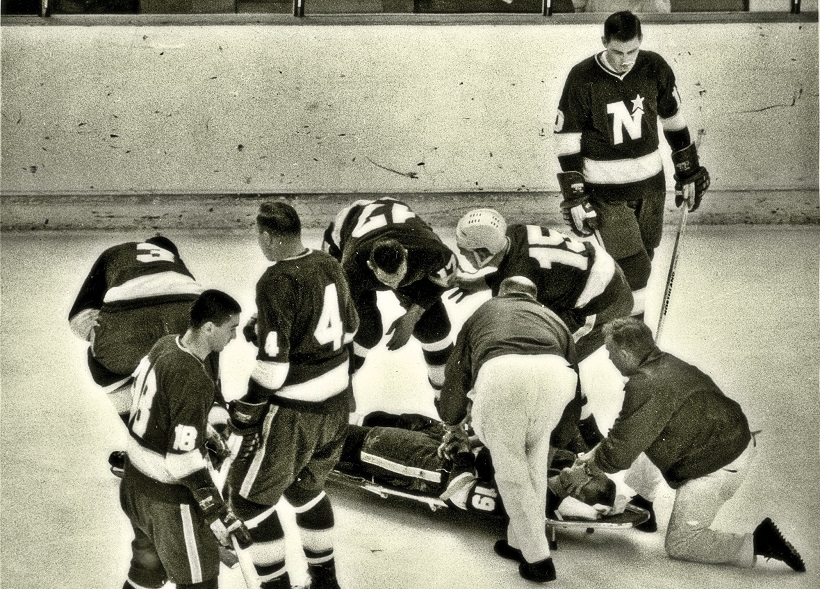 In all the years I've known Kyper — as a player I covered and a media colleague — I've never adequately expressed to him the overwhelming relief I felt when I saw his legs begin to move. I'm not exaggerating: I thought he was dead. The pool of blood beneath his face kept expanding. The Garden, having exulted upon VandenBussche's knockout blow, became instantly silent. Yes, I remember Leafs teammate Kelly Chase frantically motioning to the bench; summoning Chris Broadhurst and Brent Smith, the athletic therapists.
Wrote Nick in his book: "How I escaped with half my face not caving in I'll never know. I started to bleed all over the ice. My mouth was filled with blood." Somehow, Kyper staggered to his feet and was helped into the Garden's medical examining room. His fiancé, Anne–Marie, still living in New York and at the game, implored Nick to visit a local hospital. Today, that would have happened, routinely. In 1997, however, long before the revelations of Chronic Traumatic Encephalopathy (CTE), Nick was allowed to fly home with the Maple Leafs.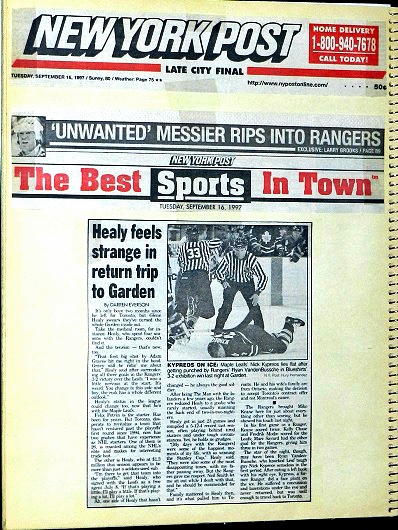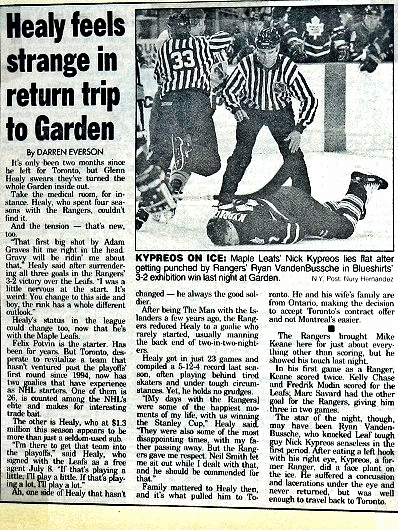 GAME STORY AND PHOTO OF A PRONE NICK KYPREOS IN THE NEW YORK POST ON SEP. 16, 1997.
Only with the benefit of hindsight could such a dreadful incident stand as a blessing in disguise. Nick suffered through long months of post–concussion syndrome — searing headaches; loss of appetite; blurred vision; debilitating anxiety. I remember taping an interview with him one night at Maple Leaf Gardens for our pre–game show on The FAN–590. We sat in the ante–room of the Hockey Night In Canada studio, across the hall from the Leafs dressing room. Throughout the five–minute chat, Nick shook his head, as if to clear the cobwebs. He rubbed both eyes with the knuckle of his right index–finger. Mostly, I recall how he spoke forlornly of the symptoms; wondering if, and when, they might subside. He looked, and sounded, frightened.
At the time, Nick still harbored hope of returning to the NHL. But, a job offer from CTV Sportsnet — Canada's second all–sports TV network; to compete with the established TSN — altered his mindset. A neurologist in Chicago had warned Kyper about continuing to play hockey. "The [bruising] lesions that were on my brain put me at much–greater risk if I received another blow to the head," Nick wrote. "[The doctor] made it abundantly clear that even a small injury could cause permanent damage. It could even be fatal. I could have tried to play hockey and maybe hung on for a few more years. But, getting in on the ground floor of Canada's newest all–sports station was an amazing opportunity. So, in August 1998, I officially retired."
What began, a couple of months later, was a splendid term of more than two decades as Sportsnet's hockey insider (Rogers acquired controlling interest in the summer of 2001). Nick adroitly used his wealth of contacts in the NHL to compete with Bob McKenzie of TSN on the two biggest TV days of the hockey year: the NHL trade deadline (in late–February) and the onset of unrestricted free agency (July 1). Though not a gifted orator, Nick always made his point; later engaging in rabid debates with Sportsnet colleague Doug MacLean (original coach of the Florida Panthers). My own acquaintance with Nick was casual, but always friendly, dating to his 54 games in a Leafs jersey between February 1996 and April 1997. Only once, did Kyper disappoint me — when I foolishly uttered a slanderous remark about Sean Avery of the Rangers on Nov. 12, 2007, two nights after New York had played at the Air Canada Centre. By that time, Nick was co–hosting Hockey Central at Noon on The FAN–590 with Daren Millard; it was Daren who coaxed me into the defamatory remark (thanks again, Mallard 😛 ). Rather than staying neutral, Kyper actively took the Rangers' side, working with the club's media relations staff. Given I had made a grievous mistake (the only time I was sued in my radio career), I had no basis to argue with anyone. But, it hurt when Nick turned against me.
That lone incident has long been water under the bridge.
Nick is forthright, proud and friendly — traits of Greek people the world over. It is therefore no wonder that his best–selling memoir begins honestly, with the horrific end to his playing career. Ultimately, and through no personal fault, Kypreos fell victim to the Rogers' talent purge in which colleagues Millard, MacLean, Glenn Healy, Paul Romanuk, Bob Cole, Scott Morrison, Bob McCown and Don Cherry were also deposed; a survival tactic after the company dished out $5.2 billion for NHL TV rights in 2013.
UNDRAFTED is an enjoyable, authentic story.
It can be purchased from Amazon.com here: https://amzn.to/2IZ5Diy.
THE PENGUINS POWDER—BLUES
Maple Leaf Gardens: Nov. 24, 1970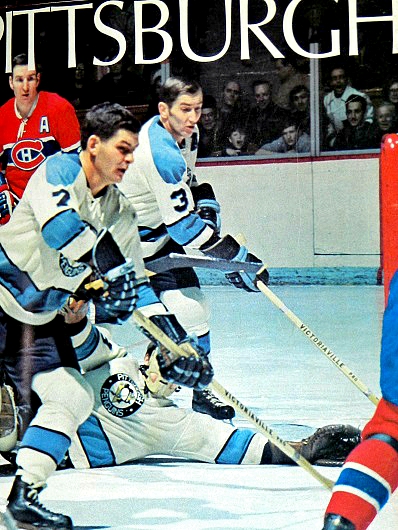 Another memory that endures from my youth was a rare Tuesday night game at Maple Leaf Gardens, 50 years ago this week. The 1970–71 NHL season was exciting because visiting teams came to town wearing their predominantly colored jerseys. On this night, it was the powder–blue of the Pittsburgh Penguins (as below) appearing at MLG for the first time. Without tickets, my cousin David Marmurek and I took the subway to College St. — 11–year–old boys from the Manor hoping the game wasn't a complete sell out. Seats were unavailable, but we scored a couple of standing room ducats behind the north Reds.
And, yes, those Pittsburgh powder–blues were superb.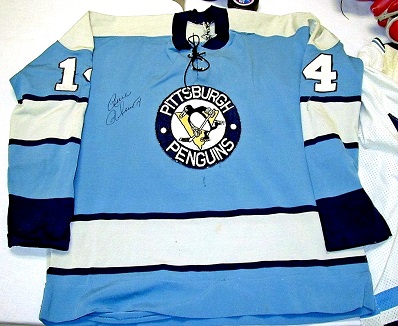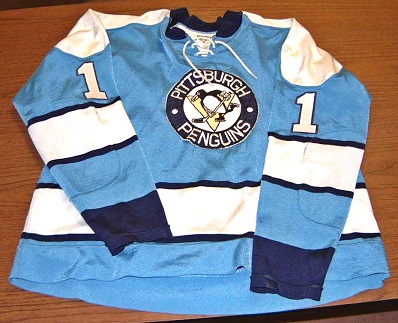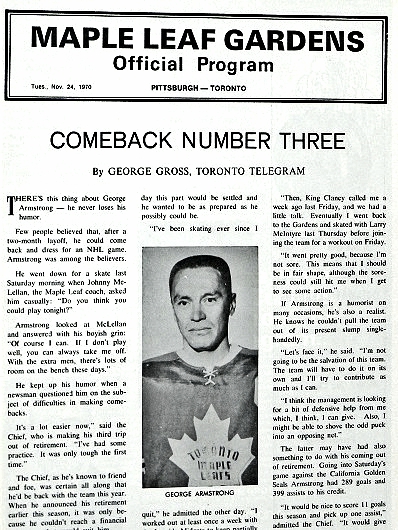 The Maple Leafs were still mired in their early season funk, entering the Pittsburgh game 2–7–1 in their previous 10 starts. As such, this was hardly a battle of titans — the Leafs and Penguins combined to win 10 of their first 37 matches. The home team had to score twice, unanswered, in the third period for an unsatisfying, 4–4 draw. Guy Trottier and Billy MacMillan beat Les Binkley in a 2:21 span to erase a 4–2 deficit. Ken Schinkel and Ron Schock of Pittsburgh had broken a 2–2 tie with second–period markers. Former Leaf Wally Boyer and original Penguin Keith McCreary scored earlier for the powder–blues; Norm Ullman and Dave Keon for the Leafs. Jacques Plante stopped 28 shots in the Toronto net.
Bob Sloan was the referee; Neil Armstrong and Rob Waddell the linesmen.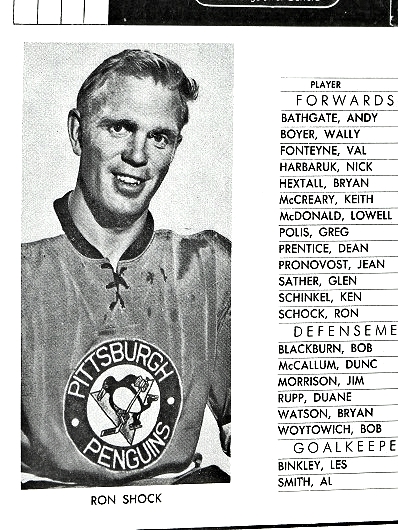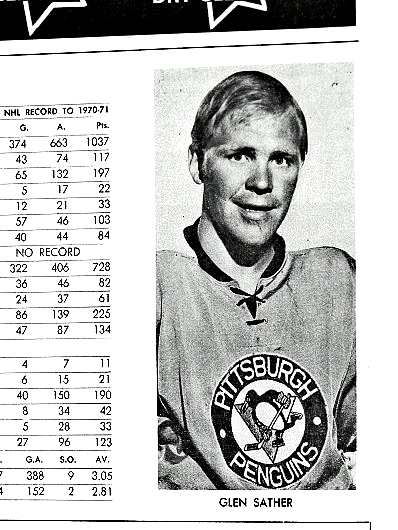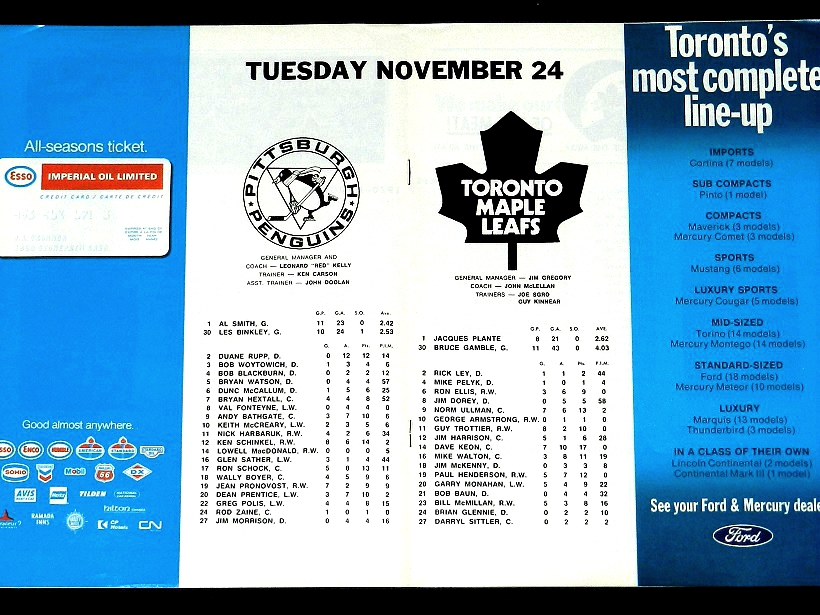 The Penguins were in their fourth NHL season (line–ups above and below). Al Smith (1) had come up through the Toronto Junior system and appeared in 10 games for the Leafs. He went to Pittsburgh in the 1969 intra–league waiver draft. Duane Rupp (4) had been a regular with the Leafs in the expansion season of 1967–68, playing 71 games. Bryan Hextall (7) was father to a six–year–old boy named Ron, who would become a stellar NHL goalie with Philadelphia in the late–80's. Andy Bathgate (9), also a former Leaf, was back with the Penguins after a two–year hiatus. Glen Sather (16) would attain heights as a coach and general manager, leading Wayne Gretzky and the Edmonton Oilers to Stanley Cup championships in 1984–85–87–88 and 1990. As mentioned, Wally Boyer (18) had played 46 games with the Leafs in 1965–66. Veteran Jim Morrison (27), a long–time standout with Quebec of the American Hockey League, was back in the NHL. Jimmy had been a regular on the Leafs blue line from 1952–58. For Toronto, George Armstrong (10) had just returned from a third "retirement." The Chief made a habit, in the post–expansion era, of missing training camp and holding out for extra cash when the Leafs struggled early in the season. First Punch Imlach, then Jim Gregory, bowed to his demands. This would be Armstrong's final NHL campaign.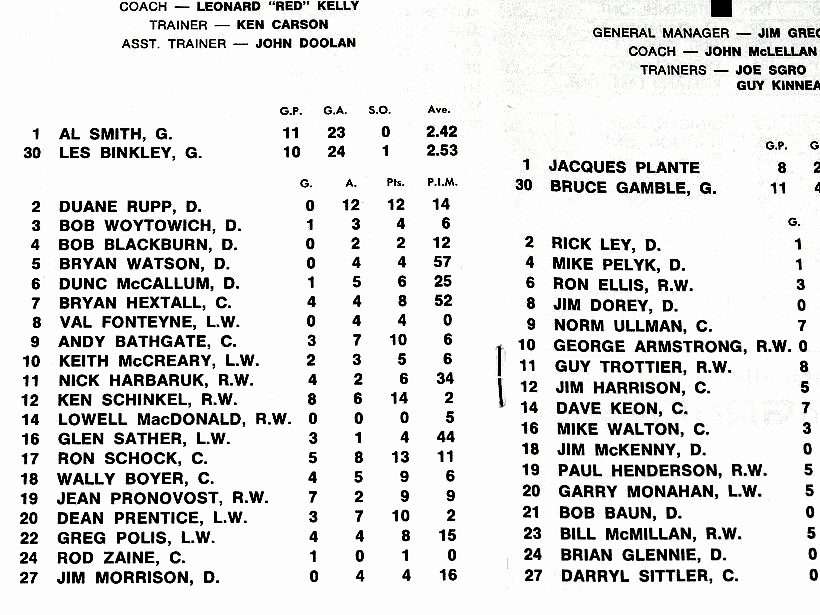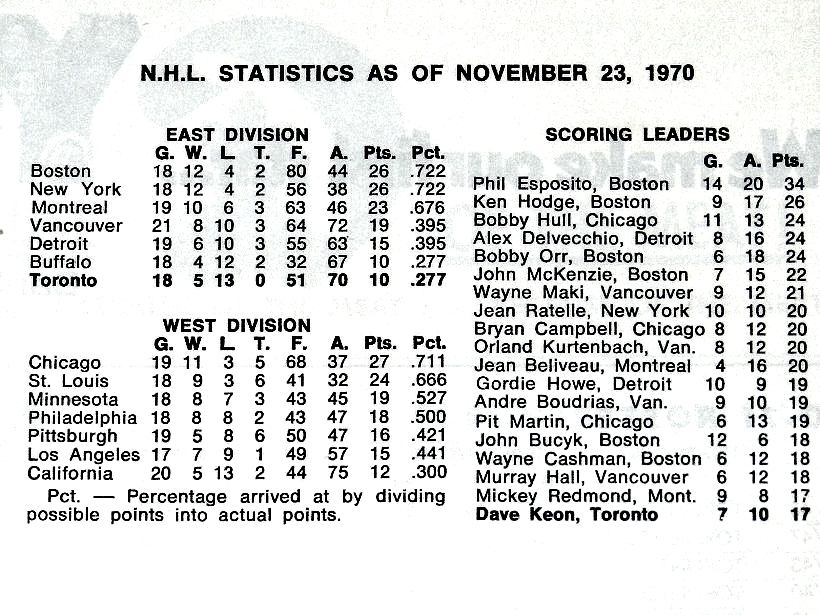 Yes, the Maple Leafs were in a frightful position on this night, 50 years ago.
EMAIL: HOWARDLBERGER@GMAIL.COM