TORONTO (Dec. 2) — Ladies and gentlemen, start your immune systems.
The race to the wire in the still–to–be–determined 2020–21 National Hockey League season; within the still–to–be–determined Canadian Division; at the still–to–be–determined sites for games and the still–to–be–determined length of schedule has been, well… determined. The victor, overwhelmingly, in the ample plains north of the 49th? Why, of course, the Toronto Maple Leafs. Few clubs have won more games on paper in the off–season. No Canadian club has been winless in the Stanley Cup tournament since 2004 (details… details). Hey, just think: If we all become pin–cushions before, oh, the middle of next July, a couple million of us could again take to the downtown streets, as during the Raptors' clusterfu** 1½ years ago. Sounds as if Pfizer and Moderna may render it conceivable. Imagine, no masks… no distancing… no Donald Trump.
Where is all this Leafs love coming from? The usual places — primarily, the two TV sports networks that co–own the team. And, of course, from management. The Leafs have no bigger adherent in the media than Luke Fox of Sportsnet. His Nov. 28 column "Canadian Division Power Rankings: Who's the best in the land?" relayed a predictable message: "Despite the rumours and the critics, the Leafs did not change their goalie or their identity — possess the puck, score in bunches, and ride or die with $40 million worth of star forwards."
Ah, yes, those darn "critics".
There was no explanation from Fox about how the Leafs could be the premier Canadian–based club (and, therefore, a Stanley Cup threat) while remaining unchanged. Toronto's goalie hasn't won a playoff round since 2015 with Anaheim. He's come up small in every clutch, post–season appearance. The Maple Leafs have also proven, rather conclusively, that possessing the puck with four forwards gobbling up more than half the salary cap allotment is not a recipe for playoff achievement.
Yet, Luke dismissed both factors in one sentence.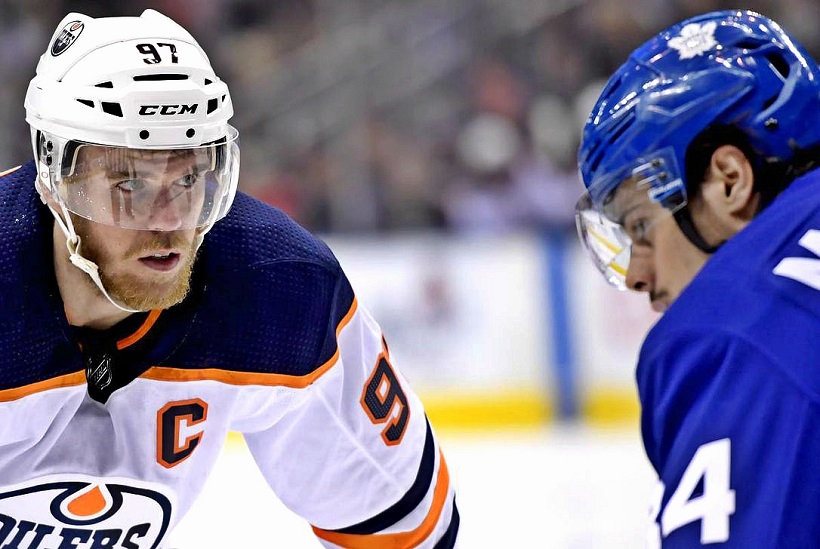 OPPOSING NHLers SUCH AS CONNOR McDAVID WILL NEED TO KEEP EYES ON AUSTON MATTHEWS IN AN ALL–CANADIAN DIVISION. BUT, HAVE THE MAPLE LEAFS TRULY CHANGED THIS OFF SEASON?
TORONTO STAR IMAGE
The TSN Leafs love is more indirect. According to veteran insider Pierre LeBrun, he "polled" 15 NHL executives, nine of which chose Toronto to top the Canadian Division. Missing from Pierre's article in The Athletic were names of the six that projected elsewise. One can barely comprehend such audacity.
Over at the Toronto Star, long–time beat writer Kevin McGran is rumored to have a Maple Leafs pennant (or two) in his closet. In his Breakaway Blog of Nov. 13 (entitled "How would the Maple Leafs fare in an all-Canadian division?"), Kevin chose Toronto and Calgary (in said order) as the lone playoff certainties. His Leafs synopsis: "TJ Brodie, Zach Bogosian, Joe Thornton and Wayne Simmonds can all be difference makers in their own way. Certainly the Leafs are deeper, bigger and stronger and the defence is more balanced. They lost Kasperi Kapanen and Andreas Johnsson, who'll be missed. They lost Cody Ceci and Tyson Barrie, who won't be missed quite as much. Their core forwards are going to put up points. And wins will follow. Since Auston Matthews arrived, the Maple Leafs have the eighth best record in the NHL, and the best among Canadian teams (171–106–39) and haven't missed the post-season." All true. Yet, rather selective. And, largely irrelevant. McGran could have added that the Maple Leafs — "since Auston Matthews arrived" — are 0–for–4 in the post season, losing to Washington, Boston (twice) and Columbus. Neither was there a mention of the playoff goaltending bugaboo in Kevin's assessment. Coincidence? Perhaps. But, maybe not.
Look, one of these years, by the simple law of averages, the Leafs are going to get it right. Whether it happens under Brendan Shanahan, Kyle Dubas and Sheldon Keefe remains a mystery. In my judgement, however, the club hasn't changed nearly enough to compete with the big boys through four Stanley Cup rounds. Nor could it be expected to over the course of one off season. It's a broken record in this corner but I'll say it again: Frederik Andersen is not the answer between the pipes; borne out in lack of playoff results with Toronto. Until there's a change, we'll argue that nothing else really matters. Like a football team without a proven quarterback, a hockey club without playoff–worthy goaltending cannot win.
Yes, it appears the Leafs have better balance. T.J. Brodie, Wayne Simmonds and Joe Thornton, in particular, offer a different look. To what extent, is unpredictable. Brodie is being celebrated by those that opine about the Leafs in the media. Yet, he's not nearly as gifted as Tyson Barrie, who was similarly lauded prior to last season. And, Barrie tripped over himself in a Leafs jersey. Simmonds undoubtedly was a presence the passive Leafs sorely need. Yet, he's bounced around like a pinball the past two years, suiting up for Philadelphia, Nashville, New Jersey and Buffalo. Perhaps he'll regain notability, in his home town, as an effective power forward; a player that combined belligerence with seasons of 32, 31, 29 and 28 (twice) goals. Still, we have to wonder why teams are choosing, so readily, to not retain him. Thornton is old and grey but he'll not forget how to dish off the puck. If properly deployed, he could add some savvy to the club's skill.
One potential game–changer (as previously outlined here)? Finnish–born Mikko Lehtonen, 26, widely considered the best defenseman playing in Europe and signed, last May, as a free agent by the Leafs.
STANLEY CUP HEROES RETURN
Maple Leaf Gardens: Dec. 2 / Dec. 5, 1970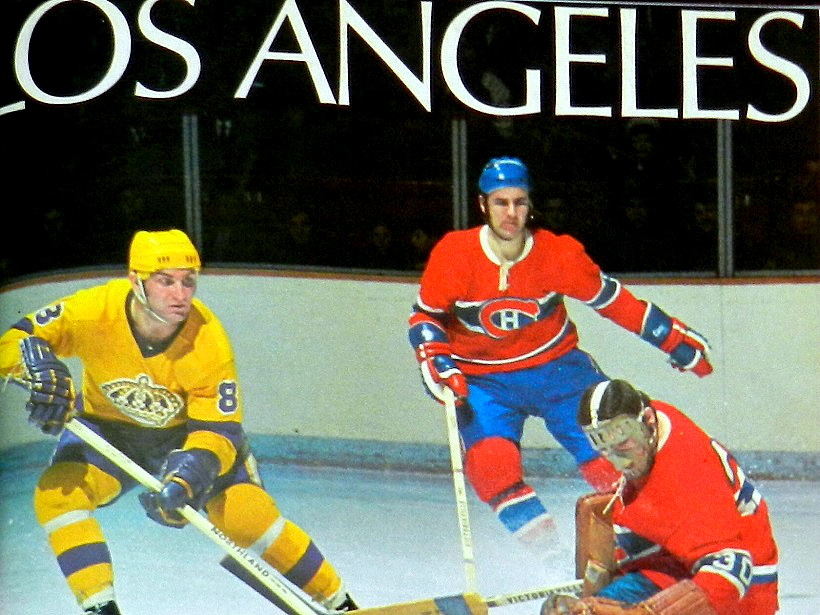 It was Old Home Week at Maple Leaf Gardens 50 years ago, as the Los Angeles Kings (front of 1970–71 MLG team album, above) and New York Rangers visited on a Wednesday and Saturday.
For Los Angeles, Bob Pulford suited up in his purple uniform with the gold trim and crown–logo. The Kings played at the Gardens wearing their predominantly colored sets for the first time. Pulford had been an integral part of all four Leaf Stanley Cup wins under Punch Imlach in the 1960's. As the Leafs reconstructed after missing the playoffs in 1969–70, second–year GM Jim Gregory traded Pulford to Los Angeles for left–winger Garry Monahan, nearly 10 years his junior. For the first time, Pulford, then 33, skated at the Gardens as a visiting player. He had scored 251 goals in a Toronto jersey between 1956–57 and 1969–70.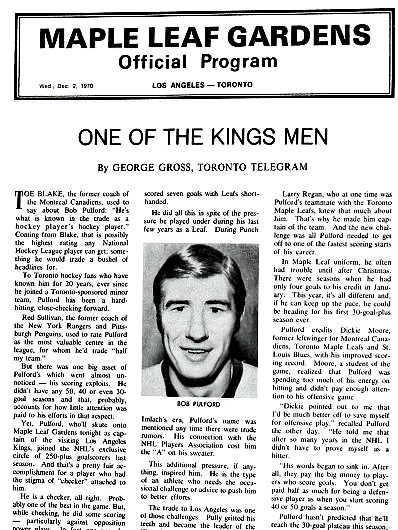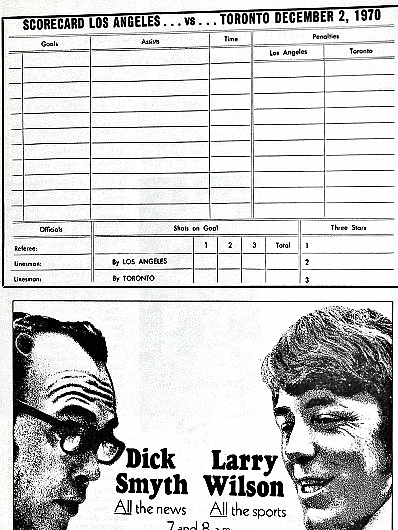 Pulford was the subject of the lead story — by George Gross of the old Toronto Telegram — on the front of the program–insert (top–left). Gross had covered Pulford and the Leafs during their Stanley Cup dynasty under Imlach. The Dec. 2, 1970 clash turned into an embarrassment for the Kings. Jacques Plante stopped all 35 L.A. shots for his first shut–out in a Leafs jersey, as the home team romped, 7–0. In so doing, Toronto previewed a December turnabout: 10–4–0 in 14 games after struggling to a 7–18–1 record in their first 26 matches. Los Angeles had been, by far, the NHL's worst team the previous year, finishing last in the 12–team NHL with a record of 14–52–10 for 38 points, a whopping 20 fewer than the second–worst Philadelphia Flyers and Oakland Seals. The Kings have no parallel in franchise history; a 54–point effort (23–49–8) in 1986–87 coming closest. In this rout, veteran Dave Keon led the way with a natural hattrick, scoring at 9:36 of the second period; then at 5:44 and 11:20 of the third. Keon's first two goals were shorthanded. He would establish a team record with eight–such tallies in 1970–71, a mark equaled in 1990–91 by Dave Reid.
Rookie Darryl Sittler opened the scoring in the first period. Ron Ellis added two goals and an assist. Norm Ullman finished the four–goal third period in the final minute. Jack Norris went the distance in net for the visitors, stopping 25 shots. Bill Friday was the referee; Claude Bechard and Dave Shewchyk the linesmen.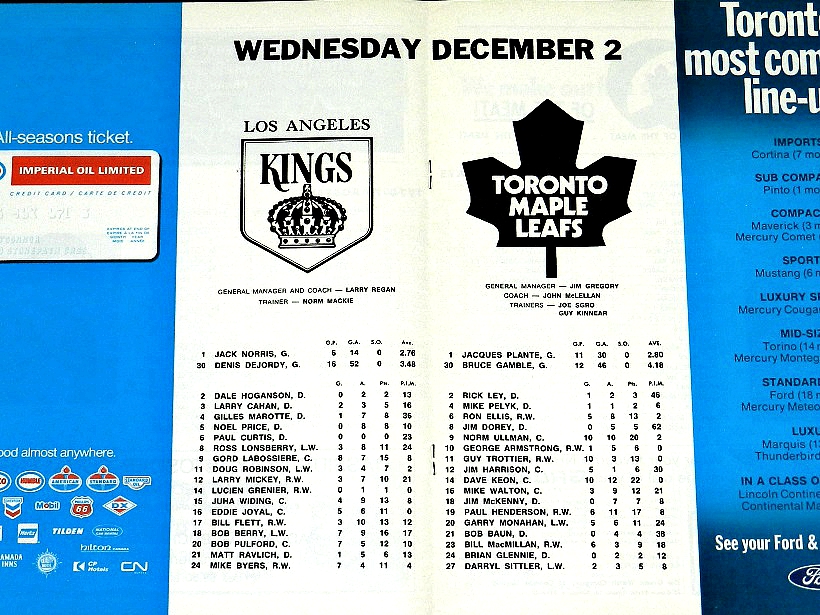 Line–ups, above and below, for the Toronto–Los Angeles game.
Though Pulford was the only Kings player to have won the Stanley Cup with the Leafs, several others had worn the blue and white: Larry Cahan (3) appeared in 80 games on defense in 1954–55 and 1955–56; Noel Price (5), 30 games in 1957–58 and 1958–59; Larry Mickey (12), 56 games in 1968–69; Eddie Joyal (16), 14 games in 1965–66; former Marlboros winger Mike Byers (24), 15 games in 1967–68 and 1968–69. Allowing Joyal and Bill Flett (17) to escape the organization in the 1967 expansion draft proved an error in judgement by Imlach and the Leafs. Joyal has seasons of 33, 23 and 18 goals with Los Angeles; Flett scored 26 and 24 goals in the Kings first two NHL seasons, then 43 with Philadelphia (skating on a line with Bobby Clarke) in 1972–73. He played the 1974–75 season with Toronto, scoring 15 times. Garry Monahan (20) of the Leafs had gone scoreless through 21 games with L.A. in 1969–70 before the Sep. 3, 1970 trade for Pulford.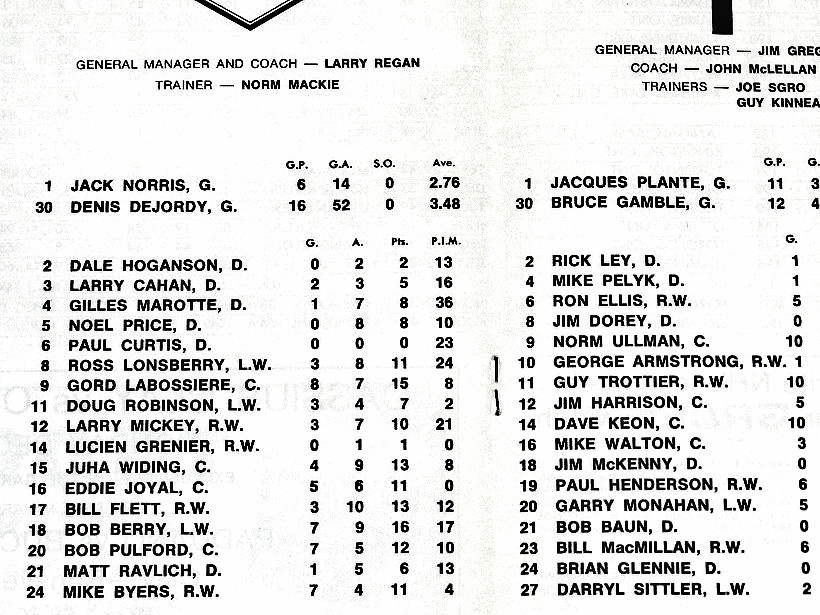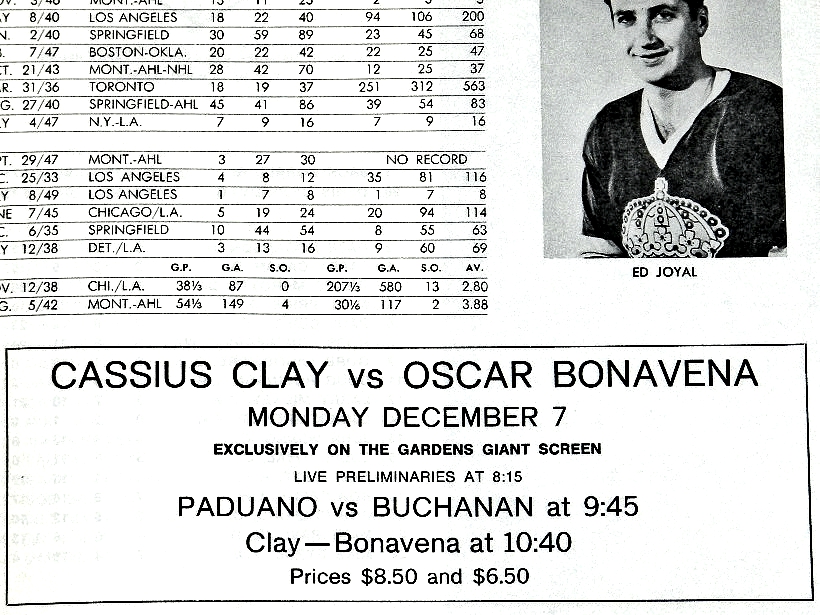 In his second bout since coming back from exile, Muhammad Ali (still referred to, disrespectfully, as Cassius Clay in the Gardens program) scored a 15th–round knockout of Oscar (Ringo) Bonavena at Madison Square Garden; an ad (above) for the closed–circuit telecast.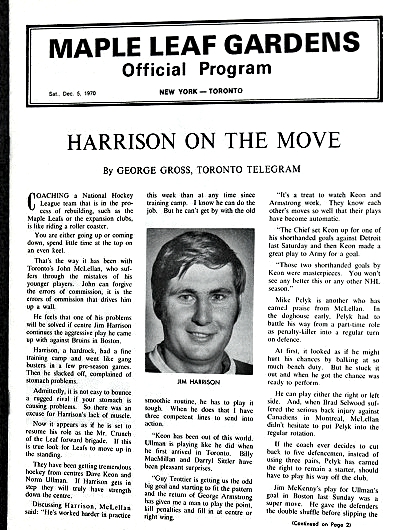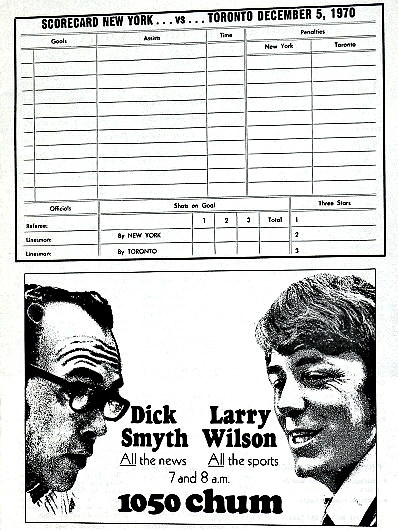 The Leafs went from the proverbial frying pan to the fire three nights after the Los Angeles blowout when the very good New York Rangers visited the Gardens (Dec. 5, 1970) for the second time in 1970–71. Center Jim Harrison (top–left) was the subject of the lead item in the program, authored, again, by George Gross.
The game's only goal was scored, unassisted, at 0:38 of the second period by Peter Stemkowski, whose five goals and 12 points in 12 playoff matches helped the Leafs upset Chicago and Montreal to win the 1967 Stanley Cup — Stemkowski skating on a line with Bob Pulford and Jim Pappin. Rangers goalie Ed Giacomin stopped all 38 Toronto shots for his third of a league–leading eight shutouts in 1970–71; the Leafs would be blanked again, 4–0, at Pittsburgh three nights later (Dec. 8, 1970). Jacques Plante of Toronto made 30 saves.
Wally Harris officiated the game with linesmen Ron Ego and Malcolm Ashford.

Frank Orr of the Toronto Star provided a Junior hockey report in each Gardens program. This article (above, continued on right–hand side, below) mentioned several players who would go on to excel in the NHL.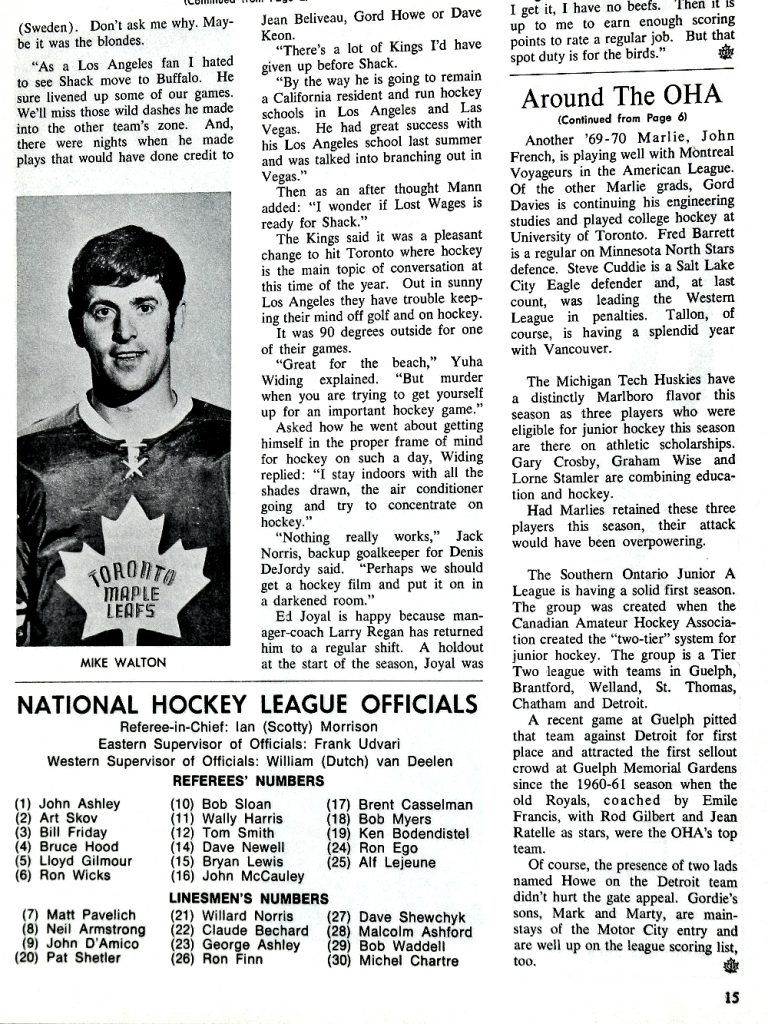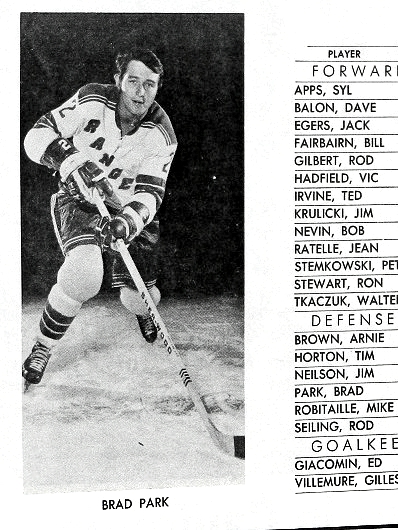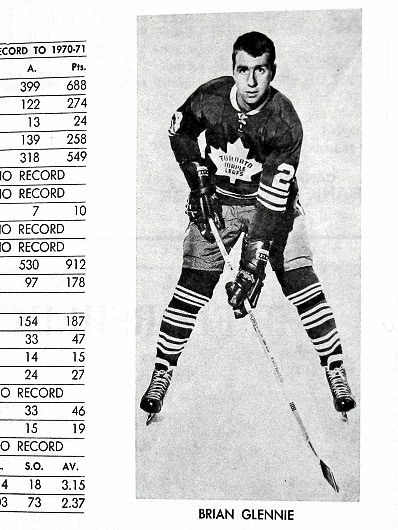 Defensemen Brad Park and Brian Glennie had been teammates with the 1967 Memorial Cup–champion Toronto Marlboros.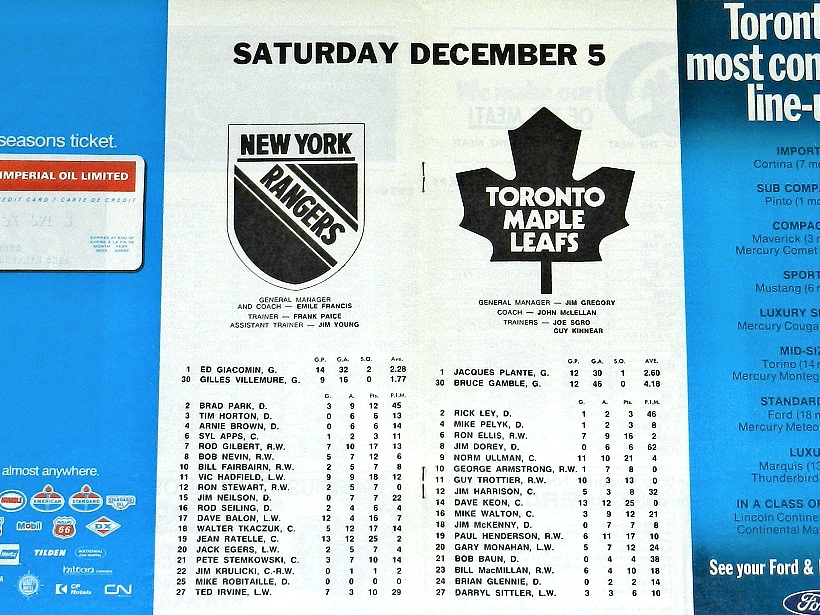 Toronto–New York line–ups (above and below). Also returning with the Rangers was defenseman Tim Horton (3) and right–winger Bob Nevin (8). Horton had been a stalwart on all four Toronto Stanley Cup teams in the 60's; Nevin played on the 1962 and 1963 Cup winners before a mega–trade to the Rangers for future Hall–of–Famer Andy Bathgate. Defenseman Arnie Brown (4) had appeared in six games with the Leafs in 1961–62 and 1963–64. He was part of the package (along with Nevin, Dick Duff and Bill Collins) the Leafs sent to New York for Bathgate on Feb. 22, 1964. Rod Seiling (16) dressed for one game with Toronto, recording an assist against the Rangers on Mar. 2, 1963. He was chosen by St. Louis in the 1967 expansion draft then traded back to New York the same day for Bob Plager, Gary Sabourin, Gord Kannegiesser and Tim Ecclestone. This was a good trade for the Blues, as Plager, Sabourin and Ecclestone all helped Scotty Bowman's team reach the Stanley Cup final in the first three years of expansion.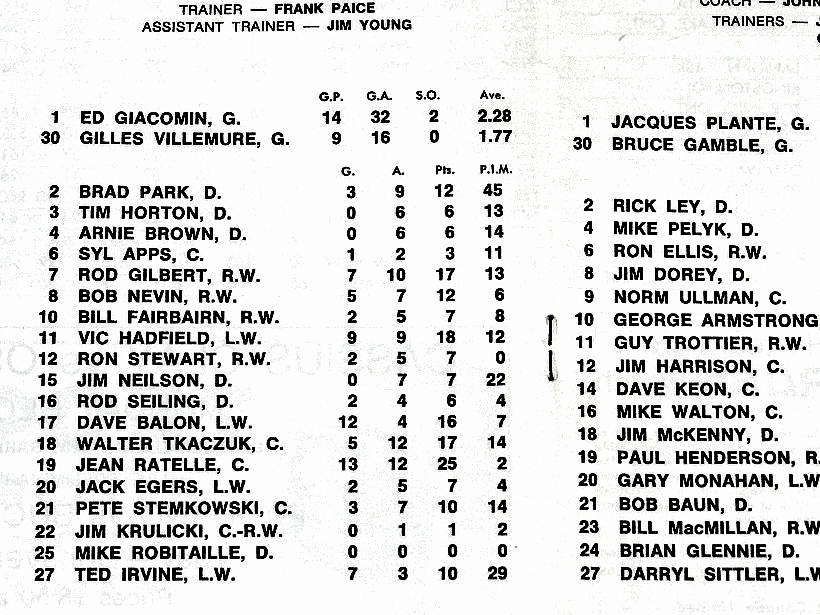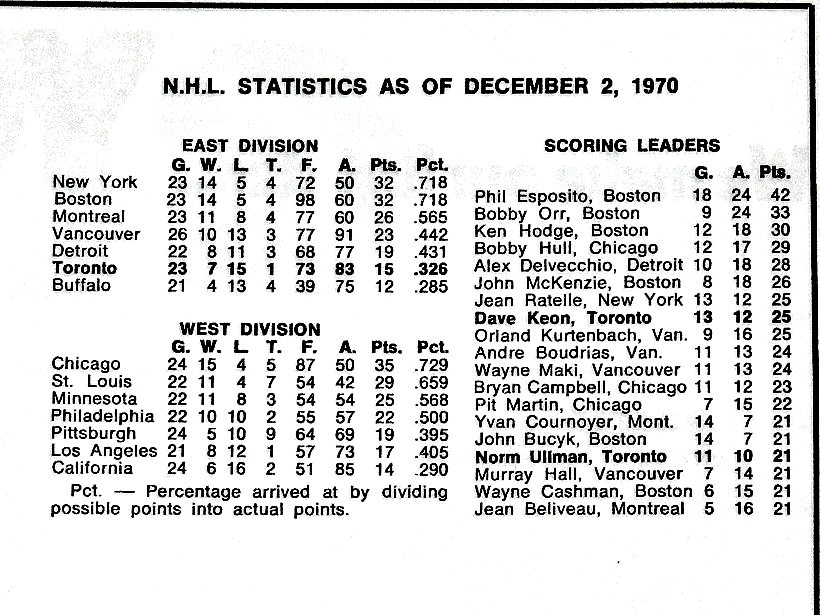 In early December 1970, Phil Esposito and Bobby Orr of Boston were beginning to pull away from the pack atop the NHL scoring parade. They would combine for 291 points — fifth–most in a season by two players on the same team. Though struggling, the Maple Leafs had finally extracted themselves from the East Division basement… by three points over the expansion Buffalo Sabres.
EMAIL: HOWARDLBERGER@GMAIL.COM