TORONTO (Dec. 8) — For the second time in his 27–year term as Commissioner, Gary Bettman has saved a National Hockey League season. It first happened in the wee hours of Jan. 11, 1995, after a 103–day owners' lockout. As the NHL objectives of a hard salary cap and softer luxury tax were defeated, it appeared the entire schedule would be lost. While having a Chinese food dinner in Manhattan, Bettman and Players' Association director Bob Goodenow agreed there was little hope. A sizable contingent of small market owners was pressing for immediate cancelation, while Bettman felt pressure from the larger markets, which did not want the NHL to become the first professional sport in North America to wipe out an entire season. At the last conceivable moment, Bettman negotiated some middle ground and brought the sides together.
An abbreviated, 48–game schedule began on Jan. 20, 1995.
Absolute, unequivocal insistence on a salary cap did cost the NHL a full season ten years later.
For the first time since the Spanish Flu pandemic of 1918 and 1919, there was, in 2005, no Stanley Cup winner. Bettman crushed the Players' Association and Goodenow's tumultuous term as executive director ended when the membership ultimately caved, fearing an extension of the lockout into the 2005–06 season. While presenting the Stanley Cup each year thereafter, Bettman has spoken into a microphone amid a cascade of booing and derision; viewed by hockey fans on both sides of the border as an enemy of the sport. Canadian zealots have not forgiven him for allowing the Quebec Nordiques and the original Winnipeg Jets to re–locate to Denver and Phoenix in consecutive years, choosing to overlook how diligently Bettman later worked in saving the Ottawa Senators and Edmonton Oilers from financial ruin; then choreographing a second opportunity for Winnipeg when the Atlanta Thrashers moved north after the 2010–11 season.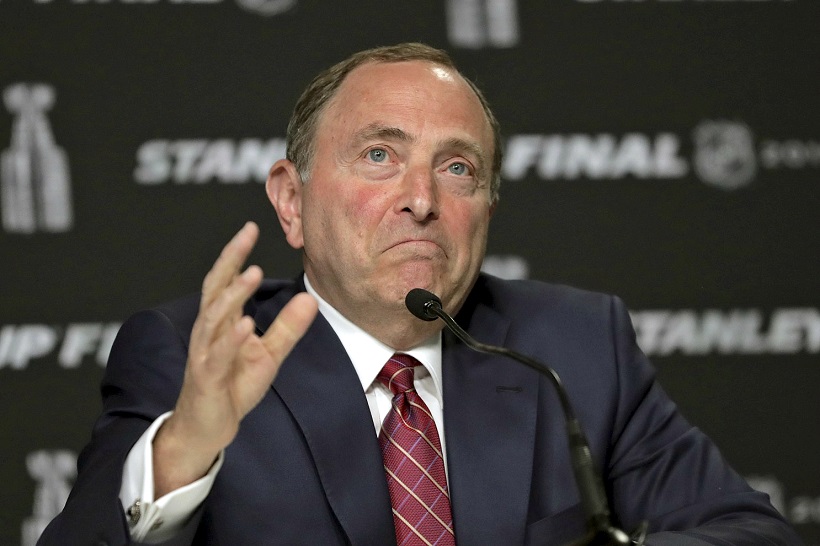 Now, it appears Bettman has salvaged a shortened, 2020–21 campaign. Darren Dreger of TSN, breaking yet another story, reported late Monday that the league and Players' Association will move forward with the Memorandum of Understanding co–signed in July as part of the Collective Bargaining Agreement. The MOU outlined details of salary deferment and percentage of salary escrow during the COVID–19 crisis. When the owners, in November, requested the players increase both allotments, a stalemate ensued that eliminated hope for a Jan. 1 re–start and threatened the entire schedule. Bettman was widely viewed as the culprit in yet another quasi–work stoppage. Which contradicts what I was told today by a league source:
"The November request came directly from a group of influential owners; Gary felt it was unnecessary from the outset," offered the source. "He worked hard with [NHLPA Director] Donald Fehr and the players agreed to slightly increase their deferred payments in exchange for no amendment to the escrow. That wasn't satisfactory for a few, including one particular owner who seems at the forefront of every dispute, but Gary convinced the group that time was of the essence. After mid–January, it would be very difficult to conduct an abbreviated schedule and full playoffs without going through most of the summer once again. In my view, the Commissioner stepped in and saved the season." (note: did that "particular owner" refer to Jeremy Jacobs of the Boston Bruins, a renowned "hawk" in labor issues? My source wouldn't say).
While there are many logistic matters to resolve, a 56–game schedule (28 home / 28 away) has been shared among the 31 NHL teams, slated to begin Jan. 13. A rather delightful spinoff from the pandemic will be an all–Canadian division featuring Calgary, Edmonton, Montreal, Ottawa, Toronto, Vancouver and Winnipeg — thereby surmounting the issue of a closed Canada–USA border. In this format, the Maple Leafs could face Eastern rivals Montreal and Ottawa 12 to 14 times, re–kindling memories of the six–team NHL (1945–67). The 24 American–based teams would likely be aligned into three divisions of eight clubs. A Stanley Cup final featuring the champion of each country has been widely discussed. The NHL has also expressed a desire to admit limited numbers of fans to arenas, but any–such matter will be determined by local health authorities. There won't be much balance to the 2020–21 schedule, yet it should prove unique… and loads of fun.
Before playing any home games at the SAP Center, the San Jose Sharks will need Santa Clara County to lift its ban on contact sports, which went into affect on Nov. 28 for a minimum three–week duration.
40 YEARS AGO — AT TORONTO GENERAL HOSPITAL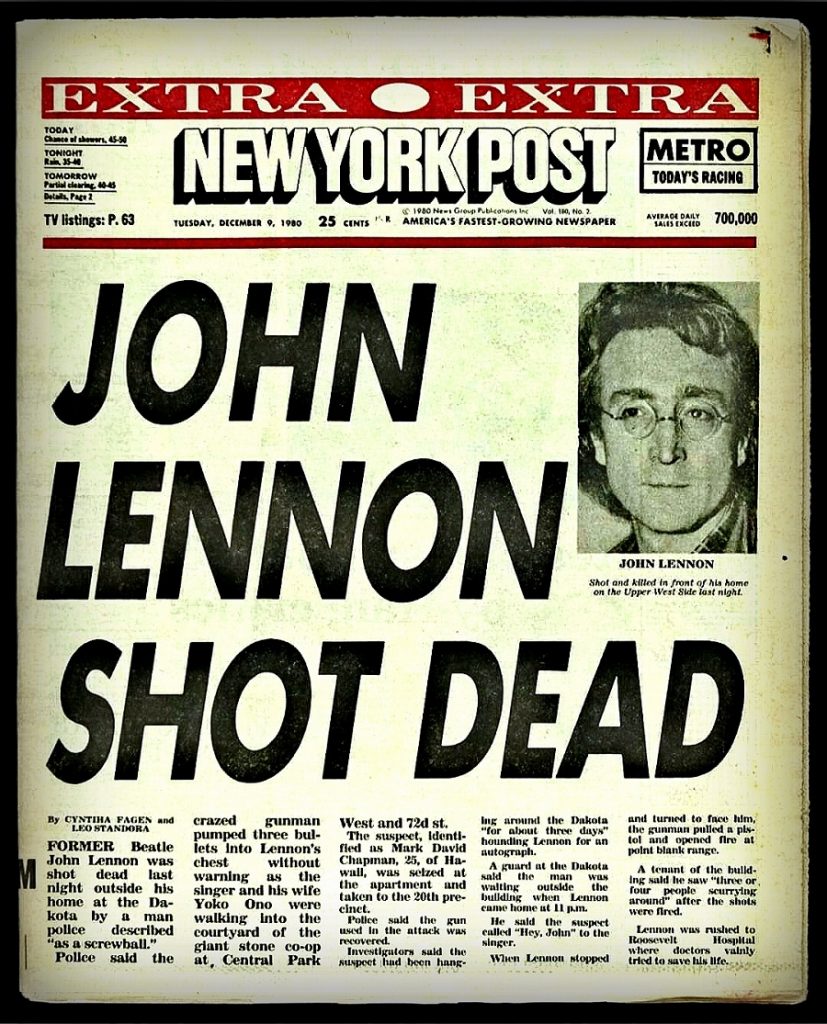 My John Lennon story is similar to so many, yet likely very different. I, too, heard his shocking murder announced by the late Howard Cosell while watching ABC's Monday Night Football from the Orange Bowl in Miami on Dec. 8, 1980. Rather than relaxing at home, however, I was in a bed at Toronto General Hospital with a nasogastric tube inserted through my nose, down into my stomach, aspirating the contents. It was the culmination of my second battle with Crohn's Disease, having been diagnosed — also at Toronto General — in early January 1976. Surgery to remove my ascending colon and roughly three feet of small intestine had been performed on Mar. 29 of that year, actuating a delightful remission. I had gotten so sick in the waning months of 1975 that my late Mom felt I was dying of cancer. After a Christmas "vacation" to Florida, during which I threw up upon swallowing a mouthful of soup and spent many hours in excruciating abdominal pain, I went to see the renowned gastroenterologist, Dr. Khursheed Jeejeebhoy, at Toronto General. He rolled his fingers back and forth on the lower–right–side of my stomach and made the Crohn's diagnosis, which sent Mom into waves of relief. A long hospital stay (Feb. 23 to Apr. 8, 1976) got me back on my feet and I was healthy for nearly four years. Sadly, I remember 1980 as pretty much a write–off. The Crohn's symptoms returned in February and dogged me throughout the spring and summer. Three times (in August, October and December), I was admitted to Toronto General with a bowel obstruction; John Lennon's murder occurring the night after the latter admission. This time, I chose not to go home without having another operation. I asked Dr. Jeejeebhoy if the same relatively small portion of my terminal Ileum had been causing my grief and he responded affirmatively. I replied by making a cutting motion with my index and middle–finger, to which he nodded in agreement. Three days later, I underwent my second Crohn's surgery, far–less extensive than the first. As such, when Dec. 8 rolls around each year — and Lennon's untimely death is recalled — I affiliate that horrid moment with a none–too–pleasant time in my life.
EMAIL: HOWARDLBERGER@GMAIL.COM