TORONTO (Dec. 26) — Unless you have blind loyalty to the Toronto Maple Leafs, or work for a team–owned media outlet, it is nearly impossible to determine where the club may finish after the upcoming, 56–game regular season. Of course, we are still awaiting confirmation from health authorities that Canadian–based teams will be able to access their arenas and travel freely about the country. National Hockey League deputy commissioner Bill Daly offered this statement: "On the basis of our discussions in the past week, as well as our exchange of correspondence over the last 24 hours, we believe we are aligned and in agreement on the conditions on which each of our Canadian franchises can begin play in their own buildings for the start of the 2020-21 NHL season." Daly's contention, however, hasn't been formally approved by health officials.
Until then, ambivalence will prevail.
Let's assume, however, that the Leafs, Calgary Flames, Edmonton Oilers, Montreal Canadiens, Ottawa Senators, Vancouver Canucks and Winnipeg Jets obtain the requisite permission. The seven teams north of the border will compete exclusively against one another in a schedule that features double and tripleheaders in each city. No–such plan has evolved in the years during which all seven have been part of the NHL. Or, for that matter, in the 104–year history of the league. How, then, beyond partisanship, does one conclude where his or her team will place in the unique set–up, whereby the top four teams qualify for the Stanley Cup tournament? In a column posted today on the Sportsnet website, Luke Fox listed 10 "bold predictions". His first was hardly a shocker: "Auston Matthews captures the [Rocket] Richard Trophy and [the] Maple Leafs finally win a round (or two)." As mentioned previously in this corner, Fox is either a devout fan of the Maple Leafs or intent on following the company line. Perhaps both, given that he and Matthews are paid by the same entity (Rogers Communications owns 37.5% of Maple Leaf Sports and Entertainment).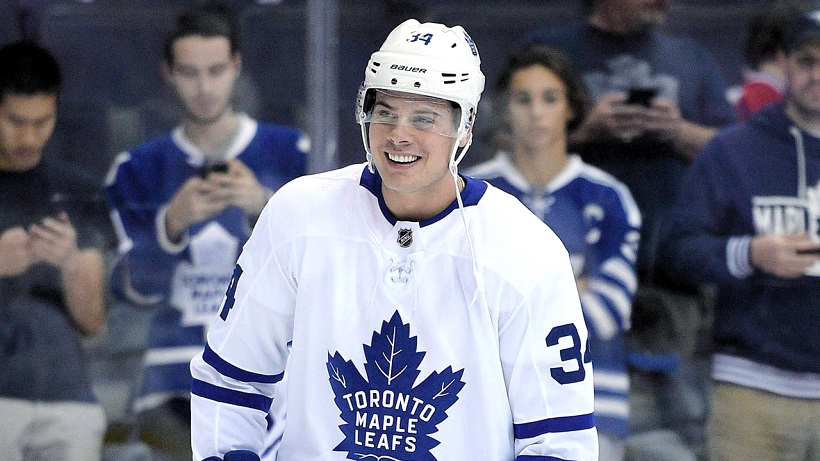 WILL AUSTON MATTHEWS WIN THE ROCKET RICHARD TROPHY THIS SEASON? GETTY IMAGES/NHL
Nor is it inconceivable that Fox will be correct. The prediction game is always a fool's paradise. This season, with inter–division play and no cross–border travel, an advance assessment is all–but pointless. So, why not predict, as did Fox, that Frederik Andersen will end his streak of eight consecutive losses in playoff clinching games and prevail with the Leafs for the first time? There is neither evidence nor logic in such a forecast but, hey, we live in a world in which the outgoing United States president still believes he won the Nov. 3 election in a "landslide". Donald Trump will presumably nest in his alternate universe long after Joe Biden is inaugurated on Jan. 20. Envisioning Andersen to become clutch in Stanley Cup toil pales by comparison.
As for the 2021 schedule, it will surely provide excitement and intrigue.
Not since the pre–expansion era (ending in 1966–67) have NHL teams squared off on nine or ten occasions. I like the idea of doubleheaders, though I think the five tripleheaders on the Leafs calendar (vs. Vancouver, Feb. 4–8 / vs. Ottawa, Feb. 15–18 / at Edmonton, Feb. 27–Mar. 3 / vs. Winnipeg, Mar. 9–13 / at Winnipeg, Apr. 21–24) could engender monotony. I understand the need for reduced travel during the pandemic, but this won't be the same as encountering an opponent in a playoff series. The stakes, quite obviously, aren't as high. I'm also disappointed that the Leafs and Canadiens will play only one doubleheader (at Scotiabank Arena)… though the games, which close out the schedule, May 7 and 8, could be of utmost importance. Additionally, there are two large gaps between Toronto–Montreal clashes: Jan. 13 to Feb. 10, then Feb. 20 to Apr. 7. No–such interval in the Leafs–Habs rivalry should occur in a condensed, all–Canadian schedule.
As for my irrelevant prediction? The Leafs will make the playoffs amid the top four teams in the North but will not sail to the regular–season crown, as projected by too many media wags that should know better.
Here is the Maple Leafs month–by–month schedule from NHL.com: http://bit.ly/34IpD0E.
REMEMBER THE LEAFS OPEN PRACTICES?
For a hockey fan here in Toronto, the Christmas school break in the late–1960's and early–70's often included the open practice held by the Maple Leafs, sponsored by Dominion Supermarkets (since 2008, Metro). All 16,000–plus seats at Maple Leaf Gardens would be occupied for this annual event, emceed by the legendary Frank (King) Clancy. Coaches of that era (Punch Imlach, John McLellan, Red Kelly) conducted a typical workout with the players. Such activities were (and are) closed to all but members of the media.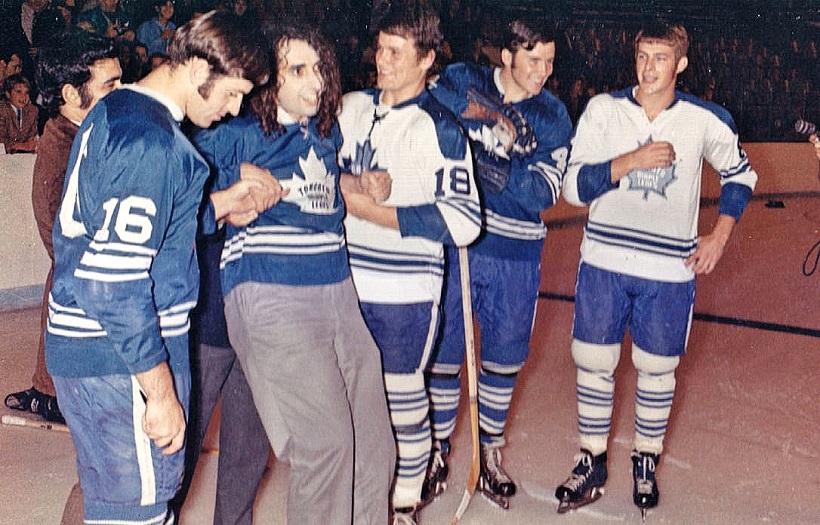 CROONER TINY TIM (April 12, 1932 – November 30, 1996) IS HELD UPRIGHT BY MIKE WALTON (16) AND JIM McKENNY (18) PRIOR TO THE LEAFS OPEN PRACTICE AT THE GARDENS IN DECEMBER 1969. ALSO ENJOYING THE MOMENT ARE DEFENSEMEN MIKE PELYK (4) AND JIM DOREY (8). TORONTO STAR PHOTO
A number of memories from my youth prevail… not the least of which is a school chum barfing all over the back seat of my father's recently purchased automobile while en route to Church and Carlton. As I recall, the blend of vomit and new–car smell wasn't particularly appealing. Once at the Gardens, I remember Leaf players schlepping Herbert Butros Khaury — known by his stage name, Tiny Tim — to center–ice in 1969.
The ukulele player, acclaimed for his bizarre rendition of the 1928 song Tiptoe Through the Tulips, was an avowed Leafs fan, despite hailing from New York. He could barely stand on skates, let alone propel himself. As such, and as evidenced in the above photo, Leaf players Mike Walton and Jim McKenny had to support Tiny from either side. I do recall the young ladies at MLG erupting rather vociferously when the long–haired musician made his appearance. The boys and young men reacted more incredulously; myself included.
In 1971, the open practice became surreal when an apparent play fight between defensemen Jim Dorey and Rick Ley resulted in Dorey severing a wrist tendon. "There was nothing phony about the scrap," Dorey told me years ago. "And, oh, did I get sh** from [general manager] Jim Gregory. I don't remember what started the fight; I think we were both suffering from hangovers. I used to kid Rickey now and then about not being a real sharp dresser and maybe he had enough of me that day." Defense–mate McKenny also recalled the battle: "I didn't see the start of the fight because I was in the dressing room having a Coke… I was still dehydrated from the previous night. A few minutes later, Jimmy and Rick came into the room. Rickey had a cut above his eye. Before I knew it, the whole mess started up again. Jimmy said 'fu** you!' and Rickey said 'no, fu** you!' They started throwing sticks at each other and the trainers had to rush in to break it up."
The severed wrist tendon kept Dorey out of action for the next month.
JOHNNY GONE THREE YEARS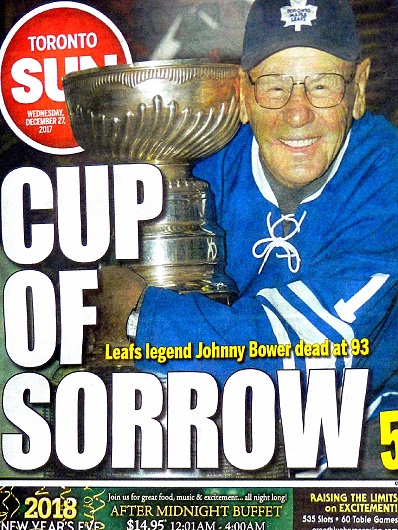 It was on Boxing Day 2017 that we learned the sad news about Johnny Bower passing away at 93. The most–beloved figure in Maple Leafs history will never be forgotten. I will forever cherish the Maple Leaf Gardens program from the 1967 Stanley Cup playoffs (top–left) that John signed to me when I last visited his home in 2016. And, of course he adorned the front page of the Toronto Sun (top–right) the day after his death. We miss you, China Wall.
TORONTO BLUE JAYS: THE FORMATIVE YEARS
If you are familiar with this website, you'll know that I have a large sports collection. What you may not know is that the collection includes 13 hard–bound scrapbooks (14½ x 12 inches) of newspaper reports from every Toronto Blue Jays regular–season game between Apr. 4, 1984 and June 7, 1988 — 705 games in total. Beginning as a hobby after the Blue Jays' breakthrough season of 1983, it continued unabated until a week after I started my job at CJCL AM–1430 radio on May 30, 1988. No longer unemployed, I had neither the time nor ambition to maintain the daily exercise of amassing the Toronto Star, Toronto Sun and Globe and Mail; cutting out the baseball stories and taping them into the scrapbooks. My fingers had become gnarled.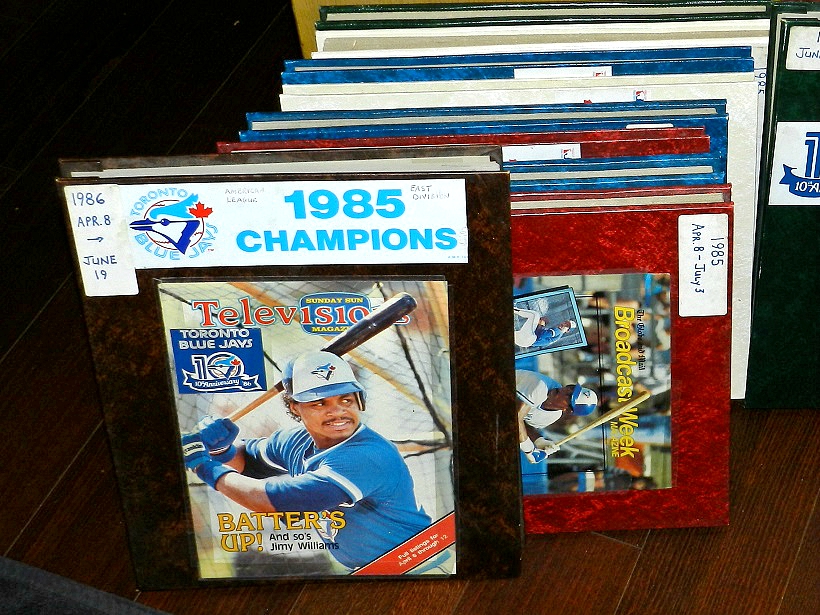 MY BLUE JAYS REGULAR–SEASON SCRAPBOOKS FROM 1984 TO 1988.
But, there are more than enough memories encased in these volumes from the formative years of the American League team that began play in 1977. From scribes that include Neil MacCarl, Allan Ryan, Garth Woolsey, Dave Perkins, Frank Orr, Tim Harper, Wayne Parrish, Rosie DiManno, Milt Dunnell and Jim Proudfoot of the Star (Parrish went to the Sun as sports editor in June 1987); John Robertson, Ken Fidlin, Jim Hunt, Bob Elliott, Jim O'Leary, Scott Morrison, Frank Zicarelli, Jack Saunders and Lance Hornby of the Sun (Robertson moved to the Star in September 1986); Larry Millson, Paul Patton, Philip King, Kevin Boland, Marty York, Al Strachan, Trent Frayne, Stephen Brunt and Neil A. Campbell of the Globe. There are out–of–town newspaper stories from New York, Oakland, San Francisco, Los Angeles, Anaheim and Seattle.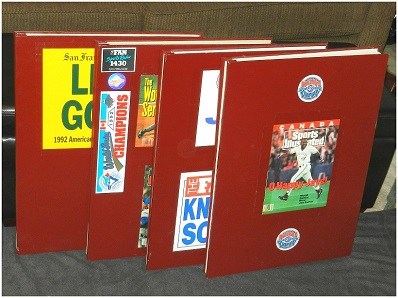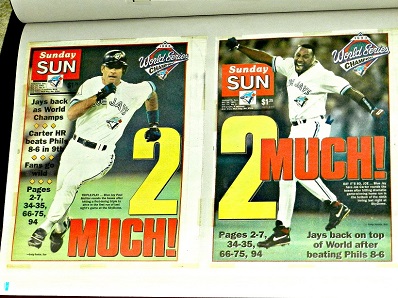 Stories and photos from the Blue Jays playoff runs in 1985, 1989, 1992 and 1993 are preserved in larger scrapbooks (as above). These items (20 x 16½ inches) could hold full newspaper pages — broadsheet and tabloid. I wrote about that part of my collection in a blog on Oct. 23, 2018: http://bit.ly/2q82tvX.
Covering the playoff games for the radio station, as I did in 1989, '92 and '93, I assembled out–of–town papers that included the Oakland Tribune, San Francisco Chronicle, San Francisco Examiner, Atlanta Journal–Constitution, Chicago Tribune, Chicago Sun–Times, Philadelphia Inquirer and Philadelphia Daily News.
I would venture to say that not even the Blue Jays have such an extensive archive of original newspaper stories from the formative — then the championship — years of the franchise (if you're reading, Howard Starkman, confirm or deny). Someone asked me once if I would sell these items. The answer was yes… but with extreme caution. I have posted, here, several of the more–significant newspaper images from the Blue Jays regular seasons of 1985–86–87–88. A long–in–the–tooth fan will clearly remember most of them.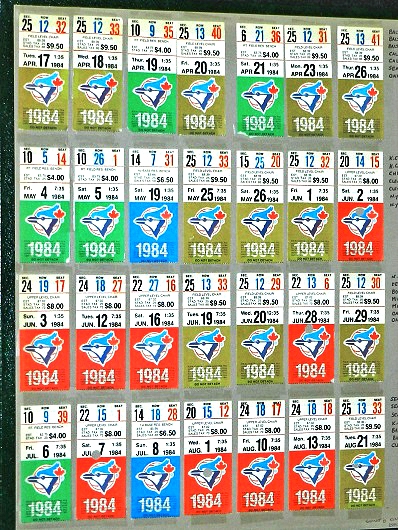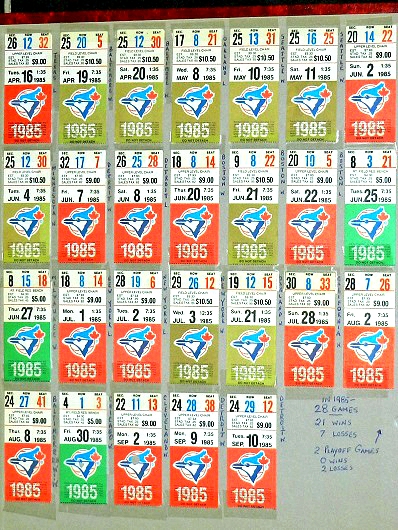 On the inside–front cover of the scrapbooks from 1984–85–86 are ticket stubs from games I attended at old Exhibition Stadium. In 1987, the Jays went to a computer system and no longer printed these colorful tickets.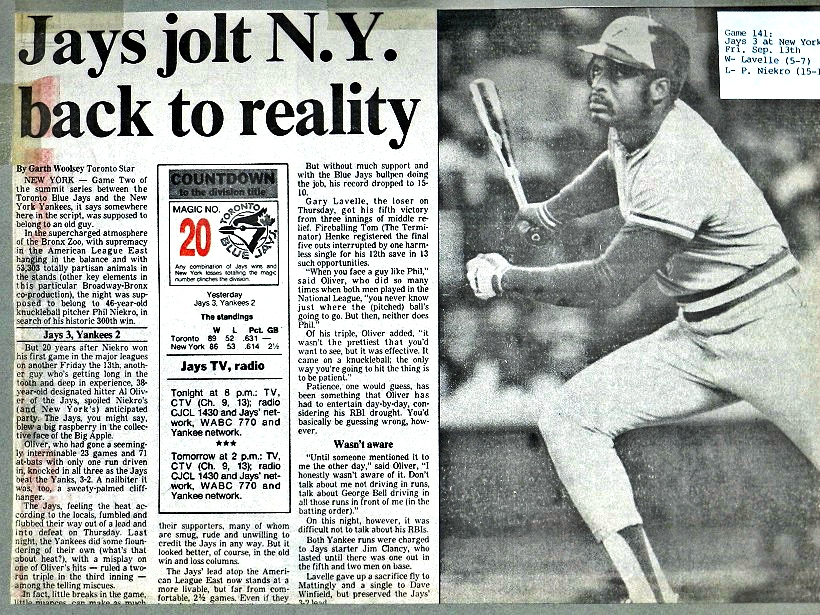 In September 1985, the Blue Jays were battling the Yankees for the American League East Division title. After losing the first of a four–game series in New York, the Blue Jays rebounded to win three straight (above and below) and widened their lead atop the A.L. East to 4½ games. Among the memories from that series was an anthem–singer at Yankee Stadium, Mary O'Dowd, who legendarily butchered O Canada.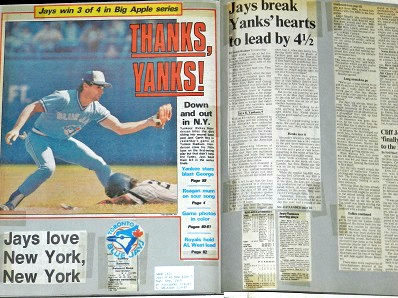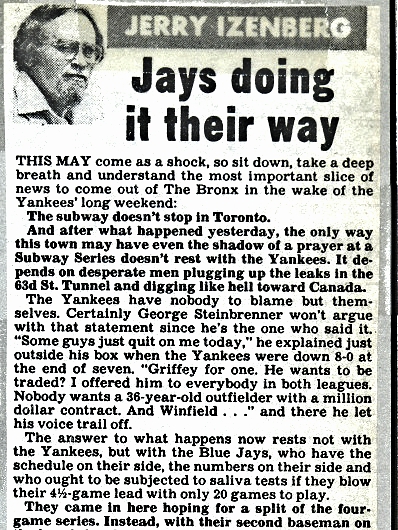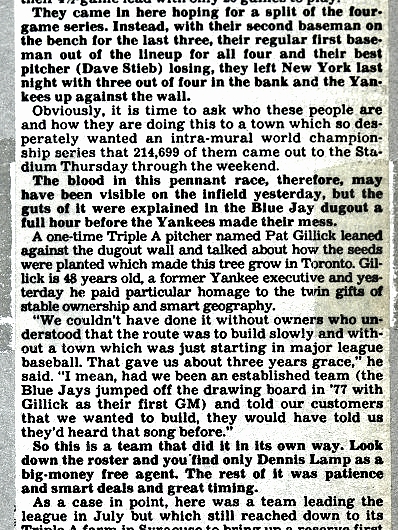 Jerry Izenberg's column in the New York Post after the Jays had taken three of four games from the Yankees.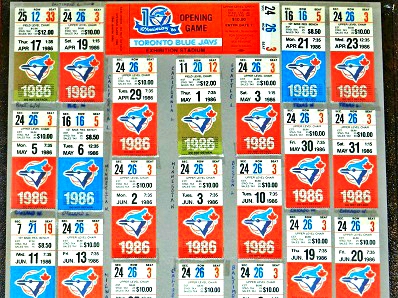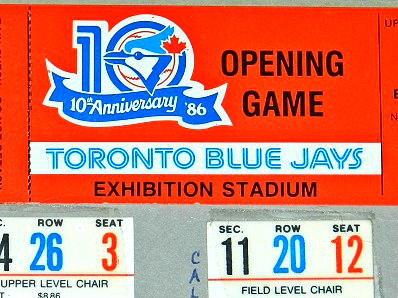 To commemorate the Blue Jays tenth anniversary, a special ticket was printed (above) for the 1986 home opener — a 2–1 loss to Baltimore, Apr. 14, in front of 43,587 fans at Exhibition Stadium.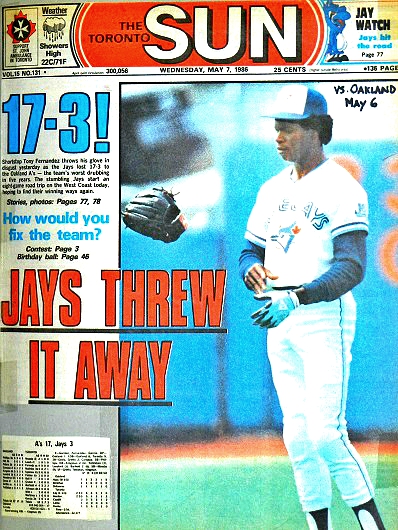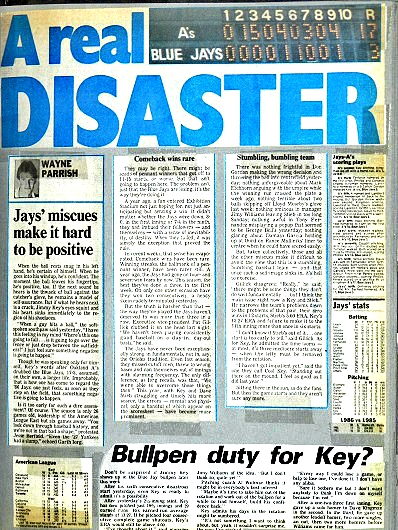 After making the playoffs for the first time in 1985, and coming to within a game of the World Series, the Blue Jays endured much disappointment in '86. The club won 14 fewer games and finished fourth in the A.L. East, 9½ games behind first–place Boston. The most lop–sided defeat of the season occurred at Exhibition Stadium on May 6 (above), when Oakland romped, 17–3, before 22,177 onlookers. Toronto's record after 26 games fell to 11–15. Another debacle happened three nights later, in Seattle: a 13–3 mauling.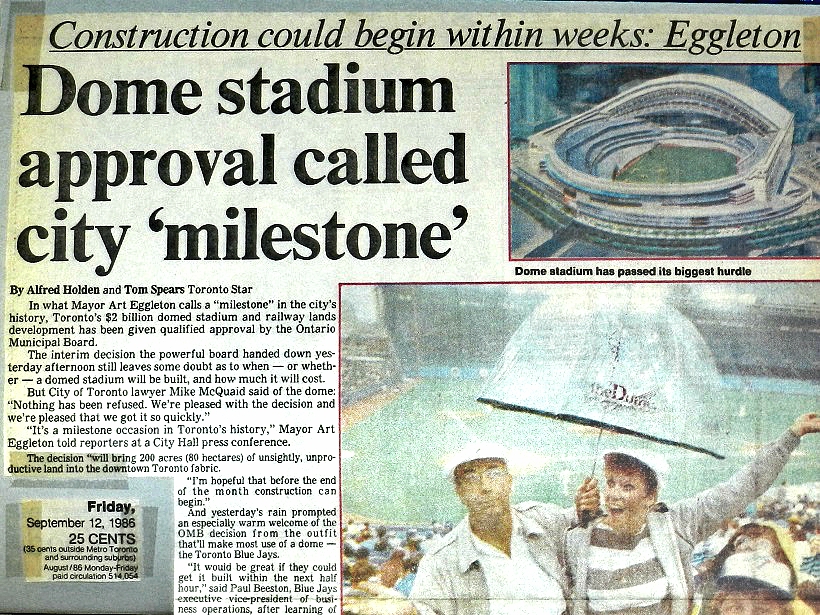 Construction of the SkyDome (now the Rogers Centre) was formally approved by the Ontario Municipal Board on Sep. 11, 1986. Ground was broken on Oct. 3 and the stadium rose at the foot of the C.N. Tower throughout 1987 and 1988. It opened with a gala ceremony on June 3, 1989, though elegantly dressed VIP's were rained upon when the retractable roof parted for the first time (which could happen only in Toronto). The Blue Jays played their first home game (a 5–3 loss to Milwaukee) two nights later.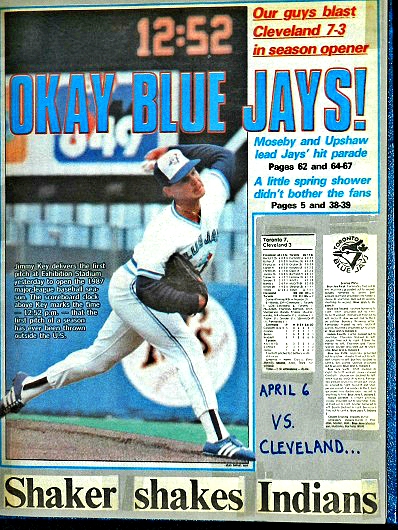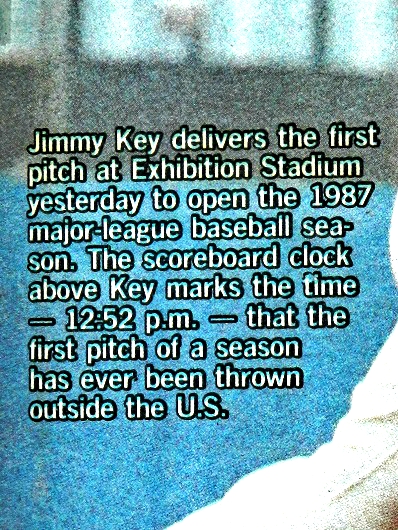 For years, the first pitch of the Major League Baseball season had been thrown in Cincinnati, but the Blue Jays ended that tradition on Apr. 6, 1987. Jimmy Key made the initial throw at 12:52 p.m. and Toronto went on to a 7–3 win over Cleveland before 40,404 happy fans at Exhibition Stadium.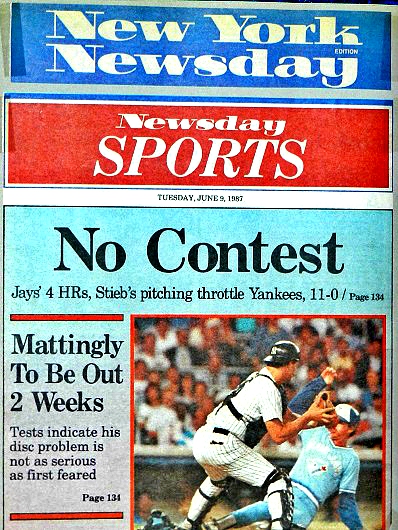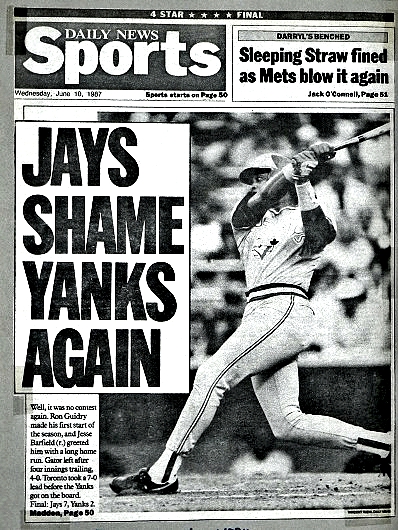 In early June of 1987, it appeared as if the Blue Jays and Yankees would quarrel for the American League East title, as they had two seasons prior. A three–game sweep in New York (June 8–9–10) provided the Blue Jays initial bragging rights. The first match (top–left), televised nationally by ABC on a Monday night, saw the visitors breeze to an 11–0 victory. Toronto followed with a 7–2 pounding of the Yankees on Tuesday night (top–right) and completed the sweep with a 4–1 triumph. This occurred in the midst of a club–record 11–game win streak (June 2–13). The situation was much different at the end of the month. The Yankees exacted revenge (below) with a three–game dusting at Exhibition Stadium (June 29–30, July 1), contributing to the Blue Jays' season–high eight–game losing streak. New York won 15–14, 4–0 and 6–1 (in 12 innings).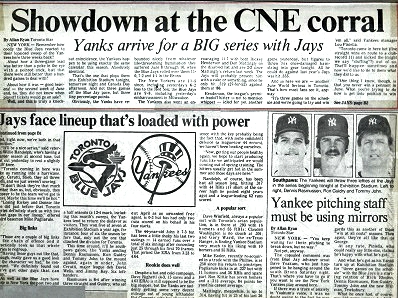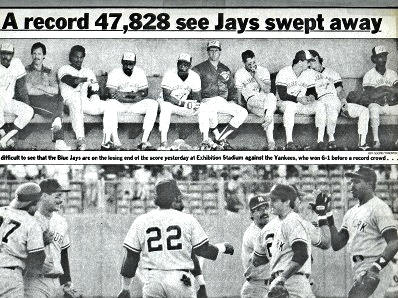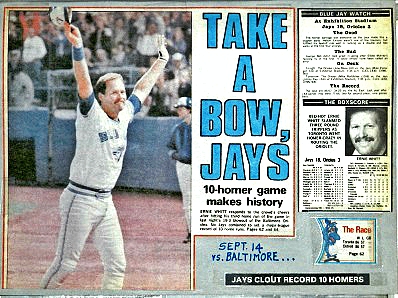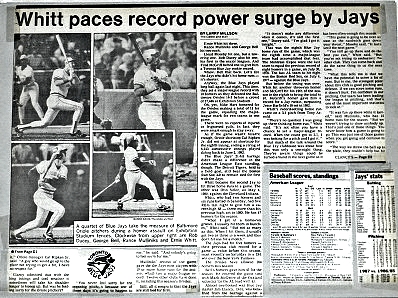 The Blue Jays erupted for 10 home runs during a Monday night game against Baltimore (Sep. 14, 1987) at Exhibition Stadium (above and below). More than 33 years later, it remains the most hit by a team in one game. Cincinnati clubbed nine homers against Philadelphia on Sep. 4, 1999 to hold the National League mark. Catcher Ernie Whitt led the way for Toronto in the 18–3 rout of the Orioles with three round–trippers.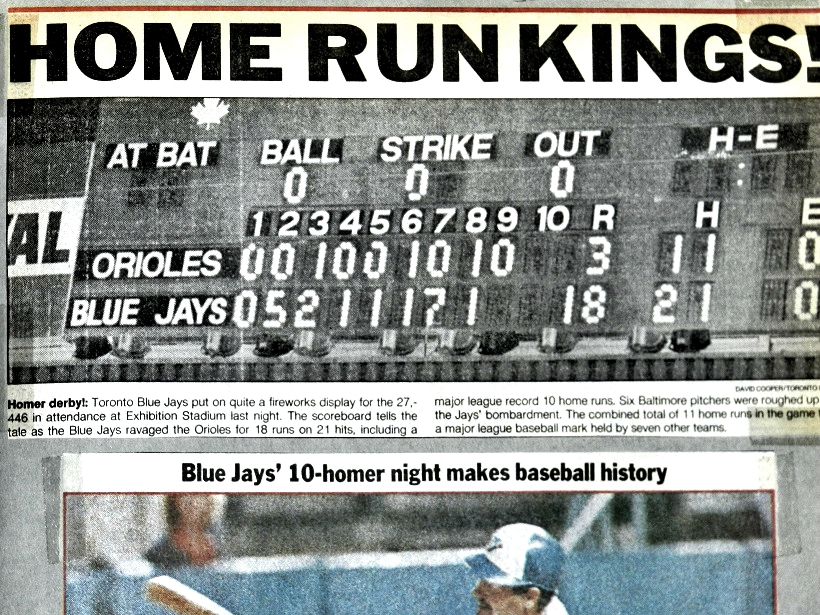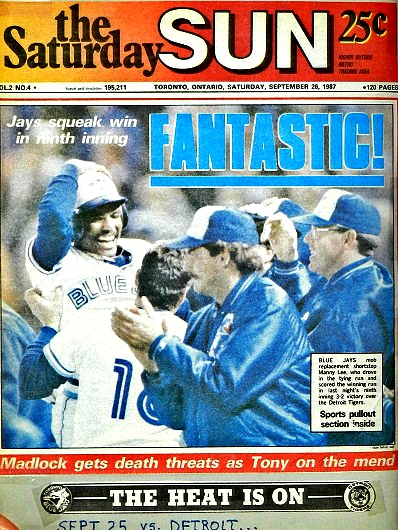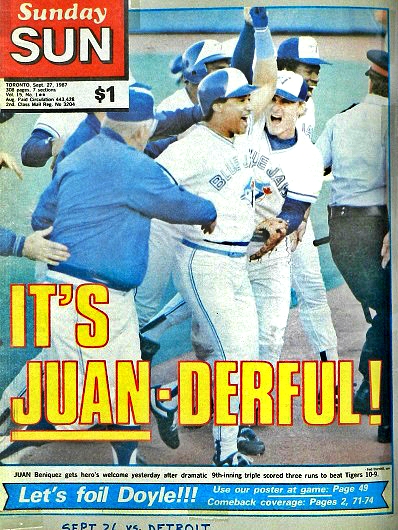 In the end, it was Toronto and Detroit jockeying for the A.L. East crown… and what fan of the Blue Jays will ever forget the collapse of 1987? A pair of walk–off victories over the Tigers at Exhibition Stadium (above) lifted the Jays 4½ games up with seven games to play. But, Toronto famously lost all seven, including three in a row at Tiger Stadium (below) to end the schedule. Detroit made the playoffs and bowed to Minnesota in the American League Championship Series. The Twins then beat St. Louis in the World Series.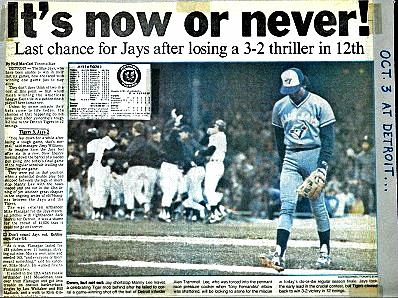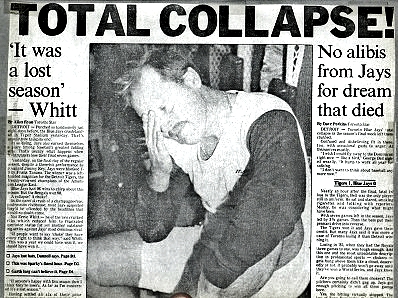 With 47 home runs and 134 RBI, Blue Jays left–fielder George Bell was named the 1987 American League MVP. But, management chose to make Bell the club's designated hitter for 1988 and the Dominican–born slugger would not accept his "demotion". When Bell refused to come to the plate during a Mar. 17 exhibition game against Boston in Dunedin, the sh** hit the fan. Two weeks of internal warfare (above) culminated with Bell as the club's DH for the season opener, Apr. 4, at Kansas City (below). He responded by becoming the first player to hit three home runs on Opening Day as the Jays beat the Royals, 5–3.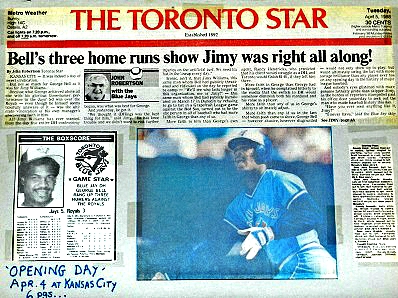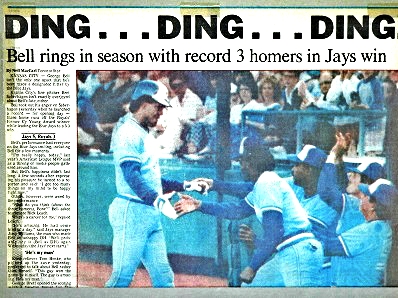 EMAIL: HOWARDLBERGER@GMAIL.COM